COVID-19 Resources for Restaurants
18 Min Read By MRM Staff
To add resources to these guides, reach out to Modern Restaurant Management (MRM) magazine Executive Editor Barbara Castiglia at bcastiglia@modernrestaurantmanagement.com with news.
The National Restaurant Association launched an industry grassroots education and engagement resource available online at RestaurantsAct.com. This new site is a one-stop hub of critical information for restaurants, employees, customers and industry partners.
In addition to the latest resources on COVID-19 restaurant and employee recovery programs, RestaurantsAct.com offers a brand new, industry-first interactive map of each state, District of Columbia and Puerto Rico. This map links to state-by-state information, tools and updates covering state laws, regulations regarding closures as well as, eventually, re-openings. The map includes the latest state and federal jobs, job loss, and economic data covering the restaurant and foodservice industry.
The National Restaurant Association-managed site also provides a direct connection to the industry's grassroots engagement platform. Since the COVID-19 crisis began, the Association has coordinated more than 400,000 emails to Congress from restaurants, employees, consumers and industry supporters—all speaking out about the need for swift and strong federal relief and recovery programs.
"Restaurants, employees, consumers and our industry partners have turned out in record numbers to contact Congress in support of restaurants and their employees," Executive Vice President of Public Affairs Sean Kennedy said. "RestaurantsAct.com provides a home page for all industry stakeholders to obtain the latest information on their state, as well as at the federal level, and also a dedicated platform to share with Congress how important restaurants and employers are as community cornerstones."
---
Golden Rule Charity, a national organization uniquely focused on delivering resources to qualified hospitality companies and employees in times of need, is launching a bold new fundraising effort to respond to the extraordinary challenges of those impacted by COVID-19. All donations will support the nonprofit's grant program, which awards applicants who currently work full or part time and have been employed in the industry a minimum of six months and meet additional criteria.
"Members of our hardworking hospitality family including employees of restaurants, bars, hotels and wineries are suddenly facing dire circumstances due to a complete shutdown of businesses across the country," says Paula Robison, president and CEO of Golden Rule Charity. "We typically rely heavily on fundraising events, but with restrictions on gatherings we have no other means than to make a direct appeal to those willing to give financially to help us help those in an industry dedicated to serving us every day. The organization has received many more grant applications than we can accommodate at this time and are focused on fundraising efforts to provide support to as many individuals as possible."
Simon Majumdar, Golden Rule Charity's Celebrity Ambassador also states, "it is our goal to raise as much money as possible during this unprecedented time, while still supporting the organization's mission."
Tax-deductible donations can be made online at goldenrulecharity.org.
---
Melissa DiGianfilippo and Alexis Krisay, co-founders of Serendipit Consulting, recognized this need and wanted to find a way to help. After some brainstorming themselves, they had an idea to offer "marketing therapy" a 30-minute Zoom call to talk through challenges, opportunities, and brainstorm big ideas.
The marketing therapy is for any business, of any size, located anywhere. Businesses can sign up for a free appointment here.
---
COVID-19TipJar.com (https://covid-19tipjar.com/) launched of its website and platform intended to help jobless service employees during the COVID-19 pandemic. The site contains a series of safe profile and linking tools that allow people to give direct monetary gifts to service employees who have been directly affected by the pandemic, which is currently causing an enormous, unprecedented spike in U.S. unemployment. Users can leverage the website and app as a one-stop hub to create searchable profiles to appeal for aid and connect with those waiting to help. Each profile may also link to other individual social media drives, GoFundMe campaigns and additional calls for assistance. The COVID-19TipJar.com site is completely free to use, maintained and staffed by volunteers during this historic time of need.
"After Shelter-in-Place started in my home state, the livelihoods of friends came to a sudden halt and I felt compelled to do something," said Creator and Web Developer, Michael Robinson. "Additionally, the U.S. has lost over 16 million jobs in just three weeks, and that rate is still climbing. What that will ultimately mean for the economy in the future is still anybody's guess. But in every time of crisis, there are always ways to help. And that's why we created COVID-19TipJar.com. To serve as a safe hub where service employees can gather, create profiles, and reach out to their old customers or others who are trying to find and help them."
COVID-19TipJar.com is a privately-produced, searchable public service tool that is 100% free, with no ads. Users' personal information is never shared for marketing or income-generating purposes, and COVID-19tipjar.com only collects information that has been published on-line or is provided by users. COVID-19TipJar.com will never sell or rent users' personal information to anyone.
Users do receive account related emails (e.g. a message to confirm an Account Administrator's email, or an email that may be forwarded to others, with a link to the group's site). The site also receives anonymous counts at a regional level to keep track of where, and how often, the COVID-19TipJar.com app is being used. Finally, although COVID-19TipJar.com does not charge any fees for its services, any third party linked to a user's account may charge separate fees for their particular platform services (e.g. PayPal, GoFundMe, Venmo, etc.). Use of those third-party sites is governed under the terms and conditions provided by each site, and COVID-19TipJar.com receives no kickback or revenue from any of them.
Of the site, User Ambassador Mari Sallee said: "We offer a complete package of security and ease of use, and this Tip-Jar site costs nothing for anyone to use. Nail salons, retail shop staff, coffee baristas: just about anyone or any business can use it to reach out for a helping hand. With thousands of profiles in the system so far, it's on the way to filling the gap, and we expect to have about 10,000 profiles within the next week or so, from all over the nation. Using Google Sheets for a Virtual TipJar is a thing of the past!"
Staffed entirely with volunteers, COVID-19TipJar.com is always looking for more help. Contact Mari Sallee about becoming a site volunteer today. COVID-19TipJar.com is signing on new members now.
---
Second Servings is devoting time and resources to a new group of Houstonians in need: hospitality workers. Partnering with long-time supporters, Hess Corporation and Sysco, Second Servings announces the "Dinner's On Us" Program focused on providing take-home chef-prepared family meals to furloughed and unemployed hospitality workers in Houston.
"We saw the impact first-hand last month, when we rescued valuable perishable food from hotels, event venues, business cafeterias, schools and restaurant kitchens that were forced to close," Second Servings Founder Barbara Bronstein said. "We created this program because we wanted to help the people who serve the community and donate surplus food to us all year long."
Beginning Thursday, April 9, Second Servings will distribute 10,000 meals, prepared by Hess Corporation, each week to unemployed hospitality staff, such as restaurant workers, hotel housekeepers and convention service workers. Every Tuesday and Thursday from 10 a.m. – 12 p.m., the meals will be distributedin a contact-free drive-through only procedure by Second Servings' volunteers at 702 Avenida De Las Americas, Houston, TX, 77003 in the LAM parking lot. The freshly prepared and frozen family meals serve seven to eight people and will feature hearty comfort food, such as chicken 'n biscuits, red beans and rice and penne pasta with sausage. Sysco Houston is donating and discounting the food being prepared, as well as providing storage assistance.
"The global COVID-19 pandemic has brought the travel and hospitality sectors to a near halt," Hess Corporation Global Dining Manager Randy Fournier said. "The consequences have been devastating for hotels, restaurants and others in the hospitality industry. In keeping with our values, Hess is pleased to provide some relief when needed most to those who typically serve others."
To pick up a family meal, hospitality workers must present a recent paystub displaying the name of their restaurant, hotel, caterer, banquet venue, sports venue or convention center employer. Distribution will continue for as long as funding allows, and volunteers will adhere to all recommended social distancing protocols.
Visit secondservingshouston.org/dinnersonus if you would like to support this program financially or to volunteer. The "Dinner's On Us" Program is supported by Second Servings and Hess Corporation, as well as:
Sysco Houston, a global leader in selling, marketing and distributing food products to a range of industries, is donating a portion of the food required to prepare meals and free refrigerated storage.

BHW Capital, a full-service commercial real estate firm, which secured the meal distribution site, as well as provided financial support.

ACME Party & Tent Rental, one of the largest party equipment rental providers in the Houston Area, which supplied the equipment needed to safely direct traffic flow in the distribution area.

Mucasey & Associates Architects, a multi-family and residential architectural firm, which provided guidance on logistics for the best traffic flow and efficient, contact-free distribution.
Downtown Distribution Center:
START DATE: Thursday, April 9, 10 a.m. – 12 p.m.
WHERE: LAM Parking Lot
702 Avenida De Las Americas, Houston, TX 77003
WHEN: Every Tuesday and Thursday
10 a.m. – 12 p.m. / until supplies last
---
WhutsFree, which brings free deals (no purchase necessary) to consumers, will expand its advertising platform nationwide and make all of its hyperlocal advertising services free to restaurants and other retailers and small businesses who have been impacted by COVID-19. This announcement comes on the heels of a successful beta test that took place in Orange County, CA and St. George, UT.
"WE created WhutsFree to help local businesses connect with customers by allowing them to offer a free deal, which would motivate new customers to come in and try the company's products or services with no strings attached," said Loren Dalton, CEO and co-founder of WhutsFree. "After seeing what this has done for early users, we have decided to offer our platform to struggling restaurants and retailers at no cost during this unprecedented time."
WhutsFree is a consumer facing mobile app that brings a weekly free deal to each user. Weekly deals range from a free burger and fries to a free car wash. The user just needs to show the deal at the point of sale and then receive the offer. By allowing consumers to visit their location and have a positive experience, businesses who advertise on WhutsFree are able to build their customer base.
"I am always looking for ways to get more patrons in my doors and build a loyal customer base," said Felipe Ramirez, Manager at Avery Car Wash. "WhutsFree checked all the boxes for me. It was a great way to bring in new customers."
Early tests of WhutsFree show that more than half of people who have redeemed their free offer have also chosen to purchase something else during their visit. Many customers also returned because of follow up coupons offered through the app.
"We are thrilled that both advertisers and consumers are loving the app," continued Dalton. "At the end of the day, nothing beats free."
For more information or to sign up to advertise for free visit: www.whutsfree.com/covid-19-offers
---
The experts at Parts Town authored a blog post for independent restaurants about how to transition toward delivery.
---
As part of its ongoing coronavirus relief efforts, Cox Media, the advertising division of Cox Communications, is offering local restaurants free television advertising to assure patrons that they remain open for takeout and delivery services and share new hours of operation.
Hundreds of restaurants are already taking advantage of this offer in Cox markets nationwide, with presence in ads similar to this one from Pensacola that is running today. Restaurant groups, such as the Arizona Restaurant Association, are also using this opportunity to launch and promote creative Take Out campaigns that benefit the broader food community.
To take advantage of the Cox Media offer, restaurant owners should email MarketingInsights@CoxMedia.com and include the name and location of their establishment.
"In addition to providing an essential service for so many people, local restaurants also deliver welcome comfort and variety to people across the country," said Louis Gump, senior vice president, Cox Media. "Local restaurants are such an important part of our communities, and we are committed to helping connect them with even more customers during this challenging time."
"As a small business owner these unprecedented times are very overwhelming," said Rick Fernandez, owner of 3N1 Sports Bar & Grill in San Diego. "Cox Media has been very supportive to us during this difficult time. We really appreciate them being proactive and reaching out to us during a time that we couldn't even digest what was happening."
---
In an effort to help franchisees overcome the business challenges caused by the COVID-19 crisis, Huddle House has announced a program of relief measures being temporarily offered to franchisees to support the system head-on during this crisis.
"It is unbelievable how quickly things can change. Within a matter of days, the business model that has helped sustain us in various capacities for nearly 70 years has been turned on its head," said Michael Abt, CEO of Huddle House. "The restaurant industry, along with a few others such as airlines, hotels and walk-in retail, has been hardest hit. We have determined that when we find ways to keep operating we stand a much greater chance for success when the crisis peaks and passes. We have to talk 'sales' every day. My team has been incredibly creative and responsive."
In an appeal to the system to continue to maintain a fierce will to fight and win against the current crisis, Huddle House rolled out this series of relief options as a temporary method to help restaurants facing major economic hardship.
The brand's efforts to support franchisees has taken the form of a variety of temporary relief offerings, including: royalty and marketing fund deferrals, suspension of finance charges and fees, occupancy cost assistance, promissory note relief, deferred franchise renewal payments, freezing capital requirements and extending new store development deadlines.
In addition, Huddle House shared methods and tactics with franchisees that the brands have found effective at its company-owned restaurants. In particular, quickly pivoting to find ways to aggressively drive carry-out and delivery business; keeping restaurants operating in order to retain GMs; ramping up grass roots community and neighborhood marketing tactics; and working with landlords and vendors for accommodations on payments.
"We are going through a crisis the likes of which I hope my children won't ever have to endure as adults. None of us know what tomorrow will bring but I do know how we can face this challenge directly," added Abt. "Collectively, my leadership team has chosen to fight, and we want our franchisees to fight as well. We are going to fight like our lives and our businesses depend on it. We are going to fight to protect the business that we have built and fight to help protect the livelihood of our employees and our franchisees. This is our purpose during the pandemic."
The brand is also quickly working with franchisees to support them in gaining access to funds available through the recently passed stimulus package, the Coronavirus Aid, Recovery and Economic Security (CARES) Act. With the goal of facilitating franchisees to gain access and quickly utilize the $2 trillion packages targeted for business owners and U.S. citizens, Huddle House bas engaged the services of employment and tax professionals to advise both brands on how to take advantage of the package to quickly get money into the hands of business owners and employees alike.
---
TouchBistro teamed up with Lendio to make it easy for U.S.-based restaurants to apply for the Paycheck Protection Program (PPP) loan, which is backed by the Small Business Administration (SBA). Lendio is the largest small business loan marketplace in the U.S. and has experience issuing emergency and standard loans to more than 100,000 small businesses. By partnering with Lendio, TouchBistro is helping restaurants access funds faster to keep their businesses operational during the COVID-19 pandemic. Restaurants can find more information on the loan application process, review the criteria required, and apply for the PPP loan via the new TouchBistro Restaurant Recovery Navigator, which was launched last week.
Lendio works with more than 75 lenders in the U.S. Its experience providing small businesses with loans means any U.S.-based restaurants (not only TouchBistro customers) will be able to quickly apply for the funds they require through the PPP.
To qualify for the PPP, restaurants are required to provide business information, payroll and verification documents, owner information, and then electronically sign the application forms. After a restaurant has been approved for the PPP loan, restaurateurs can also apply for loan forgiveness by providing proof of fund allocation for permissible uses.
"Our focus right now at TouchBistro is ensuring that restaurants have access to everything they need to keep their businesses operational — from key resources such as our Restaurant Recovery Navigator; technology such as the gift cards and online ordering solutions that our engineering teams fast tracked; and government funding, which we are making easier by partnering with Lendio," said Alex Barrotti, founder and CEO of TouchBistro. "Through Lendio, we are facilitating access to critical financing that restaurants urgently need to help them get through this unprecedented time. Applying for the PPP loan is typically a complex process, but the team at Lendio have made it easy for restaurants to submit their applications and access the funding they need in a timely manner."
"It's vitally important that we get the economic wheels turning and put these federal loans into the hands of small business owners fast," said Brock Blake, CEO and co-founder of Lendio. "Lendio's partnership with TouchBistro will enable restaurateurs to get streamlined access to the funds they need to remain operational and to retain their valued employees. Whether it's addressing immediate COVID-19-related financial issues or assisting them with longer-term financing solutions down the road, Lendio looks forward to helping these businesses succeed."
---
Rakuten Ready is unveiling a new, free platform specifically for local, independent restaurants called Rakuten Takeout.
With Rakuten Takeout, local restaurants benefits include:
A free custom website to offer takeout with online payment directly to customers
Immediate demand by leveraging the highly-engaged Rakuten.com member platform
Enabled Contactless orders with no on-site transactions required
Takeout drives demand by offering Rakuten members an introductory 20 percent cashback for those who order food and pickup from partner restaurants (again at no cost to restaurants).
Rakuten Ready is proud to be powering the Rakuten Takeout experience that will solve this problem and drive much needed revenue to local restaurants to help them survive and thrive in our current Shelter-in-Place world, and beyond.
While Rakuten Takeout is currently only available for local San Mateo restaurants, the platform is going to expand in the near future to the greater Bay Area and then nationally.
---
Qu launched a free quick-start online ordering service for all restaurants striving to keep their businesses open during COVID and beyond.
Restaurants have been forced to rely solely on their online ordering channels to generate revenue due to COVID. Many restaurants were caught off-guard without an adequate solution optimized for digital sales. Qu responded by bundling its enterprise cloud POS into an all-digital, online-only ordering package called OrderUP. No hardware is required, nor any changes to the restaurants' POS and technology stack.
The solution can be implemented in as little as 72 hours, with Qu handling the menu configuration, testing, and marketing launch services—free of charge— to get restaurants online quickly and using contactless payments for pick-up and delivery.
Qu's complimentary OrderUP product and accompanying services include:
Up & running in just 72 hours
Fully integrated with DoorDash and Uber Eats
Access to contactless orders and payments for all your pick-up and to-go services
No hardware required
Optimized online menu build and marketing launch services, at no cost
Free for 90 days, through July 31
"With restaurants in dire need to drive sales right now, we focused on creating a quick-start online ordering product for operators, hoping it will help them survive this crisis," said Amir Hudda, Qu's CEO.
"While this program is designed for speed and efficiency, OrderUp is the same as Qu's scalable enterprise-grade web ordering solution, but without the need for any hardware in the store – as such, it can provide tremendous value even post the COVID crisis period," noted Hudda.
Today, Qu is focused on helping brands improve and optimize their digital sales with modern technology solutions. To further support struggling restaurants, Qu is launching Feed the First Responders, a charitable program providing fresh, healthy food to local medical, healthcare, police, and firefighting units.
---
SugarTrek, Inc. recently launched Foodie Finds (www.foodie-finds.com), an augmented reality app for discovering food at nearby restaurants and bars.
"We have deep compassion for the restaurant, bar owners and staff hit so hard by this pandemic," says Jennifer Ganther, Co-founder and CEO of SugarTrek. "We wanted to create an app that works better than any other restaurant app on the market today. We know that we will get through this virus together and we want restaurant owners to continue to attract customers and drive revenue even during this very difficult economic time. Therefore, during the quarantine, we are offering our services without charge. We encourage restaurants using Foodie Finds to announce their participation on our app through their social channels to let their customers know where to find the latest deals they have to offer."
Using augmented reality and sophisticated behavioral economics, Foodie Finds tempts people with images of delicious dishes. Through artificial intelligence (AI) technology, the app gets better at guessing what customers want to eat. With Foodie Finds, customers find out what they want to eat in mere seconds and can place an order. Foodie Finds has over a million restaurants in the U.S. listed and is also available internationally.
"People love it because it offers them food and drinks like nothing they have ever seen before — right before their very eyes! A person can also see food in faraway places, plus he or she can see what their friends are eating," says Myles Leighton, Co-founder and CIO of the app.
"This app will help restaurant owners get ahead of the curve by reaching customers in a fun and effortless way. It has free options and unlockable superpowers, plus crowdsourced content management. Foodie Finds brings in more customers than any other form of marketing because it places food right in front of people, like a dessert cart. With our app, restaurant owners can attract real customers instantly, reduce food waste and offer instant promotions during slow times."
Restaurant owners can sign up to Foodie Finds in seconds. To start, business owners can simply claim their listed restaurant(s) in the Foodie Finds app to get their business and restaurant dishes shown to customers for free. Foodie Finds helps restaurants attract customers during COVID-19, secure delivery orders and drive revenue during this difficult economic period.
Foodie Finds can be downloaded from the App Store at https://apps.apple.com/us/app/foodie-finds/id1325992183?ls=1
---
No App Needed platform launched. Without downloading an app or creating an account, diners can order using any device to enter contact-free orders, payment information, and schedule food pickup. Meanwhile, restaurants can keep their profits and avoid the steep commissions charged by food ordering platforms. The company is offering its platform free of subscription fees during the COVID-19 emergency until September 30.
With the number of COVID-19 cases in the U.S. continuing to grow, many state and city officials have ordered the closure of all onsite-dining at restaurants and bars. No App Needed Founder Oliver Clarke said, "We originally came up with this idea to help our friends' restaurant keep more of their profits. We're launching now during the COVID-19 emergency so that other restaurants can leverage contact-free pickup and sales. That way they can keep their employees and customers safe, while continuing to stay open and meet their communities' needs."
The system is already deployed at restaurants like Ranch PDX pizza locations in Portland, Oregon. Ranch PDX owners Richard Corey and Eric Wood commented, "Customers immediately started creating orders as soon as the order link went live on our website. It's been a godsend since switching to take-out only at our restaurants due to COVID-19. We have already saved thousands of dollars in delivery app fees."
"Diners have learned how to order ahead for pickups at large quick-service restaurants, but before No App Needed, there hasn't been a cost-effective solution for smaller sized restaurants. Now restaurants of any size can integrate No App Needed into their website and give their customers a simple order-pay-pickup experience," said TJ Keating, Commercial Director of No App Needed.
Learn more at noappneeded.com.
---
TextUs is offering TextUs for Essential Businesses, a complimentary service during Q2 to help essential businesses communicate quickly and easily via text messaging with their customers and employees.
Many of the businesses deemed essential amid the COVID-19 pandemic are experiencing challenges communicating with their customers and staff in a timely fashion via email and phone calls. Most essential workers are strapped for time, in the field, and away from computers. Yet communication and coordination are critical to manage relationships and share time-sensitive updates.
TextUs gives essential businesses a scalable platform to communicate real-time information with staff and customers using standard SMS or MMS text messaging, a faster and more responsive communication method for all parties involved. By leveraging the TextUs platform, business users gain the ability to systematically engage in conversations, reply to questions, and broadcast messages through a centralized application. TextUs is offering essential businesses this service for free during Q2.
"Given the current pandemic, TextUs has enabled us to communicate quickly to hundreds of our staff about work assignments, address issues day and night, and stay connected even with our remote team members," said Bruce Weinberg, Assistant Vice President, Nursing Workforce Management at Ochsner Health System. "This application has been instrumental in how we communicate with our front line employees."
"Right now, when essential workers are already operating at maximum capacity, real-time, accessible communication is more important than ever," said Andrew Kimmell, CMO and Co-founder of TextUs. "Text messaging is the most efficient communication channel for conversations requiring fast, timely responses. Our customers have shared how valuable our software has been during this challenging time, and we want to do our part to help as many companies as we can."
---
Minuteman Press International has launched a new initiative, Bounce Back USA, to help give back to businesses in local communities that have been hit hard by the COVID-19 pandemic. The initiative is available right now, free to business owners at https://BounceBackUSA.com.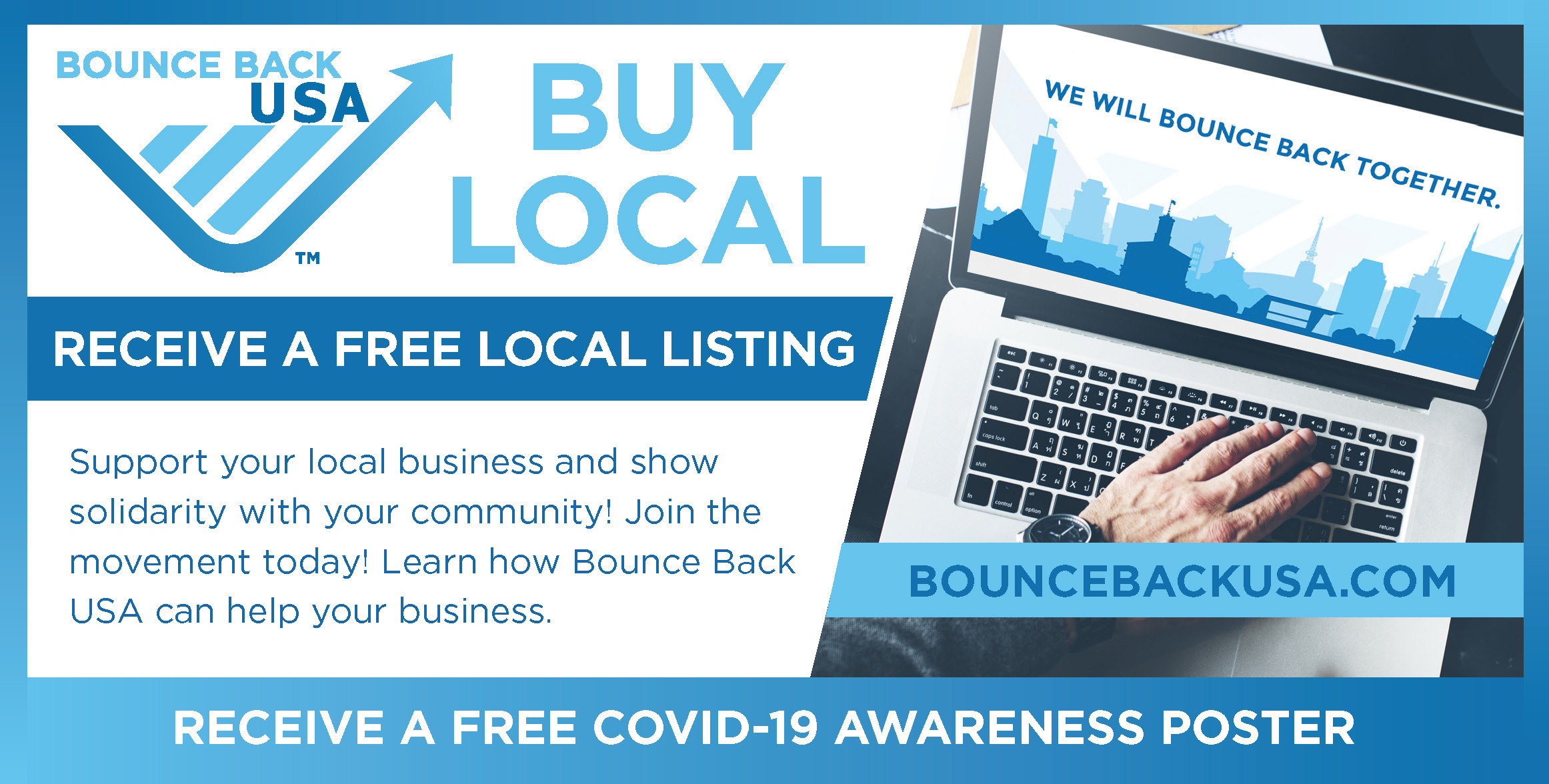 "Bounce Back USA™ offers two free services to help support all of our neighboring businesses as we find a way to work together through these unprecedented times. First, we are distributing COVID-19 awareness and prevention posters at no charge to any business in our service areas. Second, we are providing free local advertising on this site to stimulate business and help all of our neighbors overcome the tremendous economic effects of the COVID-19 pandemic. We truly believe that a rising tide will lift all ships, and we want to make sure our communities stay afloat," says Nick Titus, President, Minuteman Press International.
How It Works:
Visit https://BounceBackUSA.com.
Select your state and then click on your local office.
Fill out the form at the bottom of the page to submit your company's special offer or supportive message for publishing on our site at no charge. Just upload your logo and the message or offer, and we'll publish your message in the appropriate category.
Your listing will be published for free and you can order your posters via safe delivery if you like. In the event local delivery of posters is not possible, a small shipping charge may apply, but the posters will be free.
---
Pivoting a commercial kitchen to feed thousands of elderly, immunocompromised, and other at-risk individuals, largely with donated food, is no small task. One commercial kitchen, the OKC, wanted to share every step of their process so organizations around the country can create an impact in their local communities.
The Disaster Relief Playbook for Shared and Commercial Kitchens, created in partnership with Galley Solutions and The Food Corridor, guides kitchen operators through the challenges of launching a not-for-profit food distribution operation. Some insights include:
Who to ask for food, supplies, and labor donations
Food safety and prep in the era of COVID-19
How to seek emergency relief funding from governments and organizations
Distribution methods for getting food to the people who need it most
Ian Christopher, Co-Founder of Galley Solutions, explained: "We're honored to help passionate people be a force for good in the midst of challenging situations. The OKC is proof that, when communities come together, we can solve immense problems. We hope the Disaster Relief Playbook helps other communities experience that too."
---
Thanx is offering customers extended payment terms for up to 365 days as part of its "Emerge Stronger" program. For new customers seeking to build their customer database (CRM/loyalty) and first-party digital channels to accelerate reengagement post-crisis, Thanx is accelerating launches through the downturn with free dedicated account management support while deferring fees until Q3 (at least). Thanx is also waiving fees for any new digital ordering or digital purchasing (e.g. stored value/prepaid) launches to help put cash in the hands of restaurants near-term.
To learn more, click here.