MRM Restaurant Survival Guide, Second Course
25 Min Read By MRM Staff
We are looking for resources to update this guide. Reach out to Executive Editor Barbara Castiglia at bcastiglia@modernrestaurantmanagement.com with news.
Chicago restaurateurs organize a call for an aid package to assist restaurants during this ongoing COVID-19 crisis. The below is a statement prepared by the group of restaurateurs and the details for the social media campaign set to launch March 20 at 10 a.m. CST.
"COVID-19 has hit the hospitality industry hard. MILLIONS of workers displaced. To save independent businesses, we need a bailout. We need relief for our workers and our businesses. Without it, we will fail. Legislation is in the works, but it might not help us. Let's make sure the restaurant industry is heard, helped, and represented! We can do this. PLEASE SHARE WITH YOUR NETWORKS. Let's get as many people to post tomorrow as possible."
"We are planning to post a NATIONAL call to action tomorrow at 10am CST (8am PST, 9am MT, 11am EST).
Please join us. It is crucial that we all post the same thing at the same time for critical mass. Please make your posts public, so people can share. (If you can't make the timing work – still go ahead and post later!)"
Make a sign with a hashtag #toosmalltofail and hold it in front of yourself while you VIDEO yourself reading this:
Shorter version: This week millions of restaurant workers suddenly lost their jobs. You can help. Please call your representative and senators and insist that help be given— not just to big corporations but to independent businesses as well. This is the only way to protect the people and places you love. We simply will not make it without your help.
Longer version: This week tens of thousands of independent restaurants were forced to close their doors in the fight against COVID-19. In just a matter of days, millions of restaurant industry workers in America lost their jobs. How will these workers, who did nothing wrong themselves, pay rent, care for children, and feed themselves and their families? And what will happen to the independent businesses— the diners, bars, cafes, and restaurants— that make our towns and cities the places we love?
You can help. We have asked our leaders to pass legislation funding the comeback of our industry. We know they're working hard on a stimulus bill. But it won't help if this plan doesn't reach your neighbors. Please call your representative and senators and insist that help be given not just to big corporations but to independent businesses as well. This is the only way to protect the people and places you love. We simply will not make it without your help.
Call you Representative and your Senators. You can be connected to the capitol switchboard at 202-224-3121. Demand that independent businesses are part of the federal stimulus plan. #toosmalltofail #saveamericasrestaurants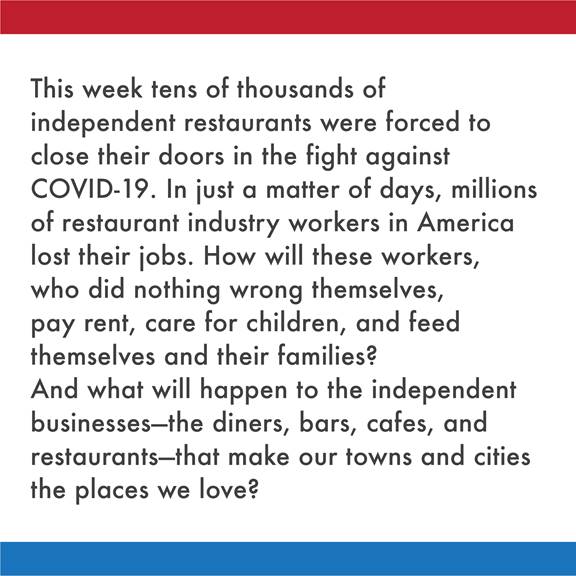 ---
In partnership with the @LEEInitiative and @chefedwardlee (610 Magnolia, The Mind of a Chef), One Off Hospitality (Big Star, The Publican, avec, The Violet Hour) and Chef-Partner Paul Kahan said beginning on Tuesday, March 24, Big Star Wicker Park will transform into an ongoing headquarters for restaurant workers relief. With the help of @makersmark, the One Off team will prepare and pack hundreds of to-go dinners and grocery bags each night that will be offered to recently unemployed restaurant workers who are in dire need of food and supplies.
Dinners will be offered on a first-come/first-serve basis, limiting one per person with strict social distancing guidelines in place for pick-up. In addition to meals, Big Star will also have groceries on hand for those in need including: non-perishable canned foods, a selection of proteins, vegetables and additional staples, while supplies last. As with the meals, there will be a limit of one pre-packed grocery bag per person.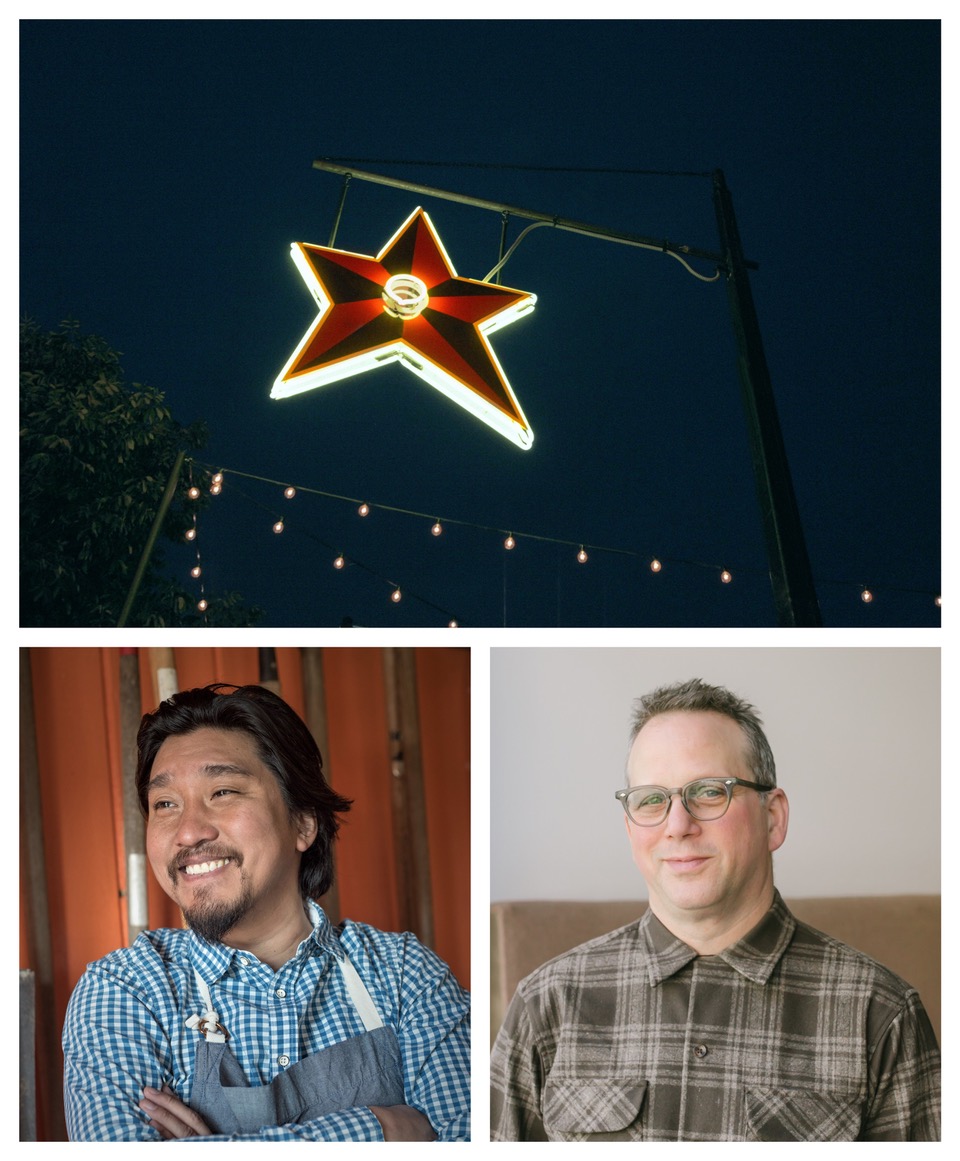 "The spread of Covid-19 has been disastrous for the restaurant community and so many of the hard working employees who are now unable to collect a paycheck," said Kahan. "We're so thankful for Maker's Mark and Chef Edward Lee of The LEE Initiative for stepping up to provide for these workers, who are truly the backbone of the hospitality industry. Alongside my partners and team, we're grateful that we're able to use Big Star as a place to support these tremendous charitable efforts, and think it's remarkable to see how our industry continues to band together in a time of great need."
The Restaurant Workers Relief program will be offered throughout the quarantine period or for as long as supplies last.
The Restaurant Workers Relief program will begin on Tuesday, March 24th and will be offered seven nights a week until otherwise notified. Pick up time is 5 pm to 7 pm nightly.
Everyone must show proper ID and have some identifying paperwork to prove recent employment at a restaurant. A paystub will suffice in most cases.
There will be staff on-site to organize and hand out meals but no one is allowed entry into the restaurant. When workers arrive, they will see a queue outlined by cones where they will be asked to line up. Cones will be set six feet apart. It's imperative that all involved follow the cones so we can appropriately practice necessary social distancing to keep all visitors safe.
Each person will receive a dinner and bag of groceries. These items will be offered on a first-come, first-served basis. They will be offering 250 meals each night.
One Off Hospitality will not be handing out disposable cutlery
Donations to the LEE Initiative are welcome and will help extend this service throughout the current public health crisis. All donations should be directed to www.leeinitiative.org. Additionally, if you'd like to donate goods or products like diapers, toilet paper, paper towels, One Off Hospitality welcome donations via Amazon. These can be sent directly to Big Star Wicker Park, 1531 N Damen Avenue, Chicago, IL 60622. One Off Hospitality will not be accepting in-person drop-offs from individuals as an effort to comply with the current shelter in place restrictions. Consider Amazon deliveries if interested in supporting.
---
Yelp is offering $25 million in relief, primarily focused on supporting independent local restaurant and nightlife businesses, in the form of waived advertising fees, and free advertising, products and services.
"Our data shows that over the past week, U.S. consumer interest for restaurants has fallen by 54 percent, and for nightlife businesses by 69 percent," wrote Yelp CEO Jeremy Stoppelman. "To get through this challenging and uncertain time, it's important that we all come together as a community — from corporations to organizations and government entities — to support one another, and to help lift those hit hardest by the impact of this pandemic. And we want to do our part to help."
The $25 million in relief is primarily focused on supporting independent local restaurant and nightlife businesses, in the form of waived advertising fees, and free advertising, products and services, during this period. As part of this relief effort, restaurants and nightlife businesses that remain open will receive free access to Yelp page upgrades, including Business Highlights and Call To Action, as well as Connect, which will help them communicate timely information to their customers. Restaurants will also receive three months of free access to Yelp Reservations and Waitlist. For restaurant clients that offer delivery and/or takeout, they will provide $100 in free search advertising. In addition to waiving advertising fees for independent restaurant and nightlife clients during this period when they've been most impacted, they are also offering support for independent local advertisers in other categories that are struggling to pay their bills during this difficult time.
More details on our restaurant and nightlife business relief program can be found here. Read more in this blog post.
---
As restaurants around the country close or face mandatory shut down as a result of the global coronavirus outbreak, restaurant reservation and rewards platform Seated launched a hotline for restaurant operators to get advice from a team of industry professionals from CohnReznick, the leading finance and accounting advisor to the hospitality industry, and Eiseman Assor Bell & Peskoe, the leading law firm to the hospitality industry.
"We know from other countries that this crisis will end. So, we are focusing our efforts on helping restaurants survive the shutdown now and prepare to recover when they can re-open. I closed my own restaurant, Mezze Bistro + Bar, and it was heartbreaking," said Bo Peabody, Co-Founder and Executive Chairman at Seated, and a restaurateur with more than 20 years of experience. "But having access to trusted information from firms like CohnReznick and Golenbock made it much easier, and I want other operators to have that too. What restaurants need right now is sound advice."
Restaurant operators in need of advice can visit seatedhotline.com and submit a question. From there, questions will be directed to Stephanie O'Rourk, Hospitality Partner at CohnReznick, and Andrew Peskoe, Chairman of Golenbock Eiseman Assor Bell & Peskoe, who will be further supported by a team of advisors and attorneys. Seated is further offering a complimentary hour of individualized professional business advice via phone to any of its nearly 1,500 restaurant partners or any restaurant that may wish to become a Seated partner.
"As a whole, the hospitality industry is both overwhelmed and anxious as they are attempting to navigate through these uncharted waters" said Stephanie O'Rourk, Hospitality Partner at CohnReznick, LLP. "While they want to concentrate on what is in the best interest of their employees and the survival of their businesses, they also understand that there is financial and operational distress that must be dealt with first in connection with all short- and long-term plans that are made. During this critical time, we are focused on being a trusted advisor for the hospitality community, one that truly understands the industry and can bring all the resources to the table to help stabilize their businesses during this challenging time."
"We have been juggling inquiries from clients since this crisis began, the concerns start with labor and employment, but then run the gamut of real estate, equity finance, reorganization and even intellectual property," said Andrew Peskoe, Chairman of the Golenbock law firm. "Some of the toughest decisions had to be made by our clients in just days, or even hours, and we have so much admiration and respect for the careful thought processes we witnessed. Now, the calls are more about strategic and execution challenges, both near term and immediate. We have, for a very long time, been a practical source for trends and best practices in the industry, but I cannot ever remember it being so valuable a resource as it is in this crisis."
"Many restaurants are small businesses owned by families or independent operators, and it can be difficult even on a normal day to survive, let alone in times of unexpected and unprecedented crisis," said Brice Gumpel, CEO and Co-Founder of Seated. "Our mission has always been focused on helping restaurants, and our hope is that the Seated hotline can make even a small impact to help restaurants persevere. As the situation continues to develop, Seated remains committed to supporting restaurant operators, and we will continue to offer guidance and help wherever needed."
To date, Seated has filled more than 900,000 seats, generated $7 million in tips for wait staff, and $37 million in revenue for restaurants. While the premise of Seated is rooted in in-restaurant dining and filling seats, its core mission is to help restaurants, specifically helping them increase sales and boost revenue. The launch of this effort further reflects this mission and the company will continue to develop support systems for restaurants as new challenges arise.
For more information, visit seatedapp.io and seatedhotline.com.
---
The continental selections for the Bocuse d'Or and the Pastry World Cup competitions have been postponed.
The Bocuse d'Or Americas, American selection of the Bocuse d'Or, will take place in Lima, Peru the 25th and 26th of September (instead of 3rd and 4th of May). The Copa Maya, which qualifies the best pastry chefs of the South American continent, will take place the 27th of September in Lima as well with the Bocuse d'Or Americas.
The Bocuse d'Or Europe, initially planned the 28th and 29th of May, is postponed to the 3rd and 4th of September in Tallinn, Estonia.
The Bocuse d'Or Asia-Pacific is maintained the 1st and 2nd of July in Guangzhou, China.
For all candidates, one goal : acces the world finals of the Pastry World Cup (24th and 25th of January 2021) and the Bocuse d'Or (26th and 27th of January 2021) in Lyon during the Sirha trade show.
---
Fazoli's is doing what it can to help its restaurant industry family by offering all restaurant workers an industry special: Regular Spaghetti with meat sauce or marinara and a small drink for $2.99. This offer is only available through the drive-thru. Guests must show their restaurant name tag, uniform or pay stub to take advantage of the restaurant industry offer.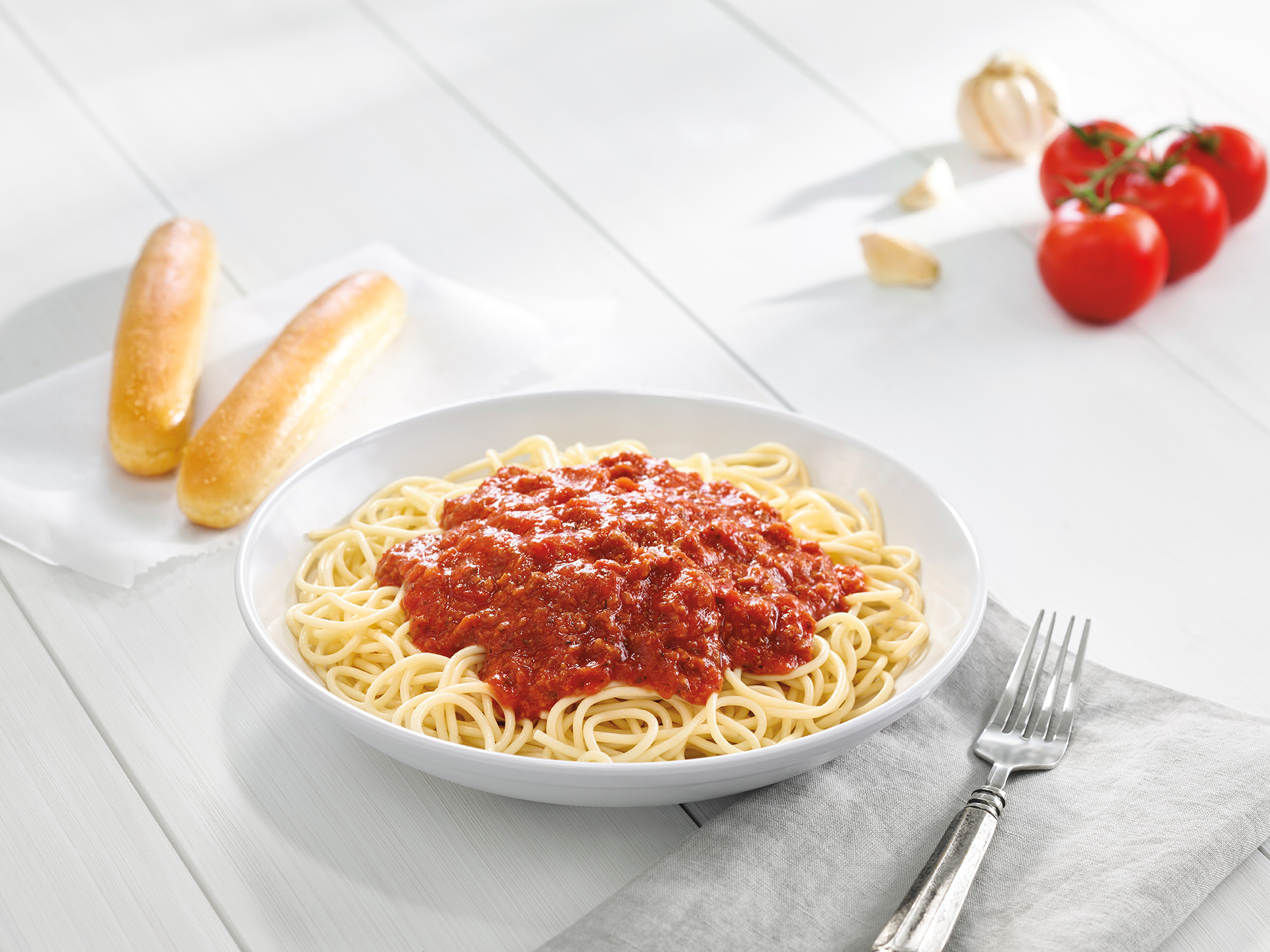 "This pandemic has created a situation unlike any of us have seen in our lifetimes, and unfortunately, our industry is one that will continue to bear the brunt of the impact," said CEO Carl Howard. "As a brand, we want to do what we can to help those in our restaurant industry family, and also help drive occasions to our restaurants to sustain our own managers and crew during this difficult time."
---
Restaurant Workers' Community Foundation, an advocacy and action nonprofit founded in 2018 by and for restaurant workers, set up its Restaurant Workers COVID19 Crisis Relief Fund on Sunday, March 15, just as governors across the United States were publicly contemplating forced shut-downs of the hospitality industry. RWCF announced its first 5-day total from "small dollar" individual donations through its website totaling over $80,000 (This figure does not include the hundreds of thousands of dollars of corporate and major donor commitments currently being arranged).
As of March 19 at 1:30 p.m. EST, there were over 800 donations through the site, which ranged from $1 to $5,000 (about 63% were $50 or less). RWCF will provide regular updates on donations and distribution figures on its Crisis Relief Fund page.
RWCF's board of directors voted to allocate all funds raised for the Relief Fund to be allocated in the following ways:
50 PERCENT FOR IMMEDIATE, DIRECT CRISIS RELIEF ASSISTANCE TO INDIVIDUAL RESTAURANT WORKERS. RWCF has deep connections in the restaurant community, but we don't have the existing technological apparatus or manpower to review thousands of applications, verify needs and ensure distributions to individuals are spent as promised. (RWCF has already received approximately 5,000 emails from workers requesting for help). That's why we're partnering with SOUTHERN SMOKE FOUNDATION to distribute our direct assistance funds.

Southern Smoke is a nonprofit 501c3 crisis relief foundation based out of Houston that exists to do just that. It was created by James Beard Award-winning Chef Chris Shepherd of Underbelly Hospitality and Lindsey Brown of Lindsey Brown Public Relations to raise funds for charitable purposes, principally for support and assistance for those in the food and beverage community and their suppliers during times of crisis. Southern Smoke has to date donated more than $1.6 million—both directly to people in need via the Emergency Relief Fund and to organizations that represent the needs of people in our industry.
INDIVIDUALS seeking RWCF's direct assistance should go to the Southern Smoke Application Form to submit their information and needs. Please note that Southern Smoke will evaluate each case based on the state of an applicant's emergency, prioritizing issues like medical needs.
Yesterday, RWCF advanced Southern Smoke Foundation $15,000 dollars from its existing cash on hand to beef up its capacity to distribute funds quickly, and RWCF has committed to assessing donation commitments to the Crisis Relief Fund every seven days and transferring the appropriate amount to SSF in a timely manner.
25 PERCENT FOR NONPROFIT ORGANIZATIONS SERVING RESTAURANT WORKERS IN CRISIS. RWCF has a strong and growing roster of nonprofit partners who already provide services to restaurant workers, including access to mental health services, immigrant services, support for women in the industry, workforce retraining, etc. RWCF grantees such as Restaurant After Hours, Hot Bread Kitchen, and Emma's Torch are well positioned to directly help restaurant workers. During this period, we will seek out additional nonprofits that are well-positioned to provide restaurant workers healthcare, food, rental assistance, transportation and other vital emergency provisions.
25 PERCENT FOR ZERO-INTEREST LOANS FOR RESTAURANTS TO GET BACK UP AND RUNNING. Prior to this crisis, RWCF was growing a Program-Related Investments (PRIs) plan to give below-market-rate loans to businesses that pledge to operate in accordance to core worker-friendly principles, but now, with the crisis threatening the entire industry, we will use a portion of our crisis fund dollars to help small businesses get up and running again when they can. There are many weeks before restaurants will be allowed to reopen, so RWCF leaders will take this time to develop a set of criteria for determining what principles businesses will need to adhere to in order to be eligible. More information on the criteria and instructions on how businesses can apply will be published on our website as it becomes available. Individuals representing small businesses seeking loans should sign up for our newsletter to stay informed.
RWCF is committed to reporting at regular intervals on our website the dollars raised and distributed for the Restaurant Workers' COVID19 Crisis Relief Fund. The proportions outlined above may change as conditions on the ground evolve. We are committed to operating the Crisis Relief Fund with full transparency and frequent public reporting throughout the process.
Restaurant Workers' Community Foundation is America's first nonprofit using the community foundation model to support people in a particular labor segment. By addressing quality-of-life issues that disproportionately affect restaurant workers – 40% of whom live on poverty-level wages – RWCF is dedicated to strengthening the workforce and increasing opportunities for advancement in the industry to more people. The restaurant industry is notorious for low wages, poor job mobility, high turnover, and burnout. Structural and cultural issues within the industry decrease quality-of-life and make long term work in the industry unsustainable for many.
---
Cameron Mitchell Restaurants (CMR) established an Associate Relief Fund to which 100 percent of online gift card sales, from March 19-31, 2020, will be donated. The fund, which also includes personal contributions from the CMR leadership team, will be divided evenly among the company's 4,500 associates. Each associate will receive a check in April, helping them put food on the table for their families.
"We urge CMR Raving Fans to consider purchasing gifts cards to help support this effort," said Cameron Mitchell. "Together, we can help our devastated restaurant community."
Click here to learn more.
"This is, without a doubt, one of the most incredibly difficult times Cameron Mitchell Restaurants (CMR) has ever faced," Mitchell continued. "Our hearts are with each one of our associates impacted by COVID-19, and with everyone across the U.S. and in our hometown of Columbus, Ohio. While our Cap City locations remain open one last day, at the close of business tonight, we will temporarily cease all operations. The vast majority of our associates, approximately 4,500 people, now have been furloughed, and we fervently hope they will return to CMR when this crisis is over. Our incredible associates are our CMR family, and we are heartbroken. With them, we've celebrated new lives and mourned losses, we've laughed and cried, and we've worked together to serve our guests and support each other. We are committed to helping them through this unprecedented time."
---
MealPal announced a new initiative to drive $10 million in donations to restaurants impacted by the COVID-19 virus. Through the new program, anyone can donate a month of a MealPal membership to local restaurants.

The rapid decline in restaurant sales since the COVID-19 outbreak is staggering. In a typical week, MealPal drives more than $1 million in sales to restaurants in 20 markets globally, but that figure has dropped by nearly 60 percent since COVID-19. Additionally, MealPal partner restaurants report that delivery and walk-in business is down more than 90% this week.
Donations will go directly towards supporting local restaurants. Consumers may donate an amount of their choosing, with a recommended donation of either a 12 meal membership ($75) or a 20 meal membership ($125). The program launched earlier this week and due to strong support from MealPal members and inquiries from others about how they could support the restaurant industry, MealPal has extended and expanded the program to support communities around the world.
"Restaurants are at the center of everything we do," said Mary Biggins, co-founder and CEO of MealPal. "COVID-19 has been devastating for our partners, so we have shifted our platform to help drive much-needed capital as they navigate this challenging time. If we don't pull together as a global community to support restaurants now, many will not make it to the other side of this crisis. We are committed to supporting them."
Consumers can learn more and show their support by visiting mealpal.com. MealPal is seeking 100,000 donations to achieve the $10 million goal to help restaurants survive. Donations will support restaurants in the local community of the donor.
---
Embark Media Group put together a simple guideline of what restaurants can do right now in terms of marketing : Click here for the game plan.
"The article isn't a sales pitch, part of a drip campaign, or anything of the opportunistic nature," Justin Moreno said. "We're just trying to give some practical advice and help out an industry currently in need."
---
Supporting small businesses as they face COVID-19, LocalGiftCards.com (LGC) announced its "LGC Free for 3" program assisting locally owned small businesses (SMBs). The service will be free to any business that is at least 51 percent locally owned until July 1, 2020.
With the program, LGC makes it very easy for any SMB owner to sell their gift cards — email, mobile and physical — on their web site as well as LGC's website.
After signing up for the free program, business owners are provided with a custom link to add to their existing website directing customers where to purchase gift cards. Businesses can also sell gift cards on their company Facebook page with the LocalGiftCards.com Facebook app.
"We are pleased to do our part in helping the local business community by making our service free to SMBs for three months. Our goals is to help businesses get through the COVID-19 closures by selling their gift cards online," said Ray Clopton, CEO of LocalGiftCards.com. "We hope to make it easy for consumers to support their favorite locally owned restaurants and other businesses that have been forced to close."
Consumers can easily purchase email or mobile gift cards. They can also have a physical (plastic) gift card mailed out.
"Unlike other providers doing similar promotions, LocalGiftCards.com has waived all fees to SMB merchants," added Clopton.
LocalGiftCards.com is one of the Smart Transaction Systems brands, which includes Wilbur Rewards. Wilbur is also designed for SMBs and it is an ideal way for SMBs to build customer loyalty to help them get through the likely economic downturn. LGC has been in operation since 2012. All cards sold through our service do not have expiration dates or dormancy fees.
---
Hospitality Action launched a COVID19 Emergency Appeal to build a significant fund to enable the organization to make a one-off award to eligible workers suddenly facing hardship.
---
For service professionals looking for work, Jet's Pizza, known for its Detroit-style pizza, currently has delivery employment opportunities available at each of its 386 locations in 20 states nationwide. Opportunities are available for restaurant and bar workers, teachers and other individuals who are faced with unemployment amid layoffs in the current climate. On average, delivery drivers can make between $13 – $16 per hour, based on tips and mileage. Those interested in applying can call their local Jet's Pizza location directly. For more information or to find a nearby location, click here.
Jet's Pizza has locations in Alabama, Arizona, Colorado, Florida, Georgia, Illinois, Indiana, Kentucky, Michigan, Minnesota, Missouri, New York, North Carolina, Ohio, Pennsylvania, South Carolina, Tennessee, Texas, Virginia and Wisconsin.
---
Bluecrew, the staffing technology platform for a flexible W-2 workforce, announced additional financial relief for Crew Members impacted by the coronavirus (COVID-19). In response to the growing concern over the health, safety, and financial well-being of the nationwide hourly workforce, Crew Members who rely on Bluecrew for a steady source of income will receive an additional two weeks of paid leave should they contract the virus or need to self-quarantine.
Unlike gig platforms, Bluecrew classifies all of its Crew Members as employees. This means all Crew Members already have access to the benefits and protections afforded to employees, including paid sick leave, workers' compensation, unemployment insurance, and health insurance. This new benefit is supplemental to the protections and benefits Crew Members currently receive and will be at no cost to Crew Members or Bluecrew customers.
"The health and safety of Bluecrew employees is our primary concern – both those in corporate offices as well as the thousands of Crew Members working on our platform for hundreds of employers across the country," said Adam Roston, Bluecrew CEO. "Hourly workers in the U.S., the majority of whom live paycheck to paycheck, are at a grave disadvantage right now. It's our hope that state and federal governments step up and provide financial relief to all hourly workers, but in the meantime, we are going to make sure our Crew Members have this important additional benefit."
"Bluecrew has a long history of advocating for the American workforce and will continue to do so. Today's national crisis is further proof that every hourly worker should receive the protection and benefits every working American deserves whether during a national crisis or a personal one," Roston continued.
All Crew Members will be automatically enrolled in this additional paid leave program.
---
OnTerra Systems, the developers of RouteSavvy routing software for small businesses, said RouteSavvy route planning software (www.RouteSavvy.com) will be free through June 30, 2020 for up to 1,000 small businesses struggling to survive during the coronavirus pandemic.
"Businesses that are shifting their business model to home delivery of goods to survive the economic hardships of the coronavirus pandemic (restaurants, retail, home product delivery, home health care & more) will need routing software to make their delivery process more efficient," explained Steve Milroy, OnTerra Systems president.
"Businesses embarking on home delivery business to survive will find that routing software can help them gear up food or product deliveries quickly & efficiently, while also saving significantly on fuel costs," Mr. Milroy said.
Small business owners gearing up a delivery business may sign up for the free trial of RouteSavvy. Normally, the RouteSavvy free trial is for 14 days. However, up to 1,000 business owners who sign up for the RouteSavvy free trial will receive RouteSavvy route optimization free of charge through June 30 – with full functionality of the software available. Click here for the RouteSavvy Free Trial link.
RouteSavvy is online routing software that does not require that users buy or maintain software. Instead, RouteSavvy users simply get a subscription, and access RouteSavvy using a computer and internet connection.
RouteSavvy is easy to use, and allows small business owners to generate the most efficient route for home deliveries in three simple steps:
Step 1: Upload or input the addresses of the day's deliveries to the RouteSavvy platform
Step 2: Create a route and click the "Optimize" button
Step 3: RouteSavvy will automatically generate the most efficient route for those deliveries.
In addition, the efficient route generated by RouteSavvy can easily be printed out, or exported to the driver's cell phone for turn-by-turn navigation.
"For stressed out business owners working fast to gear up home delivery of their offerings, RouteSavvy is ideal because it's fast and easy to learn," explained Milroy. "The coronavirus pandemic is taking an economic toll on entire countries, business owners and individuals," noted Mr. Milroy. "By offering RouteSavvy for free through June 30, 2020, our intent is to help struggling small businesses quickly deploy delivery services to help their businesses survive."
---
Champion, a leading public relations, local store marketing, social media, franchise development and crisis management firm – formed an internal, senior-level Task Force designed to help its restaurant, retail and other consumer-facing clients navigate through the escalating COVID-19 Coronavirus crisis.
The Task Force, comprised of Champion's senior officers and leaders of its account teams, will offer current clients the following guidance and services throughout the crisis:
Best practices and customized messaging to proactively communicate with guests and employees;
Recommended social media messaging to address COVID-19 issues;
Best practices guidance for interacting with the media and responding to inquiries;
Best practices on public relations outreach and digital messaging to address strategic business initiatives, such as emphasizing delivery and takeout;
Sharing of current best practices concerning in-store and off-premise health and sanitization procedures;
Rapid response team to help address breaking news, new outbreaks, etc., with both internal and external constituencies; and
Regular updates on news impacting the restaurant and retail industries.
In addition, the Task Force will serve as a real-time conduit for the sharing of questions, ideas, recommendations and updated health and safety practices between brands. This will be accomplished through daily and weekly emails, e-blasts and webinars, which will serve as a forum for timely peer-to-peer interaction on emerging issues.
"We have been working with and counseling our clients on the COVID-19 outbreak for the last several weeks," Champion Founder & Principal Ladd Biro said. "Given the escalating nature of the situation, we felt that our clients would be best served by formalizing the process and consolidating our efforts into this Task Force. The landscape is shifting by the hour, and we are committed to sharing best practices and other information that will help keep the public calm and provide proper reassurance that our clients are doing everything possible to maintain the health and safety of their guests and team members."
---
Bikky and FoodtoEat launched eat.bikky.com, to serve as a guide for diners to order directly from their local NYC restaurants. It's an aggregator for ordering directly (i.e. commission-free) from a restaurant at a time when local eateries are faced with unprecedented challenges (like in-store revenue going to $0 in less than a week).
For diners, it's billed as a curated guide to ordering delivery during COVID-induced quarantine. We've included filters crafted for this unique moment in our history (i.e. individual meals for social distancing; shareable meals when you're trapped with your roommate), and delivery guides celebrating the intimacy of a zoom call or how date night is now isolated to one's apartment. It's an engaging way for diners to contribute directly to their beloved local institutions. Additional features include:
Enables consumers to order commision-free directly from restaurants (instead of third-parties), which increases the restaurant's profits
Visitors can filter based on various criteria such as:
Their mood ("Keep grindin" when you're back to back on zoom calls; "Your body is a temple" for some lighter fare)
The size of the meal (social distance vs. trapped with roommate vs. party indoors)
Standard filters like meal (breakfast, lunch, dinner) and price
Visitors can read (and suggest) guides that are unique to the moment
"Because you don't need the gym to look fly" highlights healthy fast casual staples like Juice Press and Pure Green
"Because this quarantine ain't gettin' me down" highlights local dessert eateries like Chip, Doughnut Plant, and 16 Handles
It's a Kayak-like experience in that the visitor searches for what they want via the site, but are taken direct to the restaurant's website when they hit "order now" to complete the transaction (or in Balthazar's case they can see the phone number to order their meal + wine, liquor or beer)
---
Due to the global pandemic caused by coronavirus disease 2019 (COVID-19), Hydro Systems, published an educational white paper, "Dispensing Cleanliness During an Outbreak or Pandemic." The white paper discusses the current state of the pandemic, cleaning best practices and the benefits of using chemical dispensing systems to combat an outbreak. The white paper is available for download here.
"From schools to hotels to office buildings, every facility in the U.S. has been impacted by COVID-19 in some shape or form and now requires frequent cleaning to mitigate the spread of infection," said Matt Hayas, Global Product Manager, Hydro Systems. "Our free white paper provides insight on promoting health and wellness through cleaning, disinfecting and sanitizing, while also outlining the effective role chemical dispensers can play before, during and after an outbreak."
Ideal for facility managers and cleaning professionals, Hydro's white paper outlines strategies for dealing with the current pandemic, as well as preparing for future outbreaks. It emphasizes the importance of using the right cleaning chemicals and tools and also discusses dispensing system best practices, including how to select, install and maintain the system for years to come.
---
In an effort to mitigate the sales impact of the Coronavirus pandemic, CaterZen invested programming hours since the beginning of March to ensure restaurants and caterers can continue operations, and even thrive, by focussing on online ordering and food delivery.
CaterZen rushed to modify their catering software tools for foodservice operators to diversify their service; specifically through online ordering and delivery management. The delivery manager tool opens up new business opportunities for restaurants and caterers, as they can provide various drop-off catering services, such as feeding families that are isolated at home, and providing meals for essential service workers and others who aren't able to work remotely.
"Our clients were impacted by mass cancelations of catering orders. They started offering home delivery of family meals and to-go orders to make up for lost sales," explains Michael Attias, Founder of CaterZen. "Through client feedback, we quickly modified our software to serve their new needs."
CaterZen's pivot as a software company allows restaurants and caterers to easily create delivery routes and assign orders to drivers, who are equipped with a mobile app synced to the software. Catering clients have access to a live feed of exactly where the driver is via CaterZen's tracking map. The driver can even alert customers when they are on their way and when they pull up in the driveway.
"In this time of uncertainty and anxiety, offering delivery customers a tool to see exactly where their order is and the expected delivery time helps alleviate a bit of stress," said Attias.
---
In an effort to further support its staff while following federal, state and local guidelines for restaurants during these challenging times, TooJay's Deli announced that 10 percent of gift card salesthrough April 1 will be donated to a special fund created for team members. In addition, TooJay's will contribute matching funds.
"Our team members are the heart and soul of this company and we are doing what we can to keep them healthy, safe and employed as we navigate our way through this difficult period," said TooJay's CEO and President Max Piet. "We are very grateful to our loyal guests and appreciate their support of this gift card initiative for our staff."
Employee discounts have also been increased and the company is adding driver positions to try and offset loss of hours in other positions.
---
Effective immediately, SWIPEBY will be offering their automated curbside pickup technology to small business restaurants for free, nationwide.
SWIPEBY's mission is to help restaurants provide convenient and contactless curbside pickup. Due to the pandemic small business restaurants are in harm's way they want to help. They've removed all sign-up fees, set-up fees and commissions so they can become a virtual drive thru, offering safe, fast and convenient curbside service without any additional costs.
Key benefits of SWIPEBY's curbside service are:
Benefits for the restaurants:
SWIPEBY is free (merchant fees still apply)

GPS notification system lets you know when the customer has arrived. No call or text from customers needed.

Menu customization – Store hour customization

SWIPEBY can be turned on in 24 hours, at no cost.

Full control of the takeout experience. No 3rd party staff.
Benefits for the customer:
SWIPEBY touchless curbside pickup removes interaction with money, cards, receipts and exposure to others.

Easy mobile ordering. App is free to use.

Aggregator app – so you can see who is open and offering curbside nearby.

Search feature

Tip the staff

Fast service. Get your order in 20 min or less

Access to great food fast, not just fast food. Lots of great options. Parents with kids who have dietary issues love this.

Smooth curbside pickup experience. Order ahead, pull up and the restaurant will bring out the order. No call or texting needed.
We are confident the platform can help as we have received great feedback from our partners.; "Swipeby has been a trusted and reliable partner at Village Juice Company for over a year. Our customers have loved, and continue to love, it's convenience and reliability." ~ Nathan Atkinson owner of Village Juice.
Restaurants can go to here to sign up.
---
Access Hospitality has pledged their support to set up a delivery or click and collect ordering service within 48 hours, which will be free for the first two months as Access cover the cost and all implementation fees.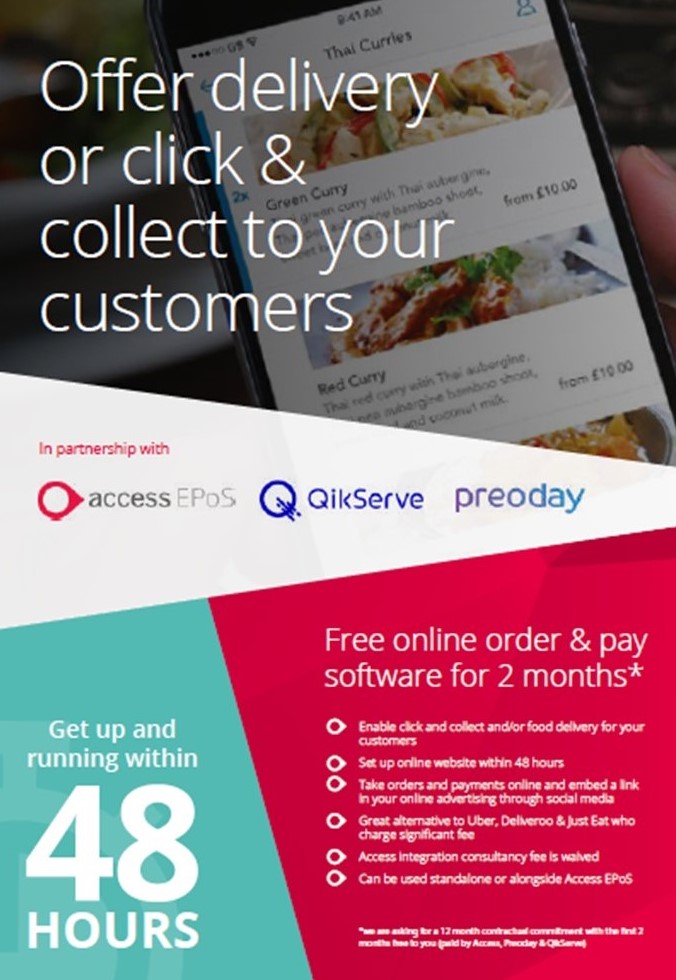 The offer has been launched following the closure of pubs, bars, restaurants and other public spaces and the confirmation that the Government is relaxing planning permission restrictions to enable businesses to diversify as they aim to provide a community service and maintain a revenue stream.
Announcing the initiative Henry Seddon, Managing Director of Access Hospitality said "Many operators are turning their sites into 'dark kitchens' enabling them to offer a takeaway, click and collect or delivery option. This is providing a vital community service as well as avoiding business failure following compulsory closures. While switching operations to focus on collection or delivery will require a concerted effort, Access Hospitality is taking one element off their minds, by working with its partners QikServe and Preoday to provide an online website with order and pay capability and getting operators set up within 48 hours to help them get their new revenue stream up and running.
"Within two days, pubs, bars, restaurants and hotels could be taking orders and payments online, with the option to promote through online advertising via an embedded link in social media" continued Henry. "Access Hospitality is committed to supporting hospitality operators through this immensely challenging period and, by waiving the integration consultancy fee and with Access covering the cost of online order & pay software for two months, we are extending the valuable service we are known for."
The software can be used as a standalone system or alongside Access EPoS to offer as much flexibility as possible and provide the tools for operators to diversify and continue trading, having been instructed to close their premises on Friday 20th March. The free two-month period will form the first phase of a 12-month contractual commitment and is expected to offer a lifeline to operators when they're most in need of practical support.
The offer of free software comes as Access Hospitality announced it is also focused on giving operators the ability to sell vouchers on their sister platform DesignMyNight. This enables operators to sell vouchers now to help with cashflow so that the local community can support the business to keep open when things return to normal.
For further information or to start the process to have a takeaway business stream up and running within 48 hours, contact Access Hospitality on 0845 340 4542 or hospitality@theaccessgroup.com.
---
The Upton Group, LLC created website for restaurants and small businesses impacted by government orders to shut down or go to delivery only service.
Restaurant owners and franchisees can visit www.mydeliveryinsurance.com for more information.
There are two program options available for restaurants and small businesses who are negatively impacted by government actions that requires businesses to close or limit service to delivery.
Qualified Businesses Include but not Limited to:
Restaurants Independent or Franchise

Grocery Stores

Liquor Stores

And Others
These restaurants and businesses need a specialized insurance policy.
Hired and Non-Owned Auto insurance provides third party liability coverage for the business when an employee uses their personal vehicle for business purposes such as delivering products (food, grocery etc…). The coverage sits excess of the driver's own insurance.
Multiple Program Highlights:
Hired and Non-Owned Auto Coverage

Short Term Policies of Three Month or Six Month

Multiple Limits Available from $100,000 up to $1,500,000

Very Low Monthly Premiums Starting as low as $1,500

Options in all 50 States
Jason Upton, President, said: "Today restaurants and small businesses all over the country are being forced to close or limit service to pick-up and and/or delivery. The number of restaurants/businesses being impacted is growing almost daily. Our new insurance programs will bring these small business owners an option to remain open by offering delivery service.
As these restaurants/businesses do not currently offer delivery service, it is important that they partner with an insurance agency that knows the challenges and pitfalls adding this service creates to their business. The Upton Group, LLC has the experience to help businesses get a program up and running in a safe manner while proving the due diligence that is needed to only have safe delivery drivers on the roads in their community."
Upton continued: "With these services combined with the right insurance coverage restaurant owners can focus on their operations and together we will get through these challenging days.
Delivery service is not easy. I myself spent 24 years with the largest pizza delivery company in the world, with 17 of those years as a franchisee. We leverage that experience to offer exceptional risk management consulting and risk transfer practices with leading carriers in the county."
Upton concluded: "Our focus and commitment is to help impacted businesses get open or remain open by entering the delivery business and to protect everything they have worked for, which will ultimately save jobs and secure their families' futures."
---