Yelp: Restaurants and Food Businesses Show Resiliency
2 Min Read
The restaurant industry and others could be on the brink of recovery, according to data contained in Yelp's Annual 2020 Yelp Economic Average (YEA) report.
In fact, In the third quarter of 2020, YEA observed restaurant and food businesses open at pre-pandemic levels and data indicates the number of restaurant and food business openings approached and even surpassed 2019 levels in the fourth quarter.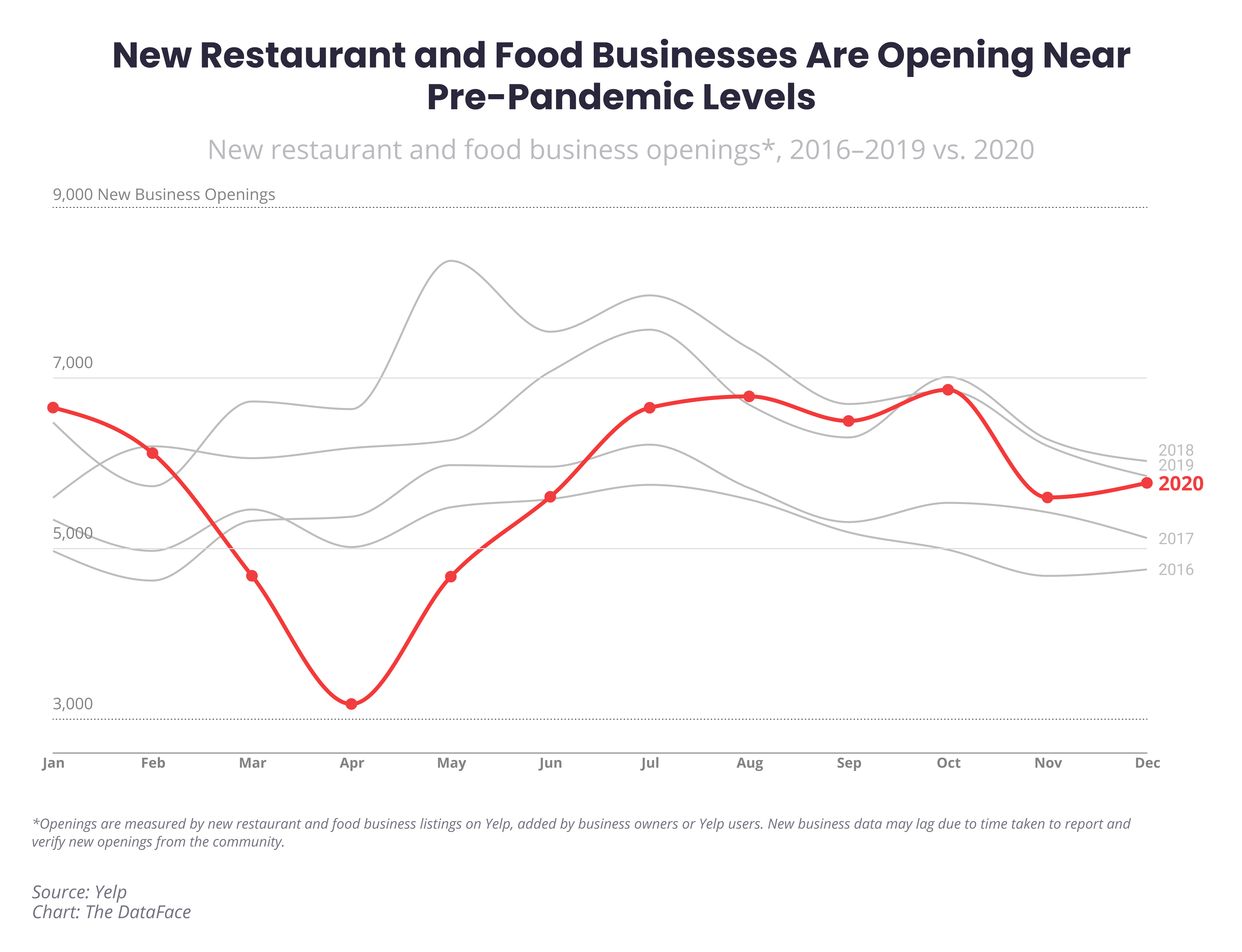 Openings are determined by counting new businesses listed on Yelp. Restaurant and food business owners opened 18,207 restaurants nationwide in the last quarter of 2020, down only four from the same time period last year – and down only 16 percent comparing the full year of 2020 to 2019.
YEA found that reopenings of local businesses increased in the fourth quarter, with a total of 230,209 businesses reopening between March 1 and December 31. Data from Yelp's third quarter YEA report found 210,000 reopenings occurred nationwide, as of September 30. Reopenings slowed in October, but increased again in November and especially December, coinciding with the approval of multiple COVID-19 vaccines by the FDA.
"After a challenging year that's tested millions of local businesses, our data shows early signs that local economies may finally be on the mend," said Justin Norman, Yelp's vice president of data science. "As a testament to their resilience many months into the pandemic, we saw numerous industries return to pre-pandemic rates of new openings, as well as restaurants lead in reopenings during the fourth quarter of 2020. As people spent more time at home, businesses in the home, local, professional and auto services, at times, opened more new businesses than prior years, and all ended the year with a higher number of new openings in December than years prior."
Businesses in restaurants, food, shopping, active, health and beauty categories comprised more than 91 percent of the businesses that had to reopen twice and 87 percent of businesses that reopened three times or more.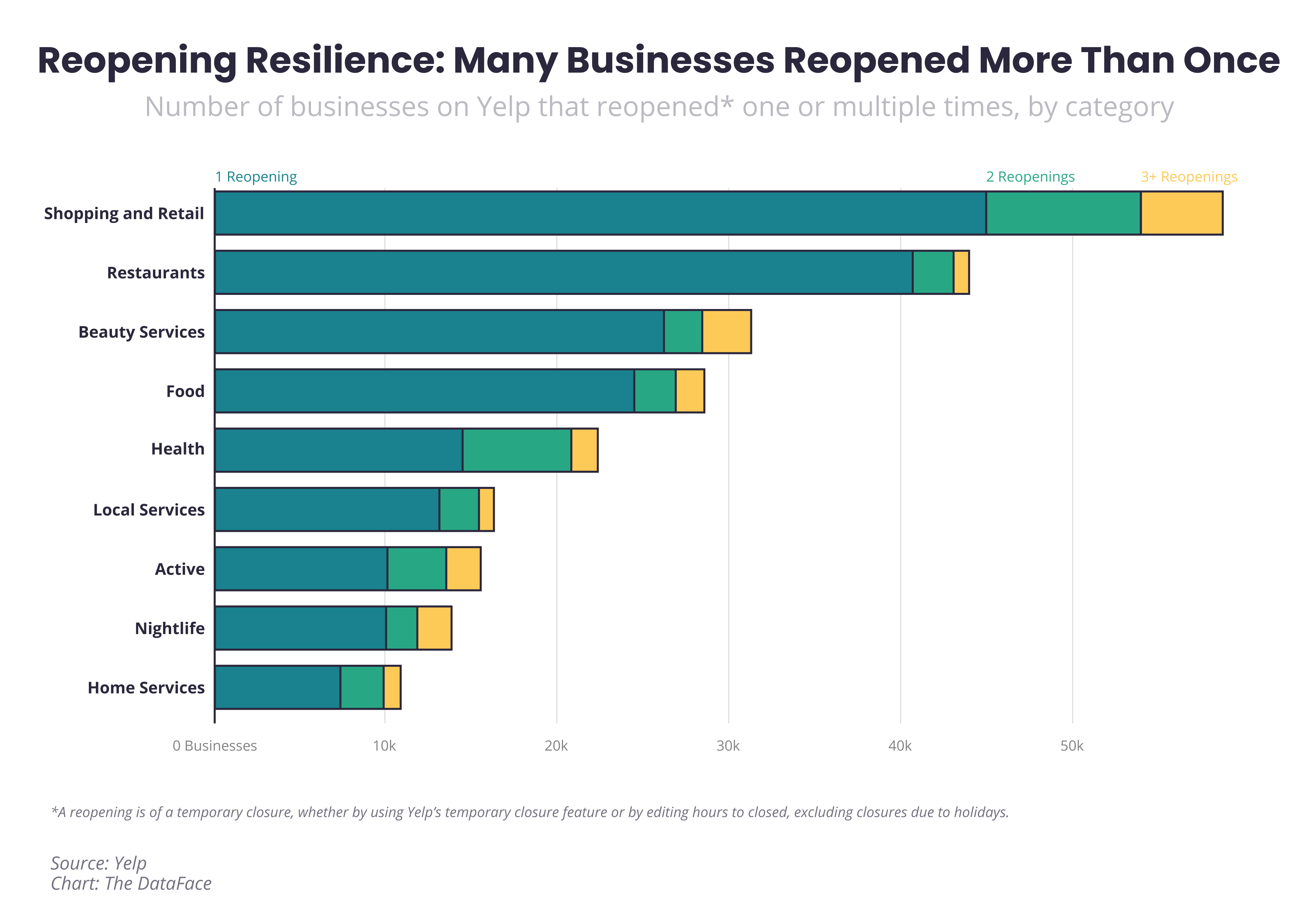 In the fourth quarter, Yelp's reopening data reveals food, active, professional services and home-related businesses spiked in reopenings. Despite the ongoing pandemic and surging cases, restaurant and food categories had 3,512 reopenings and 1,142 reopenings in the fourth quarter, respectively.
In previous years, Yelp data has revealed a weekly pattern of how users interact with the local economy on weekends, as Fridays, Saturdays and Sundays are historically the days of the week where users are most active on the platform. Yelp data shows that weekends became less active and eventful with less variation in consumer interest compared to weekdays' during the uncertainty and confusion surrounding the initial outbreak. March through August, the typical increase in consumer interest relative to the weekly average decreased 40 percent from 2019, with consumer interest beginning to rebound in August. Beginning in September and continuing through the end of the year, consumer interest on weekends increased back to pre-pandemic levels, with the weekend bump in consumer interest increasing by 50 percent relative to the weekly average experienced in March through August.