YEA: Restaurants Showing Resiliency with New Openings
6 Min Read By MRM Staff
New restaurant and food businesses are opening at pre-pandemic levels, with the number of new openings increasingly more in line with 2018 and 2019 volumes, according to third quarter data for the Yelp Economic Average (YEA) report.
In addition, 210,000 businesses have reopened that were once temporarily closed, with a large increase of reopenings in September 2020. The YEA reflects data from millions of local businesses and tens of millions of users on Yelp's platform, measuring U.S. business openings and reopenings, as well as consumer interest trends via search data, page views, reviews and photos.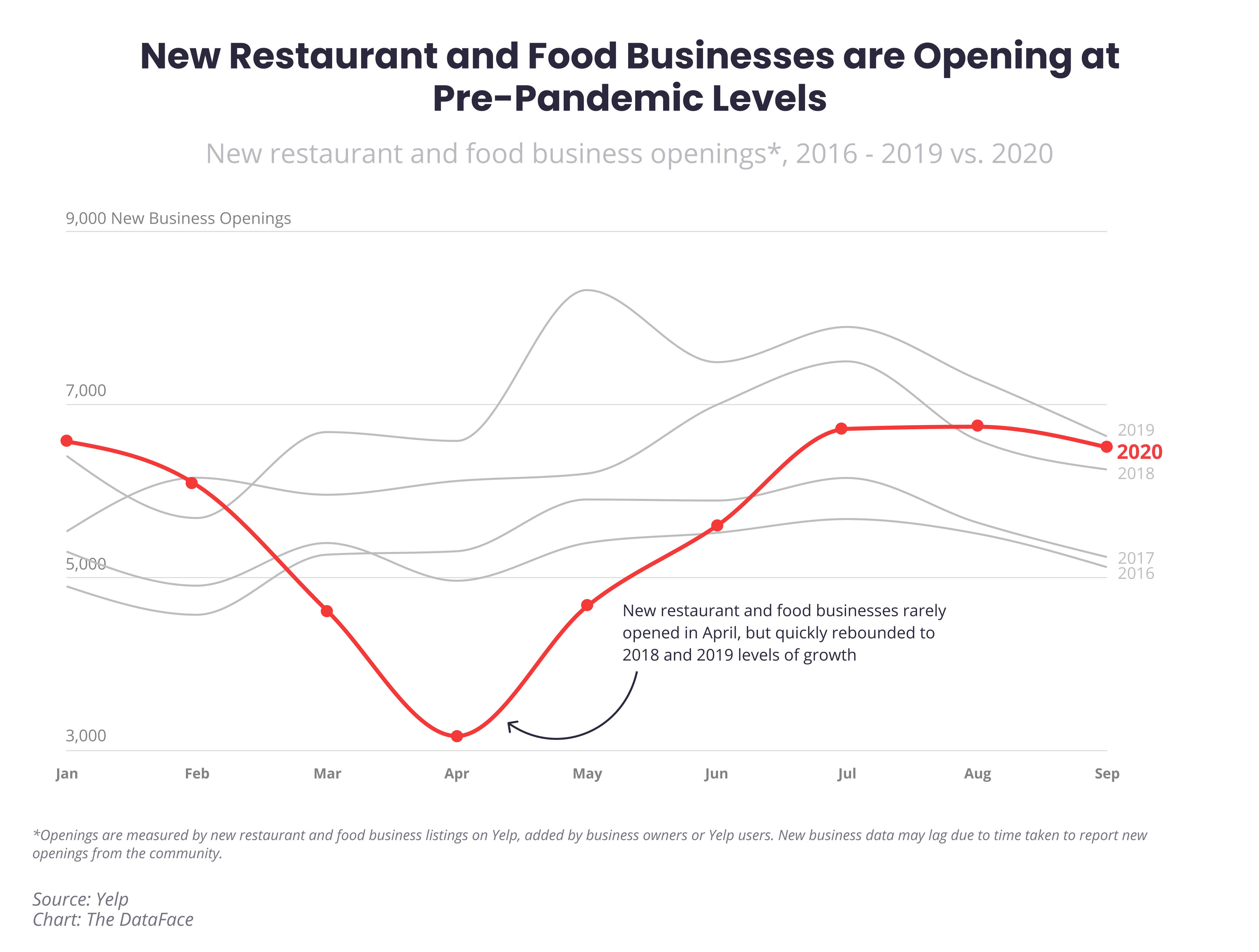 "Business owners have proven their resilience throughout the course of this pandemic. Many have been able to successfully reopen and keep their doors open by quickly innovating and adapting new operating models to serve their customers," said Justin Norman, Yelp's vice president of data science. "Restaurants in particular have been tested in the last six months, but we're now seeing new restaurant and food business openings align with opening rates from previous years. In what at times seems like a never-ending stream of challenges for business owners, it's encouraging to uncover these bright spots in the local economy."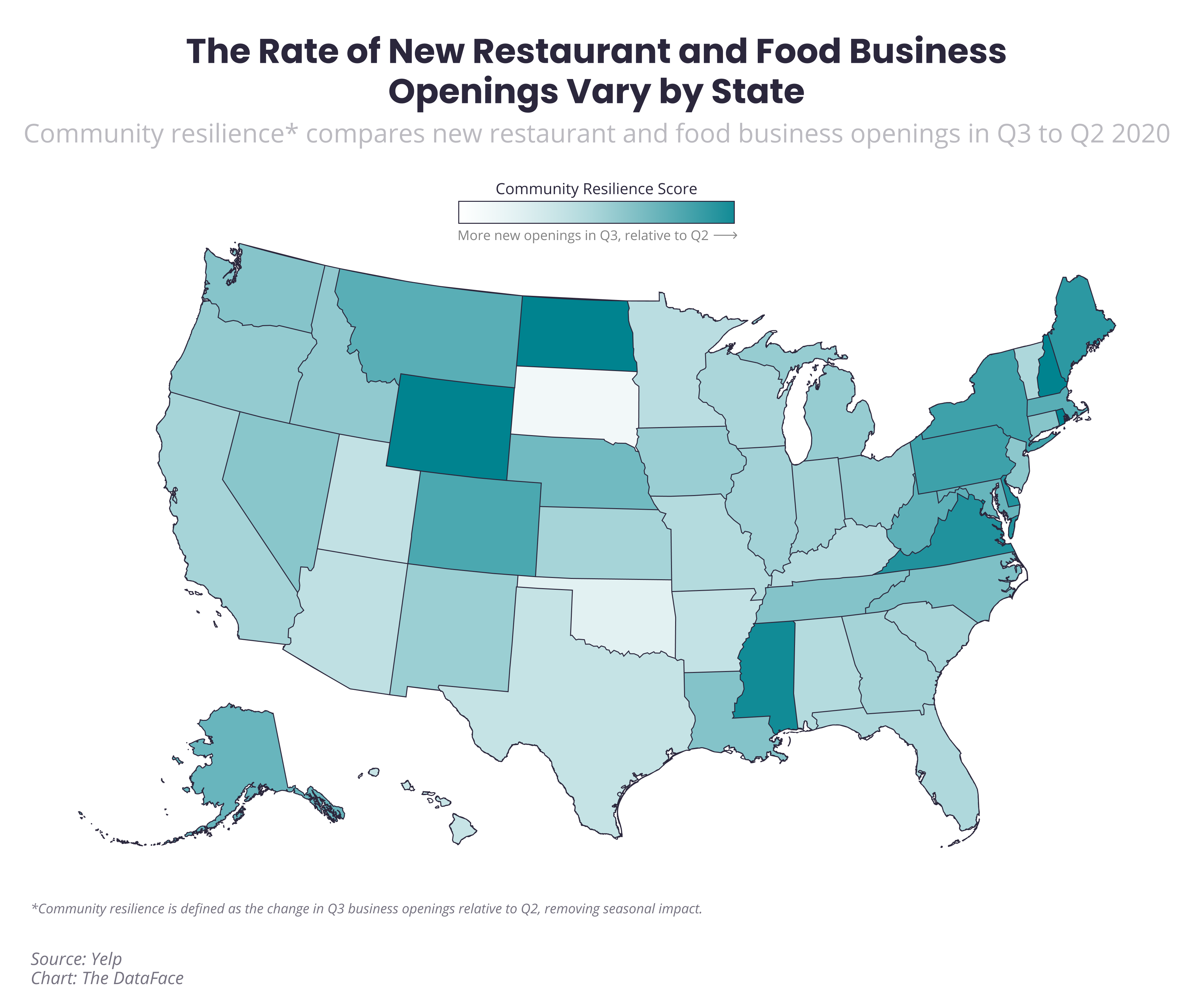 In April, restaurants endured a large drop in new openings, however in May a rebound had already begun, with a 29 percent average monthly increase of new restaurant openings from May to July. New restaurant openings stayed relatively flat in August and September, with approximately 6,600 new restaurants opening each month. There were only 100 fewer new restaurant openings in September of this year, compared to September 2019. New restaurant openings in Q3 2020 are only down 10 percent compared to Q3 2019.
Compared to Q3 2019, Yelp observed an increase in brand new openings in Q3 2020, nationally, for open air food services including: farmers markets (211 openings) and food trucks (1,734 openings). In addition, pop-up restaurants (100 openings) and seafood markets (84 openings) experienced an increase in openings compared to the same period in 2019, catering to consumers' interests in novel ways to dine and shop for food outside of traditional restaurant experiences. Yelp data also indicates that openings increased for food businesses specializing in celebratory treats that are often enjoyed at home or purchased as gifts, including cupcakes (494 openings), custom cakes (512 openings), and desserts (1,615 openings).
Yelp measures community resilience by comparing the rate of change of new openings in Q3 relative to Q2, removing seasonal impact. Community resilience determines how well states have rallied to open new businesses in Q3 compared to Q2 during the pandemic. States that showed the most resilient third quarter for restaurant and food-related business openings include North Dakota (39 openings), Washington D.C. (108 openings), Rhode Island (69 openings), New Hampshire (103 openings), and Wyoming (34 openings) — all with at least two times the openings in Q3 compared to the previous quarter. States with the largest total number of new openings in Q3 tend to be larger and heavily populated, including California (3,279 openings), Texas (2,002 openings), Florida (1,542 openings), New York (1,420 openings), and Washington (561 openings).
"The survey by Yelp shows that the industry is becoming more takeout- focused and more optimized," Chelsea van Hooven, Global Industry Advisor to Choco told Modern Restaurant Management. "As office workers flee the city it's likely that many of the new openings are in residential areas, with concepts and menus catering to the different needs of this segment. We see seafood and farmers markets opening as independent producers try to capture consumer demand, after losing out on demand from independent restaurants who are consolidating menus and suppliers. However, the biggest highlight of the survey is that it shows the seismic shift in attitudes in the industry.
For many restaurateurs standing still is not an option, not even in times of crisis. Operators are changing business models and processes that have been around for decades, and focusing on being scrappier, more adaptable, leaner and more efficient. I have read many quotes from restaurant owners saying, 'I'm not afraid of work.' The pandemic is changing the culinary fine dining landscape and giving young, and innovative chefs a seat at the table. They are helping to define the new normal and shape these changes, which right now point to efficiency in operations, a zero-waste mentality and providing value to customers."
She added that Matt Orlando, Head chef and owner of Amass, zero waste restaurants in Copenhagen, Denmark, is a great example of this.
"He has become an expert on the circular economy within restaurants and is creating tools for restaurants of all sizes to reduce or eliminate waste, track their Co2 footprint and optimize their business model. His approach of involving the entire staff on every part of the operations within the restaurant carries the mentality of an adaptable start-up. Challenging the team and giving everyone a voice creates a dynamic environment and creates outcomes no one would have expected. Matt regularly asks his team members: 'How can you work your station more efficiently?' – this is something that every restaurant now needs to do to adapt, and often the answer lies in technology, data and tracking. This also means it's time for restaurant tech and restaurants to work together to deliver value, paving the way to more efficiency within the restaurant business and creating a landscape of more sustainable restaurants for the future."
Additionally, Moody's Investor Services earlier this week upgraded its rating for the restaurant industry to "stable" from "negative." The rating agency's analysts expect operating profit to decline by more than 30 percent this year due to coronavirus-related business restrictions, and grow by around 15 percent in 2021.
"The stable outlook for the US restaurant industry reflects slowly improving business conditions over the next 12 to 18 months, as restrictions implemented to curb the spread of the coronavirus are slowly eased and customers gradually return to dining out," said Bill Fahy, a Moody's Vice President-Senior Credit Officer.
Quick service restaurants will continue to outperform casual dining establishments as their drive-through formats enabled them to remain open throughout the pandemic, Fahy said. But casual dining restaurants still did a significant job of rapidly pivoting from 90-100 percent dine-in to curbside pickup, To-Go and delivery.
"This year, for the first in a long while, the number of US restaurants is expected to decline, reflecting the devastating effect the pandemic is having on the industry," Fahy added. "And more closures are likely, depending on how long this operating environment continues."
"While it is great to see that Moody's has upgraded its outlook on our industry from negative to 'stable,' it's important to realize that the basis of their outlook comes primarily from larger chain restaurants," van Hooven commented. "Smaller independent restaurants, while they certainly have also benefited from diners' increased willingness to dine out and order delivery, are still struggling. They often do not have the same access to capital or expertise and resources as their larger competitors, and are more likely to be impacted by economic and societal strain. According to our data, the total volume of restaurant ingredients purchases is at 68 percent of its pre-COVID levels, which is in line with Moody's expectations for industry operating profits declining by 30 percent, and highlights that this effect will also be felt further up the supply chain, which may not have been considered. This is especially true for independent and local suppliers – we have seen restaurants consolidating their purchasing to larger broadliners, which has affected independent players further up the supply chain too.
van Hooven added: "Independent and smaller restaurants have worked hard to adapt, and the ones keeping their heads above water can keep momentum have focused on optimizing or minimizing their menus, expanding their delivery areas, and making their restaurants more accessible for delivery services. They can also focus on creating a unique brand that customers will come back to both physically and with delivery. This might mean selling the restaurants' sauces to-go in recognizable packaging, or having a strong visual language on social media. I've found that strong concepts and brand identities, particularly with independent restaurants, will create a customer base that people come back to time and time again, even during the pandemic. Most of all, this is a time for restaurants to rethink their traditional business models, often ones passed down through generations. they can take advantage of the optimization technology that is springing up, both for front and back of house, with tech companies in the restaurant space either removing or greatly reducing fees during the crisis. This is an opportunity for chefs and managers to take advantage of data and build cleaner processes that enable them to cut costs, reduce waste, and ultimately, survive. We are seeing a growth in interest for the Choco platform, for example, as independent restaurants and suppliers are starting to think about optimization, and embracing restaurant tech that brings value."
Not surprisinglly, Yelp data also found outdoor dining was one of the biggest trends of the summer as diners looked for ways to eat out while staying safe. In Q3 2020, the share of U.S. restaurant reviews mentioning "outdoor dining" was more than double the share in Q3 2019. And the share of U.S. restaurant searches using the "outdoor seating" filter on Yelp was up more than five times compared to the same time last year. Similarly, review mentions for "street dining" increased five times between Q3 and Q2 2020.