Who's Winning Chicken War 2.0? How Generations, Regions, and Households Pick Their Favorites
3 Min Read By Jana Zschieschang
Just when you thought the chicken sandwich war was over, QSRs reignited the battle with new product launches.
In late August, Chick-fil-A launched its first-ever chicken sandwich variation. The inventor of the chicken sandwich wasn't the first to change it up. This year brought new entries from most of the QSR chicken contenders.
With clucking back in the news, Revenue Management Solutions (RMS) asked more than 3,000 US consumers how the chicken sandwiches, nuggets and buckets (bone-in chicken) of QSR brands stack up.
QSR Chicken Sandwich
Insights showed that there are two clear winners when it comes to chicken sandwiches: Chick-fil-A and Popeyes. But Americans are regionally split when it comes to who is tops. The West and Midwest prefer Popeyes; the East Coast flocks to Chick-fil-A.
And they're not easily swayed. These diehards strongly believe that their favorite sandwiches are just plain better. Most respondents (59 percent) ranked the product as the reason for their choice, with just 21 percent saying they are loyal to the brand.
But does pricing play a role? Whether from the East, West, or in between, respondents were birds of a feather when it came to price – most would tolerate price increases of up to 20 percent from the top two favorites before even considering switching brands. However, runners-up should take note. KFC could make significant moves should this happen. Burger King, Wendy's and McDonald's could also gain some share of preference.
For a regional look at current chicken sandwich prices, please refer to our average price heat map.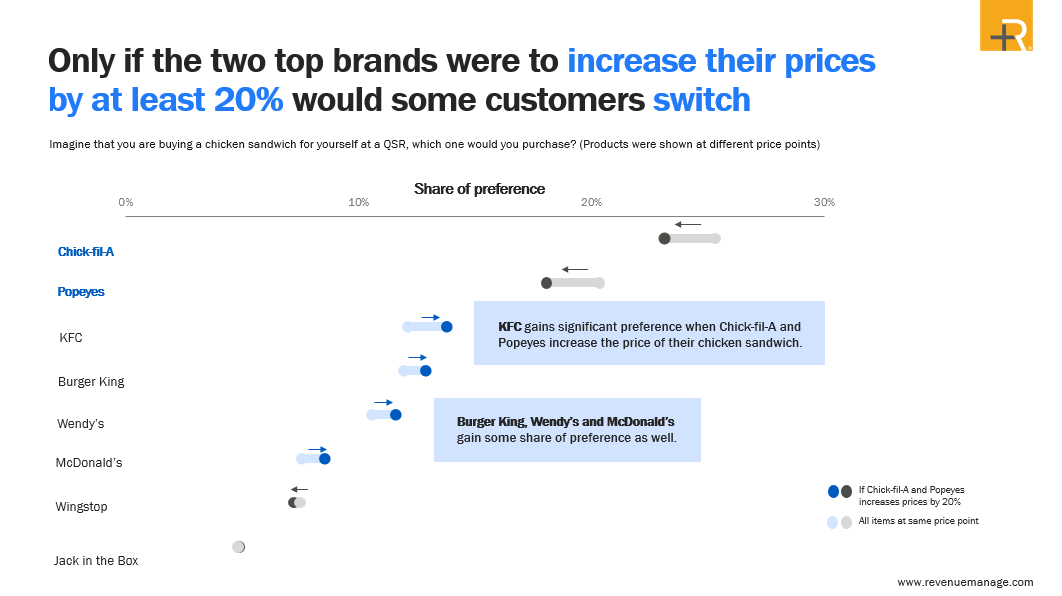 Along with insensitivity to price and diehard product allegiance, our data indicates that chicken sandwich preferences align by generation and household.
Interestingly, among generations, the third chicken sandwich choice was split. Gen Z prefers KFC, while millennials, Gen X and boomers cite Burger King. Households were also divided on number three. KFC ranks as the third choice among households with kids, while no-kid households ranked Burger King third.
QSR Chicken Nuggets
It has been quieter on the chicken nuggets front, but the menu category remains hot. KFC entered the space in March 2023 and grabbed the #3 spot with baby boomers. The OG (and Nuggets inventor) McDonald's also staked its claim, but, once again, Chick-fil-A (28 percent) and Popeyes (23 percent) held the top two spots.
Generationally, Chick-fil-A ranks as the go-to nugget for most, although Gen X prefers Popeyes. McDonald's came in second with Gen Z-ers and third among millennials and Gen X. Surprisingly, children in a household didn't substantially change nugget choice. Households with or without kids similarly ranked the top three brands, with Chick-fil-A in #1, followed by Popeyes and McDonald's.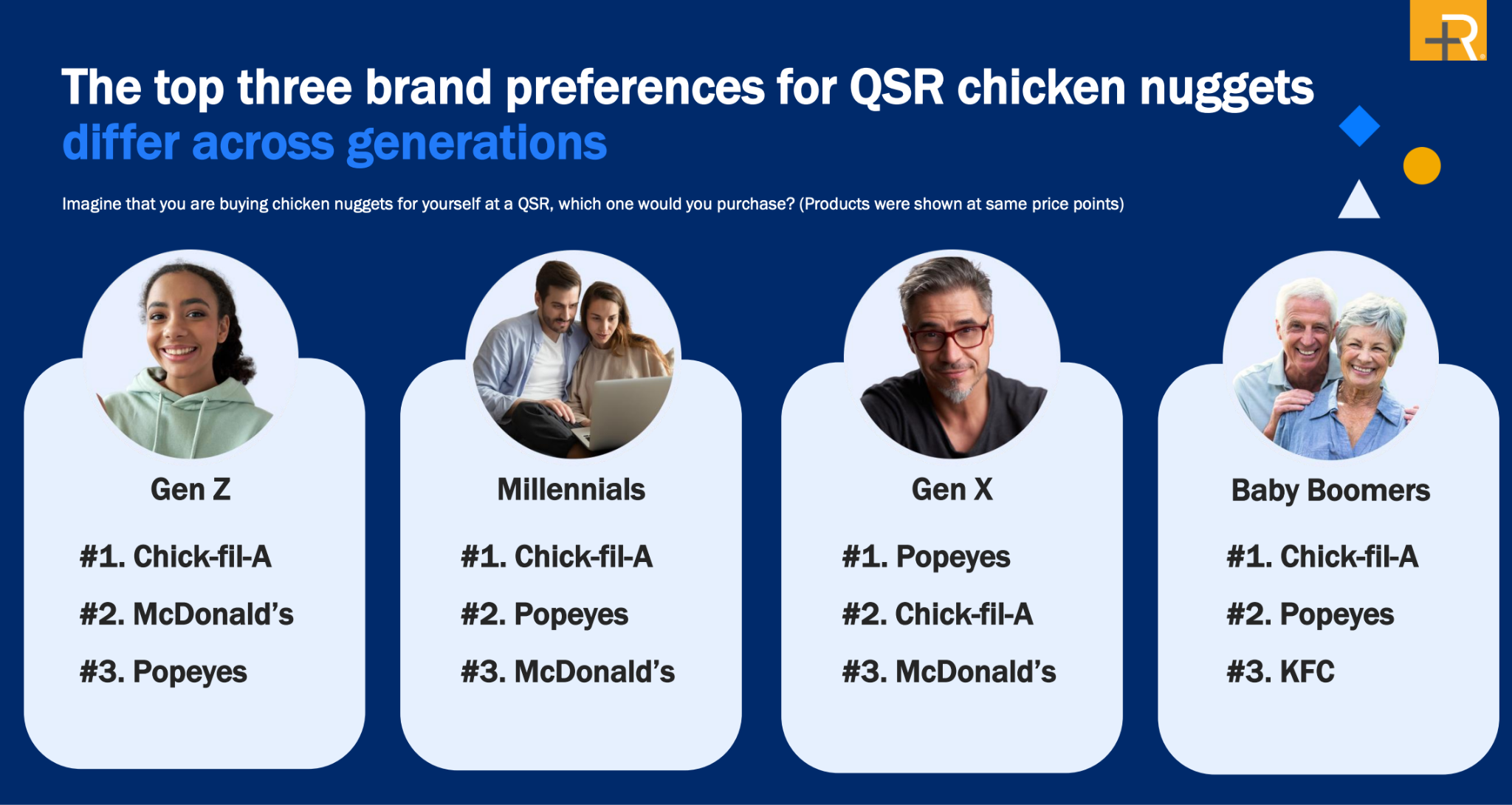 Is it something in the spice mix or texture? Both – with a smattering of price. The product remained the clear differentiator for all respondents, but price plays a more prominent role in nugget choice than chicken sandwich decisions. Operators should consider both factors before making a change, particularly for the top contenders. Popeyes would lose significant share of preference if the brand raised the price of their nuggets by 20 percent, while KFC would gain share.
QSR Bone-In Chicken
KFC ranked #1, with 36 percent saying it was their preferred brand choice for QSR bone-in chicken, eclipsing the second choice (Popeyes) by a sizable 10%. Regionally, El Pollo Loco entered the top three in the south and north regions, even knocking Popeyes down to spot three in the West.
Generationally, there was consensus of the top three brands but not in order of preference. Gen Z was an outlier, ranking Popeyes, not KFC, as their top pick for bone-in chicken, while millennials, Gen X and boomers all ranked KFC, Popeyes and El Pollo Loco as #1, #2, and #3, respectively.
At nearly 50 percent, the product was the deciding factor for bone-in chicken, with price and brand split at 27 and 26 percent, respectively. But outlier Church's Chicken could gain significant share if KFC and Popeyes increased prices by at least 20 percent.
The battle wages on
Will the fight for breaded chicken wage on? Likely. Between 2021 and 2022, chicken sales increased by 60 percent, according to the USDA. With QSR traffic declining, chicken innovation is a sure winner.
The complete report, "The Chicken Chronicles: Uncovering Consumer Preferences on QSR Chicken Menu Items," is available here.