What's on the Menu — January 13, 2023
10 Min Read
In this column, Modern Restaurant Management (MRM) magazine looks at newly introduced menu items from top brands.
Thank You!
California Pizza Kitchen (CPK), is relaunching its popular Thank You Card promotion that rewards every guest with prizes just for dining at the restaurant. Starting Monday, January 16, CPK will hand out sealed Thank You Card envelopes to guests dining in or taking out at any location nationwide*. Each envelope contains a secret prize, redeemable on a future visit. Prizes range from discounts off a meal, free pizza for a year, a trip for two to California and cash prizes from $500 to $50,000.
"After 36+ years of serving innovative, California inspired cuisine, we are proud to have built an incredibly loyal and supportive CPK guest community, so we wanted to do something to show our appreciation as we kick off the new year," said Ashley Ceraolo, SVP of Marketing at California Pizza Kitchen. "This program is an exciting way to give back to each CPK guest and truly say 'Thank You', whether it's a percentage off their next meal, a memorable vacation, or a cash prize. The best part is every card is a winner!"
To redeem their prize, guests must bring back their unopened "Thank You" envelope to any full-service CPK location between January 16 and April 23 and have a CPK restaurant manager open it. As a bonus, guests who sign up to join CPK Rewards during the promotion will also receive a $5 Rewards and a Free Small Plate for registering.
Thank You Cards aren't the only thing CPK fans can look forward to in January. Starting January 17th, the brand is also launching a new signature cocktail called Endless Sunshine that will feature happy hour pricing of $7 all day, every day. Endless Sunshine is a twist on a margarita made using Milagro Blanco Tequila, Monin passion fruit, Monin peach, fresh lime, and Fresca. The signature cocktail also comes in a spicy version, upon request.
Value Meal
Slice Factory is re-introducing this limited-time offer only throughout January. Available now through the Slice Factory mobile app, the $5 deal includes the original Chicago jumbo pizza slice with a free soft drink included in-store, delivery or with the convenient slice thru. The $5 meal deal was the brand's specialty offer from 1998 to 2013, and are bringing it back to thank their loyal guests for their continued generosity.
"It doesn't take an economist to see that due to record-breaking inflation, interest rate hikes and companies having major layoffs, we are heading toward, if not currently, in a recession," said Dom DiDiana, Founder and President of Slice Factory. "That was the major driving factor behind creating this offer. A complete meal on a $5.00 budget is unheard of nowadays. Not to mention the reason we call our slices jumbo is because they really are. Each slice is 14 inches, or about the length of your forearm!"
Slice Factory is now offering a $5 meal that includes a jumbo slice and soft drink in order to provide guests with a more affordable and discounted meal. This promotion is just one way Slice Factory exemplifies food and family being at the heart of the brand. Currently, Jumbo Slices range from $6.49 to $7.49, and soft drinks are $2.75.
"We're excited to bring back this incredible promotion during the month of January," said DiDiana. "This is a way for us to give back to our communities and provide them with an inexpensive meal at our locations. We developed our revolutionary concept and one-of-a-kind experience in order to bring something unique to customers and are continuing to innovate our brand every day."
The Royal Silencer
Wayback Burgers launched The Royal Silencer, a one-of-a-kind burger designed to silence the urge to spill family gossip to media outlets, book publishers and documentarians alike. The Royal Silencer breaks all Wayback Burgers' rules by including a spare patty for the world's most notable "spare."
The Royal Silencer is made with three beef patties, American cheese, lettuce, tomato, pickles, onions, ketchup and mustard. For $9.99*, Burger fans and royal followers hoping for silence can fill their mouths with this delicious, limited time offer available at more than 130 Wayback Burgers' restaurants nationwide. (*Price may vary per market)
"Like millions of people around the globe, we've been watching the royal drama unfold and wanted to create a burger that encourages everyone to use their mouths as intended," said Patrick Conlin, President of Wayback Burgers. "More than just an incredible burger, we designed The Royal Silencer to fill mouths to capacity with every bite to discourage spilling sensitive family drama to the media and general public. Remember, no matter the family situation, there isn't a problem in the world that cannot be resolved over a good burger. And, if you are legitimately royals living in the United States, we hope you'll come by and have one on us."
Barbecue Lovers, Rejoice!
Dickey's Barbecue Pit is introducing an easy and convenient to-go box that is perfect for any gathering. Visit your local Dickey's and let our experienced pitmaster help you pick out your fan-favorite BBQ menu items for your Big Yellow Box. You can order online or in the Dickey's app for curbside pick-up, take-out and delivery.
Available now, the barbecue restaurant is offering its customizable Build Your Own Big Yellow Box. Dickey's is giving guests the ability to create their own pack from a variety of six hickory wood, pit-smoked meats and your choice of five delicious southern-style sides. Designed to serve up to 12 people, the box provides a convenient, compact and stress-free catering option that even includes the serving materials. The Build Your Own Big Yellow Box includes:
A choice of two pit-smoked meats totaling four pounds
Three family-sized sides
12 slices of buttery Texas Toast
24 pickles and 24 onions served as a relish tray
Two pints of barbecue sauce
Plates, cutlery and serving utensils
"At Dickey's, we always want to make sure to offer barbecue lovers delicious and convenient options," said Laura Rea Dickey, CEO of Dickey's Barbecue Restaurants, Inc. "Now, with our Build Your Own Big Yellow Box, they can create their own personalized spread of pit-smoked meats and savory sides, all while enjoying the convenience of our award-winning catering options. It's the best of both worlds!"
Buffalo Chicken Stir-Fry
The popular 2022 winter seasonal Buffalo Chicken Stir-Fry makes its return to honeygrow, the 31-unit Philadelphia-based fast-casual restaurant known for its simple, creative, and wholesome foods in seven markets.
Inspired by the flavors found in the gameday classic Buffalo chicken wings, the Buffalo Chicken Stir-Fry is made with honeygrow's freshly made whole wheat noodles and features roasted chicken, roasted cauliflower, carrots, crispy jalapeños, crumbled blue cheese, celery, buffalo sauce and a drizzle of ranch dressing. With the health-conscious consumer in mind, honeygrow recently upgraded their whole wheat noodles in collaboration with Bay State Milling and Sun Noodles, a highly reputable craft noodle company servicing top ramen shops throughout Japan, Europe, and the United States. With 17 grams of fiber and 13 grams of protein in each serving, guests no longer need to choose between noodles and nutrition.
XLNY
Papa Murphy's Take 'n' Bake Pizza relaunched the XLNY pizza nationwide. The XLNY pizza is an extra-large New York-Style pizza that offers everything you'd expect, hot and fresh out of your oven. Guests can choose from three different recipes including the XLNY Giant Pepperoni, the XLNY Giant Pepperoni & Ground Sausage, and the XLNY Three Cheese.
Pizza fans can also score an XL Bundle deal for a limited time, through Sunday, February 26. The XL Bundle includes your choice of XLNY pizza, an order of the new Meatballs & Marinara, and any 2-Liter Pepsi product.
"We love and value our guests—what better way to show our appreciation than adding the New York-style XLNY pizza to our menu permanently," said Tracey Ayres, VP of Brand and Innovation for Papa Murphy's. "The zesty flavors combined with a foldable NY-Style crust puts an exciting twist on pizza, and we can't wait for our guests to try it!"
The Biscoff Doughnut Collection
Krispy Kreme Biscoff introduced the Biscoff Doughnut Collection: three all-new doughnuts that take doughnut and cookie lovers on a roundtrip of sweetness, combining the unique and delicious flavors of both brands for the first time in the United States.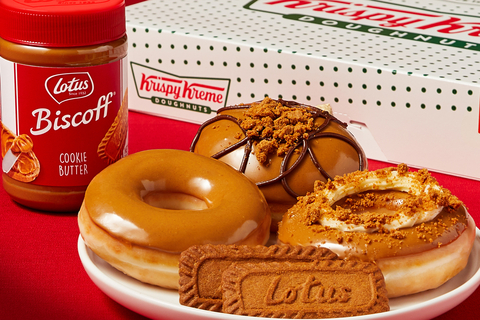 Sweet treat fans can enjoy the first-class collaboration that combines Krispy Kreme's Original Glaze with Lotus Biscoff's Cookies and Cookie Butter, known for its unique and delicious caramelized cookie taste:
Biscoff® Iced Doughnut: A Krispy Kreme Original Glazed® doughnut dipped in Biscoff® Cookie Butter icing.​
Biscoff® Cookie Butter Cheesecake Doughnut​: An Original Glazed doughnut dipped in Biscoff Cookie Butter icing and topped with a swirl of cream cheese buttercream and Biscoff Crumble.​
Biscoff® Cookie Butter Kreme™ Filled Doughnut​: A shell doughnut filled with Biscoff Cookie Butter Kreme™ filling, dipped in Biscoff Cookie Butter icing and topped with a swirl of dark chocolate icing and Biscoff Crumble.
"Our doughnuts made with Lotus Biscoff are popular around the world and it's definitely time for our U.S. fans to get a taste," said Dave Skena, Global Chief Brand Officer for Krispy Kreme. "Both doughnut and cookie lovers will be amazed by this delicious combination."
Krispy Kreme guests who fly into participating shops and purchase any Krispy Kreme Biscoff doughnut also will receive a free Biscoff cookie packet, a favorite treat on flights around the world, while supplies last.
Nashville Kick
It may be colder but things down on the farm are already heating up. Kicking off January with the biggest dang menu launch of the year, Bob Evans is bringing a Nashville kick from down on the farm to restaurants system-wide with the introduction of the all-new Dang Hot Chicken. Available as a dinner, Family Meal to Go or sandwich, Bob Evans new Dang Hot Chicken features juicy fried chicken and Bob Evans new head-turning Dang Hot Sauce.
"Our new Dang Hot Chicken is one of so many exciting things happening at Bob Evans right now. It's a great time to stop in," said Bob Holtcamp, President and Chief Marketing Officer for Bob Evans Restaurants. "We love when we can surprise guests with something they may not expect to see. We're really bringing the heat with this new Dang Hot Chicken, featuring the best of the farm-fresh ingredients guests expect from us married with head-turning flavor and our new Dang Hot Sauce that can spice up any meal. It's dang hot, and dang good."
All You Can Eat Faves
Applebee's is ringing in the New Year with the return of its fan-favorite All You Can Eat Boneless Wings, Riblets & Double Crunch Shrimp, each with endless classic fries!
Guests can mix and match in any way they please, such as starting with Boneless Wings, refilling with Double Crunch Shrimp, followed by Riblets.
Applebee's is also toasting to love with the return of its $6 Smoocho Mucho Sips.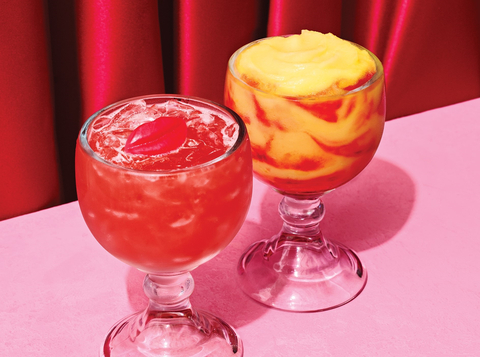 Celebrate date night, Galentine's Day, or a night out with friends at your local Applebee's with the Tipsy Cupid – a Vodka Lemonade featuring a match made in heaven with Tito's Handmade Vodka with strawberry, premium lemon sour, and lemonade garnished with gummi red lips. Or, experience love at first sip with the Date Night Daiquiri – a frozen, swirled Strawberry Mango Daiquiri made with Bacardi Superior, sure to sweep guests off their feet.
Applebee's Mucho Cocktails are made with premium spirits and served in their signature Mucho glass. Plus, for guests who prefer to host "Date Night" at home, guests can enjoy these $6 Smoocho Mucho Sips To-Go at participating locations.*
Big & Wicked
Golden Chick unveils its latest and greatest chicken sandwich creation: The Big & Wicked Chicken Sandwich. Starting today, the restaurant is serving this spicy sandwich at its 211 locations across Texas, Oklahoma, Louisiana and Florida. The new limited-time offering will be available in all locations through February 18.
"Menu innovation sits at the forefront of our plans for 2023," said Mark Parmerlee, president and chairman of Golden Chick. "The popularity and rave feedback that has surrounded previous creations like the Big & Golden® and Nashville Hot gave us the inspiration to continue adapting and evolving our sandwich offerings. We're excited to continue to introduce unique and memorable flavor combinations to customers that keep them excited about our brand and coming back for more."
Big Dipper
Bad Daddy's puts the win in winter this season with its cozy flavor combinations that will make all its guests feel like winners.
Available through March, Bad Daddy's limited time menu features a winter salad and two new hot sandwiches that are sure to warm up any cold winter day.
The Bad Daddy's Big Dipper is the brand's own spin on the classic French Dip. It features a buttered and toasted hoagie roll topped with Boar's Head® roast beef, hand-sliced angus beef, grilled onions, melted Swiss cheese and house made Horseradish Dijonnaise. It's served with a side of au jus.
The Angry Piggy Grilled Ham and Cheese delivers an extra cheesy sensation with melted American, pepper jack and Monterey Jack cheeses – yeah, that's SIX bold slices of cheese – all in between some crispy Texas toast with Boar's Head® rosemary ham, fresh jalapeños and grilled onions. Served with a side of house made tomato jam.
For the guests looking to fulfill their healthier mindset resolutions, Bad Daddy's is also serving a Winter Salad that is a sweet mix of nutritious and comforting flavors. It features mixed greens, chopped walnuts, radishes, Granny Smith apple slices, dried cranberries, blue cheese and Brie cheese. All tossed in house made strawberry balsamic dressing.
"We love taking classic recipes and putting our own spin on them by bringing in fresh new savory and decadent flavors that push the norm," said Bad Daddy's CEO Ryan Zink. "We can't wait to serve the community these new comforting winter-inspired menu items as we all try to stay warm this season."
Farm to Taco
Tacodeli is featuring two limited time tacos available NOW through February 6. The cult-classic, Mexico City-inspired "farm to taco" concept is featuring their housemade mole on new creations including the Migas & Mole for breakfast and the Beet Mole for lunch.
The Migas & Mole ($4.25) is a vegetarian taco available during breakfast featuring migas and avocado topped with red mole sauce and queso fresco
The Beet Mole ($4.50) is made with red mole sauce with mushroom stock, roasted red beets, avocado, topped with queso fresco and sesame seeds. This taco is only available during lunch.
Light Side Up
Barberitos Southwestern Grille and Cantina is introducing new LTOs and a renewed focus on catering to start off a healthy new year and prepare for large gatherings in the coming months. With these new menu items, the brand aims to turn guests' days "Light Side Up" and kick start 2023 with healthy, flavorful, and light meal options.
Barberitos' new menu items will be available from January 9, 2023 through April 2, 2023. With these items, Barberitos aims to not only provide guests with unique flavor profiles to excite their tastebuds, but to help support healthy eating habits and back its parent company WOWork's focus on offering better-for-you food options. The LTOs consist of:
Lifestyle Bowl: Under 600 calories, this bowl consists of tofu, rice, black beans, shredded cheese, pico, corn salsa, cilantro, and avocado tomatillo salsa.
Lifestyle Salad: Under 500 calories, this salad consists of chicken, romaine lettuce, black beans, shredded cheese, pico, corn salsa, cilantro, and avocado tomatillo salsa.
Avocado Tomatillo Salsa: Bursting with mouthwatering flavor, this salsa contains tomatillo salsa, avocado, and diced jalapenos.
Alongside the new menu items, the brand is also promoting its catering options, to help make Super Bowl, March Madness, and other large gatherings fun and stress-free.
"With the launch of our new LTOs, we're continuing our commitment to providing our guests with healthy, craveable, and affordable menu options," said John Geyerman, Chief Brand Officer of Barberitos Southwestern Grille and Cantina, Garbanzo Mediterranean Fresh, and The Simple Greek. "Especially with the Super Bowl and March Madness gatherings on the horizon, we look forward to being able to provide delicious menu items to our guests so they can snack, guilt-free, during the game."