Visual Communication Assists Restaurants During Uncertain Times
4 Min Read By Jennifer Herskind
As restaurants have experienced dramatic changes in how they do business due to the pandemic, many small business owners have learned just how important a visual communication plan is for success.
Signs and graphics have been and will continue to be integral to restaurant owners' success as they navigate the ever-changing process of getting back to business. Our centers quickly adjusted their business models to provide everything from COVID and social distancing signs to safety screens and shields to PPE across all industries, including the restaurant industry.
Outside Your Restaurant
As restaurants reopen their doors once again, visual communication solutions help inform, direct and protect both customers and team members. Consider the myriad of touchpoints available to communicate and build critical trust at this time. Whether someone passes by your restaurant on purpose or happenstance, you can draw their attention to current offerings with exterior flags and yard signs. Branded banners and flags raise awareness and let the public know that you're open. Communicate what your current business model is with eye-catching window clings or easily removable window and door graphics. According to Marc research, on average, 40 percent of respondents rely on directional signs on their shopping occasions, so don't leave any room for confusion.
In your parking lot, designate spots for curbside pickup that includes a number to call upon arrival. Owners who continue to focus on carryout services may also benefit from setting up a branded curbside pop up tent for quick pickup during high traffic times. A-frame signs with easy-to-change graphic inserts, yard signs and banner stands can be placed at strategic points directing traffic flow around your business and directly to your front door.
As dine-in or pickup patrons near your door, keep them fully informed by displaying highly-visible building access policies and maximum occupancy levels. Safety and policy signs about mask requirements, temperature readings or social distancing ensure patrons that you are doing everything in your power to keep them safe.
Front of House
As hungry customers cross the threshold into your restaurant, a fresh set of signs should greet them. Since customer anxiety may be a little higher upon entering, a stanchion, banner stand or A-frame in the lobby that provides an overview of any service changes and safety measures in place can build confidence. As customers engage with your product offerings and decide to order, single use printed menus or QR codes can be great ways to minimize the spread of germs. Touchless systems such as internal kiosk ordering stations and credit card machines installed with antimicrobial film can also put customers' minds at ease.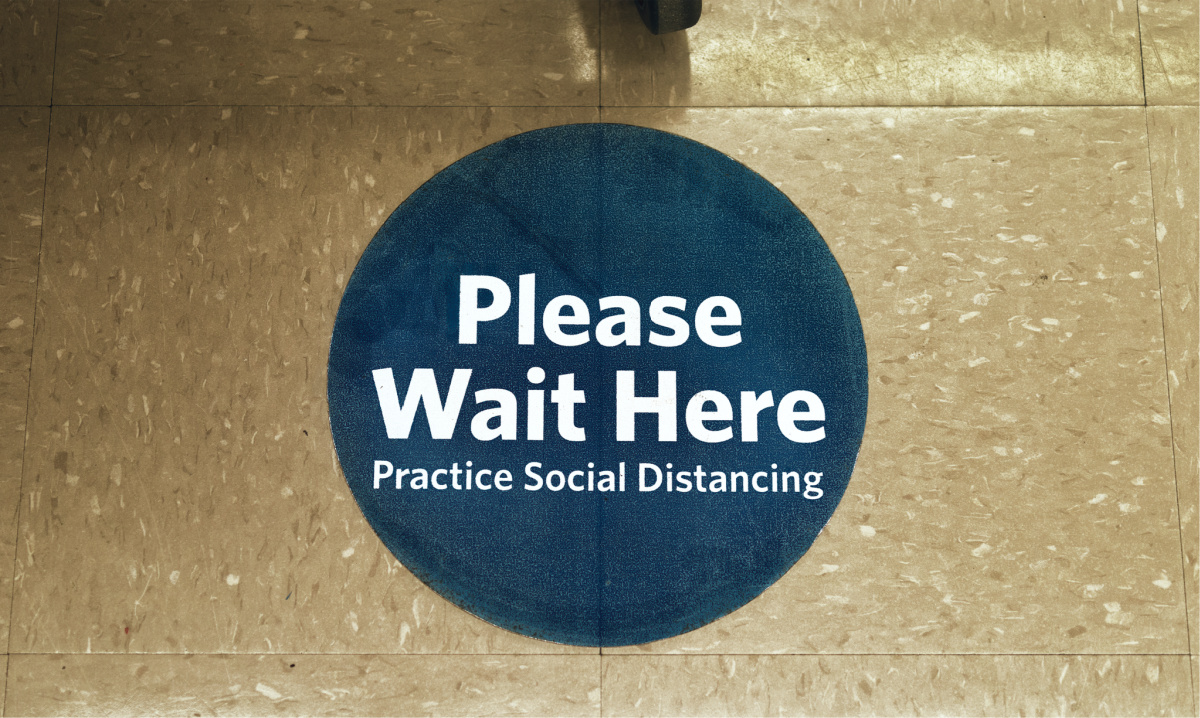 Interior pickup traffic and ordering flow in this area can be easily managed with stanchions. Floor graphics can help direct foot traffic throughout the space and amongst the stanchions, letting customers know where to stand at a safe distance. Floor decals can also politely inform customers where to wait for prepared food with social distancing cues to keep them from congregating.
Offer protection and peace of mind to your customers by providing employees with branded face masks and shields. Acrylic shields also provide a layer of protection at point of purchase stations and hostess booths for those dining in. These additional protective measures speak volumes about your willingness to keep everyone safe.
Dining Areas
Dining inside requires well-coordinated floor plans to ensure at least six feet of separation between parties. Social distancing seat covers in addition to floor graphics enable customers to keep a healthy space, while tabletop signs that designate available seating at every other table aid in distancing efforts.
Where practical, as in booth seating, plexiglass barriers can be used and tall acrylic shields can be placed between tables for a safe, secure and enjoyable dining experience. Applying frosted vinyl offers extra privacy, and subtle graphics can tie these products in with restaurant decor for a consistent look.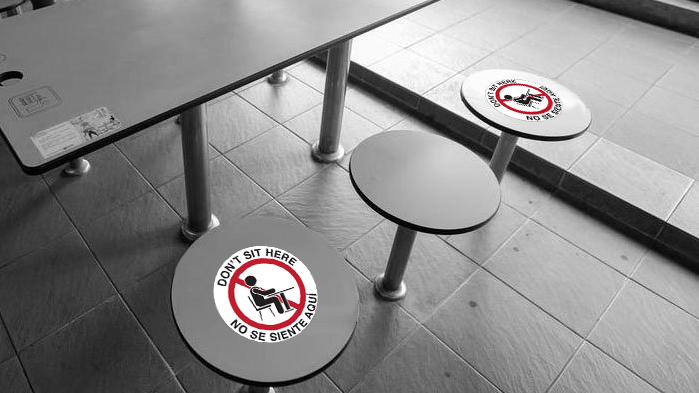 Minimize customer concern by directly installing interior decor applications onto hard surfaces, making them easier to clean and disinfect. In addition, branded hand sanitizer stations encourage customers and employees to play an active role in their health and the health of others.
In the Kitchen
Health and safety is communicated and executed within the kitchen with signs and graphics. While some kitchens are tucked away, various restaurants enable customers to observe kitchen processes. Branded sanitation logs and informational handwashing CDC guideline signage hung in visible places shows attention to and the maintenance of your restaurant's pandemic plan to both employees and customers.
In addition, floor graphics can serve as markers for employees working in close quarters to keep their distance and avoid clustering. When customers and employees observe the details throughout your restaurant, it can build confidence and create a relationship of trust with your business.
Traffic Pattern Areas
Wayfinding visuals direct customers through the entire foodservice experience. Restaurant owners should adjust floor plans for efficient traffic flow in higher traffic areas using floor graphics, temporary banners, A-frames or hanging signs. Create one-way traffic through the space by designating a separate entrance and exit for each area marked prominently using door graphics, banner stands or branded barriers.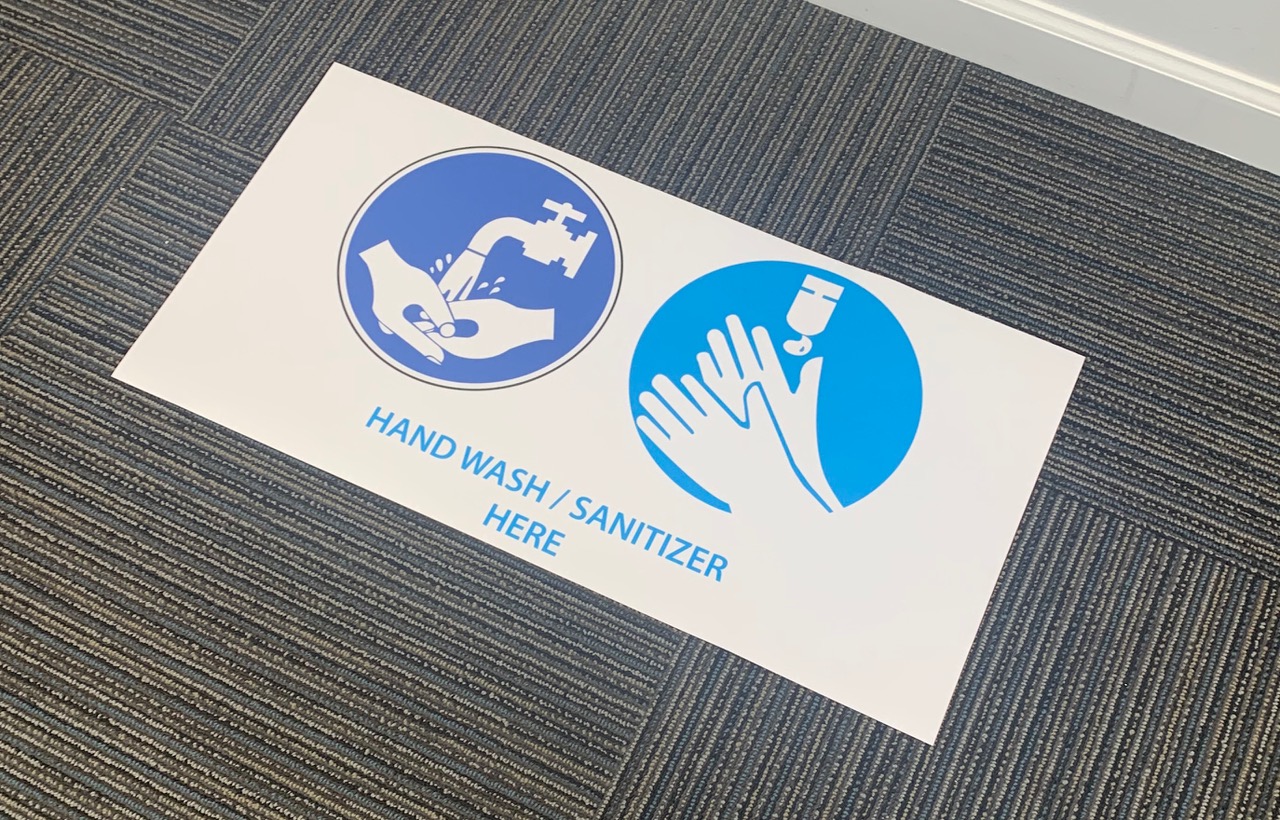 Finally, restrooms should be fully outfitted with CDC guidelines, handwashing posters and cleaning schedule logs. Mirrors, soap dispensers and walls can provide backdrops for reminders using branded removable graphics. In bathrooms and break rooms, decals can also signify spaces that are disinfected regularly as well as reminders to avoid personal contact.
Put Signs and Graphics to Work
Customers are understandably nervous to get back out, but signs and graphics can communicate your commitment to their safety and health. By employing a consistent and comprehensive visual communication plan, you can help put customers and team members at ease, build confidence, and show them that their safety is top of mind.