Tyga Bites and Sushi with an Attitude
33 Min Read By MRM Staff
In this edition of MRM News Bites, we feature a lot of tech news, a celebrity-owned virtual dining concept, and the annual Neighborhood to Nation Restaurant Recipe Contest.
TouchBistro Acquires TableUp
TouchBistro acquired Boston-based TableUp, a provider of loyalty and marketing solutions for the restaurant industry. Its proprietary guest engagement solution, which is used by more than 600 restaurants throughout the U.S. and will enable TouchBistro to fully integrate customer loyalty and guest marketing into its all-in-one point-of-sale (POS) and restaurant management platform.
TableUp's technology will form the foundation of TouchBistro Loyalty – the soon-to-be-launched customer relationship management (CRM), marketing, and loyalty solution that will be fully integrated with the TouchBistro platform. The product will be rolled out in phases, with an introductory product available in the North American market in the coming weeks. The TableUp team will join the TouchBistro family and continue working from Boston. Matt Zibell, founder and CEO of TableUp, will join TouchBistro's product team, where he will be responsible for launching and supporting TouchBistro Loyalty.
"Now, more than ever, restaurateurs need an effective and affordable way to promote their restaurants to new and existing customers so they can bring them back again and again. Through our acquisition of TableUp, we can fully integrate these capabilities into the TouchBistro platform to help restaurants turn one-time customers into loyal patrons," said Alex Barrotti, founder and CEO of TouchBistro. "The TableUp team are experts in restaurant CRM, loyalty, and guest engagement and, like all of us, are deeply passionate about the industry and the success of their customers. We are very pleased to welcome them to our TouchBistro family."
The TableUp guest retention platform empowers restaurants of all sizes to increase customer engagement and reward guests for their loyalty. It enables restaurants to create unified customer profiles that feature insights on customer behavior and spend across all channels (e.g., in-restaurant dining and online ordering for pickup or delivery), which can be leveraged to drive highly customized campaigns using a built-in marketing solution. Once the TableUp integration with TouchBistro is complete, restaurants will have a holistic view of their customers and will be able to deploy personalized campaigns through e-mail marketing and in-app promotions to drive customer engagement; and offer multiple reward program options that help to maximize customer lifetime value.
While TouchBistro has previously partnered with providers of loyalty solutions, this acquisition will provide the company with a proprietary solution that is much more deeply integrated into the TouchBistro platform and its ecosystem of products like Online Ordering and Reservations. TouchBistro Loyalty will give restaurateurs in-depth customer insights so they are able to deliver an exceptional guest experience, every time; drive more sales and encourage repeat visits by implementing powerful customer data-driven campaigns; and efficiently and effectively promote their business using sophisticated CRM and marketing tools.
"Like TableUp, TouchBistro is laser focused on the restaurant industry and provides technology that helps restaurateurs maximize their revenue and deliver an exceptional guest experience," says Zibell. "This alignment, along with TouchBistro's global market leadership and powerhouse team of restaurant industry veterans, represents a great opportunity to get the proprietary capabilities we've built into our guest retention solution into the hands of significantly more restaurants."
Tyga Bites Launches
Grammy-nominated hip-hop artist, Tyga, joins forces with testaurateur Robert Earl and Earl's son Robbie, for the launch of Tyga Bites, a celebrity-owned virtual dining concept. Now available through Grubhub, it is a delivery-only concept that specializes in antibiotic-free, oven-baked, boneless chicken bites.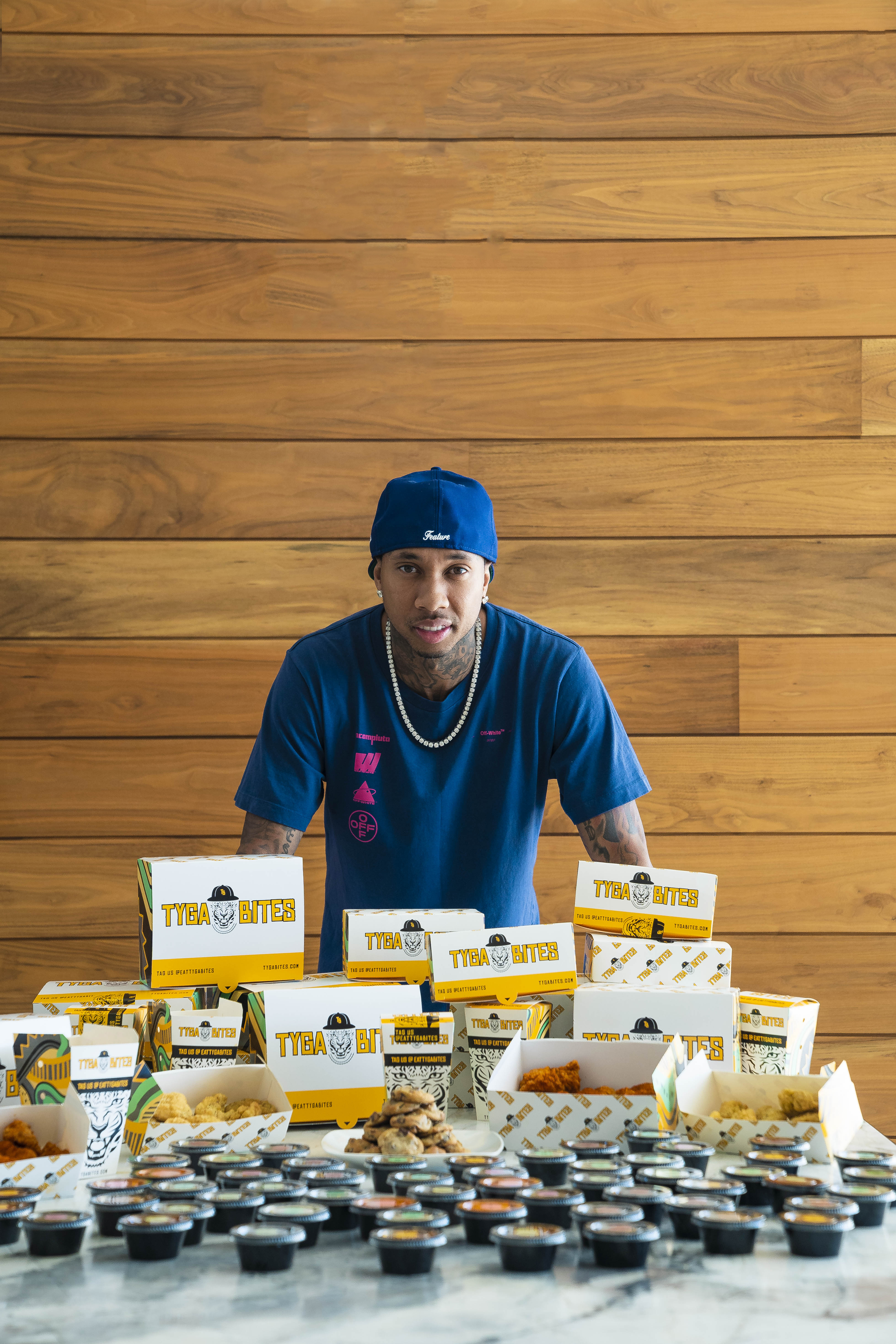 With the idea conceived by Tyga, Earl paired the artist with chef, author, and TV personality, Eric Greenspan, to create a carefully crafted, bite-sized all-natural chicken that's baked, not fried. Tyga curated TYGA BITES by adding his own specialty spice dusts that sprinkle the chicken with the right amount of sweet and spice, along with a wide variety of dipping sauces to further enhance the flavors.
"I wanted to make sure the whole menu, flavors, and even the packaging was on point," said Tyga. "The bites are baked just right; choose a dip then take a sip! I even threw in some chocolate chip cookies for dessert."
The online menu offers crispy, oven-baked chicken bites in three different spice dusts including Black Garlic, Lemon Black Pepper, and Peri-Peri, a mix of tangy, sweet and spicy. The bites will also be served with the option of twelve different dips, along with regular or sweet potato Tyga Tots, chocolate chip cookies, and beverages.
"Tyga has been an inspiration to collaborate with on this brand—his instincts are spot-on," said Robert Earl, Founder of Virtual Dining Concepts. "Consumers can now enjoy TYGA BITES at home through our partnership with Grubhub, offering contact-free delivery for everyone's added comfort and peace of mind."
"Today begins the independent restaurant revolution," Robbie Earl elaborates. "We have created a blueprint that restaurants can truly benefit from with our VACs (virtual additional concepts). We are offering restaurateurs the opportunity to operate a second brand within their existing brick and mortar location, increasing their bottom line by also becoming a virtual kitchen owner."
"Working with our partners at Virtual Dining Concepts on the new Tyga Bites brand, we have the exciting opportunity to provide our diners new variety to choose from when ordering in," stated Kevin Kearns, Senior Vice President, Restaurant Network at Grubhub. "We're thrilled to give independent restaurants on our platform the opportunity to increase their total business by working with Tyga Bites, and by adding new locations across the country for our diners to try – it's a win, win for everyone."
Now available in more than 30 major markets across the country, and with the support of independent restaurants, it is projected to have contracts with up to 500 locations by the end of August. Consumers based in Los Angeles, New York, Boston, San Francisco, Phoenix, Chicago, Philadelphia, Denver, Las Vegas, Houston, Washington D.C., Austin, Seattle, Salt Lake City, Pittsburgh, Albuquerque, Sacramento, St. Paul, Kansas City, Scottsdale, Columbus, Minneapolis, and Louisville are among the first wave with additional locations opening soon.
SevenRooms Adds Execs
On the heels of a $50 million Series B round, SevenRooms, added key executives: Levi Aron as Chief Revenue Officer and Jeremy Theisen as Executive Vice President of Enterprise Sales.
"As we head towards the next growth stage for SevenRooms, we are thrilled to welcome experienced leaders like Levi and Jeremy to the team," said Joel Montaniel, CEO & Co-Founder at SevenRooms. "With both bringing more than 20 years experience to their roles, we know that their deep hospitality technology expertise, customer-centric approach and unique insights will help propel our business into the future."
Aron most recently served as the Australian CEO & Country Manager for Deliveroo from 2015 to 2020, helping grow the company into 500 cities and 13 countries during his tenure. In his new role as CRO at SevenRooms, Aron is responsible for driving customer-centric revenue growth across the entire company, leading the sales, customer success and revenue operations functions for the organization.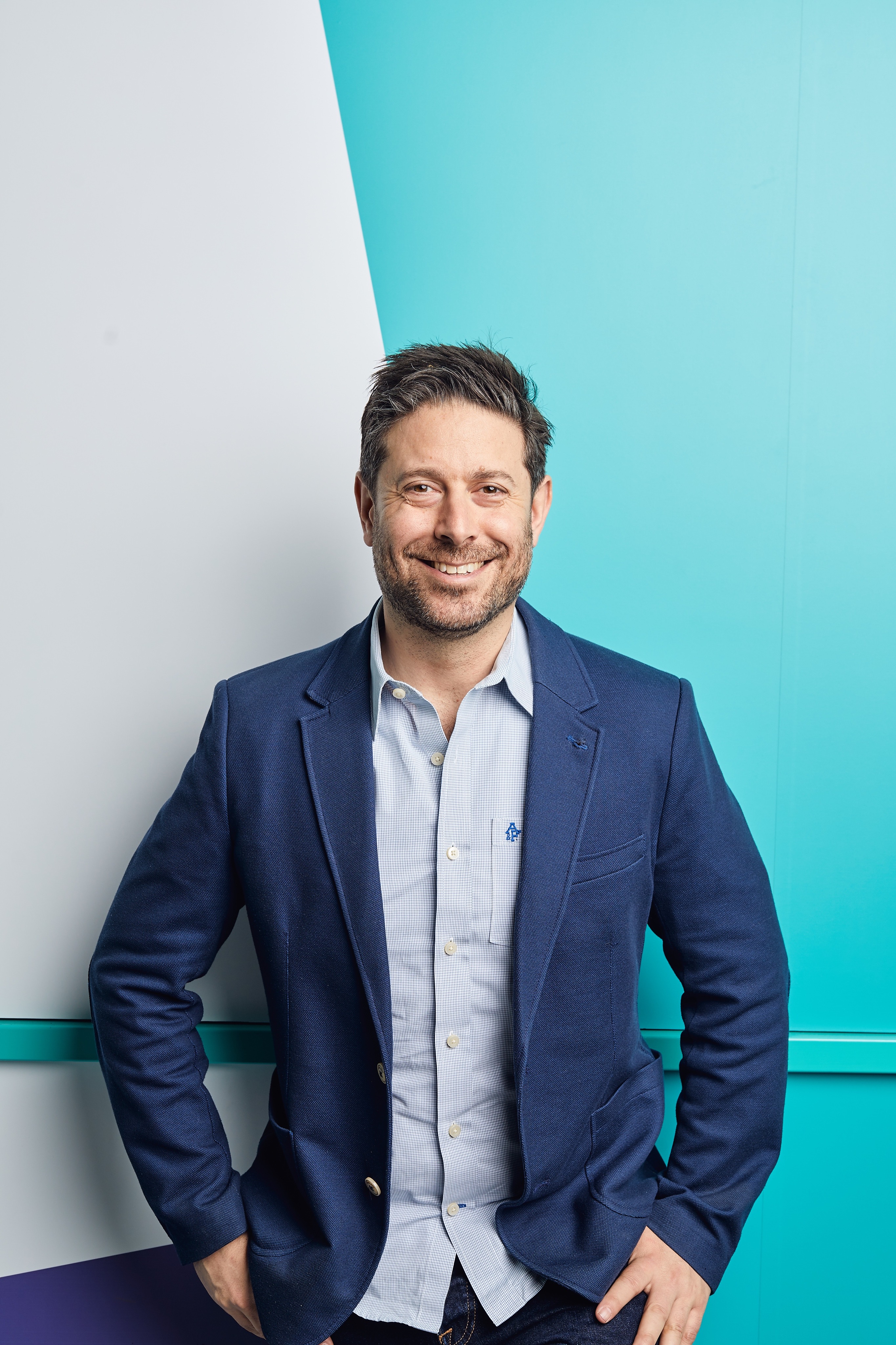 "SevenRooms is a uniquely positioned hospitality technology brand with a best-in-class product and an operator-first mentality, unlike any other company in the space," said Aron. "From my early conversations with Joel, it was clear that there was a big opportunity to join as the company's first CRO, and play an important role in scaling the next global category leader. After moving from Australia to NYC, I couldn't be more excited to make my mark as a part of this innovative, culture-lead team."
In his role as EVP, Enterprise Sales & Partnerships, Theisen is responsible for scaling SevenRooms' enterprise sales team, expanding the company's enterprise client base, and leveraging his deep experience within the hospitality sector to strengthen SevenRooms' industry relationships and integration partnerships. Theisen previously served as Chief Sales Officer at Punchh, where he built an industry-leading sales organization across 165+ enterprise customers, taking the company to $50MM in annual recurring revenue.
"Diving into this role at SevenRooms has been an exciting new challenge," said Theisen. "As a sales leader, I have always gravitated towards high-growth, high-energy companies, and I am looking forward to lending my strengths to the organization as we grow our enterprise customer base."
Neighborhood to Nation Restaurant Recipe Contest
General Mills Foodservice' s Neighborhood to Nation Restaurant Recipe Contest will award $100,000 to restaurants and food trucks nationwide. The annual contest, which celebrates independent restaurants and their one-of-a-kind dishes, is accepting entries for original recipes that use at least one item from General Mills' list of eligible products from August 1 until September 30, 2020.
Acknowledging the current challenging times for restaurants, General Mills modified the 6th annual recipe contest to make it easier for restaurants to submit an entry and to provide more opportunities to win much-needed cash and marketing support for their business. This year's Neighborhood to Nation Contest will double the number of winners to award 20 prizes of $5,000 in cash along with a robust marketing package. In addition, a social media vote allows restaurants to rally the support of their patrons for a chance to be the "People's Choice" Grand Prize Winner for an additional VIP marketing package, a menu consultation with General Mills' culinary team and a $5,000 donation for their local food bank.
"We've all seen the devastating impact of COVID-19 on the restaurant industry, which makes it even more important to recognize the independent eateries that mean so much to their local communities and show our support," said Alyca Judge, senior marketing manager for General Mills Foodservice. "We are excited about the changes to this year's contest which allow us to honor more restaurants than ever before and celebrate the dishes that are working best to serve these restaurants and their local community."
General Mills Foodservice, which partners with restaurants to provide back-of-house products, recipe inspiration and culinary support, created the contest to celebrate the creativity and passion of independent operators. New this year, entrants simply need to upload a photo of their recipe and briefly share how they used a General Mills' product in a creative way or the inspiration behind the recipe.
"We wanted to simplify the application but also use this an opportunity to learn about what recipes are working best for restaurants right now, whether it's dishes that bring comfort and joy to their patrons or those that make it easier to serve patrons in an efficient and safe way in this new world of takeout and curbside delivery," said Judge. "As the industry adapts to the current times, we hope the Neighborhood to Nation Recipe Contest will provide restaurants and food trucks with some menu inspiration and showcase how General Mills' products can be part of the solution."
Judge adds that, whether it's a signature recipe or a completely new dish, there is a long list of eligible products for restaurants and food trucks to experiment with for their recipe entry. The list includes: Pillsbury™ (biscuits, puff pastry, pie dough and frozen baked goods), Gold Medal™ (baking mixes), Yoplait® (yogurt) and many of our heritage flour brands. An added bonus: the first 100 eligible entrants will receive fun Pillsbury Doughboy items and marketing materials to help them promote their recipe with patrons.
Contest Details
The Neighborhood to Nation Recipe Contest is open to foodservice operators, chefs and line cooks who develop recipes for menu items served at independent, commercial restaurants or food trucks. From Aug. 1 to Sept. 30, 2020, participants may log on to www.neighborhoodtonation.com to submit a photo of a recipe using at least one ingredient from General Mills Foodservice's participating brands and a brief description of how they used the product in a creative way, how they were inspired to create the recipe or how their dish brings comfort and joy to their patrons during this challenging time.
The top entrants will be asked to submit their recipe details to be tested, tasted and photographed for PR, media and social media. Recipes will be judged based on taste, appearance, creativity and foodservice viability. Winners will be announced in January 2021 to coincide with the activation of the social media voting portion of the contest when the public will be invited to help determine the "People's Choice" Grand Prize winner.
For more information on eligibility, complete contest details and the official contest rules, restaurants should contact their General Mills Foodservice representative, call 1.800.215.6120 or visit www.NeighborhoodtoNation.com.
NCR Adds Contactless Solution
Eating out has changed and consumers are looking for a safer, contactless dining experience. NCR Corporation added technology that builds diners' confidence by empowering them to both order and pay via their own mobile device.
NCR is leveraging the industry's most deployed point of sale and restaurant management platform, NCR Aloha, to deliver contactless ordering and payment for a new dine-in experience.
The solution allows restaurant guests to scan a QR code at the table to access the menu, place an order and pay all from the convenience of their own device. Loyalty members can also easily earn and redeem their rewards, and restaurants collect valuable data that can be used to deepen and personalize interactions with their guests.
"We rolled out contactless dine-in ordering at Coupa Cafe locations in Palo Alto, Stanford University, Redwood City and Los Altos, [California]. Customers are able to scan the QR code at our socially distanced outdoor tables, view the menu and place their order right from their phones," said JP Coupal, co-founder of Coupa Café. "Customers enjoy this experience as it minimizes contact in every possible way."
For the restaurant, orders are routed directly to the kitchen, helping service run smoothly and increasing tips by two-to-three percent on average.
"Restaurants are reshaping the guest experience to offer both contactless curbside pickup and contactless dine in to meet customer expectations," said Dirk Izzo, senior vice president and general manager, NCR Hospitality. "The NCR Aloha platform enables restaurants to accelerate digital transformation and constantly adapt to changes in the market so they can focus on what they do best, great food and customer experience."
DeliverThat Expansion
DeliverThat launched its 83rd major market during July, which brings coverage to approximately 8,000 zip codes across the United States and Canada. This expansion was fueled by diversifying into new industries, such as takeout, grocery, meal subscription, and route delivery.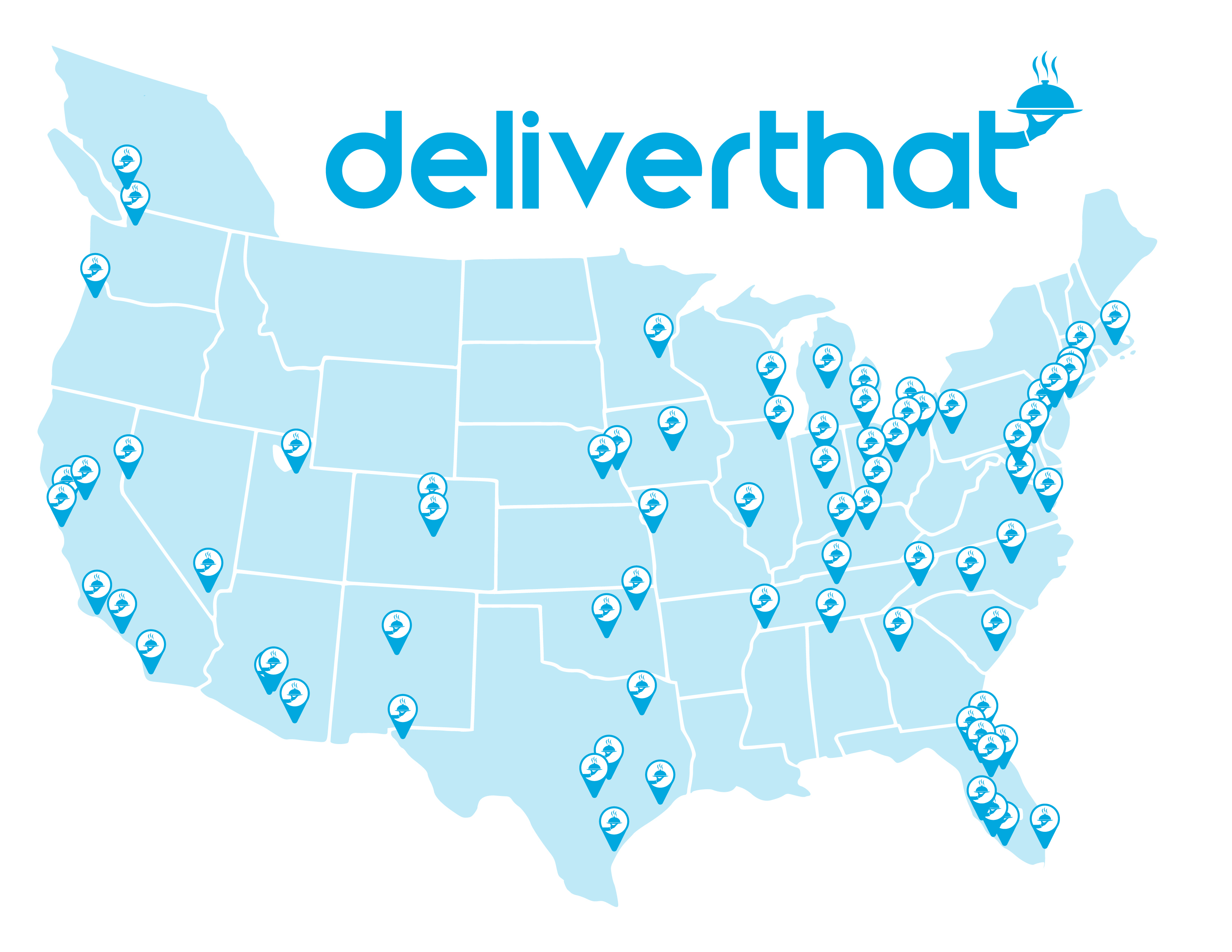 "With a decrease in overall catering volumes and the shift to smaller deliveries, our brands have relied upon DeliverThat to support and supplement our teams through the uncertainty of day-to-day transaction volume. DeliverThat's reliability, and its willingness to pivot to support off-premises sales channels in addition to catering, are just two of the reasons that we have, and will continue to, partner with them in these challenging times," said Jim Rand, Partner, Act III Holdings.
DeliverThat also released an extensive driver education program to ensure the level of quality and safety during current Covid-19 conditions. These new initiatives helped partners like Act III Holdings and ezCater to continue to provide the level of service their customers expect.
"We were also faced with new challenges around delivery safety to help prevent the spread of the disease. The DeliverThat team responded quickly to implement CDC recommended guidelines for delivery safety which allowed us to smoothly transition to this new, complicated world," said Jules Konjoian, Director of Delivery Operations at ezCater.
The changes have had a positive impact on DeliverThat team members and the company's partner associates, many of whom requested expanded services during nationwide shutdowns, reopenings, and revised business operations.
"Over the last three months we have developed methods to enhance the level of service for our partners," said Darien Terrell, President of DeliverThat. "DeliverThat partners have requested help in many secondary cities around the country has fueled the latest wave of expansion. We have listened to our partners over the last few months and this has resulted in extensive driver education, primary and secondary market expansions, and enhanced internal resources."
Ervin Cohen & Jessup Launches Food, Beverage and Hospitality Practice
Ervin Cohen & Jessup launched a Food, Beverage and Hospitality practice to more efficiently advise industry-related clients to recover from the devastating financial and logistical impacts of the coronavirus pandemic and beyond.
"The Firm already had attorneys who excel in various specialty areas navigating clients through the myriad of hurdles to recovery, but we took it a step further so we can advise them in a more holistic and cost-effective manner," said Randy S. Leff, Co-Managing Partner of Ervin Cohen & Jessup.
ECJ's Food, Beverage and Hospitality Department attorneys advise food and beverage clients, startups and other businesses on a comprehensive range of issues, including employment, trade secrets, partnership disputes, contract negotiations, intellectual property, licensing and franchise disputes. In recent months, they have been advising clients on issues ranging from Paycheck Protection Program (PPP) loans to reducing and rehiring employees to recovering losses from insurance companies and renegotiating leases.
"With the new department, we are formalizing best practices so our attorneys can collectively provide our clients with the most efficient legal services and smoothest path to reopening," said ECJ Partner Pooja S. Nair, who is overseeing this new practice. Nair is a Modern Restaurant Management (MRM) magazine columnist.
Other members of the new practice include: Randy S. Leff (litigation and employment), Kelly O. Scott (employment), Vanja Habekovic(corporate and tax), Joan B. Velazquez (real estate), Peter S. Selvin (insurance and business interruption) and Elliot N. Kermani(contracts and financing).
Minnow Secures Funding
Minnow Technologies raised $2.2 million in an oversubscribed seed round. Elevate Capital, an early-stage venture fund based in Portland, OR, led the round. Also participating in the round were Portland Seed Fund and the venture capital arm of Lincoln Property Company, In addition to this financing, Minnow raised a $1.2M pre-seed round in 2018.
"This funding serves as a testament to the importance of Minnow's contact-free technology in the COVID-19 era and beyond," said Steven Sperry, Minnow's CEO and cofounder. "The pandemic is only accelerating trends—like online food ordering and delivery—that were already well underway before the virus appeared."
The coronavirus pandemic has spurred demand for contact-free technologies that can reduce the need for face-to-face interactions, especially when it comes to delivering and picking up food. Minnow's IoT-enabled Pickup Pods provide a safe, secure, and contact-free way to deliver or pick up food. They can be used anywhere that food is picked up, for example in restaurants and cafeterias, to provide a safer, more convenient pickup experience. Minnow Pickup Pods can also be used wherever food is delivered, to keep consumers and food delivery workers safer.
"We're thrilled to be able to help power Minnow's growth," said Nitin Rai, Managing Director of Elevate Capital. "Minnow has everything we look for in an investment—a passionate team of experienced entrepreneurs, a bold and disruptive vision, defensible technology, and an enormous market opportunity."
Since the outbreak began, Minnow has been overwhelmed with demand for its food delivery and pickup pods from two sectors: food service and commercial real estate. For food service operators like restaurants, cafeterias, food halls, and ghost kitchens, Minnow Pickup Pods offer a safe and more secure order pickup. For commercial real estate companies that operate office and multi-family residential buildings, Minnow provides a contact-free food delivery solution that helps them manage the growing volume of food being delivered to their properties.
"With Minnow, we see a solution that will not only help our properties adapt to the realities of COVID-19, but also provide our tenants with a convenient, technologically-enhanced amenity," said Eric Roseman, Vice President of Innovation & Technology Ventures for Lincoln Property Company. "It's all about creating those compelling experiences and reducing friction."
To keep up with the demand, Minnow is accelerating production of its first commercial model, the Minnow P5 Pickup Pod. The company is now accepting pre-orders for the first batch of production units.
Delightree Raises Funds
Delightree raised $3 million in its seed round of funding. The funding saw participation from top investors, including Accel Partners, Emergent Ventures, Brainstorm Ventures, Axilor Ventures and Alchemist Accelerator.
Started in September 2019, Delightree brings digital workflow tools to the hands of deskless workers who have traditionally had to rely on pen and paper. Primarily aimed at franchise businesses and brick-and-mortar operations, like restaurants, hotels, and retail stores, with a predominantly deskless workforce, Delightree bridges the gap between a tech-empowered management and a frontline employee base who traditionally have not had access to technology. Delightree's solution has the potential to positively impact 80 percent of the workforce, or over 600 million workers, globally who do not work at a desk.
The mobile app solution empowers franchise owners and store managers by digitising their operating procedures and helping achieve compliance, team accountability and improve performance. The franchise owner or manager can use the app to build workflows, list and assign tasks, set and check compliance parameters, and keep the frontline employees updated in real time. The employees can easily manage their tasks and keep abreast of operations with the intuitive app, which offers alerts and reminders to make the work day easier for the employee.
For instance, standard operating procedures like weekly equipment checkups can be automated and regulated remotely using Delightree. With full visibility and accountability driven by the app, the business saves money and time in unforeseen repairs or damages to the machinery. Delightree app can also streamline employee onboarding. Instead of sending documents to regional offices, employees can add their documents, sign forms, and undergo training on Delightree.
Delightree is founded by Madhulika Mukherjee and Tushar Mishra, second time entrepreneurs who previously founded and ran a profitable CEM software company Survaider.. Delightree's clients include select franchisees of brands like Subway, Pedros, Burger King, and Halal Guys across the US.
Tushar Mishra, Co-founder, Delightree said, "We were surprised to learn how most franchises still either run on pen and paper or old desktop-based software. Delightree is helping owners turn their stores into future ready smart stores where the majority of their processes and workflows are automated."
Madhulika Mukherjee, Co-founder, Delightree said, "Automating standard workflows is just scratching the surface. We are planning to integrate with other products a franchise business uses to deeply augment all cross-department workflows in the organisation."
Dinesh Katiyar, Partner, Accel said, "Delightree is focusing on an industry segment—franchise businesses—that has traditionally struggled to find technology solutions that are right-sized for them. Delightree takes care of the tedious part of managing a franchisee location and enables frontline employees to be on top of their tasks with ease. A solution like Delightree is especially needed now, when Covid-19 has led to a higher compliance burden on such businesses."
Onosys and ItsaCheckmate Partner
Onosys and ItsaCheckmate partnered to integrate the Onosys ordering platform across 40+ POSs through the ItsaCheckmate network. Onosys will continue its focus and development efforts to create new product features that enable restaurant brands to drive more volume through its direct online ordering channel. The partnership is committed to providing the best restaurant solutions and consumer experience available in the marketplace.
Onosys and ItsaCheckmate are integrating their technologies to provide fast, reliable and affordable online ordering that's immediately integrated into most major restaurant POS systems and third-party delivery services which includes DoorDash, Postmates, Uber Eats and GrubHub and dozens of other regional and international providers.
"Onosys has always focused on fully-branded, robust and intuitive user experiences to maximize revenue for our restaurant partners. Now, with ItsaCheckmate, we can accelerate deployment of exceptional and seamless POS integrations for enterprise restaurants without sacrificing the consumer experience," said Onosys EVP Chris Anderle.
"Onosys is a valuable partner to join us to serve our extensive network of integrated technologies in POS and third-party delivery. We look forward to better serving the enterprise restaurant market," said Vishal Agarwal Founder & CEO ItsaCheckmate.
Sushi with an Attitude
Sushi with an Attitude, top photo, will be opening in Los Angeles with SushiBis (Sushi + Musubi). a new concept that gets creative and include ingredients such as Chipotle Caramelized Bacon and Avocados along with Salmon Poke and Flaming Hot Cheetos. Some of the most popular ones are the: – "Don't Go Bacon My Heart" which is a chipotle caramelized bacon SushiBi married with fresh avocados, topped with crispy bacon bits. – "Full of Bulgogi" SushiBi which has korean Bulgogi, that has been marinated for over 24 hours in our savory sweet sauce, is paired with Vietnamese Pickled Vegetables, and Fried Wontons. – "Poke Me" SushiBi which includes Spicy Salmon Poke infused with fresh avocados, Sriracha Aioli sauce and topped with flaming Hot Cheetos.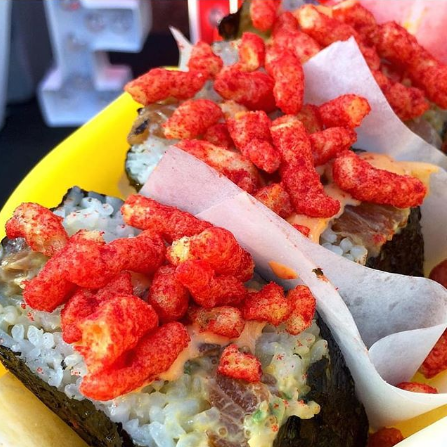 "There has been a growing need for exciting food deliveries," said Scott Kohno (owner). "Sushi With Attitude is rolling up some fun and exciting deliveries that hope to make a big difference for people eating at home." "Thanks to the unique cloud kitchen format, we are able to adapt to the current difficult environment of the pandemic." The new Cloud Kitchen restaurant will open on Friday, August 7. The outpost is in Koreatown, located at 1842 W Washington Blvd.
GoTab Adds Features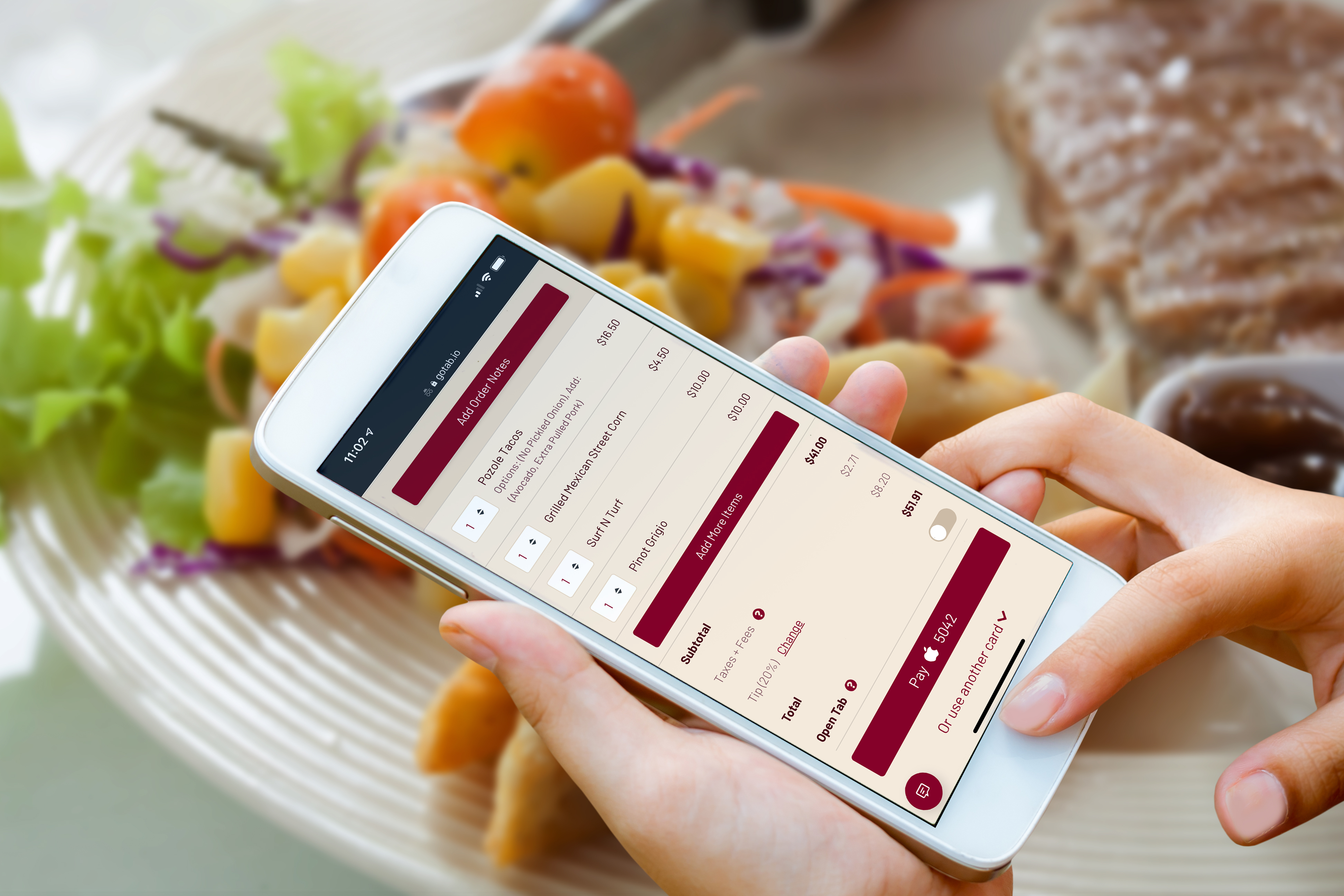 GoTab Inc., rolled out its contactless ordering and payment features for servers, designed to complement its existing contactless ordering and payment technology for guests. It can be used on any iOS or Android devices, providing a mobile POS for front-of-house staff to take customers' orders or add to the digital tabs started by customers who scan the QR code on their table. A physical card payment terminal is also available to provide an alternate way for customers to check out, giving them the ability to choose to pay at the table instead of settling their tabs directly on their mobile device, via the GoTab platform.
Offering contactless ordering and payment since 2016, GoTab is helping restaurant, bar, brewery, winery, and hotel operators rethink their hospitality service model, especially as they pivot and adapt to the changing regulations due to the current COVID-19 pandemic. Early adopters such as Think Food Group and Farmers Restaurant Group have been able to leverage GoTab to optimize their servers' work and interactions with customers to ensure a better guest experience. GoTab creates an efficient and hospitable environment for guests while freeing up front-of-house staff from low-impact tasks and allowing them to allocate more time to maintain proper safety guidelines which benefits both the operators and the guests.
For customers seeking a safe yet enjoyable dining experience, GoTab allows them to scan a QR code directly from their mobile device, browse a menu, order and pay — all without downloading an application or waving down their server. GoTab is currently the only self-service platform with native features for opening a digital tab, sharing and splitting the tab and calculating tips among friends, and keeping the tab open until it's time to settle.
The GoTab system is designed to be an integrated or stand-alone service, requiring minimal setup and a nominal per transaction percentage for operators, providing high-touch hospitality without the high-end price tag. It requires no additional hardware, software or support costs and works seamlessly for takeout and delivery service, providing the same ease and convenience as in-venue dining.
Bbot Debuts
Bbot, an NYC-based company, has created a contactless ordering and payment system that allows guests to browse digital menus, order and settle checks using their own smartphones. Guests no longer have to handle menus and servers no longer have to touch cash or credit cards, keeping physical interactions to a minimum. It is in use in multiple restaurants and bars across the city and it means social distancing can be maintained.
It is the brainchild of three naval officers who met while servicing nuclear submarines who decided to apply their mechanical engineering expertise to the more efficient delivery of a pint. Three years later, Bbot is powering in-venue dining, delivery and pickup for hundreds of bars, restaurants, food halls, and hotels in U.S. cities, including New York, Los Angeles, Miami, San Diego, Chicago, New Orleans and San Francisco. Bbot has proven to increase revenues by 15 percent prior to the pandemic but has since become mission critical as venues reopen under COVID.
Dr. Murphy's Food Hall Opens
Hospitality HQ (HHQ), the culinary consulting and management group helmed by award-winning chef Akhtar Nawab, announced today the official opening of Dr. Murphy's Food Hall, 1811 W. Harrison St., locatedwithin the historic Cook County Hospital building. Named in recognition of Dr. John B. Murphy – one of America's preeminent pioneering surgeons through the turn of the last century who studied, interned and taught at Cook County Hospital – the 10,000 sq. ft. destination includes an outdoor patio, a vibrant bar and lounge, as well as a range of diverse, chef-driven vendors. Nine of the founding restaurant vendors are minority and women-owned businesses (MWBE).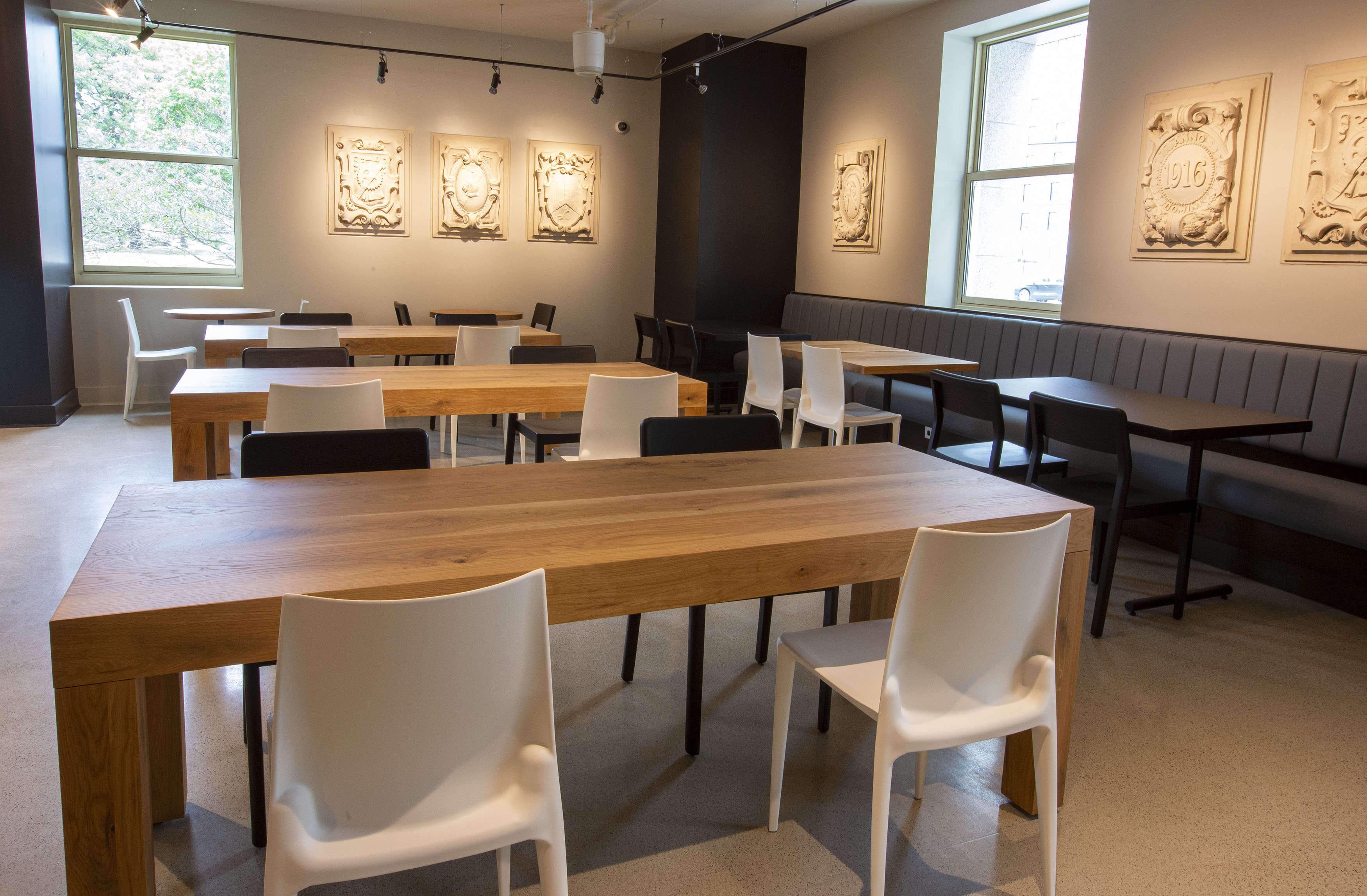 "We are thrilled to officially open to the public, bringing a distinctive lineup of culinary concepts, from Vietnamese and Mexican, to Southern and desserts, to the Illinois Medical District. This project has a special place in my heart because my father completed his residency at the Old Cook County Hospital," said Chef Nawab. "I feel passionately about bringing quality, nourishing food to underserved neighborhoods, and there is definitely a dearth of options within the Illinois Medical District area. In partnership with our vendors, we look forward to serving the thousands of medical professionals, students and educators who spend most of their waking hours here, as well as creating an inviting dining experience for new residents, guests, and visitors of Cook County."
Dr. Murphy's Food Hall's inaugural vendor lineup includes:
Brekkie & Bake Shop
Introducing her new and first restaurant concept, Chef/Owner Taylor Bischof had brought Brekkie & Bake Shop to Dr. Murphy's Food Hall. Serving high quality breakfast items made from fresh ingredients, Brekkie & Bake Shop offers a variety of breakfast sandwiches, bowls, overnight oats, and baked goods.
Crockett Cookies (MWBE)
Inspired by a nostalgic love of the iconic peanut butter cookies served in Chicago's public schools, Owner and CEO Cheryl Crockett started Crockett Cookies by making lunchroom style butter cookies for family and friends. Fast forward to today and her company bakes over 5,000 of her famous cookies daily for local and nationwide orders. Dr. Murphy's Food Hall is now home to the first Crockett Cookies storefront.
Classic Cobbler (MWBE)
Owned by Bran'Arla Johnson, Classic Cobbler is a family owned business specializing in home-made fruit cobblers and pies. The desserts are made with the finest quality ingredients and no preservatives, having been perfected across generations, beginning in the South before migrating to the Midwest. Guests of Classic Cobbler's only brick-and-mortar location within the food hall will enjoy the cobblers' and pies' flaky, buttery crusts and just-right mix of fruits and spices.
Doc's Bar (MBE)
At the heart of Dr. Murphy's Food Hall sits Doc's Bar, the best place to wind down in Cook County. Fun and laid-back with an elevated approach to hospitality, Doc's offers ample seating at the bar as well as dedicated drink service throughout the food hall. The menu at Doc's Bar features a selection of great local craft beers and wine by the glass or bottle, plus a range of updated twists on classic cocktails with nods to Chicagoland and beyond.
Jarabe (MBE)
Brothers Teddy and Alexis Vejar opened Jarabe in 2015 inside a small storefront in the Medical District as an off-shoot of La Adelita, one of Chicago's original food trucks. Dr. Murphy's Food Hall marks the second location of their popular taqueria, where the duo will continue in their ever-evolving expression of love for the regional food cultures of their native Mexico and the Mexican Diaspora. From tacos to burritos, everything at Jarabe is made from scratch and cooked to order using only the finest ingredients.
Kathmandu Momo Station (MBE)
Co-owners Rocky Shrestha and Sagar Gurung bring Nepalese street cuisine to Dr. Murphy's Food Hall with the third location of their celebrated restaurant. Kathmandu Momo Station serves their award-winning dumplings, called momo, and expands upon their focused menu with additional authentic Nepalese and Burmese flavors that are only offered at the Chicago location.
Lexington Betty (MWBE)
Originally starting out as a food truck, Lexington Betty Smoke House has served authentic barbecue throughout the Chicagoland area for many years.Chef/Owner Dominique Leach brings extensive knowledge and experience of the craft of BBQ to the new location which serves Lexington Betty's famous beef brisket, rib tips, BBQ chicken and more.
Lil' Delta (MBE)
An ode to the food, beverage, and culture of the Mississippi Delta region from co-owners Eldridge Williams and Robert Johnson, Lil' Delta is the first spin-off of celebrated sister restaurant, The Delta, in Wicker Park. Lil' Delta features fan favorites from the original location, including their signature Mississippi Red Hot tamales and hush puppies, along with new and exciting fare.
Maharani Indian Cuisine (MBE)
Maharani Indian Cuisine is the second location of Chef/Owner Amit Singh's modern Indian concept, following his first opening within Inner Rail Food Hall in Omaha, NE in October 2019. Paying homage to Amit's heritage, Maharani Indian Cuisine serves a variety of modern Indian dishes including kebabs, biryani, curry plates, naan, and more. Vegetarian, vegan, and allergy-free items are also available upon request.
Ottobagatto
A community and value-driven, no fuss, New York via Staten Island-style pizzeria, Ottobagatto's first brick-and-mortar location in Dr. Murphy's Food Hall serves small pies, bright salads and Italian wrap sandwiches, called piadini, using thoughtfully sourced produce. Brought to Dr. Murphy's Food Hall by Chef/Owner Ed Carew, Ottobagatto's signature pizza dough is carefully made using a long fermentation technique, making their pizzas extra delicious and more nutritious than typical processed doughs.
Passion House Coffee
A small-batch specialty roaster founded by lifelong coffee professional Joshua Millman in Chicago in 2011, Passion House Coffee meticulously sources freshly harvested beans from farms around the globe, hand-roasting them to achieve balanced, complex, and beautiful flavors. Marking the third location of the beloved roaster, the Dr. Murphy's Food Hall location serves lattes, seasonal coffee, freshly roasted bags of coffee, and rotating pastries.
Viet Nom Nom (MBE)
Owned by Alan Moy, Viet Nom Nom is a Vietnamese-inspired quick service restaurant serving its own modern, healthful take on traditional classics like banh mis, summer rolls, and pho. The restaurant's affordable and customizable menu features all housemade and from-scratch recipes, highlighting local ingredients, purveyors and community partners wherever possible. Viet Nom Nom packs flavor into every fresh, nutritious dish, seamlessly catering to the growing dietary needs of today's modern diners with plenty of vegan, gluten- and dairy-free options.
To provide all with the utmost confidence in public dining after COVID-19, Dr. Murphy's Food Hall offers spacious seating areas, modular tables, an 800 sq. ft. outdoor dining space, a designated takeout/pickup concierge area, integrated online ordering technology, and contactless payment systems.
Situated on Chicago's Near West Side, Dr. Murphy's Food Hall is the only destination of its kind in the area, providing unique and delicious dining opportunities and accessible options to those visiting and working in the largest urban concentration of healthcare institutions, biotechnology hubs and technology-based incubators in the country. Dr. Murphy's Food Hall is part of the Cook County Hospital's transformative $150 million renovation, which will also include fully leased medical office space, a daycare center, and a 210-room Hyatt Place and Hyatt House Chicago Medical/University District hotel, the first combined Hyatt Place and Hyatt House hotels located in Chicago. The project is led by Murphy Real Estate Services and its design and operating partners, including Hospitality HQ, Walsh Investors, MB Real Estate, Eimer Design, and Colicchio Consulting.
Dine-In Ordering
BentoBox launched Dine-In Ordering to enable contactless ordering and tableside payment for restaurants and their guests. This product launched in response to high market demand as a way to help restaurants digitize the on-premise experience, which is especially important during the COVID-19 pandemic.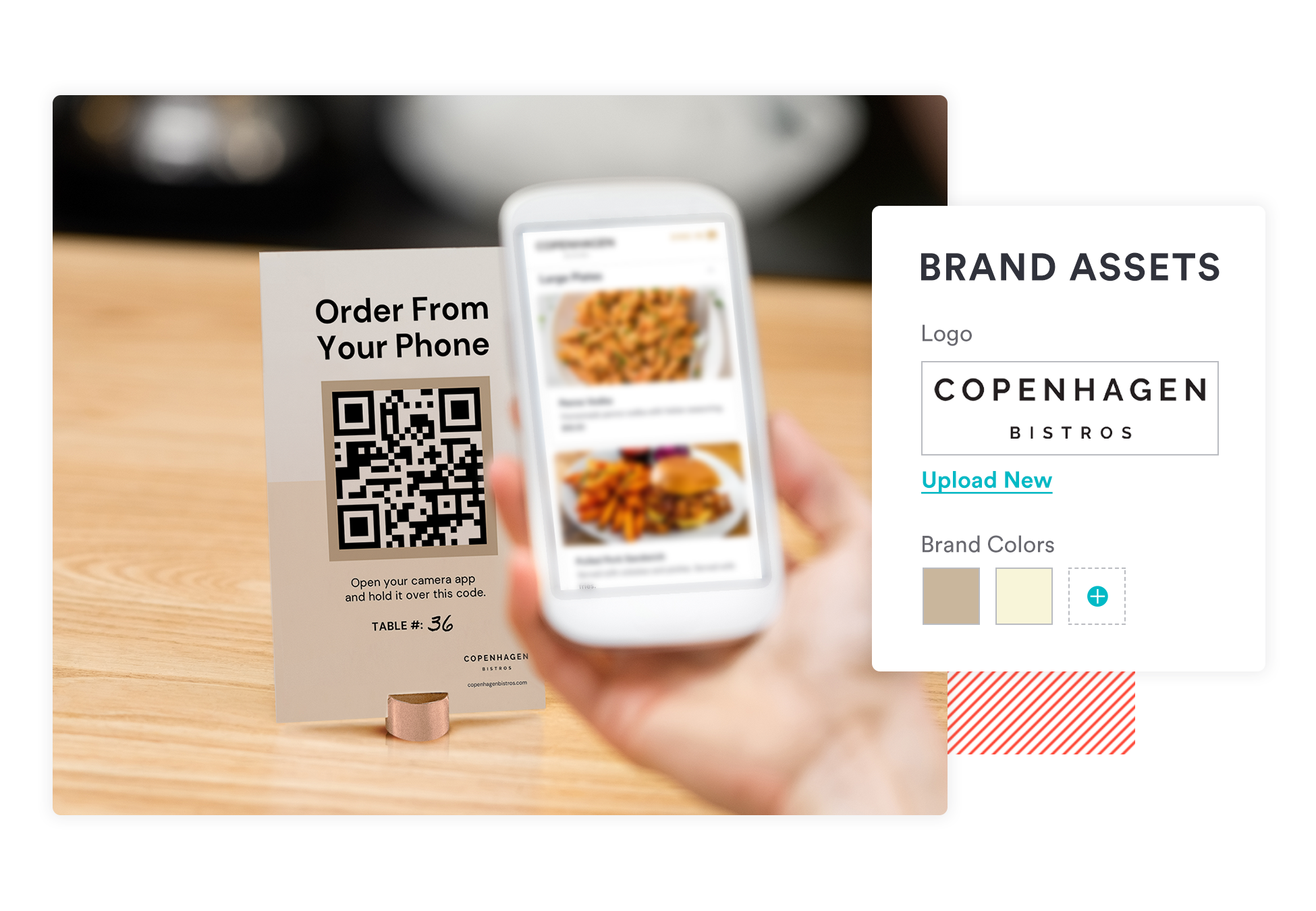 Through an easy, contactless experience, Dine-In Ordering keeps employees and guests safe while reducing costs. The new set of features, which is free for BentoBox Online Ordering customers, helps restaurants focus on hospitality rather than basic tasks that can be easily automated. Dine-In Ordering includes complimentary tabletop signs with the restaurant's brand and customized QR code, which turns the guest's mobile device into a tool to seamlessly place an order. It also includes customized digital menus that restaurant owners can easily update in real-time, driving efficient operations and an even better customer experience.
A fully digital experience, Dine-In Ordering removes the need for paper menus, bills, receipts, and check presenters to facilitate safety for servers and diners. Besides being secure and sustainable, Dine-In Ordering maximizes revenue by turning tables faster and delivering a positive guest experience that upholds social distancing. As an example, guests no longer have to get a server's attention to place an order or wait for the check. By eliminating these transactional touchpoints, restaurant staff can fully focus on enhancing the guest experience and making sure that every interaction is deliberate and adds value.
"We have laid a foundation that enables restaurants to use their digital storefront to grow and communicate with their guests, which matters now more than ever as they work to reopen safely," said Krystle Mobayeni, Co-Founder and CEO of BentoBox. "We are going to continue expanding our product suite to support the digital transformation of restaurants in a way that empowers them to truly own their brand and deliver their new version of hospitality."
While Dine-In Ordering is free of charge for Online Ordering customers, BentoBox customers not yet using Bento Ordering can purchase a license at $39 per month. New customers can purchase a standalone license at $79 for the first location, which also includes online ordering for pickup and delivery.
o help restaurants move toward a contactless, mobile-driven customer experience, CardFree––the S.F.-based mobile solutions company­­––is offering its services for free over the first three months, and in turn helps customers build their own, tailored approach to dining based on their comfort level, whether it's dining al fresco or customizing a to-go order.
xtraCHEF Teams with Toast
xtraCHEF entered a preferred partnership agreement with Toast. In light of the COVID health crisis, xtraCHEF has released two new free offerings, Sync and xtraCASH, that help restaurants streamline their operations in an incredibly dicult operating landscape.
While xtraCHEF had previously integrated with Toast to enable robust cost-of- goods sold (COGS) reporting, budgets and inventory management features for restaurants, the company recently introduced these two new products that any Toast customer can use free-of-charge as part of the preferred partnership agreement.
"xtraCHEF and Toast are strategically aligned in recognizing that restaurant operators need intelligent, data-driven solutions that are easy to use and affordable," said Andy Schwartz, CEO & Co-Founder of xtraCHEF. "These free tools will make it easier for our mutual customers to be successful."
Sync allows Toast customers to create sales journal entries in QuickBooks Online (QBO) with no manual data entry or intervention. xtraCHEF's integration between Toast's Point-of-Sale (POS) software and QBO makes the category- level details available in QuickBooks within 24 hours. By using Sync, restaurant operators and their bookkeepers can eliminate the time and expense of using other tools or manual methods to keep their accounting system in sync with their Toast POS.
xtraCHEF and Toast are strategically aligned in recognizing that restaurant operators need intelligent, data-driven solutions that are easy to use and affordable.
Solomon Wang, Director of Operations at Genuine Article, a hospitality bookkeeping and consulting rm uses Sync for his restaurant clients. "Sync, xtraCHEF's free integration between Toast & QBO, has allowed our customers to immediately save $100/month after switching from a paid service," said Solomon. "Additionally, correcting and re- posting is easy and within our control, not tied to a pending support ticket."
The company also recently released xtraCASH, a free version of their food cost and purchase management software. Users upload invoices to gain instant insights into spending habits & ingredient-level price uctuations. Other features include cloud-based document management, purchase order tracking and vendor management, and food cost reporting and analytics. xtraCASH users can also earn cash back by opting into a manufacturer rebate program, powered by Buyers Edge Platform.
In addition to the two new free products, xtraCHEF has also recently released several enhancements to their premium product that are enhanced by the Toast integration including an Operating Summary Report and a PMIX (Product Mix) Margin Report that shows recipe level margin variances. Toast customers that sign up for Sync will be eligible to sign up for a free trial of xtraCHEF's premium platform for 60 days.
Sync, xtraCASH, and xtraCHEF's premium platform can all be found in Toast Partner Marketplace.
Leanpath Go
Leanpath introduced Leanpath Go, a tracking platform specifically designed to help operators measure and prevent food waste as they increase reduced-contact service styles such as grab-and-go, takeout and off-premise dining.
Leanpath Go introduces a unique "each"-based tracking interface that lets operators measure food waste by the item instead of by weight. That means no scale, which means Leanpath Go can be taken almost anywhere.
"We are seeing a dramatic shift away from the traditional high-volume service styles such as buffets and salad bars," says Leanpath CEO Andrew Shakman. "They are being replaced by grab-and-go stations and curated food bars. Leanpath Go meets these new industry needs as well as the needs of any operation where measurement by unit is preferable to measurement by weight, like convenience stores, coffee shops, and grocers."
"Each"-based tracking offers the ease of recording an overproduced grab-and-go turkey sandwich with chips and a pickle spear, for example, as one item. Leanpath Go's picture-based interface allows the user to tap to track that item, or tap-and-hold for fast, multi-item tracking. Like all Leanpath Trackers, the data captured on Leanpath Go is immediately uploaded to our cloud-based analytics platform to identify high-waste areas and prevention opportunities.
Food waste prevention is more important now than ever. Based on Leanpath data, low volume operations actually create higher percentages of food waste. As the foodservice industry slowly reopens from COVID-19 shutdowns, it will see lower volumes as the norm.
"There are a lot of things impacting the foodservice industry right now that are outside its control," says Shakman. "Food waste doesn't have to be one of them."
Leanpath is responding to the needs of a changing industry, because the importance of controlling food waste hasn't changed. Leanpath Go is the first in a series of innovations the company is announcing that specifically address new industry realities brought on by the pandemic.
Tulkoff Opens New Facility
Tulkoff Food Products, Inc. will expand its current U.S. manufacturing footprint with a new facility in Cincinnati. This expansion responds to years of increasing demand and growth in the company's private label and co-pack division of their business.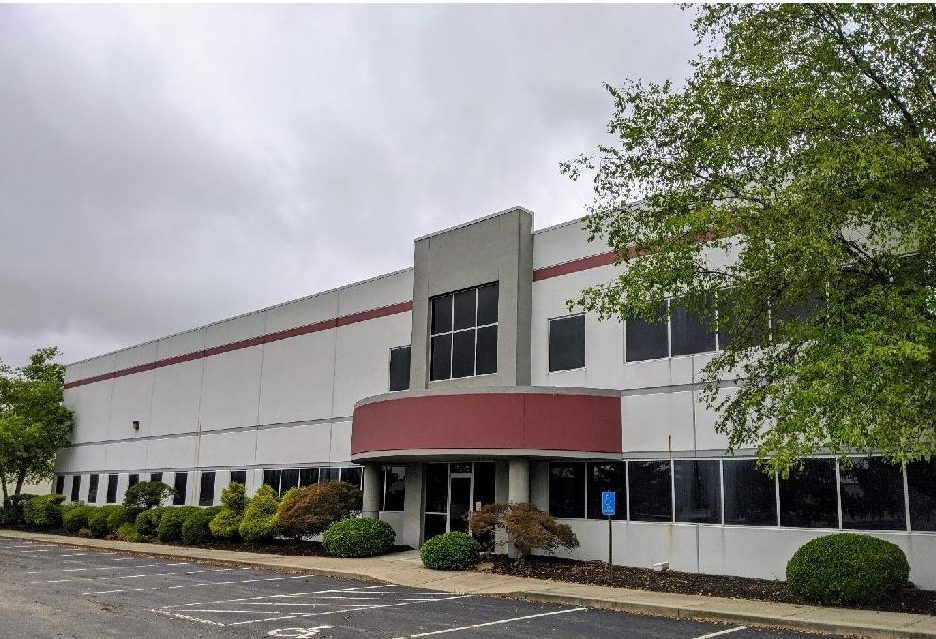 Previously utilized by a food manufacturing company, the building sits on 9.5 acres and will be fitted to include 52,000 square feet of manufacturing space and 7,300 square feet of administrative space. The company plans an initial hire of 25 employees to operate the facility and manufacture private label and co-pack products for Tulkoff's retail, national brand and foodservice customers.
The building and manufacturing practices will be SQF certified. Capabilities will include dry and refrigerated storage, hot and cold fill, emulsion products, 4oz to one gallon bottles-glass or plastic, plastic tubs 8oz-32oz, full shrink sleeve packaging, one-two-or three labels per container and case or tray pack options. Tulkoff plans for the facility to be fully operational by early 2021.
"We're very pleased to announce the opening of a new location in Cincinnati, Ohio," says Phil Tulkoff, President and CEO of Tulkoff Food Products, Inc. "This is not only an opportunity to bring more jobs to the area, but it allows us to further expand our manufacturing capabilities and meet the demands of our private label and co-pack customers. We were running out of space and production time at our Baltimore, MD facility and I did not want to keep turning down customer opportunities for the growing private label and co-pack division of our business."
Gates Joins UniFocus
UniFocus said Dave Gates has joined the company to lead its restaurant industry initiatives. Gates brings more than 35 years of restaurant industry experience, including 27 years in leadership roles with Red Robin where he led the process to adopt UniFocus as the corporate standard for labor management. Most recently, Gates served as an operations management consultant with restaurant consulting firm, The Productivity Advantage.
"I have experienced firsthand the distinct advantage restaurants have when they put UniFocus smart tools for labor management in the hands of their managers and multi-unit leaders," stated Gates. "Managing labor effectively and providing state of art communication tools to front-line team members will be a critical factor for restaurants in recovering from the challenges created by the COVID-19 crisis. I am honored to be a part of UniFocus, which is uniquely positioned to help restaurants navigate their paths back to profitability more quickly."
"Dave has extensive experience in restaurant operations and a strong reputation for innovative problem solving," said UniFocus CEO, Mark Heymann. "His combination of strengths is perfectly aligned with our commitment to strong knowledge of the industries we serve and our culture of continuous innovation. We couldn't be more excited to have Dave on our team as we expand our work with restaurants."
Epson Debuts Receipt Printers
Epson America, Inc., added OmniLink® TM-m30II-h, OmniLink TM-m30II-NT, and TM-m30II compact POS receipt printers. Smart interface connectivity, improved reliability1 across the product line, and OmniLink technology provide numerous benefits such as expanded USB POS peripheral device support, online ordering, cloud printing, and network connectivity to tablets in locations with wireless connectivity issues. The new printers are perfect for merchants such as full-service and quick-service restaurants as well as a wide variety of retailers to help them deliver a superior customer experience. The solutions are available from Epson authorized partners.
"As mobile POS applications and online ordering continue to grow, today's new products need to support the evolving needs of merchants," said Mauricio Chacon, group product manager, Business Systems Division, Epson America. "Customer experience is a big driver of our technology decisions. That's why our innovative, next-generation, mobile-friendly receipt printers allow retailers and hospitality providers to quickly and painlessly add receipt printing wherever needed. Our printers are designed to enable them to best serve their customers, whether they buy online to pick up in the store, use curbside pickup, or home delivery."
The OmniLink TM-m30II-h POS thermal receipt printer offers broad interface connectivity options and supports up to four USB POS peripheral devices. It not only features USB and Ethernet but also offers Bluetooth® or wireless connectivity options. The OmniLink TM-m30II-NT POS thermal receipt printer includes both USB and Ethernet connectivity and is built to support up to two USB POS peripheral devices.
Both the OmniLink TM-m30II-h and OmniLink TM-m30II-NT 3" POS thermal receipt printers feature a modern industrial design that is ideal for compact spaces. The printers include USB-Network-Tethering2, which enables network connection to IOS devices. This makes them perfect for locations that experience issues with wireless connectivity. Key functions such as online ordering and remote printing are supported through Epson's ePOS™ Server Direct Print. Merchants also benefit from access to the latest cloud applications via OmniLink Merchant Services, giving them more options to support their business needs. These printers can charge a smartphone or tablet and communicate data using a single USB cable3 (cable not included). With a 150km printhead life1 and auto cutter life of 2.2 million cuts1, customers benefit from remarkable printer reliability. Ideal for busy retail and hospitality environments, the printers can quickly print receipts at up to 250 mm/sec1.
The sleek TM-m30II POS thermal receipt printer offers multiple interface options for great versatility. A compact 3" receipt printer, it features USB, Ethernet, Bluetooth or wireless connectivity options. A reliable performer, it features a 150 km printhead life1 and auto cutter life of 1.5 million cuts1. The TM-m30II also speeds through prints at up to 250 mm/sec1.
Wellness Platform
TransAct BOHA! is a cloud-based solution that automates ten time-consuming, error-prone tasks (inventory, temperature checks, labeling, delivery and more) that are typically done manually to help streamline work and better manage food quality and safety. When the pandemic hit, BOHA quickly pivoted to launch new automated tools to help restaurants best manage team member health reporting and necessary regular cleaning based on CDC guidelines.
Restaurant operators can utilize BOHA! to roll out new guidelines and procedures. Using a digital platform streamlines operations and give insights to the execution of the new guidelines.
Specific capabilities include:
Employee Wellness Checks
Sanitation Checklist
Re-Opening Guidelines Checklist
Managers can use BOHA! to take and record employee temperatures, and record their health checklist before they start their shift. Employees can get reminders on when it's time to wipe down stations. Everything goes into a central system to maintain accountability and safety.
Further, restaurants can showcase their commitment to cleaning by utilizing the BOHA! Software to print labels with cleaning and menu information:
After sanitizing their tables, counters, kiosks or restrooms, restaurants can proudly display their commitment to safety with a time-stamped/location-stamped/employee-specific label where customers can see it – and feel comforted by it.
BOHA! can also be utilized to print labels with QR codes to get daily menu information for take-out and dine-in service that will replace disposable paper menus or inform customers of their new procedures their taking to ensure safety.
AirShield. Debuts
Spirit Specialty Solutions, Inc./FoodSignPros is expanding its lineup of food shields and safety solutions with its new patent-pending AirShield. The AirShield prevents airborne contaminants from passing through the sides of food sneeze guards with FDA approved technology. Perfect for buffets, roller grills, sandwich counters, made to order operations, or even cashier stands. The AirShield creates an invisible germ-safe barrier to protect against COVID-19 and other hazards.
"The AirShield will play a major part in businesses remaining open, employees keeping their jobs, and the future of the world's economy", says Mike Kurm, President at Spirit Specialty Solutions, Inc. "The butterfly effect this is already having in the food industry is beyond our wildest dreams".
The AirShield:
Helps with real food safety, using FDA approved technology to block microbes from entering the food area.
Includes customized signage to help retailers show off their safety efforts, helping with customer's perception of safety.
Replaces plastic covid-19 barriers we see everywhere with invisible, sleek, and superior protection.
Bring Your Customers Back
The Bring Your Customers Back (BYCB) Foundation, an international consortium aiming to minimize the effects of the COVID-19 pandemic, launched an independent safety certification program. Through this initiative, the foundation helps to identify businesses in the recreation and hospitality sectors complying with health standards, bringing confidence and safety back to customers.
Companies around the world have been exposed to immense losses through the ongoing pandemic. The tourism industry was among the first to face a dismal aftermath of the global lockdown. According to the World Tourism Organization, loss estimations for the sector in 2020 may amount up to $1.2 trillion in export revenues. Due to around one billion fewer international tourist arrivals expected this year, 100–120 million jobs are at risk. Retaining customers is now a top priority for businesses to stay afloat, make profit, and keep the jobs.
Establishing all the necessary safety measures and demonstrating compliance with the regulations imposed by the World Health Organization (WHO) is key to restoring customers' trust and resuming operations. The goal of the Bring Your Customers Back Foundation is to assist businesses in putting safety measures in place.
"Through the foundation, we share our experience and accumulate industry resources to offer information and tools helping to minimize the effects of the pandemic," commented Daria Lapus, Project Coordinator at the BYCB Foundation. "In particular, we provide expert advice and create content through working groups dedicated to marketing, risk-management, and innovative technologies."
In contrast to self-made claims, certification by the BYCB Foundation delivers a proof of safety from an independent consultancy combining experts from various industries. The program enables businesses to evaluate compliance of the implemented safety measures against the regulations by the WHO.
During assessment, experts from the BYCB Foundation score an applicant's precautions and workflows across 70+ parameters. Using video calls, the compliance with the COVID-19 safety standards is examined regarding social distancing, disinfection, personal protection equipment, etc. Upon meeting all the requirements, a certification is awarded to an organization within 24 hours after applying for it.
The certification aims to accelerate the retention of loyal customers and encourage the acquisition of new ones in a matter of weeks. To make these happen, members of the foundation are guided through the process by the advisory board. The foundation also consults on legal matters and helps to work out a risk mitigation plan to help businesses avoid lawsuits related to getting infected with SARS-CoV-2.
Interested organizations are welcome to join the foundation (membership fees are based on the size of the company). To learn more, visit https://bycbfoundation.org/join-the-foundation/.
Free Restaurant Survival Kit
aBitNow is offering a Free Restaurant Survival Kit for all restaurants that have been hit hard by the Covid-19 Pandemic including your own Free Website (complete with hosting), Free Online Menu, Free Online Ordering and a 15 Minute Virtual Demo by an expert guide to answer any questions. All free until phase 4 restaurant opening. Free website and static menu free for 18 months or more.
Diners cling to their phones and government dictates have forced them to rethink ways of getting your busi­ness (Safer Curbside, Delivery and Dine-In). Diners continue to find new ways to satisfy their taste for restaurant food.
"AbitNow is designed by some of the brightest restaurant over-achievers, for all restaurant staff", states Dan Stolts of aBitNow, "Many of our competitors (and even friends) have been forced to close in part due to their inability to adapt to this new reality. We understand the struggles that are hurting restaurants all over the country. We want to give them a fighting chance to not only survive but to thrive in these unprecedented times."
Restaurant owners can register at www.abitnow.com and aBitNow's expert guide will show them how easy it can be to survive and thrive with a simple three-step plan with all the tools they need in this new online, contactless world. This offer will expire in December 2020.