Trends in Restaurant Wall Design
3 Min Read By Brian Laubenthal
The design of a restaurant can provide the ambiance needed to keep customers coming back, even if the building's space isn't divided into specific use areas. Restaurant owners can separate the kitchen, dining area, and bar using different techniques with walls, altering the layout of the space to create a better traffic flow and better experience. As an architect who has designed many restaurants here are a few ways you can use walls in the design of your space.
Build Half Walls
One of the more accessible and creative ways to create zones or areas in your establishment is by using half walls. These walls allow for distinguishable spaces throughout the restaurant while giving customers a view to the other side. Half walls can often be found in upscale establishments because the people who patron these bars want to see and be seen. Partial-height walls don't need to be solid in design and you can collaborate with your architect to get the right feel for your restaurant. Remember when using half walls the key is to create a sense of one area while offering visibility into other areas of the bar.
Create Partitions
A good restaurant floor plan uses partitions to create ambiance and atmosphere. Partitions are a good way to offer your customers privacy while creating an extra layer of style and dimension to the room. One of the ways we have done this recently is by using a wood slat wall at a Japanese restaurant. By using the slats to create a wall it adds a separation within the space providing a more intimate feel to the space, but still allows for transparency. Having gaps between the pieces of bamboo also allows the people to feel they are part of the entire restaurant but are in their own little space. Utilizing partitions is an easy way to make your restaurant feel smaller or more open depending on their design.
Mark Off a Private Section
Even if your restaurant is small in size, a designated private area adds a bit of luxury to your customer's experience. You can make this area special by dividing it from the rest of your restaurant with unique walls, glass doors and even fabric. Use glass if you want your guests to have privacy but still allow them to feel like they are part of the overall experience of your establishment. You can provide privacy by hanging curtains to cover the windows and allow the guests to open or close them if they desire. Keep in mind that the private section needs to feel special. You can use different textures on the walls or an entirely new design to create that feeling of importance.
Use Parametric Walls
Designing a space with parametric walls is a unique way to make your space dynamic while providing a wall that serves a purpose. Parametric walls are designed to look three-dimensional. These walls add an artistic look while also sectioning off and boosting the aesthetic of your restaurant. We recently created a parametric wall to have curves like a ramen noodle as an abstract nod to the client's passion and belief in high-quality ingredients at Clever Ramen in Scottsdale, Arizona. Parametric walls can add an artistic quality to your space but make sure you work with a qualified architect to ensure you get the desired design to suit your space.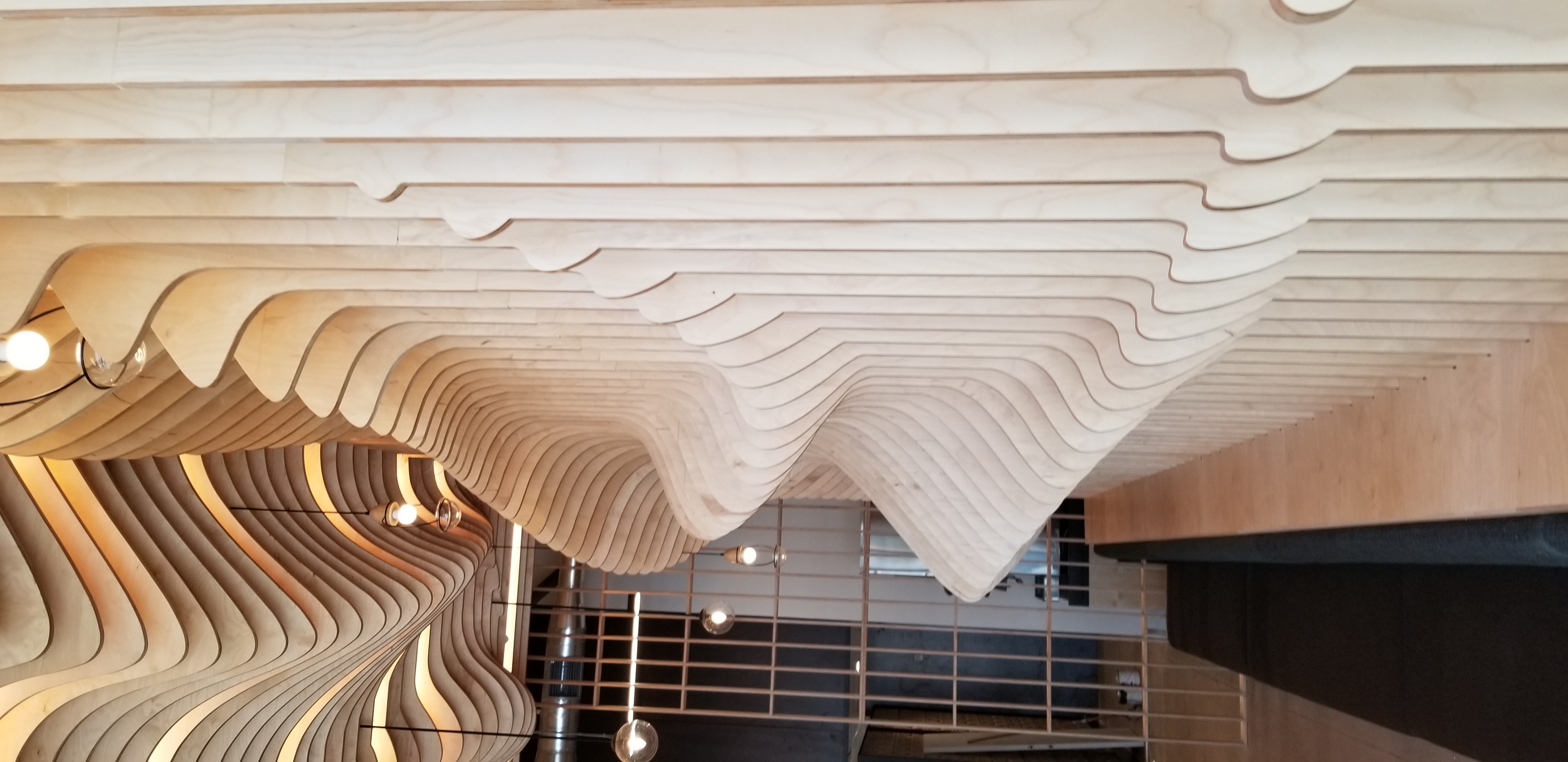 When designing your restaurant always consider the style of your walls. It is important to have your walls fit in with the aesthetic of your space and not just the decorations you put up. Collaborate with your designer or architect to decide on the best walls to suit your establishment.