Transformation through Suspension
Something is up at in the dining room of Ronin Farm and Restaurant in Bryan, Texas.
It's the tables!
Two 26-foot farm-style tables are suspended from the ceiling with cables and can be set to any height. Each table has its own wench, which allows them to be raised and lowered to any desired height –– seated, cocktail, or all the way up to the ceiling –– using a network of cables and an electric power source. The tables are anchored in six locations, two on either side and two in the middle underneath. To keep them stable once they are positioned at the desired height, there are turn buckles and clips that prevent swaying. The design of the entire system is so smooth, the tables can be adjusted with dinnerware and wine glasses fully set.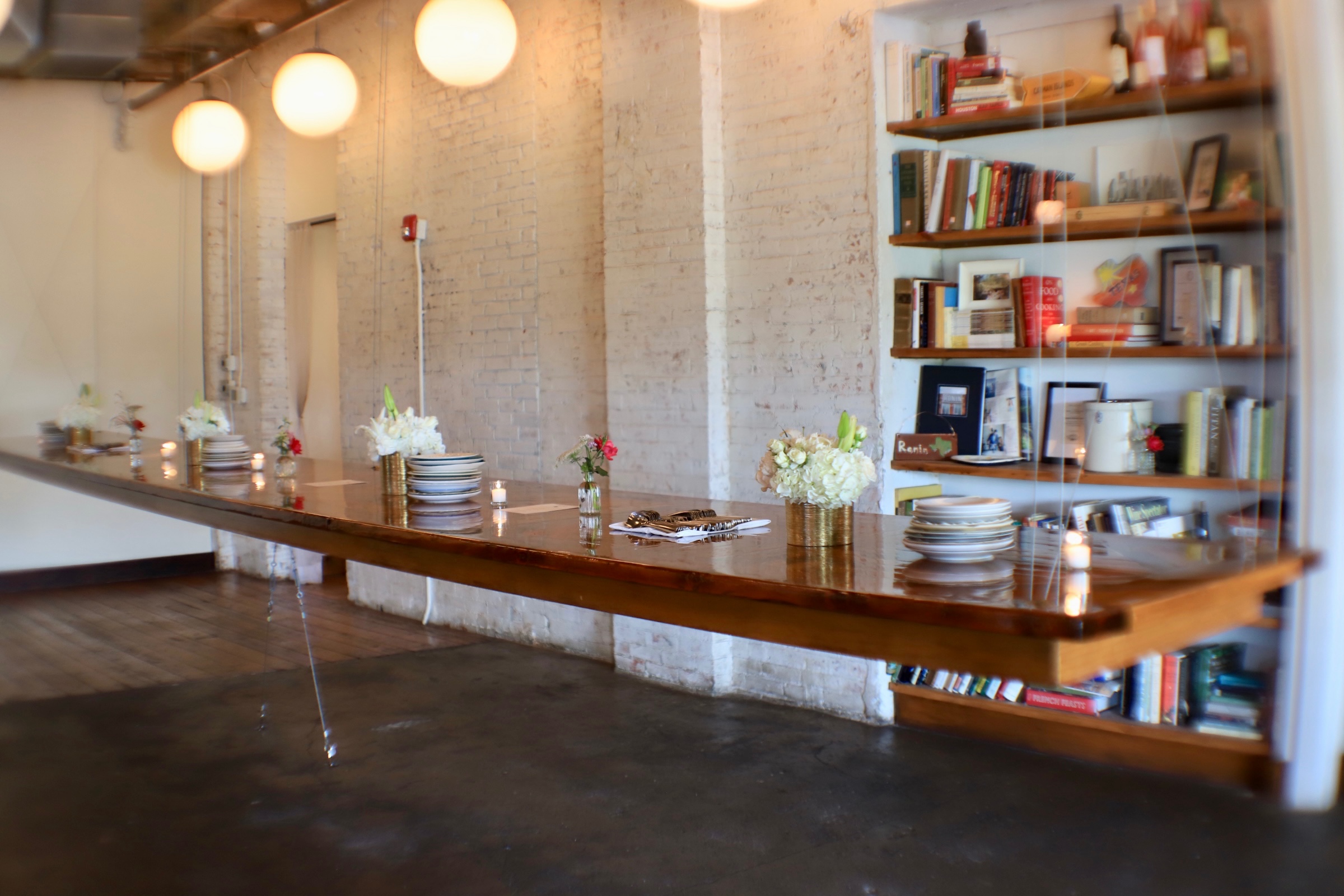 "The suspension tables allow us to transform our space," explains Ronin co-owner Amanda Light. "We can create wide open floor plans, serve hors d'œuvres to large groups, or set the tables for communal dining. We change them daily depending on our needs."
Light and her husband, Brian, also own and operate a 15-acre farm that supplies ingredients directly to their restaurant. Brian, the executive chef, changes Ronin's menu daily to reflect the best of the week's harvest. With a location in the heart of a downtown area and the limitations of operating in a century-old Ice House, the Lights anticipated the need for adaptability to maximize space.
They commissioned local contractor Michael Wesp to design a dining room that is functional, flexible, and reminiscent of the communal seating at the farm. Drawing on 50 years of contracting experience and inspiration from naval ships, Wesp built the two tables out of 1,500 individually-cut inlays from the building's original wood floors. Throughout the construction process, the Lights incorporated as much of the original space as possible. They used bricks from the Ice House walls for the kitchen's wood-burning grill and refinished much of the original flooring.
To learn more, Modern Restaurant Management (MRM) magazine quizzed Brian and Amanda Light.
What was the process for completing the project?
Our contractor, Michael Wesp, is brilliant. We wanted to bring the Farm to town, so to speak, and have long communal tables (like what is in our Forest) that overlook an open kitchen space. When I mentioned to him, "big, long tables that seat like 24 guests, but I'd like them to go up and down on a pulley system…" His response was: "Sure, no problem."
Michael had built many, many more large-scale projects (Texas A&M Bonfire Memorial, Miramont Country Club, and more). I have always joked that he is way overqualified for our project, and without the suspension tables and Brian's wood-burning grill, he would have been bored out of his mind with our restaurant.
When I mentioned to him, "big, long tables that seat like 24 guests, but I'd like them to go up and down on a pulley system…" His response was: "Sure, no problem."
These patent pending tables are one-of-a-kind and built specifically into our space. The building process took a few weeks for each, with Michael figuring out which cables needed to go where and how they would move. The mechanism that actually pulls them up is an electric winch, rated to 3,500 pounds, anchored at the ceiling. Additionally, there are over 1,500 individually cut wood pieces of the Ice House's original wood floors inlaid into the table tops. They truly are a marvel.
In what ways does the design connect to the menu?
The suspension tables are fluid and changing, just as our menu is. We're able to shift them to whatever height the day calls for, which is a fun alignment with the menu and our philosophy as a whole.
How were naval ships an inspiration?
Space was limited on old naval ships; similarly, our space (a century-old Texas icehouse) was limited and we wanted to be as flexible as possible with our square footage. Just like the long tables at our Farm, the communal-style, fully-functional suspension tables became both a way to add architectural interest and a very unique factor to the space.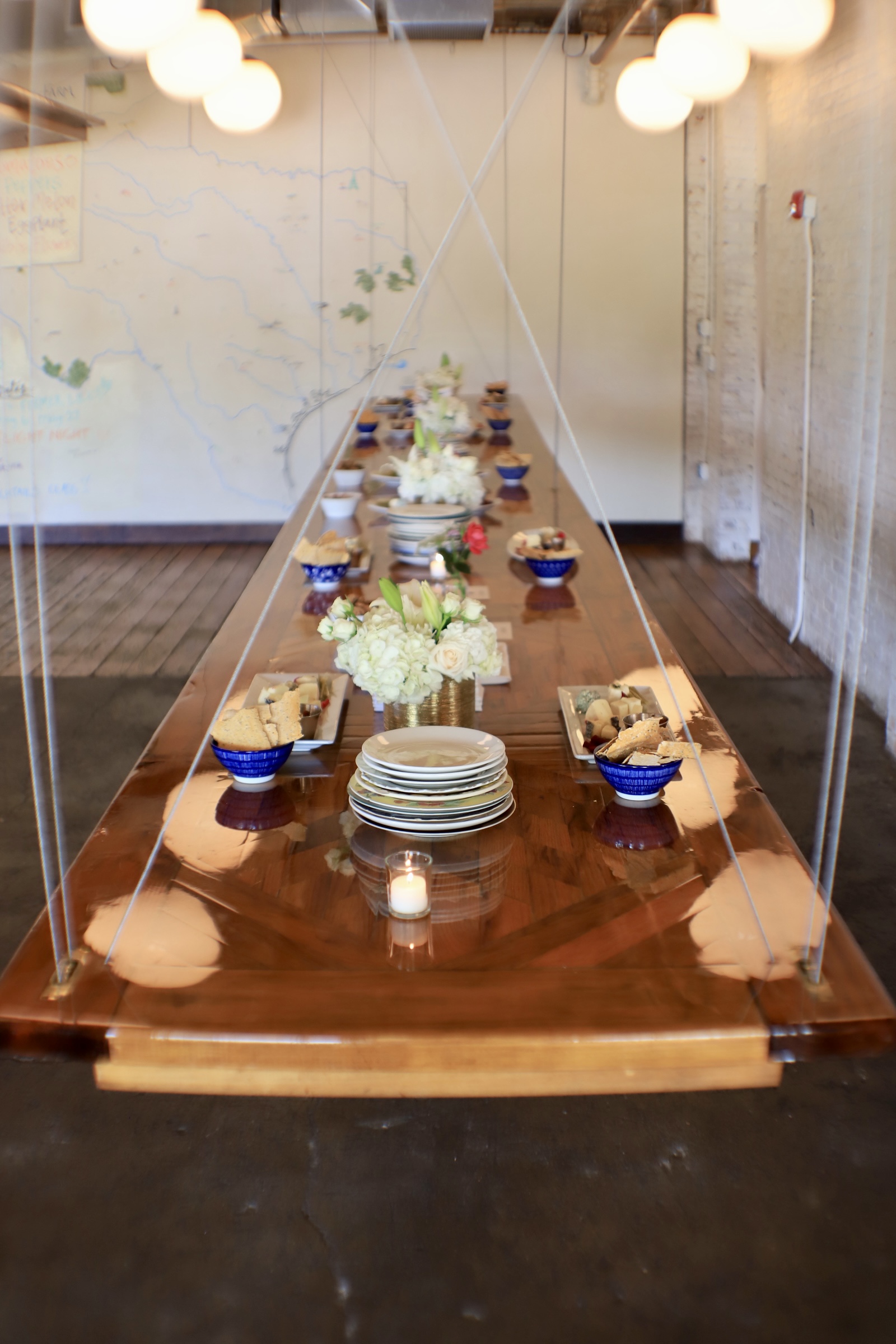 How do the suspension tables help the space be more flexible?
We are able to accommodate larger groups within the space than if we had traditional tables. Being able to pull to cocktail height and to the ceiling enables us to serve large groups for a happy hour or reception. The wow factor of the tables coming up during an event as a transition is always a fun treat for guests as well.
What were key challenges of the project?
Making sure the tables are stationary/stable enough when set at dinner and cocktail height. We can't have food and beverages swaying back and forth while people are enjoying dinner!
What do you hope guests take away from visiting the restaurant?
A space that connects community, food and celebration of the seasons. The communal tables are a central part of this.