Touchless Ketchup, Icing on the Frosting and Bobacino
8 Min Watch By MRM Staff
In this edition of MRM News Bites, we feature restaurant community support endeavors, new tech and a little holiday fun.
Supporting Independents
Ocean Spray Cranberries, Inc. launched the Ocean Spray Farmers for Chefs Alliance with the goal of helping as many qualifying independent restaurants as possible cover rent, utilities, and payroll costs. Ocean Spray is joining forces with Massachusetts Restaurant United and the COREcares Foundation for this hospitality stimulus, in addition to offering discounts on the brand's cranberry products to support restaurants on the road to recovery during the COVID-19 pandemic crisis.
The Ocean Spray Farmers for Chefs Alliance is open to public donations and 100 percent of proceeds will go directly to restaurant operators in need. The grant will kickstart with $75,000, and Ocean Spray will match up to an additional $25,000 of donations, as part of the cooperative's mission to connect its farms to families for a better life. As part of the partnership, Ocean Spray will also offer discounts on key products such as Craisin® dried cranberries and Cranberry Juice Cocktail.
"As a cooperative, Ocean Spray farmers know the importance of building and feeding communities, and share these values with local independent restaurants," said Chris O'Connor, Vice President of Marketing at Ocean Spray. "Restaurants are of paramount cultural importance in neighborhoods across our commonwealth and right now they need us. We know that by coming together, we can create real and lasting impact in our community."
"We are thrilled to partner with our friends at Ocean Spray on this important initiative to provide relief to independent restaurants that are in serious distress due to the global pandemic," explained Chef Jody Adams, founding member of Massachusetts Restaurants United and chef / owner of Porto, Saloniki and Trade in Greater Boston. "Over the last six months, restaurants across Massachusetts have been forced to reinvent themselves many times just to keep the doors open. Ocean Spray's generous commitment to establishing long-term assistance funds will alleviate some of the overwhelming stress that so many local restaurants are currently faced with and will help strengthen restaurants in need now and beyond Covid-19. Massachusetts restaurants won't survive unless they have relief, and we are grateful to Ocean Spray for being a champion of our industry."
MRU works in cooperation with the Independent Restaurant Coalition, which advocates at the national level on behalf of restaurants affected by Covid-19Looking forward, Ocean Spray hopes to expand the program into other regions across the country, continuing its commitment to making a positive impact on communities worldwide.
Applications are being accepted through December 31, 2020. For more information on how to apply or contribute, go to https://corecares.org/ocean-spray-farmers-for-chefs-alliance/.
CommUNITY Batch
When the Coronavirus pandemic swept the nation, The LEE Initiative (Let's Empower Employment), led by James Beard Award winning chef, author and restauranteur Edward Lee and Program Managing Director Lindsey Ofcacek, teamed up with Maker's Mark to establish the Restaurant Workers Relief Program. Together, the initiative supported the food and beverage community by providing more than 500,000 freshly cooked meals and much needed supplies across 19 relief kitchens nationwide. The collaborative release of the CommUNITY Batch – a bourbon made by the community, for the community – continues the pair's unrelenting commitment to helping the bar and restaurant community in a time of unprecedented need.
"To have the continued support of a partner like Maker's Mark is inspiring to us, as we try to navigate this difficult time, and offer our community the means of both survival and growth," said Edward Lee, James Beard Award Winning author, restaurateur, chef and founder of the LEE Initiative. "The commitment of Maker's Mark, and the willingness of their partners to step up and help, speaks volumes to the character of the brand and the people behind, and we are so thankful to partner with them on this incredible bourbon."
On #GivingTuesday (Dec. 1, 2020), The LEE Initiative and Maker's Mark will host virtual events that extend philanthropic efforts even further. Individuals aged 21 years or older who make a suggested donation towards a CommUNITY Batch bottle will be invited to join a virtual tasting hosted by Chef Lee and Maker's Mark Director of Innovation, Jane Bowie. For every attendee who joins, Maker's Mark will donate one meal through LEE Initiative efforts.
To create the CommUNITY Batch, Maker's Mark tapped 37 industry partners who share their values to lend their bespoke Maker's Mark Private Selection bourbon recipes for blending in this one-of-a-kind limited release:
First, Maker's Mark created individual barrels of Private Selection Bourbon by taking fully-matured cask strength Maker's Mark and finishing it with each partner's unique combination of ten barrel staves for an additional nine weeks in the Maker's Mark Cellar.
Once finished, the whisky from the barrels was blended and filled back into the barrels to rest for an additional five weeks to allow the subtle nuances of the custom bourbon to properly integrate.
"We've been honored to be able to help so many of our friends in the bar and restaurant industry over the past few months through our work with The LEE Initiative," said Rob Samuels, Chief Distillery Officer of Maker's Mark. "When we asked our retail partners across the country if they'd be willing to donate their prized Private Selection recipes for this additional fundraising effort, we were blown away at the response. Seeing the community come together in this way has not only produced an exceptional bourbon, but a path towards providing the continued support that we're fully committed to."
Maker's Mark CommUNITY Batch Bourbon is available via The LEE Initiative in select cities where Maker's Mark Private Selection partners are located. Suggested donation begins at $70.. Visit LeeInitiative.org for additional details on how to get a bottle.
Sharebite Stations
Sharebite launched Sharebite Stations, a streamlined, post-COVID compliant solution for facilitating contactless food delivery at offices. Each Station is powered by Sharebite's enterprise-ready technology platform, enabling companies to centrally manage employee food ordering and facilitate contactless deliveries at designated drop-off points inside office buildings. Following an initial roll-out to select companies and buildings in New York City, Washington DC, and the Bay Area, Sharebite will be deploying Stations nationally over the coming months, with Atlanta, Chicago, Dallas, Los Angeles and other major cities being immediate targets for the company.
"We put the safety of our employees first. For those who have chosen to return to the office, Sharebite allows our employees a safe and convenient way to order their favorite meals while keeping costs down," said Lisa Dimoulas of Neuberger Berman, a private, employee-owned asset management company.
Co-founders Dilip Rao and Mohsin Memon have been growing Sharebite's reach and influence within the corporate food ordering space, and have done so with a very important mission at the core of their business. Each order placed via Sharebite results in a donation made to City Harvest, specifically to help alleviate childhood hunger in local communities. By partnering with Sharebite, companies can easily support small businesses and society through simple transactions.
"While 2020 has been challenging for many businesses, the pandemic gave us the opportunity to innovate and come up with solutions that really make a difference for our stakeholders. Sharebite's technology enables companies to bring their employees back to the office in a safe, efficient and compliant manner, which results in a recurring flow of orders that allow restaurants to get back on their feet." says Dilip Rao, CEO of Sharebite.
Sharebite's restaurant network is primarily located within business districts and includes over 3,000 small business restaurants and quick-service concepts such as Dig, Chop't, Dos Toros, Protein Bar & Kitchen, Mendocino Farms, Potbelly and many others. Faced with an ongoing economic depression, the restaurant industry has struggled with revenue loss due to the lack of dine-in customers and steep third-party delivery costs. By joining Sharebite's network, restaurants are provided with easy access to the recovering office lunch market and are able to utilize their kitchen capacity to fulfill large orders well before the mid-day lunch rush. The economies of scale associated with preparing, packaging and delivering hundreds of orders in one batch, to one address, is highly attractive, logistically easier to manage, and more profitable for restaurants, who additionally prefer Sharebite's commission structure compared to what other delivery platforms charge. As a mission-driven company, Sharebite made the decision to waive all commissions to restaurants for the first six months of the pandemic, so that it can help ease the financial burdens restaurants are facing due to COVID-19.
"Sharebite cares deeply about the success of its small business restaurant partners during this difficult time, as well as the safety of our corporate clients and delivery personnel," said Paul Appelbaum, Co-founder and former President of Seamless and a lead Sharebite investor. "I'm very proud to support Sharebite and I look forward to seeing Stations adoption increase in companies throughout the country."
Next-Gen Toast
Toast unveiled the next generation of its mobile handheld point of sale: Toast Go® 2. Along with Toast Order & Pay® — a platform designed to facilitate ordering and paying from the convenience and safety of a guest's own smartphone — Toast Go® 2 reduces unnecessary contact and streamlines service. Restaurateurs who use Toast handhelds and Toast Order & Pay® are better positioned to increase order volume and check size, enabling them to adapt to the needs of today's COVID-19 health crisis and prepare for the guest expectations of the future.

"Ever since COVID-19 hit, our customers have been asking for no-contact payment options. With Toast Go® 2, we're taking orders curbside with guests not even getting out of their cars. The order is sent straight to the kitchen, we take payment on the spot, and it's all completely contactless," said Jax Bell, GM of Hawaiian Bros. Island Grill in Kansas City, MO.
Toast Go® 2 integrates seamlessly with Toast's restaurant-grade hardware and software. Additionally, the handheld offers contactless checkout with Apple Pay®, Google Pay®, Samsung Pay®, and tap-to-pay; possesses a 24-hour battery life; and, features processing speeds three times faster than its predecessor.
"Restaurateurs need technology that helps them quickly adapt — whether it's pivoting business models, adhering to new regulations, or answering changing guest expectations for safety and convenience," said Steve Fredette, president and co-founder of Toast. "Toast Go® 2 delivers on all fronts: it flexes for delivery and takeout, works for QSR and FSR, minimizes interactions through contactless payments, and reduces mistakes to keep revenue up and costs down. When paired together, Toast Go® 2 and Toast Order & Pay® meet the demands of today's ever-changing regulations and the diner experience of the future."
Curbside Olo
Olo announced a series of features designed to help brands improve operations and guest safety as digital ordering and delivery volume grow. Stores using Expo and Curbside as a handoff mode are now able to be notified when a customer arrives, allowing staff to run orders at just the right time.
Upon arrival, customers check in using an "I'm here" button on the ordering page or within their confirmation email. The restaurant receives a notification on their Expo device with the customer's vehicle information and runs the order out to them. This new functionality saves time for both the restaurant and the customer and eliminates the need for lag time or a phone call as part of the order handoff.
Olo has new functionality available for restaurant locations that are configured for guests to order ahead and dine at the restaurant. Olo now offers Dine-In as a handoff mode to support this use case, providing options to improve the operational flow and the customer experience.
Dine-In is another way for brands to move toward contactless operations, minimizing touchpoints between guests and staff. For example, Dine-In can be used in conjunction with QR codes that point to the online ordering site where the guest will choose their handoff method. The new feature can also reduce packaging costs and waste for orders that are intended to be consumed on-premise.
"Our new releases are part of our ongoing commitment to invest in all aspects of our platform on behalf of our customers," said Marty Hahnfeld, Chief Customer Officer at Olo. "Every new feature we've released will help improve operations as restaurants deal with changing circumstances and the broader off-premise shift."
All features are available for all Olo customers at no added cost.
Square KDS
Square debuted Square KDS, kitchen display system software designed to seamlessly display and organize order tickets no matter where they're placed – whether that's from a restaurant's point–of–sale, Square Online site, or online ordering platforms like DoorDash and Postmates.
"With restaurants facing shelter-in-place orders, uncertain reopening schedules, and razor-thin margins, it's more important than ever to stay organized and never miss a sale," said Bruce Bell, head of restaurant products at Square. "Square KDS is built to help restaurants improve front and back of house communication, improve ticket times, and manage order flow from one central location, regardless of what the future holds."
"Customers are ordering in more ways than ever before," said Albert Borrerro, owner of the Sandbar Sports Grill in Cutler Bay, Florida. "Between increased delivery orders, in-store pickups, and now the gradual return of indoor dining, our kitchen staff was getting overwhelmed by managing order flow. Square KDS has helped us to improve order efficiency, speed, and most importantly reduce sunk costs due to remakes or refunds."
In addition to providing better connection between cooks and customers, and improving order efficiency, Square KDS also provides restaurant owners with increased insight into their business. Ticket timers allow restaurants to stay ahead of the dinner rush, and kitchen performance reports show how long stations are taking to complete orders, resulting in faster, more accurate performance across the board.
Because every restaurant is different, Square KDS also allows restaurant owners to customize ticket layouts and text sizes based on their kitchen's unique needs and route specific items to different stations quickly and efficiently, helping to manage kitchen flow in real-time.
SpotOn Expand Solutions
SpotOn Transact, Inc is expanding its solutions for those who need to integrate contact tracing and other enhanced COVID-19 compliance requirements into their operations. SpotOn's new product leverages reservations management software to record and store necessary contact tracing information, which ensures that if a business needs to alert customers to a COVID-19 event, their contact information is easily accessible.
"Small businesses have been in a fight for survival for nine months now, and SpotOn has been in the trenches with us since the beginning," said Stryker Scales, owner of Blue Barn artisanal delis. "They've gone deep to understand what technologies small businesses need to stay open and serve customers, creating innovative new products that meet the moment. With their help, we got online ordering up and running in a matter of days. They've also anticipated the need for business owners to help with contact tracing and created an easy-to-use solution that helps us do our part, and even waived software fees to ease operating costs."
SpotOn offers a suite of software solutions and payment processing services that allow owners to market and grow their businesses, create better customer experiences and reduce operating costs. Current users of SpotOn Reserve and SpotOn Appointments will receive this product upgrade automatically and at no additional charge – another advantage of SpotOn's customer-centric and simple cloud-based technology solution.
"We founded SpotOn with the mission of helping small businesses thrive because they are the heart and soul of our communities and our economy," said Matt Hyman, co-founder and co-CEO of SpotOn. "We knew that when the pandemic hit small business owners would be faced with unexpected challenges, and our task was to innovate our technologies so that they could adapt to new requirements, such as contact tracing. Our customers have seen real value from our products, which has in turn accelerated our growth."
Comeback Coach
Verizon debuted the first episodes of its Comeback Coach video series, above.. The video content depicts the journey of three U.S. small businesses as they navigate running a business amidst a global pandemic and work with specialized, entrepreneurial coaches to devise long-term strategies for success.
Comeback Coach is a content-led program featuring 1:1 coaching to assist participating business owners in overcoming the unique challenges caused by Covid-19. Featured is Bro-Ritos Food Truck. Since launching their food truck business in Northern New Jersey, the popular Bro-Ritos Food Truck expanded to a storefront in Hackensack, NJ right before the pandemic hit. Working with a coach, Bro-Ritos develops strategies on how to use technology to optimize the food truck operations and marketing to maximize sales.
GoTab Activations
As many hospitality operators shift their business model to comply with local restrictions related to the current global pandemic, restaurant commerce platform GoTab is offering free activations and guaranteeing a 24-hour setup for digital-only deployments to equip restaurants, breweries, wineries, and hotels with seamless curbside pickup/takeout and delivery capabilities.
GoTab offers a host of features for operators looking for a streamlined online ordering and payment process for takeout and curbside pickup. Whether operators are offering their regular dine-in menu to-go, looking to add the sale of gift cards, catering services to their operations or transforming their venue into a pop-up grocery store and market, the cloud-based platform can help them fulfill orders easily. Some of GoTab's unique takeout features include branded online and private menus that can be embedded into the website or shared via an email promotion or social media posts, easy-to-implement discounts and special offers to promote bundling of food, wine & spirits orders, scheduling capabilities for guests to select their preferred pickup date and time and receive customized pickup instructions, integration with GoTab KDS so the kitchen can expedite orders through a single interface, and printed packing slips to organize the fulfillment of orders.
Other features include geofencing of delivery areas through Google Maps API, support for unlimited delivery addresses on customer profiles, delivery address verification through Google Maps API, route optimization for drivers by time or distance, and printed packing slip generator. GoTab also delivers a messaging interface for drivers to contact customers on their delivery route, and order throttling to avoid order backlogs in the kitchen. The latest integration with Postmates and soon DoorDash provides flexibility to operators who want to satisfy customer demand for food delivery without taking on the financial costs of third-party ordering. GoTab seamlessly integrates delivery couriers to first-party ordering, opening new revenue channels for operators while satisfying customers willing to pay for the convenience of delivery.
DoorDash Gifting
The holidays are a time to connect with loved ones, celebrate family traditions, and give back to those around you. While that's going to look a little bit different this year, DoorDash wants to help keep those traditions alive with a new Gifting feature.
Through Gifting, anyone can send everything from sweet treats to savory meals and more, ranging from holiday baked goods and chocolates, to celebratory cake and champagne, to soothing, get-well food and convenience items like chicken noodle soup, cough drops, and bath bombs. So whether it's a "cheer-up" cheesecake, a "you-smashed-it" smoothie, a "just-because" burger or a Thanksgiving torte, we're making it easier than ever to share the gift of food for every occasion. And with thousands of restaurants across the country to choose from ranging from national favorites like Baskin Robbins, Crumbl Cookies, See's Candies, Krispy Kreme and Chipotle, to local heroes like Levain Bakery, Magnolia Bakery, Milk Bar, Salt & Straw, Van Leeuwen Ice Cream and more.
Through Black Friday to celebrate the launch of Gifting they are giving every customer who gives a gift of $20 or more on DoorDash or Caviar $10 off on your next order, as a gift from us to you.* Here's a little reward for supporting the local restaurants that are the fabric of our communities. For every gift given on DoorDash or Caviar from November 24th through Giving Tuesday (December 1st), we'll match your gift by donating a meal to someone in need through Feeding America—up to 100,000 meals.** We're challenging gift receivers to pay it forward, keep the spirit of giving alive all season long, and support local businesses, by using the hashtag #OpenForDelivery and sharing their favorite foods to gift and receive.
Mood Reimagined
Mood Media launched its Mood Client Support Portal. As a part of the Mood Reimagined initiative, the new online portal provides clients with a simple, 24/7 support system that enables them to directly manage more account-related needs, including technical support and troubleshooting, open service requests, subscriptions and billing, licensing, account settings, history and online payments.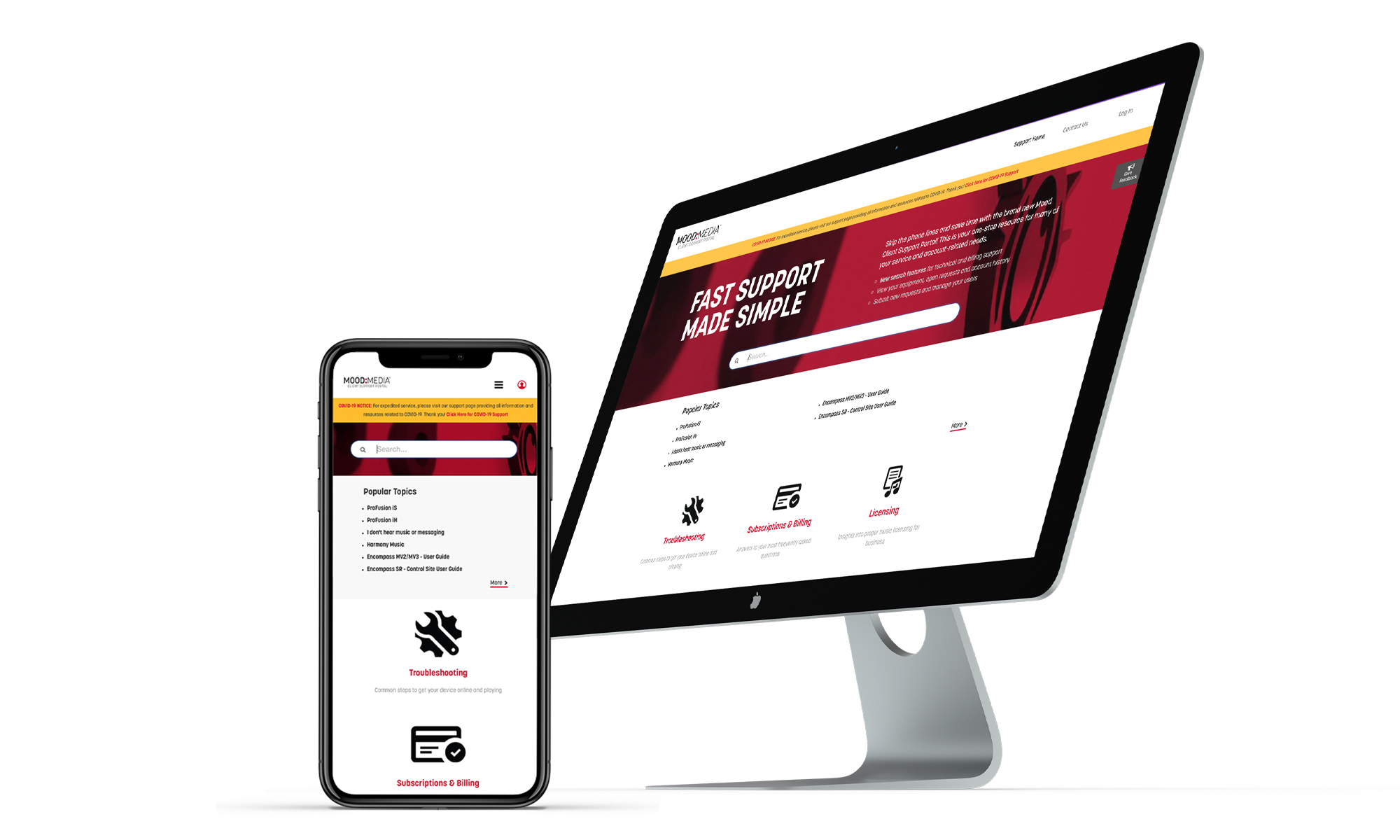 "The Client Support Portal is a huge step forward in our ongoing efforts to reimagine the way we serve and service our clients," said Trey Courtney, Global Chief Products & Partnerships Officer at Mood Media. "By giving our clients the ability to manage more of their needs directly through the Portal, we're helping them skip the service calls, and are giving them back valuable time they can dedicate elsewhere." The portal's new smart search tool helps clients easily find answers about general account questions or support issues, like player error codes and steps for how to resolve them. There is also a live chat feature in the works, which is projected to go-live early next year.
"As the creators of this industry, we're moving forward with the experience and insight of 85 years of market perspective, combined with a relentless appetite for development and progress," said David Hoodis, CEO of Mood Media. "We're committed to leveraging technology and automated touchpoints wherever possible so that we can better focus our interactions with our clients on driving toward relevant, impactful solutions for them. Our new Client Support Portal is a great example of this."
The Client Support Portal replaces the Mood Hub and will be available in international markets in the coming weeks.
UniFocus Mobile
UniFocus added an enhancement to UniFocus Mobile, the mobile app that allows managers to schedule and communicate while on-the-go. UniFocus Mobile will now enable notifications on wearable devices, like smart watches, to ensure managers are notified immediately of urgent staffing issues.
"UniFocus Mobile is an invaluable tool that managers have come to rely on, as it provides real-time visibility, improved communication and greater flexibility, which in turn leads to higher employee engagement," said Mark Heymann, chief executive officer at UniFocus. "By leveraging the technology already on managers' wrists, we can help them react even more quickly as they make important decisions, communicate effectively with staff, and ultimately improve operations."
UniFocus' Mobile App now supports wearable technology, so managers and employees who own a smart watch are able to begin receiving these real-time alerts immediately.
Heinz Keystone
Heinz debuted the Heinz Keystone® Automatic Dispenser. Made with motion sensor technology, this innovative dispenser offers a 100-percent touchless condiment serving experience designed to eliminate shared touch points.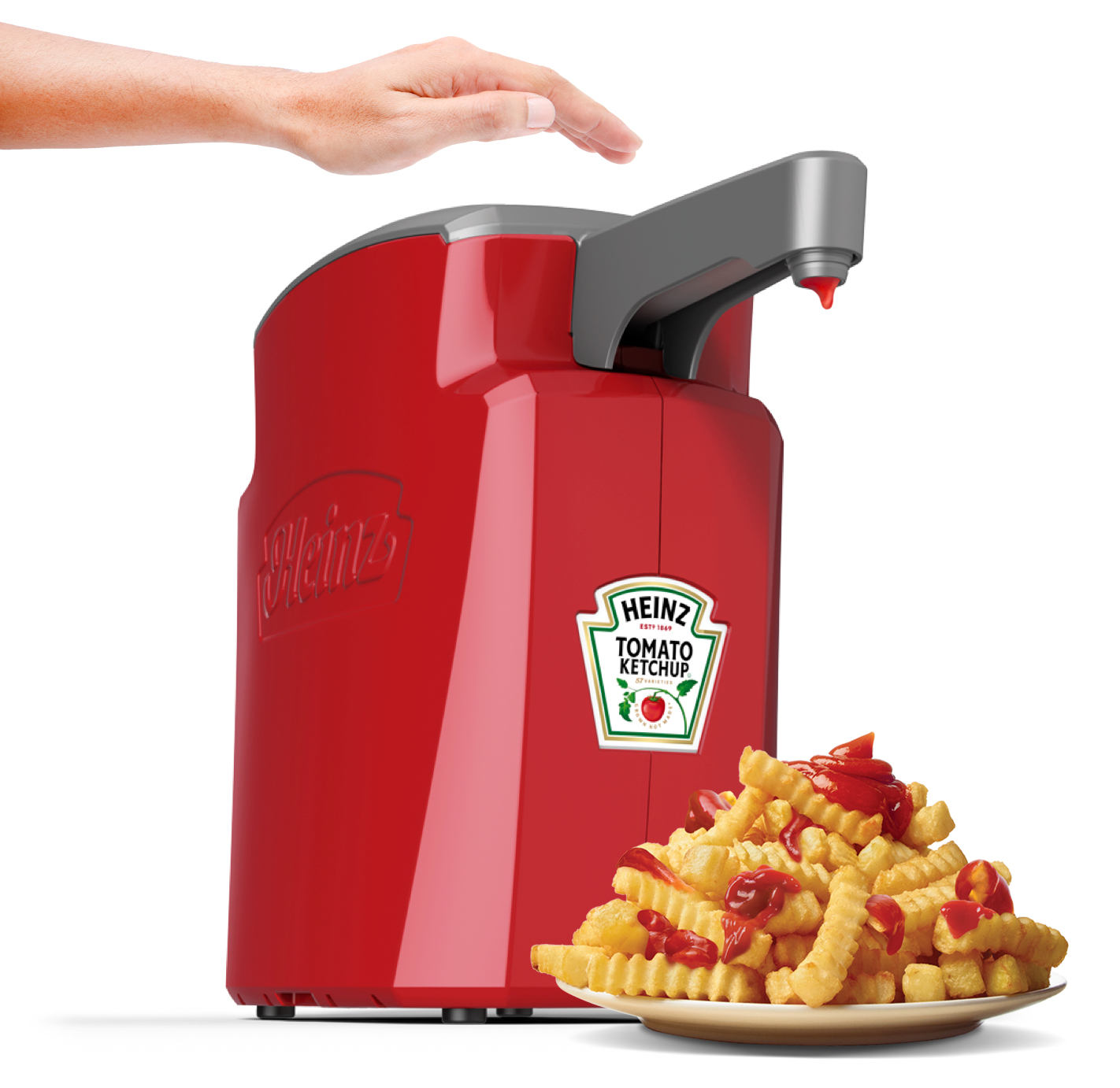 "As a partner to the foodservice industry, we wanted to do our part to develop a long-term, hands-free solution for operators, and we're pleased to report that 94 percent* of consumers said they'd feel safe using this Heinz Keystone® Automatic Dispenser when dining out," said Molly Scott, director of category marketing, foodservice, Kraft Heinz. "We hope to see our innovative condiment technology leveraged by restaurants, as well as sports stadiums, amusement parks, movie theaters and concert venues next year."
The dispenser holds 1.5 gallons of Heinz Ketchup — or any other food service condiment offered by the brand, including Mustard, Mayo, Ranch and more. Consumers can simply wave their hand above the dispenser and each touchless use delivers a pre-portioned 0.5- ounce serving to allow for more effective coverage on food.
The diispenser is piloting at several U.S. restaurants, college campuses and movie theaters this November with the goal of expanding to other event spaces once available for purchase by foodservice establishments in February 2021.
Pizza Blanket Sells Out
Just in time for the holidays, Pizza Hut partnered with Gravity Blanket to release the limited-edition Original Pan® Weighted Blanket, and it sold out in a day.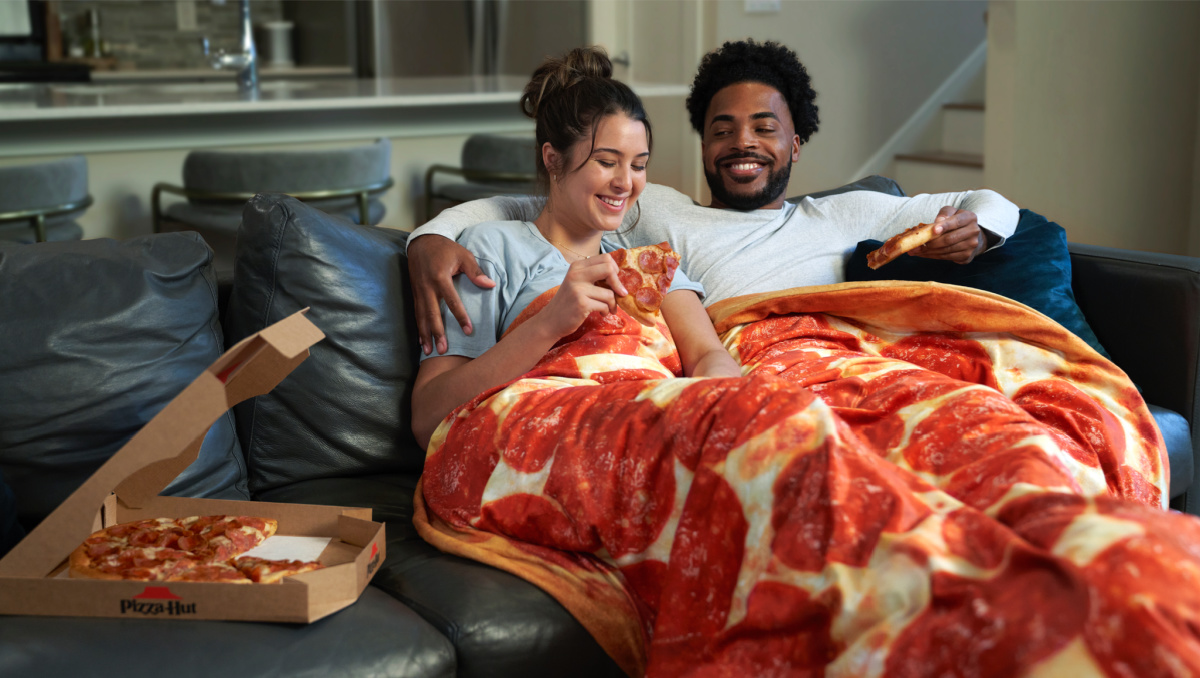 The Original Pan Weighted Blanket – designed to replicate its namesake – packs 15-pounds of luxurious comfort. At a full 72-inches in diameter, the blanket features a premium micro-fleece duvet cover to comfort and soothe, mimicking the unbeatable feeling of indulging in an Original Pan Pizza.
"There's no better way to close out 2020 than eating a Pizza Hut Original Pan Pizza while wrapped in the warmth and comfort of the Original Pan Weighted Blanket", said George Felix, chief marketing officer, Pizza Hut. "This partnership with Gravity Blanket was the perfect solution to bring one of our legendary pizzas to life while bringing our fans a little TLC at the same time."
Each blanket sold for $150.
Comforting Cream Cheese
As the holidays approach, Cinnabon® is offering its Signature Cream Cheese Frosting in a limited-edition pint. Fans can scan the QR code available on all pint lids to find recipes, videos, and tips to enhance holiday creations.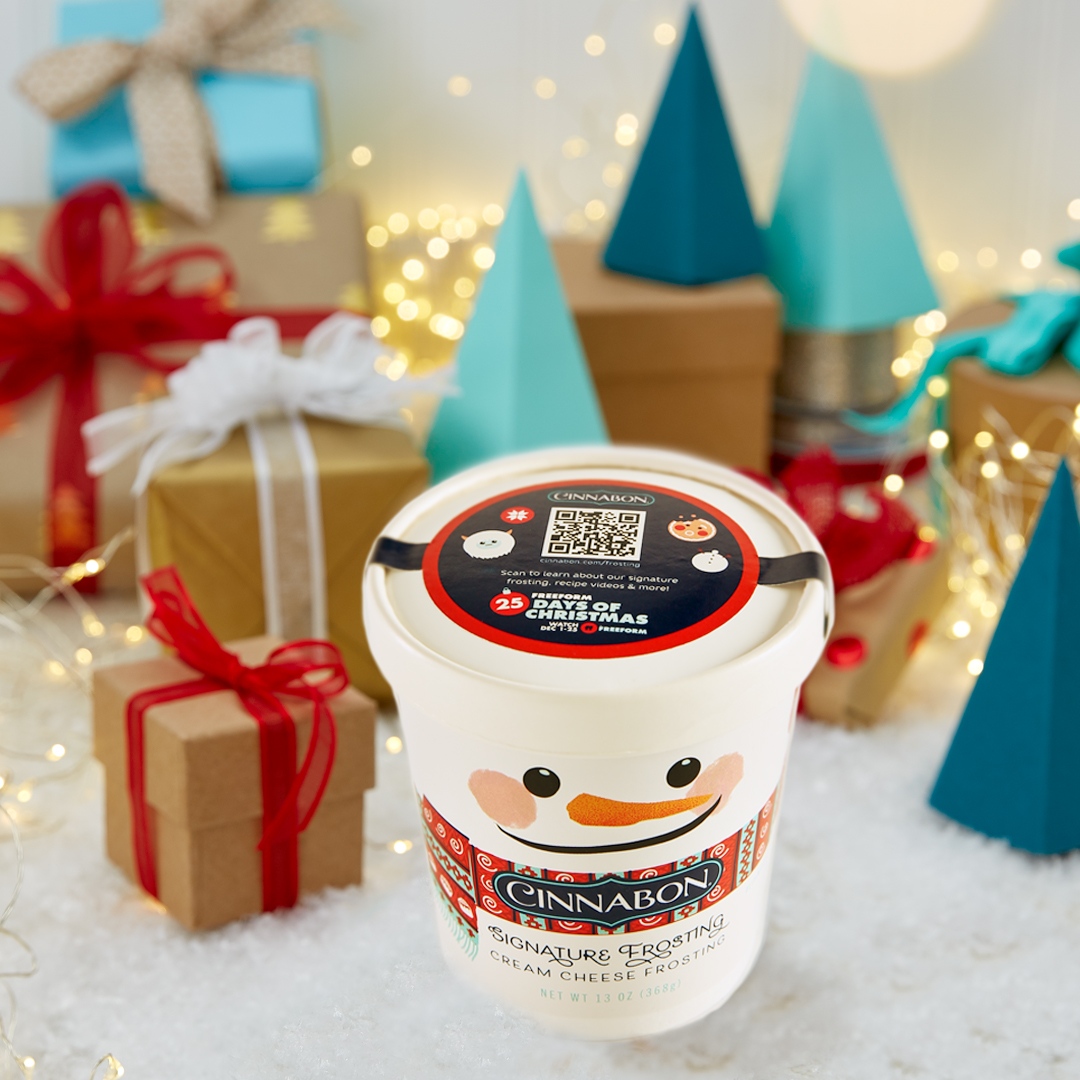 Cinnabon is offering a selection of holiday gifts that celebrate the iconic cinnamon roll treat, including scratch-and-sniff gift cards, clothing, accessories, and the famous cinnamon rolls in giftable CinnaPacks.
"More so this year and especially during the holidays, cooking at home and enjoying meals together are central to how families are spending their time," said Karyn Sarago, chief marketing officer, Cinnabon. "Cinnabon fans know our signature frosting makes our classic cinnamon rolls and holiday favorite PecanBon cinnamon roll oh-so-craveable – and now fans can bring that same frosting home as the perfect accompaniment to holiday cooking, baking and holiday movie watching, to enhance the simple pleasures, smells, tastes and homemade love that make this time of year so special."
The limited-edition Signature Cream Cheese Frosting pints are available at Cinnabon mall bakeries nationwide and on food delivery providers, starting at $5.99.
QSR Protection
MacDermid Enthone Industrial Solutions expanded its Autotex AM range of hardcoated films with several new finishes for the quick service sector. The range incorporates Microban®, a proven antimicrobial technology which is distributed evenly throughout the textured hardcoat. When the treated film is used for applications such as table top overlay or back-of-house human machine interface (HMI) applications in a restaurant setting, the built-in antimicrobial properties help fight stain and odor-causing bacterial growth, delivering dependable and constant surface protection.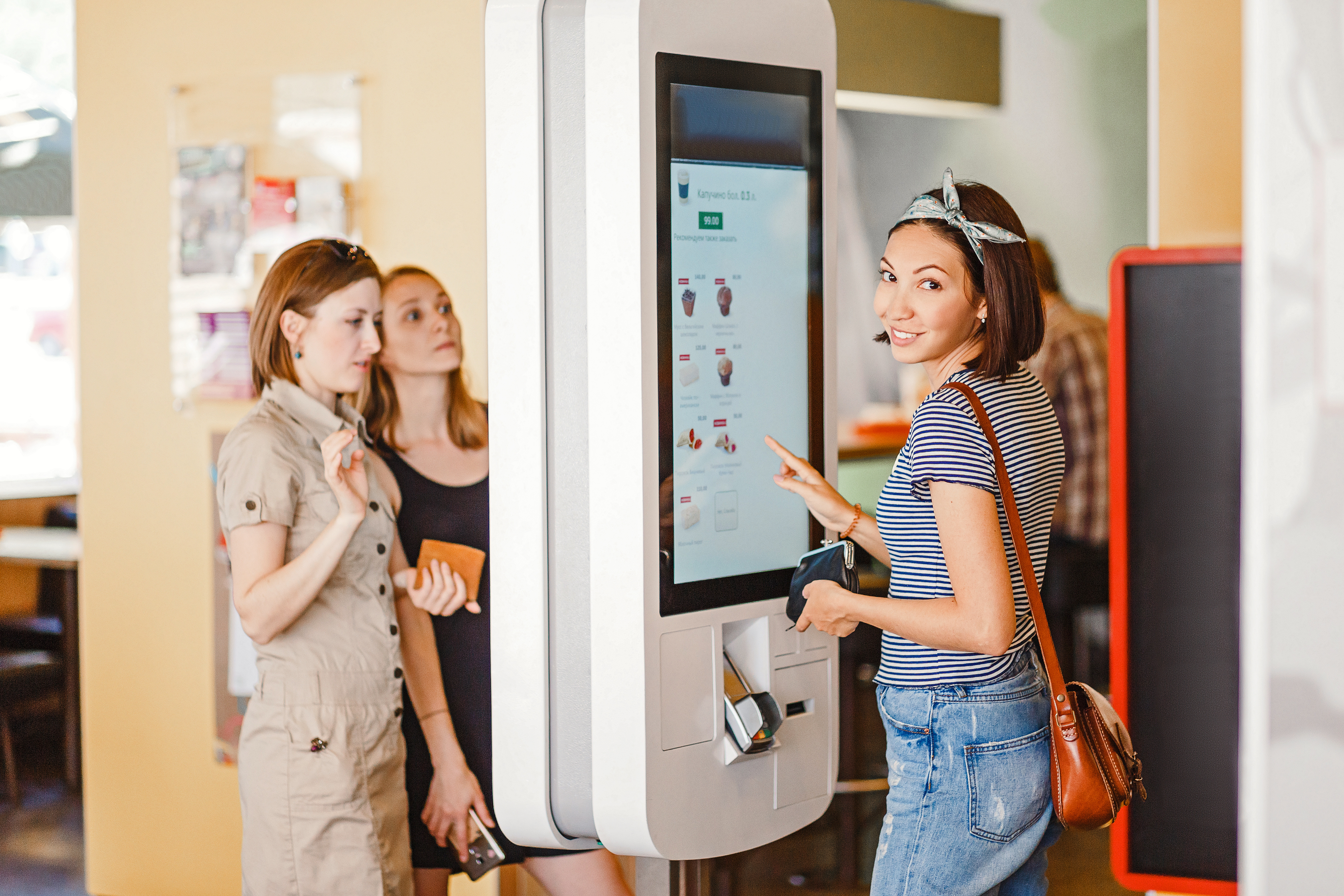 Anna Harris, R&D Project Manager at MacDermid Enthone Industrial Solutions, explained the significance of antimicrobial product protection for fast food areas. "We've never had more of a focus on cleanliness than we have right now and as people prepare to return to fast food restaurants to eat-in, these facilities will need to help diners overcome 'cleanliness anxiety', reinforcing the cleanliness levels of key surfaces within restaurants.
"It is likely that cleaning regimes will have been upgraded with more frequent cleans and a greater use of cleaning agents. Surfaces must be able to withstand more intensive cleaning, in addition to ensuring higher levels of cleanliness even in-between cleans. By incorporating antimicrobial technology into the design of surfaces especially in high traffic areas within a restaurant, fast food businesses can help to protect surfaces, their business and reputation."
AI Boba Tea
Bobacino launches on StartEngine to target a market set to hit $8.4 billion by 2024. As operators struggle to keep menus appealing, and consumers seek more customizable beverage choices crafted with minimal contact in a post-pandemic world, Bobacino delivers a fully automated boba tea bar equipped with multiple flavor options and fresh and organic ingredients in a standalone machine.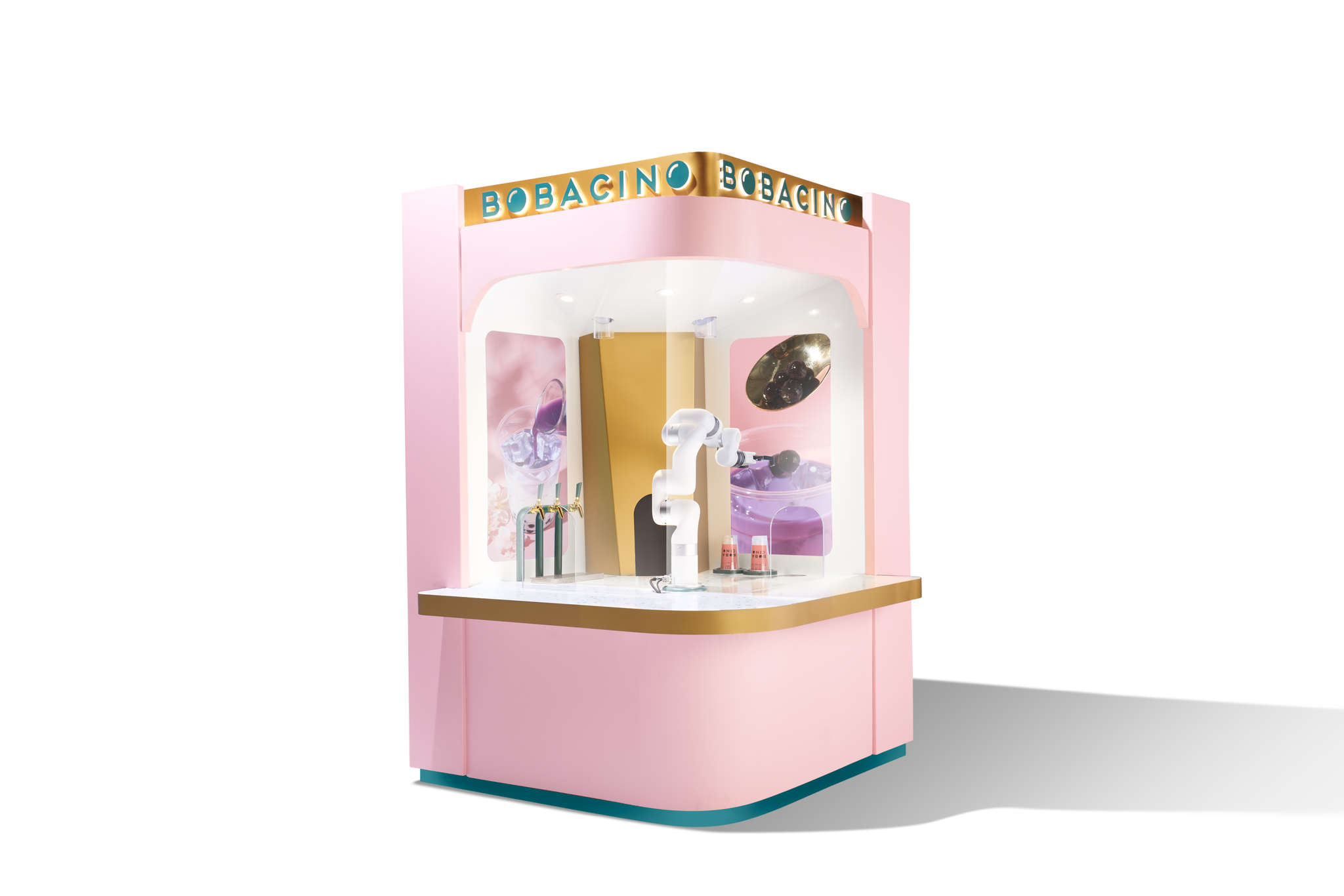 "We are seeing robots and automation offer a path for operators facing pandemic challenges and the ordering concerns customers have today," said Darian Ahler, CEO of Bobacino. "Through Bobacino's fully automated boba tea bar, consumers are able to enjoy a beverage prepared by an entirely touchless and AI-powered robot – minimizing exposure to pathogens, while providing them with a drink designed to taste the way they want it to taste. It's fresh, it's flavorful and a unique experience. Boba is unlike any other drink out there, and the future of beverage automation is upon us. Bringing a beloved beverage together with robotics is truly exciting. We want to make boba more accessible to those who regularly enjoy the boba experience and open the door for more consumers to give boba a try, without concerns of contamination. They can sip safely with Bobacino. At first pour, we aim to make a memorable boba moment come to life for a 'new normal' world."
Bobacino is backed by lead investors Wavemaker Partners and Wavemaker Labs, and Embark Ventures.
Hand IQ
Supplyframe DesignLab, a 4,900-square-foot research and development studio for entrepreneurs and inventors, provided Hand IQ with a wealth of professional-grade tools to facilitate collaboration in the startup's art, manufacturing, product design, and technology. The Hand IQ assistant, which attaches to soap or sanitizing dispensers, uses sensors and Bluetooth technology to anonymously detect an individual's presence in a shared area, like a bathroom, kitchen, or conference room. It reminds people to wash their hands and guides them through the process of how to thoroughly do that. Hand IQ's mobile app reinforces team and individual accountability through compliance data dashboards and real-time reporting.
"Without Supplyframe's early support and resource sharing, Hand IQ would not be where it is today – ready to tackle a pandemic head-on by launching a product with the mission and vision to save 1 million lives in 10 years by building a culture of clean hands through the global use of our smart handwashing assistant," said Sean Podvent, founder and CEO of Hand IQ. "We're grateful to Supplyframe for its creative, technological, and financial support and expertise."
Hand IQ is in pilot tests and discussions with Kitchen United Mix, Del Taco, and other undisclosed quick service and fast-casual restaurant chains. The smart handwashing assistant is also suitable for healthcare, retail environments, and the consumer home. Hand IQ is now accepting orders for the devices, which will ship in volume starting in the first quarter of 2021.