Top Two Trends Transforming Foodservice Operations Today
3 Min Read By Tamara Sinichkina
The Future of Foodservice Tech Amid Pandemic Learnings
Once seen as a novelty, foodservice tech solutions are becoming a staple in restaurant kitchens and dining rooms across the country. Throughout the pandemic, operators have taken note of consumers' changing lifestyles and the needs of their staff, and as a result, recent innovations have emerged to address these new needs.
Driving much of the tech innovation is guest experience, focusing on ways to make the lives of consumers more engaging, convenient, and overall seamless.
Here are top two tech trends shaking up the foodservice industry today.
Trend #1 – Unattended Solutions for Speed and Convenience
Consumers are getting back out into the world again and reconnecting with all their favorite places and experiences. As a result, they want to make the most of their time, so speed and convenience have risen as a priority in their minds. The ability to make a quick purchase and have an easy experience can make the difference between a consumer choosing one restaurant or another, so it can easily create a larger-scale impact on business performance.
Often, it's hard to make human operations faster, so that's where unattended tech solutions can support and conquer that challenge. Many restaurants have addressed this through digital innovations, such as Panera expanding their coffee subscription program into an Unlimited Sip Club where consumers can redeem their free drinks through every possible channel, whether that's in the drive-thru or at their in-store kiosks.
Kiosks are not the only type of solution that can meet this need. Across the industry, vendors have been piloting "grab-and-go" platforms that can be integrated as part of foodservice operations. For instance, PepsiCo's Quik Pick cooler does this through advanced computer vision and AI technologies for automatic product recognition. After items are recognized and approved, consumers simply unlock the cooler by swiping or tapping their card, open the door to retrieve their items, and are charged once the door is closed for the items they took from the cooler.
Outside of the U.S., PepsiCo has partnered with KFC locations in Poland to pilot an ordering solution called Gesture, which are touchless screen digital kiosks at quick service restaurants. Through 3D hand tracking technology, people can order by using their hands, without touching the display, through a frontend application menu controlled by Gesture. The ability to unlock fast engagement addresses consumers' growing need for convenience, and takes the pressure off of staff so they can focus on other aspects of operations.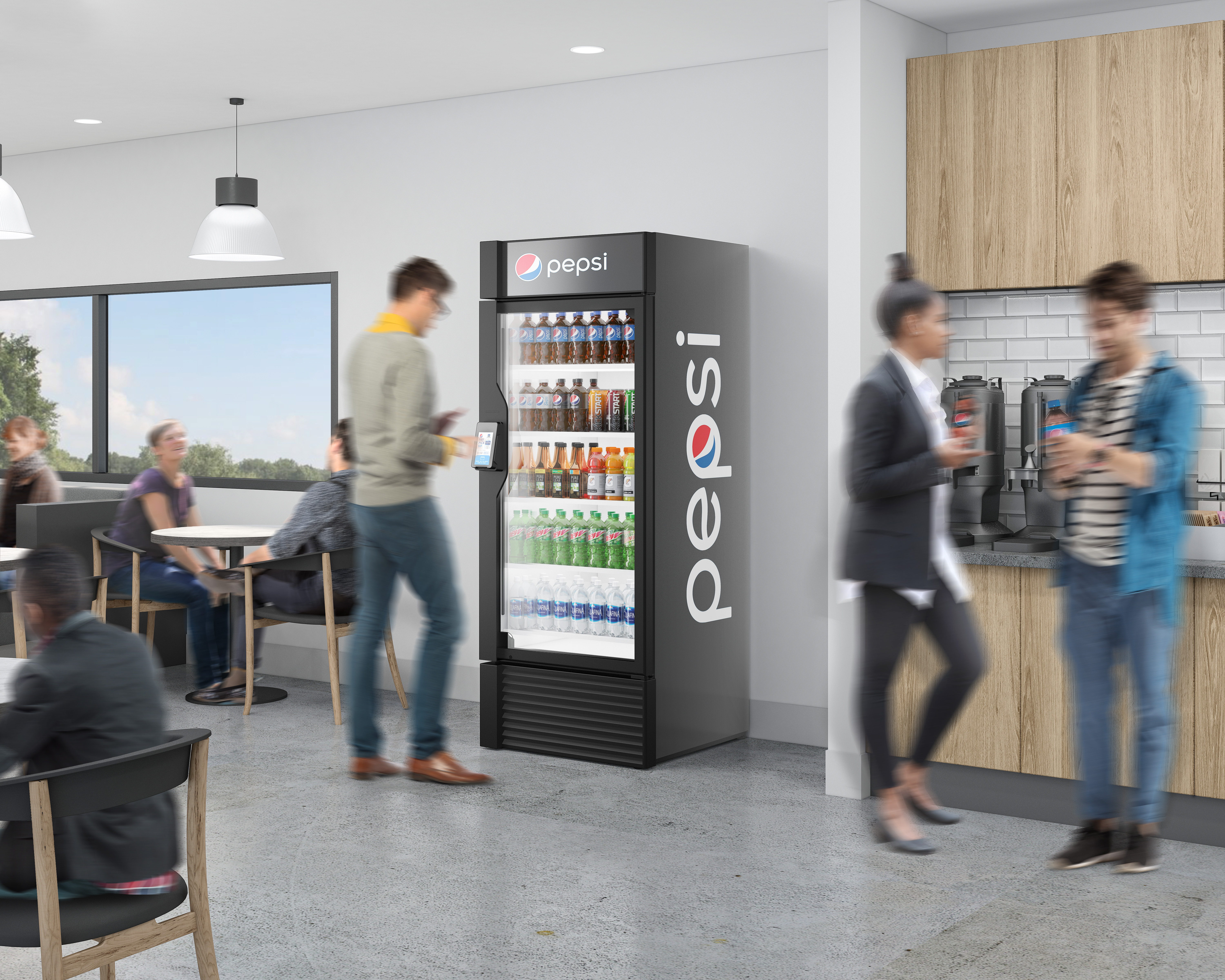 Trend #2 – Growing Focus of Sustainability Importance
As a consumer-centric industry, the issues that matter most to consumers are the ones that should matter most to operators. One of the biggest concerns is sustainability. The foodservice industry is often on the front lines of demand for more sustainable solutions. Think about concerns around single-use plastic straws and bottles; they often start in restaurants, coffee shops and workplaces. A recent survey of 7,000 consumers globally found fifty-six percent of diners want restaurants to be more transparent about their eco-friendly efforts, and almost half (43%) are willing to pay more for takeaways in restaurants that have visible sustainability practices.
Beyond the consumer experience, many cities, universities, and school districts are implementing policies cutting back on using disposable materials to meet sustainability goals. Digital tech solutions like SodaStream Professional – the commercial counterpart to the at-home sparkling water maker – is shaking up the industry with its contributions towards sustainability goals, with each fully stocked freestanding SodaStream Professional unit saving around 22,000 16 oz plastic bottles per year. From a digital perspective, the system uses a connected mobile app so consumers can customize and save their favorite pours, track their water intake against a personalized goal, and see how many single-use plastic bottles they have personally saved along the way.
For restaurants and other foodservice operators looking to adopt more sustainable practices and materials, consider digitally-driven solutions that can drive incidence while also doing good for the planet.
Final Takeaway – For Restaurant Operators, Embracing a Digital Tech Mindset Is Key
Tech adoption in foodservice is here to stay and is quickly becoming a differentiator for operators. While not all these trends will be applicable to every restaurant, it's important to consider these insights and see how they could work for you. It's not about adopting every trend, but rather remaining open to testing solutions that solve challenges and create a memorable consumer experience.