Toast Survey: Guests Are Dining In
1 Min Read
On-premise dining sales were up 46 percent from Q1 2022 compared to Q1 202, according to Toast's Q1 Restaurant Trends Report. For the same time period, takeout and delivery sales were down seven percent.
The report uncovers key trends across the restaurant industry through aggregated sales data from restaurants on the Toast platform, which has approximately 62,000 locations in the U.S.
While all regions in the U.S. saw impressive year-over-year sales growth, the Western region grew fastest with 38 percent growth, a rate almost twice as high as the South. The restaurant recovery is real in major markets across the U.S. The top five performing cities in Q1 2022 were San Francisco (57 percent), San Diego (55 percent), Seattle (54.percent), New York (50 percent), and Los Angeles (46 percent) based on Q1 year-over-year gross merchandise value (GMV) or total sales growth on a same-store basis.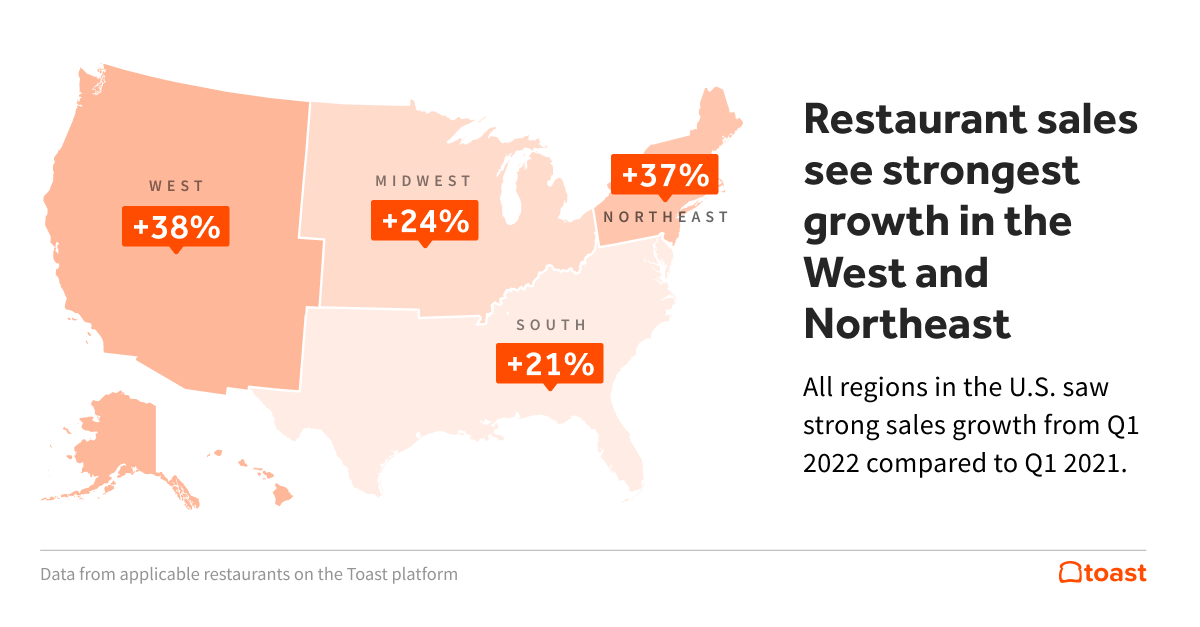 When it comes to tipping. Guests in the Midwest were slightly more generous this quarter, with Indiana coming in at the highest across all tipped transactions with an average tip percentage of 21.29 percent, followed by West Virginia at 21.23 percent, Delaware at 21.22 percent, Ohio at 21.14 percent and Kentucky at 21.07 percent. The lowest tipping states were Louisiana at 18.96 percent, Florida at 18.72 percent, New York at 18.64 percent, Washington at 18.41 percent and California at 17.56 percent. Guests continue to appreciate great service when dining in: across all tipped transactions they are tipping significantly more when they are on premise versus when ordering takeout or delivery.
Asian-Inspired cuisine is the top performing cuisine among guests followed by breakfast and middle eastern.