Tips for Creating an Inviting Outdoor Dining Space
4 Min Read By Michelle Gaglio
During the COVID-19 pandemic, restaurants everywhere are working to safely serve customers, while also creating an atmosphere that leaves patrons with a positive and memorable dining experience.
As restaurants continue to navigate limited indoor dining capacity and customers wary to dine indoors, some are expanding into outdoor spaces. Some cities are making the transition easier for their restaurants by closing downtown streets on certain weekends and inviting restaurants to place tables and seating areas outside.
When creating an outdoor dining space, consider the following six tips:
1. Choose the Right Space
When choosing where to put your patio or garden, it is important to make sure it is visibly pleasing from every seat, with a great atmosphere and amazing views. And you want to keep your customers comfortable. Make sure you have ample shade for the sun scorching days. We recommend the Cordelia Umbrella from All Modern for sun-soaked areas. These umbrellas are great to use as one or they can be pushed together to form a large space of shade for longer patio tables or tables grouped together.
Darker colored umbrellas work better. Avoid white colored umbrellas, as they do not always provide the cooling effect needed. Fans and misters are good for the really hot days, too. During the cooler months, consider using heaters and/or fires to keep customers warm while they enjoy their meal.
2. Define Your Area
One of the most important elements of creating a unique and visually pleasing patio or garden space is how you define your area. While outdoors, customers still want to feel like they're dining "in" your restaurant. Consider adding planters and decorative fencing, which has been a great option for our spaces.
One of our extended patios is wrapped with a wrought iron fence that holds up well in all weather and allows for planters and lights to be hung for added ambiance. In addition to the fencing, we added tall plants and flowers around the perimeter to give it a fresh, summer feel. At another one of our venues we opted for a decorative garden fence to enclose our outdoor dining area. These fences come with beautiful detail and the option to grow ivy along them for added greenery.
3. Highlight Your Color Scheme
Outdoor color schemes and themes should align with the inside of the restaurant. What colors, patterns and textures are you looking to showcase in your space? For example, if teal blue is a predominant color scheme inside your restaurant, continue that color outside in the form of umbrellas, tablecloths or chairs.
Staying consistent is important, but outdoor tables should be considered special by customers, so don't be afraid to add a contrasting pop of color that draws the eye toward that space.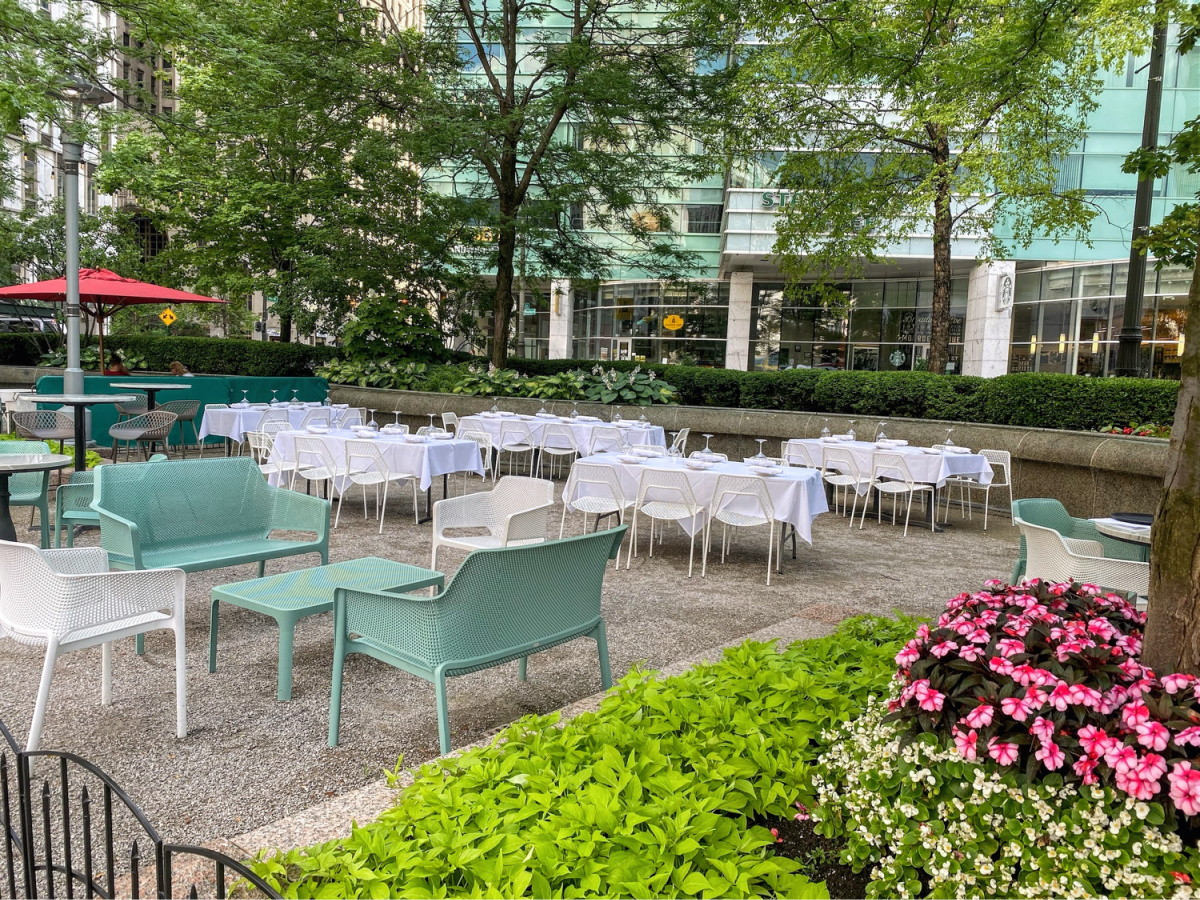 4. Set the Mood with Lighting
When setting your outdoor vibe, make certain that customers can enjoy the space during all times of the day. The right lighting is important as you transition from day to night. Candles as table centerpieces add to the ambience. Hanging outdoor string lights are great to brighten any area once the sun goes down.
At our downtown Detroit establishment, Parc, we've strung twinkling lights through the trees to illuminate our outdoor space. A string of lights also can be added to a pergola or gazebo. Decorative lanterns work well, too. All of these options not only help to bring light into an otherwise dark space, but they also help to create an intimate and cozy outdoor dining experience.
5. Find Friendly Furniture
Finding the right furniture for your space is essential. Make sure the furniture has adequate back support and cushion. And while your furniture should be visually appealing and consistent with your restaurant's design, it also needs to be durable enough to withstand outdoor weather conditions. Consider installing a permanent or portable outdoor bar to expand the indoor experience outside. This gives the customer the feeling of having everything at their fingertips and saves your staff the long walk back indoors for drink orders.
6. Dabble in Some D.I.Y.
When designing your patio, find items that you could potentially upcycle to get the look and feel you're looking for without going over budget. One simple but easy way to D.I.Y an area is to paint it. Whether you paint the siding, floor, fencing or furniture, there are endless possibilities to creatively brighten your area and create something of your own.
In addition to paint, a wood deck, turf, tile or a large indoor/outdoor rug can drastically elevate your space. Another way to get creative is to D.I.Y. some centerpieces for your tables. Wine bottles lit up with string lights, flower vases filled with seashells, candles or lanterns tied with ribbon and small potted plants are only some of the ways you can spruce up the center of your table. The fun with D.I.Y is if you can think it, you can do it.
In addition to offering a safer environment, outdoor dining areas provide restaurant owners the opportunity to create fantastic experiences for their patrons, while still adhering to new and changing guidelines. Outdoor dining also may be the answer for restaurants across the country struggling to remain in business.