The New Dining Habits of the Wealthy: How High-Income Households Are Cutting Back on Restaurant Spending
2 Min Read By Jana Zschieschang
In March, Revenue Management Solutions surveyed more than 800 restaurant-goers across the US to find out how they're dining in 2023. While insightful, it wasn't all great news.
At a high level, the findings indicated that reported usage across restaurant segments and revenue channels has fallen compared to Q4 2022.
The survey results were supported by performance. For the first quarter of 2023, traffic in the QSR segment was down 0.7 percent year-over-year, and quantity per transaction was down 4.7 percent. On the bright side, sales continue to perform positively compared to last year, primarily driven by price increases throughout 2022.
When we go back to the survey, a surprising trend is emerging. Higher-income households (earning more than US $99,000) and families with children drove decreases across all restaurant segments. In fact, ​​among higher-income households, the number of respondents saying they are spending more of their disposable income on restaurants drastically dropped, from 73 percent in Q4 2022 to 37 percent this quarter.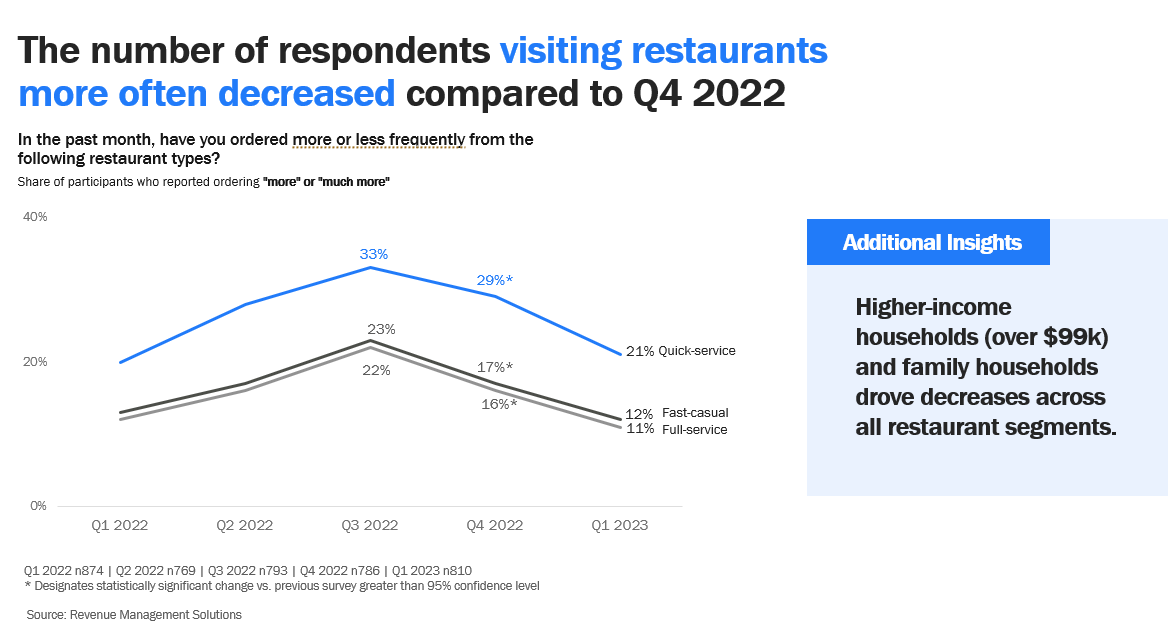 For context and some consolation, year over year, frequency across quick service restaurants (QSRs), fast casual and full service remained steady.
No Surprise: Higher Prices Contributed to the Decline
But why the overall decline this quarter? The much-talked-about inflation is likely the culprit. Three in four respondents across all income levels believe they are paying higher restaurant prices. Higher-income households appear to be acting with more fervency, however. Among the respondents that reported spending less on restaurants (34 percent of all survey respondents), 61 percent of the higher income group said they visited restaurants less frequently as a way to save. While we observed trading-down behavior in the past, such as skipping appetizers, drinks or dessert, respondents are now reducing how often they purchase from restaurants altogether.
In addition, the changing balance between grocery and restaurant prices may further contribute to the changing behaviors. According to the Bureau of Labor Statistics Food-Away-From-Home prices (+8.8 percent YOY) exceeded Food-At-Home prices (+8.4 percent YOY) for the first time in 18 months. In our survey, higher-income households were most aware of the change ­– the percentage of top earners reporting grocery prices as "higher" dropped nearly 10 percent.
At a decline of just 0.7 percent, QSR frequency is trending higher than consumer spending in other sectors. Consumers may need more convincing than in years past, but brands have an opportunity to promote value meals or discounts and keep the traffic coming.
Delivery Is No Longer the Preferred Channel
When it comes to how consumers are getting their FAFH, delivery has taken the biggest hit since Q4, decreasing by 13 percent. Once again, the most significant drops in the delivery channel can be attributed to higher-income (-25 percent) and family households (-13 percent). Whether due to delivery fees or the change of seasons, more people are willing to get their food themselves. Takeout is now the leading channel, securing the lead over dine-in, the previously most-used channel. In Q1 2023, 70 percent of respondents reported getting takeout at least once a week.
Finally, when those surveyed were asked about their plans for eating out in the future, RMS found that all revenue channels may see a decline in frequency. Whether or not respondents act on their plans to limit restaurant usage, higher prices and rising inflation will likely play a role.