Taking a Trip Down Sweetlane
3 Min Read
In mid-November, sweetgreen opened its first advanced order vehicle pickup window, "sweetlane" in Schaumburg, Illinois.
As the first of its fleet, the "sweetlane" provides an effortless experience for visitors in vehicles to pickup online orders through a drive-up window. To order via "sweetlane," customers place their order through the sweetgreen website or app, and choose "sweetlane" as their desired retrieval method under "Select a Pickup Location." When their order is ready, guests can drive through the "sweetlane" to pick up their meal. As they wait, guests can observe team members preparing orders with fresh ingredients through a round observation window—bringing the in-store experience to every touchpoint in the new format. Dine-in and pickup inside the restaurant will also be available.
"Innovation is in the sweetgreen DNA, and meeting customers where they are is the key to our brand mission; connecting people to real food," said Jonathan Neman, CEO and Co-Founder of sweetgreen. "We hope this new experience provides ease and accessibility for the community craving deliciously fresh and healthy plant-forward food."
The freestanding building features unique design elements on all sides, including a continuous green dip around the building, a large-scale mural by local Chicago artist Cody Hudson and architectural awning details.
Modern Restaurant Management (MRM) magazine quizzed the sweetgreen team to learn a bit more about the brand's latest innovation.
Why put in a drive-thru and why now?
sweetgreen looks to meet customers where they are, and sweetlane is another way the restaurant can provide healthy food at scale. As sweetgreen continues to expand its national footprint, more formats will come to life, with its latest being the new drive-thru pick up window—an efficient advanced ordering method making healthy food accessible to more communities.
What was the process of designing sweetlane?
With sweetlane being a new restaurant format, the design process included reimagining sweetgreen's best in class in-store experience through different touchpoints in the customer journey. One key feature is the round observation window, where guests can observe sweetgreen team members preparing fresh, healthy meals as they wait in their vehicle. With options to dine-in, pickup or order delivery at the new location, sweetlane works as an additional access point for people to connect with real food.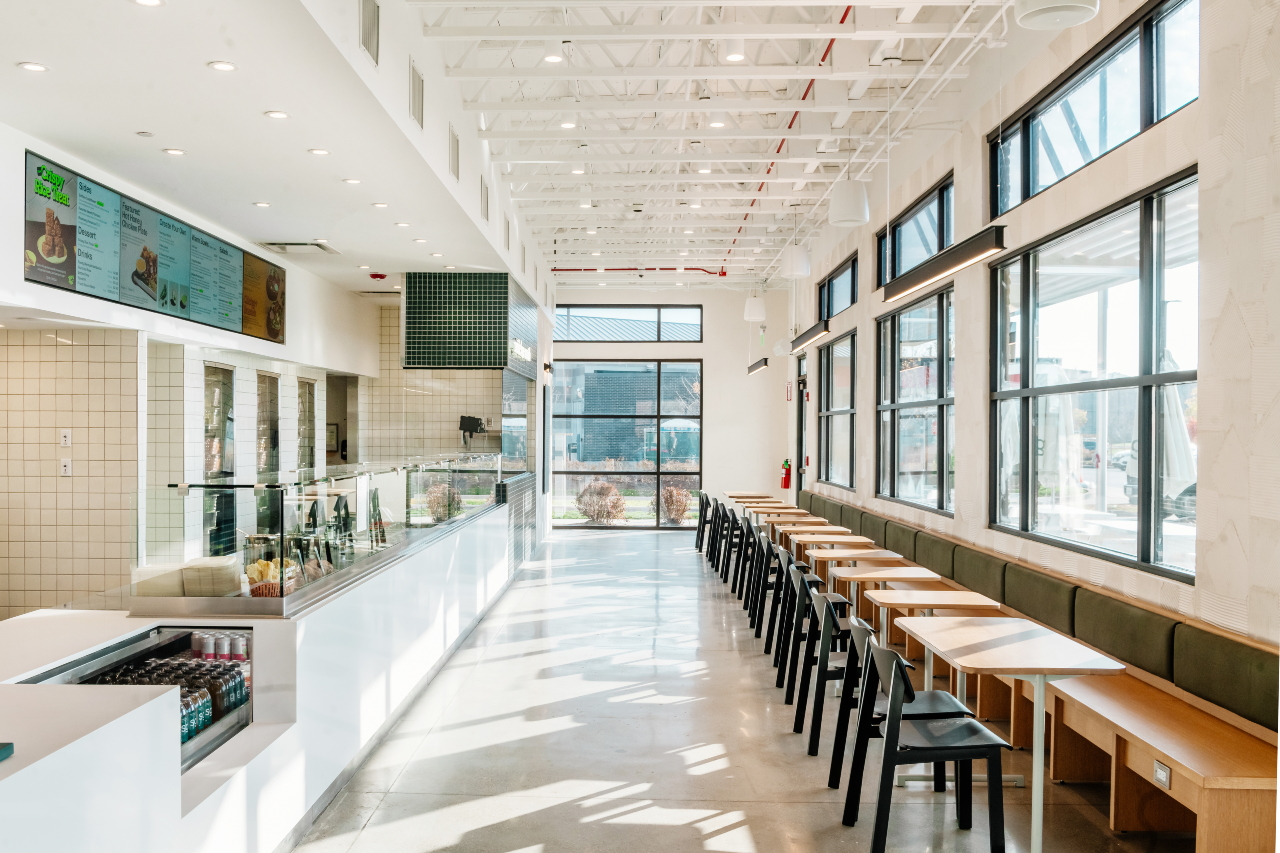 Describe some of the unique design elements and why it was important to include them?
sweetgreen worked with local artist Cody Hudson (@struggle_inc) to create a large-scale mural depicting seasonality on the exterior of the building. His mural includes a variety of ingredients including limes, apples, cucumbers, avocado and other fresh produce used at sweetgreen, as well as some shapes meant to reflect the shape of sweetgreen's signature bowl.
sweetgreen works with local artists to ensure each restaurant feels community driven. The building features unique design elements on all sides of the facade to create visual interest and tell the brand's story from a vehicular experience. The signature pylon sign, in-lane digital storytelling on exterior screens, round observation window to showcase daily fresh food prep, and a large swooping metallic awning are all nods to the retro drive-in culture.
How is technology integrated into the drive thru?
With the Schaumberg location, sweetgreen wanted to utilize their digital forward approach, where customers make their purchase via the sweetgreen app or website before driving through the sweetlane to pick up their order.
How does a drive-thru fit in with sweetgreen's mission and sustainability efforts?
sweetlane is an effort to expand sweetgreen's footprint into suburban markets while maintaining its mission of making sustainably sourced food more convenient for all.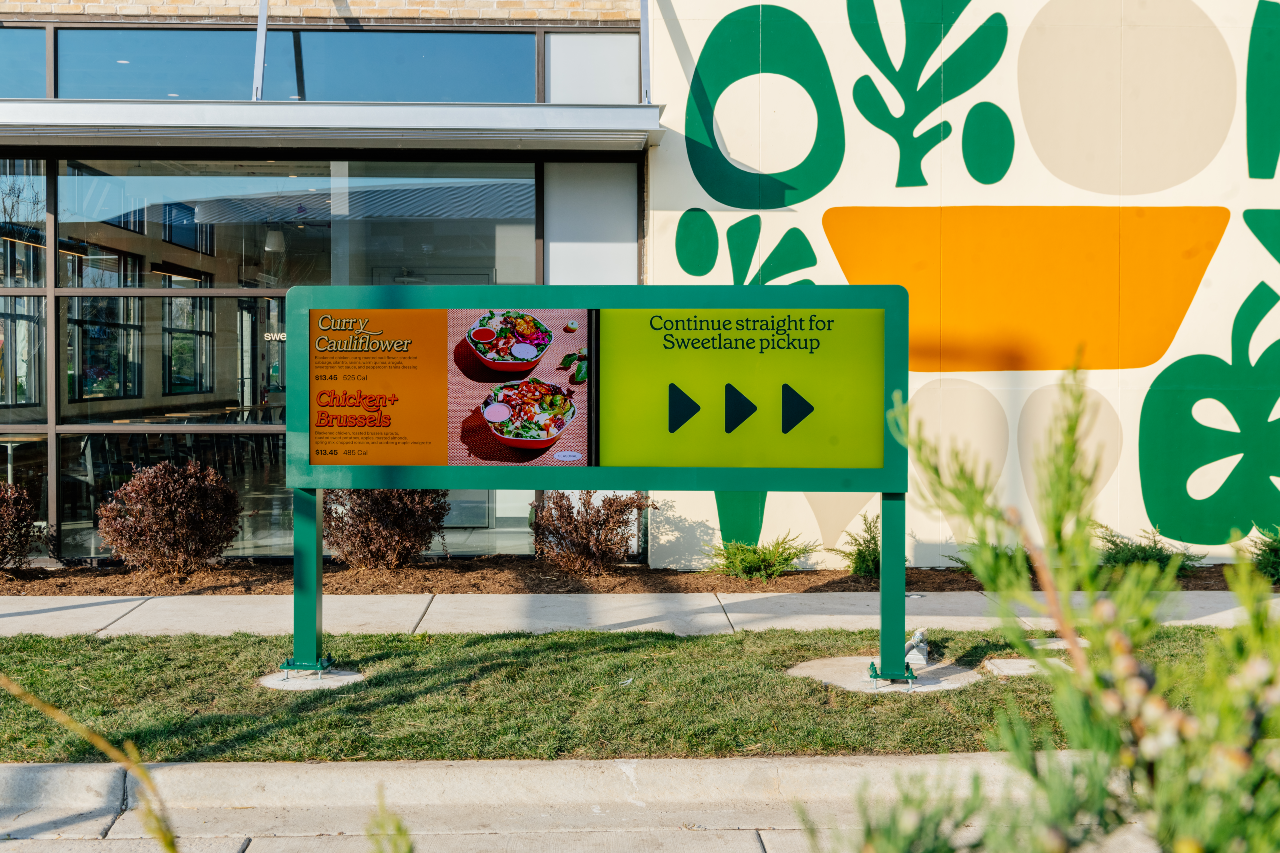 How does sweetlane differ from traditional drive-thru's?
sweetlane differs from the traditional drive-thru as orders must be placed via the sweetgreen app or website ahead of pickup. When customers place their order, they will choose "sweetlane" as their desired retrieval method under "Select a Pickup Location." When their order is ready, guests can drive through the sweetlane for a frictionless pickup experience.
What do you hope guests take away from the sweetlane experience?
The hope is that guests see sweetlane as a seamless and convenient way to incorporate healthy eating into their daily lives.
What are plans for additional drive-thrus?
As the first type of its fleet, sweetlane is a vehicle for innovation, bringing communities closer to real food. With the brand's ongoing plans for expansion, sweetgreen will also continue to pilot new formats, such as the recent opening of the digital pickup-only kitchen in Mount Vernon DC.