Takeout For Good and Menus Go Tech
31 Min Read By MRM Staff
In this edition of MRM News Bites, we feature the Takeout For Good Effort on June 2 and a host of products designed to help restaurants keep guests and staff safer as they reopen.
Takeout For Good
GroupRaise is inviting restaurants across the country to join their Takeout For Good initiative happening on June 2. Participating restaurants will donate 15-25 percent of sales to their local food bank and over 1500 restaurants nationwide have already joined the initiative.

With thousands of restaurants forced to close their dining rooms, and millions of Americans facing sudden unemployment, GroupRaise saw an opportunity to mobilize its 10,000+ restaurant partners along with their communities to offer those who are able a chance to support both local business and food distribution to at-risk families.
"The goal is to raise funds for a cause deeply impacted by COVID-19 while keeping restaurants connected with their communities," said Devin Baptiste, Co-founder and CEO of GroupRaise. "When you see that over 30 million Americans have filed for unemployment in a matter of weeks, it's clear that there is a need and we saw how to help–one day dedicated to uplifting families in need in our communities while assisting local restaurants."
Over 200 food banks face a surge in demand for emergency food aid in the wake of COVID-19. According to PBS, some food banks are experiencing as much as 4x the usual volume of community members needing aid from food pantries–in some cases requiring assistance from the National Guard.
Aramark Creates Safety Plans
As workplaces, sports and entertainment venues, schools, colleges and universities, and other places of business begin to resume operations, Aramark developed customized plans to create safe and hygienic dining experiences for everyone the company serves.
Aramark examined front and back of house processes to establish tailored playbooks for all of its businesses and market segments, leveraging innovative solutions, new service methods, and rigorous safety protocols. The details augment Aramark EverSafe™, the company's multi-dimensional operational safety platform recently launched with Jefferson Health, a leading expert in public health.
"While cafes, dining halls, cafeterias, and concessions stands may look a little different, I am confident that they will feel and be safe for our employees and everyone we serve," said John Zillmer, Aramark's CEO. "Our teams have been working incredibly hard, partnering with health and food safety experts, to ensure our locations meet stringent standards for dining in today's new environment."
Examples of safety and service enhancements include:
A culture of safety and wellbeing for employees and customers
Requiring appropriate personal protective equipment (PPE) for employees, including gloves and masks
Frequent hand washing following CDC guidance and food code
Installing plexiglass barriers at checkout
Enhanced training, signage, and behavioral "nudges"
Implementing health checks and temperature monitoring
Appropriate spatial distancing practices through visual cues, physical alterations and adaptive technology
Redesigning workflows to ensure safe distancing between employees
Posting appropriate signage and floor decals to encourage social distancing
Altering seating arrangements to improve spacing between guests
Increasing self-order kiosks and touchless self-checkout terminals
Expanding mobile ordering and contactless pick-up or desk delivery
Investing in and expanding emerging technologies to drive contactless experiences
New and enhanced cleaning and disinfecting procedures
Increased frequency of cleaning high-touch areas
Touchless cleaning for the safety of employees
Added sanitizing stations
Traffic monitoring to target high-risk areas
Expanded service offerings to best meet consumer needs
Increasing grab-and-go meal options
Offering easy-to-assemble, take-home meals
Alternative service styles for hot bars and salad bars
Installing self-serve micro markets and pop-up groceries
Contactless delivery and drop off for catering
Transitioning to single-serve condiment packets and pre-portioned toppings stands
Production of PPE through Aramark's uniforms division and procurement of PPE
Washroom station installation and servicing
Available and emerging technology
Predictive risk modeling using artificial intelligence
Back of the house touchless preparation
Motion sensors
Occupancy sensors to measure space / room density
Aramark's practices, procedures and protocols have been developed in accordance with recommendations established by the Centers for Disease Control and Prevention (CDC), the World Health Organization (WHO), the National Restaurant Association (NRA), and other leading health organizations, and are designed in consultation with client partners, based on local government requirements. As conditions, consumer behaviors and regulations change, Aramark's plans are designed to be flexible and evolve and adapt, accordingly.
For more information on Aramark's response during the COVID-19 pandemic, click here.
Tork Donates to Philly Restaurant Relief
Tork made a $100,000 donation to support restaurants and hospitals in Philadelphia, the headquarters for Essity's global professional hygiene business and the hardest-hit region in Pennsylvania with more than 19,000 COVID-19 cases.
In partnership with Off Their Plate, a grassroots organization that funds local restaurants to provide free meals to frontline healthcare workers in cities across America, Tork will provide 10,000 nutritious meals to Philadelphia-area hospitals and clinics, as well as $50,000 in economic relief for restaurant staff. The meals will not only be delivered to physicians and clinical staff, but also to hospital environmental services, cafeteria, security and maintenance workers – all of whom are essential to the smooth operation of healthcare facilities.
"Tork is proud of this partnership which makes it possible for us to support both restaurants and frontline healthcare workers," said Don Lewis, President of Professional Hygiene at Essity. "This pandemic has deeply impacted our customers and we are dedicated to helping businesses that have been hardest hit – such as restaurants and cafes – on their road to recovery."
"Since mid-March, we have raised enough funds to support the delivery of more than 300,000 meals across nine U.S. cities," said Natalie Guo, Harvard Medical School student and founder of Off Their Plate. "Thanks to Tork, we will now have the capacity to significantly expand our work in Philadelphia, where we have seen a large increase in demand for our services."
In Europe, Tork has pledged support and donations to #HorecaComeback and #HelpDeHoreca, two initiatives that encourage consumers to purchase online vouchers that can be redeemed once restaurants reopen, to provide restaurants with working capital during this critical time.
PathSpot Secures Funding
PathSpot, creator of a real-time hand hygiene management system that protects against the threat and spread of illness with a hand scanner that tracks handwashing frequency and effectiveness, announced the closing of $6.5 million in a Series A round led by Valor Siren Ventures I L.P. (VSV), bringing the company's total funding to $10.5 million. Formed with an anchor investment from Starbucks and in collaboration with Valor Equity Partners, VSV is a leader in early-stage food, food technology, and retail technology investing. Richard Tait, a partner at VSV, will join PathSpot's board of directors. Existing investors FIKA Ventures and Walden Venture Capital also participated with a follow on investment.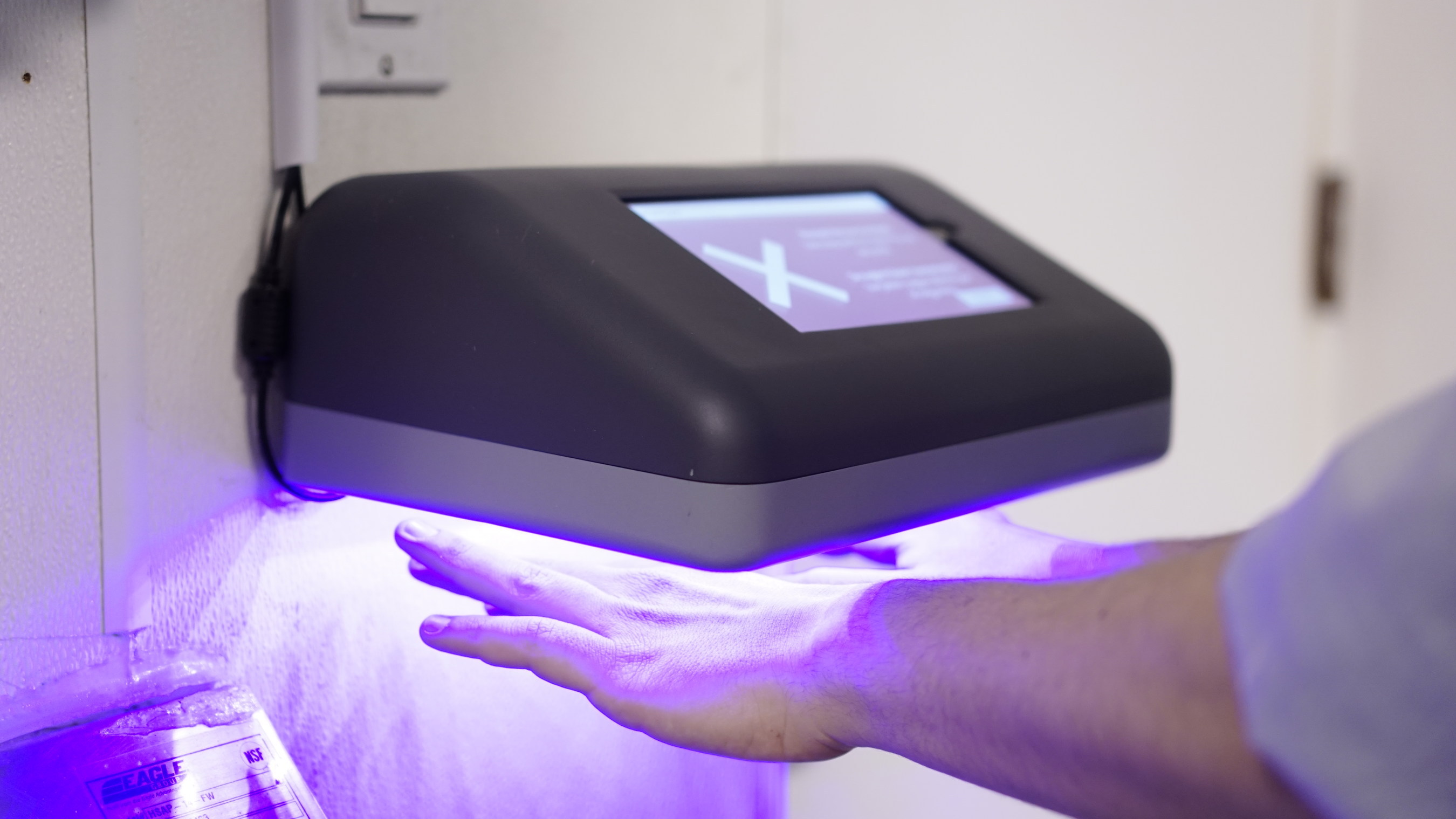 "PathSpot works alongside the food industry to promote handwashing and enhance a positive culture around sanitation, using data to help plan and protect against future risk," said Christine Schindler, CEO and co-founder, PathSpot. "I'm thrilled to partner with VSV, which comes at a time when the entire world is more conscious than ever about handwashing safety. We're eager to help positively impact even more lives more quickly and continue working with the food industry in prioritizing safe handwashing."
Thirty percent of diarrhea-related sicknesses and 20 percent of respiratory infections are preventable by proper handwashing, and among these are the 48 million Americans who get sick each year from foodborne illness. As an example, the spread of germs from food handlers to food accounts for 89% of all foodborne illnesses that are contracted in restaurants. In less than two seconds, PathSpot's hand scanner detects invisible signs of bacteria and viruses that cause illnesses and outbreaks. PathSpot is used by restaurants, packaging facilities, cafeterias, and farms across the country.
Before the current COVID-19 pandemic, less than 25 percent of US restaurants' handwashing practices were in compliance with FDA food code handwashing frequency requirements. Now, as restaurants are reopening amidst the global health crisis, a renewed interest and demand for hygiene is occurring among businesses and customers alike. Ensuring proper handwashing and employee training will be critical, as well as proactively and thoughtfully communicating these practices to customers.
"PathSpot has given us the tools to measure and improve our sanitation practices. But more importantly, working with the PathSpot team has created an even greater overall sensitivity to and awareness of food safety in our restaurants. Having already engaged the PathSpot system well before the coronavirus outbreak, I'm confident in how our team prioritizes handwashing and in this unprecedented environment, that priority will remain a critical focus," said Colin McCabe, co-founder, Chopt Creative Salad Company. Chopt is a PathSpot customer and McCabe is an early investor in the company.
Using a network of sensors plus visible, audible, and electronic cues, PathSpot immediately notifies team members when invisible contamination is detected on their hands. In the future, PathSpot will also detect on food, equipment, surfaces, and more. If the contamination or handwash frequency requirements are not addressed, notices can automatically escalate to management to ensure complete protection of the customer, brand, and bottom line in one location or across a chain. Ninety-seven percent of employees report PathSpot made them think more critically about food safety on a daily basis. PathSpot reduces management time spent on training and monitoring handwashing, including 89% of managers reporting "time-saving" when it comes to PathSpot helping them monitor handwashing and food safety.
In other news, Miso Robotics partnered with PathSpot Technologies, Inc. to advance sterile and healthy cooking environments, improving safety standards in kitchens to address the needs of the restaurant industry as it looks toward recovery. The partnership will allow Miso Robotics to offer Pathspot's hand scanning device for optional integration into the design of Flippy, Miso Robotics' autonomous kitchen assistant. As part of the partnership, Miso will work directly with PathSpot to facilitate the use of its hand scanning technology in restaurants and food service locations where Flippy will be deployed.
"Miso Robotics has always focused on ensuring a healthy kitchen environment. Flippy is certified by NSF International, and our autonomous design promotes social distancing needs and decreases human contact during the food prep process," said Buck Jordan, CEO of Miso Robotics. "PathSpot's hand scanning devices, paired with Flippy, take things one step further in reducing food contamination, giving consumers and workers the confidence needed to reignite takeout and delivery, while giving restaurants a way to attract customers back to their locations. We are excited about this strategic partnership that will get both of our solutions into the hands of some of the biggest name brands in food service."
"PathSpot's commitment to advancing healthy and preventative practices in public spaces made Miso Robotics a natural choice for partnership," said Christine Schindler, Co-founder & CEO of PathSpot. "We are two companies focused on delivering cutting-edge solutions. Together, we believe we can succeed in our mission to create a safer future-kitchen design."
Menu Anywhere
Zuppler launched Menu Anywhere On-Premise Contactless Ordering on the Zuppler "Menu Anywhere" Platform. With applications for restaurants, hotels, hospitals, educational institutions, live events – everywhere menus are provided – this new offering limits contacts between guests, wait-staff and the kitchen, allowing customers to use their mobile device to engage with digitally-enabled, dynamic menus that send orders directly to the kitchen, as well as pay their bills, bringing a much-desired, heightened level of safety to guests and staff.
Menu Anywhere On-Premise enables a personalized and highly interactive experience allowing customers to track the status of their orders, see prior orders and favorite items; while providing dining establishments the ability to serve guests with limited staff, update menus and specials in realtime, capture order history, encourage guests to enroll in loyalty programs, and allow for more efficient operations.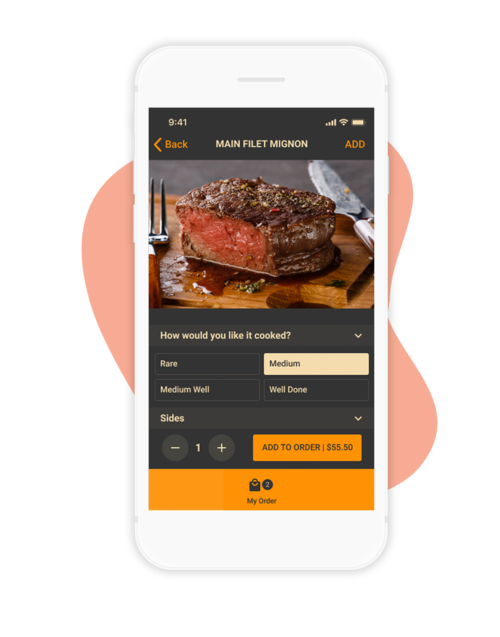 "As restaurants, hotels, schools, live events and workplaces return in stages across the country, we know that the reimagined dine-in experience for millions of consumers will require significant change. We are excited to add this new on-premise innovation to Zuppler's "Menu Anywhere" offerings to power food service operators with a safe, secure, personalized and innovative menu tool that gives consumers what they desperately want: a return to good food with the experience of eating outside the home in a safe manner," said Shiva Srinivasan, Founder and CEO.
Srinivasan continued, "Menu Anywhere On Premise is scalable, can be adapted to different vertical markets and can operate in many environments. We customize the ordering process in a number of exciting ways that enhance the experience for consumers and give greater control and valuable information to food service providers. Today's launch is a natural extension of our current offerings, and is entirely driven by the needs of our clients."
"As our business starts to open post Covid-19, we were comfortable to manage our 'to-go' orders but were getting concerned about dine-in orders. The contactless dine-in product from Zuppler will solve this concern and help us manage the expectations of our customers around safety," said Keith Pascal, partner at Act III Holdings and investor in Boston-based Life Alive Organic Café.
Gordon Food Service works closely with Zuppler to identify emerging needs within the foodservice industry. As foodservice operators began to reopen, the need to replace physical menus with digital, contactless alternatives quickly emerged.
"Zuppler has been an extraordinary partner. Their food ordering system has provided our customers with immediate solutions to support their business in a rapidly changing environment," said Bill Balke, Director of Customer Marketing, Gordon Food Service. In addition to serving 15,000 restaurants and food services clients across the globe, Zuppler enjoys important partnerships with leading transactions processor Worldpay (acquired by FIS in 2019) and Rewards Network, a provider of loyalty-based marketing and financing services to the restaurant industry. "We think that in addition to delivering safety, Menu Anywhere On-Premise establishes the baseline for the next phase in dining hospitality, with more options, more flexibility, more control and more engagement with customers. In this way we help deepen the relationship and trust between guests and food service provider," said Srinivasan.
TableSafe Integrates with Oracle
TableSafe integrates with Oracle MICROS Simphony POS To Provide A Frictionless Pay-At-The-Table Experience announced their pay-at-the-table solution for the MICROS Simphony™ Point of Sale platform. Combined, the technologies deliver a robust restaurant management and payment platform that provides maximum operational efficiencies while delivering a frictionless guest payment experience.
TableSafe's platform is designed to be left at the table at the end of the meal. The interface is easy to use and allows the guest to complete the entire payment process in 60 seconds or less, without the server's involvement. TableSafe's technology integrates directly with the POS, allowing the check to be reviewed, paid, processed, closed-out, and an email receipt provided away from the POS system. This eliminates the need for the guest and server to transfer paper, pens, or credit cards and maintains a safe environment for the restaurant and its patrons. In addition, TableSafe's technology removes the friction and frustration caused by long wait times while the server returns to the table with a guest's card or payment receipt.
"We are working closely with partners to ensure our customers have the technology they need to navigate current conditions and future operating scenarios," said Chris Adams, vice president of strategy, Oracle Food and Beverage. "TableSafe's technology helps restaurants and hospitality providers deliver a swift, low-touch experience for diners that can reduce check wait times and increase efficiencies for front of house staff. These efficiency gains are incredibly important as we expect customers will be operating at reduced capacity for some time."
Restaurants using TableSafe's payment platform turn tables six to ten minutes faster. The integrated survey during the payment process provides a restaurant with instant feedback on guest satisfaction and buying behaviors. Since the responses are linked to the staff and meal items, the survey data enables continuous process and service improvement. The email receipt option allows restaurant operators to maintain contact with their guests and to nurture patron loyalty.
"Oracle Simphony provides everything a restaurant or hospitality operator needs to run their operation in one comprehensive POS platform," said Gordon Gardiner, CEO of TableSafe. "Our joint solution integrates the safest, fastest, and most elegant guest payment experience with operational efficiencies and unprecedented customer insights."
Contactless Dining Kit
Presto launched a free Contactless Dining Kit for every restaurant, no matter the size and configuration.
The kit offers powerful contactless menu display, ordering, and payment technology solutions. It allows guests to use their personal mobile devices to scan NFC tags and QR codes at restaurants to view the complete menu, place orders, and pay with their phone at the table—without the need for touching any foreign surface or any contact with people outside of their dining party. In addition, guests can check in online using their smartphone, view wait time estimates in real time, and get an alert when their table is ready. The Presto system also integrates seamlessly with loyalty programs and enables an in-restaurant digital personalization experience. Guests can sign in, see rewards, view past orders, store dietary preferences, customize orders, and reorder their favorite items for a highly tailored experience.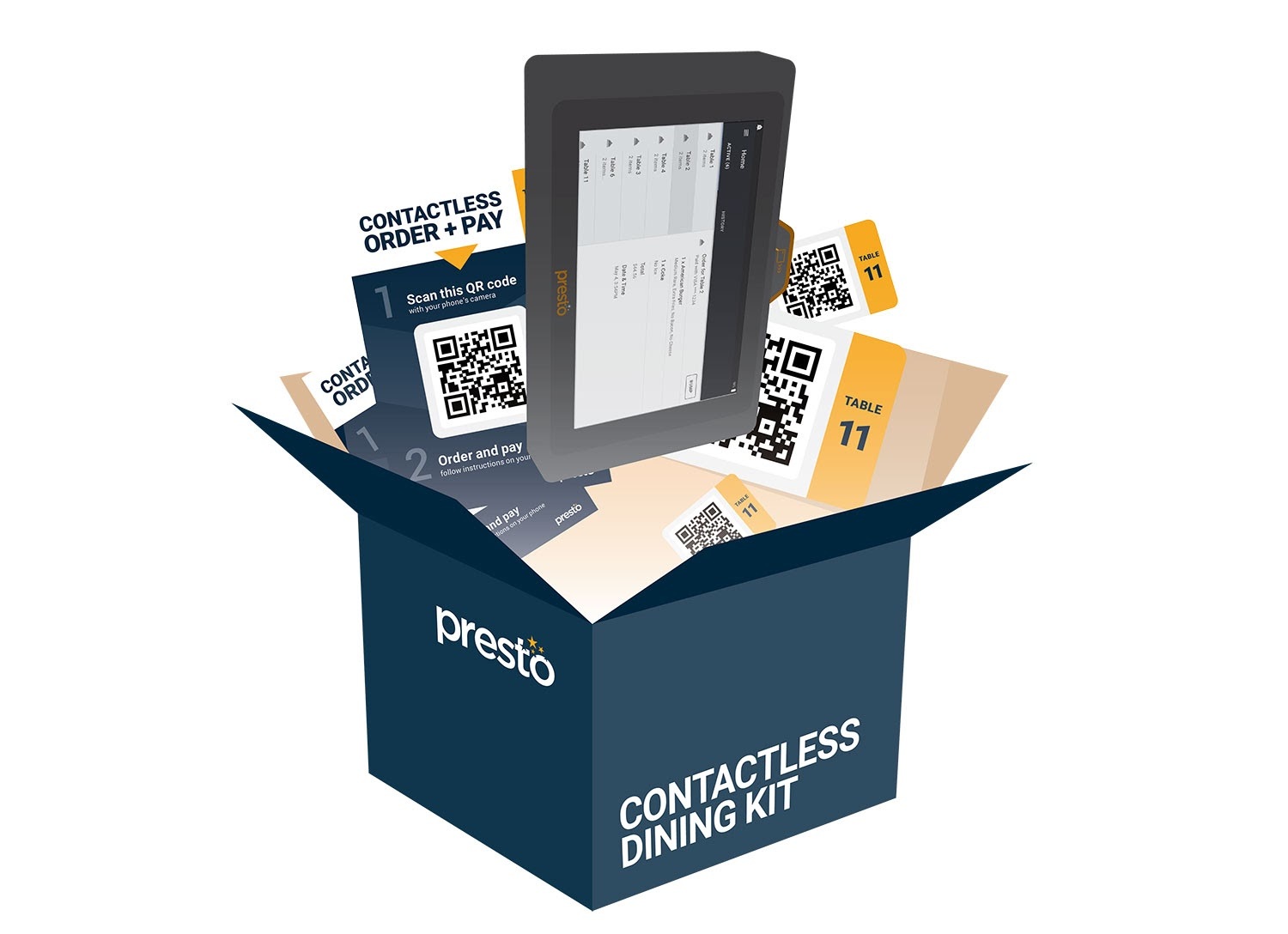 Available completely free to any restaurant and designed to be set up within an hour, the Presto Contactless Dining Kit was created to specifically help restaurants navigate the new government guidelines, as well as new guest and staff expectations for safety and sanitation. The Contactless Dining Kit is customizable based on restaurant needs and works for restaurants in all categories—full service, quick serve, and more.
"Every restaurant needs to find ways to make their guests and staff feel safe in the age of COVID-19, while remaining profitable and delivering an outstanding guest experience," says Rajat Suri, Founder and CEO of Presto. "We believe this Contactless Dining Kit will enable restaurants to do all three of the above using best-in-class technology from Presto."
Key features of the kit include:
Waitlist and Pre-Order – Guests can check in online using their smartphone, view wait time estimates in real time, and get notified sufficiently in advance. The Presto system also enables them to browse the menu, pre-order or pay for items, and get an alert when their table is ready.
Contactless Menu – Guests can access the menu by scanning a QR code sticker or tent card using their smartphone. They can view the full menu, add items to their order, and see prices. They also have access to their loyalty rewards and prior customizations. Optionally, for guests not interested in using their own device, the menu can be displayed on a digital tablet dropped at the table. The tablet is safer, easier to clean, and more environment-friendly compared to a laminated or paper menu.
Contactless Ordering – The Presto system allows items to be modified and added to the order at any time. Optionally, orders can be directly pushed into the POS system through seamless data integration.
Contactless Payment – The guest can pay the check using their own phone by scanning a QR Code or NFC tag. Payment is enabled using secure technologies such as mobile wallet, offering convenience and additional peace of mind to guests.
Par Tech Teams with Revolution
ParTech recently released Brink POS v5.0c for Table Service Operators, and now has partnered with Restaurant Revolution Technologies (REVOLUTION) and its digital ordering product, Order One Maverick, to enable restaurants to grow off-premise business by offering more ways to order for delivery, curbside pickup and takeout. This means creating additional avenues for orders, higher revenue, and the ability to keep the doors open no matter what the future holds. ParTech and Revolution will not charge subscription software fees until 2021.
Ryan Volberg, ParTech's Senior Vice President and General Manager of Brink commented, "Our goal for this most recent release is to firmly establish Brink as a leader in table service, particularly in the enterprise and multi-location segments. Not only does Brink POS now offer the features needed to succeed at scale in the most demanding table service environments, it continues to offer the API's and integrations table service concepts need to adapt and succeed in a rapidly changing marketplace. New business models and opportunities in table service are emerging before our eyes. They all have one thing in common; an emphasis on meeting the new, unprecedented needs of the off-premise guest. Brink POS is uniquely suited to helping operators rise to these challenges."
To bring these principles to reality in an easy to implement and cost-effective package, ParTech has partnered with Revolution's Order One Maverick to enable restaurants to grow their off-premise business by offering additional options to order for delivery, curbside pickup and takeout. This means more orders, more revenue, and the ability to keep the doors open no matter what the future holds. ParTech and Revolution will not charge software fees until 2021. Click here to learn more about the offer.
"The COVID-19 health crisis has accelerated the future technology needs of the restaurant industry. Dine-in visits will be forever changed by the impact of social distancing, and restaurants embracing innovative technologies like digital ordering for delivery, takeout, curbside pickup, group ordering and catering will be poised to thrive long term," said Mike Niemann, Head of Business Development at REVOLUTION.
"We are proud to partner with an innovative restaurant technology leader like ParTech for a promotion that supports the short and long-term business health for restaurants via Brink POS and our Order One Maverick digital ordering product," added Niemann.
MenuDrive Self Sign-Up
MenuDrive launched MenuDrive Self Sign-up for restaurants, which allows restaurants to launch online ordering and delivery in under one hour. Restaurants can add their own delivery services or use one of MenuDrive's national partners.
"An overwhelming majority of restaurants in the U.S. do not have online ordering, so they turn to expensive third-party providers," said Saleem S. Khatri, CEO of Lavu and MenuDrive. "We want to provide restaurants a better alternative that allows them to not only survive, but thrive in the new restaurant world driven by COVID-19."
MenuDrive is not charging any installation fees or monthly fees; instead, restaurants are charged a fixed price of 4.5 percent for each order. This fee gives restaurants access to a complete online ordering system, marketing tools with actionable recommendations to help drive more revenue, and access to MenuDrive's national delivery partner network. Third-party providers typically charge up to 40 percent of a sale for their delivery service and manage the online system themselves, limiting the restaurant's access to their customers.
"MenuDrive gives us full control over the customer business and experience," said Saagar Grover, CFO and business director for Twisters, an Albuquerque restaurant chain and MenuDrive customer. "Capturing and customizing data from online ordering is a huge opportunity for us and we lose out on it with third-party services."
The MenuDrive platform contains pre-set features including online and mobile storefronts, email marketing campaigns, coupons, and a customer loyalty program. Restaurants that sign up have immediate access to these features.
Khatri said the impetus for self sign-up was simple, "Our goal is to provide restaurants with fast implementation, rather than weeks of back-and-forth, haggling over price or figuring out which option to choose. With MenuDrive, there's no negotiation, no waiting and no hassle. When a restaurant is ready, self sign-up is waiting."
MenuDrive integrates with several point of sale systems, including Lavu, FuturePOS, and Clover.
sweetgreens Available through DoorDash
For the first time, sweetgreen fans can order their favorite salads, warm bowls, plates and sides through DoorDash, The partnership will expand sweetgreen delivery options across all 100+ locations nationwide. To kick off the partnership, the two companies will offer customers $5 off any sweetgreen plate* ordered on DoorDash with promo code SGPLATES through June 2.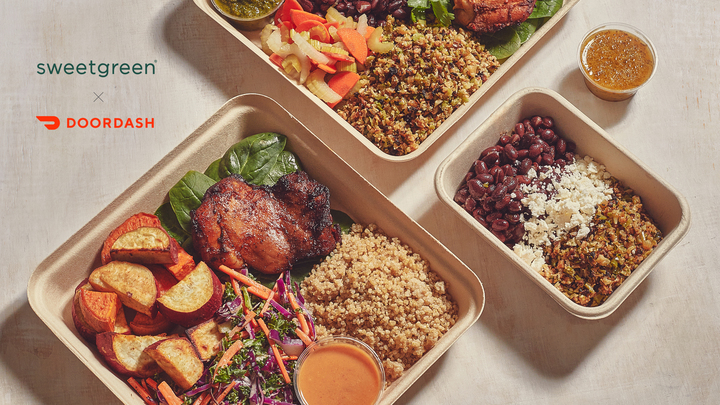 As part of the new partnership, sweetgreen will now be a part of DashPass, DoorDash's subscription program which offers unlimited $0 delivery fees on orders over $12 for $9.99 a month.
"sweetgreen is a true innovator in the restaurant industry, having rewritten the script for fast casual concepts with their sustainable, delicious and healthy menu and digital-first mindset. We're honored to team up to be a part of their off-premise vision," said Toby Espinosa, Vice President of Business Development at DoorDash. "Through our expansive geographic footprint and commitment to quality we look forward to helping sweetgreen build healthier communities by reaching more customers where they are."
SMG Integrates Reviews
Service Management Group (SMG) has become the first experience management platform to integrate ratings and review data from the third-party delivery industry. With delivery service review data available alongside customer feedback and operational data, brands have a more holistic and actionable view of the customer experience.
With the continued growth of third-party delivery and acceleration of off-premise dining and alternative shopping as a result of COVID-19, SMG is investing in technology to help brands capture and act on feedback throughout the evolving customer journey. SMG is ingesting ratings and review data from third-party delivery providers to help brands keep pace with this surging unsolicited feedback channel.
"Delivery has been a growing part of restaurant and retail operations in recent years, and the onset of COVID-19 has accelerated the growth," said SMG General Manager of Social Solutions Jason Norris. "As brands have shifted to managing the off-premise and alternative shopping experiences, third-party delivery feedback has become an increasingly important data source. Our platform provides a holistic view of unsolicited feedback alongside customer experience data to help brands activate insights and manage their online reputation."
SMG's online reputation management platform aggregates location-specific ratings and reviews across the top review sites to provide brands with a robust social engagement tool. With third-party delivery ratings and reviews alongside review data from sites like Facebook, Google and Tripadvisor, brands have access to a host of features—including role-based reporting, AI-powered text analytics, real-time alerts and in-platform response.
"As a leading experience management provider, SMG's dual focus on technology and strategic services gives brands a more holistic and actionable view of the customer experience," said SMG Chief Operating Officer Ken White. "The emergence of new touchpoints brings new feedback channels, and we're continually developing technology and data integration capabilities to help clients listen better and act faster."
United Way Partners with DoorDash
United Way is partnering with DoorDash to expand Ride United to include food delivery, starting in eight communities: Akron, Ohio; Baltimore, Maryland; Hartford, Connecticut; New Orleans; New York City; Tallahassee and Ft. Lauderdale, Florida; and Ventura County, California. This partnership leverages DoorDash's last mile logistics platform, including its fleet of Dashers, to power deliveries from local food banks, food pantries, and other distribution points to senior citizens, low-income families, and those who can't leave home, providing meals to those in need and flexible earnings opportunities to Dashers in these unprecedented times.
Launched in 2019, United Way's Ride United leverages local United Ways and 211 agencies in 27 cities across 17 states to provide more than 25,000 rides so far to job interviews, medical appointments, grocery stores, food pantries and more. The program is facilitated by 211, the vital service that connects millions of people to resources and assistance in the U.S. and Canada every year.
Since launching their "last mile" partnership in April, DoorDash, United Way and 211 have already delivered more than 15,000 food boxes to people in need. The "last mile" represents the last hurdle in getting food to people who are stuck at home during COVID-19, whether that's because of health considerations or lack of public transit. In collaboration with local agencies, food banks and grocery partners, local United Ways and 211s are identifying available food for people who can't travel, and arranging for deliveries powered by DoorDash.
To address the increasing needs, DoorDash has accelerated the development of its local logistics infrastructure to support the scale required to power the delivery of food and essential supplies to those in need.
"DoorDash's mission is grounded in building technology to solve real problems and empower local communities," said Tony Xu, DoorDash's CEO/Co-Founder. "In the face of COVID-19, a tremendous need has emerged for last-mile deliveries of food and supplies, particularly for seniors, the immuno-compromised, low-income students, and families that are at risk. We're proud to partner with United Way to accelerate our shared efforts to serve our communities during this critical time."
Touchless Menu Tech
TOURtech unveiled its Touchless Menu technology, which broadcasts digital menus onto guests' personal smart devices. This system eliminates the need for disposable and reusable menus, supporting social distancing guidelines and helping reduce multi-touch items that can spread COVID-19 and other germs.
"We all want to reopen bars and restaurants, but in the safest possible way," said Allen Cook, founder and CEO of TOURtech. "Our technology provides safe ordering for customers and staff so restaurant owners can focus on what they do best—giving people a great dining experience."
Touchless Menu technology is user-friendly for both businesses and customers. The Touchless Menu system is integrated into one complete unit. Businesses simply plug the provided box into a power source and customize their menus with drag-and-drop tools, and the system is ready to use. Menus or other important messages appear on customers' smart devices when they connect to the restaurant's personalized menu WiFi signal, broadcast by the Touchless Menu system.
MyMenusOnline
The Interactive Firm, a premier provider of full-service social media marketing and guest reputation management services today, announced the launch of MyMenusOnline, its new touchless digital restaurant menu system.
With MyMenusOnline restaurant guests simply scan a tableside QR code or NFC tag to view the restaurant's menu on their own mobile device. The system is meant to replace traditional printed menus and eliminates concerns in potentially passing germs between in-house dining guests handling the same menus.
"The new normal has us all concerned with the cleanliness of everything we interact with and touch, especially when it comes to restaurant dining," said DJ Vallauri Founder and CEO of The Interactive Firm. "Our research indicates that consumers prefer the ability to view restaurant menus on their own mobile devices over the handling of physical menus which may not have been properly sanitized between dinners," added Vallauri.
MyMenusOnline is managed and updated by the restaurant via any mobile device, tablet or desktop PC. All changes are pushed out to consumers in real-time, ensuring "daily specials" are always up to date.
MyMenusOnline is 100 percent web-based and mobile optimized and there is no need for any app download. Guests scan a unique QR code or NFC tag and 'automagically' the restaurant menus appear on their devices. Guests can also save restaurant menus to their mobile device home screens for future access.
Contact Tracing Registry
Patronscan developed a contact tracing guest registry that can help the hospitality, sports and entertainment industry transition from an era of stay-at-home orders to open for business.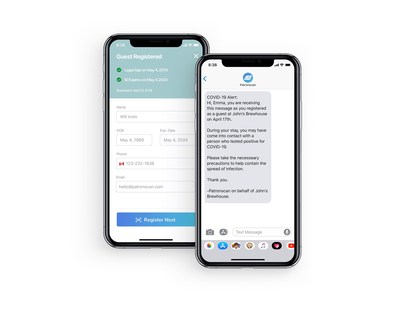 "To restore economic growth and jobs, public healthcare experts are wrestling with how best to transition bars and restaurants from take-out to dine-in and how to reintroduce the public to gathering safely in public spaces as stay-at-home orders are relaxed," said Alberio Bathory-Frota, CEO of Patronscan, a worldwide I.D. scanning firm. "To assure customers that a place of business has social distancing protocols in place and that they will be notified of any potential health risk, Patronscan has developed an electronic guest registry that measures occupancy levels and makes contact tracing faster and safer. Guest registries are a powerful tool for businesses seeking to rebuild their customer base and to get workers back on payroll."
Underscoring the challenge of getting people back to work, Bathory-Frota said, "Government agencies throughout the world are releasing COVID-19 guidelines so that restaurants, bars, movie theaters, sporting events and other public venues can open safely. Their challenge is how to restore economic activity and jobs without exposing customers and employees to potential health risks. An increasing number of public healthcare experts believe contact tracing and guest registries are part of the solution."
Patronscan can work with healthcare agencies and various business industries to customize software features to meet or exceed established social distancing protocols and to comply with privacy laws. The user-friendly technology allows businesses to quickly process, authenticate and store customer information in compliance with local privacy laws. The registry ensures that data is accurate, secured off-site, protected and then permanently deleted between 3-4 weeks, or as determined by government guidelines. The software uses iOS, Android devices, or Patronscan's I.D. scanner kiosks to scan/swipe government issued I.D.s. This is a safer alternative to registering guests on a notepad. Data is not shared with third parties or stored with government agencies. It is not designed to deny patrons entrance to an establishment, nor is it an app that tracks a patron's internet activities. The registry will be offered free to non-profit organizations and Patronscan's existing customers.
Bring Your Own Menu
Uptown Network released its Bring Your Own Menu™ (BYOM) solution (which requires no app download, respecting guests' screen real estate). In related announcements, BrandMuscle launched its SpotMenus digital menu platform, and GoZone Wifi launched its Touchless Menu for contactless ordering experiences.
Uptown Network has released a new mobile app designed to help restaurants succeed as they re-open in a world yearning to reconnect over a meal out but redefined by new safety requirements. With the Bring Your Own Menu™ (BYOM) solution, available immediately at $99 per month, any restaurant can easily and inexpensively replace their reusable or disposable paper menus with fully digital, interactive menus that run on guests' smartphones. A trial period is also available.
QR Code Restaurant Menu In Minutes
Upon entering the restaurant, guests simply point their iPhone or Android camera at a custom QR Code to access the BYOM menu. There's no need to download an app. Hand-to-hand interaction between staff and guests is thus eliminated, significantly reducing the risk of virus transmission for guests and staff alike.
Live QR Code For Restaurant Menu
If viewing on mobile, click here to see the menu.
Restaurant operators and owners can easily deploy BYOM in less than an hour, without the need of an expert, and update their menus daily in just 15 minutes. With a click of a button, menu prices can be changed or new items added or deleted in seconds, without interrupting service. Menu updates-such as 86'ed items-are reflected in 30 seconds or less.
The menus can also run on sanitized iPad tablets provided at table, should the restaurant choose this method. Guests can use the tablet just like they would a paper menu (without the need for reading glasses or penlights) or choose to use it interactively.
"Through the ages, restaurants have played an irreplaceable role in our lives and our communities" said Jack Serfass, CEO and founder of Uptown Network and a former restaurant owner. "We salute restaurants for their heroics in keeping service available during the COVID-19 crisis, often at great personal cost. By fast-tracking BYOM to market and dramatically reducing its price, we aspire to help as many restaurants as possible as they re-open their doors to guests."
The BYOM solution is based on existing iPad and iOS technology, the result of five-plus years of R&D and collaboration with hospitality industry leaders. By taking advantage of a common code base that powers its enterprise-level product, as well as cloud and messaging technologies, Uptown Network was able to quickly pivot to develop BYOM for use on any smartphone and by virtually any restaurant.
Uptown Network's pricing before the pandemic ranged from $499-$799 per month per restaurant. To help restaurants participate in the post-pandemic economic recovery, Uptown Network is reducing the price to $99 a month per restaurant, projected to be a net plus for cash flow as it is less than the normal cost of printing menus.
"As we reopen the restaurant I'm excited to partner with Uptown to bring our guests a safer experience," said George Miliotes, Master Sommelier and Proprietor of Wine Bar George in Orlando, Florida. "Using your own device to view the menu eliminates a touchpoint and is one of the many ways we are addressing safety for both our team members and guests."
Temp Measuring Tech
Pyramid Computer GmbH debuted a polytouch® 32 curve – access control kiosk which automatically measures human body temperature as part of authorizing personnel and visitor access to buildings and public areas.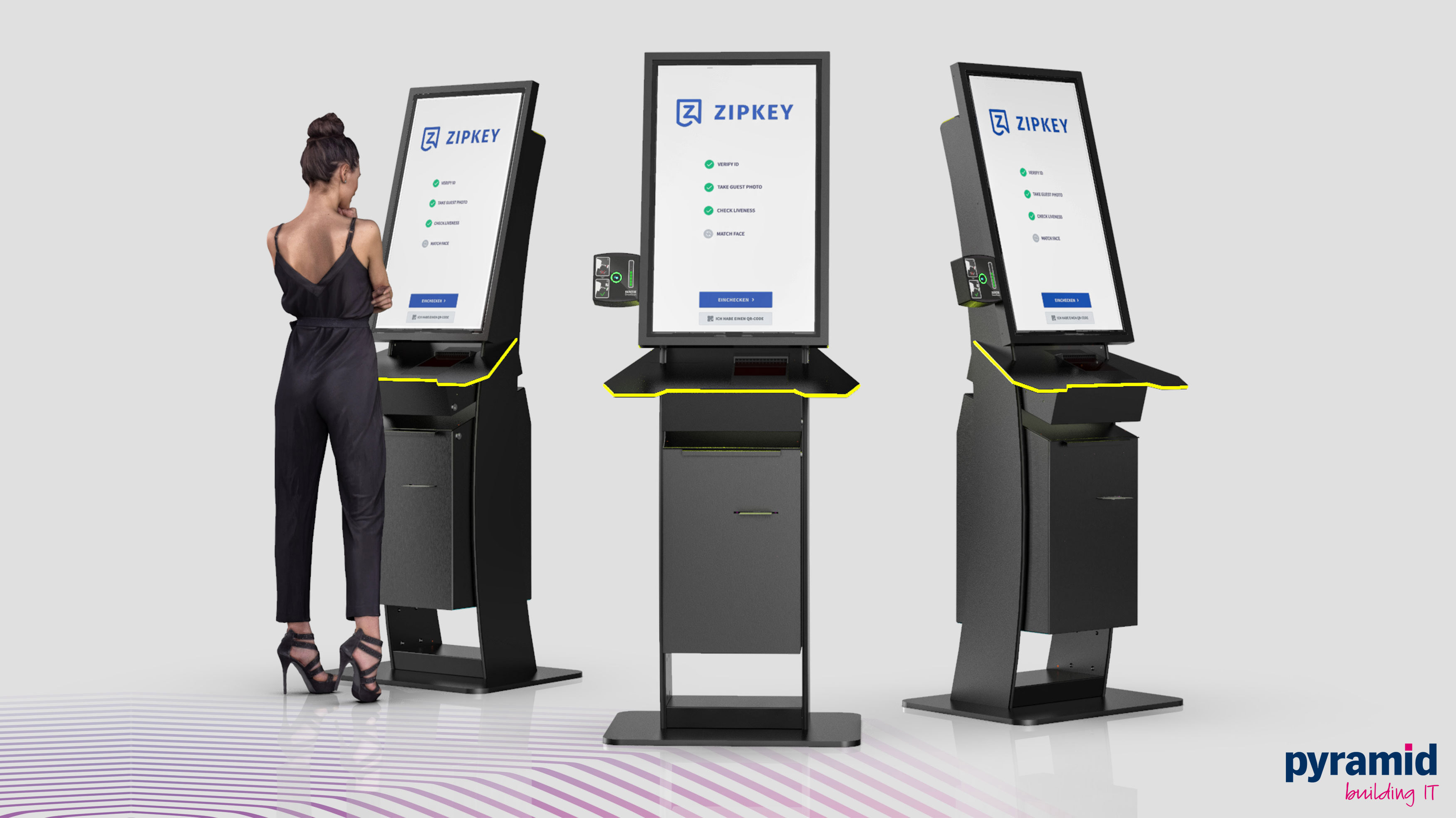 By streamlining the flow of people through the kiosk, quick but very accurate contactless checks can determine if an individual is running a fever and therefore potentially has the coronavirus (SARS-CoV-2) or possibly another virus or bacterial disease such as influenza.
Temperature checks are becoming the new norm and part of the access process to many places including QSR restaurants and other restaurant facilities, as well as shops, conference, leisure and sports venues. Using intelligent sensor technology – with over 1.000 measuring points – and tracking the distance of the subject to the sensor results in a reliable statement of body temperature. This is performed in less than a second enabling fast processing of up to 700 people per hour. Single or multiple kiosks are easily and safely deployed in and around buildings and can be connected to automatic doors, turnstiles, locks or barriers for access control after successful testing.
Line Management Signage
Philips Professional Display Solutions released a series of customer line management and people counting signage solutions. As social distancing becomes an increasingly important way of life for people and businesses during the current climate, the need for tools to easily and efficiently monitor and manage foot traffic in public settings like grocery stores, retail stores and convenience stores, has become paramount to ensuring the safety of both customers and staff.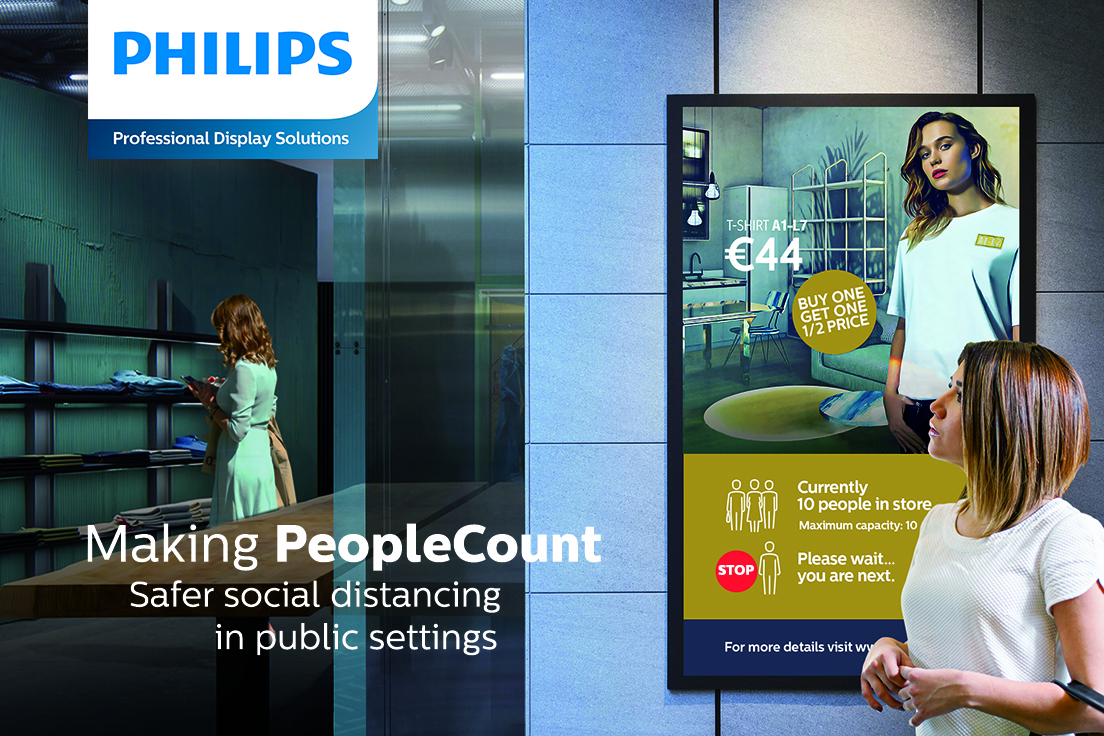 With health officials recommending social distancing of at least 6 feet, businesses – particularly those with high foot traffic – are being urged to implement strict measures around capacity and crowding to help reduce the spread of the coronavirus.
The solution is currently being tested among Philips Professional Display Solutions' customers across Europe. Kersten Retail Techniek, one of the Benelux region's largest retail installers that supports some of the world's leading brands, such as H&M and Footlocker, is in the process of introducing the solution across stores. Conversations with a number of other leading organizations are also taking place in the UK and Europe.
"Philips Professional Display Solutions has responded immediately to these new retail challenges bringing a complete solution to market that simply didn't exist before," said Ronald Kuypers, Kersten Retail CEO. "Even during this lockdown, people still need to visit stores, so it's crucial we ensure they feel safe and comfortable in doing so."
"North America and the rest of the world are in the midst of unprecedented circumstances. COVID-19 has caused us to think twice about engaging in 'normal' activities like going into work or going to the grocery store so we can protect the population's health and reduce the burden on our frontline workers," said Joseph King, Senior Director of Philips Professional Display Solutions, North America. "As we navigate this 'new normal' of social distancing and decreased personnel and customers in stores, the collaboration between digital signage and technology has never been more important."
The new displays, which can be used across industries such as retail, corporate, hospitality, education and healthcare, provide benefits for both the current climate and the future. They can be programmed to provide customers and staff with clear information around store capacity, alerting customers to whether it's safe to enter the store by installing cameras at building entrances. These cameras will feed information on expected wait times, as well as engaging, promotional messaging onto the displays.
L-Guard System
Lancer Worldwide launched an accessory line, The L-Guard System™, developed to ensure hygienic protection throughout the beverage dispensing experience; the first product in the series is a Valve Guard designed to protect the valve, lever, and dispensed beverages from contamination throughout frequent daily use.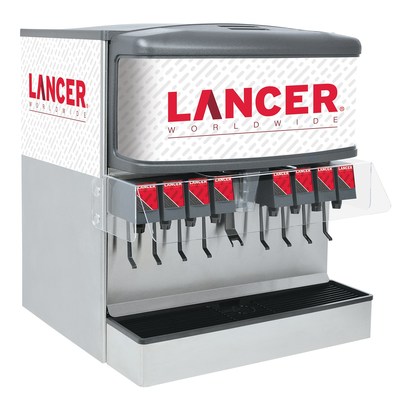 This accessory line ensures hygienic protection throughout the beverage dispensing experience.
"With the launch of the L-Guard System, Lancer Worldwide is positioned to provide our customers with a confident and safe beverage dispensing solution," said EJ Morrow, Global President. "Lancer Worldwide is known for innovation and the L-Guard System's Valve Guard is the answer the market is demanding for beverage dispensing."
The new Valve Guard retrofits easily with existing Lancer Worldwide machines. It is a quick and simple install and requires no tools to set up. The guard comes with a heat bent plastic sheet and rests on a table. The guard slips around the outside of the dispenser housing and attaches to a foam adhesive backed tab. The Valve Guard can be removed easily for cleaning and meets NSF standard.
The Valve Guard is expected to start shipping on June 1, 2020
Just Salad Teams with Kenneth Cole
Just Salad is collaborating with Kenneth Cole, to design, create and provide face masks to all Just Salad employees to keep them protected while working during the ongoing pandemic. The face masks will be given to thousands of employees in 45 locations in the greater New York City area, Chicago, Philadelphia, North Carolina and Florida.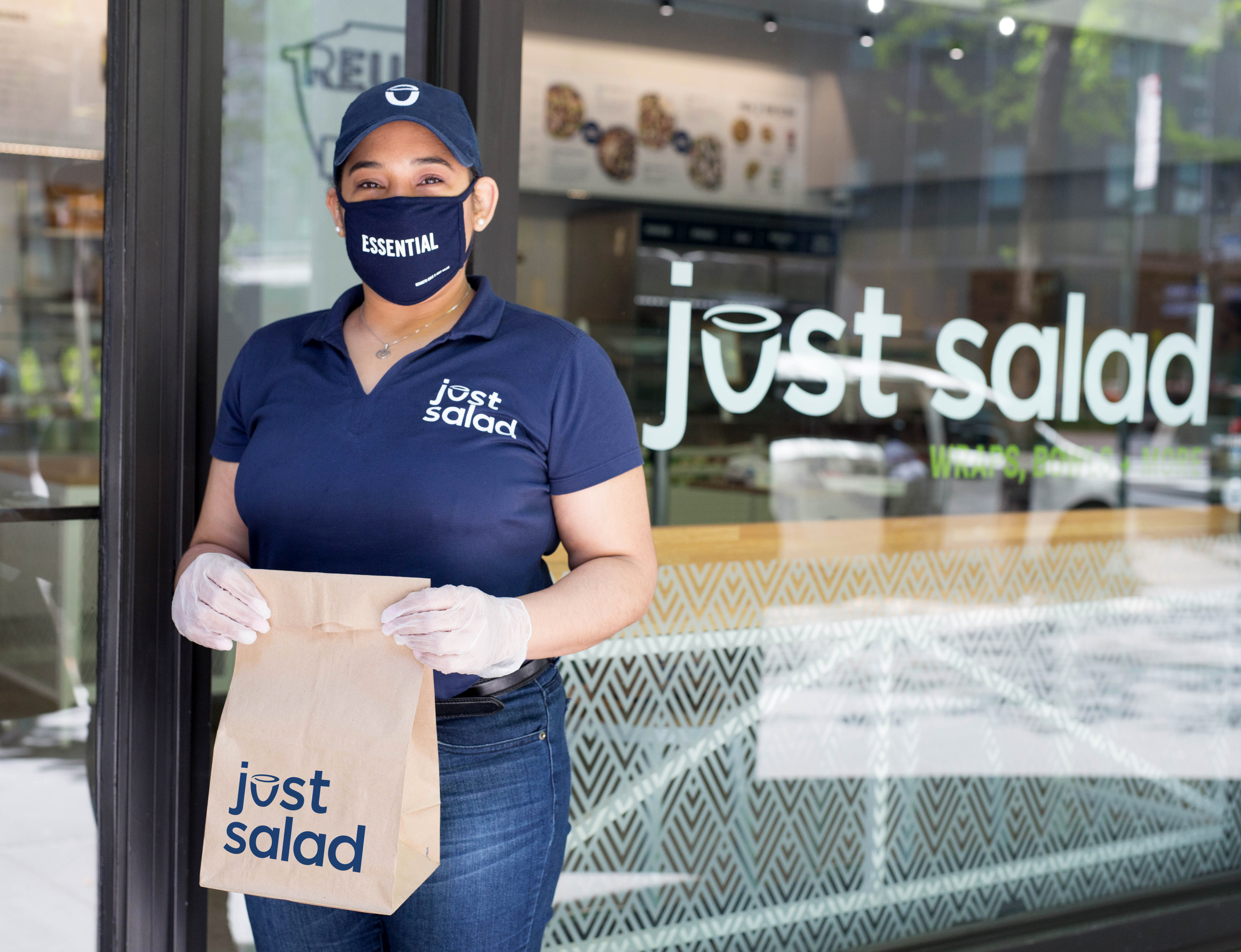 The partnership came to fruition after executives at Kenneth Cole noticed the tremendous work Just Salad was doing and continues to do to support families and frontline workers in New York City during the COVID-19 crisis. The masks, which will come in Just Salad's signature shade of Navy blue are being produced in Los Angeles and will have "ESSENTIAL" printed across the front with Kenneth Cole x Just Salad printed on the bottom right corner. These reusable masks also perfectly align with Just Salad's ongoing commitment to reusability, waste reduction and belief that planetary and human health are complementary imperatives.
"We always seek to partner with like-minded brands to make a positive impact in our community," said Nick Kenner, Founder and CEO at Just Salad. "We felt the work Kenneth Cole Productions has done to highlight frontline workers via The New Courageous Class initiatives perfectly aligns with our ongoing mission during this unprecedented time. The safety of our staff and guests has always been, and remains top priority, and we thank Kenneth and his team for enabling us to provide these masks. "
"When we saw the work Just Salad was doing in support of the first responders during these unprecedented times, we reached out in the hope to feature these employees in our New Courageous Class campaign," said Kenneth Cole, Founder & CEO Kenneth Cole Productions. "We are proud to design this important accessory that these individuals will wear proudly and hope that this is the first of many programs we can do together to shine a light on the everyday heroes in our community."
Pivot Shield
As restaurants, bars, diners and coffee shops prepare to reopen under new social distancing guidelines, the Pivot Shield is a solution for protecting guests and staff, while demonstrating commitment to safety. The Pivot Shield is portable, durable, and easy to set-up. It can be used between dining tables, retail sections, waiting areas, and kitchen stations. They can also be used atop a bar, host/ess stands, or wherever additional protection is desired.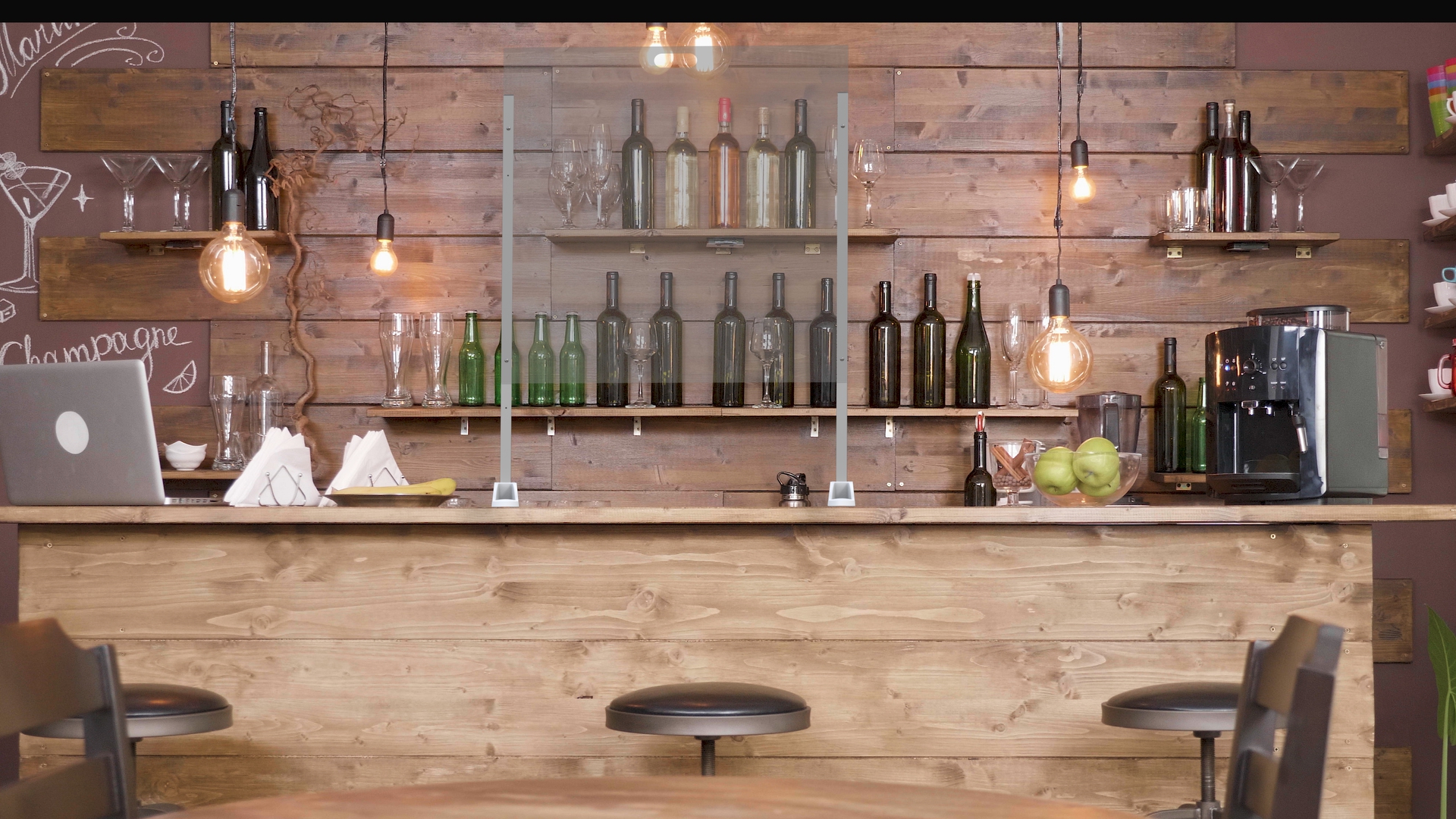 Available in two sizes with a 6" tabletop clearance, these transparent safety shields are available in two sizes starting under $125 each. Created by US-based manufacturer, Pivot International, these Made-In-America workplace protective guards are manufactured in an FDA Approved facility.
Sensor Faucet
T&S Brass and Bronze Works released a new sensor faucet designed to make retrofitting easy. The new EC-3107, an addition to T&S' comprehensive ChekPoint sensor faucet line, can replace deck-mounted manual two-hole faucets with efficient, hygienic hands-free faucets without the need to alter existing hole configurations.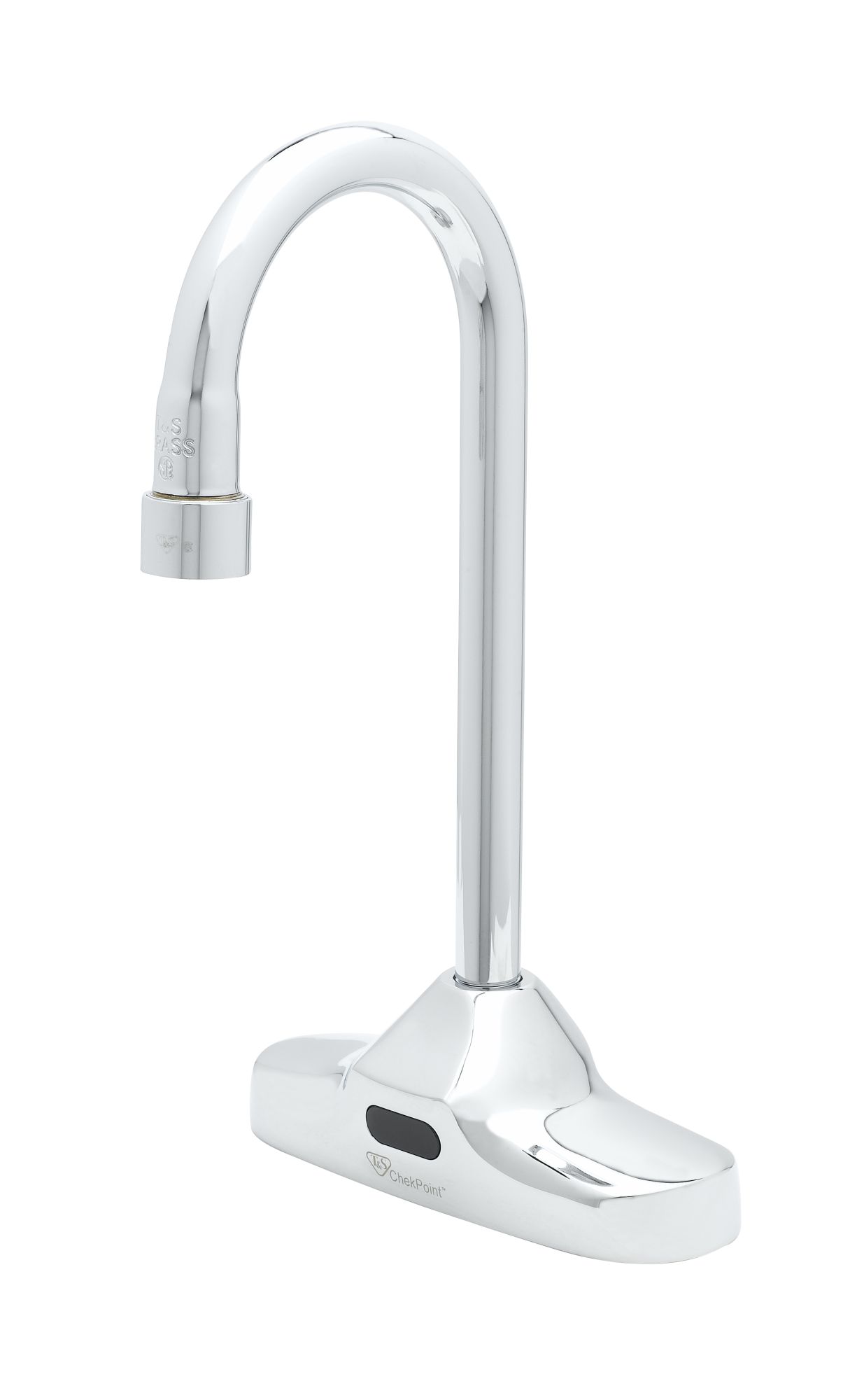 The EC-3107 has a gooseneck nozzle and below-deck electronics. In addition to decreasing the spread of germs through contact with contaminated surfaces, T&S ChekPoint™ sensor faucets can also contribute significantly to water and energy savings, reducing water use by up to one gallon per handwashing by running water only when needed.
Protective Face Shields for Service Industries
ZVerse is introducing a new generation of protective face shields for workers in service industries, including restaurants, retailers, salons, grocery stores, food plants and the elective medical sector. The futuristic shields serve as a deterrent to COVID-19 and a more functional alternative to cloth face masks.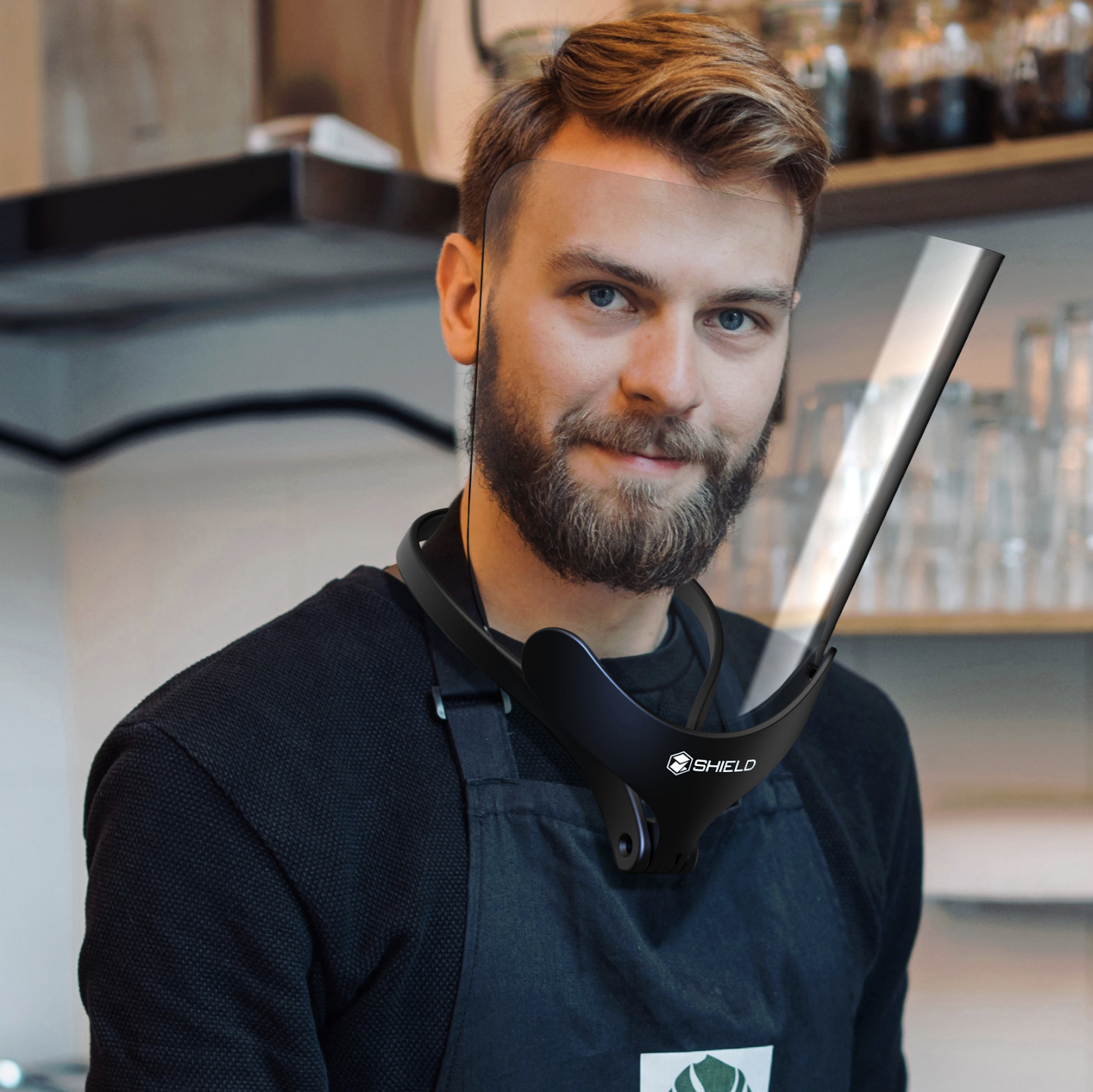 Made in the U.S. with a patent pending, the protective shield called ZShield Flex utilizes an adjustable neck-mount instead of mounting to the head. In a study conducted by the University of Iowa and published in the Journal of the American Medical Association, face shields may replace masks as a more comfortable and effective deterrent to COVID-19. The study showed face shields reduce immediate viral exposure by 96% when worn by an individual within 18 inches of a cough. When the study was repeated at 6 feet apart, face shields reduced inhaled virus by 92 percent.
"The demand for facial protection is rapidly rising as we move toward reopening the country," ZVerse CEO John Carrington said. "In addition to shielding front-line critical care workers, we are facing a tsunami of requests coming from dentists, restaurant owners, food plant workers and hair stylists, among others. Our new shields are designed to not only protect users but also make people feel comfortable as they begin to venture out of their homes. Restaurants and public gathering places are not meant to feel like hospitals. This new shield offers a solution that allows workers to breathe easily and clearly communicate while protecting themselves and customers."
QSR Automations Support Team Wins Bronze Stevie
QSR Automations' support department was named the winner of a Bronze Stevie, Support Department of the Year, in the 2020 American Business Awards. Contributing to this recognition was the support department's 98 percent excellence rating from customer surveys in four points: courteousness, promptness, level of knowledge, and helpfulness. In 2019, the support department handled 22,165 total tickets over the year with a staff of 15 people across two teams.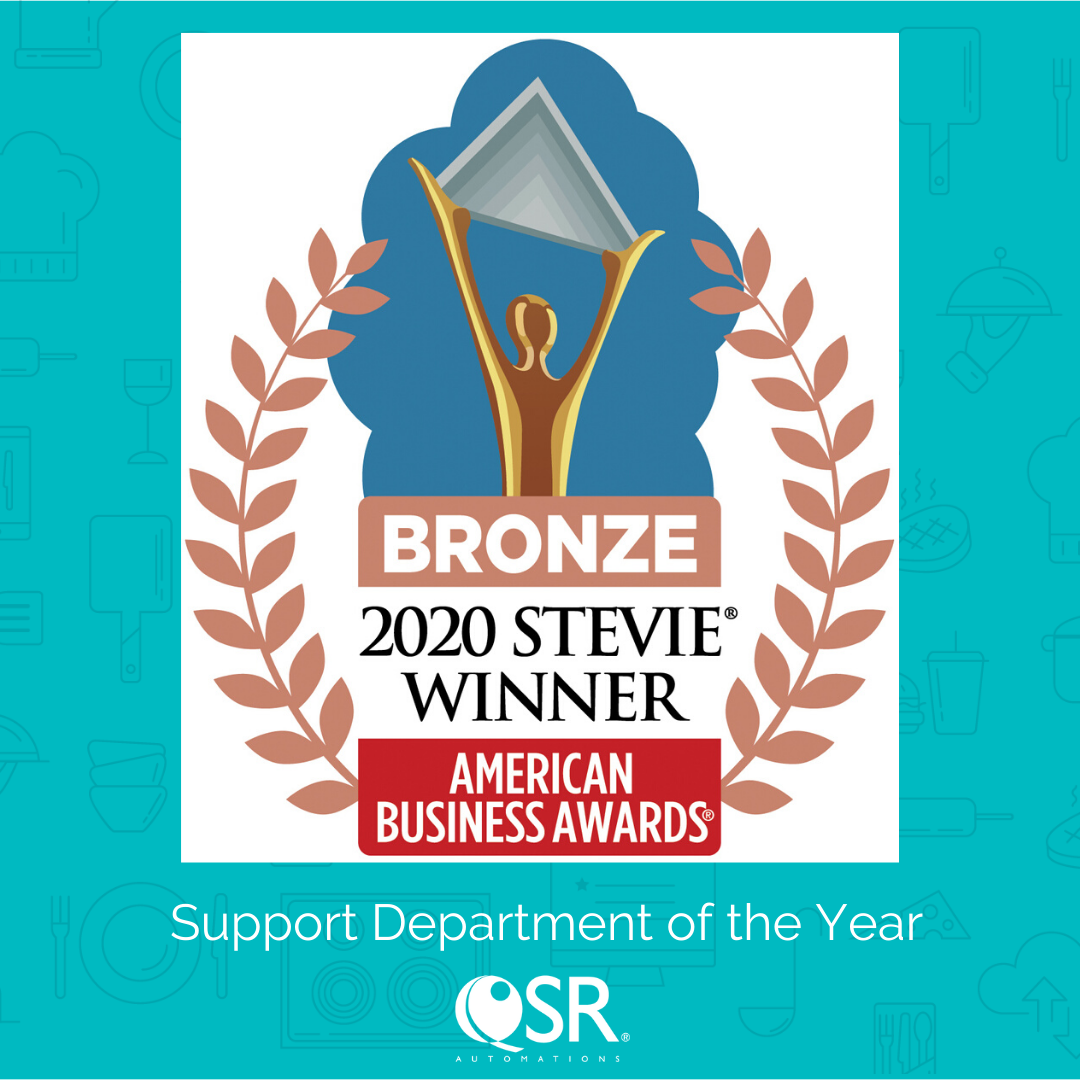 The American Business Awards, now in its 18th year, are recognized as the premier business awards program in the country. Organizations of any size, whether non-profit or for profit are encouraged to submit nominations for entry. Out of 3,600 nominations, 35 percent were honored as Stevie winners. Entries are judged by over 230 professionals over a three month range in March through May. In the judging system, all entries that receive an average score of 7.25 of 10 during judging become winners of the Stevie Award.
"We are so thrilled to be chosen for this award. We've built an outstanding team of dedicated analysts who demonstrate daily their enthusiasm for providing excellent support to our customers. Their inspiration, knowledge and care is remarkable. We are so proud of their accomplishments and are honored to have them recognized," says Kathi Klein, QSR Automations' Director of Support Services.
Vaughn Added to xtraCHEF
xtraCHEF added Michael Vaughan as an advisor as they continue to expand their software offerings.
"Michael is a ntech visionary and offers invaluable experience in helping to shape our product roadmap," said Andy Schwartz, Co-Founder and CEO of xtraCHEF. "We're thrilled to have him join us as we continue to create innovative solutions for the restaurant industry."
As COO at Venmo, Vaughan helped lead the business over eight years to more than 40 million active users, a $300 million annual revenue run rate, and $100 billion in payments in 2019. Currently, as Executive in Residence (EIR) at Oak HC/FT, he develops, advises, and invests in new ntech businesses. He also serves as an independent board member and active advisor to various other enterprise and consumer tech companies.
"Digital payments for the restaurant supply chain are long overdue and the coronavirus pandemic has made that more apparent than ever. Restaurants and their suppliers simply need a better way to pay and get paid, and xtraCHEF is in a great position to solve this problem as they continue expanding the software and services they provide to the industry," said Vaughan. "I'm looking forward to working with Andy and the xtraCHEF team as they navigate this next chapter of their business and change the game for restaurant operators and their suppliers everywhere."
Alongside Schwartz, Vaughan will work with xtraCHEF's Co-Founder and CTO, Bhavik Patel, to inform various product initiatives in 2020.
Real California Pizza Contest
The California Milk Advisory Board (CMAB) relaunched the 2020 Real California Pizza Contest following a brief hiatus due to the COVID-19 situation. This is the CMAB's second annual search for the best pizza recipes using Real California Cheese. The contest, which will award prizes totaling $30,000 for the most innovative uses of cow's milk cheeses from California, is open to professional chefs and culinary students throughout the U.S.
"Pizza has been a bright spot during this uncertain time as families shelter in place and foodservice operators struggle to adapt to a changing business landscape. We are pleased to re-launch the Real California Pizza Contest to recognize our culinary heroes who are continuing to feed us during this crisis and allow them to express their creativity with one of the world's most popular foods," said Mike Gallagher, Business and Market Development Consultant for the CMAB.
"The COVID-19 situation has affected everyone in the food business – from pizza and restaurant operators to cheese and dairy processors and dairy farm families," he continued. "We hope bringing the contest back will help raise awareness of our state's delicious cheese and dairy products while celebrating the innovation of chefs and pizzaiolos across the US and Mexico. We also hope the prize money will help winning chefs recover a bit financially."
Through July 17, participants can enter recipes in three categories: Cal-Mex, the REAL California and Plant-Forward. Cal-Mex refers to recipes fusing flavors from California and Mexican cuisines, featuring Hispanic-style cheeses. The REAL California will incorporate ideas inspired by the Golden State that showcase California cheese and toppings. Plant-Forward pizza recipes will emphasize the delicious flavor combinations of fruits, veggies and Real California Cheese.
Chefs wishing to submit a recipe can review the requirements and complete the entry at http://realcaliforniamilk.com/foodservice. In addition to the recipe, contestants are asked to submit a short essay or video describing their personal and professional inspiration to create each pizza entry. Entry submissions close on July 17, 2020.
Twelve finalists will be selected by a professional panel of judges to compete in a bake-off on September 23 and 24 at the Culinary Institute of America at Copia in Napa, Calif. All finalists will win a cash prize. Finalists who are not category winners will receive $500 each. The winners in each category will be awarded $5,000 each, and the best overall pizza recipe creator will receive an additional $10,000 grand prize award. A fan favorite award of $500 will be announced during the entry period.
Interested chefs and culinary students can choose from more than 250 varieties and styles of cheeses that carry the Real California Milk seal, which means they are made with milk from California's more than 1,200 family dairy farms.
Mixstir Debuts
AyrKing launched Mixstir, a purposefully designed mixer for batters, seasoned oils and other menu items that require frequent, slow stirring.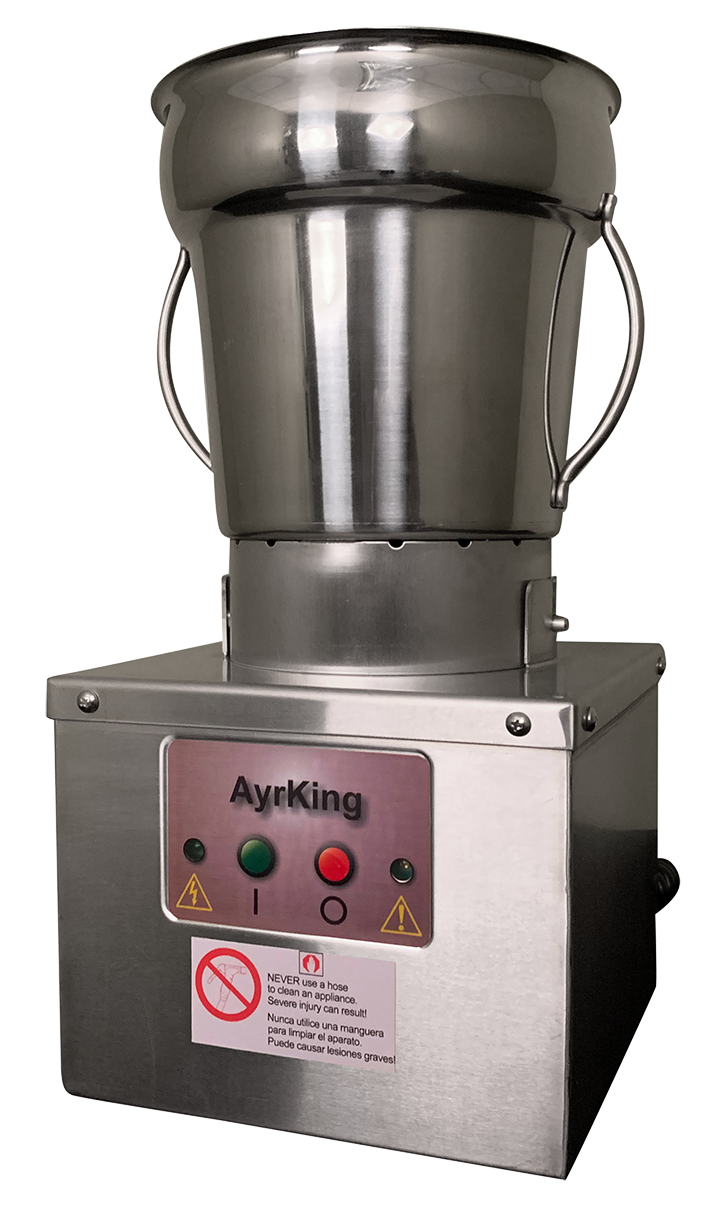 With Mixstir, operators can significantly reduce the amount of labor required to keep products properly stirred, while also improving the consistency of the mixture.
"Mixstir fills a void in the industry by providing a more durable and reliable mixing option for batters, oils and sauces," said Jim Bell, CFSP, president of AyrKing. "We understand the challenges of preparing these menu items and have applied our industry knowledge and insight from our chain customers to develop this unique equipment solution."
. With a slower speed of rotation compared to standard blenders, there is no unwanted aeration added, which impacts the flavor profile and quality of batters, sauces and oils.