Seven Tips on How to Use Facebook Ads for Restaurants to Get More Customers
5 Min Read By Ian Loew
Everybody needs to eat, so the sale of food will never go out of fashion. Still, because there are many competing businesses in the dining sector, it's becoming increasingly difficult to stand out from the crowd.
Using Facebook Ads can help you get the edge over the competition. Seventy-two percent of people choose a restaurant based on comments and images shared by others on Facebook, according to a study by Social Media Monthly. Those stats demonstrate the power and influence of social media.
This article will explore seven tips on using Facebook Ads to increase your market share of customers. It's time to grab a bigger slice of the metaphorical cake of the restaurant marketing world!
1. Optimize the Landing Page Experience
You can't just have a well-optimized company website that follows the latest web development trends anymore. If you're going to use Facebook Ads to their potential, you need to have an effective landing page to convert visitors into leads.
Facebook has its advice on landing page best practices, but you need to consider several factors. If you're active on Facebook, you probably want to funnel people back to your site. The landing page is the first page people will encounter.
You can have a general landing page, for example, your homepage. You might also decide to create a custom landing page for visitors from social media. That last one makes sense if you're investing in Facebook ads.
For example, check out how Pizza Express has enticed customers to dine with them with its free dough balls advert. The use of capital letters (with the word FREE) and bright colors make this ad appealing.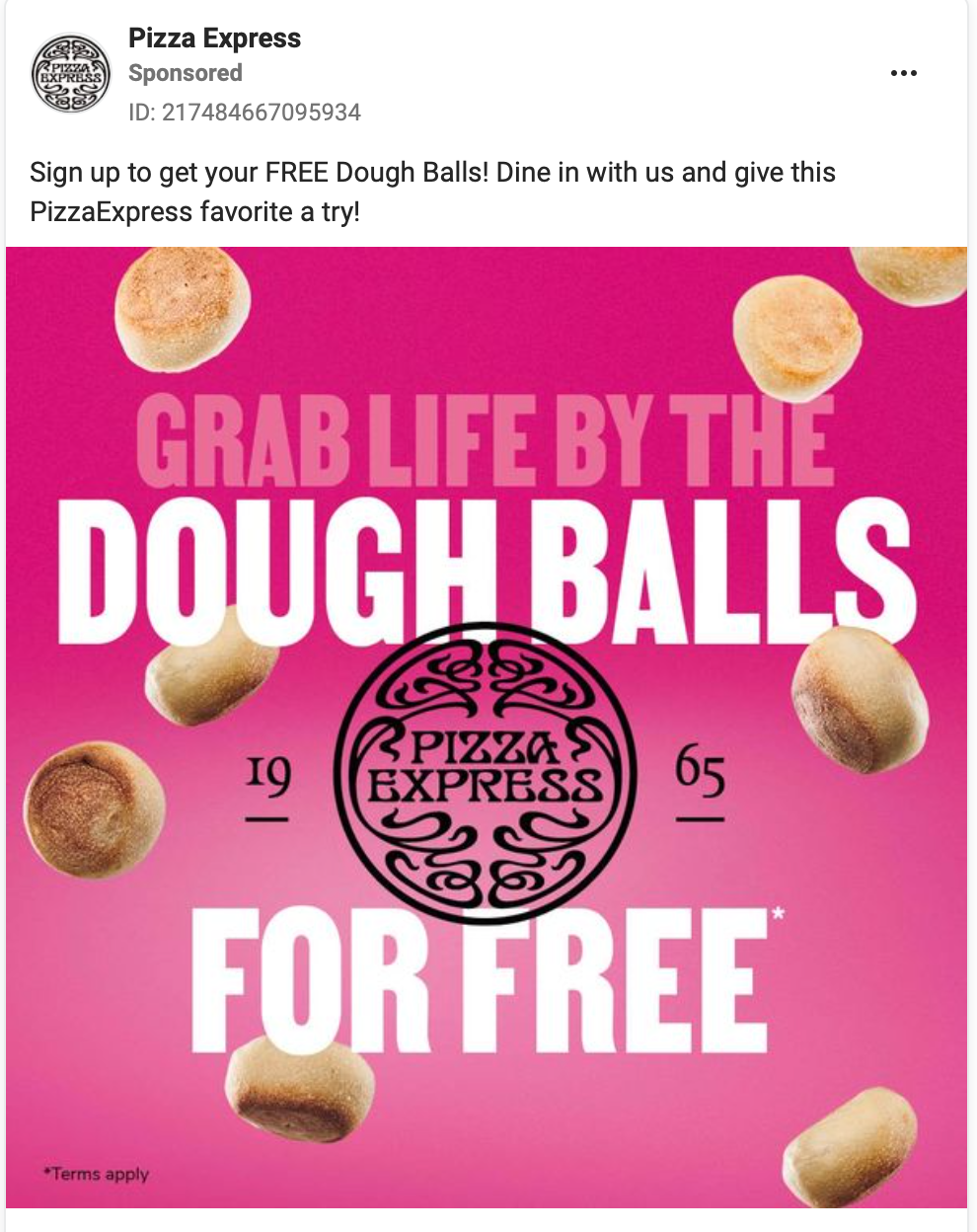 Once potential customers get to the landing page, they are encouraged to sign up to redeem the deal. Pizza Express then automatically gets the customer's details on file. That way, they will be able to send them additional marketing material at other opportunities.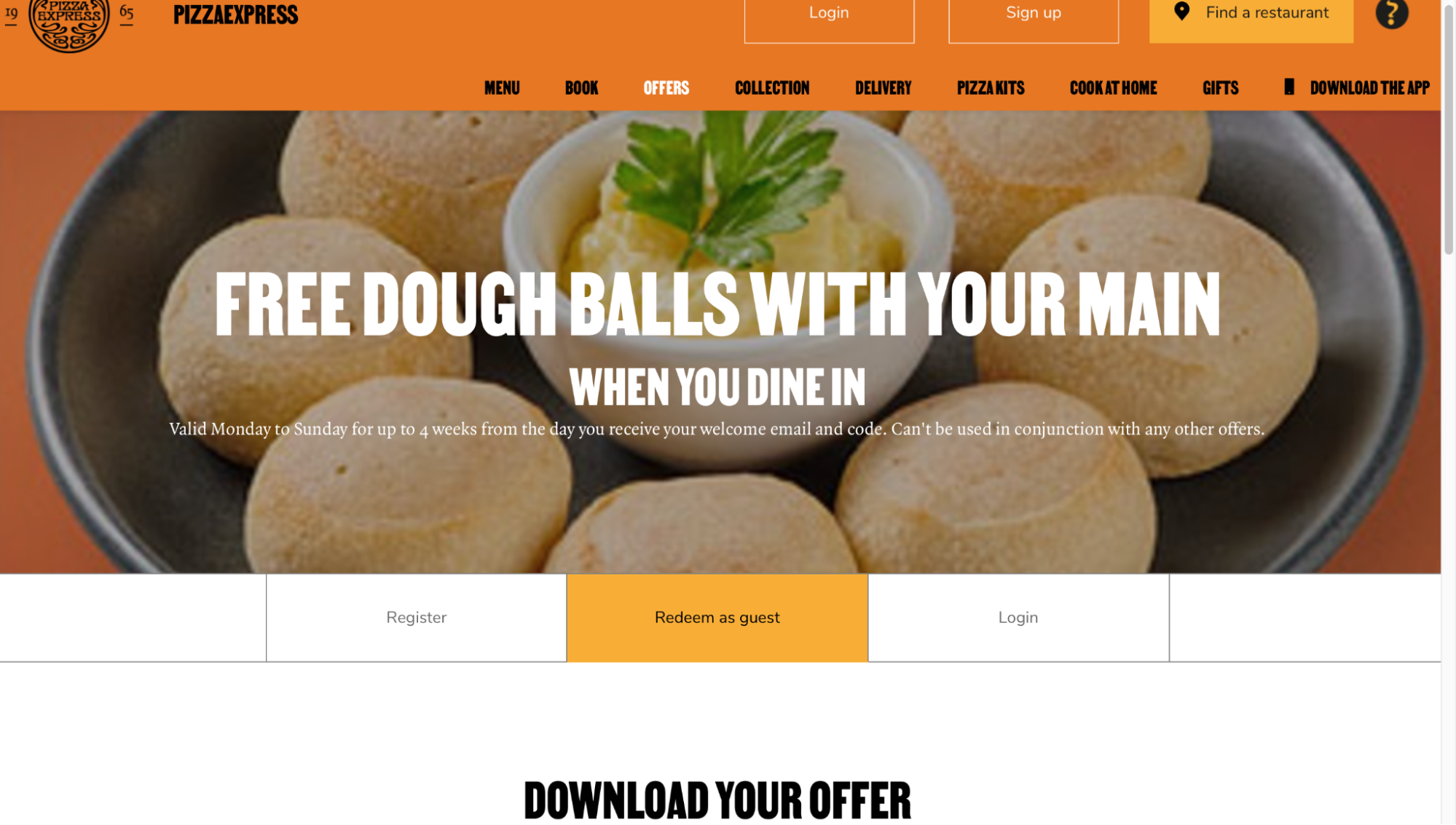 These elements are vital to the success of your Facebook ads landing page. Before deciding on the design you want, consider all angles. Remember, your ultimate goal is to increase your conversion rate and get those customers into your restaurant. So, be creative with what your landing page can offer to the customer.
2. Make Use of Location-Based Targeting
Fancy visuals and witty copy are all well and good. They, however, won't achieve anything if they're targeting customers outside of your general location. Restaurants require patrons to physically go into the premises. That means you have to target people living in or visiting the area close to your business.
Fortunately, Facebook makes this a simple procedure. You can configure location targeting by entering your restaurant's zip code into Facebook's Ad Manager platform.
Include a few other zip codes within the area. That way, you spread your net wide to catch as many customers as possible. Such a tactic helps you target potential customers who may be willing to travel to your establishment, even if they're not too close by.
Check out Brett McHale's Wordstream blog on how to advertise local businesses on Facebook. There are handy tips on targeting parameters, demographic targeting, and even budget optimization for your campaign.
Don't sell yourself short on this. Give your restaurant the best possible chance of attracting new customers.
3. Attract New Customers by Hosting Interesting Free Activities
Freebies are always a great way of enticing people through your doors. Why not combine the power of Facebook Ads with a free event? That way, you generate some extra publicity for your establishment.
Consider building an event around a particular theme, such as Christmas, Independence Day, or Halloween. For example, the restaurant and bar Escape to Freight Island' based in Manchester, UK, started promoting a kids Halloween event as early as August. Their goal was to build anticipation and a buzz around the event.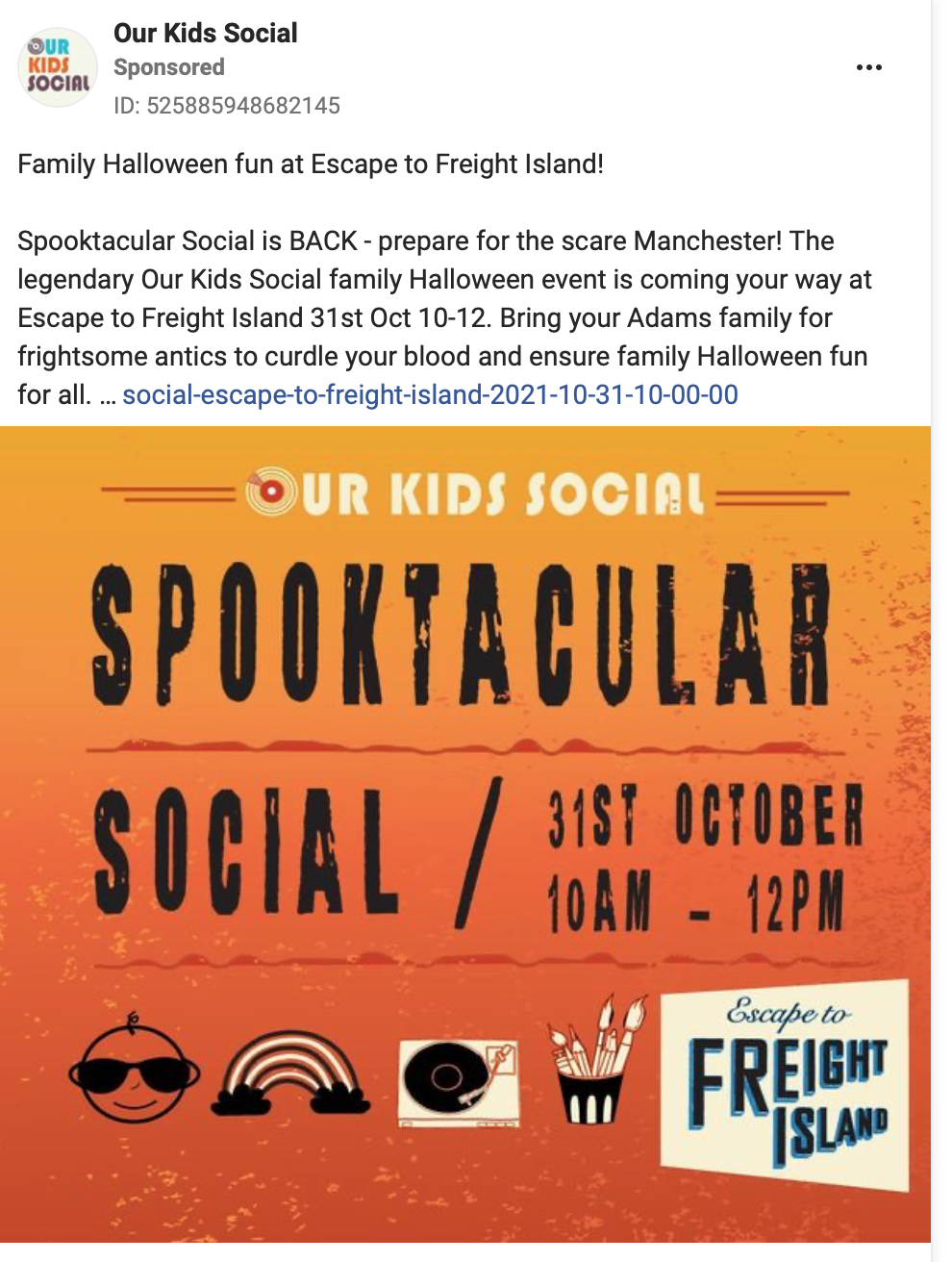 The event was designed to get the whole family involved. Parents who end up having a great time will be more likely to return to spend more as customers on future occasions.
The ad is visually engaging. Escape to Freight Island used appropriate colors and shared essential information attendees would need to know. Make sure to implement these best practices when creating ads. Capitalize on the time of year and theme your events appropriately to pull in the profits!
4. Prepare for Seasonal Upturns
Staying on the theme of seasonal events, it's essential to capitalize on the time of year in the restaurant trade (even moving your premises at certain times of the year, such as in the summertime, can make a big difference to the growth of your business).
Whether you're hosting a Super Bowl party or a Mardi Gras-themed day, keeping on trend is key to staying relevant and getting people talking about your restaurant.
A lot depends on the theme of your restaurant, too. If you sell a lot of Chinese food, Chinese New Year is the best time to capitalize! Likewise, if you're an Irish-themed establishment, St. Patrick's Day is your time to shine.
Be clever with your timing of events promotion through Facebook Ads. Come up with ideas that align with the interests of your ideal customers. With this approach, you'll soon start to see a boost in foot traffic.
5. Use Ad Scheduling to Your Advantage
You can schedule your ads ahead of time, thanks to Facebook's scheduling tool. Use ad scheduling in conjunction with other restaurant promotion methods, such as mobile messaging.
You can tailor certain ads related to time-specific deals you might be offering, such as meat-free Mondays, half-price burger Wednesdays, or happy hour Fridays. Facebook's scheduler allows you to get this content out well before the day itself.
But when is the best time to schedule those ads?
Well, Buffer Blog found that engagement was 32 percent higher on weekends for Facebook posts in general, for a start. With more people at home, this data makes sense. Potential customers are usually browsing their phones rather than spending time at work during that time.
Buffer also found that engagement rates were typically 18% higher on Thursdays and Fridays than at the start of the week. So, think about scheduling your ads to go out in the lead-up to the weekend.
Furthermore, Buffer discovered that afternoon (between 1:00 pm and 3:00 pm) was the sweet spot for posting on a specific day. Use these stats to your advantage (and your data, too) when scheduling ads promoting your restaurant on Facebook.
6. Show Off Your Delighted Customers
Happy diners equal an instant connection with your online audience.
I know it's stating the obvious. But if you can post some photographs of your customers enjoying your food, that's a quick and easy way of advertising your brand. The saying 'a picture paints 1000 words' couldn't be more appropriate in this case.
Or, why not go one better and include video?
Showing first-hand the content of a happy and long-standing customer shows your customers you're a brand to be trusted and respected. Above all, you're a restaurant to be visited!
Written reviews are one thing, but there's no substitute for seeing a customer give your restaurant their certification in their own words. Promotions such as this aren't even challenging to do. A smartphone camera is all you need to take photos or videos. Create some enticing advertising copy and then let Facebook Ads take care of the rest.
7. Describe Your One-of-a-Kind Dining Experience
A USP is crucial to making a splash in the marketing world nowadays, especially in the restaurant sector.
If you don't stand out from your competitors, then why should customers flock to your establishment over any other? Maybe you have an award-winning chef on board or a quirky theme? Maybe you have a unique style of service that no one else offers? Whatever it is, make it distinctive.
Use Facebook Ads to promote your USP and attract paying guests. That will help spread the word about your business. It will help you in the long run.
Wrapping up
Marketing your business as a restaurant owner is no easy task. Facebook Ads, however, is a fantastic tool that you can (and should) use to assist you.
We hope these tips have been insightful for you and given you food for thought (no pun intended…). They're important when transitioning to the next stage of your restaurant business plan.