Safe Distancing Tech and a Farewell to Foam
2 Min Watch By MRM Staff
In this edition of MRM News Bites, read about efforts to help the restaurant industry and heroes as well as "new normal" restaurant technology and products.
PepsiCo New Initiatives Including Nacho Average Showdown
PepsiCo Foodservice has four new programs aimed at supporting restaurants and their workers who have been hard hit by the crisis.
"Restaurants are connective hubs of our communities, where we enjoy our daily routines as well as celebrate our most special moments. The people who work in restaurants are the ones who make those moments possible and we're mobilizing everyone we can to help them right now," said Scott Finlow, chief marketing officer, PepsiCo Global Foodservice. "Through these relief programs and virtual events, we're giving people multiple ways to come together in support of restaurants and restaurant workers nationwide."
To support the foodservice industry during this challenging time, PepsiCo is introducing the following initiatives:
The World Needs More Good News
To support struggling restaurant workers, PepsiCo committed $1 million to help kick start the Restaurant Employee Relief Fund (RERF) created by celebrity chef Guy Fieri and the National Restaurant Association Educational Foundation (NRAEF). The fund provides $500 grants to industry employees who've been impacted by COVID-19, including a significant decrease in wages or loss of employment.
On his digital show Some Good News, filmmaker and actor John Krasinski surprised Fieri when he shared PepsiCo's commitment to raise an additional $3 million for the RERF. One of the best parts of that surprise included a Pepsi logo drawn by Krasinski's daughters. Americans can join the mission by purchasing a Pepsi T-shirt or tote featuring this special artwork at Sevenly.org; 100 percent of proceeds will go to the RERF.
"Nacho Average Showdown" to Support RERF: May 15
Nacho-loving rivals Guy Fieri and Bill Murray are teaming up to present "Nacho Average Showdown," a live virtual nacho-making competition presented by Tostitos to raise awareness and donations to the RERF. The competition will be judged by basketball legend Shaquille O'Neal, actor Terry Crews and emceed by Food Network host Carla Hall.
Along with partners like Uber Eats, Tito's Handmade Vodka, Ecolab, Modelo Negra, Tyson Foods and Food Network, the event will provide some laughs and raise much needed funds for restaurant workers facing financial hardship. Food Network will broadcast the competition live on Friday, May 15 at 5 p.m. EST/2 p.m. PST at Facebook.com/FoodNetwork. Viewers will be encouraged to contribute to RERF via the donate button.
Staying In Is the New Going Out
PepsiCo is inviting consumers to bolster eateries with The Great American Takeout. By ordering at least one meal a week for delivery or pickup, people can help keep restaurants in business – and spread the word by sharing what they ordered using the hashtag #TheGreatAmericanTakeout.
On Friday, May 15 at 8 p.m. EST/5 p.m. PST, PepsiCo will host a virtual Dinner & A Movie in support of The Great American Takeout. The free event includes a screening of A Fine Line, an award-winning film that ignites dialogue on female leadership in the kitchen and beyond, exploring why less than 7 percent of head chefs and restaurant owners are women. The movie will be followed by a live discussion with featured chefs Cat Cora, Tanya Holland, Maricel Presilla and Val James, who'll share their personal experiences and how they're finding creative ways to help restaurant employees and stay in business. People can join PepsiCo and The Great American Takeout by registering for the debut of A Fine Line on YouTube Premiere here. The post-screening discussion will be available on CrowdCast.
With eight million Latinos normally employed in restaurants, hotels and other jobs at high risk of health and economic loss, PepsiCo also teamed up with UNIVISION to create a public service announcement (PSA) to further support The Great American Takeout. The PSA features Jesús Díaz, aka Chef Yisus, host of cooking segment on "Despierta América," the most-watched morning show on Spanish-language television.
Helping Customers Get Back to Business
PepsiCo Foodservice partners with customers in channels from restaurants and hotels, to hospitals and schools and beyond. As the foodservice industry and consumers figure out how to adjust to the new landscape, PepsiCo is launching a resource web page on PepsiCoPartners.com to help operators every step of the way whether it's reopening their doors, reimagining their businesses, or setting the stage for future growth.
To make a donation to the RERF, visit https://rerf.us/make-a-donation/. The PepsiCo Foundation will double match PepsiCo employee donations to the NRAEF through May 20, 2020. All other non-profit donations are eligible for a standard match.
Dining Bond Goes Global
The Dining Bond Initiative, a campaign that helps get funds to restaurants impacted by the coronavirus COVID-19, has gone global. Since its inception in mid-March, more than 500 restaurants around the world have joined the program and are reporting sales ranging from several thousand dollars to up to $60,000.
The idea of purchasing Dining Bonds seemed to strike a chord with the public as a way to provide much needed financial support in order to help restaurants stay in business. Because of its initial success and tremendous popularity, The Dining Bond Initiative will remain a permanent and ongoing program that will help raise money for the restaurant community.
Co-founders Helen Patrikis and Steven Hall, two hospitality PR professionals, formed Dining Bonds, LLC with the goal of establishing it as a one-stop resource to raise revenue for the hospitality community. The company is exploring collaborations with corporate partners and charities, as well as merchandise sales, to keep its mission alive.
"When we originally kicked off the campaign, we had no idea that it would resonate on such a global scale," said Helen Patrikis. "It's incredible and heartwarming to see this grassroots effort become such a unifying initiative, with so many individuals and restaurants coming together for the good of the entire industry. That's why we felt it was important to continue our efforts so that we're always here to help when the need arises."
"It's going to be a long road back to normal," said Steven Hall. "Even with government loans, restaurants will still struggle to pay past due invoices, rent, and other expenses. We can continue to show our support for the hospitality industry and the great, hardworking people it employs. Restaurants are a vital part of our communities and our lives. They are where we go to gather and celebrate, and we need to make sure they'll be there for us."
Dining Bonds work like savings bonds, where guests can purchase a bond at a value rate today, to be redeemed for full face value in the future. The funds raised help ensure the survival of restaurants, many of which are family owned.
"Dining Bonds was the first initiative to help restaurants through this pandemic, and we've found it to be extremely helpful in getting some funds into our hands quickly," said Roni Mazumdar, owner of New York restaurants Rahi and Adda Indian Canteen. "The program is inventive and very attractive to our guests."
Restaurants around the world can continue to participate in the Dining Bond Initiative at no cost by answering a few questions on the organization's website, which has been translated into several languages. Diners can locate restaurants on www.diningbond.com, where they can connect with a restaurant to handle the transaction directly.
Dining bonds are typically offered at a suggested savings of 25 percent when purchased. For example, a $100 bond would sell for $75 today and would be redeemed for full value on or after the redemption date. Each restaurant determines its own terms for the discount and redemption. For more information, visit www.diningbond.com.
Restaurant Reboot Efforts
As restaurants around the country look towards reopening, Edward Lee and Lindsey Ofcacek, director of The LEE Initiative are committed to helping reset the supply chains for farmers and restaurant operators who are committed to sustainable food. The LEE Initiative's Restaurant Reboot Relief Program is committing at least $1 million to purchasing food from sustainable farmers in 16 regions and giving that food directly to restaurants in those areas. The restaurants that have hosted relief centers in those areas will be receiving the food and helping to select which other restaurants will be receiving the food as well.
"As we were able to help these restaurants survive during the crisis, we realized we'd still be facing a crisis once restaurants were able to reopen. The entire supply chain is broken and by investing in small farmers, we hope to help to repair it and allow farmers and restaurants to rebuild together," says Lee of the second phase of this program.
The Restaurant Reboot Relief Program launches in June of 2020 and run for at least a year. The program is dependent on involvement from generous partners including Maker's Mark, as well as donations from the general public.
Further details on participating restaurants and farms will be available in the coming weeks. For details on guidelines for participating restaurants and farms, visit https://leeinitiative.org/restaurant-reboot-relief-program/.
Dunkin' Sustainability
Dunkin' announced that 100 percent of its restaurants globally have transitioned from polystyrene foam cups to paper cups, meeting the timetable established by the brand two years ago. In Dunkin' U.S. restaurants, the foam cups have been replaced by double-walled paper cups. Dunkin' is also on track to fully transition to new, recyclable hot coffee cup lids in all of its U.S. restaurants by the end of the summer, and is committing to doubling its number of DD Green Achievement™ restaurants within five years.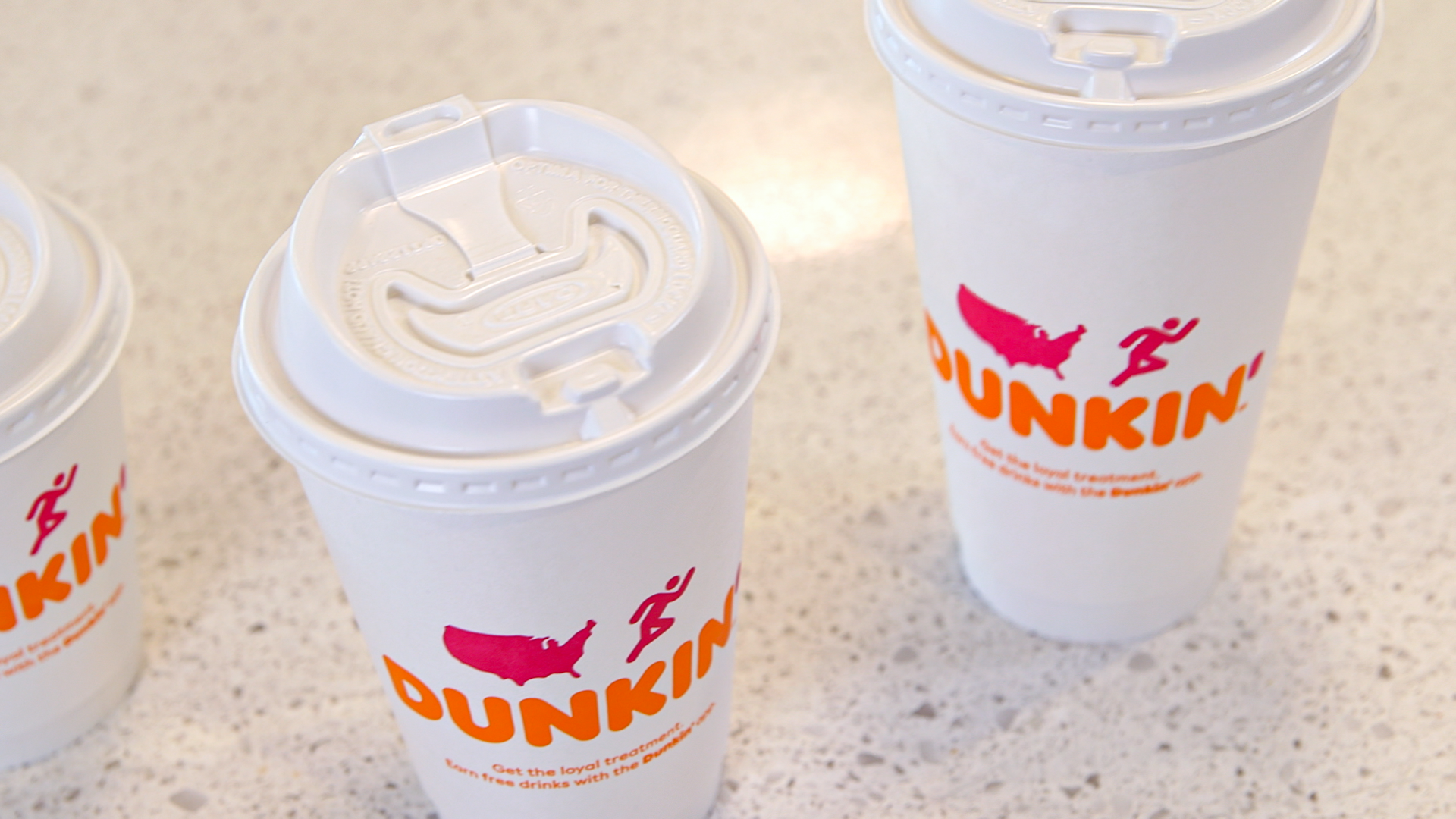 The new, double-walled paper cups, made with paperboard certified to the Sustainable Forestry Initiative (SFI) Standard, are currently used to serve all Dunkin' hot beverages, including coffee, espresso drinks, tea, and hot chocolate in the U.S. To meet guests' expectations and preferences, the cups maintain heat retention properties comparable to the prior foam cups, keeping beverages hot while keeping hands cool, without the need for a sleeve. Dunkin's transition to paper cups will remove approximately one billion foam cups from the waste stream annually.
While a limited number of Dunkin' restaurants may still have foam cups in their inventory, the company's distribution centers are no longer offering foam cups, making only the new, double-walled paper cups available to Dunkin' U.S. franchisees for use in their restaurants.
The company is also on track to be fully transitioned to recyclable hot coffee cup lids in its U.S. restaurants by the end of summer 2020. The new lids are made of #5 polypropylene that can be recycled in cities and towns that offer #5 recycling. This transition, along with the move to the double-walled paper cups, will remove a collective 19 million pounds of polystyrene from the waste stream annually.
By the end of 2020, all Dunkin' Keurig K-Cup® pods sold in-store and on shelves at grocery will also be recyclable.* Made with #5 polypropylene, customers can recycle the K-Cup® pods by peeling and disposing of the lid, composting or disposing of the grounds, then recycling the remaining empty cup.
Dunkin' launched its DD Green Achievement program in 2014 to help its franchisees build more sustainable and energy-efficient restaurants. In 2016, the brand announced a goal of opening 500 DD Green Achievement restaurants by the end of 2020. Dunkin' is announcing that the company has met that milestone early, and is setting a new goal of opening its 1,000th DD Green Achievement restaurant by the end of 2025.
DD Green Achievement restaurants are built with sustainable and efficient elements including LED lighting, high-efficiency mechanical equipment, low-flow faucets, and more sustainable features. DD Green Achievement restaurants, which were designed to save between 15 to 20 percent of energy use as compared to traditional Dunkin' restaurants, have proven to save approximately 33 percent of energy use, on average, when compared to conventional Dunkin' locations, outperforming design anticipations.
According to Scott Murphy, President, Dunkin' Americas, "Even in challenging times like these, sustainability remains a key priority for Dunkin'. We are proud of our accomplishments, but recognize that making a meaningful difference requires commitment and continuous improvement. We will build on our momentum and do our part to take care of the world around us because it matters to us, our franchisees, our guests, and our communities."
US Foods Donates More Than $10 Million
U S Foods Holding Corp. donated more than $10 million in food and supplies to local food banks and charitable organizations across the country since the beginning of March. The donations include items such as meat, dairy, produce and other non-food supplies.
Given the impacts of COVID-19, many food banks are struggling to meet the increasing needs of their communities as more Americans seek support. According to Feeding America, school closures, rising unemployment and rising poverty due to stay-at-home orders will disproportionately impact people already at risk of hunger and could result in an estimated additional 17.1 million people experiencing food insecurity.
"We are proud of our long-standing partnerships with local food banks and charities across the country," said Pietro Satriano, chairman and CEO, US Foods. "As our partners work to keep up with unprecedented demand, we're pleased to play a role in supporting ongoing hunger relief efforts."
As a Feeding America Leadership partner, the company has ongoing partnerships with a variety of food banks across the country. In the New York Metro Area alone, the company has donated approximately 25 truckloads of product to local area food banks.
"As the economic impact of the coronavirus crisis worsens, the demand for food assistance is greater than ever before," said Carlos Rodriguez, president and CEO, Community Food Bank of New Jersey (CFBNJ). "We are grateful for our ongoing partnership with US Foods and their most recent donations. Together, we can keep our neighbors healthy and well-fed, whether they were already struggling prior to the pandemic or are coming to CFBNJ for support for the first time in their lives."
In addition to ongoing product donations to local food banks and charitable organizations, US Foods continues to collaborate with restaurants across the country to donate products and logistics support to meal packing events designed to provide much-needed relief to displaced food service workers, first-responders and health care workers.
Consulting on Ghost Kitchens
Zuul and Figure 8 Logistics launched Zuul Studios – a ghost kitchen consulting firm. Zuul Studios works with restaurants and real estate owners to leverage their existing brand equity and kitchen infrastructure into digital, delivery-forward businesses.
"We saw firsthand the impact our ghost kitchen had for member restaurants," said Corey Manicone, co-founder and CEO of Zuul. "This model allows for optimizing resources, without sacrificing brand values along the way. We're excited to bring Zuul Studios to life and support restaurants in developing virtual brands that compliment their existing kitchen operations."
Zuul Studios works with restaurants to streamline their off-site technology stack, build virtual brands, and minimize operating costs – for example, helping a lunchtime sandwich shop launch a new dinner-focused concept. Through this process, restaurants are able to cross-utilize their existing equipment and supply chains to offer a broader menu to their customers, ultimately creating new sources of revenue.
Further, Zuul Studios works with real estate owners to support the design, build, launch, and operation of their own ghost kitchens. As ghost kitchens prove to be a more efficient use of space through flexible leases, smaller footprints, and a lower cost per square foot, they are an attractive opportunity for owners to reimagine the use of their properties while continuing to support multiple restaurant operators.
"Launching Studios supports the ecosystem approach of providing a diverse set of services to Zuul members," said Scott Landers, co-founder of Figure 8 Logistics. "Zuul's mission is to help people thrive in the business of food and Zuul Studios makes the ghost kitchen model more accessible."
SevenRooms Streamlines Payment Experience
SevenRooms launched Contactless Order & Pay, streamlining the in-restaurant ordering and payments experience for guests. Contactless Order & Pay provides operators with a safe, contact-free solution for in-service experiences, helping them manage labor costs and keep their employees safe.
Contactless Order & Pay aims to ease consumer hesitation around dining out, putting the power of ordering and payments in guests' pockets. This 'bring-your-own-device' approach helps operators to eliminate the use of physical menus and the handling of credit cards and cash, creating an all-in-one digital solution for viewing a menu, ordering and paying the bill. Contactless Order & Pay can be accessed by guests in three ways without the need to download an app: scanning a QR code, near-field communication (NFC), or visiting a URL on any mobile device. Once the guest has selected their menu items, they can then use a credit card or digital wallet to check out.
SevenRooms' platform now offers a 360-degree view of every guest across their entire on- and off-premise experience, connecting data across the guest journey:
"Contactless Order & Pay is the new normal, and guest expectation, for the in-service restaurant experience," said Joel Montaniel, CEO & Founder of SevenRooms. "As restaurants reopen and guests start to return, this 'bring-your-own device' approach to ordering and payment will enable a tailored, yet contact-free approach to in-service experiences. A fully-connected, end-to-end experience is critical not just for guests' ease of mind and safety, but also for operators to manage their operations efficiently, while connecting personally with their guests and maximizing profits. A 360-degree guest experience platform is a must-have for operators."
"SevenRooms is ushering in a new era for hospitality, delivering on innovative products for operators in the face of uncertainty in our market," said Terence Tubridy, Owner of In Good Company Hospitality. "Contactless Order & Pay is a simple, easy-to-use solution that provides us new insights into our guests' on-site ordering behavior. With the introduction of this latest product from SevenRooms, we can now leverage this data, and that which we collect during other parts of the guest journey, to provide the best-in-class experiences our group is known for across both take-out and dine-in. The consumer adoption pre-pandemic was incredible, and we look forward to continuing to use the technology in combination with our reservations, delivery and loyalty programs once we're able to reopen our doors."
BWW GO
Buffalo Wild Wings will open the doors of its first 'GO' model restaurant on May 13, just miles from the Buffalo Wild Wings Atlanta Support Center. The new restaurant format is designed specifically for takeout and delivery orders.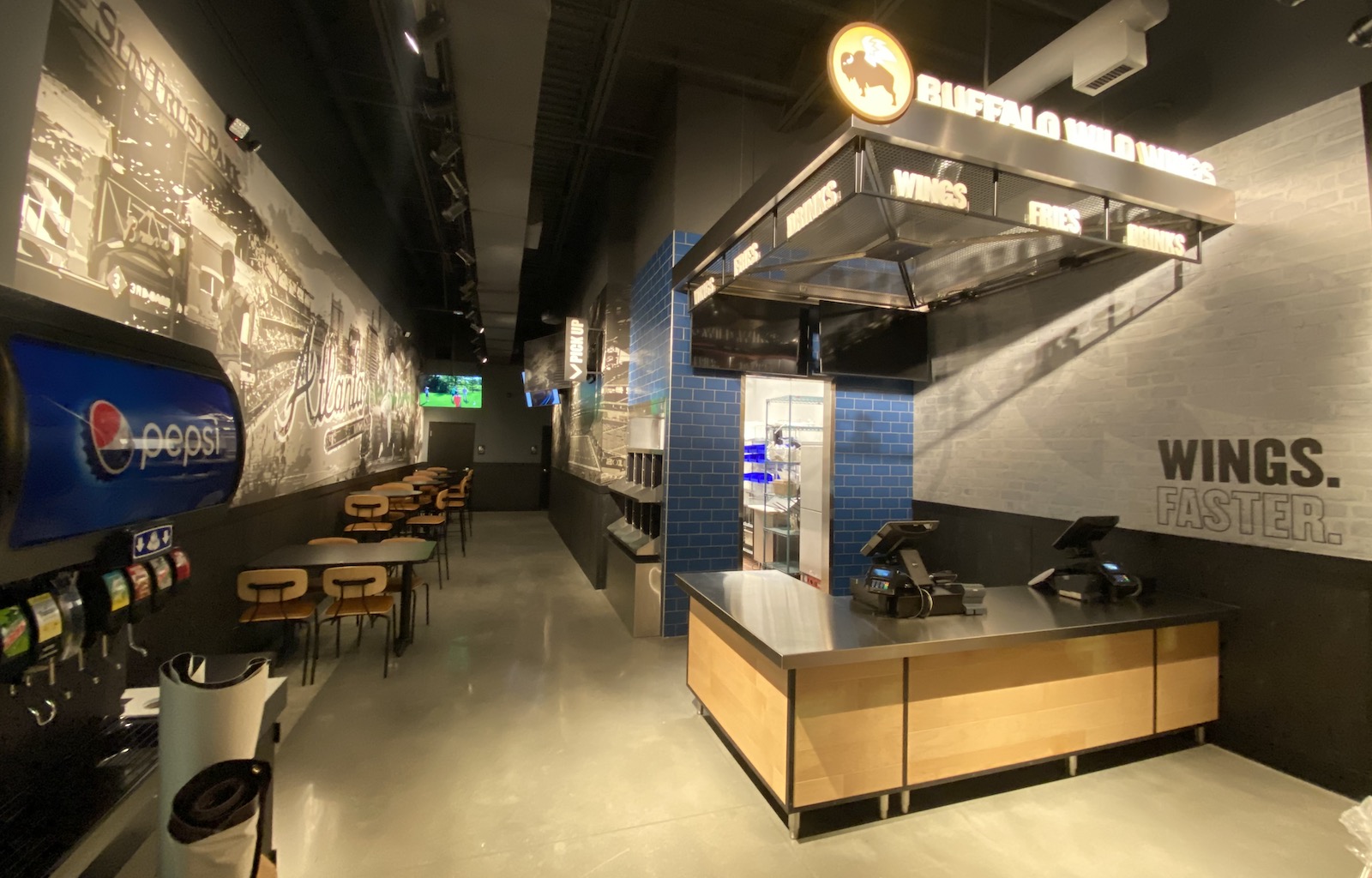 The 1,800 sq. ft. 'GO' restaurant will feature a walk-up counter, digital menu boards, condensed seating and TVs for guests to enjoy while waiting for their orders.
Unique to the Buffalo Wild Wings 'GO' format, guests who order ahead will be able to pick up their meal from heated takeout lockers, providing a contactless and hassle-free experience.
"I am thrilled to introduce the new 'GO' model in our own backyard of Atlanta, Georgia," said John Bowie, Chief Operating Officer, Buffalo Wild Wings. "We've seen the success of this model over the past six weeks, with our takeout and delivery business growing over 140 percent. Buffalo Wild Wings 'GO' is perfect for friends and family who want to enjoy our authentic, New York-style buffalo wings at home."
SOCi SmartBot
SOCi added SOCi SmartBot™, designed to enable multi-location marketers to instantly deploy conversational chatbots across hundreds, or even thousands, of individual business Messenger accounts. SmartBot™ can also be embedded at other locations including local websites, to capture traffic from all over the web.
Beyond answering customer questions 24/7, SOCi SmartBot™ deploys conversational artificial intelligence to drive valuable call-to-actions for multi-location businesses, including phone calls, visits to websites, lead generation, and appointment bookings. Lead information, conversation history, and all other social engagements are easily managed across all locations in a single, centralized platform.
"Sixty percent of customer care communications are now happening outside of normal business hours. Further, more than two-thirds of the digital population prefer communicating with brands on messaging platforms like Messenger over email and phone. With these changing customer expectations, it is now more important than ever that multi-location businesses are available at all times and in the right places," said Afif Khoury, CEO of SOCi. "With our new SOCi SmartBot™, multi-location companies can now provide 24/7 customer care and lead generation in the heart of one of the largest social communities on the planet, and they can do it at the local level and at scale."
SOCi SmartBot™ delivers immediate localized responses to commonly asked questions, enabling multi-location businesses to handle a high volume of inquiries, even when resources are strained. In a recent two month test across 11 Messenger business pages, SOCi SmartBot™ responded to 11,000 inquiries from more than 2,500 people.
Cassidy Clark, Director of Marketing, Trinity Property Consultants said, "SOCi SmartBot™ lets us handle conversations when no one's around. It can answer questions, drive call-to-actions, and book appointments! It's truly life-changing."
SOCi SmartBot™ is available for multi-location businesses immediately.
Clover Adds Online Ordering
Restaurants can connect with customers, simplify the management and fulfillment of online orders, and better optimize their business with Clover Online Ordering, the latest feature added to Clover® point-of-sale platform from Fiserv, Inc.
As restaurants across the country have closed dining rooms in the face of COVID-19, they have shifted to take-out, pick-up and delivery models, creating a heightened need for an online presence and digital ordering capabilities. In response, the launch of Clover Online Ordering was accelerated to enable restaurants that utilize the Clover point-of-sale platform to receive and process orders for pick-up from wherever customers are searching for dining options, including the restaurant's website or the Clover app.
Within three weeks of its availability, Clover Online Ordering is already in use at more than 1,500 restaurants, including Teapop, a tea bar and art gallery in North Hollywood, California.
"As it did for all food and drink establishments, the COVID-19 crisis put us in a position to sink or swim. Almost overnight, we had to embrace a new way of doing business," said Arlene Yuan, owner of Teapop. "Within hours of setting up Clover Online Ordering, customers were placing their orders on the Teapop website or through the Clover app. We can fulfill orders immediately, and customers can pick up within 10 minutes. I am very grateful to have the Clover platform because it has helped me keep my business open and my full staff on payroll during this challenging time."
"We built Clover on the foundation of serving small businesses," said John Beatty, co-founder of Clover. "In the current environment, that has meant expediting the capabilities our merchants urgently need to take their business online and lessen the overall impact to their business operations. Clover Online Ordering helps keep businesses running by enabling them to quickly create an online presence and establish new revenue streams, ultimately positioning businesses for a future in which digital commerce will play a more significant role."
SpotOn and SoFi Team
SpotOn Transact, Inc is partnering with SoFi. The partnership helps by bypassing the big-name lenders that were overrun with applications and provides merchants direct and easy access to lenders who can help them immediately.
"Our clients, and businesses nationwide, need immediate access to financial support," said RJ Horsley, President of SpotOn. "We felt SoFi was the perfect partner to not only create a seamless process for connecting our clients with Small Business Administration lenders, but also to present all possible credit options."
The company leveraged its proprietary SpotOn platform to serve as an information source and guide to apply for the Economic Injury Disaster Loan (EIDL) and Paycheck Protection Program (PPP). These federal programs were initially created in March and comprised almost $350 billion of the $2 trillion CARES Act stimulus package. Congress recently committed an additional $370 billion to these two programs due to the massive demand.
"SoFi is committed to doing its part to find creative solutions to support those in need throughout this crisis," said Jennifer Nuckles, Executive Vice President of SoFi. "Working with SpotOn allows us to immediately connect tens of thousands of businesses with a large network of lenders and get capital into needed hands, fast."
The EIDL and PPP funding programs are for businesses with less than 500 employees, SpotOn's core customer segment, and are intended to help businesses pay their bills and retain their employees by providing low-interest or forgivable loans.
Social Distance Tech
Advanced Industrial Marketing (AIM) is launching new social distancing and people counting tools in the U.S. Piloted in Europe, the two products, EGOpro Active Tag and LASE PeCo, are being used in industrial warehousing facilities and large retailers to ensure employees and customers observe social distance restrictions.
This wearable tech utilizes UWB radio technology to measure the distance between two tags with a constant radio pulse. When two tags – and the people wearing them – are too close to one another, the tags vibrate and flash a red LED. This alerts the user and those around them that they have breached a minimum safe distance. In addition to wearable tags, sensors can be set in facility "hotspots" like entrances, break rooms and bathrooms to ensure social distancing is maintained off the floor and in heavily trafficked areas.
"The usage of this technology in the current pandemic is groundbreaking," said Rob Hruskoci, owner and CEO of Advanced Industrial Marketing. "Employees can see how much room they have to work with one another, and employers can use this data to reconfigure workspaces to maintain the minimum safe distance while operating."
The tags are currently wearable on an individual's wrist or belt, but there are opportunities to deploy them more widely, such as on shopping carts in grocery stores or with self-guided tour technology at museums.
Each EGOpro Active Tag is equipped with a unique serial number and has the potential to be connected to a custom software solution. This can be used for counting the number of people in a given area, keeping track on how long they are in certain areas, and even sending alerts to managers if there is overcrowding. Additionally, in a situation where a facility may have been exposed to COVID-19, the software could be used for contact tracing using the device's individual serial numbers.
Even before COVID-19 circled the globe, venues needed a way to measure traffic, venue capacity and busy or quiet areas to reduce wait times or congestion. This capacity verification technology has also been adapted to today's social distancing guidelines. Also called "people counting," capacity verification uses 3D cameras to measure the number of people in a given area. LASE PeCo has specialized in using multiple technologies to monitor passenger frequency in industrial, municipal and entertainment locations for more than 25 years.
The LASE Pe(ople)Co(unter) uses standalone 3D cameras to measure how many people are in a small space, such as an art gallery. For larger locations, like food courts or college campuses, LASE PeCo deploys its laser solution that uses a laser grid system to measure the number of people within the open space.
"The laser technology is smart enough to tell the difference between adults, children and shopping carts, but it can't discern gender or any other identifying features as part of a surveillance system," explained Hruskoci. "When the system detects too many individuals in a given area, it sends an alert to the designated manager on duty to break up any overcrowding."
The PeCo software is highly customizable and can send alerts via email or text to managers. This software can also be integrated with gates, doors or alarms to notify people in the area when there is too much crowding or the area has reached maximum capacity.
Harfert Named President at R&R BBQ
R&R BBQ appointed industry veteran Neil Harfert as president to lead the restaurant chain in its next chapter of growth. Founders, Rod and Roger Livingston, will be retiring to pursue other interests.
"Neil is a proven and respected leader who has delivered strong operating results through a long career in the food and beverage industry, with powerhouse brands like Qdoba, Modern Market Eatery and MOD Pizza," said Greg Warnock, a member of the R&R BBQ board of directors and managing partner of Mercato Partners' Savory Fund. "I am confident that Neil will continue to lead our executive team and 350-plus team members to achieve great success and carry on the incredible brand the Livingstons created over five years ago."
Harfert brings over 26 years of experience operating and growing successful restaurant chains. Prior to joining R&R BBQ, Harfert served as Vice President of Field Operations for MOD Pizza where he helped lead the chain through explosive growth from 25 restaurants in five states to more than 255 units in 18 states over a five-year period. His experience also includes heading up operations for other polished casual restaurant chains like Modmarket Farm Fresh Eateries, Qdoba Mexican Eats, and others.
"Having served in leadership capacities for over 26 years in the restaurant industry, I am excited for this opportunity to work with such a beloved brand that is poised for great success," said Harfert. "The Livingstons created the best championship BBQ concept I have seen in America. That is why I decided to move my family from Seattle to Salt Lake City – to make sure more people have the opportunity to enjoy the amazing food that R&R BBQ smokes each day as we grow throughout the Western United States."
Under Rod and Roger Livingston's leadership, the company grew from a championship BBQ competition team to a chain of eight restaurants along the Wasatch Front.
"We have loved serving this community for the past five years. It has been one of the greatest accomplishments of our lives," said Rod Livingston. "We hope all of our guests will continue to enjoy our championship BBQ for years to come."
Roger Livingston said, "It is exciting to see how far we have come from the early days of R&R BBQ to now. Rod and I are so grateful for the entire community's support."
Copper Branch Helping Heroes
Copper Branch restaurants have shown their support to the community by passionately working with local hospitals and public institutions to donate hundreds of plant-based meals to our dedicated front-line workers.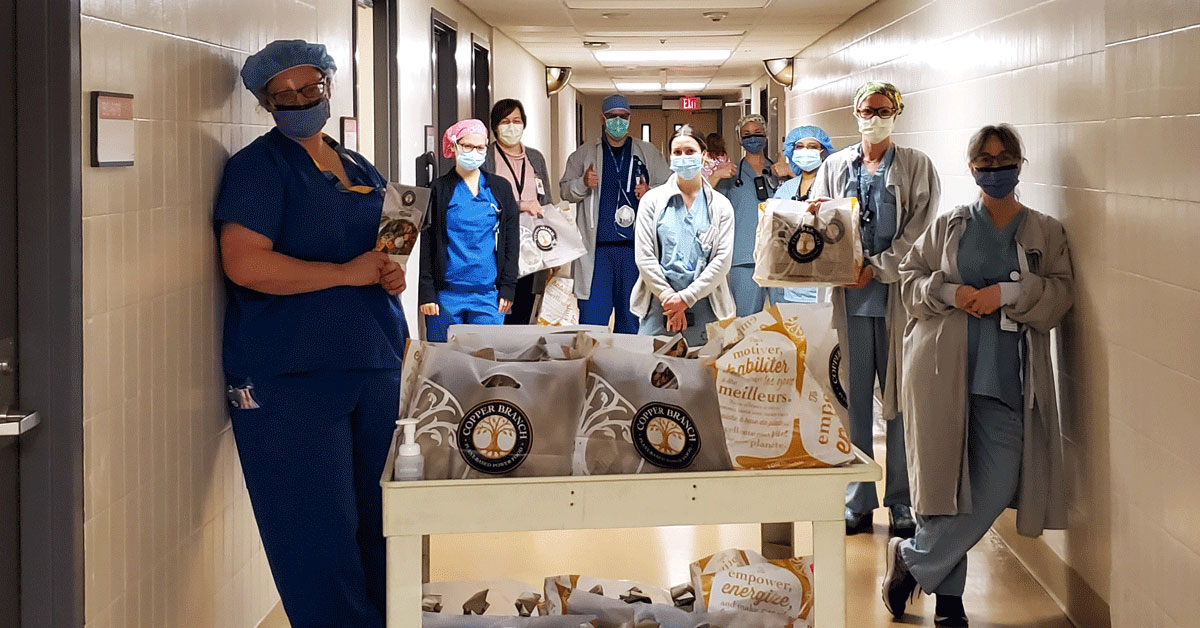 Several Copper Branch restaurants throughout Ontario and Quebec have remained opened, continuing to serve customers through take-out and delivery, and collecting donations in-store and via the mobile app that are accumulated into weekly donations.
"Our mission continues to serve our community quality whole foods that inspire and make people feel their best. During these uncertain times, the economy has of course struggled, however we are very proud of our partners and franchisees who have taken the initiative to support and nourish their local communities and the heroes who are getting us through this pandemic" siad Rio Infantino, founder and president of Copper Branch.
Throughout Ontario, hundreds of meals have been donated to hospitals such as the Lakeridge Health in Ajax, Oshawa General Hospital, St-Joseph's Health Care London, the London University Hospital, the Markham Hospital, Burnhamthorpe Police Dept., Kingston Humane Society, and others across Durham, Markham, London, Mississauga, and Ottawa. In Ottawa, our location in Barrhaven has also partnered with FrontLineFeeds, an incredible group of students who have come together during these times to support their community.
In Montreal, Copper Branch partnered with Operation Rainbow to fulfill our donations and delivery meals to hospitals across Montreal including the Jewish General, MUHC, Montreal Children's, Ste-Justine, and more.
Route Planning Tool
HERE Technologies is releasing a new route planning tool that helps SMEs optimize the delivery of goods and services. HERE WeGo Deliver allows businesses to plan and dispatch a delivery service without software development or implementation costs. Employees at HERE Technologies created HERE WeGo Deliver as a give back opportunity, based on the company's work across the global transport and logistics industry.
"Manually organizing and sequencing multiple delivery stops, and drivers, is time-consuming, and the margin for human error is significant," said Christoph Herzig, Head of Fleet Applications at HERE Technologies. "HERE WeGo Deliver makes it simple for both the business owner and driver by easy uploading, optimizing, viewing and dispatching of routes through a web-based dashboard."
Users simply upload all their order destinations and number of drivers to the online planning dashboard, and HERE WeGo Deliver optimizes each route and delivery sequence. Drivers can receive their delivery route by email, which automatically opens and populates the delivery route end points in the HERE WeGo mobile app to provide voice-enabled navigation. HERE WeGo is available to download for free on Android and iOS mobile devices.
"Businesses need our support. The lack of economic activity caused by the COVID-19 pandemic has particularly hurt retailers and restaurants that rely on foot traffic. At the same time, demand for delivery services has skyrocketed while small businesses face the challenges of keeping their employees working and access to limited digital infrastructure," said Kirk Mitchell, Senior Vice President and General Manager of the Americas at HERE Technologies. "This new tool for SMEs was created by our employees as a way to give back during these challenging times."
HERE WeGo Deliver is available free of charge to any small or medium-sized business until 2021, with no sign up necessary and no subscription fees.
Multi-Language Digital Menus
MasterTAAG enables restaurant patrons to access digital menus in multiple languages from their smartphone. Already live in Shoko restaurant in Barcelona and the Pig'n Whistle in LA (prior to the lockdown), the solution allows patrons to use their own mobile phones to browse and select their order, rather than touch printed menus that are shared amongst other customers, by scanning the QR code at their table.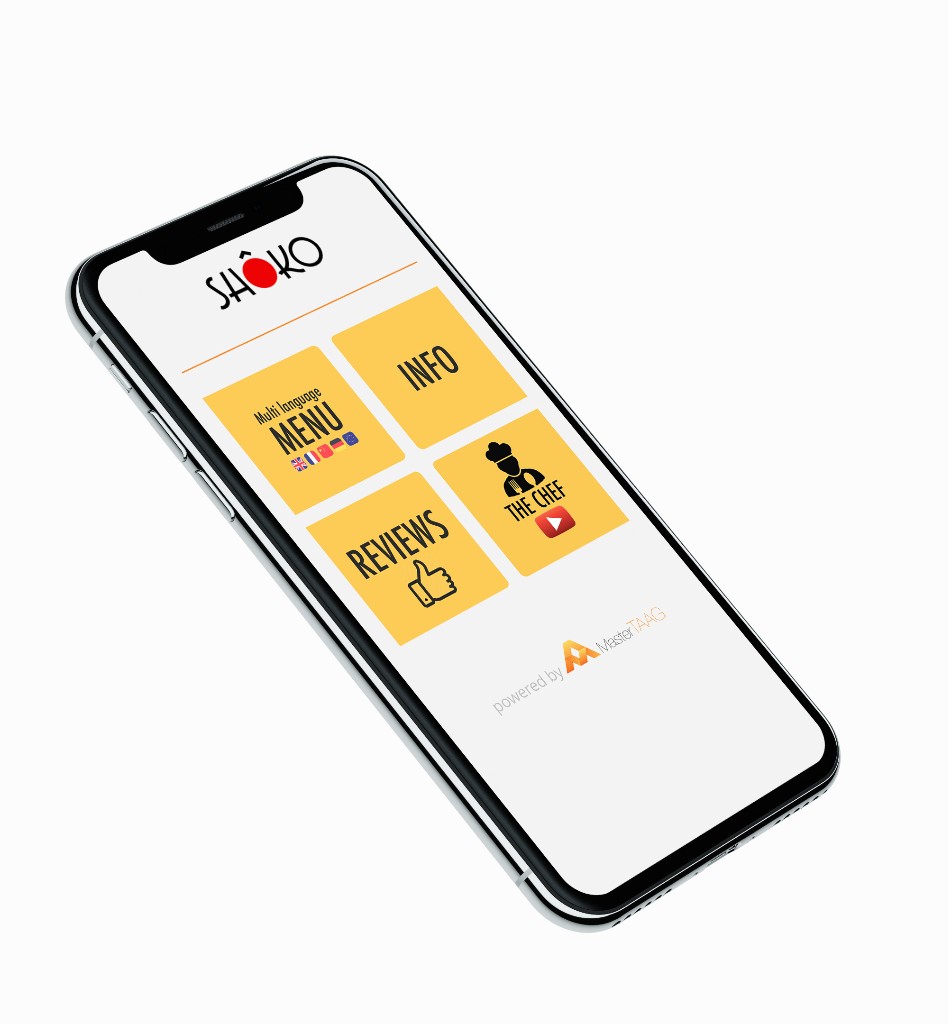 As restaurants review their dining strategies in anticipation of opening after the lockdown, MasterTAAG offers a solution to ensure restaurants can offer a high level of sanitisation by reducing their reliance on printed menus, which are typically a breeding ground for bacteria. Aimed at supporting the hospitality industry by helping restaurants, in particular local independents, sanitise, simplify and speed up their food ordering process, the app is being offered free of charge until mid 2021.
MasterTAAG also provides restaurants with a digital portal including features such as social media, promotions, auto-translation and a photo menu.
"Despite global lockdown measures beginning to ease, the hospitality industry is still under huge threat, with many small businesses closing and jobs being lost. Restaurants, especially independents, are particularly at risk," said David Navaro Vera, Founder & CEO at MasterTAAG.
"As local, independent restaurants underpin our culture, we must do everything we can to protect them. By providing these businesses with access to MasterTAAG free of charge until mid 2021, we want to give them every opportunity to survive and thrive, by reducing their reliance on printed menus to help minimise the spread of the virus – and more generally, improve overall menu hygiene ongoing."
ShiftPixy Expands Internationally
ShiftPixy announced its first international expansion, ShiftPixy Canada, to meet the recent increased interest from multi-unit restaurant operators in Canada. The company is currently in the process of completing all the necessary registrations in each of Canada's ten provinces and plans to begin offering its end-to-end restaurant solution to Canadian customers as soon as that process is complete in the coming months. The company has established ShiftPixy Canada as a wholly-owned subsidiary.
With its $90 billion foodservice industry, Canada represents ShiftPixy's first international expansion.
"Despite these uncertain times, we are very excited to be expanding to Canada and helping restaurants and operators there do what they do best – deliver a great food experience – while helping them grow their businesses," said Scott Absher, CEO and co-founder of ShiftPixy. "ShiftPixy's multi-lingual approach makes new market entry very quick, and we're eager to continue our global expansion plans."
In addition to Canada, ShiftPixy is working with relevant partners and regulators in nations throughout Latin America and Japan in order to meet the demand in those markets.
Raising Cane's Supports Crew Members
Raising Cane's has kept all but a handful of its 500 restaurants open nationwide. Only those without drive-thrus have temporarily closed. In addition, Founder & Co-CEO Todd Graves and Co-CEO & COO AJ Kumaran have taken no salary as part of their commitment to not furlough a single crewmember.
And this week, to show its appreciation for its crew's extraordinary work and sacrifice during the pandemic, Raising Cane's distributed $2 million to its crewmembers systemwide.
"When the crisis began, we created a mantra 'NO CREW LEFT BEHIND,' and I made a promise that we would all get through this together," Kumaran said. "Our crew has continued to stay positive while working incredibly hard, and some even reduced their hours in order to keep everyone's job safe. We are extremely grateful for their shared sacrifice and are blessed to have such an amazing crew. Thanks to their hard work, Raising Cane's will come out of this crisis even stronger than before. I couldn't be prouder and more thankful for each and every one of our Restaurant Leaders and crewmembers."
The $2 million payout is intended to make-up for the hours that each crewmember agreed to give-up at the beginning of the pandemic, so that all Crewmembers could stay employed, in support of the mantra.
Graves echoed Kumaran's sentiment noting, "It's really special to see all of our crew come together, showing solidarity for each other. Their hard work and dedication to keep our restaurants open and safe, helped ensure our sales would come back strong. Not only are sales strong, but they continue to grow and this is just one way we can make it right for them. Our Crewmembers truly embodied the idea that we're all in this together."
The brand is continuing to expand, with three new locations set to open in Texas this month. In addition, as part of its commitment to the Communities it serves, Raising Cane's is in the process of hiring 5,000 new crewmembers this week, to help support existing restaurants, across all of its markets.
"Raising Cane's culture is built on serving our Communities – it's the foundation of who we are and what we believe in," Kumaran said. "Part of that commitment is providing good jobs, and we wouldn't be able to do that without our continued success and growth. It's a testament to our legions of loyal 'Caniacs' and our unrelenting focus on doing what's right for our Crew, Customers and Communities."
Fortessa Teams with Healthe
Fortessa Tableware Solutions and Healthe are partnering to launch Healthe for Hospitality™, a set of curated lighting products and custom enterprise solutions, developed by Healthe, to support the hospitality industry as it begins to safely re-open amidst the COVID-19 pandemic.
"The hospitality industry faces unique challenges when it comes to protecting the health of workers and guests as high pass-through and turnover increase the risk of contamination and transmission of viruses," said Scott M. Hamberger, co-founder of Fortessa Tableware Solutions and CEO and president of Integrus Holdings, Inc. "Our work is built on public trust. We not only want to continue providing the quality dining products our customers come to expect from us, but also ensure that all of the guests, customers and employees we serve know that we are doing all that we can to keep them safe. In Healthe, we found a mutual partner committed to this critical effort."
Healthe for Hospitality will bring Healthe's 24-hour, continuous sanitization solutions to effectively combat pathogens in the air and on surfaces at restaurants, hotels, private clubs, senior living and other hospitality industry settings. These solutions utilize Far-UVC light that is safe for human exposure, to inactivate viruses and bacteria on surfaces and in the air. Additionally, these applications can be combined with Healthe's existing circadian lighting products to influence hotel and nursing home guests' sleep-wake cycles in support of their overall comfort and health.
They include:
Cleanse Portal is a free-standing walkthrough arch sanitizer, similar in size and shape to a metal detector, that inactivates bacteria and viruses on skin, clothing and goods with a dosage requirement as low as 20 seconds. The Portal can be deployed near entrances, internal doorways and other high-traffic areas to disinfect people and goods entering a clean area.
It can function in always-on or motion-activated modes and is ideal for restaurant dining room and bar area entrances as well as hotel lobbies and a wide range of other applications.
Cleanse Downlight combines general illumination with human-safe Far-UVC sanitizing light to clean air and surfaces. It is designed to be easily retrofitted into existing standard 6" or 8" recessed downlight housings. The Cleanse Downlight can be set to function in always-on mode or to activate only when a room is vacated. It can be used in high-traffic areas such as hotel guest reservation check-in areas or public restrooms.
Cleanse Air-Sanitizing Troffer utilizes a multi-stage process to trap pollutants and deactivate viruses and bacteria, in addition to providing general room illumination. The low-profile troffer draws room air through a HEPA/Charcoal filter, then exposes the air to UVA and UVC light that targets remaining airborne pathogens, achieving a 99.9 percent kill rate in the expelled air. The UV components are contained within the Troffer to prevent human exposure. The Troffer can be retrofitted into existing, standard 2' x 4' troffer housing and is suitable for use in various public common areas.
"Fortessa is already a leader in serving the hospitality industry and we're proud to be joining them in this effort to keep people safe as hotels and restaurants reopen and recover from the COVID-19 shutdowns," said Khim Lee, CEO of Healthe. "This new normal will be defined by implementing more rigorous sanitization programs and Healthe's Far-UVC lighting products provide the only human-safe solution for continuous and passive use."
Thanks for Everything
The LOOMIS Agency is offering them heartfelt gratitude on behalf of customers everywhere in a video, top, titled, "Thanks for Everything."
"The people of the restaurant industry have helped keep us going through difficult times," said LOOMIS President & CEO, Mike Sullivan. "We're all looking forward to repaying that favor with many happy returns to the restaurants we love."
In a blog discussing the unique challenges faced by restauranteurs, Sullivan referenced polls indicating that going to restaurants is the thing people most want to do as soon as their local shelter-in-place restrictions lift.
Next Gen WashBar
Bradley Corp. introduced the next generation of its award-winning WashBar® series. This new extension delivers Bradley's exclusive clean+rinse+dry functionality along with an ultra-modern, edgier profile designed to make a statement in upscale commercial washroom applications.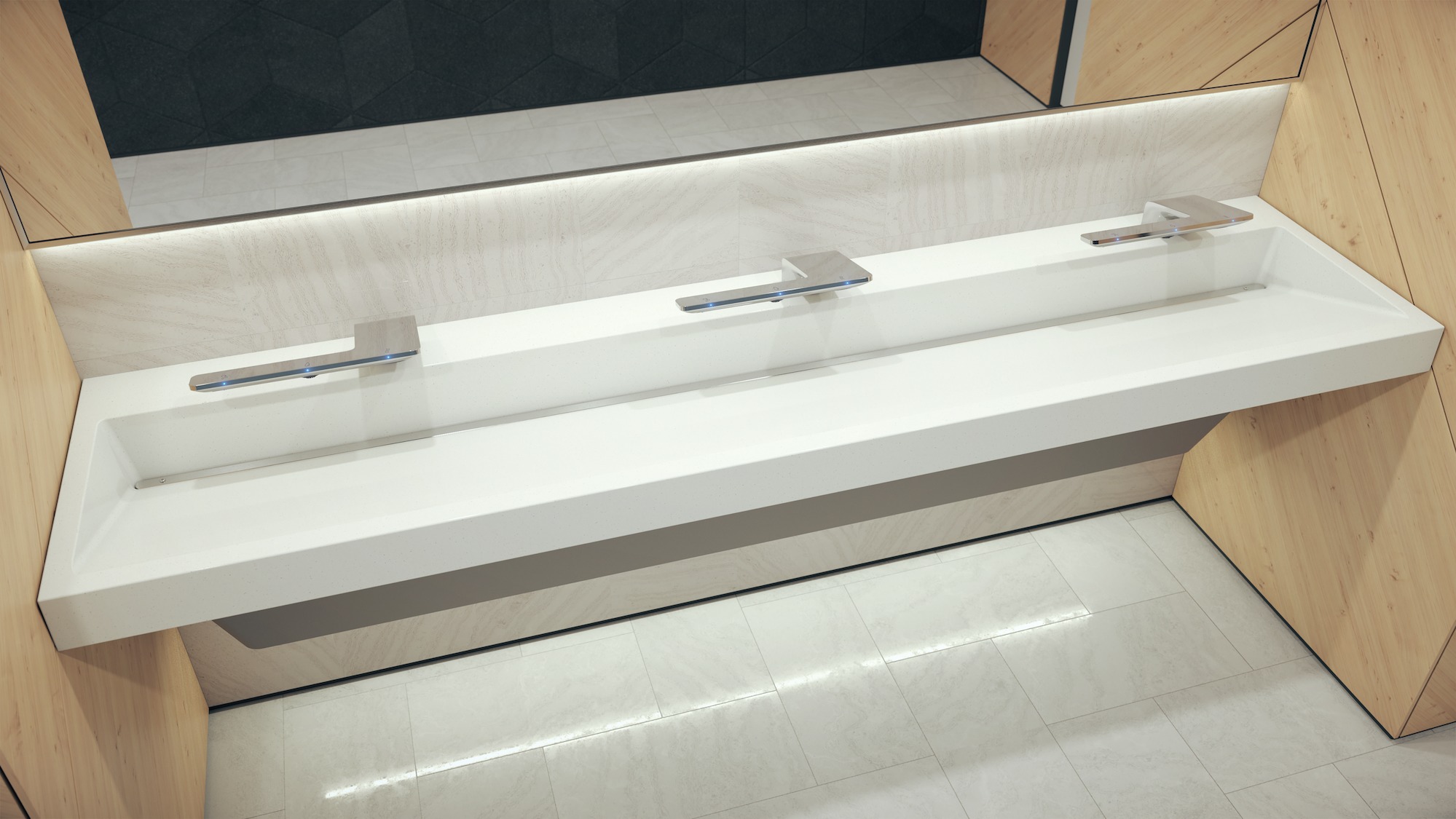 The next generation WashBar – designed in collaboration with platinumdesign – features a thin, L-shaped design that gives the feel the all-in-one fixture is floating above the sink for an innovative and sleek aesthetic. And with only one connection point to the sink, the design provides more open space for easier cleaning.
"Now, more than ever before, touch-free hand washing technologies like the WashBar are at the forefront of limiting the spread of germs in public restrooms," says Will Haas, senior product manager, Bradley Corp. "In addition to being completely touchless, this next-gen ultra-modern fixture gives the appearance that it is floating above the sink. Its superslim angular shape – complemented by its flat top surface – reflects modern architecture and interior design."
Designed to enhance all the fundamentals of hand washing, the next generation WashBar combines touch-free soap, water and dryer. The durable chrome-plated cast alloy fixture features LED lighting to visually orient the user through the hand washing process with easy-to-identify icons on top of the bar. Using a bowl designed to work with the fixture keeps water in the bowl to avoid splashing outside the basin onto the floor, walls or user, improving washroom cleanliness and safety. The system's integration of soap, water and dryer into one sleek fixture eliminates deck and washroom clutter.
Exclusive features include an efficient one-gallon soap container that requires fewer refills. When the low-level LED indicator illuminates, the soap container is simply replaced with a new full container. Since there is not a reusable soap tank, no cleaning is required and germ contamination is minimized.
Water is dispensed at 0.5 GPM although it is also available with an ultra-high efficiency flow rate of 0.35 GPM when water conservation is a necessity.
WashBar technology also saves on maintenance costs with fewer soap refills, the elimination of paper towels, less wet floor clean up and less time emptying waste bins.
Tracking Water Usage
T&S Brass and Bronze Works unveiled a water monitoring technology designed to allow restaurants to track water usage, protect against catastrophic leaks, boost sustainability and save money. WaterWatch uses a smartphone-sized device that captures a facility's water flow data, allowing operators to closely monitor consumption.
Detailed reporting allows operators to see how and where water is being used, comparing water use over time to track conservation efforts, identifying leaks that should be repaired and alerting users to potentially catastrophic events before they can cause major damage.
The product is easy to install, attaching to the water line with a strap that's as simple as a watch band. T&S WaterWatch has been specifically designed for the foodservice industry and is able to identify water usage for equipment such as pre-rinse units, dishwashers, ice machines and more.
"This technology is really a revolutionary way for restaurants to monitor and control their water consumption," said Eva-Marie Fox, T&S vice president of marketing. "The robust reporting provides details about water usage that were previously a mystery, like exactly how much water each faucet type is using, and enables operators to make adjustments or repairs much sooner than the next water bill."
WaterWatch reporting information is delivered via app, which can monitor and report on multiple locations where WaterWatch devices are installed.
Creating a Safer Work Environment
PopID and Wasserstrom rolled out nationwide an advanced biometric solution to offer employers a safer work environment for their workers and customers.
The platform, called PopEntry+, combines instant facial recognition and temperature screening to add a layer of security for companies and organizations planning a return to work.
In the foodservice industry alone, PopEntry+ is currently being used by operators of regional and national brands, including Subway, DRG (Taco Bell), Cava, Lemonade, Metro Diner, and Brooklyn Water Bagels, among others. The government offices of the City of Lancaster, CA, the HQ of a professional sports league, and assisted living centers also have installed the system.
The new technology allows workers and visitors to scan their faces and add some personal information via a secure web portal on their mobile devices. Upon arrival at their place of work, they are recognized and have their temperature taken within seconds by a fixed device installed at the entry. The device can be connected to the door lock to automatically unlock the door or installed on a wall inside of the building.
The new federal guidelines for returning to work recommend that employers "monitor their workforce for indicative symptoms." PopEntry+ does this digitally and securely. The platform can be expanded to serve as an automated and frictionless way to identify people that have either been recently tested for the virus or demonstrated immunity to the virus through antibody testing.
"We believe that our digital identity platform will play an important role in protecting workers and consumers through automated temperature testing and contact-free payment," noted John Miller, Chairman of Cali Group and CEO of PopID. "In the post-COVID-19 world, companies that succeed will be those that safeguard their people through new, contactless technologies like ours."
Teaching Safety
Wisetail launched Protek People Assurance, a targeted eLearning program that teaches, tests and certifies employee proficiency on critical topics, such as cleaning and sanitation, face masks, personal hygiene, vehicles of disease transmission and more.
Wisetail's Protek offering uses the company's award-winning learning platform, and includes interactive elements, microlearning, and gamification to ensure employee engagement and comprehension. Certification visibly demonstrates to consumers that employees have been trained, assessed, and verified to meet stringent health, hygiene, and sanitation protocols developed by Intertek Alchemy.
Ali Knapp, President of Wisetail, stated: "Health, safety, and wellbeing is now one of the greatest concerns of employees and consumers. We're thrilled to provide the essential training businesses need to succeed in a post-pandemic world. Our intuitive platform will quickly get employees ready for new standards, boosting consumer confidence and ensuring the health and safety of clients"
Farmer Boys Feeding America
Farmer Boys® announced two initiatives that will help feed healthcare workers in Farmer Boys' communities and provide meals to those in need through Feeding America. Farmer Boys has introduced a limited-edition t-shirt with the slogan "Do Good. Be Well. Be a Farmer." available for purchase through the Farmer Boys website. All proceeds from the t-shirt sales will be donated to Feeding America to support their efforts in helping those facing hunger and food insecurity during these uncertain times. Additionally, for every Big Cheese® purchased at participating Farmer Boys restaurants between May 11-17, Farmer Boys will match burger-for-burger and donate Big Cheeses to local hospital workers working on the front lines.
"This pandemic has impacted everyone in many different ways, so we wanted to do our part to show our support for the hardworking health heroes in our communities, as well as helping those facing food insecurity during this time in partnership with Feeding America," said Larry Rusinko, vice president and chief marketing officer for Farmer Boys. "Our guests have generously supported our in-store fundraisers year after year, so we wanted to provide unique ways for guests to help support the heroes on the frontlines and those in need during this uncertain time. They always amaze us with their giving spirit, and we are confident that together we can make strides to help our communities. "
In addition to the two new initiatives, Farmer Boys is offering financial support to their corporate-owned restaurant team members via a $200,000 Farmer Boys Hardship Fund, which was established in March when COVID-19 first began affecting hospitality workers. Farmer Boys' senior corporate executive team is contributing to the fund, and all restaurant support team members are invited to contribute at their discretion.
All Farmer Boys restaurants in California and Nevada are open for phone-ahead ordering and carryout, while select locations are also continuing to serve Farmer Boys fans via drive-thru and third-party delivery.
PPE for Reopening
Goff's Enterprises in Wisconsin is manufacturing a new form of PPE to help American restaurants reopen safely Clear PVC Personal Safety Partitions quickly and esthetically separate dining tables and work space to prevent contaminant spread and keep guests and employees feeling safe.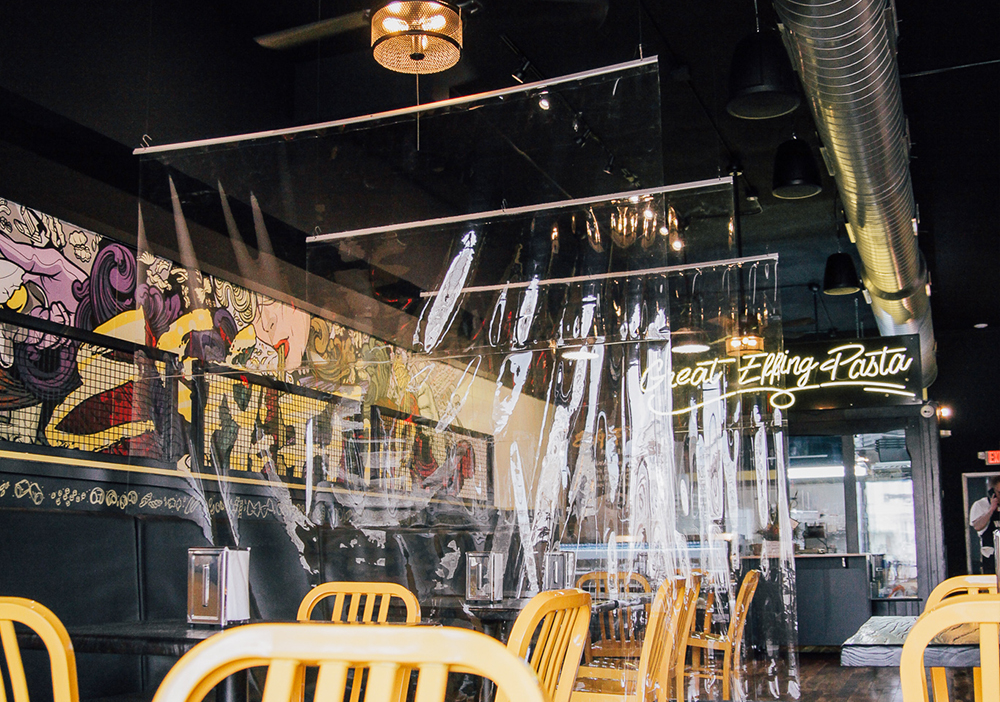 The products are anti-microbial, meet USDA and Fire Marshal standards, Made in USA and are ready to ship.