Restaurants Reopen: What Are They Doing?
8 Min Read By MRM Staff
The pink and blue horse illustration at the top of this article is not clickbait.
It's an example of what Prague's Manifesto Market is doing as part of its reopening operation. Manifesto uses the unit of a horse length to help people visualize social distancing and the market layout will increase gaps between the tables to meet the mandatory distance requirement.
"We can tell Czech people are very disciplined and they have learnt the routine of how to protect themselves and others," said Manifesto Founder Martin Barry. "But the desire is in the air to get back to social life and reconvene the life that has been paused for over two months. We can't wait to put our chairs back and become a pleasant place to spend time together. We've already been following enhanced hygiene protocols and taking the temperature of all employees who enter the market. Those measures will continue in the future."
Barry noted another key factor the market utilizes that increases hygiene: it's a cashless environment.
People do want to go to restaurants again. The Babbage Pulse, a bi-weekly report tracking consumer behavior, found Americans are most interested in going to restaurants again, when it's safe. The report states 56 percent of respondents are most looking forward to going to a restaurant with their family.
"Our findings indicate that, while people are most interested in going to restaurants again, they also do not want to go out too early," stated said Alan McKeon, president and CEO of Alexander Babbage.
According to another survey, sixty-two percent of 1,000 survey respondents indicated the first thing they'll do is eat in a restaurant. This was the top craving identified in the sixth wave of the Consumer Coronavirus Behavior research conducted by TheCustomer, Brand Keys, the New York-based brand loyalty and customer engagement consultancy, and Suzy, the on-demand research software platform.
"I've been telling friends that after three months of social-distancing," said Robert Passikoff, president of Brand Keys, "The first thing I want is to sit at a restaurant table and have someone serve me a turkey club and fries."
McKeon also reiterated some of the "new normal" that restaurants will operate under. Executive chef and co-founder of Silver Diner restaurants Ype Von Hengst explained how his 19 restaurants would likely operate when open. The 31-year-old, fast casual, farm-to-table chain was doing well, prior to COVID-19.
"I believe these new practices are here to stay," said Von Hengst. "In many ways, it will be harder to reopen than opening a new restaurant." He went on to talk about rearranging restaurant layouts and ensuring that the restaurants would be only 45-50 percent full. Guests would be seated at every other table or booth so as to maintain a safe distance. Signage will encourage guests to stay at least six feet apart from other guests. And, customers temperatures may be checked upon entry.
"Large parties will have to be split up," Von Hengst added.
Some of Von Hengst's restaurants have outdoor patios which he predicts will be very popular. "Social distancing will still be maintained outdoors," he said. "We will also have fewer menu offerings due to a lower volume of customers and to ensure that the product remains high quality. There will be staff that don't come back. We have a great family culture but, despite this, we know that we will lose people to other industries. Training new people is easier with shorter menus."
Other changes include:
Continuing daily temperature checks on all restaurant associates
Disposable menus that are discarded after each guest
Silverware that is sanitized and sealed
Employees who are assigned to constantly wipe down high-contact surfaces
Hand sanitizer located throughout the restaurant
Employees wearing masks and gloves
Separate entrances and/or curbside pickup remains for takeout guests
Bar seating will be removed and reconfigured to allow six feet between bar stools
Bar servers will take orders and deliver drinks and food but will not linger across from guests
Overnight cleaning crews that are more rigorous and thorough
On The Border Mexican Grill & Cantina reopened its dining rooms in 45 restaurants across Georgia, Oklahoma, South Dakota, Tennessee, and Texas on May 6. To ensure the health and well being of guests and staff alike, the brand is using an "People First" program with an enhanced level of standards that involve processes implemented to ensure a safe environment.
All of On The Border's dining rooms in these states will follow all capacity requirements and social distancing protocols by removing tables from service and having guests stay outside of the building until their table is ready. The restaurants are also implementing enhanced cleaning and sanitation procedures:
There will be dedicated team members whose sole job is to constantly clean countertops, tables, chairs, door handles and more.
On The Border will be offering disposable menus, with a limited but ample offering of its signature items.
All team members will have to complete a Health Questionnaire and have their temperature checked before clocking in.
Team members will also be required to wear masks and gloves, which will be changed frequently throughout their shift.
There will not be any bar-top service, but alcoholic drinks will still be available.
"We are excited to reopen our dining rooms and to start serving our border-style classics," said CEO Matt Hood. "Reopening our dining rooms will not be a one size fits all scenario. That's why we will reopen slowly and cautiously in a way that allows us to best serve our communities. We are committed to providing the safest environment possible for our team members and guests."
Datz Restaurant Group has resumed dine-in service at all locations in Tampa and St. Petersburg, Florida and even invested in a full-time expert dedicated to overseeing safety practices for both customers and employees.
Aiming for guests to both be safe and "see safe" as they begin "dining at a distance," Datz co-owners Suzanne and Roger Perry called upon consultant Danielle Egger of Florida Food Safety Systems, with whom they've collaborated to develop and maintain Datz's standards of cleanliness.
In preparation for reopening, Egger, who has more than 17 years of food safety regulation and restaurant sanitation experience in Ohio and Florida, trained hundreds of Datz employees on its stepped-up health and safety measures to help prevent the spread of COVID-19. Datz's guidelines will continue, along with some new practices, as locations return to normal business operations, including:
Datz locations, including Datz and Dough in Tampa and Datz and Dr. BBQ in St. Petersburg, are open at 25 percent capacity, allowing parties of up to 10 seated six feet apart, until further notice and according to state mandates.
All employees are required to wear masks and gloves at all times. They will also be asked to complete a pre-shift assessment to determine if they are experiencing any symptoms associated with COVID-19, and all employees who feel sick are asked to stay at home.
Datz is stationing employees at restaurant entrances to open doors for guests to help limit contact with otherwise commonly touched surfaces.
Each open table in the restaurant functions as a self-contained "sanitation station," with servers sanitizing tabletops in front of guests prior to seating, providing individually wrapped antibacterial hand wipes to diners before serving food, and offering sealed packages of single-use, disposable utensils (reusable silverware rolled in laundered linen napkins are still be available upon request).
Datz will also offer single-use menus and stylus pens sanitized in front of the guest prior to each use at Datz's low-contact, point-of-sale tablet payment system.
Parties waiting to be seated are required to practice adequate social distancing outside the restaurant and will not be allowed to congregate in large groups.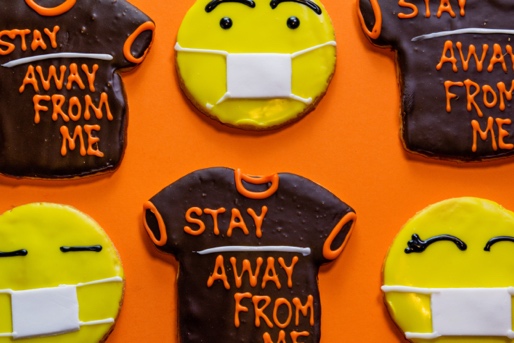 Datz team members won't be the only folks wearing masks. Diners will find familiar—but masked—faces like Britney Spears, Queen Elizabeth and The Rock greeting them throughout the restaurant as well as cookies, above.
Xperience Restaurant Group (XRG) is implementing a set of guidelines for safe reopenings across its restaurant concepts. The company will bring back furloughed employees and look to make new hires as necessary to prepare and train staff for reopening. All XRG employees will undergo extensive training to prepare them for the "new normal" and to ensure everyone – regional directors, executives, general managers, front-of-house and back-of-house staff – is fully aware of the latest guidelines and mandates. The company's Learning & Development team will continue staff education through a new fundamental training program across the group.
"Our Learning & Development team has done an incredible job laying the groundwork for our restaurants to begin reopening cautiously and safely," said Randy Sharpe, CEO of XRG. "The level of dedication and thought we're putting into our staff training is testament to how much we care about our customers. We look forward to safely welcoming guests back into our restaurants and are fully committed to taking all necessary steps to protect each other and our valued guests during this time of heightened sensitivity."
XRG's new mandatory staff training includes five days of educational sessions for each employee. The training will cover updated brand safety protocols and standards:
Closely monitoring daily updates and recommendations from the CDC.
Restaurant operations will be in complete accordance with new state and local safety guidelines in all locations.
More frequently sanitizing common touch points such as tables, chairs, booth backs, door handles, faucets, credit card terminals and other service items throughout business hours.
Staff items that would previously be shared amongst several people will now be dedicated to one person or sanitized after each use, including:
POS systems – employees must sanitize hands before and after each use and the screens will be regularly disinfected.
Host stand and telephone – only one employee at a time will be allowed at the host stand, and that person is the only one allowed to use the phone; the entire area will be disinfected at shift change.
Depending on new mandates, restaurant capacity will likely be reduced.
XRG has created a new system that allows guests to wait in their cars and receive a call or text when the table is ready, instead of crowding outside or near the host stand (the host stand will also be marked with six-foot taping to guide social distancing).
No items will stay on the tables between guests; this includes condiments, signage, etc.
Mandatory temperature checks before shifts and directing crew members to never come to work if they experience fever or any COVID-19 symptoms.
Increased managerial staff at each site will monitor closely to ensure protocols are followed correctly by all staff members.
Salata has started reopening dining rooms throughout Dallas and Fort Worth. A number of Dallas and Fort Worth locations have opened up their dining rooms at 25 percent capacity.
"We're so thankful to our communities for their support during this unprecedented time," said Michelle Bythewood, Salata president. "With additional safety measures in place, we are prepared to safely serve our loyal guests in the dining room again. We look forward to serving you again and hope to see you soon."
They are supplementing food safety procedures with additional cleaning and sanitizing practices in place at all Salata locations, including but not limited to:
Facial coverings and health checks for employees, including temperature checks
Following all mandated capacity guidelines
Stickers on the floor, six feet apart, to help maintain social distancing
Coronavirus-specific training for cleaning, food handling and hand hygiene
Relocating utensils and shared condiments from the beverage and cashier stations to behind the counter, available upon request
When dining rooms reopen, tables will be removed or blocked off to maintain social distancing of six feet
Occupational health and safety experts urge business owners to be aware of the special health considerations that must be made before safely reopening. To assist employers during this transition, AIHA, a professional association for occupational health and safety science professionals, introduced the "Back to Work Safely" initiative to help employers and employees get back to work safely with industry sector specific guidelines and resources.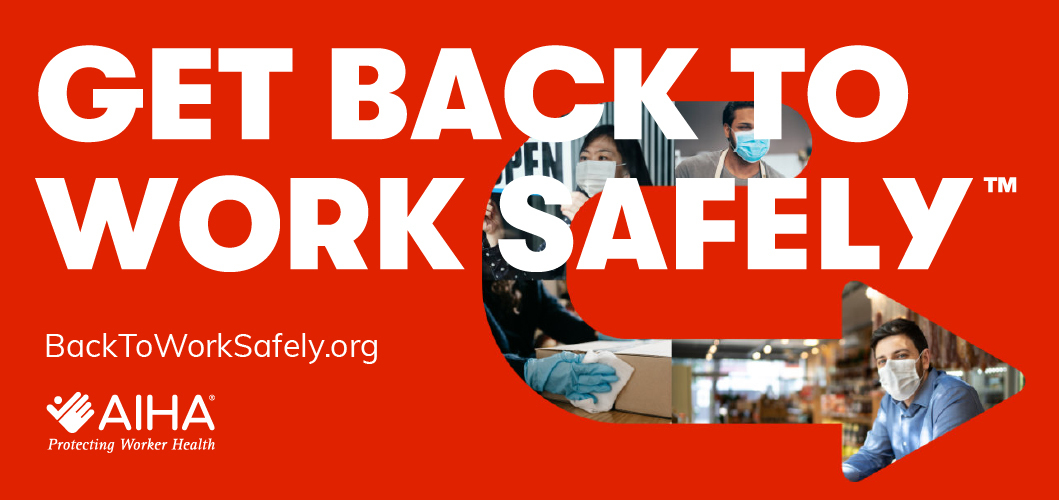 These free guidelines include recommendations on ventilation, personal hygiene, physical distancing and enhanced cleaning.
"Owners must not assume that they can walk back into a building that has sat un-used or with low occupancy for weeks or months. Some of the hazards include HVAC systems with mold, and cooling towers and water systems that have developed Legionella bacteria in the water. These hazards could lead to serious illnesses including Legionnaires' disease, an atypical pneumonia which has symptoms similar to COVID-19," said AIHA President, Kathleen Murphy. "As professionals committed to preserving and ensuring health and safety in the workplace and community, it is our ethical responsibility to develop science-based recommendations for limiting the transmission of COVID-19 as employers begin to re-open their workplaces."
All resources are available to download on www.backtoworksafely.org. CDC will feature a link to these guidance documents on their website.