Restaurant Reset: Welcoming Customers Back with Art
3 Min Read By Tricia Binder
Let's face it: these past several months have been tough on restaurant owners, customers and communities. It's not just business, though that's part of it. We sacrificed and stayed apart to keep each other safe as the public health crisis unfolded. And yet we saw even more evidence that for some members of our community, there is no safety. People are taking to the streets to demand justice. Communities, businesses and individuals are hurting in many ways.
In traumatic times, the impulse is to come together with friends in familiar places to share our experiences and comfort with one another. But the pandemic has made even that simple human reaction risky. As we inch toward a return to our old routines and gathering places, it feels like we need a reset — something visual and vibrant to commemorate "before" and "after." Art can fulfill that role.
Feeding the Spirit
People are anxious to get out of their homes, meet friends and family in a safe environment and resume some semblance of normal life. If your restaurant is gearing up to reopen, remember that in a restaurant setting, art can be a catalyst. It can bring new life, energy and positivity to a space at a time when those qualities are sorely needed. Whether indoors or out, larger-than-life art like a mural creates a welcoming space where people want to get together (safely) and enjoy life's simple pleasures again.
One Chicago restaurant, Recess, a trendy spot at the site of a former Ryder Truck facility, worked with our team to commission two 20- to 40-foot murals as a way to recalibrate and celebrate after the lockdown phase and welcome their customers back. Local artist Mosher filled the spaces with colorful, playful figures to depict not only the restaurant's fun vibe and culture, but also to reflect the community that surrounds it. The project received raving reviews from customers as well as local media attention.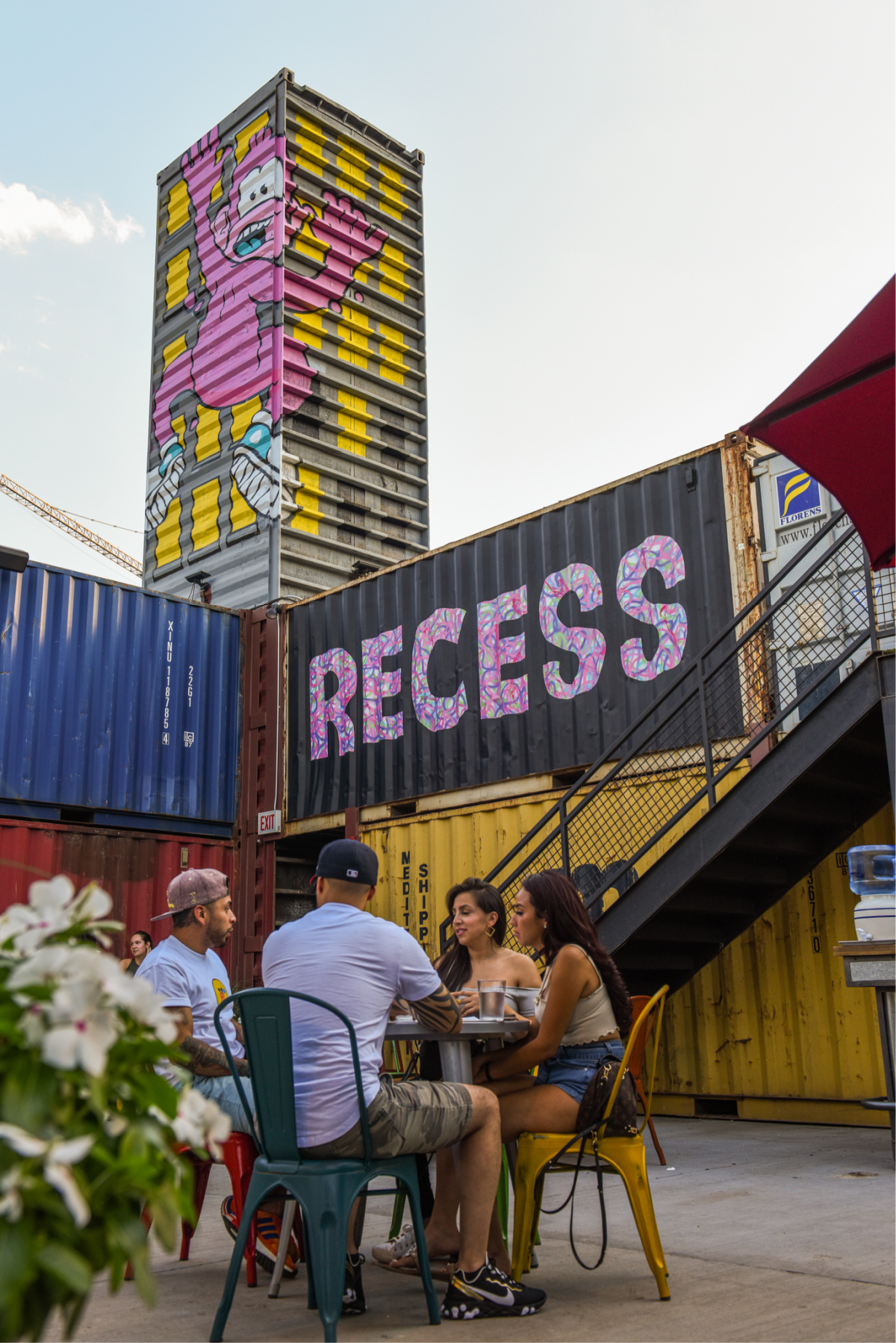 Mural concepts are highly individualized, and at their best, they can reflect a business's values and character like nothing else can, as the Recess murals demonstrate. Restaurant owners typically work with an agency like Muros to come up with a theme and then choose a local artist to create a vision. For some restaurateurs, it's all about the food they serve. For others, it's local history or a work of art that honors their community's resilience. In all cases, when done right, it's art that feeds the spirit.
Something to Talk About
Commissioning a mural to commemorate a reopening can also build excitement. A large work of art is eye-catching by definition. People can see it happening and follow along with the creative process, either in person or on social media. It's a news hook that restaurants can use to generate buzz. And it gives the restaurant a big story to tell — allowing the business to create a narrative around the art.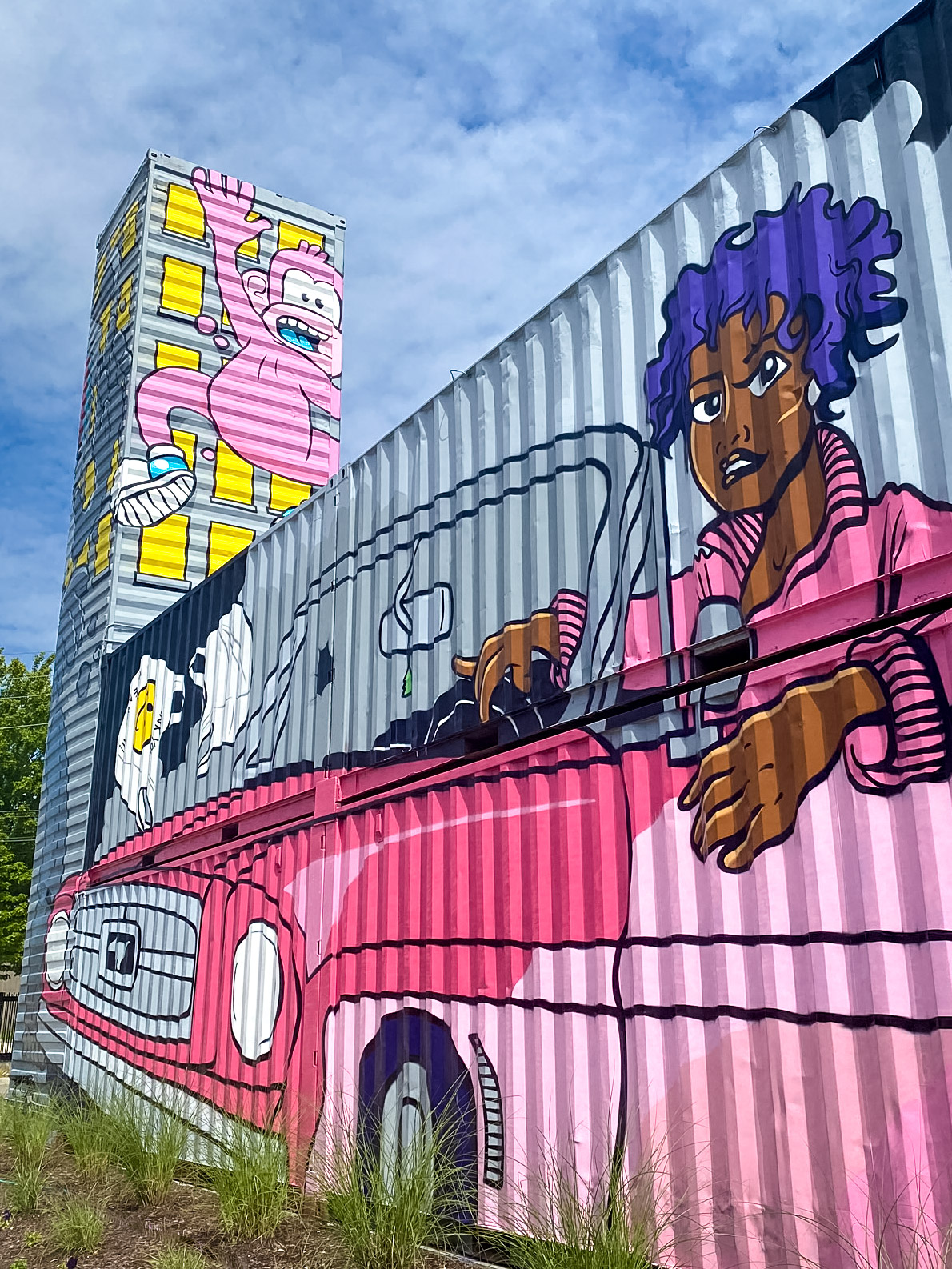 Social media-conscious restauranteurs have been paying attention to the Instagram factor for a while now, plating up 'gram-worthy food and engaging customers to raise awareness and build loyalty. A mural can take that strategy to the next level with a backdrop that provides irresistible "photo opportunities that will attract customers to you," as Compeat CMO Kristi Turner put it.
As a restaurant owner, you can work with an agency and an artist to develop a concept and arrive at a vision, and you'll have the opportunity bring your story to life. Whether it's about your building's history, the food you serve, or the spirit of the community around you, the work in progress and/or the big reveal are opportunities to tell your story.
So, if you're reopening your restaurant and looking for ways to make a statement as you welcome customers back, consider a work of art. We've all been through a tough time together. But with the right artist and vision, you can celebrate your business, your customers, your community — or all of the above — and give them something extra to celebrate at the same time.