QSR Pandemic Messaging Focused on Empathy and Convenience Wins Consumer Engagement
5 Min Read By MRM Staff
QSR brands that quickly adapted television advertising campaigns with messaging to respond to the pandemic saw this strategy pay off with greater consumer engagement, according to EDO, an advertising insights and analytics company that specializes in search engagement.
"QSR brands were already very offer-driven and had been promoting delivery through services like Uber Eats and Doordash, so they were better positioned to adapt and respond during this crisis, said Kevin Krim, President & CEO of EDO. "The challenge – and opportunity – for those in the Casual/Midscale category is to be more nimble so that they can also pivot quickly in response to changing circumstances. Having real-time data about how consumers are engaging with their ads can help them do that."
A key combination that proved particularly successful for a number of brands was: expressing empathy and understanding of the challenging times; offering consumers a great deal; and offering convenient and safe pickup and/or delivery options, EDO found.
EDO's data revealed how consumers responded differently to restaurant advertising throughout the pandemic – and how that differed by category. This information provides insights that can help brands hone in on what strategies have been particularly effective during this difficult time. The company reviews the increase in online search activity for a brand or product in the minutes following an ad airing. Search engagement gives marketers a real-time view of consumer behavior – what consumers actually do in response to TV advertising, not just what they remember or say they'll do like traditional television ad measurement techniques, according to EDO.
For example, Olive Garden began airing this commercial in late March, responding quickly to the pandemic with empathetic messaging expressing a desire to help families, a great deal on buy one, take one to-go dinners for at-home dining, and safe online ordering for convenient carside pickup or delivery. While many other Casual/Midscale restaurants significantly pulled back or completely stopped their television advertising during the early months of the pandemic, Olive Garden continued to maintain a strong television presence with variations of the aforementioned ad, which paid off by driving strong consumer engagement for the brand over that period.
"Olive Garden was a brand that quickly and successfully shifted their strategy from dine-in to at-home by skillfully acknowledging the new "COVID lifestyle" paired with an excellent BOGO offer supported by delivery/curbside messaging," explained. Bob Kraut, EDO Strategic Advisor and Former CMO, Papa John's International.
In the Quick Service category, KFC followed a similar messaging strategy by recognizing the need to deliver a great deal with its $20 Fill Up, while also letting consumers know about convenient and safe drive-thru and contactless delivery options. The brand paired these offerings with highly empathetic messaging, suggesting a way to make mealtimes easier for parents while they try to work, parent, and act as teachers for their children at the same time during the pandemic.
Other examples include:
Chipotle: This ad showcases Chipotle's efforts to make online ordering easy and efficient, including the brand's contactless carryout and delivery options – again, displaying an understanding of the need for convenient and safe options during the pandemic.
Taco Bell: This ad features Taco Bell's "At Home Taco Bar" offering, released during the pandemic, that allows customers to create their own taco bar at home for up to six people. This ad again offers a convenient solution for homebound consumers, especially with online ordering and delivery available.
Cracker Barrel: This creative features the return of Cracker Barrel's holiday menu items and gives viewers the option to order them for dine-in, curbside pickup, or delivery. The ad brings holiday cheer in a year where it is sorely needed and provides safe and convenient options to still enjoy holiday favorites during the pandemic.
The graphs below show how the QSR/Pizza/Fast Casual and Casual/Midscale categories fared, in terms of consumer Search Engagement with their national television advertising, from the start of the pandemic to November. The data is controlled for both audience size and ad duration, for an apples-to-apples comparison. Both charts are benchmarked to 100, representing how the category's advertising was performing in February before the pandemic.
At the beginning of the pandemic, the Casual/Midscale industry saw Search Engagement fall in March as consumers were impacted by hardship and the changing circumstances, but advertising had yet to adapt. This was followed by a big spike in engagement, primarily driven by Olive Garden as it quickly adapted its messaging to the effective creative discussed above while many other brands in the industry went off-air or significantly cut their television campaigns. As COVID cases spiked and lockdowns were implemented across much of the country from the late spring through the summer, engagement again declined.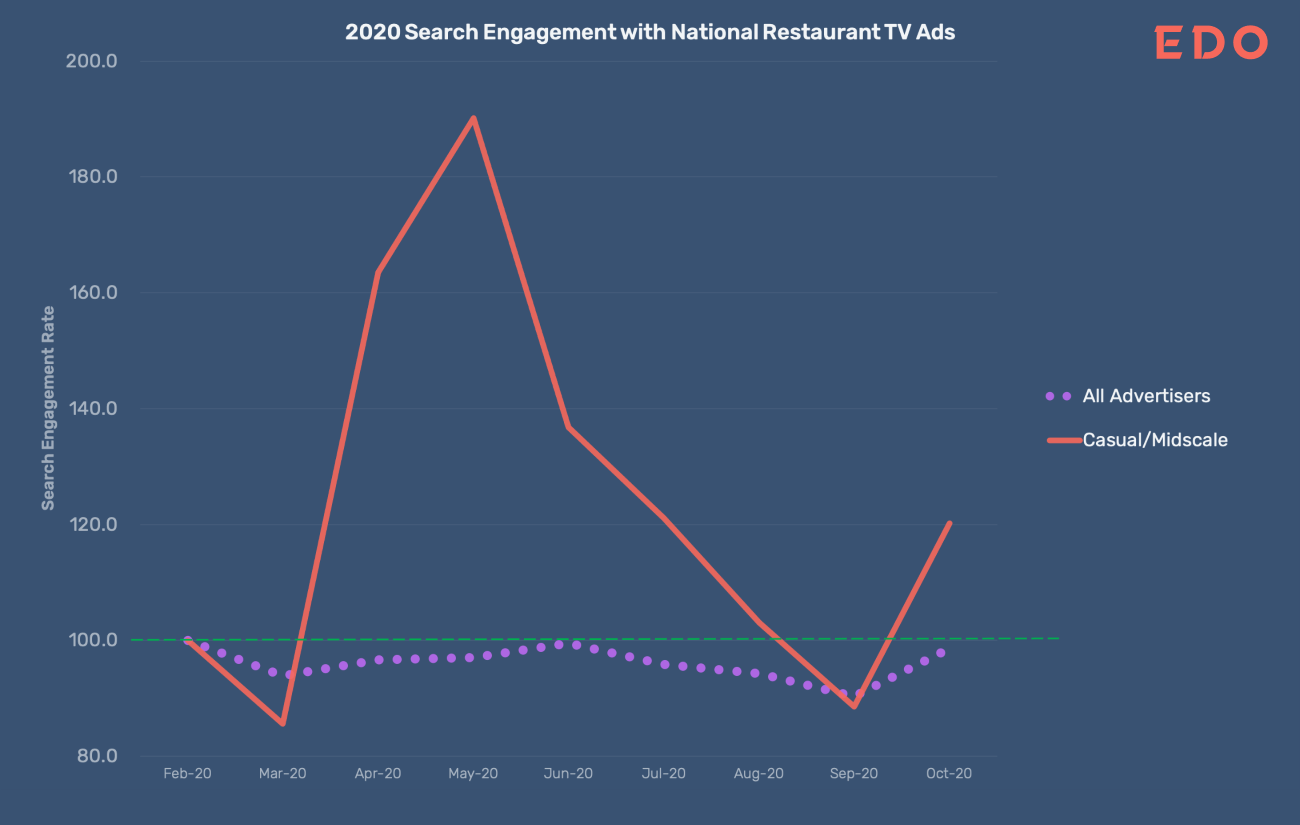 Many brands in the category only aired sporadically on television through the summer, if at all, and we did not return to a robust slate of Casual/Midscale national television advertisers until September as cases came down from the second peak, lockdowns were lifted, and restaurants started to reopen for dine-in service in some parts of the country. At this time, consumer engagement with industry television ads began to rise again.
Of note, the Casual/Midscale category has been more effective at driving consumer Search Engagement with national television advertising than many other industries through most of the pandemic, again largely driven by Olive Garden's successful early adaptation, as well as consumers' need to continue finding safe, convenient meal options compared to more discretionary spending. This is demonstrated by the difference between the category's performance and the performance of the "All Advertisers" line in the graph above.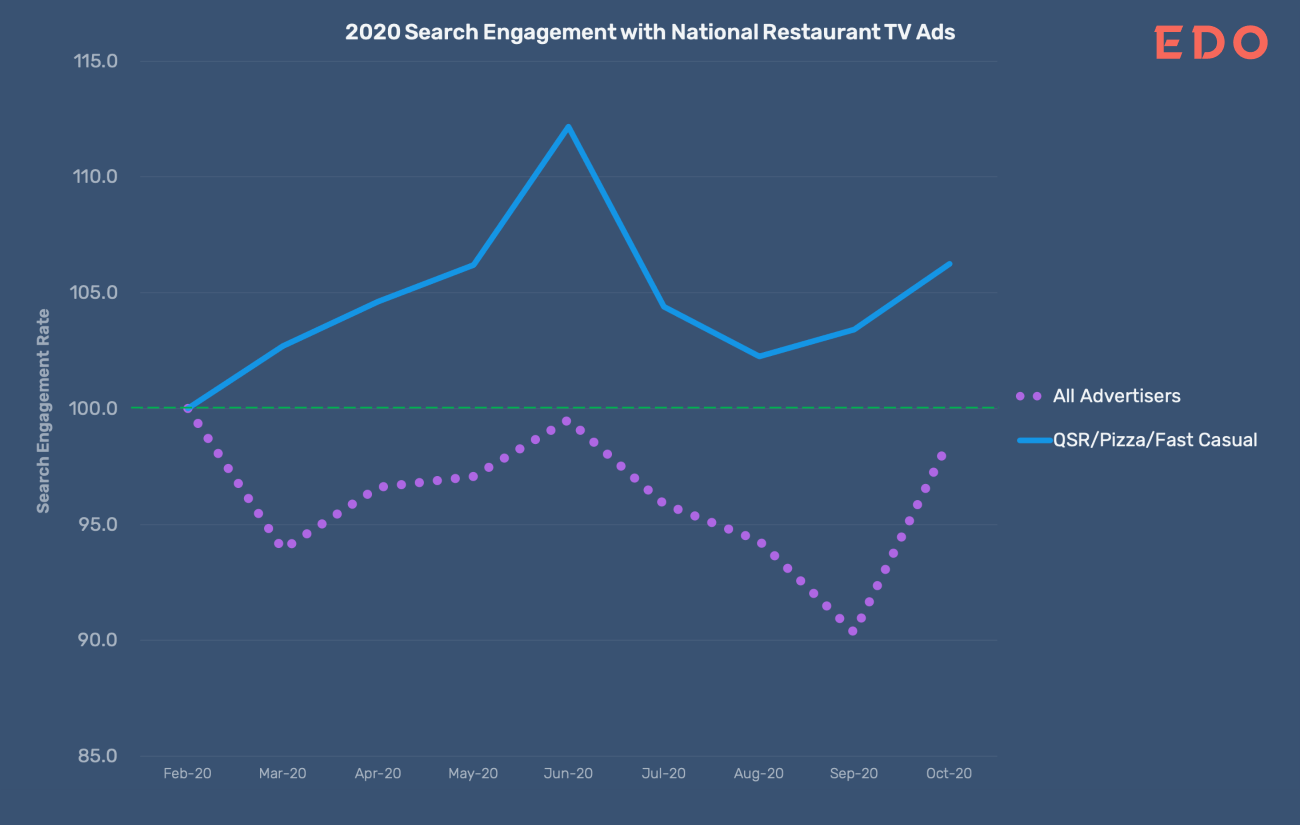 The QSR/Pizza/Fast Casual category was better equipped to pivot to the changing circumstances brought on by COVID because these brands already relied on several factors in their advertising that we've seen resonate during the pandemic – great deals and convenient/safe pickup (drive-thru) or delivery options (like partnerships with delivery services).
In particular, EDO data suggests the pizza subcategory performed extremely well through the pandemic as viewers were enticed by this quick, affordable comfort food and pizza brands regularly promoted their safe handling protocols and convenient delivery options. Given their regular use of drive-thrus, mobile ordering, and delivery, the QSR/Pizza/Fast Casual category was also less impacted by regulations that shut down in-restaurant dining, so there wasn't the same dip in engagement at the time those restrictions were implemented in many parts of the country that we saw for Casual/Midscale. In fact, Search Engagement actually peaked during that period, around June, as quick, safe, and affordable delivery from brands in this category became an especially valuable option to access food while staying home.
The category then also saw a drop in engagement as COVID cases spiked over the summer, but has also seen engagement rise again since as cases came down from the second peak, lockdowns were lifted, and restaurants started to reopen for dine-in service in some parts of the country. QSR/Pizza/Fast Casual advertising has consistently outperformed advertising from other industries at driving consumer Search Engagement over the course of the pandemic, demonstrating the value, and perhaps necessity, of the category's offerings for consumers during these difficult times, EDO pointed out.