PPP Part Two and More News Restaurants Need to Know Now
17 Min Read By MRM Staff
To add resources to these guides, reach out to Modern Restaurant Management (MRM) magazine Executive Editor Barbara Castiglia at bcastiglia@modernrestaurantmanagement.com with news.
Additional funding has been allocated for the Paycheck Protection Program (PPP). For more information, visit: sba.gov/paycheckprotection.
According to Administrator of the U.S. Small Business Administration (SBA) Jovita Carranza and U.S. Treasury Secretary Steven T. Mnuchin SBA resumed accepting PPP loan applications on Monday, April 27 at 10:30AM EDT from approved lenders on behalf of any eligible borrower. This will ensure that SBA has properly coded the system to account for changes made by the legislation.
To further ensure PPP loans are limited to eligible borrowers, the SBA has decided, in consultation with the Department of the Treasury, that it will review all loans in excess of $2 million, in addition to other loans as appropriate, following the lender's submission of the borrower's loan forgiveness application. Regulatory guidance implementing this procedure will be forthcoming.
"The PPP has supported more than 1.66 million small businesses and protected over 30 million jobs for hardworking Americans," they said. "With the additional funds appropriated by Congress, tens of millions of additional workers will benefit from this critical relief. We encourage all approved lenders to process loan applications previously submitted by eligible borrowers and disburse funds expeditiously. All eligible borrowers who need these funds should work with an approved lender to apply. Borrowers should carefully review PPP regulations and guidance and the certifications required to obtain a loan."
Update: On May 3, the Treasury Department released updated guidance saying an employer will NOT be penalized with reduced PPP loan forgiveness if an employee rejects an offer to return to their job.
Since Round Two of PPP loan processing began on April 27:
2.2 million loans have been made to small businesses which surpasses the number of all loans made in the first round
The total value of these 2.2 million loans is over $175 billion
Notably, the average loan size in Round 2 is $79,000
Nearly 500,000 of the loans were made by lenders with less than $1 billion in assets and non-banks
Since the launch of PPP on April 3, SBA has processed more than 3.8 million loans for more than half a trillion dollars of economic support in less than one month.
---
Under the banner of its longstanding "We Help You Make It" promise to foodservice operators, US Foods Holding Corp. introduced an expanded series of resources and solutions to help restaurateurs adapt to changing industry needs and prepare for a successful and safe reopening.
"Our We Help You Make It approach has always been about helping operators succeed, and never has that been more important than it is today," said Jim Osborne, senior vice president of customer strategy and innovation at US Foods. "Through weekly webinars and regularly updated tools and resources, we are helping operators support their employees and adapt their businesses so they can survive and in some cases, even thrive."
"We've been able to help more than 10,000 operators, including US Foods customers and non-customers, with our resources and we expect this number to climb as more operators strive to get ahead of what's next," Osborne added.
In addition to webinars, virtual one-on-one consultations with the company's Restaurant Operations Consultants and Food Fanatic Chefs, and a robust resource library, US Foods also offers support materials for restaurants and foodservice operations gearing up to reopen on its "Make it Now" site.
"The post-COVID dining experience will no doubt be different. Operators will need to consider new procedures and processes that will be critical to providing the right environment. To aid with these needs, we are assembling a full portfolio of solutions, such as enhanced sanitation needs, social distancing strategies for the dining room and new tools to support the operational changes our customers will need to make moving forward," Osborne said.
A sampling of some of the resource topics found on the "Make It Now" site include:
Navigating the CARES Act and accessing financial resources
Best practices for calculating cash flow
How to ramp up takeout and delivery operations
How to create engaging social media content to stay connected with customers
Tips for pivoting to retail
Also launching today, is a special edition of the company's Food Fanatics magazine. The issue explores lessons learned during COVID-19, what experts are predicting for the future and how restaurateurs can prepare to emerge from the post-pandemic period. You can view the special issue here.
Updates to the "Make it Now" platform are made regularly as industry needs and available information evolves. To view all of the available resources or connect with a US Foods expert, visit the company's website here.
---
As restaurants look to reopen, they will be faced with a number of health, financial and business challenges with the needs of each differing by city and size. To make it easy for restaurants of all sizes and types to adapt to these changes, OpenTable is introducing a new Open Door' pricing program.
For both new and existing restaurants that sign up for the program, OpenTable will offer:
No subscription fees through the end of the year

No cover fees through September 30, 2020

Up to 50 percent discount on cover fees in the fourth quarter of 2020.
For help reopening your restaurant or to join the OpenTable platform, please visit support.opentable.com.
---
Socialincs, Inc., launched "Restaurants Rising," an initiative providing resources and support to help local area restaurants operate and adapt in response to Covid-19 and the associated rapidly changing market dynamics.
The program will offer access to technology, marketing, and loyalty platforms, as well as pro bono business consulting and multi-disciplined operational and psychological support, to help local restaurants keep their businesses intact and survive in the current challenging economic environment. To qualify to participate in the program, restaurants must be independently owned and operated, and doing business in the Orange, Los Angeles, Riverside or San Bernardino County area.
Many local community restaurants were caught off-guard and have struggled to revamp their business models almost overnight to comply with Covid-19 social distancing mandates. Where take-out and delivery orders previously made up 15 percent of their business, they have had to quickly morph their business model to accommodate 100 percent of business via take-out and delivery, in the midst of an economic downturn.
"Today, the Covid-19 pandemic threatens to erase the livelihood and existence of many of our 'mom and pop' local restaurants that play a critical role in communities across the country," said Dave Naidu, Chief Executive Officer, Socialincs, Inc. "We believe that we are in a unique position to provide a wealth of resources to help many of our smallest locally-owned restaurants. There are many concerns and much that restaurants need to do right now to stay afloat and succeed. Working together with other organizations, we want to help guide them and give them a game plan."
The "Restaurants Rising" program provides immediate and ongoing support in the following areas:
Multi-lingual online food ordering platform and widgets to enable restaurants to seamlessly and easily add ordering capabilities to community websites.
Support for no-contact doorstep delivery and minimal-exposure pickup options.
Automated and streamlined collection and remittance of city/county/state sales and use tax.
Business consulting and coaching on topics including how to drive improved order volume leveraging social media and the web, creating new family-style meals and packages for take-out, and customer service for curbside pickup and take-out orders.
Training on best practices and templates for printed materials to promote employee and customer safety in accordance with City, County, State and Federal orders.
Guidance on applicable emergency relief measures for micro businesses.
Ongoing community supported forums and workshops.
One of the challenges small local restaurants face during this time is popular dine-out delivery providers such as GrubHub and UberEats are costly to small restaurant proprietors, taking on average 20-30% of the order proceeds from consumers and 20-30 percent of the order proceeds from restaurants.
Restaurants Rising provides restaurateurs with access to the Loqalli (pronounced "Locally") platform. Developed by Socialincs, Loqalli is a turnkey secure online ordering and delivery platform that enables restaurants to support an online order and take-out delivery model, with secure online payment processing that speeds revenue collection with 24-48 hour payment settlement, and support for no-contact doorstep delivery and minimal-exposure order pickup options.
Moreover, the platform allows for the retention of more than 96 percent of the order proceeds, giving financially stressed restaurants more revenues to pay rents, payroll, and offer more value to customers.
Restaurants Rising also will address another underlying need that is often overlooked in the restaurant community – the high mental and emotional toll of fears, distress, and anxiety. In addition to the support listed above, the program offers free access to mental health resources, awareness, education, and tips via live and recorded webinars by area clinical psychologists, psychiatrists, and mindfulness coaches.
"Stress is the number one trigger for mental illness," said Dr. Sonia Singh, a cofounder of Socialincs, organizing the mental health support elements of the Restaurants Rising program, who is also a licensed clinical psychologist and President of Chiron Psychological, Inc. "During these unprecedented times, where restaurant owners and their employees are struggling to survive, we must empower their emotional wellbeing so they can go from a sense of loss to resilience."
Local Southern California restaurateurs who wish to enroll in the Restaurants Rising program can participate in a series of informational overview webinars to learn more. The webinars will be held on Monday, April 27 at 2:30 p.m. PT and Wednesday, April 29 at 2:30 p.m. PT, and will repeat weekly on Mondays at 2:30 p.m. PT and Wednesdays at 2:30 PT.
To learn more and to register for the webinars, please visit: https://restaurantsrising.com/.
---
PayByPhone will support the global nonprofit organization World Central Kitchen's COVID-19 relief response. The #ChefsForAmerica effort is now serving 160,000 meals every day across the United States and in Spain.
Founded by Chef José Andrés a decade ago, World Central Kitchen and its partners are working to safely distribute fresh meals in communities across the nation that need support. The effort enables families to pick up and take home meals, and includes delivering food to vulnerable communities, seniors who cannot venture outside and frontline workers at hospitals and other medical facilities.
The endeavor also includes putting restaurants – that otherwise might be temporarily closed – back in business through a coalition of restaurants and tech companies working to feed the hungry.
PayByPhone is using its parking platform to collect donations across the United States to bolster the #ChefsForAmerica effort. PayByPhone users can log into the app and donate by using designated parking zone number 19. To stretch each donation, PayByPhone will match a portion of user donations through its app to the #ChefsForAmerica initiative.
"We want to do our part to help the communities we serve weather this storm," said North American CEO Roamy Valera. "Our customers are looking for ways to help too, and this effort lets them contribute in an easy way. Making a meaningful impact can happen right in the palm of your hands."
For more information visit, paybyphone.com/parkitforward.
---
Streetsense, a Bethesda, Md.-based strategy and design firm, just launched a free pandemic relaunch toolkit for restaurants and bars.
The toolkit brings together our best thinking to help solve the current challenges facing the restaurant and hospitality business leveraging decades of work with global, national, and local industry icons.
The length of the recovery from the Covid-19 pandemic and the severity of the decline remains unknown, but reopening will need to be done carefully with possibly dramatic changes to pre-pandemic approaches to capital management, sanitation, operations, and marketing.
Specifically, the toolkit explores how to:
Prepare a capital plan for relaunch that carefully considers timing;
Protect cash flow and seek additional capital through public and private sector sources;
Implement changes such as improved signage, customer communication tools, and marketing to setup the business for recovery; and
Modify how you engage with guests through business diversification, social distancing, and post-pandemic safety and sanitation.
---
Champagne Billecart-Salmon said its first online auction, which will be held by Zachys, will take place from May 5–10, 2020 at Auction.Zachys.com and will raise funds for The James Beard Foundation in an effort to support the hospitality industry during this difficult time.
Billecart-Salmon is donating rare bottles from its library including large formats, limited edition anniversary cuvées, and select rare vintages to be auctioned off in 12 auction lots. Zachys expects the auction to realize in excess of $10,000. Zachys will also donate their profits from the auction to this worthy cause.
"Our thoughts go out to all the people and businesses affected by this crisis, especially our friends in the restaurant, hotel and bar industries, who have always been there for us. It's now our turn to be there for them to help make sure they can reopen. Through the auction, we hope to raise a significant amount of money that will go towards recovering the industry," says Mathieu Roland-Billecart, CEO and seventh generation of the bicentenary champagne house.
One-hundred percent of proceeds from the auction will go to The James Beard Foundation's Open for Good Campaign, a national effort to ensure that independent food and beverage establishments are able to reopen following the pandemic.
"We are grateful to have the generous support of Champagne Billecart-Salmon for our national relief efforts," says Kris Moon, Chief Operating Officer of the James Beard Foundation. "Independent food and beverage establishments are critical contributors to their communities, employing nearly 16% of the American workforce and contributing as much as 60% of their money back into their local business communities. Together, we are committed to ensuring there is a vibrant culinary community on the other side of this crisis."
To join the Billecart-Salmon Industry Relief Auction, visit Auction.Zachys.com between 10:00am EDT on May 5 and 9:00pm EDT on May 10, 2020.
---
Transportation leaders including Wunder Mobility, World Economic Forum's COVID Action Platform and Global New Mobility Coalition, Hertz Germany and Allianz, united to launch #WeAllMove – an open digital platform aimed at connecting essential businesses and workers with local mobility operators for safe mobility solutions. The goal is to keep essential parties moving while reducing dependency on public transport, and therefore exposure to infection.
Restaurants looking for mobility options to execute food delivery can search the database for local mobility providers, offers, and discounts.
---
Rouxbe is offering a new free course we are offering in partnership with the American Egg Board.
There are two online courses available — Egg Foundations offers video-based instruction focusing on egg cooking techniques, egg safety, nutrition, and best practices for handling and serving eggs. Egg Functionality looks at the functionality of eggs in culinary research, product development and food science applications.
You can find more information on these here: https://rouxbe.com/eggpro/
---
San Francisco-based CardFree is offering their services for free for the first three months (or longer) to small- and medium- sized restaurants & hospitality businesses––with no strings attached. CardFree is here to help and taking it day by day with their merchant partners as they roll out new services and strive to be of service and help those restaurants and businesses who have been so severely impacted.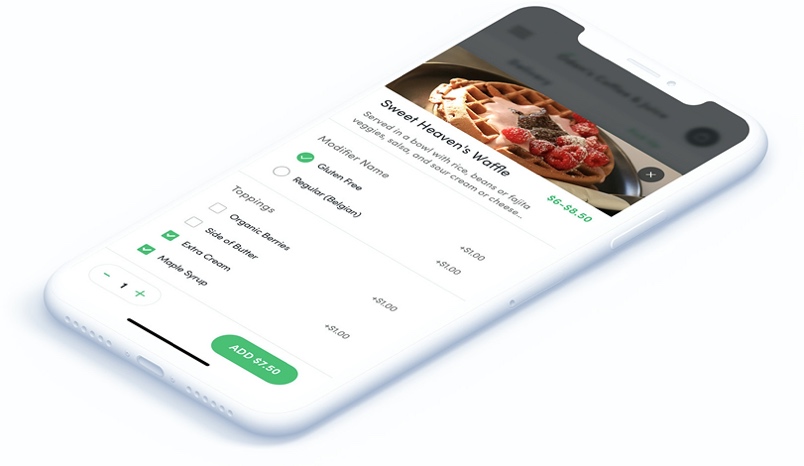 By empowering restaurants to take control of their guest experience via a customized mobile order system, CardFree's complimentary services offer a simple proposition—with no bait or switch, no long-term contract; and a "pay us when you can" model—providing partnership and guidance for the many operational shifts business owners are needing to make, while also providing a long-term solution to adapt and use in the months ahead as they scale back up.
Keeping both the immediate future and long game in mind, CardFree's key differentiating services include:
Contactless order & pay solution

Quick implementation that also plugs into a restaurant's existing processing systems

Tailormade mobile integrated platform solutions that speak to each individual restaurant's brand identity and needs

Access to customer data and analytics to best serve patrons

Sophisticated, easily integrated add-ons (e.g. loyalty and rewards programs, specials/offers, on-premise ordering).
"To see small businesses flailing in COVID-19's path called for quick and significant action," notes Jon Squire, CEO of CardFree. "We are not a multi-billion-dollar company and as a service provider to restaurants, we are feeling this pain as well. The one thing we know to do is to provide our time & technology to help hospitality businesses through this impossibly difficult time and be of service to an industry that's been so severely impacted."
---
Rabbit Hole and Tales of the Cocktail Foundation partnered to provide immediate financial relief to the bar industry and support the 501c3 nonprofit's mission of leaving a long-lasting impact on the communities it touches. The donation marks the beginning of a campaign created by Rabbit Hole called #2DreamInside, an initiative inspired by Kaveh Zamanian who pursued a personal dream, stepping away from a successful career as a psychologist to start his own spirits company.
#2DreamInside encourages cocktail professionals and enthusiasts alike to pause during these turbulent times, reflect on how their lives can look in better days ahead and help others in the process.
Rabbit Hole is kick starting #2DreamInside with a $50,000 donation for direct COVID-19 financial relief to the bar industry in partnership with Tales of the Cocktail Foundation, to benefit bartenders in the Tales of the Cocktail network. Rabbit Hole will also contribute an additional $2 for every social media post that shares the #2DreamInside hashtag, committing up to an additional $150,000 to support the bar industry through Foundation initiatives.
Kaveh Zamanian, Rabbit Hole's CEO, founder and whiskey maker said, "Rabbit Hole started as a dream, the craziest thing I've ever done, but now, I'm doing what I love and every day I hope to inspire others to do the same. Ironically crisis forces clarity and with COVID there is an opportunity to help others look inside to find their dream. So, we've partnered with the Tales of the Cocktail Foundation to launch the #2dreaminside campaign. We hope that this campaign encourages folks to take time, look inside, share their dreams and pursue their true calling."
Proceeds from the #2dreaminside campaign will be used to help underwrite Tales of the Cocktail Foundation health and wellness initiatives such as Full Hands In / Full Hands Out, a weekly webinar series bringing leaders in the drinks industry together to discuss tough topics affecting our community and Beyond the Bar which launched in 2017 to support, and empower action to improve health and wellbeing within the global drinks industry.
"We are honored to partner with Kaveh and the Rabbit Hole team to provide meaningful COVID-19 relief efforts to bartenders in our network during these challenging times," said Caroline Rosen, President of Tales of the Cocktail Foundation. "We are immensely grateful to establish a long-term partnership that will allow us to keep our bar industry connected while furthering our mission to Educate, Advance and Support this global community."
Through the #2DreamInside campaign, Rabbit Hole and Tales of the Cocktail Foundation are developing uplifting content to help keep bartenders and drinks enthusiasts connected while social distancing. Content will include live stream video interviews with Kaveh and Tales of the Cocktail Foundation, bartender challenges and live stream mixology classes, 360 virtual tours of the Rabbit Hole Distillery, virtual happy hours and virtual tastings with chefs. For more information, visit #2DreamInside.
---
Shift4 Payments launched SkyTab Takeout, a standalone online ordering solution that offers a turnkey setup process for restaurants. The solution is being offered free of charge, with no setup fees, order fees or monthly fees.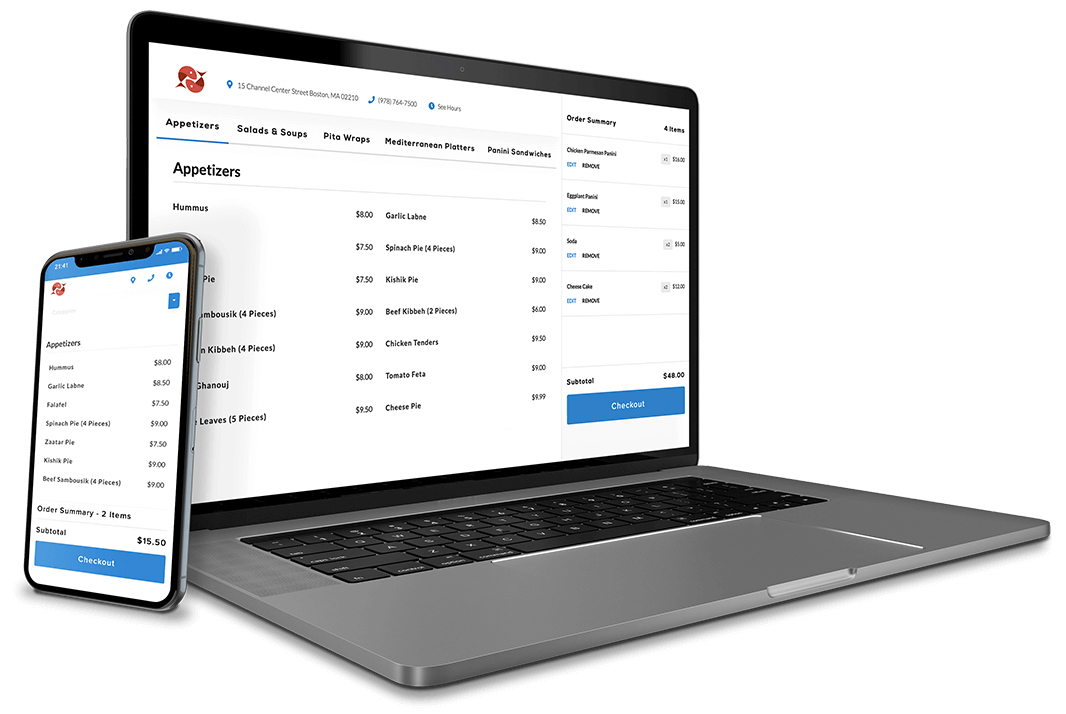 SkyTab Takeout enables restaurants to quickly publish a branded online ordering website in an hour or less. The menu can easily be set up through an intuitive step-by-step online wizard and can be customized with the restaurant's logo and business information. Every custom website features a responsive design that can be viewed on a computer, tablet or smartphone. Additional menu configuration and reporting can be accessed through an easy-to-use online admin dashboard.
Shift4 Payments Chief Technology Officer Michael Russo states, "SkyTab Takeout is the perfect solution for restaurants who are quickly trying to shift to takeout and delivery as dine-in service declines in the current environment. We are doing this to help independent restaurants during this difficult time. We understand that consumer preference, as well as state regulations, have forced a rapid shift in operations and not every restaurant was fully prepared for this. We also know that many of the online ordering options currently available are time-consuming to set up and can also be very costly. Our goal was to help independent restaurants make this transition as quickly and easily as possible, and SkyTab Takeout delivers this with a simple, turnkey solution — offered at no charge to the business."
For more information on SkyTab Takeout, please visit skytab.com.
---
Restaurant Playbooks developed a series of free online training videos to help operators keep their team and customers safe.
To learn more, visit www.restaurantplaybooks.com/covid.
---
Restaurateurs Michael and Lindsay Tusk have founded FEED THE FUTURE, a not-for-profit charitable foundation aimed at helping their San Francisco employees at three of their restaurants and local farming communities in the supply chain impacted by the COVID-19 pandemic.
FEED THE FUTURE launched an online auction of dinners, cooking classes, wine and spirits tastings, and other interactive activities from across the family of restaurants to support the effort. The three Tusk restaurants involved are Quince (a three Michelin star recipient), Cotogna, and Verjus.
"With more than 150 of our employees and several of our suppliers impacted by the pandemic, we want to appeal to our loyal diners to purchase items from the auction in order to contribute to the welfare, financial security, and well-being of so many during this very difficult time," said Michael Tusk.
Venable LLP helped formed the new not-for-profit, working on a pro bono basis. San Francisco-based partner Jill Rowe has led the Venable team, with assistance from associates Audrey Cubizolles and Russell Whitman.
---
Podium Starter is now available to local businesses in the United States. Created as a response to wanting to assist local businesses' recovery from COVID-19, the free suite of tools is designed to enable local businesses to adapt to the new normal by being able to quickly and easily get a start on texting their customers.
Podium Starter combines the fundamental benefits of its best-in-class suite of messaging tools into a free, basic starter pack for the first time. Designed specifically for local businesses, companies can set up Podium Starter and begin messaging customers in under five minutes through a simple self-service portal. After that, businesses will instantly have the tools to start customer messaging, contact-free mobile payments and webchat using texting and messaging channels that customers use and trust.
"The need for local business isn't going anywhere, and we understand the immense challenge that these entrepreneurs are facing right now," said Eric Rea, co-founder and CEO at Podium. "By offering a free introductory version for the first time, we're aiming to make it possible for every local business to message their customers at a time when they need it most. We've already seen some success with our trial run through our text-to-takeout restaurant program in Utah, and we're excited to see businesses across the country take advantage of our latest offering."
Podium Starter's essential tools can help local businesses get a start on building and maintaining contact with their customers and operating via text, including:
Staying open despite low foot traffic – Companies can utilize text to do business — sending pictures, answering questions, coordinating and more — without opening their doors.
Accepting safe, no-contact payments – Customers can pay without handing a card over, touching a credit card reader or using a pen to sign a receipt.
Enabling texts right away – Podium Starter is easy to use and free, and businesses can begin texting customers within minutes of signing up.
"Leaning on Podium's platform to help run our business has really helped us keep going as we had to recently shut down the dine-in portion of our operations," said Sun Choi, an owner of Yummy's, a family-owned Korean barbecue restaurant. "We have continued to stay connected and serve our customers through Podium's new free service, which lets everyone keep a safe distance while still supporting our business."
To find out more and sign up for Podium Starter, visit podium.com/starter.
---
Valrhona has been inspired by the solidarity and resilience from the food community during the health and economic crisis. As part of the chocolate company's efforts to support small, independent businesses and the industry as a whole, Valrhona invites all independent restaurants, bakeries, chocolatiers, pastry shops and other culinary makers to register for its new, interactive CakeWalk Map.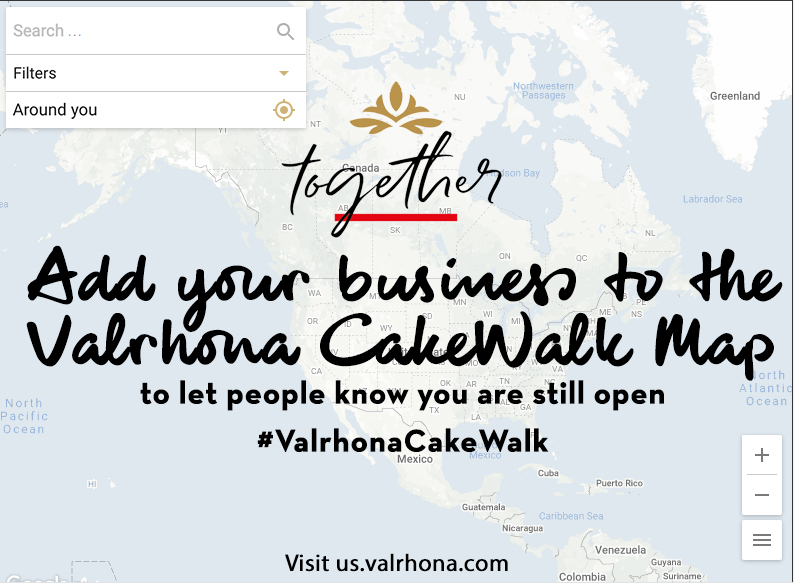 Valrhona's CakeWalk is a resource to help connect people around North America with nearby, small businesses that are still operating using safe, socially distanced practices. In order to help the food and pastry community bounce back stronger than ever, businesses across the industry, not just Valrhona customers, are welcome to be included in the map. The company's goal is to fill the map before Mother's Day (May 10) so that people throughout the US and Canada can patronize local businesses during this important time for pastry.
Valrhona needs your help to make an impact. Share this initiative through email, newsletters and social media posts to be part of the collective movement to rebuild our beloved industry. The more establishments that register to be on the map, the greater the buzz we can generate, and the more businesses we can help save together.
Here's how you can get involved:
Register your business if you are still open and taking orders.
Share the registration link with your community of pastry chefs, chocolatiers, and local artisans.
Once the map is live, share the map with your social media followers, friends and family to help get the word out.
For more information, visit https://us.valrhona.com/cakewalk-map-north-america.
---
BentoBox launched Restaurants.Love, a website that helps diners support their favorite local restaurants with guilt-free online ordering.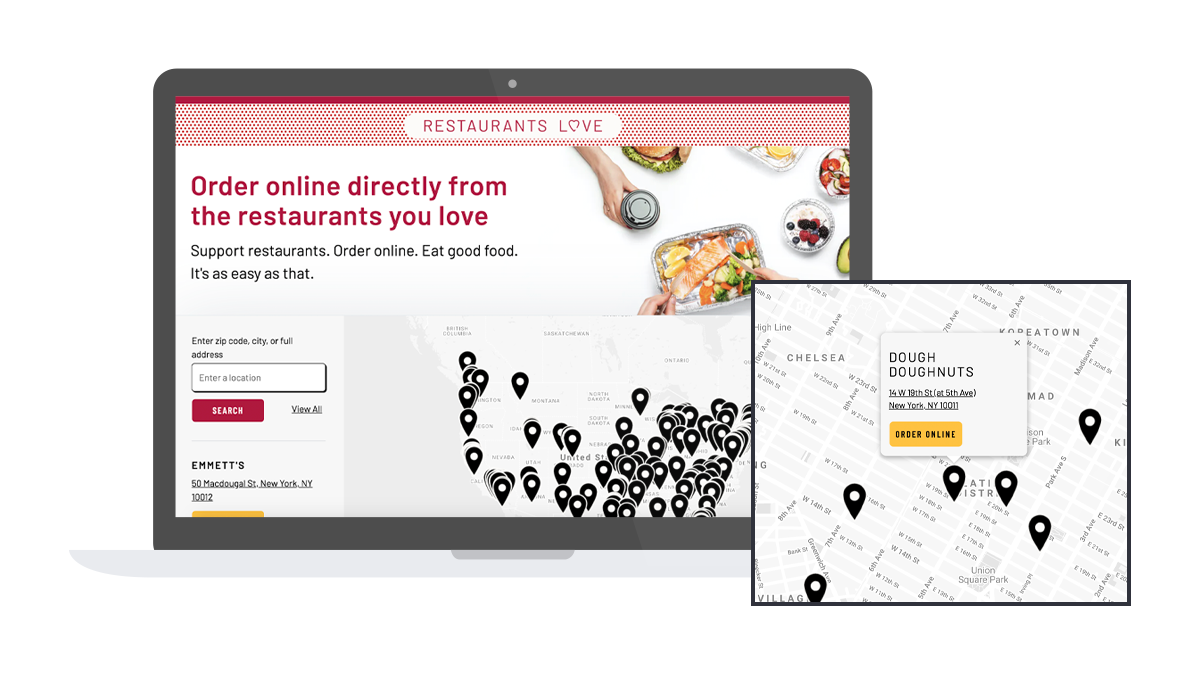 Restaurants.Love provides an easy-to-use directory that enables diners to order directly from thousands of local favorites. By ordering directly, diners both save money on hidden third-party fees, which can make orders 91 percent more expensive, and ensure that restaurants keep the whole check.
"Restaurants are the pillars of our communities," said Krystle Mobayeni, Co-Founder and CEO of BentoBox. "As diners, we want to do all we can to support them with online orders, but third-party delivery services often take too much of a cut to make those orders profitable for restaurants. We're proud to launch Restaurants.Love today, so that diners can feel good about their pickup and delivery orders at a time when restaurants need their support."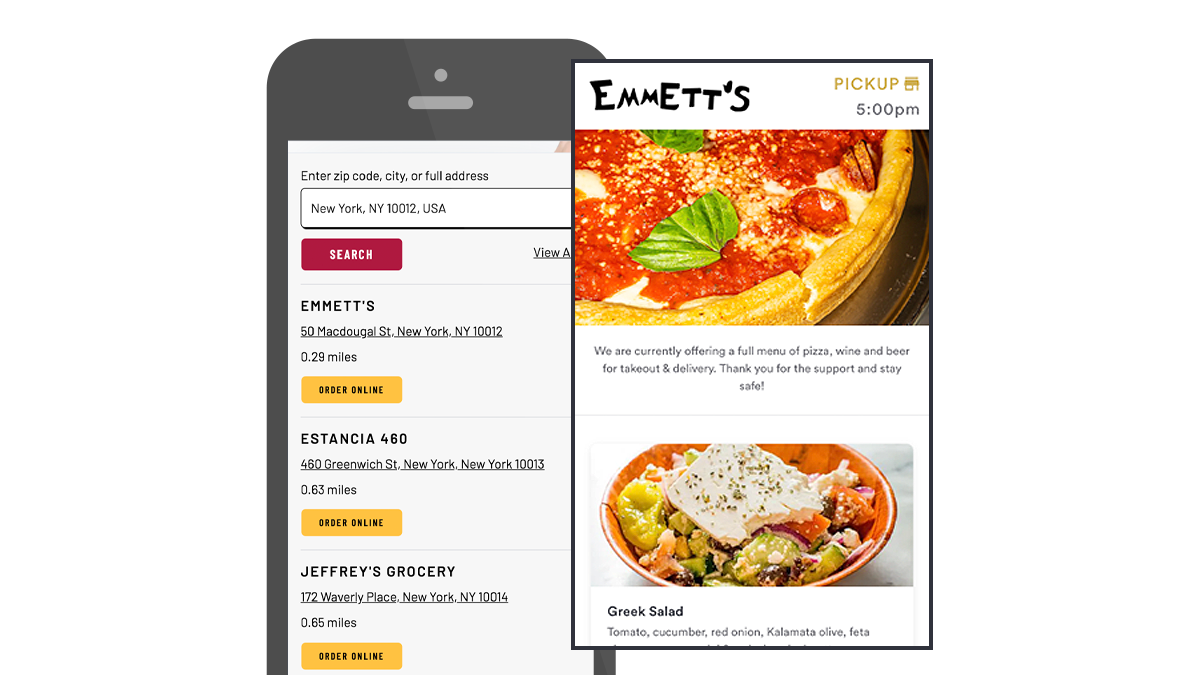 Participating restaurants include neighborhood staples, such as Cheesetique in Alexandria, Va., Mucci's Italian in St. Paul, Minn., and Union Square Hospitality Group in New York City. Many Restaurants.Love locations also offer a simple checkbox that gives diners the ability to contribute $1.99 to a COVID Relief Fund for the restaurant at checkout.
Other Restaurants.Love locations are even leveraging their websites to drive donations for healthcare workers. Reunion, an Israeli cafe in New York City, for example, encourages customers to order a "Meal for our Healthcare angels," which Reunion then delivers to front-line healthcare workers in New York.
---