PPP Flexibility, Free Reopening Resources and HungerForce
23 Min Read By MRM Staff
In this edition of MRM News Bites, we feature the latest on PPP loans and newest tech and products to help restaurants on the road to recovery.
PPP Goes Flexible
President Trump signed H.R.7010 – Paycheck Protection Program (PP) Flexibility Act of 2020 which extends provisions of the act to give more time to both use and pay back the funds.
Key takeaways include:
Borrowers now have 24 weeks to use the funds instead of eight. (Borrowers who have loans can still use the eight-week rule.)
The minimum amount used for payroll is reduced to 60 percent from 70 so there is more for rent, etc.
For new loans, the pay back term for non-forgiven debt is extended to five years from two.
The minimum amount used for payroll is reduced to 60 percent.
The deferral period is now one year
When the house passed the legislation earlier, the National Restaurant Association Executive Vice President of Public Affairs Sean Kennedy said,
"Restaurants have suffered more job and revenue losses than any other sector of the economy because of mandated closures and restrictions on operating. This is why we have expressed, since the beginning of the COVID crisis, that our industry's unique operations require a flexible recovery program.While the PPP program can be a critical tool for helping restaurants and small businesses, changes to the program are needed so it can be utilized as intended. … "Our focus will now shift toward achieving similar bipartisan results in the Senate because enacting these PPP changes will help restaurants get the relief they need to get employees back to work and the industry on the path to recovery."
In further detail, SBA, in consultation with Treasury, will promptly issue rules and guidance, a modified borrower application form, and a modified loan forgiveness application implementing these legislative amendments to the PPP. These modifications will implement the following important changes:
Extend the covered period for loan forgiveness from eight weeks after the date of loan disbursement to 24 weeks after the date of loan disbursement, providing substantially greater flexibility for borrowers to qualify for loan forgiveness. Borrowers who have already received PPP loans retain the option to use an eight-week covered period.
Lower the requirements that 75 percent of a borrower's loan proceeds must be used for payroll costs and that 75 percent of the loan forgiveness amount must have been spent on payroll costs during the 24-week loan forgiveness covered period to 60 percent for each of these requirements. If a borrower uses less than 60 percent of the loan amount for payroll costs during the forgiveness covered period, the borrower will continue to be eligible for partial loan forgiveness, subject to at least 60 percent of the loan forgiveness amount having been used for payroll costs.
Provide a safe harbor from reductions in loan forgiveness based on reductions in full-time equivalent employees for borrowers that are unable to return to the same level of business activity the business was operating at before February 15, 2020, due to compliance with requirements or guidance issued between March 1, 2020 and December 31, 2020 by the Secretary of Health and Human Services, the Director of the Centers for Disease Control and Prevention, or the Occupational Safety and Health Administration, related to worker or customer safety requirements related to COVID–19.
Provide a safe harbor from reductions in loan forgiveness based on reductions in full-time equivalent employees, to provide protections for borrowers that are both unable to rehire individuals who were employees of the borrower on February 15, 2020, and unable to hire similarly qualified employees for unfilled positions by December 31, 2020.
Increase to five years the maturity of PPP loans that are approved by SBA (based on the date SBA assigns a loan number) on or after June 5, 2020.
Extend the deferral period for borrower payments of principal, interest, and fees on PPP loans to the date that SBA remits the borrower's loan forgiveness amount to the lender (or, if the borrower does not apply for loan forgiveness, 10 months after the end of the borrower's loan forgiveness covered period).
In addition, the new rules will confirm that June 30, 2020, remains the last date on which a PPP loan application can be approved.
Free Reopening Kits
US Foods Holding Corp. is giving away free reopening kits to qualifying independent restaurant owners to help support restaurant reopening efforts in communities across the U.S. The reopening kits provide independent restaurant operators with must-have supplies such as masks and safety guidance posters as well as resource guides to navigate state and local COVID-19 reopening requirements and help create a safer environment for staff and customers alike.
This initiative builds on the company's ongoing commitment to providing foodservice operators with the expertise, resources and tools to help them successfully adapt their operations during COVID-19.
"Independent restaurants are an invaluable part of our local communities and we are committed to helping these businesses reopen, rebound and thrive," said Andrew Iacobucci, chief merchandising officer, US Foods. "They have displayed a remarkable amount of resilience during COVID-19 and have helped all of us maintain sense of normalcy by keeping our pizza nights possible, our favorite burgers ready for curbside pick-up and our beloved comfort foods just a call or click away. As they begin to shift their operations to create adapted spaces where patrons can once again dine-in and gather, we believe the reopening kits will provide much-needed support to help them continue to run a successful business."
To drive awareness among independent operators about the availability of the reopening kits has launched a national broadcast spot that honors these small business owners and celebrates their commitment to serving our communities.
Independent restaurant owners can visit usfoods.com/reopen to order a free reopening kit through June 19, 2020. The kits are available while supplies last and are designed for any qualifying independent restaurant operator in the U.S.
The free reopening kits are part of the company's ongoing commitment to helping operators "Make It" as they begin their reopening efforts. US Foods offers a suite of resources and tools as part of the company's "Make It Now" platform including its Restaurant Reopening Blueprint. Restaurant owners can view all of the available resources and schedule a one-on-one consultation with a US Foods Restaurant Operations Consultant or Food Fanatic Chef, here.
Recovery Roadmap
Southern Glazer's Wine & Spirits is offering a Hospitality Industry Recovery Strategy Roadmap for on-premise businesses. The Roadmap is a digital tool offering resources and guides to help minimize recovery time for Southern Glazer's on-premise customers that are rebuilding in the wake of COVID-19.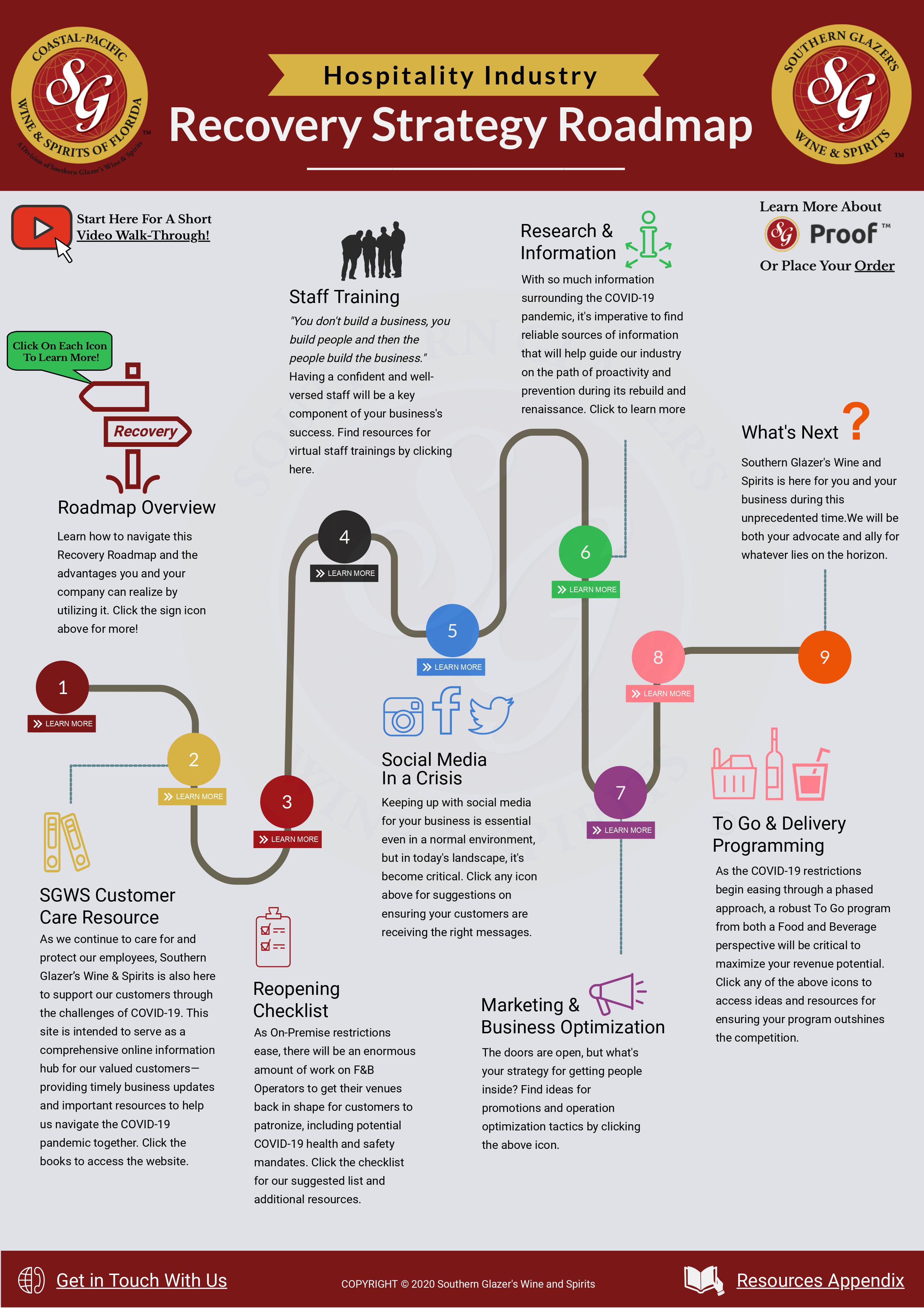 The interactive Roadmap features links and helpful videos, providing customers with a step-by-step guide that includes a Reopening Checklist, information on staff training, guidance for leveraging social media, suggested marketing and promotions tactics, and an approach for To-Go and Delivery programming strategies. It also connects customers directly to SGProof.com, the company's ecommerce portal for online ordering and self-service. The Roadmap was originally developed by the company's Coastal Pacific Wine & Spirits of Florida division, but is available to any on-premise business in the U.S.
Ernie Castro, Executive Vice President General Manager, Coastal Pacific Wine & Spirits of Florida, commented, "I'm really proud of the way our CPWS Florida team has pulled together to help on-premise customers navigate this uncharted path forward. This toolkit has been instrumental in mobilizing the local Florida customer recovery efforts, and it now can also serve as a blueprint across all Southern Glazer's markets."
Revention is HungerRush
HungerRush™, formerly Revention, has accelerated the development of its leading restaurant management system to focus on what restaurant owners need the most; optimized digital ordering, delivery, and take-out/pickup.

"As we all adapt to the new normal during and after this health crisis, it's exactly this technology that's going to help restaurants compete for orders like never before," said Perry Turbes, CEO of HungerRush. "HungerRush is committed to continuous innovation as we have seen digital ordering and delivery become a major slice of a restaurant's business and anticipate that these channels will continue to grow exponentially."
HungerRush is a fully integrated restaurant management system that lets the restaurant own the relationship with their customer. It creates guest experiences that drive repeat business, makes customer data accessible that can be analyzed and put into action, and creates operational efficiencies that increase profit margins. All in an easy-to-use and highly configurable system that includes digital ordering, loyalty and rewards, delivery management and support, takeout and curbside communications, no contact capabilities, and reporting and management HUB.
"HungerRush helps restaurants market like a powerhouse," said Francois Wolf, CMO of HungerRush. "In an industry where there's a ton of options and loyalty is hard to get, restauranteurs can now become more competitive with tools to engage customers, create awesome guest experiences, and drive repeat business."
The HungerRush restaurant management system has added new features for digital ordering, takeout/pickup, and delivery:
Introducing HungerRush Drive which provides visibility for restaurant owners to track drivers progress, increase efficiency and throughput, and save on labor cost
No-contact delivery capabilities for customers
Message notification to expedite curbside pick-up
Third-party order and delivery services integration with DoorDash, GrubHub, Postmates, UberEats, and hundreds more.
Doolittle Joins TouchBistro
John Doolittle has joined TouchBistro's executive leadership team in the role of Chief Financial Officer (CFO). As CFO, Doolittle will guide the transformation of TouchBistro's financial structure to prepare for its future growth, including operational strategy, regulatory and disclosure planning, tax restructuring, and management of capital markets.
"We are pleased to welcome John Doolittle to our leadership team to support TouchBistro's accelerated expansion and ensure we are prepared for the next major evolution in our company," says Alex Barrotti, CEO and founder of TouchBistro. "John has the depth of expertise across all stages of corporate growth to confidently guide the implementation and optimization of financial systems, structure, compliance, and relationships required to support our growth."
Throughout his 30-year career, Doolittle has held senior level positions at billion-dollar, global corporations. His responsibilities spanned a broad range of financial initiatives and requirements, including mergers and acquisitions, initial public offerings (IPOs), taxes, public and private corporate financial strategy and operations, corporate structured finance, capital markets, credit risk management, and pension fund management.
Most recently, Doolittle was CFO at OpenText, a global software company with a $10B market capitalization. During the four years that John was in this role, the company doubled its revenues from $1.5B to $3 billion and completed a number of significant acquisitions, including the largest the company had ever done. He also managed the company's recapitalization as part of its growth strategy to maintain the integrity of the balance sheet.
Previously, Doolittle held many senior finance roles at NORTEL, a multinational telecommunications and data networking equipment manufacturer. Over his 22-year tenure with the company, his roles and responsibilities included heading its global tax group, treasurer, leading the financial planning team of over 500 staff across multiple locations, and managing its mergers and acquisitions. He was appointed CFO in 2009 and helped lead the company's restructuring effort following its bankruptcy declaration earlier in that year. Prior to NORTEL, Doolittle served as the Vice President of Finance for the Bank of Montreal's Global Treasury Group.
"TouchBistro is a strong growth company with a dynamic team, tremendous potential, and an incredible vision for the future," says Doolittle. "Joining Alex Barrotti and the company's leadership team to bring its vision to life is an enormous opportunity."
Carbon Footprint Labels
Just Salad announced a commitment to label all of its menu items with a corresponding carbon footprint, becoming the first U.S. restaurant chain to do so, by Climate Week, which begins September 21, 2020. Calculated in partnership with a team of NYU Stern School of Business MBA students through a Stern Solutions Project, Just Salad's carbon footprint labels will become a core pillar of the company's sustainability strategy and its "convenient sustainability" ethos.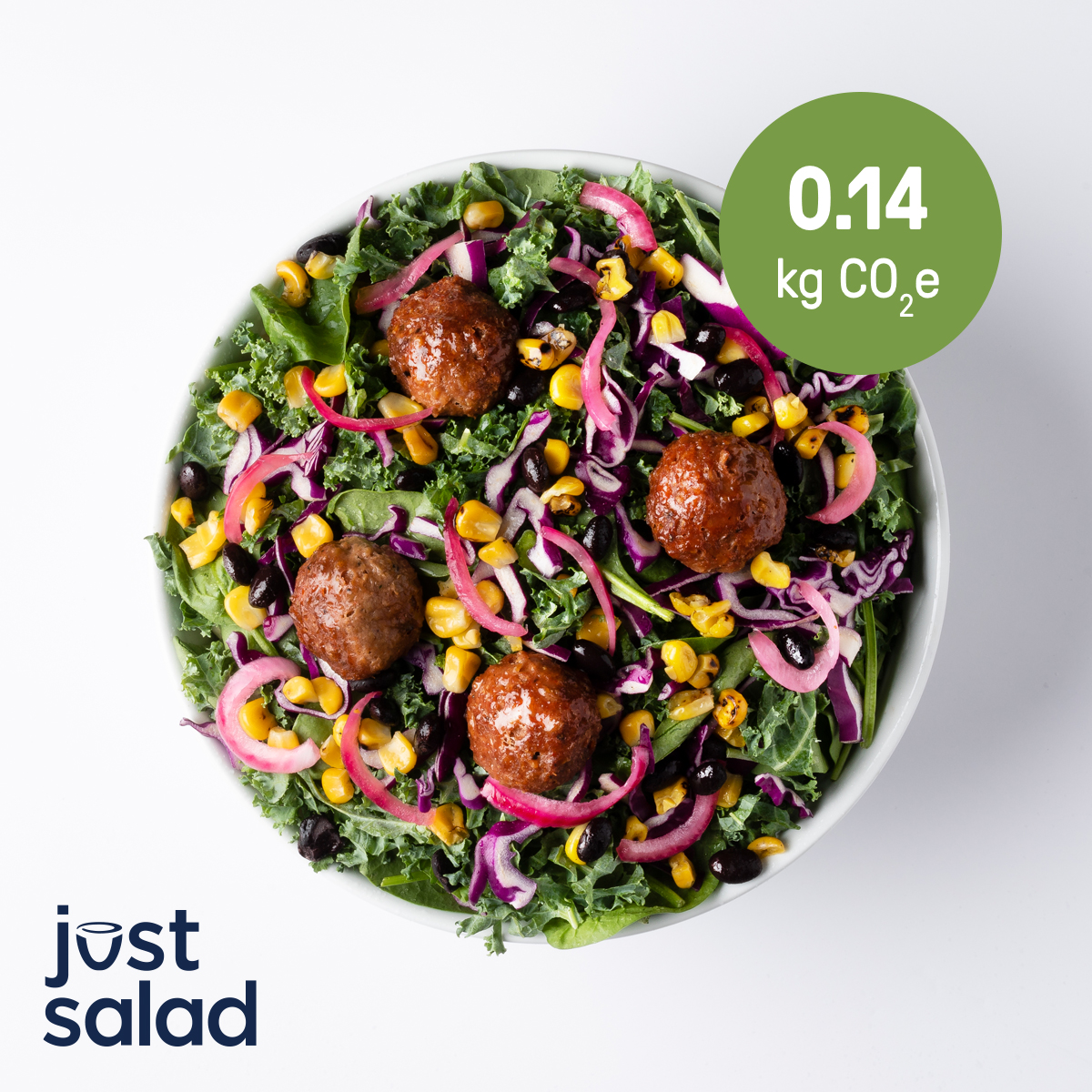 Just Salad is also committing to adding plant-based cheese options, which have a lower carbon footprint than their animal-based counterparts, to its menu by 2022 or earlier, after successfully introducing plant-based Beyond BeefⓇ in 2019. Just Salad's carbon footprint labels will reflect the total estimated greenhouse gas emissions associated with the production of the ingredients in each menu item.
"Our food choices will have a profound effect on the fate of our planet. By carbon labeling our menu, we're embracing climate-smart eating, helping our guests eat for planetary and human health. A calorie label simply isn't enough anymore — we need to know how our food choices affect our well-being at a planetary level," says Sandra Noonan, Chief Sustainability Officer of Just Salad. "Our new carbon labels will provide that insight, helping guests make more holistic choices that take climate change into account."
The company's carbon labeling project is inspired by "climatarianism," a way of eating that takes planetary health into account. Research indicates that plant-based diets are a weapon against climate change: By halving annual consumption of animal-based products, Americans would reduce diet-related greenhouse gas emissions by 35% and move the U.S. 25 percent closer to its targets under the Paris Climate Agreement. Similar to Just Salad's Reusable Bowl program, its new carbon labeling initiative empowers consumers to make choices that protect our earth and species alike.
"Labeling our menus about the carbon footprint of producing different dishes is a vitally important way to educate consumers about sustainable diets," said Diego Rose, professor, and director of nutrition at Tulane University. "I'm excited to see an innovative restaurant, like Just Salad, take the lead on this. We need the food industry to step up, and hopefully, they can show that doing well by the planet can also be good for the bottom line."
"The work that Just Salad is doing to educate people about their food choices as they relate to planetary health is imperative," says Sophie Waskow Rifkin, Senior Associate Director, Center for Sustainable Business at NYU Stern School of Business, which facilitated the project. "I'm incredibly proud of our MBA candidates who are passionately dedicated to sustainability and helped Just Salad take this historical step for the betterment of the restaurant industry and our planet."
Cuboh Adds CTO
Cuboh grows with the appointment of Brandon Ellis as their new Chief Technology Officer.
The Canadian startup oversubscribed their seed round in March 2020, raising $1.6M CAD with Altair Capital, Good News Ventures and Dash40 Ventures. "This investment has helped us grow our customer success, sales and development teams more than 200% overall," said Cuboh Co-Founder & CEO Juan Orrego. "We need to continue growing the team at this speed to satisfy our increasing customer needs in this pandemic environment, which has put more emphasis on online ordering."
Orrego continued, as Cuboh is a technological solution, "the keystone to these new hires was the CTO; we needed a seasoned executive. Someone with experience in growing a small national start-up to a global enterprise with employees and customers worldwide."
"Brandon has been an immediate fit for Cuboh, and with his expertise we're all excited to see where we go next" added Tyler Gellatly, Cuboh's Director of Operations & Partnerships.
As of June 2020, Cuboh serves 1,000+ locations in the US, Canada, and increasingly in Australia where it just launched its operations with the help of a strategic partnership with Square.
Savory Seeking …
Mercato Partners launched its inaugural food and beverage fund, Savory. This new fund of $90 million will make investments into compelling, up-and-coming restaurant concepts by providing access to capital together with a team of experienced industry professionals to fuel growth and operations.
To create this unique investment practice, Mercato Partners founder Greg Warnock partnered with restaurant industry veteran Andrew K. Smith along with several members of his leadership team. Savory combines the experience of Smith and his team in developing and operating over 175 geographically diverse restaurant locations with the experience of Warnock and the Mercato Partners team in successfully executing institutional investment strategies through various economic cycles and private equity practices.
Savory delivers access to growth capital together with an award-winning restaurant operations team of more than 50 industry veterans who formerly led restaurant development at Four Foods Group. With a well-documented track record and decades of relevant experience, this value-add team brings pivotal resources critical to the establishment of successful processes for emerging multi-unit concepts. These resources include expertise in real estate selection and negotiation, development and construction of each restaurant location, project and event management, talent recruiting, leadership training and development, supply chain/procurement, human resources, accounting, strategic financial planning, facilities management, sales and marketing, and more.
"Thousands of restaurant brands have built winning concepts with a promising mix of culture, flavor profile, and momentum; however, the creativity and courage needed to launch a new restaurant is much different from the skill set required to scale a restaurant concept to dozens of locations in multiple states," said Smith, managing director of Savory. "Both capital and expertise are essential to create lasting value in the restaurant industry. Savory's unique approach is to 1) identify where consumers have "already picked" a winner through loyal patronage, to 2) provide capital to rapidly expand while preserving the brand's uniqueness and to 3) provide restaurant founders with a capable support team ready to go beyond advice and coaching – and actually do work 'on the business' while the founders continue to work 'in the business' and thereby ensure mutual success."
Savory's current portfolio includes Mo'Bettahs, R&R BBQ and Swig. Strong portfolio performance demonstrates Savory's ability to identify and grow successful concepts at a rate exceeding 40 percent year-over-year, and to do so profitably. This remarkable growth has continued throughout, and in spite of, the economic fallout of the current crisis.
"The restaurant industry carries an undeserved reputation among certain investors for business risk and razor-thin margins, giving rise to market inefficiency and opportunity. A differentiated brand with several profitable locations and years of consumer loyalty offers a compelling risk-return profile for investors," said managing director of Savory and Mercato Partners, Greg Warnock. "By providing both capital and relevant expertise, we have unlocked tremendous success. Savory's limited partner investors and portfolio brand founders appreciate the Savory approach to driving incremental growth and value."
"We created Mo'Bettahs to give guests an authentic Hawaiian experience, which we were able to successfully provide through lots of hard work and deliberate culture curation over the past 10 years," said Kimo Mack, co-founder of Mo'Bettahs. "Despite that success, we had reached a plateau in our expansion efforts. We were stretched thin and being pulled away from our core strengths. The Savory team helped us to achieve a breakthrough in performance and together we quickly grew our business to heights we simply couldn't have reached on our own. Our partnership with Savory and its value-add team remains one of our greatest accomplishments."
CleanShield Solutions
Mood Media introduced a new suite of sophisticated germicidal protection and advanced cleaning offerings called CleanShield Solutions, top photo. Positioned as an integral part of the "new normal" that brands must now consider when evaluating all aspects of their Customer Experience, the Company has partnered with sanitization manufacturers – including PURO™ UV Disinfection Lighting, ACT.Global, Healthe®, Vital VioTM and CrimsonAV – to offer cleaner and safer environments to businesses spanning retail, hospitality, restaurants/QSR, healthcare, entertainment and more.
From long-lasting antimicrobial coating solutions including titanium dioxide (TiO2) applications, to electrochemically activated cleaning solutions, to ultraviolet (UV) lighting solutions including fully automated, full-spectrum UV light disinfection as well as Far-UVC light that inactivates dangerous microorganisms while remaining safe for human exposure, to antimicrobial LED lighting that continuously cleans the environment, to health monitoring systems including hand sanitization stations and real-time germ-tracking software, Mood's CleanShield Solutions offer businesses a variety of innovative, highly effective ways to create cleaner spaces and assure more positive customer and employee experiences.
"As businesses begin to reopen in a post-COVID-19 world, safety and assurance have become critical factors when thinking about the Customer Experience holistically," said David Hoodis, Mood Media's CEO. "Mood is in a unique position to help businesses across industries because of our history in elevating Customer Experiences in numerous client categories and our large size and scale. Not only are our CleanShield Solutions a powerful way to sanitize a business environment, but when customers, guests, patients and employees know that businesses are leveraging this technology to maximize their safety, it establishes a higher level of trust and comfort that reflects positively on those brands and ultimately contributes to the overall quality of the customer experience."
"It's never been more important for consumer-facing businesses to place top priority on their cleanliness and safety standards, and our new CleanShield Solutions hit at the very heart of that," said Chris Chuilli, Senior Vice President at Mood Media. "Particularly in this 'new' normal, these standards are integral in developing a positive Customer Experience foundation – with consumers around the world now viewing these as top considerations when deciding where to shop, where to eat, where to be entertained, where to seek healthcare services, where to gather safely and how to travel."
Davisware and Parts Town Team Up
Davisware and Parts Town formed a strategic partnership to strengthen support of field service organizations in the foodservice industry. The partnership will include several initiatives, such as providing Davisware software users an integrated and simplified parts purchasing process when buying parts from Parts Town, improving efficiency and ensuring technicians have the right parts to get repairs done quickly.
Jennifer Davis, CEO of Davisware shares, "The industries we serve are currently facing unprecedented challenges. Our new strategic partnership with Parts Town allows us to bring additional value to our current and future partners, helping them to become stronger and more efficient organizations. We have always had a great working partnership with Parts Town and are excited to expand this relationship in a way that helps support field service companies in the foodservice industry and beyond."
Parts Town is a leading distributor of genuine OEM foodservice equipment parts. Steve Snower, CEO of Parts Town states, "Parts Town and Davisware share the common goal of providing an extraordinary level of support and value to field service organizations. Supporting our partners is more important than ever right now, and we believe that Davisware brings a unique offering to field service companies in the industries we serve. We have enjoyed a long-term partnership that is rooted in trust and performance."
Mike Sajdak, who has taken on the role of Group CIO through the Parts Town/Heritage combination, will be the technical leader of this project. Sajdak adds, "We are excited to form this new strategic partnership to help Davisware achieve its goals and to bring exciting new benefits to current and future mutual customers. This partnership will help field service organizations in our industry become even more efficient."
Work streams focused on the projects included in this partnership are set to launch in Q2, with market delivery of new Davisware features anticipated in late 2020.
Health Check Tool
WorkJam released its new, next-generation health check analysis tool, enabling employers to reduce the spread of COVID-19 among frontline employees and their customers while complying with local laws and regulations.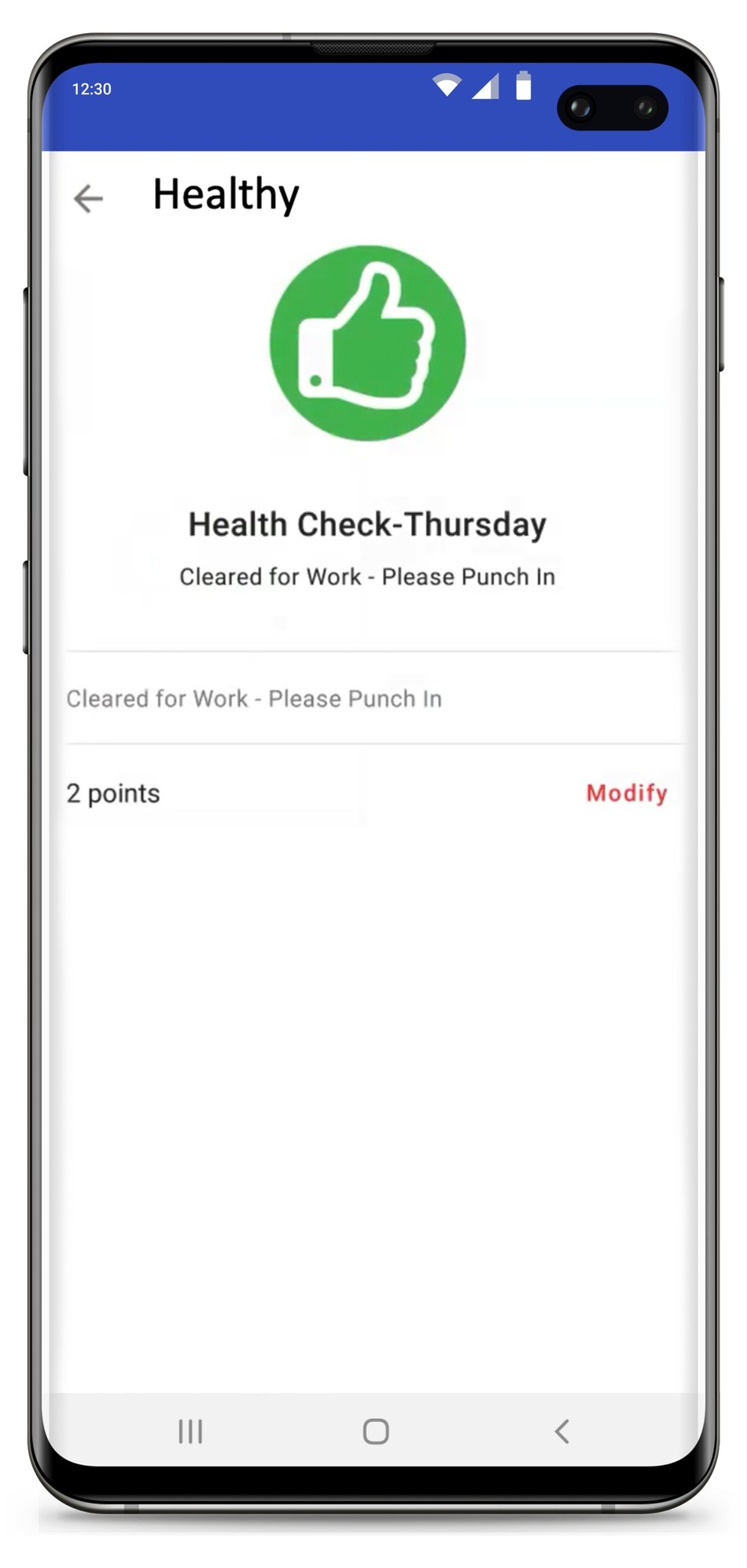 With WorkJam's health check analysis tool, employers prompt associates and leaders of frontline teams to complete a recurring mandatory health check survey on their mobile devices, which must be completed in order to clock in to a shift. The survey includes a variety of questions selected by the employer to ensure associates are healthy to work. The tool also triggers notifications and tasks to managers based on specific answers within a survey. Using this survey and scheduling data, businesses can minimize the spread of COVID-19 and alert staff who may have come into contact with an employee reporting symptoms — allowing them to be leaders in keeping their employees, clients, and shoppers safe.
"Now more than ever, frontline staff are looking to their employers for guidance and protection," says Paul Wyatt, Vice President of Product Management at WorkJam. "The employers that are able to provide a high level of leadership and assurance to their staff will come out of this crisis with healthy, engaged, and loyal employees. As an extension of WorkJam's long-standing value of improving the livelihoods of frontline employees, we're proud to support our customers with the technology needed to create safe work environments now and in the future."
WorkJam's health check analysis tool allows for real-time documentation and validation attestation, further reducing legal liability for businesses navigating the challenges of reopening in the current climate. The tool can also be applied to cases outside of the current pandemic, verifying that every employee is alert and healthy to clock in to a shift.
Foursquare Recovery Index
To help brands, agencies, platforms, governments, media, and more quantify this behavior, Foursquare Recovery Index, has launched. The free tool showcases the change in foot traffic by state, category and date to see relative upticks or declines in visitation that can indicate recovery. The Index shows changes in visitation week over week and since a pre-pandemic baseline period in February 2020.
As an example, consider the state of Georgia, which began reopening non-essential businesses on Friday, April 24. By May 13, visits to hair salons and barbershops were up 10.5% versus pre-COVID-19, indicating a pent up demand for places offering health and personal care services. Location data is able to reliably and accurately show the rate at which these upticks – and economic recovery – may continue.
"The Foursquare Recovery Index is a resource that showcases the role location data plays as brands work to recapture consumers' attention as they rebuild their muscle memory around offline consumption in a post-pandemic world," said David Shim, CEO, Foursquare. "Post-COVID-19, location data will be essential as brands and business owners in every category seek to understand foot traffic patterns and evolve their strategies to meet the needs of their customers in a changed world."
The Recovery Index is powered by Foursquare's U.S. foot traffic data from millions of consumers that make up its always-on panel. All data is normalized against the U.S. Census data to remove any age, gender and geographical bias, projecting visits based on each users' profile representation in the panel relative to census.
Foot traffic data is represented as a percentage change over time — week over week, year over year, or as compared to a baseline period in February 2020 (averaging daily visits on that same day of the week through February). Increases or decreases are corroborated with a measure of statistical significance. In this case, we are simply testing for a difference in means, given "n" size, effect size, and variance.
Clean Safely
The new Clean Safely platform powered by RSC Bio Solutions debuted providing curated solutions that meet the escalating challenge to safely eliminate viral threats in public, commercial, and industrial spaces.
Clean Safely offers businesses a future-proof protocol to clean with confidence. RSC Bio Solutions designed Clean Safely as a holistic solution to simplify what has recently posed a complex challenge for multiple industry sectors, including manufacturing and distribution, transportation, governments and municipalities, and healthcare, senior and childcare facilities. By focusing the three pillars of cleaning, disinfecting and maintaining, the protocol breaks down these processes into easy-to-manage steps, supported by high-performance products.
"There is so much noise and confusion surrounding how to clean and disinfect public premises that we decided to turn our in-depth industry knowledge into curating simple, clear-cut solutions," said Mike Guggenheimer, RSC Bio Solutions' President and CEO. "We see our role as a trusted advisor with the expertise and products to help businesses and industries prepare spaces to open safely and efficiently, keep operations moving and maintain clean and safe working environments during re-opening and for the future."
Clean Safely products have been thoroughly vetted by the RSC Bio Solutions research and development team and selected based on their versatility, ease of use and effectiveness. The platform was built for flexibility in order to tailor individualized protocols that meet specific industry requirements pertaining to space, frequency, manpower and equipment.
The first component of Clean Safely always focuses on the essential – but often overlooked – step of deep cleaning surfaces to ensure they are free of the dust, grime and dirt that attract viral and bacterial particles. For example, the protocol's EnviroLogic CSR-2000 Cleaner is meant for large surface areas and industrial use. For smaller spaces, the company's widely-recognized GUNK brand Biodegradable General Purpose Cleaner and Degreaser in a ready-to-use trigger spray bottle and GUNK Multi-Purpose Wipes are effective for quick and easy application.
After the overall surface is clean, the next step in Clean Safely is to disinfect the area. The platform features the sanitizer and disinfectant cleaner BIOESQUE, which is unique in the marketplace because it does not require rinsing, even on food contact surfaces. BIOESQUE is registered by the Environmental Protection Agency (EPA) as a Broad-Spectrum Botanical Disinfectant Solution and is also registered in the NSF International Nonfood Compounds Registration Program. It has an efficacy of 99.99 percent sanitation for killing a full range of disease-causing viruses, including Human Coronavirus, in one minute. It provides the same level of sanitation for bacteria, fungi and molds.
"Our best defense against another outbreak is shared knowledge, best-in-class products and the discipline to follow strict industry-appropriate protocol," said Larry Beaver, Ph.D., Clean Safely Vice President of Research and Development. "As technologists with a long history of performance in environmental technology, we are uniquely qualified to curate this holistic platform and enter the space of safe, healthy and high-performing cleaning and disinfecting solutions."
Healthy Spaces
Nomad Go launched HealthySpaces™, anAI-based solution that accelerates the safe, trusted reopening of any physical environment, including office, hospitality and foodservice, retail, and education. Built on the company's Edge AI Vision Platform, HealthySpaces is the first solution to help organizations improve air quality, ensure COVID-19 related compliance, and drive peace of mind, by providing real-time, actionable data about space occupancy, mask usage, and social distancing. All data collected is anonymous and protected by Nomad Go's edge computing system, which never records images or Personally Identifiable Information (PII) to ensure individual privacy.
"The world can't truly get back to business until people are confident that building and business owners are taking every measure possible to mitigate their risk of infection. We saw an opportunity to use our expertise in measuring physical activity for helping companies build trusted spaces and responsibly get back to work," said David Greschler, CEO, Nomad-Go. "By using HealthySpaces, organizations get instant, precise data about the number of people occupying spaces and wearing masks, and to what extent social distancing is being followed. With this data, they can take actions such as altering spaces and improving signage. By integrating with HVAC systems, they can also improve ventilation and air quality."
HealthySpaces™ provides real-time data about any physical environment, including:
Occupancy and Density Count – measures how many people have entered and exited spaces and provides real-time counts of the number of people inside specific spaces
Mask Detection – checks if masks are being worn inside environments that require Personal Protective Equipment (PPE)
Physical Distancing – determines social distancing compliance
"Using the data and insights from Nomad Go's HealthySpaces, we see immediate opportunities to improve demand control ventilation and solve existing occupancy detection challenges that will remain critical both during a pandemic and in everyday building operations," said Josh Cales, President, ATS Automation, a leading provider of energy management services, smart building control systems and critical airflow solutions.
"We have been long-time users of Nomad Go to help us gain real-time insights about physical activity through our stores, from occupancy to speed-of-service. We were impressed with how accurately it was able to capture guest count data and scale to multiple locations quickly. With the effectiveness of the tools that Nomad Go builds, we expect innovative solutions such as HealthySpaces to continue to help restaurant operators run great and safe restaurants," said Matt Avila, Director of Operations for PizzaRev.
By leveraging the data generated by HealthySpaces, businesses can enable a safe and healthy environment for employees, customers, and, in the case of education, students. This includes:
Alerts and screen messages about occupancy and other health metrics sent to phones and screens to help keep employees and customers informed about current conditions. For instance, a screen showing occupancy levels can help inform customers when they can enter a building.
Compliance and usage dashboards that help companies follow health guidance and regulations while optimizing their layouts for safety.
Real-time space conditions that can be integrated into customer apps and services for safe employee scheduling and proactive planning.
Direct control of HVAC systems to provide more precise ventilation per location and within individual spaces, such as meeting rooms and kitchens, a key factor in ensuring healthy environments.
The Nomad Go HealthySpaces application runs on smart devices including tablets, phones, and cameras,
Contactless Order & Pay
Konnect Solutions introduced a mobile Contactless Order & Pay system for restaurants to reduce the risk of COVID-19 infection from customers communicating directly with restaurant staff, coming in contact with payment devices or ordering from touch screen kiosks. Konnect's mobile solution leverages the company's patent pending wireless technology that turns customers' smartphones into instant order and pay devices for use inside restaurants and in drive-thrus without the need for downloading an app, connecting to the Internet or using a web browser.
Unlike other mobile restaurant ordering solutions, Konnect's Contactless Order & Pay system makes the customer experience frictionless by allowing any customer with a smartphone to select the restaurant's local WiFi Wireless Access Point provided by Konnect and instantly view menu and pricing information with no further user action required. Customers can place orders on their smartphone that are passed directly to the restaurant's Point-of-Sale (POS) system and either pay on their phone or use the restaurant's other available payment options.
"Restaurant operators can maintain social distancing and lower the risk of COVID–19 infection from contact between their staff, their customers and order and pay kiosks by using Konnect's Contactless Order & Pay solution for quick serve counters, drive-thrus and dine-in table tops," explained Jim Schreitmueller, Co-founder of Konnect. "Customers can quickly place and pay for their order by skipping the process of downloading an app or navigating a restaurant's website."
Restaurant menu and pricing information can be updated online in real-time by restaurant operators via the Konnect cloud. The Konnect cloud remembers each visitor and their order at each restaurant location in a restaurant chain without collecting Personally Identifiable Information (PII) so restaurateurs can create a personalized mobile experience at every visit, including promoting Limited Time Offers (LTOs). Returning customers are automatically connected to the Wireless Access Point, and prior orders can be instantly displayed on the customers' smartphone so they can choose to re-order, modify a previous order or create a new order.
Konnect's Contactless Order & Pay solution can be implemented without altering a restaurant's existing order process. With the installation of a single Konnect Wireless Access Point and integration with their POS system, restaurateurs can enable customers to begin ordering and paying right away.
Temperature Measurement Camera
To help combat the spread of the COVID-19 pandemic, P&O Global Technologies, Inc., is debuting its cutting-edge temperature measurement camera: the Hikvision DS-2TD2617B Thermographic Bullet Body Temperature Measurement Camera.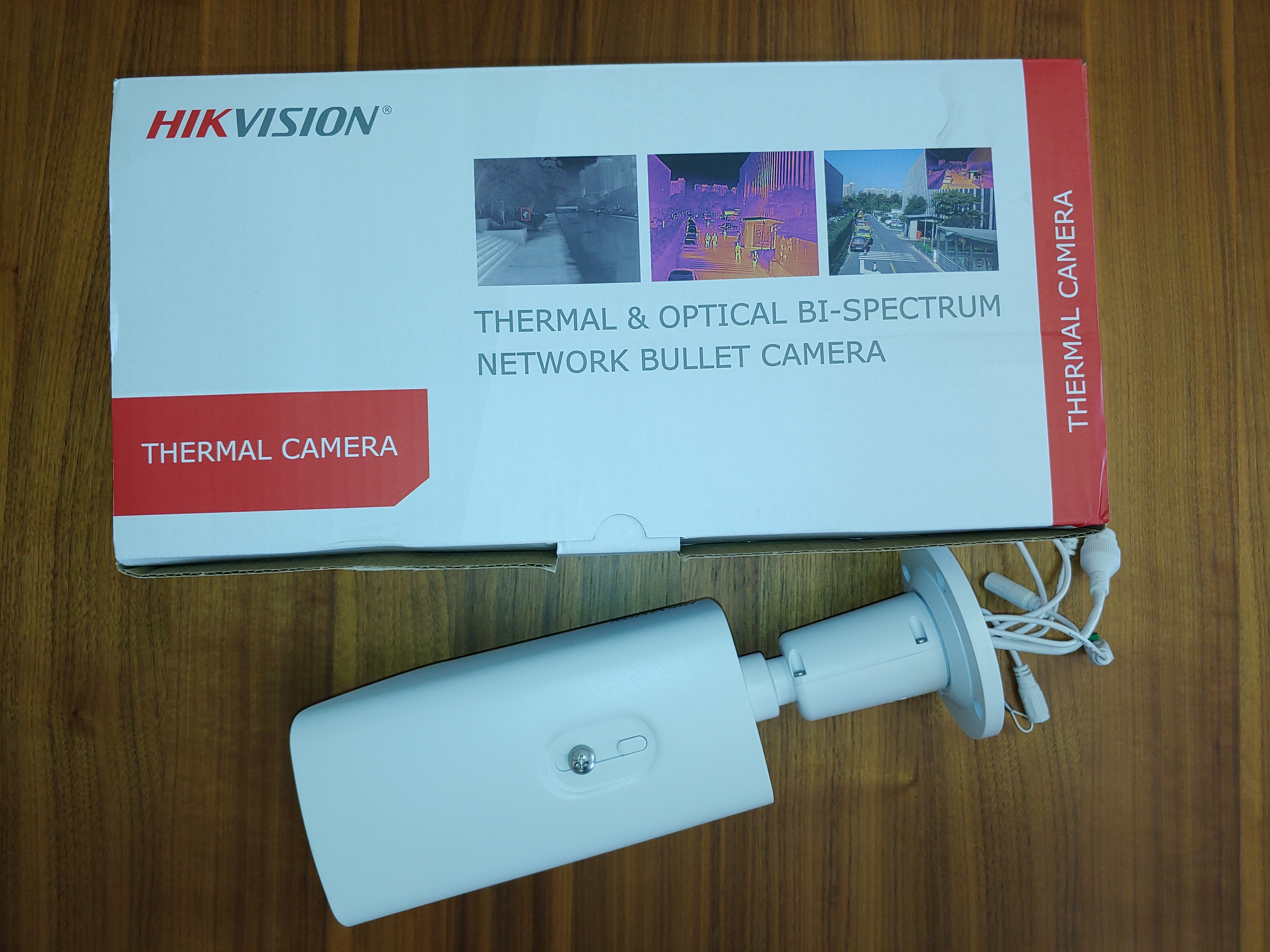 Able to be used in crowded public areas to discover and track people with higher body temperature, the camera is ideal for places such as restaurants, airports, customs, schools, homes, and hospitals for inspection and quarantine. It can be used in indoor and windless environments.
With a high accuracy rate of ±0.9 degrees Fahrenheit, the thermographic temperature measurement camera can read a temperature range of 86 degrees Fahrenheit to 113 degrees Fahrenheit. It measures temperatures in real time.
The camera features 160 x 120 resolution in the thermal channel, high sensitivity sensor; a reliable temperature exception alarm function; 3D Digital Noise Reduction (DNR) and image detail enhancement; and an audio alarm. Its dimensions are 14.10" × 4.47" × 4.53", and it has a light weight of 3.88 pounds.
The camera offers a fusion of the thermal view and overlaid details of the optical channel. The thermal module's field of view is 25° × 18.7° (H × V), and the optical module's field of view is 39.42° × 22.14° (H × V). It combines details of thermal and optical image PIP, with the overlay thermal image on the optical image.
"The Hikvision DS-2TD2617B Thermographic Bullet Body Temperature Measurement Camera is a highly accurate tool to detect body temperature and help alleviate the spread of the COVID-19 pandemic," said Maurizio Pejoves, Director, P&O Global Technologies. "Easy to use, small and lightweight, the camera can be used in crowded areas and ultimately keep thousands of people from contracting the virus."
2020 Sani Awards
Sani Professional, the food safety division of Professional Disposables International (PDI®), and the Sani Professional Food Safety Advisory Council (SPFSAC) are calling for entries and nominations to the 2020 Sani Awards™. The Sani Awards celebrate innovation and excellence in food safety and promote best practices in the foodservice industry for leadership, education and training, and employee and guest experience programs.
Now in its sixth year, The Sani Awards will be presented for the first time at MUFSO 2020 in Denver, Colo. on September 29, 2020. It will showcase outstanding work of professionals, leaders, and team members in roles and functions across foodservice operations.
The entry and nomination period runs through August 1, 2020. The Sani Awards™ includes four categories:
Category A: Most Innovative Food Safety Protocol Implementation
This award honors an individual or team for successfully implementing a technology platform which resulted in improved food safety practices or protocols in their operations.
Category B: Outstanding Food Safety Educational Program
This award honors an individual or team for developing and implementing a training program, educational tools, or resources that have made Food Safety learning more engaging and motivating to foodservice staff and team members.
Category C: Movers & Shakers in Food Safety
This award honors an individual or team for leading an initiative or program that has benefited food safety through advancements in areas such as public health, prevention of foodborne illness, employee safety & welfare, environmental responsibility, or exceptional guest experience.
Category D: Special Award: Sani Pro Infection Prevention Best Video
Bring your food safety experience to life. This award recognizes an individual or team who demonstrates how the use of Sani Professional product(s) help prevent the risk of spreading infection which promotes a safe experience for team members and guests.
Criteria for entry:
Entry can be from an individual or group and a member of a foodservice operation of at least five units/locations
Entry should describe program elements and measurable results at least six months following implementation; testimonials on the results are welcome
For the video entry, video length should be 60-120 seconds
For more information about the Sani Awards and how to enter, visit saniawards.com.