Outdoor Is the New Indoor
5 Min Read By Scott Selzer
January is well-known for being a reset month. A time to recover from back-to-back holiday parties and festive gatherings. A time to act on resolutions and look ahead with great anticipation to all that is possible in the new year. In the restaurant business, this also means a dip in sales, but restaurateurs are mostly undaunted. It's the perfect slow-down to tweak recipes and menus, do some deep cleaning, or consider fresh ways to change up the customer dining experience. But January 2020, though initially characteristic, became the start of a year that would deliver the longest "time-out" in history. One thing is for sure—the industry was not prepared for a pandemic. Fast-forward to June 2020—when restaurants should be evaluating returns on the fruits of their first and second quarter labor—and we see businesses focused on trying to resuscitate themselves from near demise, while also navigating new rules and precautions brought about by the enduring pandemic. For many who are now picking up the pieces to get back to normal as quickly as possible, the question has become, "What does normal look like?" No one knows for sure, but we are seeing glimpses of a trend that may be the answer for restaurant owners and operators: expanded outdoor seating.
Inside Out
We first saw it at parks and beaches as quarantine restrictions started to lift. People coming out of isolation in droves, looking to reestablish freedom of movement in their communities. Some folks acted with more caution than others, in terms of mask usage and social distancing, but all who emerged into public outdoor settings seemed eager to get back out into the fresh air. However, as most businesses have begun some form of reopening, we are seeing less zeal by people to return indoors. Perhaps they are put off by the temperature-takers at front entrances, or by the in-your-face distancing reminders in the form of floor stickers, separated desks and tables, and posted placards. Or maybe it's the abundance of hand sanitizing stations or mask requirements. Whatever the triggers, we aren't't even close to seeing a pre-pandemic level of comfort for being indoors in any type of business, but perhaps most notably, in restaurants.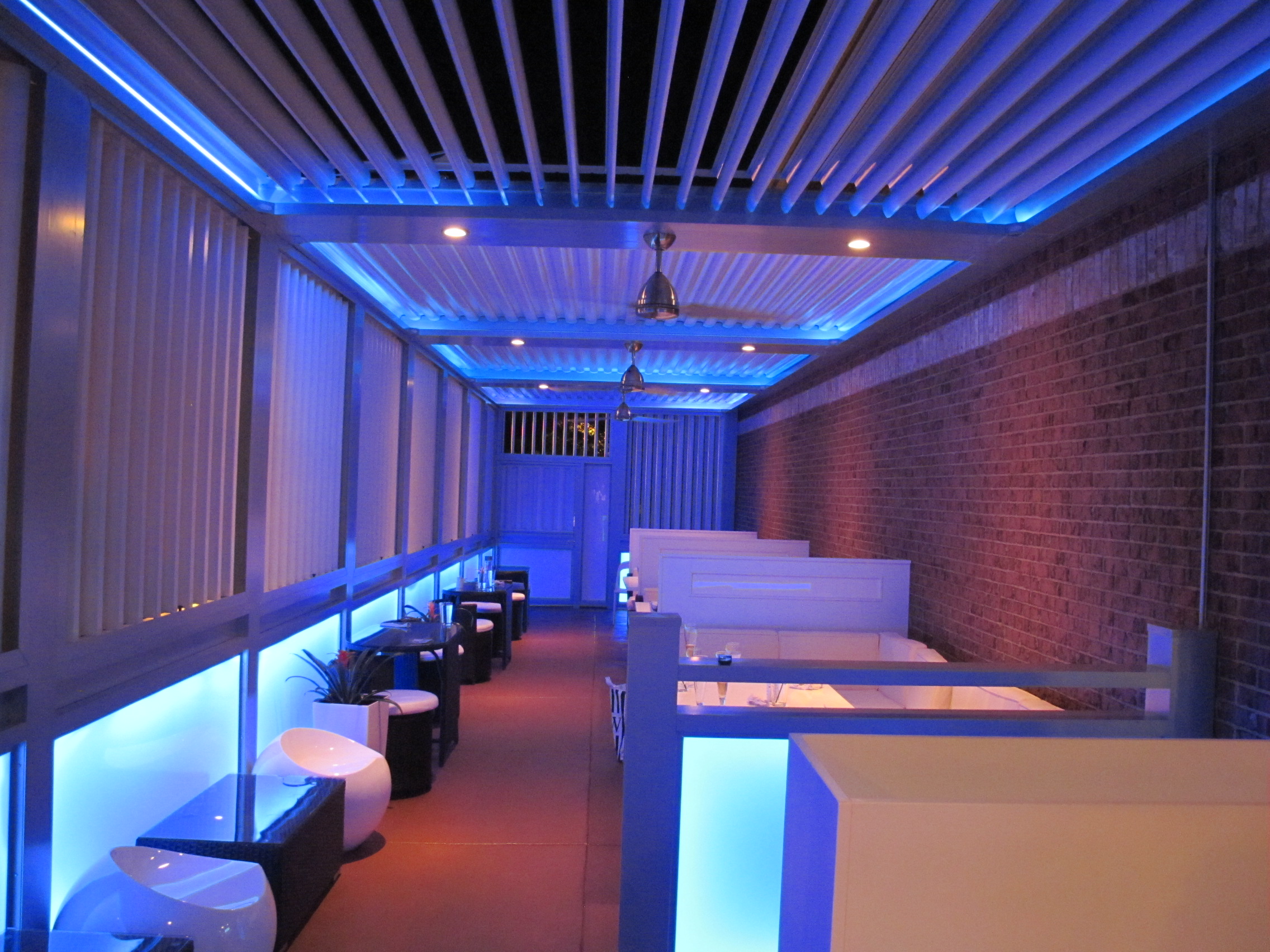 Some restaurants with small dining rooms have opted to remain closed, even with permission to reopen, because it doesn't't make economic sense given the small number of customers they could seat in order to adhere to distancing regulations. For example, Hires Big H, a Salt Lake City hamburger hangout for over 60 years, has kept indoor seating closed, instead, expanding its car hop service in order to maintain distancing standards. "We've always been a no-reservations family restaurant, with close-proximity indoor seating to encourage lively, customer interaction," said a 15-year veteran on the waitstaff. "If we can't use all of our tables, then the atmosphere becomes something that isn't really us." Customers don't seem to mind though, crowding the parking lot for take-out meals, or partaking in the expanded car hop service.
Across the country in Miami, Moxie's, which had just opened in January 2020 before the mandatory shut-down in March, has recently reopened. Despite the location's chain-wide record-breaking grand opening in January, the restaurant barely had time to get its footing before the mandatory pandemic-required shut-down. "Now that we are reopening, we are pleased to see customers finding us again," said General Manager Andre Pomerleau. "And even though we have opened our indoor dining area, albeit at reduced capacity in compliance with distancing restrictions, we are seeing that most people would rather sit outside."
An (ROI) Argument for Expanding Outdoor Seating
In the simplest terms, restaurateurs wishing to reopen have two options: do the best they can with reduced seating capacities, or find ways to increase or adapt their square footage—inside or outside—to add more tables. In other words, buy more space or create it from what you have. Many are still weighing these options, but honestly, after being shut down for months, who has the money to invest in a larger property or a major building renovation? Yet, for restaurants that already have outdoor seating, or for those with unused outdoor square footage, modifying that space to allow for more diners at a safe distance could be the golden ticket to getting back on track.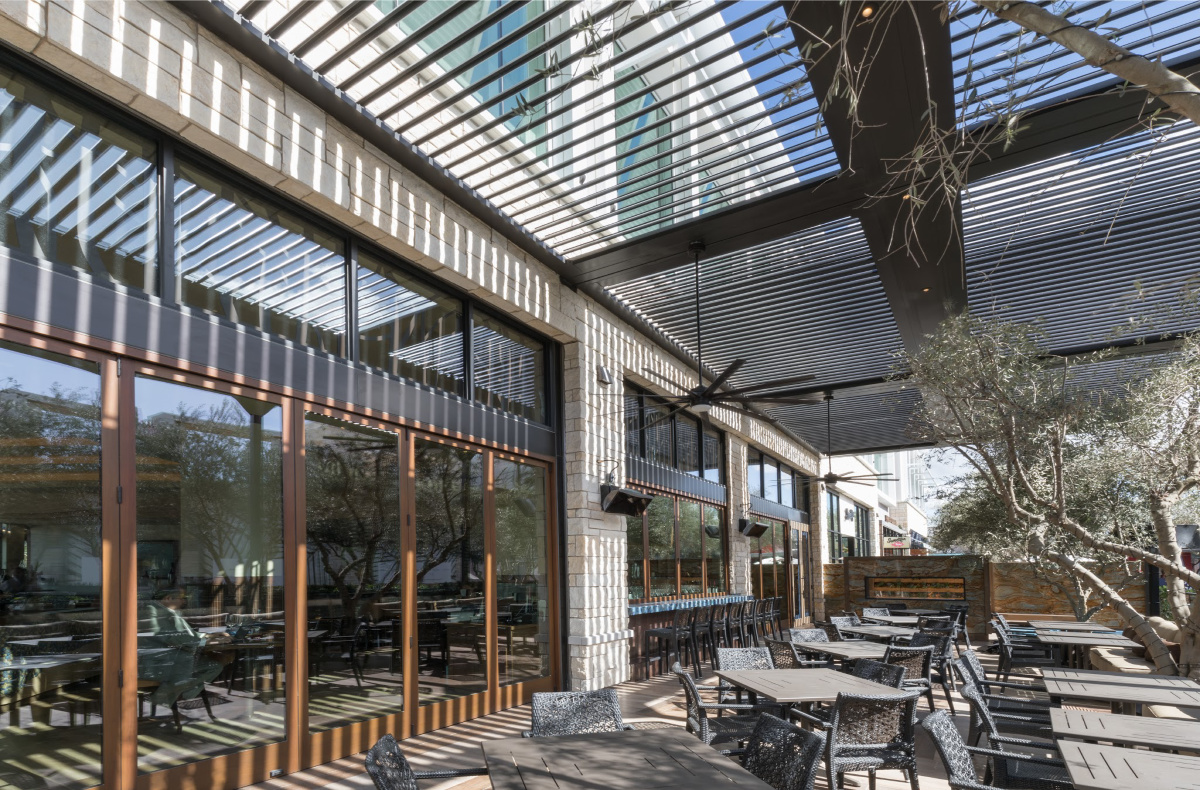 Creating or expanding outdoor seating is nowhere near as expensive as a building expansion. One of the best solutions is to add a pergola designed to fit any patio configuration. Get one with automated pivoting louvers that can fully close if it rains, that comes with optional accessories (like heaters, lights, fans, and screens), that can be digitally controlled, and the solution is easier than imagined. But does such a product exist? It does, and, in fact, has been on the market and in use since long before the pandemic shut-downs. Bars, restaurants, country clubs, and even homeowners have already discovered that comfortable, year-round outdoor seating is not only possible, but feasible.
Control of Your Outdoor Space Key
You've never offered outdoor seating at your restaurant, or you have, but only seasonally? While there are certainly considerations for guest comfort that must be addressed, it really comes down to finding the right products. In the past, weather was the primary determinate for the viability of expanding seating outdoors. What good is outdoor seating if you can't make use of it the majority of the year? But with new automated products that can be operated from a digital device, some with sensors that detect weather changes and make adjustments on their own, control of one's outdoor space is effortless.
Concerned about bugs? Add screens. Worried about heat? Add fans. Frustrated that you'll have to move indoors after Labor Day? Add built-in heaters. The keys to having a profitable outdoor space are to make it so comfortable that customers want to stay, and to make controlling the space (turn on fans, deploy screens, adjust louvers for more protection) so seamless that it can be done without disrupting tables or bar service. Such products that give you full control of your outdoor space already exist on the market, and have a proven track record for increasing revenues for restaurants, country clubs, bars, and other food service businesses.
Get Creative
Covered outdoor space doesn't have to mean a one-size-fits-all solution. If you don't have a patio, consider transforming your roof space into a money-maker. Rooftops may be ignored, because they feel too separated from the rest of your dining room, but in times where separation is the mantra, it may finally make sense for your business. Covered rooftop seating offers the opportunity for distancing, along with views and a new dining experience. The investment could also pay off long-term when, after larger gatherings are once again permitted, the space can also be used for special events.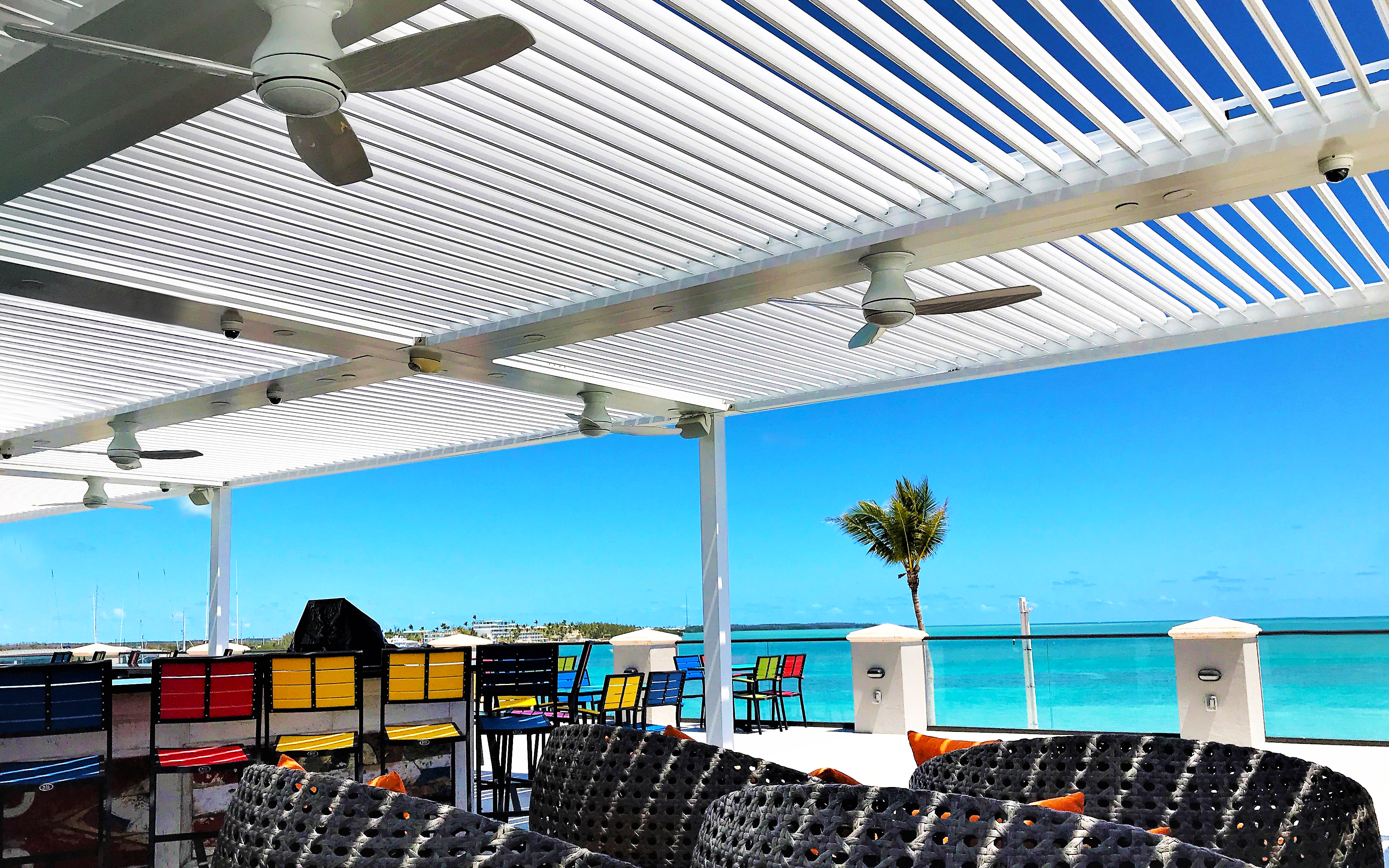 Nothing feels quite the same as it did pre-pandemic, but the answer to finding the new normal is to create it. Don't be afraid to revisit restaurant transformation ideas that you previously nixed, or to run with new ideas that can help your business in these unusual times. Outdoor seating is more important than ever: for distancing, for comfort, for business-preservation. Fortunately, there are ways to make it happen that will be of value now and into the future.