New & Notable: TEAM Schostak Celebrates 40, AI in Food Service and Beachy Tech
1 Min Watch
New & Notable spotlights the latest news restaurateurs need to know.
TEAM Schostak Family Celebrates Anniversary and Employees
TEAM Schostak Family Restaurants (TSFR) is celebrating its 40th anniversary along with the anniversaries of employees that have been with the company for 20 years or more.
"Over the past 40 years, TSFR has developed a strong reputation as a leader in the restaurant industry and fostered a talented and engaged team that delights our guests," said Mark Schostak, Executive Chairman at TSFR. "This milestone is significant and we could not be prouder for the contributions our team has made to our success. We look forward to what the next 40 years will bring as we continue to lead the way in our communities."
"Many of our TEAM Members stay a long time with TSFR – a testament to our accountable culture, family atmosphere and commitment to training and development," said Bill Angott, President and Chief Executive Officer at TSFR.
Cynthia (Cyndi) Barnes: Director of Accounting | 35 years
Cyndi directs the activities of employees in the accounting department to manage the accounting process through financial statements and is responsible for the overall management of the corporate office. She is a graduate of Central Michigan University with a Bachelor's Degree in Accounting. Cyndi started her career with TSFR in 1986 as an Accounting Clerk. In 1991 she was promoted to Accounting Manager and in 2009 to Director of Accounting.
Laura Szczepanski: Director of Training and Development, Wendy's & MOD Pizza | 37 years
As Director of Training and Development, Laura is responsible for the development needs and business plans for Wendy's and MOD Pizza brands.She studied at Saginaw Valley State University and began her career with TSFR in 1984, moving into management in 1986 as an Assistant Manager for the Burger King brand. Laura was a General Manager in the Bay City and Midland area for more than 8 years and moved to the Detroit area in 2006 to become the Director of Training for TSFR's Burger King restaurants. When TSFR sold the Burger King busi­ness in 2015, Laura transitioned to the Director of Learning & Development for Del Taco and MOD Pizza. In 2021, Laura added the Wendy's brand to her role with responsibility for implementing Develop­ment Days and quarterly business plans for TSFR's 56 Wendy's restaurants
Sandra (Sandy) Reinhardt: Vice President of Information Technology | 30 years
Sandy Reinhardt joined Schostak Brothers & Co., Inc. (SBCI) in 1991 in the property management accounting department. She moved to information technology in 1994 where she was instrumental in putting in the first network and email system for SBCI. She is now responsible for all aspects of technology across the Schostak family of companies and office. Sandy was promoted to Director of Information Technology in 2009, and in 2014 she was promoted to Vice President of Information Technology. She is instrumental in all of the company websites, network security systems, data backups and other technical needs. Sandy is a graduate of Walsh College with a Bachelor's of Accountancy and accomplished the designation of Certified Scrum Master in 2017.
William (Bill) M. Angott: President and Chief Executive Officer | 25 years
Bill Angott was named President and Chief Executive Officer of TSFR in 2009. Bill directs all operational and strategic planning and execution for the Applebee's, Del Taco, MOD Pizza, Wendy's and Olga's Kitchen brands. Bill's career progressed consistently with TSFR after joining the TEAM in 1996 as a District Business Manager for the Burger King division. In 2001, Bill was promoted to Vice President of Operations overseeing TSFR's 60 Burger King restaurants; in 2003 he was promoted to Executive Vice President of Operations, Training & Development and Human Resources; in 2006, Bill was promoted to Chief Operating Officer adding the Del Taco brand to his responsibilities. Bill formally served on the Great Lakes Franchise Association Board, Del Taco's Franchise Marketing Advisory Council and the Finance Excellence Advisory Council for Burger King. He started his career with Hardee's Food Systems in 1983 ending in the position of District Manager. Bill is a 1982 graduate of Michigan State University.
Greg Fuchs: Senior Facilities Manager | 25 years
Greg Fuchs serves as the Senior Facilities Manager for Applebee's, MOD Pizza, Del Taco, Olga's Kitchen and Wendy's restaurants in the TSFR portfolio. He began working with TSFR in 1996 when he was hired as a District Manager for the Burger King brand. In 2009, Greg moved to the Del Taco brand, where we were chosen as Franchise Operator of the Year in both 2009 and 2010. Staying in that capacity until February of 2014, he became Facilities Manager for the Applebee's brand, and has added Wendy's, Del Taco, MOD Pizza and Olga's Kitchen locations to his responsibility over the past few years. Greg joined the Restaurant Facility Management Association (RFMA) in 2016, earned his Certified Restaurant Facility Professional designation in 2017, was chosen Restaurateur of the Year in 2019, and currently serves on the RFMA Board of Directors.
Paul Soulliere: Information Systems Manager | 25 years
Paul Soulliere began his career with Hardee's Food Systems in 1978 and worked his way up as Crew Supervisor, Assistant Manager, and Restaurant Manager. Stepping out of operations, he became a Point of Sale (POS) Technician in 1984, and three years later was promoted to POS Manager, where he managed the IT team for Michigan, Ohio, Pennsylvania, and Northern Indiana. In 1996, Paul joined King Venture (now known as TSFR) as Information Systems Manager. Transforming the technology processes and systems that were in place and creating systems to be replicated across restaurant brands and corporate operations, Paul has been a cornerstone to the technology infrastructure at TSFR.
Barbara (Barb) Pasciak: Vice President of Operations, MOD Pizza & Del Taco | 21 years
Barb took on the responsibility of growing the Del Taco and MOD Pizza business for TSFR in 2019, returning to the operations side of the business after a successful tenure as TSFR's Director of Marketing for Applebee's, MOD Pizza and Del Taco. Prior to her marketing role, Barb was Director of Operations for TSFR's Detroit market Burger King and Del Taco restaurants with responsibility for the performance and profit and loss of each brand. Under Barb's leadership, TSFR's Del Taco restaurants consistently broke system wide sales records and TSFR was named franchisee of the year two years in a row. Barb also served on the Operations Advisory Committee for Del Taco. Barb joined TEAM Schostak in 2000 as District Manager for Burger King.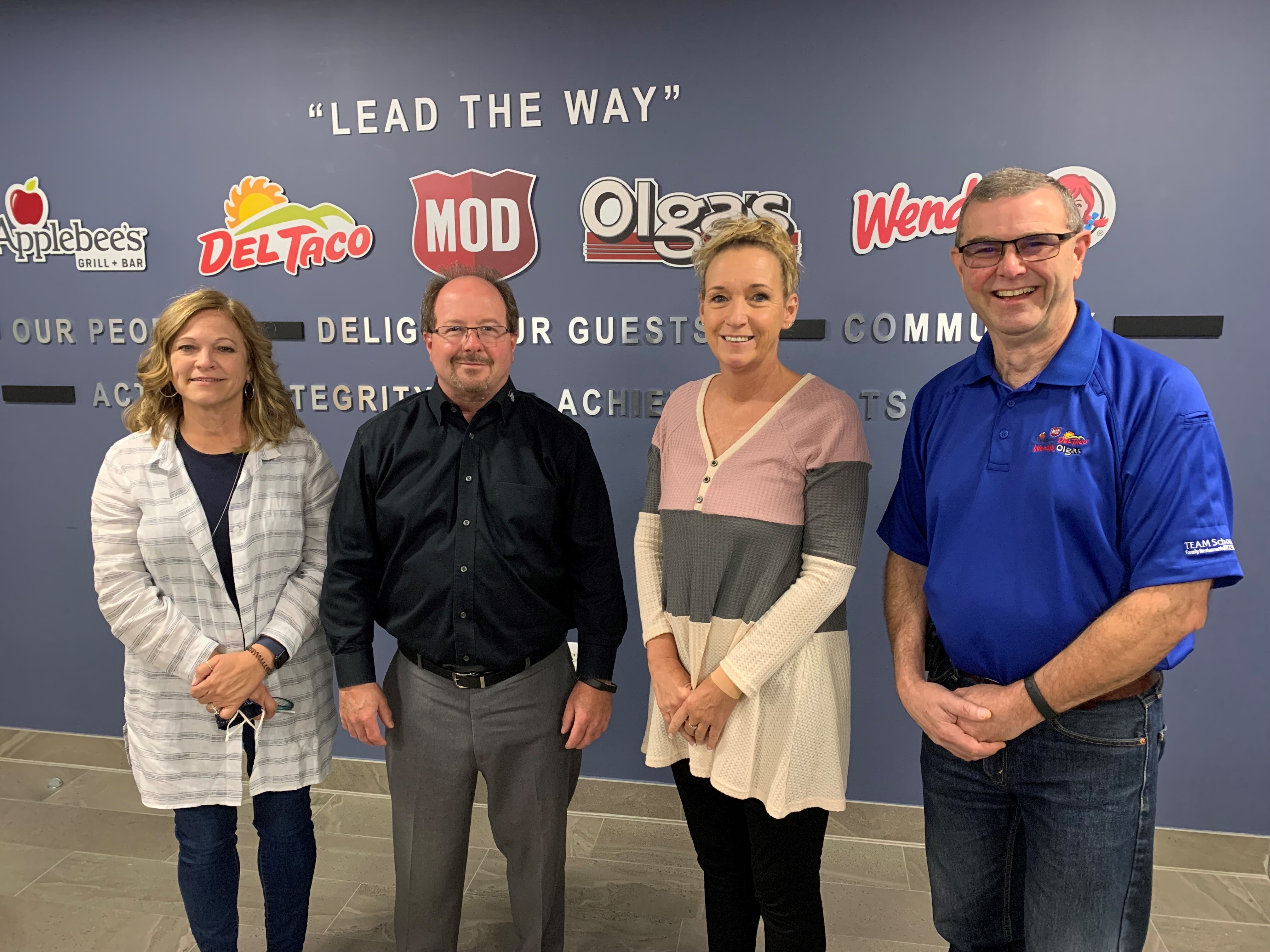 JBF Announces Award Changes
The James Beard Foundation announces changes to its Awards centered around the organization's mission to celebrate, support, and elevate the people behind America's food culture. These changes go into effect in October for the launch of the 2022 call for entry period.
For more than 30 years, the annual James Beard Awards have provided national acclaim and recognition of restaurants, food and beverage professionals, authors, journalists, broadcast media, and others in the food ecosystem. In 2020, as the country was forced to reckon with a pandemic that laid bare existing racial injustice and inequities, the organization heard calls from the restaurant community and the public for a more inclusive and transparent Awards process. The Foundation recognized its responsibility and the role of the Awards to support the changing industry and embarked on a series of comprehensive changes. That August, the James Beard Awards announced an audit of policies and procedures, which was conducted by various stakeholders, including subcommittee members, the Awards committee, James Beard Foundation staff, and consulting firms specializing in equity, justice, sustainability, and awards protocols and processes.
"We know that seismic changes continue to take place within the food and media industries. The James Beard Foundation's programs exist to serve and bolster people at different points in their careers. The Awards are one of these programs." said Dawn Padmore, VP of Awards. "These initial changes give us an opportunity to honor, recognize, and celebrate the rich diversity of the industry. "
"As chair of the Awards committee, I welcome this audit and the opportunity to strengthen our processes and expand our reach," adds Tanya Holland, who, in addition to serving as chair of the James Beard Awards Committee, also serves on the Foundation's Board of Trustees. "But I also know the work does not end here. As with all meaningful and substantial changes, there will be challenges along the way and we may not always get it right, but I know I speak for all my fellow Awards committee members when I say we are committed to an Awards process rooted in transparency and inclusion."
Key highlights of updates and changes resulting from the audit include:
To ensure values alignment within organization and among stakeholders:
Revised, value-centered mission statement and definition of a James Beard Award winner
The James Beard Awards mission is to recognize exceptional talent and achievement in the culinary arts, hospitality, media, and broader food system; as well as a demonstrated commitment to racial and gender equity, community, environmental sustainability, and a culture where all can thrive.
Who is a James Beard Award winner? An award recipient is both innovative and consistent, through storytelling on a plate; in food media; and in the broader food system. They champion a culture of good food anchored in talent, make efforts to promote racial and gender equity, sustainability, and a work culture where all can thrive — what we call Good Food for Good™.
Updated Entry Eligibility & Criteria: All Awards entrants and recommended entrants must describe how they or their work is aligned with one or more of the Awards mission and the Foundation's values – centered around creating a more equitable, sustainable, and healthy work culture.
To ensure diversity and new perspectives among James Beard Awards voting body:
● Reduced Term Limits: Awards committee and subcommittee term limits will decrease from three (3) three-year terms to two (2) two-year terms. Functions of Subcommittees can be viewed here.
● Annual DEI Training will be required and provided for judges and committee members.
● Expansion of Subcommittee & Judge Criteria for Restaurant & Chef Awards: The criteria for who can become an Awards judge or committee member has expanded to include experts outside of food media.
● Previous Restaurant & Chef Award winners no longer default to the voting pool. Winners from the last three years will be considered as potential judges only, requiring the subcommittee to vote them on as active members of the voting body for that year.
To increase access and foster a more inclusive process:
● Entry fees and scholarships: Media Awards (Book, Broadcast, and Journalism) entry fees will decrease from $150 to $75 per entry. The Foundation will also provide a grant within the first two-week time frame of open entry for those who state their inability to cover the entry fee.
● Restaurant and Chef and Leadership award categories will continue to have no fees for entry.
To ensure accountability:
● Code of Ethics: The Foundation has established a Code of Ethics as a guideline for all entrants, semifinalists and nominees, as well as its voting body.
● Ethics Committee: An independent volunteer ethics committee is being formed to address any potential allegations against potential award winners. The committee will report to the Foundation's Board of Trustees' Governance Committee.
"The annual James Beard Awards are our most powerful lever of change and we're committed to making them a force for good for the community they serve," says Clare Reichenbach, CEO, James Beard Foundation. "The changes arising from the audit are designed to ensure that our mission and values inform every element of the Awards, that we're doing all we can to level the playing field to help create a more equitable, more inclusive industry. This is a process of continuous evolution, learning and refinement. The Awards form part of the Foundation's overall offering to support an industry where all can thrive, including our Investment Fund for Black & Indigenous Americans, Beard House Fellows program, Women's Leadership Programs, Legacy Network, and Open for Good, among other impactful programs."
New or Updated Awards Categories
In addition to the above changes, the Foundation has made updates to the Awards categories, which reflect current movement in the media and culinary industries with an eye toward a more equitable future. For example, in recognition that success can be achieved at any age, the age restriction has been removed from the Rising Star Chef award, and it has been renamed Emerging Chef.
The complete list of changes is posted on the James Beard Foundation website.
SevenRooms Partners with TheFork
TheFork and SevenRooms have joined forces to offer an exclusive and unique combination of services aimed at helping restaurants increase online reservations while seamlessly managing their front of house and guest experiences. The partnership spans Australia, the United Kingdom and European countries including Belgium, Italy, France, the Netherlands, Spain and Sweden.
The companies will launch a two-way integration. This will enable TheFork's partner restaurants to gain access to SevenRooms' data-driven venue management and marketing automation platform, offering expanded functionality on top of TheFork's comprehensive online reservation and yield management technologies for restaurants. SevenRooms customers will be able to tap into TheFork's extensive consumer reservation network of millions of diners, helping them to fill their seats and acquire new customers. Combined, these cutting-edge tools will help joint restaurant customers develop stronger guest relationships and deliver the types of exceptional on-premise experiences that turn first time guests into repeat visitors.
Supporting restaurants after a challenging year of lockdowns and closures, this deal sets a new standard for collaboration between best-in-breed restaurant technology and online reservation platforms, helping operators build stronger customer relationships and more profitable businesses for the long-term.
"Innovation and agility are part of our DNA, and for more than 15 years, TheFork has partnered with key digital players to provide the best offerings to our customers and the best technology to our restaurants," said Almir Ambeskovic, CEO of TheFork. "In recent years, the restaurant industry has undergone a huge evolution, with restaurants requiring even more advanced tools to address complex operational challenges. At TheFork, we've carefully analyzed those trends and searched for the best way to help our partners. That is why we have decided to partner with SevenRooms. With this alliance, TheFork solves the complexity of operations for all types of restaurant segments. Combining their cutting-edge technology with TheFork's expansive diner base and yield management capabilities is something unique on the market."
"SevenRooms has always strived to become the most open and connected front-of-house technology available for hospitality operators. Our partnership with TheFork, the largest global diners network in the world, will help us continue to do just that," said Joel Montaniel, CEO & Founder of SevenRooms. "Through this partnership we are helping restaurant operators meet consumers wherever they are, delivering on our promise to always put restaurants at the forefront by helping them connect directly with diners through the booking channels they care about most. As SevenRooms' international growth has increased exponentially, this deal is incredibly attractive to our restaurant customers looking to fill more seats through access to booking channels with large networks like TheFork and TripAdvisor. We look forward to our continued partnership as we continue to scale our business throughout key international markets."
This partnership will be implemented across key markets in the coming months as the teams work to integrate the technologies to provide the best offering for restaurants and consumers.
Local Hero Debuts
Boulder Heavy Industries introduced Local Hero, a self-service digital local marketing app to help franchisees achieve bottom-line results with online TV/CTV, radio, and social ad campaigns that can be launched in just a few clicks.
"Local Hero is a low-cost, easy-to-use app that takes the guesswork out of digital local marketing for franchisees, dealers and corporate-owned locations. It's the right tool at the right time to help franchisees compete at a local level in a crowded and noisy marketplace," said Adam Edelman, Founder and Executive Chairman of Boulder Heavy Industries.
"Local Hero is the culmination of listening to brands talk about the importance of providing local digital opportunities for their franchise partners that are easy to use and hit major digital channels. This comprehensive app gives franchisees more control over the success of their business with the capabilities of a full digital marketing agency at their fingertips," added Tom Meyer, Local Hero's Senior Vice President of Customer Success.
SpotOn Announces Funding Round
SpotOn announced $300 million in Series E funding, raising its valuation to $3.15 billion. The funding will be used to acquire Appetize.
The round was led by Andreessen Horowitz (a16z), one of the world's leading technology and software investors, with continued participation from current investors, including DST Global, 01 Advisors, Dragoneer Investment Group, Franklin Templeton, and Mubadala Investment Company, as well as new investors Wellington Management and Coatue Management. Advisors Douglas Merritt, CEO of Splunk, and Mike Scarpelli, CFO of Snowflake, also made individual investments. The funding comes four months after SpotOn's Series D and increases its valuation from $1.875 to $3.15 billion.

"This investment enables SpotOn to significantly increase its total addressable market, with an end-to-end platform for restaurants and retail business of all types and sizes," said David George, general partner at Andreessen Horowitz. "The acquisition is a natural fit given the companies' complementary technology and shared focus on market-leading customer support."
"From our first meetings with Appetize, we knew they had great people and a great product, and the more we worked together it became clear that our two companies were stronger together," said Matt Hyman, Co-CEO of SpotOn. "We are combining our complementary technologies, extending our market coverage and retaining our shared passion for great service and support for our clients. SpotOn is quickly becoming a part of everyday life for consumers across the country whenever they shop, dine, or visit a stadium or a college campus."
"Appetize has built a truly special team and product that is trusted by some of the most iconic brands in hospitality, from Yankee Stadium to LSU to the San Diego Zoo. Likewise, SpotOn has earned the trust of tens of thousands of small businesses and independent restaurants with their technology and team," said Max Roper, CEO at Appetize, who will continue running the business as part of SpotOn. "This acquisition enables our combined team to accelerate investments into our core product and client base, while expanding to fill a void in the mid-market space. By bringing the two companies together, businesses from a major league ballpark to a local clothing boutique will have access to modern, intuitive, cloud-based technology that delivers exceptional customer experiences from one trusted provider."
7shifts Launches Tip Pooling
7shifts launched a new solution designed to help operators and managers streamline the complicated and time-consuming tip tracking and distribution process. With Tip Pooling, restaurants can eliminate the burden of weekly tip tracking and the need to spend hours calculating and distributing their teams' well-deserved tips for payroll.
Designed in close collaboration with 7shifts customers, Tip Pooling provides an intuitive workflow to create customizable Tip Pools for restaurant teams with a simple rule-creator that takes less than a minute to configure. Once pools are created, tip data is automatically synced from supported POS integrations, or through 7shifts integrated time-clocking app, 7punches. Once collected, tip calculations are then automatically made to reduce costly errors and sent to supported Payroll providers via an integration or export.
"We try to speak directly to as many of our 20,000+ restaurant partners as possible to see how we can help them improve their operating performance. From what we've learned, effective tip management has been one of the biggest challenges for restaurant operators," said Jordan Boesch, CEO and founder of 7shifts. "We developed robust Tip Pooling functionality to meet the needs of restaurants now and into the future, but to also create a solution that helps ensure that restaurant team members are properly compensated for the tips that come from creating the amazing guest experiences restaurants are known for."
For Cory Smith, Co-Founder of Twin Oast Brewing in Port Clinton, Ohio, this is part of the broader vision of helping their restaurant succeed: "I will say 7shifts is quickly becoming one of my favorite apps. I'm learning more things about it all the time and I can get frustrated with a lot of our different work tools, but with 7shifts I never do. It's definitely been a game changer for us. With Tip Pooling we can now potentially eliminate our tiplog, save a bunch of time and hours and make payroll easier, so that's a win-win."
Tip Pooling has been designed to offer three benefits to operators and managers:
Create and customize tip pools with ease
Save time and effort with automated tip calculations
Reduce errors by sending tips directly to payroll
Daniela Perallon, Owner of Canadian Bakin' in Huntsville, Alabama said, "Before [7shifts Tip Pooling] it was a time-consuming, stressful, and unnecessary task, so the Tip Pool [feature] has saved time and mental energy. As a business owner, it's mostly the mental energy you're using. I could type in hours incorrectly or forget to take hours out, which happened a couple of times. It takes away my user error because 7shifts is doing all the work for us."
MarginEdge Closes Series B
MarginEdge closed an oversubscribed, $18 million Series B investment to expand their exponential growth. Schooner Capital led the round with follow-on investments from all major and strategic investors to-date, including Osage Venture Partners, Gordon Food Service's innovation arm Relish Works and Nigel Morris.
Bo Davis, CEO and Co-Founder says, "As a restaurant owner myself, the goal with MarginEdge has always been simple – to help operators succeed – and this was never truer than through the insanity of the pandemic. We feel deeply privileged to partner with operators across the country to help them run their business more efficiently and profitably. This funding will allow us to reach more restaurateurs, enhance our platform and exponentially grow our impact within the industry that so many of our team call home."
Orhan Gazelle, Principal at Schooner Capital shared, "What struck our team about MarginEdge was not just their rapid growth and market position, but the deeply held culture of service to the industry. Everything they do comes from an authentic, service-driven mindset which has created a product that is an honest and empathetic response to the needs of their customers."
Aside from Schooner who led the round, this funding is composed completely of enthusiastic repeat investors, bringing MarginEdge's funding to date to over $35 million. Today, MarginEdge services over 2,400 independent restaurants in 47 states with a team of over 300 people in five countries and 29 states.
Leading a Fair Kitchen
On Monday, September 6, #FairKitchens, a global movement driving change to secure a healthier and more sustainable foodservice industry, launched Leading a Fair Kitchen, a new online leadership training program, free to any hospitality business (for chefs and operators) aiming to improve working environments and address staff retention issues within their business.
Unilever Food Solutions, one of the co-founders of #FairKitchens, together with The Culinary Institute of America (CIA), lent their expertise as an industry service to help more than 30 chefs and experts, such as Kimberly Brock Brown, Executive Chef & President of the American Culinary Federation, Richard Coraine, Co-Founder of Union Square Hospitality Group and Iliana de la Vega, Chef & owner, El Naranjo and others across the world develop this Leading a Fair Kitchen training series.
The Leading a Fair Kitchen training series consists of seven modules, one introductory module and six more detailed modules:
Module 1 (Introduction): What is Leadership
Module 2: Self Awareness and Self-Management
Module 3: Communication
Module 4: Recruitment and Onboarding
Module 5: Building Diverse Talent & Teams
Module 6: Wellbeing
Module 7: Crisis Management
Once all modules and a short assessment have been completed, participants will earn a Certificate of Completion from the Culinary Institute of America. To access the Leading a Fair Kitchen, free, online leadership training program, chefs and operators can visit FairKitchens.com for step-by-step instructions.
Southern Glazer's Acknowledges Drivers and Warehouse Employees
Southern Glazer's Wine & Spirits is celebrating National Truck Driver Appreciation Week, created by the American Trucking Associations, from September 12 – 18. In addition to showing appreciation for its professional truck drivers, Southern Glazer's held its very own Warehouse Employee Appreciation Week, a week-long celebration of the Company's warehouse personnel, from August 9 -13. These frontline employees operate 14.8 million square feet of warehouse space and make 6.4 million customer deliveries possible each year.
"The dedication that our truck drivers and warehouse employees continue to demonstrate throughout the COVID-19 pandemic is unparalleled," said Bobby Burg, Senior Vice President and Chief Supply Chain Officer, Southern Glazer's. "We are extremely grateful to them for the talent, skillset, and most importantly, invaluable work ethic that they each bring to the table every single day. Southern Glazer's is able to successfully serve its suppliers and customers thanks to its frontline employees, and they deserve a world of thanks for that."
As part of the week-long celebration across its U.S. branches, Southern Glazer's will gift its drivers polo shirts and hats, as well as host various socially-distanced festivities throughout the week, from catered breakfasts and lunches, to raffles and prizes.
"Our truck drivers and warehouse employees have not skipped a beat in ensuring our customers are well-served amid one of the most challenging times on record," said Ron Flanary, Senior Vice President of National Operations, Southern Glazer's. "These weeks of celebration took on a whole special meaning last year amid business shutdowns and having to adjust to a changed world. And as we continue to navigate the pandemic, we know how intrinsically important it is to turn to each one of these frontline heroes and say, thank you—you are valued and appreciated, and we could not do it without you."
Southern Glazer's reinforces its safety culture through safety programs for both drivers and warehouse employees. The Elite Safe Driver Recognition Program, for example, is available to all drivers who qualify based on having 20 consecutive quarters, or five years, of safe driving without a preventable collision. Rewards include a gold ring set and monetary bonus rewards.
"I've never been prouder of our Operations team," said Kay Yoder, Vice President of Environmental, Health, Safety & Business Continuity, Southern Glazer's. "I think these challenging times have really cast a light on just how remarkable and valued these employees are; it's given everyone the chance to see what I see day in and day out. We are committed to fostering a safety culture that our employees feel safe coming to every day, and we will continue to lead with safety at the core of everything we do. Thank you to the Southern Glazer's FAMILY of drivers and warehouse employees—I am forever appreciative of you."
Tattle and Thanx Integrate
Tattle is integrating with Thanx. Tattle plus Thanx collects comprehensive data, combining Tattle's ability to track incredibly detailed customer feedback across all ordering channels using an open-API with Thanx's proprietary credit card integrations which capture both in-store and digital purchases with ease.
Now, through this partnership, restaurants which take advantage of the integration with Thanx can contextualize feedback, and more easily take action to drive guest loyalty based on a richer view of their customers. Starbird Chicken is already seeing dividends from the partnership.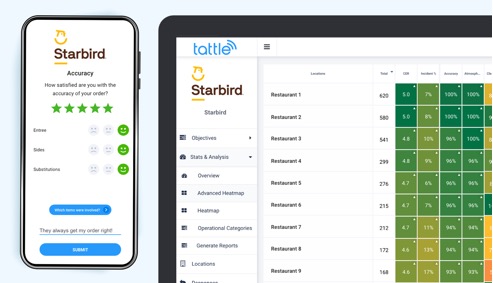 "The Tattle and Thanx integration has been transformational for our brand" said Casey Hilder, Marketing Manager at Starbird Chicken. "In the past, we had very little visibility and measurement into the various ordering channels of our guests. Now, with each guest transaction through Thanx, Tattle triggers a post-transaction survey email equipped with transaction details, which has allowed our team to measure the guest satisfaction of each ordering channel and identify and improve high-impact areas across our locations."
"With guest transactions today more evenly distributed across ordering channels than ever before, the measurement of the guest experience has now become paramount for operators to deliver joy to guests," says Alex Beltrani, Tattle Founder and CEO. "Based on over 80M data points collected in 2021, delivery and take-out experience has shown to deliver a 20% lower guest satisfaction score compared to its dine-in counterpart, and dine-in showing a 7% decline in guest satisfaction since January 2021. Without on and off-premise measurement, restaurants may miss the opportunity for both operational improvement and guest recovery, both of which are key contributors to ROI."
The core benefits of the Tattle integration include:
● Automated post-transaction survey distribution to guests for optimal engagement
● Pre-populated survey with transaction data to ensure 90%+ survey completion rate of 50-questions
● Statistically significant guest feedback volume for reliable identification of high-impact areas for improvement
● Combined feedback provided via Tattle with behavioral context from Thanx for truly personalized engagement based on key metrics such as customer frequency, spend, and items purchased.
● More opportunity for guest recovery methods in order to extend hospitality beyond restaurants walls
Upping the Umbrella Experience
This summer, Cilantro opened 14 beach locations) and decided to hammer on convenience. The team developed an app to create an exceptional umbrella experience for customers on the beach.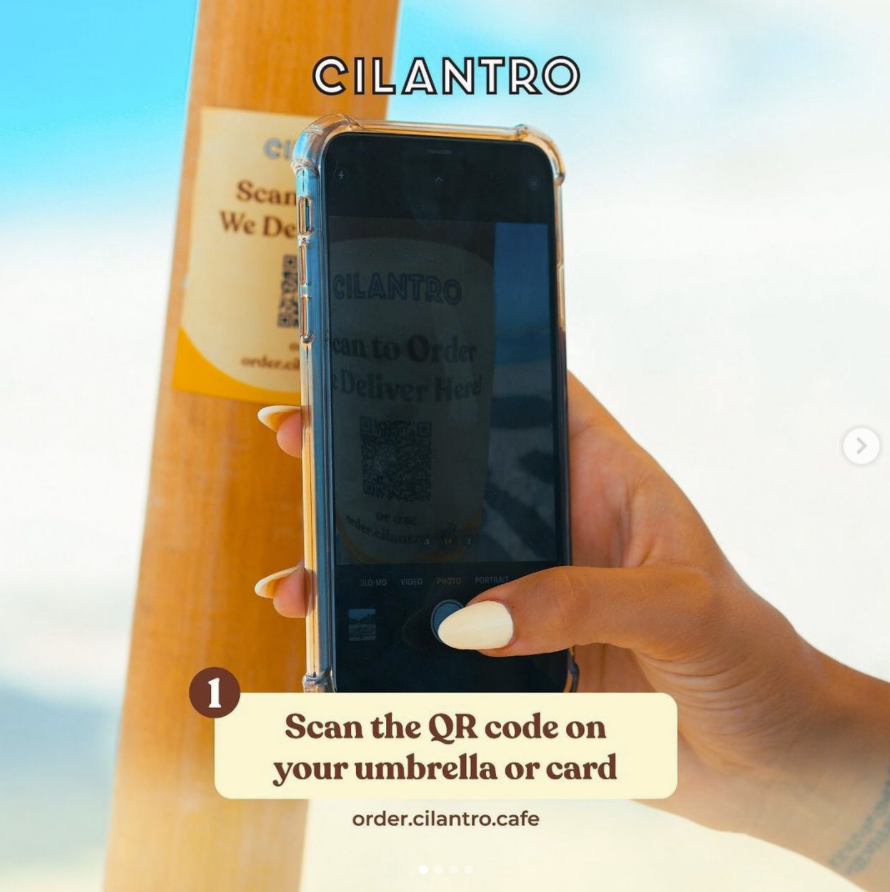 A three-step process (1) Scan the barcode on the umbrella, (2) order online, and (3) pay online (and earn loyalty stamps). And … voila! you receive your order at the footstep of your chaise-longue. The results were phenomenal with some stores reaching up to 70 percent digital order penetration.
There were multiple operational challenges for several reasons; beaches we're not mapped out on Google Maps, runners had to travel very long distances in 40 degrees Celsius weather, internet signal was patchy in some location,… We managed to come up with very creative solutions to all these problems as they came up.
Resy Partners with CLEAR
As restaurants grapple with evolving vaccine requirements and the complexity of operating amidst COVID-19, Resy is partnering with CLEAR to provide CLEAR's Health Pass technology to all Resy restaurants free of charge through 2022. Health Pass by CLEAR – a premium tool within the CLEAR app – allows employers to manage staff health and safety protocols digitally, so the process is streamlined and simpler.
With the fast pace and limited resources of restaurants, this offering gives restaurants one less thing to worry about and allows them to focus on their team and business. The offer comes as restaurants brace for a second fall and winter season navigating COVID -19, and as operations become even more complex amidst vaccine requirements, tracking, and more operational challenges. The investment is part of Resy's ongoing commitment to backing the industry and follows 15 months of fee relief, which was extended to all Resy restaurants when the COVID-19 pandemic began.
Features included in CLEAR's Health Pass service that restaurants can choose to use with their employees include:
Proof of vaccination:
Users can add their proof of vaccination from CLEAR's national network of vaccine providers or by directly uploading their CDC card
Test results:
Users can link their lab provider to show recent COVID-19 test results
Health survey:
Users can take a health survey to screen for symptoms
The partnership is part of CLEAR's "Come Back Better" initiative to help businesses of all sizes safely stay open. More than 130 organizations have used CLEAR's Health Pass to help create safer environments, including major professional sports teams, corporate offices, small businesses, travel destinations, and restaurants like Danny Meyer's Union Square Hospitality Group.
"Our restaurant partners are operating in a very challenging, continuously evolving pandemic environment. They are doing their best to keep up and adapt to new policies that are stretching their limited bandwidth even further," said Alex Lee, VP & GM of Resy and the American Express Global Dining network. "Resy's goal is to support them by providing a suite of technology that helps streamline operations and allows them to focus on hospitality."
"Right now, restaurants and small businesses have enough on their plate, and we are excited to team up with Resy to give them one less thing to worry about," said Caryn Seidman-Becker, CLEAR CEO. "Together, we are helping both restaurants and diners focus on getting back to what they love as safely and easily as possible."
"We're committed to taking steps to assure a continued path forward with health and safety as a top priority, which is why working with CLEAR and using their Health Pass is so important to us," said Danny Meyer, Founder and CEO of Union Square Hospitality Group.
Presto Launches Presto Voice
Presto launched Presto Voice to automate speech recognition for restaurants. The product can be deployed in a variety of restaurant settings including drive-thrus, line busters, kiosks, pay-at-table systems, and server handhelds to streamline the guest experience while increasing the guest-to-staff ratio.
Features include:
Voice-based Ordering, by Guest or Staff: Enable faster order taking, increasing speed of service and improving labor productivity by as much as 3X
Higher Order Accuracy: Improve order accuracy to increase revenue and maximize guest happiness
Conversational AI: Take automated orders using AI that recognizes and adapts to different accents, environmental conditions, and noise levels
Consistent Upselling: Increase check sizes with consistent upselling that can be customized to individual characteristics
Real-Time Menu Optimization: Promote items with short preparation times (or higher margins) when things are busy
POS Integration: Minimize staff trips as orders are automatically transmitted to the point of sale system
"Ordering is a real friction point for both guests and staff, and Presto Voice both speeds this up and makes it more accurate and profitable," said Rajat Suri, founder and CEO of Presto. "With Presto Voice, we're providing a superior solution that works every single time and never forgets to upsell. This is especially important in the face of the ongoing labor shortage when restaurants may be understaffed and staff may be inexperienced."
Manifesto Market Opens its Third and Largest Food Hub
EU-based food hub Manifesto opens its third and largest location, against the backdrop of an ongoing pandemic. During the soft opening weekend starting September 3rd, Manifesto served over 16,700 guests, an extraordinary number. Named Manifesto Andel, the al fresco food hub has revitalized a long forgotten corner in an otherwise busy and vibrant neighborhood of Prague.
Founded in June 2018, Manifesto has welcomed over 2,5M guests to date. Its cashless community hubs and amenities doubling as virtual food halls are redefining the future of gastronomy with a fluid online-2-offline consumer experiences and offers supported by a complex technology stack. The brand has helped dozens of experienced and emerging restaurateurs reduce initial costs, and increase their margins with lower operations costs, leading to a 90% retention rate of chefs. Manifesto supports them with marketing, data insights, marketplace food delivery platform and access to the loyal Manifesto community of consumers which prides itself on >40% returning customers.
The new 500-seat venue with a shallow pool and a stage for culture performances features 14 restaurants, 2 bars and over 40 virtual kitchen spots available this year. 100% of the capacity has been leased following a demanding selection process. Among the most diverse roster of chefs yet, Michelin-recommended maestro Riccardo Lucque explains. "My experience comes from fine dining restaurants, but this is the right moment where fine dining meets street food. I've been looking for a new, buzzing location. Manifesto is the right spot with its vibrant, young and curious creative community." The Argentinian chef Juan Cruz Pacin seconds: "Because it's where people go." Visitors can choose from Latin, Korean, American, Hawaiian, Asain, Brazilian, and Japanese cuisines.
Manifesto Andel's launch is the beginning of the expansion Manifesto plans in Western Europe and the U.S., with its next opening expected within 18 months.
An ambassador of sustainability and a budding startup adjacent to the ESG sector, Manifesto has implemented a set of environmentally friendly measures. Fully powered by energy from 100% renewable sources and known for plastic ban, newly this year, green walls, a hydroponic farm, composting and rainwater collection system will actively reduce the environmental impact along with porcelain tableware replacing compostable containers.
Manifesto will close a Series A equity round in the coming months, and has recently secured $2,4M venture debt financing from Orbit Capital.
Blendid Closes Crowd Funding
Blendid, top video, announced the close of its latest oversubscribed round of crowdfunding. Hitting its $2 million target via 1,475 individual investors during a four-month campaign on StartEngine, Blendid has now raised a total of $20million in investment through a combination of traditional venture capital, strategic investors and crowdfunding. During its crowdfunding effort, Blendid signed a commercial agreement with a major commercial food service operator, which also made a strategic investment in the company, to help scale its manufacturing and operations so Blendid can achieve its mission of making healthy food more personalized and accessible nationwide.
"While robots are rapidly becoming part of the food service mix and countless vendors are vying for crowdfunding support, not all food robotic systems are created equal. It is critical to break through the buzz and marketing hype when evaluating options," said Vipin Jain, CEO and co-founder of Blendid. "AI-powered robots play a primary role in the future of food service, and Blendid is committed to not only optimizing the consumer experience, but also helping food operators overcome labor shortages and post-pandemic demand complexities while improving operator margins. We've proven the strength of our technology platform with our first kiosk solution, but the Blendid food operating system will support different types of fresh fare, from smoothies to soups, bowls, salads, sandwiches and more in the years ahead as we embark on a new era of healthy fast food."
Advances in robotics and artificial intelligence (AI), coupled with operational cost advantages and major consumer and retailer shifts, are driving the food industry to more rapidly embrace robotics that give consumers 24/7 access to fresh food. In fact, the food robotics market, estimated at $1.9 billion in 2020, is expected to reach $4.0 billion by 2026. Offering a compact, autonomous, contactless robotic food kiosk with unmatched in-market operating experience, Blendid solutions have served over 50K customer orders working with largeU.S. retail and food operator partners and can be installed in a wide range of locations to give consumers access to healthy, affordable, and delicious food anywhere.
With 10 patents, three trademarks, and a coveted NSF certification for its first product, Blendid's proprietary, contactless food operating system (foodOS™) processes orders, payment, and pickup safely, efficiently and autonomously. Powered by breakthrough machine vision and artificial intelligence technology, its foodOSmeasures and dispenses precise amounts of a wide range of ingredients for customized drinks, and then blends, pours, and stores each smoothie until a guest is ready for pickup. The company's cutting-edge design is supported by a network operation center that remotely manages all systems, making sure all Blendid robots can serve a freshly made, micro-customized smoothie within minutes and can process nine drinks simultaneously in high foot traffic areas. Check out a Blendid robot in action here.
Building on the success of its initial Northern California locations in retail stores and universities and boasting a pre-money valuation of $50million, Blendid is currently focused on growing its location footprint to increase its reach across the United States and perfect its food automation platform. Recently announcing its expansion plans to two new geographic areas, Blendid will use the additional funds to accelerate its expansion into the Southern California and Georgia markets with openings in a variety of venues such as malls, airports, hospitals, universities and retail stores.
Chase Acquires The Infatuation
JPMorgan Chase will acquire The Infatuation, the restaurant discovery platform designed to provide honest recommendations for where to eat. The deal aims to accelerate the firm's investment in dining, and further demonstrates JPMorgan Chase's commitment to meeting customers where they are with exceptional benefits, useful content and one-of-a-kind experiences, at scale. JPMorgan Chase will acquire The Infatuation's entire business, including Zagat.
"We've long admired The Infatuation's fresh approach to reaching people with relatable content that inspires new ways to experience life through food and drink, whether it's down the street or across the globe," said Marianne Lake, co-CEO of Chase. "We look forward to building on our complementary missions of connecting people to experiences around a shared passion for dining."
The Infatuation will retain its independent point of view and operate as a distinct brand under JPMorgan Chase, led by The Infatuation CEO and Co-Founder, Chris Stang.
"This partnership with JPMorgan Chase provides an incredible opportunity for us to engage with more people around the world and continue on The Infatuation's mission of delivering the most useful and trustworthy recommendations in dining and travel," said Chris Stang, CEO and co-founder, The Infatuation. "JPMorgan Chase has proven to understand the value that high quality content and experiences can have in building strong relationships with consumers who are passionate about these pursuits, and we're excited about the enormous potential that will be unlocked by combining our resources."
Omnivore Launches Free Features
Omnivore has released a set of free features designed to unlock the potential of restaurants' point of sale (POS) systems and bring choice and flexibility to the technologies restaurants choose to simplify third-party delivery.
Through the Omnivore Connect program, restaurant operators can now use Omnivore's core API to quickly test and integrate both proven and new, cutting-edge applications and technologies that can help them run and grow their businesses to meet customers' evolving needs.
"Some of the most popular uses for Omnivore Connect include labor and scheduling, loyalty, payment, delivery and online ordering," said Dan Singer, CEO of Omnivore. "Omnivore Connect allows restaurants to choose one – or multiple – solutions that are quickly and easily connected to the existing POS system."
"Using Omnivore is key for sunday to deploy our new app in a way that restaurants trust to seamlessly integrate with their existing POS system," said Christine de Wendel, CEO US, sunday, a payment solution for restaurants on Omnivore Connect's Marketplace. "This seamless integration helps restaurants quickly install and vet our app, then roll it out to all their locations and concepts overnight. Omnivore is a critical part of our success."
Sunday is a QR code-based restaurant payment application that provides pay-at-table functionality to guests. It's one of nearly 200 solutions available on Omnivore's Connect Marketplace that restaurants can integrate with their POS system.
In addition, Omnivore is also making select features of its popular Menu Management System free to restaurants. This includes the ability to manage multiple menus across multiple concepts, powering menu boards, kiosks, and online ordering.
Restaurants that want to integrate and fully capitalize on delivery and off-premises sales can subscribe to Omnivore's full suite of Menu Management System features. By subscribing, restaurants unlock Menu Management System's ability to directly inject delivery orders and centralize menu management across all digital platforms, including DoorDash, Uber Eats, and Grubhub. The additional features drive off-premise sales while minimizing costs.
"With our technology, restaurants don't need many months or huge IT teams to build an innovative and robust digital strategy," said Singer.
Kiwibot Expands Operations
Kiwibot, a robotic delivery service that has completed over 150,000 food deliveries with semi-autonomous robots, expanded its operations to San Jose, Miami-Dade County, Pittsburgh, and Detroit. This deployment of sidewalk delivery devices is possible due to a partnership with the John S. and James L. Knight Foundation, which funds initiatives that ensure that residents' voices drive the future of people–centered, smart cities.
Each of the four cities will be given up to 10 robots with one human supervisor, making deliveries across these urban zones more efficient and cost-effective through Kiwibot's last-mile delivery network. The pilot projects will allow the cities to learn how to best deploy emerging mobility technologies that can serve the public good in an equitable manner while offering a sustainable business model for private sector companies like Kiwibot.
The pilot use cases chosen range from small local business deliveries, to community kitchens working with vulnerable populations, to increasing accessibility to library books and pharmacies. Some services will replicate and scale the successful program deployed in San Jose during 2020. Others arose from Kiwibot's Love Date Robots campaign, which fosters engagement and open interactions with the robots for the public, small businesses, and community organizations.
Kiwibot and the Knight Foundation have been working closely with these cities to bring residents to the center of the autonomous technology pilot projects in order to increase opportunities for locally-owned businesses, as well as grant more equitable access to food, medication, and other goods. They also want to ensure that robots are deployed in areas where they can operate safely among pedestrians, bicycles, and vehicles.
These pilots contribute to Kiwibot's aspirations to be a self-sustainable public service by mapping areas and collecting sidewalk and infrastructure data using the Mobility Data Specifications (MDS) framework and an automated data collection system.
"With more than 70 cities deploying pilots worldwide, autonomous vehicles and sidewalk delivery devices are set to be the most disruptive technologies of our time," said David Rodriguez, Director of Strategy & Business Operations at Kiwibot. "Our robotic infrastructure is steering the post-pandemic world; supporting small businesses and community initiatives, bringing green solutions for congestion, and solving delivery needs while promoting safe mobility for all."
Thumbs Off!
While the COVID-19 pandemic is dwindling down, there's one thing that's remainingpermanent: the way people now view cleanliness. Hand sanitizers and disinfecting wipes have become the norm, with people gunningto stop the spread of germsin their tracks. Yet, in a restaurant, employees are handling the food that customers eat with cross-contaminating gloves or even no hand protection at all.
But now there's a simple solution for waitstaffs everywhereand itworks just like its namesays -the Thumbs Off!Designed specifically for restaurant use, the tool acts as a barrier between a server'shand and a customer's plate, offering safety and peace of mind during the transfer of foodto the table. In addition to its maximum blockage of germs, the Thumbs Off! is made up of a comfortable cushion and secure grip.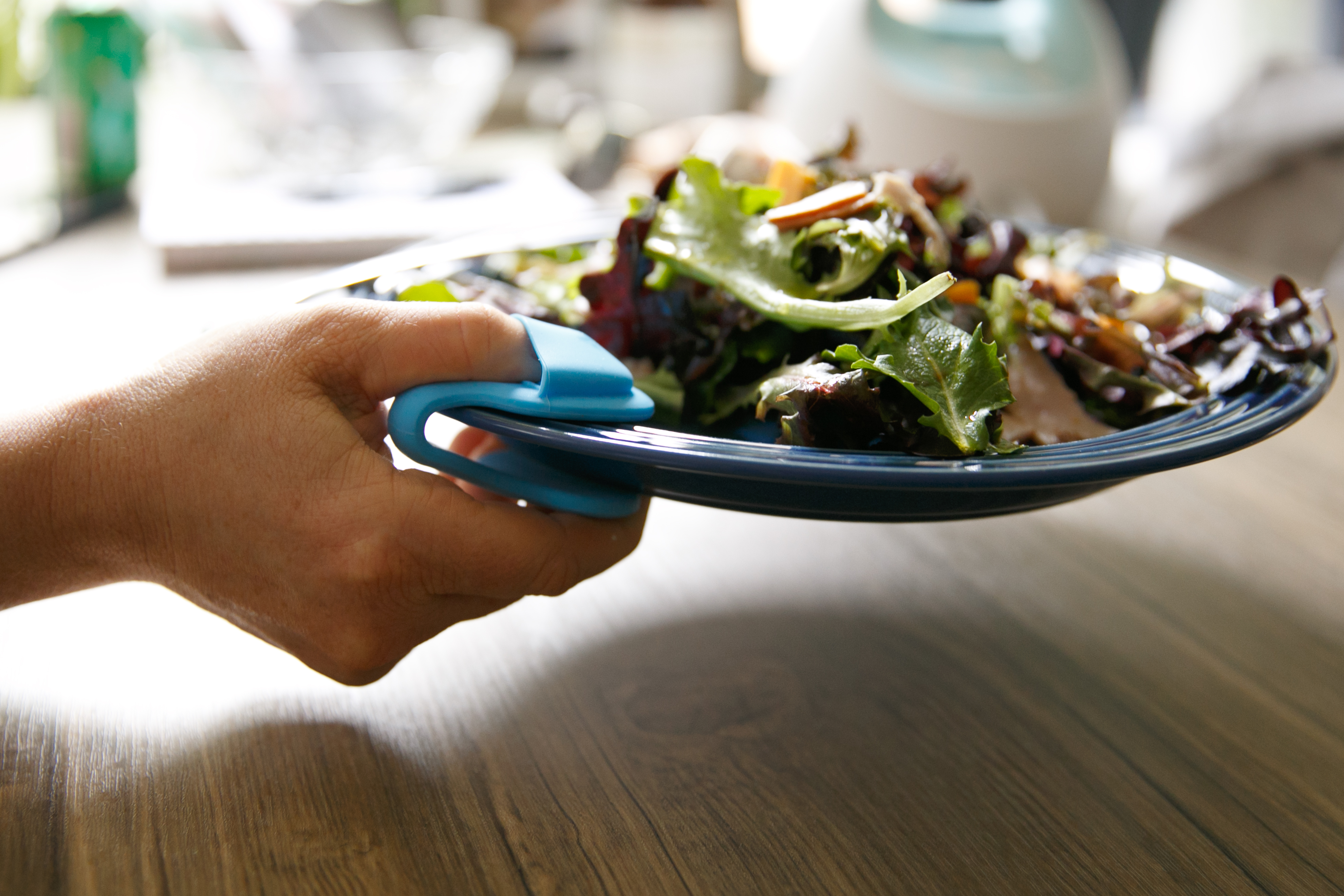 Available in two sizes (small and large), the product is reusable and dishwasher-safe.
"As a restaurant owner and frequent diner myself, I fully understand how disgusting it can be to watch your mealbeingset down on the tablewith a server's thumb just millimeters away from touching the very food you're about to consume," said Christian Valvo, founder of the Thumbs Off!. "I knew there had to be a better way and one that also shows that a restaurant cares about its customers."
Unlike gloves, which can not only be extremely costly, but need to be changed as much as 75 times during arestaurant employee's shift, the Thumbs Off! can be washed after each use, ensuring maximum cleanliness.The practicality of the tool also allows for convenient storage. Created byleading PPEspecialists, Germ Nerds, the Thumbs Off! is now available for both personal and business purchase exclusively onlinewith shipping available throughout the United States.
Savory Invests in Pincho
Savory Fund invested in burger and kebab concept, Pincho. The Miami-based fast-casual chain is the latest brand to attract growth capital from Mercato Partners' $200 million Savory Fund, which was created to back promising emerging restaurant concepts.
Founded in 2010 by serial entrepreneur Otto Othman, Pincho's Latin-inspired menu features burgers, kebabs, salads, bowls and more.
"We know that consumers are craving unique flavors and international experiences, and they're increasingly looking for restaurants to transport them to their favorite destinations," said Andrew K. Smith, managing partner and co-founder of the Savory Fund. "That's why we decided to invest in Pincho. Its international, award-winning menu, differentiated branding and strong leadership team led by Otto are exactly what we look for in concepts poised for rapid growth."
Going forward, Othman will remain as CEO and will be joined on Pincho's Board of Directors by Savory Fund executives Shauna Smith, Alonso Casteneda and Taylor DeHart.
Pincho currently operates eight retail locations across South Florida and licenses two additional locations at Florida International University and LoanDepot Park, home of the Miami Marlins. Savory's investment will be used to immediately prepare for hyper-growth across a multi-state region, including additional growth in southern and central Florida and Texas.
"Since I first met the team at Savory more than two years ago, they have consistently demonstrated a unique ability to build brands like Pincho, unlocking additional enterprise value through their high level of execution and acceleration of scale," Othman said. "We're thrilled to partner with Savory and its outstanding leadership team as we embark on what is sure to be an exciting ride. We have always believed that Pincho is a concept that can and should expand from coast-to-coast, and I can't wait to make our vision a reality."
Merrill and Frostman to Merge
John Schewe, owner and president of Merrill Distributing, and Sherry and Guy Frostman, owners of Frostman Fish Market, today announced the two companies will merge. Both companies are local, family-owned and professionally-managed businesses that supply food and food-related products to the Wisconsin hospitality, restaurant, and convenience store trade. This merger will combine sales, warehouse, and delivery operations.
Merrill Distributing has been a supplier to the restaurant and convenience store industries for more than 100 years. Merrill services customers in the North and Central regions of Wisconsin including and surrounding Wausau WI, as well as Upper Michigan.
Frostman Fish Market has been a specialty supplier of fish and seafood from coastal waters to the restaurant trade in Wausau, WI for more than 70 years. Guy Frostman is joining the Merrill leadership and sales team, while Sherry Frostman will be retiring after the transition.
"Both Frostman and Merrill have served our area with integrity and reliability," Shewe said. "This is the reason customers have chosen Merrill Distributing as their primary supplier, with services to assist customers with foodservice business growth and marketing needs."
New Site for Clean Cooking Alliance
Continuing its 10 Years of Impact celebration, the Clean Cooking Alliance (CCA) has launched its redesigned website. CCA's site, now at CleanCooking.org, will continue to serve as the go-to resource for the latest news, investments, funding opportunities, jobs, and research related to clean cooking, while featuring an enhanced, user-friendly design and new assets.
To mark the launch, CCA has released new content, such as: highlights from the recent "A Conversation on Clean Cooking," with Secretary Hillary Clinton, the World Resources Institute's Wanjira Mathai, and CCA's CEO Dymphna van der Lans; an interview with Sistema.bio's CEO Alex Eaton, as part of CCA's Leadership Series; and an updated look at the effects of indoor air pollution on childhood pneumonia.
The website showcases new engagement areas, such as "What is Clean Cooking?", and also hosts several resource hubs, including: Reports & Tools, which contains annual reports, industry snapshots, policy briefs, progress reports, and more; and the Sector Directory, an online database housing a comprehensive list of thousands of clean cooking enterprises, finance companies, research organizations, and public sector actors from around the world.
The Red Boat Fish Sauce Cookbook Debuts
To celebrate Red Boat Fish Sauce's 10-year anniversary founder Cuong Pham will debut his first ever cookbook on October 26th. The Red Boat Fish Sauce Cookbook: Beloved Recipes from the Family Behind the Purest Fish Sauce is a collection of family recipes paying homage to Pham's mother and a reflection on the 10 years of growth and Cuong's journey to creating the purest fish sauce on earth.
"My mother was the driving force behind why I started Red Boat," shares Pham. "She was a phenomenal cook and I can't wait to showcase her recipes in this cookbook. I hope our fans and Red Boat community enjoy making some of our favorite classics as well as newer dishes that were developed by our R&D Chef Diep Tran."
The Red Boat Cookbook details Pham's year-long journey to America from Vietnam and his quest to create a premium fish sauce brand based on three simple ingredients: anchovy, sea salt, and time. Readers will get a behind-the-scenes look of Pham's Phú Quốc Barrelhouse and learn everything about the process of transforming anchovies and sea salt into Red Boat's iconic fish sauce. The cookbook shares a bevy of family stories and cherished recipes, including favorites likes Bún Chà, Sugarcane Shrimp, Chicken Wings and Pork Roast to newer dishes like Ginger-Cilantro Fried Chicken and Crab Rolls that showcase Red Boat's depth and versatility for those new to the fish sauce scene.
"This cookbook explores the incredible range of fish sauce – whether it be a dipping sauce for egg rolls or tucked into pasta sauces, marinades, or even a simple spread for burgers ," shares R&D Chef Diep Tran. "We have over 100 recipes, including some of Cuong's most cherished family recipes. This book encompasses a true American story and we are so excited to share it with the world and our fish sauce-loving community."
To promote the release, Red Boat will host a series of virtual events ranging from cooking demos to Q&As as well as partner with a number local restaurants and independent bookstores nationwide to bring a taste Phú Quốc to your home. The Red Boat Fish Sauce Cookbook: Beloved Recipes from the Family Behind the Purest Fish Sauce is co-written with R&D Chef Diep Tran and cookbook author Tien Nguyen (Roy Choi's L.A. Son, Adam Fleischman's Flavor Bombs). T
OpsAnalitica Teams with FreshFry
OpsAnalitica, the restaurant ops and food safety compliance analytics platform, and FreshFry, the sustainable food tech company providing restaurants with all-natural, plant-based, easy to use frying oil filtering solutions, are thrilled to announce their partnership in an effort to help restaurants define and track sustainability.
"Now more than ever there is a need for restaurant operators to do more with less and implement sustainable processes," says OpsAnalitica Founder Tommy Yionoulis. "We're very excited about our partnership with FreshFry and, together, we will help our customers accomplish both of those goals by enabling teams to proactively manage their Pod usage by implementing paperless repeatable processes with real-time compliance notifications and data."
FreshFry believes that frying operations are only as strong as a company's willingness to comply with the best practices laid out, and OpsAnalitica believes that FreshFry is part of any frying operations best practices. Together, the software gives end users a simple way to measure compliance to maximize their investment, as it allows for the ability to provide same day data, connecting decisions from management to day-to-day operators, creating increased compliance and accountability.
"Our partnership together creates sustainability – with capital and investments, with oil quality staying better for longer, and with achievability," says FreshFry Co-Founder and CEO Jeremiah Chapman.
Killer Burger Expands in Hometown
Killer Burger opened new location in its hometown. The renowned "Best Burger in Portland"* restaurant will be opening its fifth Portland city location shortly in the Slabtown neighborhood at 1620 NW 23rd amid the popular eating, shopping and entertainment district. This will also be the brand's 13th location across the region.
Situated in the trendy Slabtown neighborhood between Raleigh and Savier, the 2,300 square foot space is conveniently close to the intersection of I-405 and Route 30, as well as the Portland Streetcar, making it easily accessible to those in the metro area. F
"Slabtown is one of the top neighborhoods for restaurants in Portland right now. It was important for us to add a location to this part of town and further cement the connection between Killer Burger and our hometown," said TJ Southard, founder and CEO of Killer Burger. "I can't wait to welcome customers to NW 23rd to sit down, relax and enjoy a burger and a beer."
This marks the brand's 10th company-owned location. There are three franchised restaurants plus two non-traditional stores in Providence Park and Moda Center. A fourth franchised location will open in Idaho before year-end bringing the total store count to sixteen as Killer Burger continues to expand throughout the Pacific Northwest and beyond through strategic franchising.
P.F. Chang's Opens Flagship
P.F. Chang's opened its Royal Hawaiian location as an upgraded flagship restaurant. The dining destination was the focus of significant investment recently completing a 6-month renovation, resulting in significant upgrades to design, décor and ambiance at the 10,000-square-foot site.
"P.F. Chang's prides itself in offering an immersive Asian dining experience, and this new flagship location allows us to do so in a distinctly differentiated way," said Tana Davila, chief marketing officer at P.F. Chang's. "Our restaurants provide a destination for guests – whether it's a holiday, birthday or night out with friends and family – and this location certainly takes that to a new level, as we provide moments and meals our guests are sure to remember."
The exterior of the restaurant is made entirely of puka lava stone, native to the island. Large windows and doors offer an open-air dining experience, weather permitting. Guests will enjoy two patios – a casual downstairs patio and a more private, exclusive upstairs patio. P.F. Chang's iconic murals, hand painted by Nyla Lee, will be on display with the main artwork featuring a famous Chinese proverb that translates to "be not afraid of going slowly, be only afraid of standing still." Other murals feature characters that translate to "the gathering place."
The new flagship location is part of a brand refresh across the United States. All existing P.F. Chang's locations are scheduled for updates by the end of 2022, including new music, lighting, décor, uniforms and menu presentation. Additionally, there are P.F. Chang's To Go restaurants opening across the country, with more than 50 To Go locations, including Colorado, Florida, Texas, New York, Louisiana, Nevada and Arizona, by the end of 2022.
Power Knot Adds LFC-300FT Biodigester
Power Knot LLC launched the flat top version of the LFC-300 biodigester to the market. The LFC-300FT biodigester is the largest flat top machine available on the market.
This biodigester is used by customers where it is critical to retain a working area and use the same space for a biodigester. The top is flat and can be used for food preparation or storage while the machine is in use. As with all of Power Knot's biodigesters, the LFC-300FT biodigester weighs the amount of waste food that is ingested, and reports that graphically and numerically on its color touch screen. The machine uses a chassis within a chassis to accurately and properly weigh food waste and run analytics despite movement and force applied to the top of the LFC biodigester.
"The LFC-300FT biodigester is a revolutionary product perfect for supermarkets, restaurants, and food preparation facilities with limited space" said Iain Milnes, President at Power Knot. "The double chassis allows the biodigester to digest food waste while its surface can be used for food preparation or as an additional countertop."
The LFC-300 flat top biodigester uses the LFC-VII, Power Knot's seventh generation technology and latest update to software, hardware, mechanics, and cloud computing. An NFC card reader is a standard feature on the LFC-300 flat top biodigester. This allows you to account for the type of waste, the source of the waste, or the person adding the waste.
All LFC biodigesters automatically connect to the LFC Cloud, Power Knot's revolutionary continuous data analytics system. The LFC biodigester securely sends data about its operation to the server and that data is retained for five years.
The data includes the amount of food waste digested hourly, daily, weekly, monthly, and yearly; the number of times the door is opened in these periods; and the amount of CO2 di­verted from the landfill during these periods. With the new LFC-VII update, the LFC Cloud can now provide reports and data based on operators and types of food waste. Data from multiple machines can be aggregated into a single report.