New & Notable: Beer Ripples, Cheesy Shampoo, FroYo Robot and Milk in a Stick
30 Min Read By MRM Staff
Modern Restaurant Management (MRM) magazine's New & Notable column features new products and services as well as restaurant, food-service and hospitality company news and events. 
Send items to Barbara Castiglia at bcastiglia@modernrestaurantmanagement.com. 
Taco Mac Raises Funds for Camp Twin Lakes
The Georgia locations of Taco Mac are proud supporters of Camp Twin Lakes, renowned for providing life-changing camp experiences for children with serious illnesses, disabilities and other challenges. Over the past 20 years, the company has raised an impressive $745,000 for the cause. In 2017, Taco Mac donated 50 cents from each kids' meal to the camp, and thanks to supportive parents and their hungry children, the company raised over $65,000 to send 138 kids to Camp Twin Lakes this summer.
"Serving high quality, great tasting food and beverages that satisfy our guests is incredibly important to us," said Taco Mac CEO Greg Lippert. "Of great importance, too, is the ability to give back to the community. It is so exciting to deliver on our goals and send these deserving children to Camp Twin Lakes. These are children who might otherwise not be able to go to camp, so we're proud to help give them access to such valuable experiences."
 
Camp Twin Lakes CEO Jill Morrissey couldn't be more delighted by the restaurant group's steady support. "Thanks to our donors, most of our campers attend camp at no cost to their families," she says. "Taco Mac's generous gifts enable Camp Twin Lakes to provide week-long therapeutic camping experiences. The company's support has made an incredible impact in the lives of our campers, and we are ever grateful!"
In addition to feeling good about helping a good cause, families dining at Taco Mac can also feel good about the great kids' meals, which include favorites such as burgers, chicken and fish served with sides of fries or broccoli, along with juice and milk selections.
In other news, the brand took home VIBE Vista awards for Best Beer Program and Best Responsible Alcohol Service from the 9th Annual VIBE Conference. Held in San Diego on Feb. 27, VIBE Conference, a hospitality brand of Questex.
VIBE Vista Awards recognize positive initiatives that fuel beverage sales, innovations that contribute to operational efficiencies and training and service programs that lead to the highest quality standards and operational practices. Taco Mac CEO Greg Lippert is justifiably proud of the 2018 honors his company has received, which recognize the restaurant for its largest selection of 'craft on draft' beers in the Southeast, the popular Brewniversity program, which rewards customers with gifts and academic titles for expanding their beer knowledge, Beer of the Month and Theme Flight programs and special beer pairing dinners.
"We've worked hard to create a top-flight program for our guests," Lippert says. "The Taco Mac team is committed to continue developing new programs to quench our guests' thirst, both for great beer and great knowledge."
Being recognized for its commitment to responsible alcohol service is equally significant to Mary Lowe, vice president of training and development. "We spend a great deal of time training staff to be mindful of alcohol consumption and proactive when they believe a guest has reached his or her limit," she says. "We want our guests to have a great time, and we also want to make sure they get home safely."
Jersey Mike's Day of Giving
This Wednesday, March 28, Jersey Mike's Subs expects to generate $6 million in sales — and give it all to charity. It's the sub company's 8th Annual Day of Giving when 1,360 Jersey Mike's Subs restaurants nationwide will donate their resources and 100 percent of sales to help local organizations. 
Day of Giving is the culmination of Jersey Mike's Month of Giving fundraising campaign in March, supporting more than 170 local charities across the nation. Partners include hospitals, youth organizations, food banks and more.
Last year's Month of Giving initiative raised more than $5.5 million for local charities nationwide and the company hopes to raise even more this year. 
As part of the campaign, Jersey Mike's, known for its authentic fresh sliced/fresh grilled subs, has collected donations from customers all month.
"On March 28, Day of Giving, we give to give by donating 100 percent of sales to our more than 170 charity partners nationwide," said Peter Cancro, founder and CEO, Jersey Mike's. "The opportunities to give are all around us so please seek out your opportunity to give and make a difference in someone's life."
The more you order, the more Jersey Mike's gives. Proceeds from every single sale including subs, chips, drinks and catering orders go to the charities this Wednesday.
"Giving…making a difference in someone's life" has been the mission of Jersey Mike's from the beginning. Since 2010, Jersey Mike's locations throughout the country have raised more than $28 million for worthy local charities and have distributed more than 2 million free sub sandwiches to help numerous causes.
For more information about Jersey Mike's Month of Giving, click here.
Beer Ripples Debuts
RipplesTM, the marketing platform for dynamic customer engagement, unveiled its newest creation, Beer Ripples, top photo, which puts personalized content onto pints in seconds. Designed to help bars, restaurants, clubs, hospitality owners and brands increase their engagement with their customers, Beer Ripples turns any foam-topped beer into a joyful and Instagramable moment using the latest 3D printing technology.
"We are excited to unveil Beer Ripples and bring the same personalization to beers as we have over the past two years with coffee customers around the world," said Yossi Meshulam, CEO of RipplesTM. "We have already served millions of Ripples with customers such as Hilton, Lavazza, Four Seasons, and restaurants and coffee shops around the world. Now, venues serving beer from pubs and clubs to hotels and sporting venues can take advantage of the opportunities for engagement, loyalty and emotional connection that RipplesTM provides."
Beer Ripples  prints  high-resolution images and messages at the touch of a button, using Ripples' malt-based ink. The Wi-Fi connected, counter-top sized device features a highly intuitive and easy-to-use touchscreen system, making Ripples a highly convenient and versatile way to transform a simple drink into a one-of-a-kind experience that keeps customers coming back for more.
Key elements of the Ripples experience include:
Wi-Fi enabled device that neatly fits onto a counter top with a small 8.5" x 10.5" footprint

  Creates high quality images or messages on foam topped beer in just 11 seconds

Ripples uses malt-based ink, producing beer-based shades and maintaining the natural beer experience

Supports glasses up to seven inches tall
No special training is needed to operate the device, and the opportunities for creating content are infinite, allowing any bartender, event host or server to add a special touch to any brew. Customers can even send a photo, personal image or message to the Beer Ripples through the Ripples mobile app. Ripples' provides content/images from its library of hundreds of images and messages. New images are regularly uploaded in real-time to Ripple Makers around the world  The free Ripples app, available on both iOS and Android, allows users to choose an existing image from Ripples' content library or submit an image from their camera gallery to be printed on their drink.
Beer Ripples is available now in the U.S. and Canada for $3,000 with an annual subscription fee of $1,500, which includes all consumables for up to 6,000 prints, customer service support and advice on best content practices. The system will be available globally soon.
Ziosk Welcomes Schliesmann
The Ziosk network, with tablets live in all 50 states and more than 55 million guests engaging on its screens per month, today announced the appointment of Barry Schliesmann as the Company's Chief Product Officer. Mr. Schliesmann brings extensive technology leadership experience to Ziosk and will report directly to Jack Baum, chairman and chief executive officer. In his role,  Schliesmann will be responsible for leading product strategy and development.
"We're excited to welcome a creative, innovative and proven technology leader with a passion for developing global products and service offerings to the Ziosk team," said Baum. "We look forward to leveraging Barry's extensive experience and expertise in consumer electronics, in-flight entertainment and media to strengthen and support next-generation product offerings and content for our network."
Prior to Ziosk, Schliesmann held the position of Chief Product Officer at Thales InFlyt Entertainment and Connectivity where he defined, architected and implemented the Company's product strategy and roadmap. There he defined and delivered next generation "at home in the air" quality connectivity and entertainment solutions.
"I'm thrilled to join the Ziosk team as the company continues to grow its capabilities and expand its reach to venues worldwide," said Schliesmann. "Together, we look forward to working with our partners to enhance the guest experience to drive frequency and financial performance."
Schliesmann previously led product delivery of Android-based software and services at Motorola for over 60 global mobile device products including the iconic RAZR, Droid, and XOOM tablets. He also helped launch Motorola's first SaaS media and marketplace service business to 15 global carriers and more than three million subscribers in less than 12 months.  Prior to that he developed and delivered first-of-its kind digital interactive solutions for the NFL, NASCAR and PGA Tour at Sportvision, Inc. and held various positions at IBM, Digital Equipment Corporation and the FBI.
Wendy's Honors Employee Ambassadors
Give Something Back and Do The Right Thing are two core values important to The Wendy's Company, and employees live these values in a variety of ways.  Each year, Wendy's recognizes employees and all they do to make a positive impact in their communities through its Community Ambassador Grant Program.  Ten Wendy's employees are recognized for exemplary volunteer efforts in their communities with a $2,500 grant to an organization they support with their time, talents, and resources.  The Community Ambassador of the Year is selected from this group and awarded an additional $10,000 grant for their organization.  Kelly Cole, Senior Financial Analyst at Wendy's Restaurant Support Center, has been named Wendy's 2017 Ambassador of the Year for her six-year involvement and leadership role with KidSMILES Pediatric Dental Clinic in Columbus, Ohio.
"At Wendy's, we believe our purpose is to create joy and opportunity through food, family, and community," said Liliana Esposito, Chief Communications Officer.  "By supporting our employees and the charitable causes important to them, we are strengthening our bond as a Wendy's family and making a positive impact on the communities in which we operate.  Congratulations to Kelly Cole, and to all of our Community Ambassadors, for your leadership, dedication, and volunteer service in the places you call home."
Company employees – from restaurant team members, Restaurant Support Center associates, and field and International employees – can apply for a Community Ambassador grant.  While all 2017 applicants are worthy of recognition, a committee comprised of Company officers, field employees, and previous Ambassador of the Year winners chose 10 well-deserving employees for their leadership qualities and personal commitments to the organizations most important to them:
Kelly Cole

supporting KidSMILES Pediatric Dental Clinic,

Columbus, OH

(Community Ambassador of the Year) – Kelly became involved with KidSMILES, a non-profit dental clinic dedicated to providing quality dental care and education to children at an affordable cost, in 2011 as a fundraiser organizer. Kelly has organized silent auctions, football tailgate fundraisers, and an annual

5K

race to benefit the clinic. In 2017, Kelly was voted to the Board of Directors as Treasurer, and her responsibilities include protecting the organization's financial resources by assuring proper maintenance of financial records, overseeing the integrity of the financial control systems, providing financial information for an annual external audit, and working closely with the finance committee and staff members on fiscal matters. Kelly believes that every child deserves to have a beautiful smile, and thanks to her dedication to KidSMILES, the clinic was able to provide nearly 600 dental appointments in 2017.
Taco Bell Chips Away
Taco Bell is making it even easier for fans to connect with the nation's leading Mexican-inspired restaurant brand by bringing them the Taco Bell flavors they crave at home, on the go or when upping their chip and dip game for their next party. Beginning this May, Taco Bell tortilla chips are rolling out to grocery and convenience stores.
Available in Fire and Mild sauce packet flavors, as well as Classic, the brand's latest launch gives fans the chance to enjoy the taste of Taco Bell in tortilla chip form. The sauce packet inspiration doesn't stop there. Fans will see familiar sauce packet designs and saucy wisdoms on the chips' packaging – standing out from the crowd on store shelves.
"This launch of our first line of sauce packet-inspired chips gives our fans a new way to access a taste of Taco Bell," said Marisa Thalberg, Chief Brand Officer, Taco Bell Corp. "Our sauce packets are one of the brand's most unique aspects and were the natural choice for both the flavors and packaging of our tortilla chips."
The Classic tortilla chips are salted and crispy, the perfect sidekick for your dip of choice. The Mild tortilla chips are seasoned with the bold flavor of Taco Bell's Mild sauce, including hints of three chili peppers and cumin. The Fire tortilla chips convey the fiery flavor of Taco Bell's Fire sauce, with hints of jalapeño, chili peppers and paprika.
Harkins Promoted to Executive Chef
Loews Philadelphia Hotel, the home of the Nation's first skyscraper and PSFS building has promoted chef Tom Harkins to executive chef overseeing all facets of the hotel's culinary operations.
Chef Harkins tenure at the hotel began in 2005 as chef de cuisine. He opened Bank & Bourbon, a 220-seat rustic inherently American style restaurant in 2014, leading his team of 24 to create a menu of contemporary dishes, while honoring the simplicity of the ingredients. His connection to creating updated American classics, comes from his own passion and love of developing flavors that blend the familiar with the unexpected.
Prior to joining the Loews Philadelphia team, Harkins' culinary resume includes more than 20 years of experience in positions such as chef de cuisine at top Zagat-rated restaurants. He has worked in the kitchen of Olivier de St. Martin, then executive chef of the acclaimed Founders at Philadelphia's Hotel Atop the Bellevue. He moved quickly from gourmet cook to sous chef to chef de cuisine. In 1993, he decided he wanted to run Restaurant 210 at the AAA Five Diamond Rittenhouse Hotel. During his tenure, the restaurant received the Distinguished Restaurant Award by Conde Nast Travelerand Zagat named it "Best Continental Restaurant" in the City.
"Under Chef Harkins' leadership, our food and beverage outlets including Bank & Bourbon, POD Market and in-room dining have reached new heights in regards to revenue and guest satisfaction," said Alex Amato, Director of Food & Beverage at Loews Philadelphia Hotel. "On behalf of the entire hotel, we are pleased to offer him support in this latest endeavor."
Chef Harkins graduated from the Culinary Institute of America and is a native Philadelphian.
Hyatt Regency Waikiki Beach Names Szombaty Executive Chef
Hyatt Regency Waikiki Beach Resort and Spa's General Manager Doug Sears announces the appointment of Jeffrey Szombaty as Executive Chef and the timely debut of The Buffet at Hyatt. With close to two decades of experience in the hospitality industry, Szombaty joins the resort from Hyatt Regency Vancouver, where he served as Executive Chef for three years. Before his move to British Columbia, Szombaty served as Executive Sous Chef at Hyatt Regency Waikiki from 2010 to 2014.
"We are thrilled to welcome Chef Szombaty back to the Hyatt Regency Waikiki Beach Resort and Spa family," remarked Sears. "Jeff's passion for indigenous, seasonal products, as well as sustaining relationships with local farmers and vendors, is evident in his style of cuisine, which focuses on simplicity and clarity of flavors. We are lucky to have Chef Szombaty back on the island to lead our culinary team and to introduce The Buffet at Hyatt."
In his new role, Chef Szombaty has spearheaded the resort's newest venue, The Buffet at Hyatt. With a focus on sustainability and delicious, organic options only available in Hawaii, The Buffet will be available from 5:30pm – 9:30pm nightly on the third floor of Diamond Head Tower. Menu highlights include a made-to-order poke station and sushi, Kauai shrimp, fresh local fish, kiawe smoked alaea salt crusted prime rib, southern king crab legs with Hyatt's famous Singaporean chili crab sauce, certified angus grilled beef, traditional Hawaiian specialties, extravagant dessert selections, and more, with gluten free and vegetarian options throughout and an expanded seafood selection on weekends.
A New Jersey native, Szombaty began his culinary career early in life, working in professional kitchens starting at age 16. He first joined the Hyatt community in 2000 as a Cook at the Hyatt Regency at Penn's Landing in Philadelphia, PA. He moved up the ranks to Banquet Chef in 2007 and transferred to the Hyatt Regency McCormick Place in Chicago in that same role in 2008. It was from Chicago that Szombaty moved to Waikiki to work as Executive Sous Chef under Sven Ulrich, and it is with great excitement that he is welcomed back to the resort.
Philips in at The Catch of the Pelican
 Naples Grande Beach Resort appointed Andy Philips as the Restaurant Chef of the newly reimagined signature restaurant, The Catch of the Pelican. With an array of new menu items, Chef Philips will be spearheading the operations of the restaurant after the property's recent post-Hurricane Irma reopening.
A graduate of the Art Institute of San Diego, his culinary arts expertise spans across multiple cultures and genres, including New American, Asian Fusion and farm-to-table. With his west coast training in the art of all things seafood, he will make an excellent addition to the culinary team at Naples Grande.
"I enjoy seafood of all kinds, and like to use familiar flavors, flavors from my childhood, and present them in new fun and funky ways," he said. "I'm looking forward to joining the NGBR team and translating that love of seafood into the creative and diverse new dishes offered on our menu, which I think all of our guests will enjoy."
Chef Philips will be working at the newly refreshed The Catch of The Pelican alongside the restaurant's newly appointed general manager, Marcus Thompson. Marcus has a range of experience in food management as a former Managing Partner of Outback Steakhouse. He has also previously served as General Manager for UNOs Chicago Grill and Boston-based waterfront restaurant, The Barking Crab.
He recently debuted a variety of fresh new offerings on the Florida-inspired menu including the Island Shrimp Bowl with coconut rice, jerk flavors and fresh mango; a Truffle & Artichoke Pimento Cheese Dip; and Local Florida Catch, featuring the freshest local seafood that Chef Andy can source, paired with his local farm vegetables, and homemade chipotle blue cheese butter. Chef Andy also assisted with conceptualizing the newly debuted Bar Bites Menu, featuring the savory Fried Brussel Sprouts, refreshing Beets and Goat Cheese and Fire Cracker Wings.
Monin Introduces Cafe Collection
Monin's introduced its Cafe Collection, concentrated flavor for both coffee and cocktail beverages, creating an indulgent experience without any added sugar or artificial ingredients.  Baristas and bartenders can easily enhance specialty drinks with this variety of all-natural, highly concentrated flavors – now available in Chocolate, Vanilla, Caramel and Hazelnut.
Monin Concentrated Flavor contains no artificial ingredients plus are gluten-free, GMO-free and vegan, part of the company's commitment to offering clean label products. The collection adds a hint of low-calorie flavor that can be paired together or layered with other syrups or sauces.  Plus, coffee patrons can now have flavor without sweetness allowing them to choose their preferred sweetener for an entirely personalized experience.
Cheese. Bacon. Repeat
Einstein Bros.® Bagels released a new line of Cheesy Shampoo and Wakin' Bacon Conditioner, giving breakfast enthusiasts an entirely new way to incorporate their love for cheese and bacon into their morning routines. Consumers can purchase the set of shampoo and conditioner, inspired by Einstein Bros.® Bagels' limited-time Cheesy Wakin' Bacon sandwich menu offering. The duo is available for $9.99  while supplies last.  
"What better way to start the day than with the delicious aroma of the new Cheesy Wakin' Bacon sandwich from Einstein Bros. Bagels," said Kerry Coyne, Einstein Bros.® Bagels SVP of Marketing, Product, and Innovation. "This is the ultimate breakfast apéritif – now our fans can shower themselves with mouth-watering scents, leaving them looking as incredible as they smell edible, all day long."
Einstein Bros. Bagels' Cheesy Wakin' Bacon sandwich is made with thick-cut, nitrate-free bacon, cage-free eggs and cheddar served on a six-cheese gourmet bagel. Other limited-time menu offerings include the No Yolk, made with cage-free egg whites, turkey-bacon, tomato, avocado and roasted tomato spread on an ancient grain Thintastic bagel and the SuperNova with lox, avocado, tomato, cucumber, red onion, capers and onion & chive shmear served on a sesame bagel. All are available at participating stores through May 2.
Rubino Joins Jane Q; Rook promote to Beverage Manager
Philip Rubino has been appointed chef de cuisine of lively all-day Hollywood eatery Jane Q. Bringing 10 years of culinary experience to the Beachwood Canyon restaurant, Rubino will collaborate with Executive Chef Bryan Podgorski, working to continually evolve Jane Q's seasonal menu of farm-fresh breakfasts, house-made pastries, rustic Californian dinners and indulgent desserts. Additionally, Dan Rook has been promoted from Lead Bartender to Beverage Manager of The Kimpton Everly Hotel. In this new role, he will oversee menu direction and all beverage operations for Jane Q, Ever Bar, and the hotel's catering and in-room dining.
Chicago native Rubino began his career at his family's bakery, later attending culinary school at Illinois Institute of Art. Starting as a line cook at Chicago's acclaimed BIN 36, he worked his way up to sous chef, followed by tenures at Spiaggia and A Mano. In 2008, he played an instrumental role in helping Chef Laurent Gras achieve three Michelin stars at L2O. He continued honing his skills at BIN Wine Café, Café des Architects, Acadia, and as executive chef at Moderno. Accolades include the 2013 recognition of "Rising Star Chef" nominee by Jean Banchet's awards for culinary excellence. Rubino was also integral to the high-profile team that launched Chicago's critically acclaimed Cicchetti.
Also hailing from Chicago, newly appointed Beverage Manager Rook is a Kimpton Restaurants veteran, with the company moving him from his post as Lead Bartender at Kimpton's South Water Kitchen to Los Angeles in 2017 to helm the bar programs for Jane Q and Ever Bar. Since the restaurant and bar duo opened last August, Rook's inventive cocktail menus have earned both local and national acclaim, with Ever Bar voted "Best New Bar" in L.A. Weekly's Readers' Choice Awards in 2017. Recently, his Academy Awards-themed cocktail menu drew widespread local interest and cemented Ever Bar's status as one of the most creative cocktail programs in the city. He was previously named "Best Bartender of the Year 2015" by the Chicago Tribune's Redeye and named to Zagat's "30 Under 30 List" in the same year.
World's First Adhesive-Backed Carpeted Mat
New Pig Corporation, the leader in helping facilities create cleaner, safer and more productive environments, introduces PIG Grippy Carpeted Entrance Mat, the world's first adhesive-backed carpeted mat. This latest addition to the Grippy Mat product line designed to provide a stylish new solution to risky and outdated rubber-backed entrance mats that shift, slide and create tripping hazards.
Grippy Carpeted Entrance Mat is available in two textures and four colors to complement any modern or upscale environment. The quick-drying carpet top, made from 100 percent postconsumer recycled content, features high-performance, colorfast fibers that resist stains and fading. A low-profile surface design traps dirt, debris, sand and liquids while helping the mat look cleaner, longer. And with crush-resistant, commercial-grade durability, the mat can stay in place for three to six months, depending on conditions.
Like all Grippy Mats, adhesive-backed Grippy Carpeted Mat stays put with no bunching, shifting, rippling, curling or flipping over. The mat's proprietary adhesive backing delivers the ideal balance of stick-and-release performance to keep it in place, but peels up easily without leaving residue when it's time to replace it. The adhesive backing also allows Grippy Carpeted Mat to be cleaned in place with a vacuum or water extractor, eliminating the hassle of dragging heavy mats around.
Grippy Carpeted Mat rolls out for continuous walk-off coverage with no gaps, ripples or overlaps that cause slips and trips. And since the mat cuts easily without fraying or unraveling, it can be used to create custom sizes and shapes around beams, corners and asymmetrical floor layouts.
Grippy Carpeted Mat is ADA compliant for wheelchairs and walkers and has been tested and certified by the National Floor Safety Institute (NFSI) as a high-traction surface.
Nigel Ball Joins APG Cash Drawer
APG Cash Drawer, a global manufacturer of cash management solutions added Nigel Ball to the role of Vice President of Sales in North America. In this role, Ball will lead and oversee all functions of APG's core product sales activities in North America.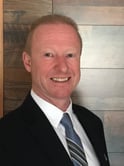 "I am very excited to be joining APG Cash Drawer, a recognized global brand leader in the POS industry," said Ball. "SMARTtill® technology is a great example of APG's ability to differentiate and deliver innovative cash management solutions, reducing cash loss and the cost of handling while improving store productivity. It's a great time to be part of a revolution in cash management and to join the APG team."
"We are pleased to have Nigel as a member of the APG global family as we strive to continuously develop POS solutions and create opportunities for our customers, partners and affiliates in the marketplace," stated Mark J. Olson, President, and CEO of APG. "Nigel's expertise and experience in global sales will help APG's team continue to create and deliver innovative solutions for our customers who have both domestic and global footprints."    
Based in Kenosha Wisconsin, Balll brings more than 35 years of experience with expertise in creating and executing global sales and strategies, managing P&L, developing new business, coaching and mentoring teams, as well as building long-term customer relationships.  
Tree-Free, Plant-Based, Compostable Pizza Container
World Centric introduced Pizza Round, the 100 percent tree-free, plant-based, compostable pizza container for pizza takeout/delivery restaurants. The breakthrough circular container reduces packaging waste, labor and space needs as well as grease and sogginess that are common with traditional cardboard pizza boxes.
Made from 80 percent sugarcane and 20 percent bamboo – both renewable resources – the PizzaRound offers key sustainability advantages that support restaurants' efforts to minimize their environmental impact.
Other operational and customer benefits include:
Less packaging – with no liners, tissue or plastic tents needed to keep the crust crisp, absorb grease or prevent damage to toppings
Labor and space savings – eliminating the need to fold containers and providing nesting storage that dramatically reduces space needs
Better food performance – with improved heat retention, built-in grease grooves, and air vents as well as raised 'dimples' that help maintain crispness
Convenience features for consumers – ovenable to 450° for reheating, a removable top that doubles as a server and a dish, and cutting guides for perfect portioning
"The PizzaRound is the future of pizza boxes," said World Pizza Champion Glenn Cybulski, who consulted World Centric on the design and tested its performance. "Takeout and delivery pizzas can now be hotter, crisper and free of the cardboard taste that often transfers to the pie in paper containers, reheated in the box they come in, and more sustainable and efficient for pizza restaurants at the same time. World Centric has reinvented everything except the pizza itself."
The new PizzaRound box will expand World Centric's line of plates, utensils, cups and other plant-based, certified compostable food service ware that already support restaurant operators nationwide and in Canada. These products help restaurateurs make an impact on the environment and support global giving.
"Our focus for the past 14 years has been to help the foodservice industry reduce waste and improve its stewardship of the earth," said Mark Stephany, SVP of Sales for World Centric. "Our new PizzaRound not only continues that initiative but also provides true functional innovations that make it possible to deliver a great quality pizza from the oven to the customer's house."
The PizzaRound is currently available for 12″ and 14″ pizzas, with a 16″ size to be added later this year. Custom imprinting is also available.
Milk in a Stick
Diamond Crystal Brands' is distributing Milk in a Stick from Lakeland Dairies.
Milk in a Stick offers:
Clean label. Its healthful ingredient statement reads simply: milk or cream.
Minimal storage footprint. The sleek, slender design and strong, flexible packaging offers 50 percent space savings in the front and back-of-the-house, better environmental advantages, lower distribution costs and less fuel to transport.
Less waste and hassles. The ambient shelf life offers savings in waste versus a refrigerated product and eliminates potential cross-contamination normally associated with milk.
Consumer friendly. The sticks are easy to open and pour.
Milk in a Stick is made with fully traceable, 100 percent milk at Lakeland Dairies, a cooperative based in Ireland with over 120 years of heritage. Collecting milk from cows grazing on lush, green pastures from more than 2,400 family farms, Lakeland Dairies supplies a wide range of dairy products to 70 countries.
"We listen to our valued customers and develop products that combat the challenges of offering a hot beverage service," said Simon Muschamp, Head of Marketing at Lakeland Dairies. "Our milk sticks offer a convenient option without the hassle or wastage associated with fresh milk, but most significantly helps save space thanks to its slim line design."
MobileBytes introduces Slate
MobileBytes introduces Slate, its original Point of Sale enclosure. Designed and engineered by Heckler Design of Phoenix, the sleek, powder coated steel stand has no visible screw heads, fasteners or holes, and accommodates two iPad sizes. "Slate 9" fits a standard 9.7 inch iPad and "Slate 12", fits the 12.9 inch iPad Pro. Slate is simple to assemble, clean, and maintain.
"Our merchants want an affordable stand that supports Ethernet connectivity, looks clean in their restaurant, adjusts to fit their counter height, and allows for card swipes," says Dan Calderone, MobileBytes CEO. "Slate is the solution our merchants have been looking for. It will be sold exclusively for use with MobileBytes POS."  
A premium positioning hinge allows a user to set and hold the optimum viewing angle of the enclosed iPad, providing a superior user experience regardless of counter height. The hinge also allows rotation greater than 100 degrees giving merchants the ability to flip the iPad toward the guest for signature capture.
The Slate enclosure can be mounted to countertops, display arms and floor stands.
Slate was custom built to support the Gigabit + PoE Adapter from Redpark of Emeryville CA. This revolutionary adapter provides both power and Ethernet connectivity to an iPad through a single Cat-6 cable exiting Slate through a small hole in the base. This eliminates unsightly cabling associated with existing Ethernet solutions for iPad.
Slate comes configured with a faceplate that securely holds a direct-connected UniMag II magstripe reader from ID Tech. A blank faceplate can be ordered for installations where card swipes are not required.
Merchants can begin placing pre-orders through MobileBytes authorized resellers today. The first wave of Slate stands will be delivered in early April. Overnight shipping will be possible for future orders.
Sam Fox Teams with William Sonoma
Williams Sonoma launched a line of healthy grain bowl starters and vinaigrettes in collaboration with Sam Fox, the creative visionary behind one of the most successful restaurant groups in the U.S., Fox Restaurant Concepts, which includes healthy fast-casual concept Flower Child. 
At Flower Child, wholesome and delicious dishes are inspired by one simple mission: "To serve healthy food for a happy world." The grain bowl starters and salad vinaigrettes allow home cooks to easily recreate Flower Child's popular dishes in the comfort of their own kitchens. Simply add cooked whole grains, plus sautéed chicken, salmon, steak or tofu to bowl starters for a nourishing, satisfying meal or toss the dressings with leafy greens and farmer market vegetables.
"I'm excited to partner with Williams Sonoma to bring home the fresh, natural goodness of a Flower Child bowl," Fox said. "My hope is that this collaboration will encourage home cooks to easily integrate more clean ingredients and healthy eating into their lifestyle."
The Williams Sonoma and Flower Child grain bowl starters and vinaigrettes line includes five exclusive recipes:
Flower Child Smoked Gorgonzola Vinaigrette: A rich, smoky blend of grapeseed oil, vinegar, gorgonzola and almonds. Toss with leafy greens and vegetables.
Flower Child Lemon Avocado Vinaigrette: A bright, savory blend of olive oil, citrus, avocado and

California

herbs. Toss with leafy greens and vegetables.
Flower Child Miso Ginger Vinaigrette: A vibrant, umami-rich blend of grapeseed oil, rice vinegar, miso and ginger. Toss with leafy greens and vegetables.
Flower Child Sesame Ponzu Bowl Starter: A bright, citrusy blend of spicy tamari, toasted sesame and green onions. Toss with cooked rice and blanched vegetables, and then sprinkle with toasted sesame seeds and add cooked shrimp, beef, chicken or tofu. Also great stirred into fried rice, drizzled over steamed vegetables or used as a quick marinade for meat.
Flower Child Thai Cashew Bowl Starter: A bold, savory blend of roasted cashews, Thai basil and chili peppers. Sauté zucchini, blanched sugar-snap peas, chopped celery, onion and jalapeño. Add cooked quinoa, toss with starter, and add cooked shrimp, beef, chicken or tofu, and garnish with fresh herbs. 
Asset Manager Enhancements
 ServiceChannel introduced enhancements to its Asset Manager capabilities, to provide increased visibility into the details of all physical assets, including work history and maintenance, warranty, and preventive maintenance information. ServiceChannel utilizes new Asset Tagging and management technologies in this solution, which helps the company to extend its Service Automation suite, and further accelerates the transformation of the multi-billion dollar facilities and contractor management market to a more modern, data-driven and automated approach.
Benefits include the automation and simplification of asset repair and maintenance, and greater visibility into service history, ultimately addressing common inefficiencies and saving customers significant time and money. Asset Tagging, enabled by Internet of Things (IoT) technology, helps customers keep track of equipment across multiple locations, while making it easy to manage asset-based work orders. Key features of ServiceChannel's latest release include:
Asset Tagging: Uses NFC (e.g. RFID) and QR barcode scanning technology to easily create an asset inventory, retrieve data on the asset, create asset-based work orders and update asset information via mobile devices
Warranty Tracking: Tracks all warranties on assets, lowering costs by charging repairs against warranty services
Refrigerant Asset Management: Tracks attributes specific to racks and assets that contain refrigerant
Analytics: Enhances asset reports in Analytics with new data that is tracked
Preventive Maintenance: Provides FMs with valuable information to properly maintain their assets before small problems become big, costly ones
"Streamlining operations and increasing efficiency is a never-ending journey, and there's no doubt that a technology-first approach to facilities management is a key factor for success," said ServiceChannel CEO, Tom Buiocchi. "Automating the management of valuable assets allows facilities managers to unlock the next level of efficiencies, including warranty claims, better repair or replace decisions and asset-driven work orders."
Other related enhancements will be rolled out later this year, including asset component management, further IoT-based asset management and asset-based audits. The overarching goal is to simplify facilities management and lay out an "asset first" foundation that enables self-managed facilities in the future.
Dipt'n Dusted® Fried Green Tomato Halves
Harvest Creations introduced Dipt'n Dusted® Fried Green Tomato Halves! Made from thick, hand-cut half slices of tart green tomatoes and tossed in our signature coating of seasoned flour and cornmeal, these southern-inspired treats are bursting with bright flavor. 
Did you know that nearly 40 percent of patrons order appetizers and about 30 percent order small plates on all or most of their restaurant visits?1  This coupled with the fact that fried green tomatoes have grown 24 percent on menus in the last four years2 could mean big profit potential for operators who menu fried green tomatoes. The convenience and versatility of Dipt'n Dusted® Fried Green Tomato Halves allow you to easily tap into the growing demand for appetizers and small plates.
The Fried Green Tomato Halves are made with tomatoes harvested & processed in the U.S., and breaded with the Tampa Maid proprietary Dipt'n Dusted® coating system that creates the perfect crunch in every bite. With back-of-the-house, made-from-scratch appearance & taste, the Tomato Halves arrive frozen in 6 convenient, 2-lb. bags for added convenience. Your customers will never know you didn't spend the time cleaning, cutting and breading these delicious treats.
 Try your first case on the house—visit http://deals.tampamaid.com/fried-green-tomato-halves from now until September 30, 2018 to redeem one free case of Harvest Creations® Fried Green Tomato Halves.
FroYo Robot
Reis & Irvy's a subsidiary franchise concept of Generation NEXT Franchise Brands, Inc. said the world's first frozen yogurt robots will arrive at select grocery retailers in 16 US states this spring. The Reis & Irvy's Frozen Yogurt Robots provide a fun and delicious experience to the shopper while grocery stores can enjoy a convenient revenue generating addition to their location. Savvy grocers recognize the value of front-of-store services like Reis & Irvy's frozen yogurt robots, offering shoppers a unique service while saving precious floor space.
The patented technology, manufactured by Flex, Ltd- the maker of popular fourth-wall vending machines like RedBox will feature delicious frozen yogurt consumables exclusively from yogurt industry leader Dannon. Generation NEXT's strategic operations partner, Pitney Bowes will handle all deliveries and installation of the Reis & Irvy's Frozen Yogurt Robots.
Reis & Irvy's is dedicated to finding the FroYo Robots homes in high traffic locations including grocery stores, markets and retailers across the country. The April deliveries and installations signify the beginning of an aggressive rollout strategy. As part of the initial rollout, the Company anticipates shipping approximately 185 units in May and 250 units in June.
"We are pleased to report this exciting news not only for the grocery stores receiving our patented robotic technology, but also our franchisees and our shareholders," said Nick Yates, Chairman for Generation NEXT Franchise Brands. "Our colleagues in the grocery business can capitalize on the new technology, generate more revenue, set themselves apart from their competition while boosting additional traffic and sales. The Reis & Irvy's Frozen Yogurt robots will help drive excitement back to their store while continuing to improve the customer experience."
Cocktail Artists
Cocktail Artist® celebrates its one-year anniversary this month with the release of seven new products, crafted by award-winning mixologists from across America and the Bahamas. After a year of driving growth in the cocktail mix category at one of the nation's largest retailers, the Cocktail Artist family now touts 15 products, including category mainstays Margarita Mix and Bloody Mary Mix, available nationwide.
Cocktail Artist has invigorated the cocktail mix category with its high-quality standards: eliminating high fructose corn syrup and unnecessary artificial ingredients; using natural cane sugar and fruit juices; and developing perfectly balanced flavor profiles in collaboration with renowned mixologists and cocktail tastemakers. The mixes and ingredients are packaged in artfully designed bottles that elevate the aesthetic of any home bar, and are available at an accessible price point.
The seven new Cocktail Artists and their curated mixes and bar ingredients include:
Skyy John

(

Los Angeles, CA

; Host and Creator of Tipsy Bartender, top cocktail social media influencer with 27 million followers):

Margarita Mix

Carla Rivera

(

Miami, FL

; Secretary of

Miami's

Chapter of the United States Bartenders' Guild; Top 15 Finalist at the Diageo World Class Cocktail Competition, 2014): Piña Colada Mix

Chris McMillian

(

New Orleans, LA

; Co-founder of The Museum of the American Cocktail; Thrillist's America's Greatest Bartenders, 2015; Imbibe Magazine's Top 25 Most Influential Cocktail Personalities of the Last Century, 2010): Bloody

Mary Mix

Stephanie Sanchez

(

Santa Cruz, CA

; Good Times' Best Bartender in

Santa Cruz

, 2014): Strawberry Daiquiri /

Margarita Mix

Darnell Holguin

(

New York, NY

; United States Bartenders' Guild National Finalist of Legacy Cocktail Showcase, 2017; Time Out New York's Top 10 Finalist Best Bartender in

New York City

, 2015): Sweet & Sour Mix

Jen Ackrill

(

Honolulu, HI

; Modern Luxury's Top Six Hawaiian Bartenders, 2016): Triple Sec Syrup Bar Ingredient

Marv Cunningham

(

Nassau, Bahamas

; Stolichnaya Regional Mix Master Champion, 2017; Taste of the Caribbean Bartender of the Year, 2015 & 2016): Blue Curacao Syrup Bar Ingredient
"Cocktail Artist started with the simple mission to empower home bartenders to confidently make craft cocktails with ease, and the line has surpassed expectations in its first year on the market," says Jay Whitney, president of FoodStory Brands, the company behind Cocktail Artist. "Our seven new mixes and bar ingredients are hitting stores across the country just in time for St. Patrick's Day, Cinco de Mayo, Kentucky Derby, and the summer beach season. Now, with a total of 15 mixes and ingredients, all developed with the nation's leading mixologists and bartenders, Cocktail Artist is changing the game in the cocktail mix category and transforming the way people entertain and mix cocktails at home."
"I want to help people make delicious cocktails easily—and have fun with it," said Skyy John, host and creator of Tipsy Bartender. "My Cocktail Artist Margarita Mix is made with the very best ingredients, meaning there's no high fructose corn syrup, just pure cane sugar and natural fruit juices. It's so smooth that you can enjoy it on its own or with spirits, from tequila to rum or vodka. It is so versatile and perfectly balanced, you can't beat it!"
"Piña Colada was invented in Puerto Rico, and I like to tell people that while my ethnicity is Puerto Rican, my blood type is Piña Colada," explained mixologist Carla Rivera of Miami, Florida. "My Cocktail Artist Piña Colada Mix is a great substitute for the classic recipe used at the Caribe Hilton Hotel in San Juan."
"After 25 years of mixing cocktails in New Orleans, I still love knowing that people enjoy what they drink," said Chris McMillian, legendary New Orleans bartender and owner of Revel. "I chose Bloody Mary as my Cocktail Artist mix because it's not only a staple in New Orleans, but when made with quality ingredients and savory spices, there is nothing better."
"Working with Cocktail Artist over the last year and watching it grow, has been an honor," said mixologist Juyoung Kang of Las Vegas, NV, who designed the Mint Syrup Bar Ingredient. "As part of the initial class of mixologists, I knew Cocktail Artist was exactly what people are looking for — mixes and ingredients that help them to feel like expert mixologists in their homes that taste amazing and are affordable."
Cocktail Artist launched nationwide in March 2017 in Walmart stores, and will soon be available in supermarket chains across the country. Shortly after hitting shelves, Cocktail Artist contributed more dollar sales growth to the cocktail mix category than any other existing brand sold at Walmart (Nielsen Answers POS, December 2017).
Compostable Takeout Containers
 Eco-Products is launching new line of compostable takeout containers that are unmistakably and undeniably natural. The bases of the new containers come in a natural bagasse color and are made from 100 percent renewable sugarcane fiber. Named WorldView™ Naturals, the new line is strong, durable and versatile.
"Guests can easily tell these takeout containers are environmentally friendly," said Sarah Martinez, director of marketing for Eco-Products. "They have a true natural vibe."
The new line consists of sugarcane bases with RPET or Ingeo™ lids for maximum strength and optimum presentation. Among the new line's features:
The containers are available in a variety of sizes and shapes, including round, square, rectangular and oval bases.
The bases are made from 100 percent renewable & reclaimed sugarcane fiber instead of foam or virgin paper. They work equally well with hot or cold foods.
The lids are made with Ingeo biopolymer or 100 percent post-consumer RPET. The compostable Ingeo lids are perfect for cold foods; the RPET lids (made from 100 percent recycled contents) work equally well for hot or cold dishes.
The bases and Ingeo lids meet ASTM standards for compostability and are BPI-certified compostable.
"You get a combination of style, performance and sustainability," Martinez said.
Eco-Products is introducing the new containers as interest in "Zero Waste" skyrockets among restaurants and caterers. The public is increasingly seeking out environmentally-friendly businesses committed to sustainability.
"WorldView Naturals are perfect for restaurants and foodservice operators to demonstrate their commitment to the environment," Martinez said. "These containers are unmistakably natural, and that carries a positive and powerful message: This business cares about the environment as much as its customers."
Premier Benches
Paris Site Furnishings introduces the Premier series backed and backless benches which provide comfortable seating with a contemporary look, making it ideal for interior or exterior installations.  Available in four- or six-foot lengths, each steel, powder coated bench features a vandal-resistant design in straight, curved or circular configurations.  These one-piece, ready to install benches are available in standard colors including red, blue, white, grey, green, yellow and beige, with custom colors available as an option.  They are ideal for parks, streetscapes, green spaces, schools and universities, sports venues, transit facilities, retail and corporate settings, restaurants, hotels, hospitality venues and wherever comfortable, durable seating is desired.
Premier series benches are manufactured of ¼" mild steel so they are strong and durable.  They are then rust-proofed and powder coated to withstand the elements.  Built in-anchor holes allow secure mounting to a solid surface like concrete.  Manufactured in Princeton, ON and available factory direct or through distributors and dealers throughout North America.    
Paris Site Furnishings and Outdoor Fitness manufactures a  range of aesthetically pleasing, comfortable, functional and durable site furnishings.  Their benches, waste and recycling receptacles, picnic tables, shade structures, planters, bollards, and bike racks, are available in varied materials including steel, hardwood, aluminum, and recycled plastic.  
 Studio Luxury Vinyl
Parterre Flooring Systems introduced Studio Luxury Vinyl, a new accent collection featuring two luxury vinyl flooring designs—Tela and Colour. Available in 28 colors, options range from a muted palette of gray tones and expressive hue variations to vibrant splashes of color.
Inspired by the assets used in an artist's studio, Tela's 10 colors have a woven-like design and authentic texture that offers a neutral canvas for interior spaces as both stand-alone installations and flooring accents. Studio's second design, Colour, has 18 hued accent options also named with artistry in mind.Versatile for any commercial application, Tela and Colour are both designed to work as flooring accents, ideally paired with Parterre's current running line of 3mm luxury vinyl tile and plank products.
"Accent colors can be used in many ways," said Parterre Designer Roche FitzGerald. "Whether used purposefully to add an accent of color to isolate separate wings in a hospital, or to enhance a boutique's contemporary wood look with pops of color. Studio Luxury Vinyl brings a unique vibe to any commercial design."
Both offered in a tile format, Studio's Tela is 18" x 36" x 3mm in size and Colour is 18" x 18" x 3mm. Available in a commercial construction, products in the Studio Luxury Vinyl collection are FloorScore certified and have the quality of craftsmanship that Parterre is known for. Utilizing hot press technology, Studio Luxury Vinyl has a sturdy construction with its multiple layers of backing that are fused together to create a tighter bond for a more stable product all around. Like all of Parterre's luxury vinyl products, Studio flooring features an ultra-clear, high-performance wear layer that is easy to maintain and has a resistance to staining and scuffing.