MRM Research Roundup: QSR Update and What Feeds Us
17 Min Read
This edition of MRM Research Roundup features The State of What Feeds Us, Dry January, top cuisines on Instagram and
QSR 2021 Performance
Revenue Management Solutions released its analysis of US quick-service restaurant (QSR) performance for 2021. Overall, traffic continued its post-pandemic decline, but the global data solutions provider believes double-digit increases in average check will remain — and demonstrate a fundamental change in consumer behavior.
To accurately assess the underlying trends of restaurant performance, RMS compared 2021 sales and traffic to pre-pandemic 2019 data. On average, sales were up 8.1 percent over 2019, and average check increased by a remarkable 22.9 percent. Traffic, on the other hand, remains low, down 12 percent as compared to 2019, and continued a negative trend in the second half of the year. Surprisingly, 2021 traffic also was even with or slightly lower when compared to the highly volatile 2020.
"Consumer habits are fundamentally different," notes RMS Director of Research and Consumer Analytics Francois Acerra. "Traffic is down, but the relative increases in average check indicate that QSRs haven't lost customer segments. Instead, we believe that quick-service restaurant customers have permanently changed their behaviors — visiting less frequently than pre-pandemic yet spending more per visit."
"Given the intense pressure on margins caused by rising commodity prices and labor shortages, analysts may give credit to price increases for the overall rise in average check," said Acerra. "But when we dug deeper into the numbers, it's clear that a behavior change is also driving up average check. In short, consumers are ordering more food, and for larger parties. We've noticed that the increase in basket size is partly due to more guests being on the same check and that, in fact, the share of single-party orders has declined."
In 2021, the quantity per transaction — or how many items were purchased in a single order — was up 14.3 percent compared to 2019. Compare that to average net price, which was up 7.5 percent, and it's clear that net sales performance was sustained by average check growth.
"As QSRs make it increasingly easier to order off-premise with the rollouts of mobile applications and loyalty programs, they provide a convenience to customers that may take the sting out of higher prices," said Acerra.
This is true for efficient drive-thrus as well, notes RMS. In the company's November 2021 survey of more than 800 US restaurant consumers, 76 percent reported making a restaurant drive-thru visit at least once a week, compared to 63 percent that reported dining in. Delivery, which has become a flashpoint for customers and operators, has steadily decreased since its peak in 2020. Just 49 percent of survey respondents reported using delivery at least once per week in November 2021, a steady decline from 60 percent in November 2020.
"Wait times, poor customer service and order inaccuracy — not price — are being cited in our surveys as the top reasons for dissatisfaction," said Acerra. "QSRs that can overcome challenges and deliver meals quickly, accurately and with a smile will deliver value to customers and potentially outweigh necessary price increases."
QSR App Adoption
Service Management Group (SMG) published new research highlighting how quick service restaurant (QSR) brands can drive app adoption. Following the second consecutive year of rapid digital adoption, SMG conducted this study to help QSR brands elevate the app experience.
Using its brand experience platform to combine operational measurement with behavioral data, SMG fielded this study to understand how app usage has evolved and what gaps remain. With feedback from more than 8,000 consumers, here are key insights to drive app adoption and increase consumer loyalty.
While contactless ordering and convenience are certainly benefits of app usage, consumers indicate those aren't the primary reasons they're downloading apps. Nearly half of all respondents download an app to earn loyalty rewards and 39 percent report downloading an app for a deal or a promotion. With app adoption growing—36 percent of respondents have five or more QSR apps installed—QSR brands should focus on loyalty rewards and app-exclusive promotions to stand out from the competition.
"As more of the restaurant experience moves off-premise, it's important for brands to find new opportunities to delight and differentiate," said SMG Research Director Kurt Cederman. "While loyalty programs are driving app usage, consumers told us every brand has room to improve the app experience, from making the ordering process easier to incentivizing app usage."
Data indicates the app ordering experience has improved year over year—43 percent of respondents believe it's better or much better than ordering in person—however, challenges remain. Nearly one in four consumers report not being able to customize or make substitutions, receiving an incorrect order, or not being able to order wanted items. And the first two issues have the biggest consequences, with nearly one in three respondents indicating they stopped using an app after experiencing either issue. To build loyal app usage, restaurants must strike a balance between customization without compromising on order accuracy.
The State of What Feeds Us
Bluedot released the sixth installment of the State of What Feeds Us report which has kept tabs on consumer behavior and restaurant habits since the beginning of the health crisis. The findings have offered insight into consumer expectations to support restaurant brands as they work to navigate ongoing operating, social, and economic shifts over the past two years. The latest research was based on a survey of 1,635 American consumers.
The research captured a continued rise in mobile ordering and revealed consumers are generally happy with restaurant mobile apps. However, there was also growing frustration around longer wait times for mobile pickups and orders not being ready upon arrival. Notably, nearly half of consumers indicated they are likely to delete a restaurant app if their food is received cold.
For the first time, the study explored mobile app usage and privacy and found that the vast majority of consumers are willing to overlook privacy concerns if it means better service. Three in four consumers indicated they would share their mobile location if it ensured their order would be ready upon arrival.
Also for the first time, consumer gratuity habits were examined and generally found to be inconsistent across channels, but the majority of consumers (80 percent) do tip on third party apps. And one in three consumers feel pressured to tip when presented with a tablet at a restaurant counter, which could indicate an area of vulnerability for brands.

"As we turn the corner on the pandemic, mobile app usage continues to soar, and the center of gravity is returning to the customer. Restaurant brands will begin to ease their focus on operational strategy in favor of initiatives that provide fast and seamless mobile pickup," said Judy Chan, Bluedot CMO. "Across six studies, consumer demand for convenience has stood out as a key theme. In the coming year and beyond, we'll see restaurant brands aggressively invest in digital strategies both in-store and off-premise to improve speed and ease of use and that includes the arrival experience. Delivering that level of convenience will win brand loyalty."
Highlights from the report include:
Fast Food and the Drive-Thru
Drive-thru visits remain strong.
9 in 10 consumers visited the drive-thru in the last month, remaining consistently 10 points higher than at the start of the pandemic in April 2020.
COVID-19
COVID-19 made mobile app ordering better.
Consumers ranked mobile app ordering (58 percent) as the number one aspect of the fast food experience that has improved since COVID-19 followed by curbside (44 percent), web ordering (29 percent), drive-thru (25 percent), offers and promotions (21 percent), and in-store pickup (20 percent).
New COVID-19 variants boost drive-thru visits and mobile orders.
When asked how their restaurant habits will change as more variants emerge, consumers said they would place more mobile app orders (34 percent), visit the drive-thru more (34 percent), place more web orders (21 percent), and utilize curbside pickups more (21 percent).
Consumers turn to mobile or online ordering to reduce risk. Of the consumers who expressed safety concerns associated with COVID-19, 52 percent state they've turned to mobile or online ordering to minimize contact.
Mobile Apps
App downloads remain strong.
6 in 10 downloaded at least one new restaurant app in the last three months.
More orders are being placed on restaurant apps.
More than one-third (37 percent) are placing more mobile orders on restaurant apps than they were three months ago.
Nearly 1 in 2 will download a restaurant app to bypass a long line.
Top reasons consumers download restaurant apps: fast and easy to order food (52 percent), earn and track loyalty points (49 percent), exclusive deals or coupons (48 percent), to bypass a long line (47 percent), ease of payment (42 percent).
Fast and easy consistently remains the top reason consumers turn to mobile apps.
The top reasons why consumers continue to use restaurant apps includes fast and easy (59 percent), easy to access the menu (48 percent), earning loyalty points (45 percent), finding deals (44 percent), and quick way to pay (35 percent).
Nearly half of consumers will delete an app if their order is cold upon arrival.
For the first time, consumers ranked cold food upon arrival (48 percent) as their top reason they would delete a restaurant mobile app overtaking missing menu items (45 percent).
Restaurant apps continue to reign supreme over third party apps. The majority (57 percent) use all or mostly all restaurant apps over third party apps.
Arrival
Frustrations with mobile order pickups have grown.
1 in 2 consumers are most frustrated with orders not being ready upon arrival. Other top frustrations include order is ready but still needed to wait (50 percent), food is cold (47 percent), order is inaccurate (45 percent), and no designated mobile order pickup line (29 percent).
Consumers aren't becoming more patient.
4 to 7 cars in a drive-thru is still considered too long to wait according to 90 percent of consumers compared to 88 percent in April 2020. Consumers are just as likely to leave or consider leaving a long line.
The majority of consumers (76 percent) will either leave or consider leaving if they see a long line.
Nearly 1 in 2 will download a restaurant app to bypass a long line.
Top reasons consumers download restaurant apps: fast and easy to order food (52 percent), earn and track loyalty points (49 percent), exclusive deals or coupons (48 percent), to bypass a long line (47 percent), ease of payment (42 percent).
Gratuity
Tipping is inconsistent.
33 percent tip equally regardless of whether they're ordering via app, web, or in-person. 30 percent tip more when ordering in person, while only 11 percent tip more when placing a mobile or web order. 26 percent aren't inclined to tip at all.
Nearly half of consumers aren't tipping for mobile and web orders.
46 percent don't tip for mobile or web orders. Of the 46 percent who don't tip, 27 percent think about tipping but still don't tip.
Tipping is more prevalent on third party apps.
The vast majority (80 percent) tip on third-party apps and 58 percent feel they tip appropriately.
Requesting a tip on a tablet makes 1 in 3 consumers uncomfortable.
1 in 3 feel pressured to tip when presented with a tablet at the counter.
Future-Proofing
Demand for innovation continues.
Top innovations consumers would like to see in their fast food experience in the future includes: designated drive-thru lane for mobile pickup (56 percent), food kept warm at pickup station (42 percent), mobile only ordering for fast and easy pickup (27 percent), restaurant automatically checks customer in upon arrival at curbside (27 percent), and ability to text order to restaurant (27 percent).
Consumers want more from their menu boards.
Top features consumers would like to see in their drive-thru menu board include: shows current order on the screen (55 percent), highlights deals (51 percent), view loyalty points and/or personalized deals (36 percent), and highlights limited-time items (34 percent).
More reliance on self-service.
60 percent of consumers have increased their usage of self-service ordering like mobile ordering (48 percent), web ordering (22 percent), and kiosk inside the store (14 percent) in the last six months.
Privacy and Mobile
Consumers value convenience more than privacy.
While nearly 7 in 10 consumers (69 percent) are either not concerned or only somewhat concerned about privacy when using a restaurant or third party app, 68 percent of those value convenience over privacy.
3 out of 4 consumers are willing to share their mobile location for better service.
69 percent will share their mobile location with a restaurant if it means their order is ready upon arrival. Other top reasons why consumers are willing to share include: meal is nice and hot upon arrival (47 percent), to receive coupons near the restaurant (32 percent), and to not miss out on the brand's latest offerings (21 percent).
The sixth State of What Feeds Us report can be found here.
Dry January
US$295m "dry" uplift for bars and restaurants following Dry January, reveals latest analysis from CGA.
Dry January has been growing in popularity for a number of years, and 2022 saw participation grow to 35 percent in the US – a significant increase from 21 percent of consumers who took part in 2019. Out of those who intended to abstain from alcohol, an impressive 74 percent claim to have succeeded versus the average 8-10 percent of consumers who stick to their New Year's resolutions.
Alcohol alternatives have never been more readily available, and are improving in quality, ensuring it's never been easier to forego alcohol while not making social sacrifices. In 2019, 61 percent of those who participated in Dry January drank out-of-home less than normal or not at all. By contrast, 78 percent of consumers who committed to Dry January this year still visited the On Premise channel. This figure includes those consumers who may still be wary of COVID-19, or frustrated by restrictions, which suggests it could be seen as an even more profound uplift vs 2019.
Engagement with non-alcoholic beverages in bars and restaurants also increased by a staggering amount. Roughly 50 percent of those participating in Dry January consumed soft drinks during the month in both 2019 and 2022. However, non-alcoholic substitutes experienced massive growth this year – in 2019 just 5 percent of Dry January participants drank a non-alcoholic beer in the On Premise channel, while that number jumped to 29 percent in 2022.
Mocktails were the most preferred alcohol alternative in 2019, with 7 percent of consumers reportedly purchasing in a bar or restaurant. This year, 23 percent drank mocktails while 26 percent and 22 percent tried alcohol-free wine and spirits, respectively. Curiosity beyond a traditional mocktail indicates that there are more high-quality options available with compelling flavor profiles that can stand on their own.
In the 2022 Dry January period alone, estimates suggest a total On Premise sales value uplift of $295M vs 2019 for non-alcoholic beer, non-alcoholic spirits, and mocktails. As soft drink engagement stayed relatively flat, this suggests visitors traded up from a no beverage purchase or complimentary water to a non-alcoholic category. This incremental spend is based on only a single purchase during the month for these new "switching" occasions.
But what is the big picture outlook for non-alcoholic beverage consumption, post-January? CGA's consumer research highlights that of those taking part in Dry January, nearly three-quarters said they would continue drinking alcohol-free beer, spirits, and mocktails while 64 percent planned to drink alcohol-free wine. This is positive news for emerging brands in the non-alcoholic "better for you" space and highlights the opportunity for Suppliers to introduce non-alcoholic brand extensions that keep consumers engaged with their brand family. It also presents a lucrative opportunity for Operators to adopt robust and exciting alcohol-alternative menu options that may capture an incremental occasion.
Restaurant Delivery Consumer Trends
BentoBox released the fourth and final installment of its Restaurant Delivery Consumer Trend Report, as part of a year-long study tracking how U.S. consumers' delivery and takeout habits have evolved through COVID-19 recovery.
Powered by Suzy Insights, BentoBox's Q4 survey gathered insight from 1,013 diners aged 18+, who dined out at least once a week prior to the pandemic. The report showed that as pandemic restrictions changed throughout 2021, so too did online ordering habits. Despite continued challenges for the restaurant industry, diners remain eager to show support for local restaurants in the year ahead.
Three Key Takeaways
Delivery and takeout habits fluctuate throughout 2021, but diners plan to order more in 2022:
In Q4 2021, 79 percent of diners ordered at least once per week. This figure is up from Q3 (76 percent), but down from the first half of 2021 (85 percent) as more diners returned to dining in-person at restaurants in the summer months.
Nearly 60 percent of diners expect to order more online in 2022. Of those diners, 42 percent plan to order somewhat or significantly more directly from restaurants, 3x more than those who plan to order more from third-party apps (14 percent).
Most diners prefer to order takeout and delivery on the weekends. Friday is the most popular day for takeout and delivery orders (68 percent of diners) followed by Saturday (56 percent), Sunday (31 percent), and Wednesday (23 percent)
Diners expect to maintain current dining habits regardless of restaurants requiring proof of vaccination:
Despite more restaurants and local governments requiring vaccinations to eat in restaurants, 54 percent of diners plan to maintain their current dining habits.
Notably, 1 in 4 (26 percent) plan to order more delivery and takeout in 2022. By comparison, only 10 percent of diners say they plan to dine in more often due to proof of vaccination requirements.
The youngest diners surveyed (18-24) are the least likely to maintain their current dining habits. 34 percent of respondents in the 18-24 age group are likely to order more takeout – more than any group. Leading into 2022, securing a younger age demographic could be crucial to establishing diner loyalty.

Diners acknowledge restaurants will continue to face challenges ahead and plan to show support via direct ordering:
84 percent of diners surveyed agree that restaurants will continue to have a challenging time doing business.
While BentoBox observed an 80 percent decrease in direct restaurant support from Q1 to Q3 2021, diner support is shifting from donations to direct ordering, evident by the 45 percent of diners who order directly from restaurants to support their businesses.
Other top considerations for diners to order directly from restaurants include ease (42 percent), promotions or discounts (34 percent), and lowest fees (32 percent)
Notably, in Q4 2021, diners were significantly less motivated to order from restaurants based on promotions. Just 34 percent marked promotion and discounts as their leading driver for orders, compared with 44 percent in Q3.
Top Cuisines on Instagram
Back in February 2021, Chef's Pencil has ranked international cuisines according to the number of tagged foods on Instagram, and Japanese cuisine topped the chart with over 15.5 million hashtags. A year later, they decided to compare the numbers and see which foods and cuisines grew in popularity since running our previous analysis.
Italian and Indian cuisines have been the most buzzing cuisines on Instagram over the past 12 months, outranking Japanese cuisine in popularity growth. The second year into the pandemic, Gen Z-ers and Millennials, who make up the bulk of Instagram's user base, continue to favor comfort foods above everything else.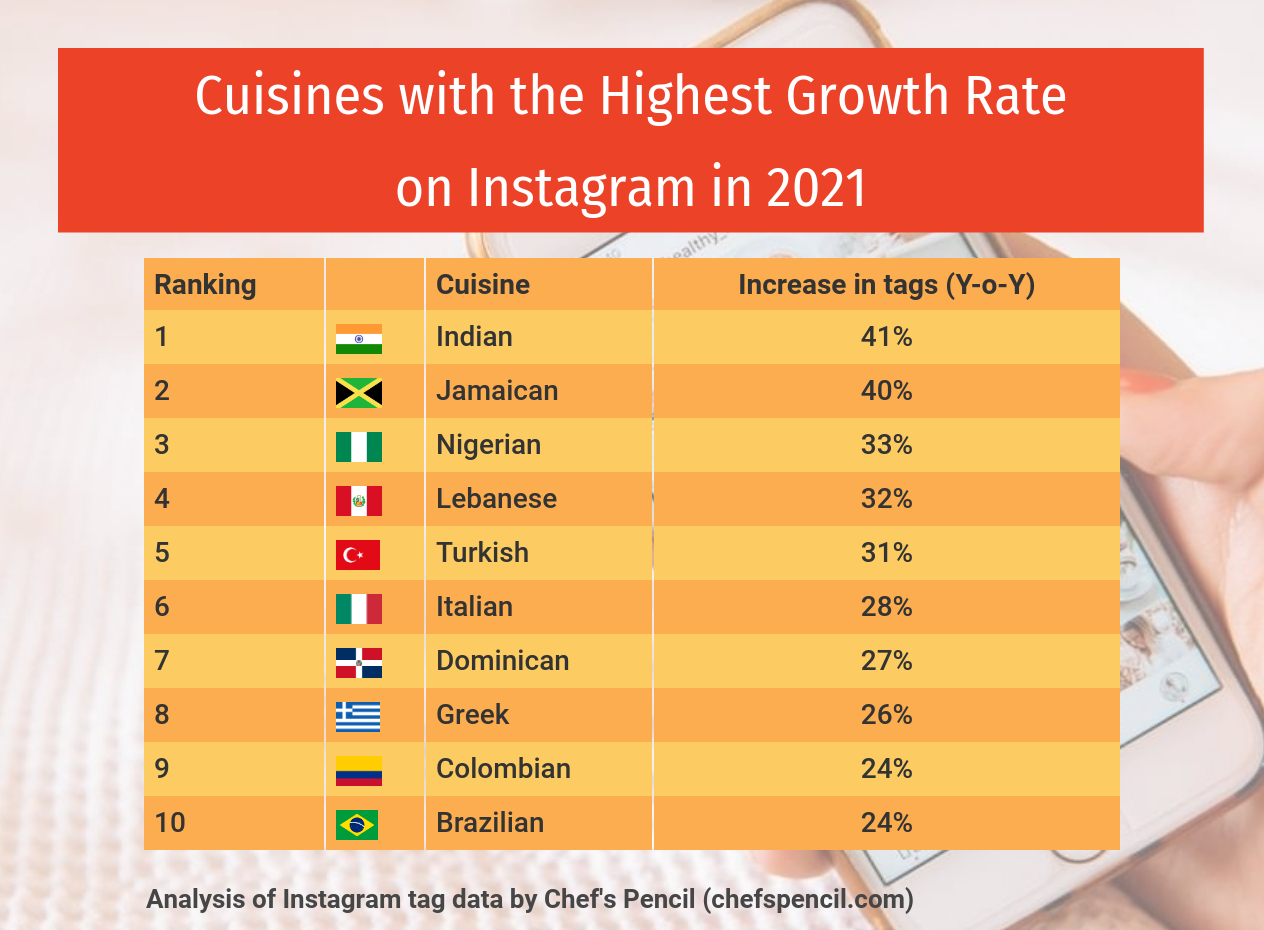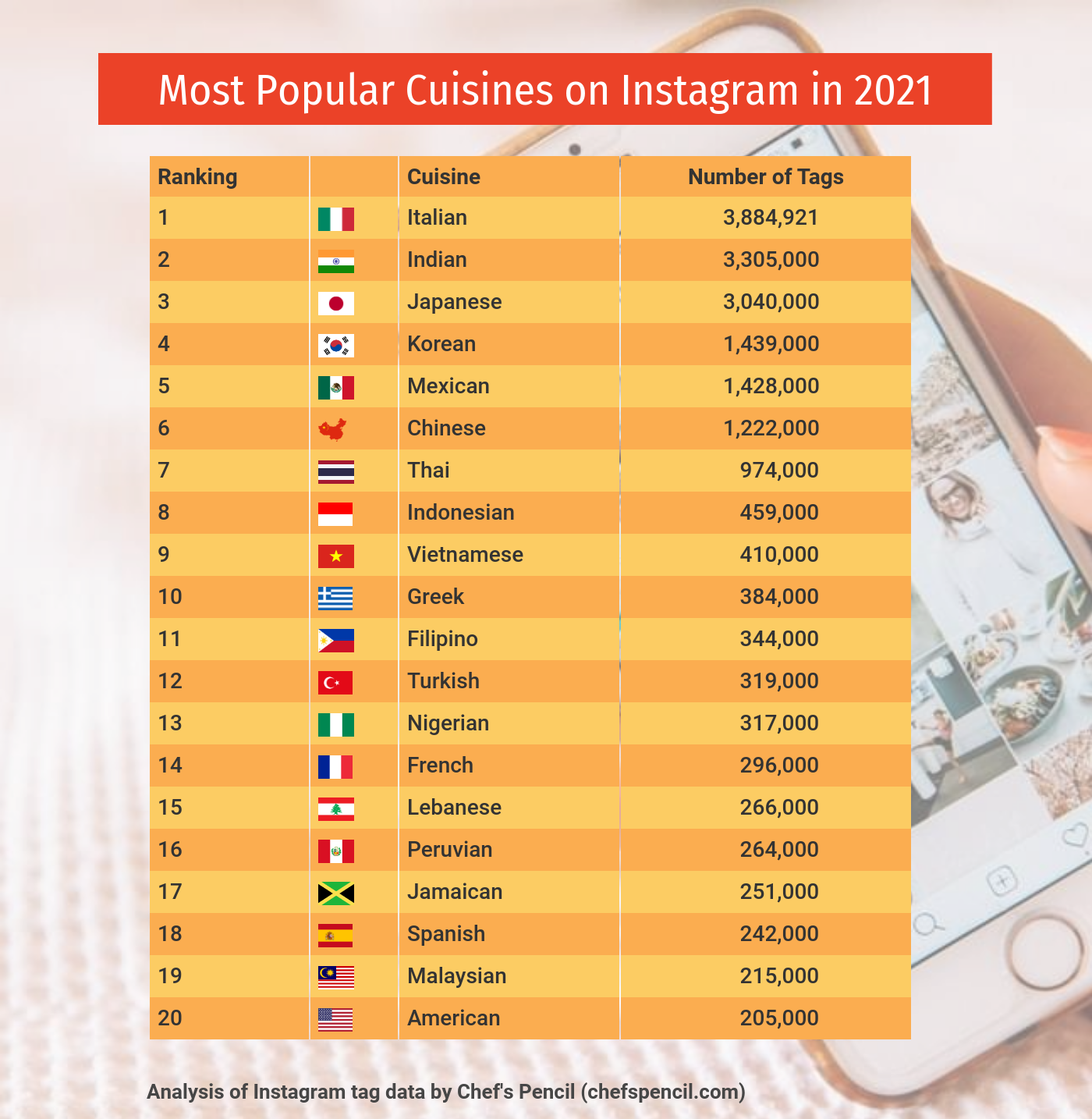 Why this matters? When it comes to food, Instagram is by far the most influential social media platform, with literally billions and billions of food-related posts. Instagram influencers have extended their reach and are actually shaping the restaurant industry nowadays. For the complete report, click here.
Minding the Loyalty Gap
Paytronix Systems, Inc., published the latest report in its ongoing series "The Digital Divide: Minding The Loyalty Gap," a PYMNTS and Paytronix collaboration, which finds that nearly half of restaurant patrons engage with a loyalty program in some way and as many as 34 percent say that tangible improvements to the way they pick up and order food will have the greatest impact on their loyalty. Consequently, mobile technologies are key to customer engagement as half of patrons interact with their favorite restaurants' loyalty programs via the restaurants' mobile apps.
Download the full report, Digital Divide: Minding the Loyalty Gap
According to the report, 48 percent of restaurant customers used loyalty programs in at least one type of restaurant during the past three PYMNTS and Paytronix surveys. The survey showed that similar shares of consumers use loyalty programs at QSRs (42 percent) and restaurants with table service (43 percent). Nearly 70 percent of QSR patrons use loyalty programs in several of the restaurants they purchase from frequently. Table-service restaurant patrons use loyalty programs slightly less frequently: 64 percent of these clients use loyalty programs in several of the restaurants they purchase from frequently.
"Today's consumers are convenience-focused and digitally savvy — and those key characteristics influence how and where they choose to dine. Loyalty program usage is strong, but consumers' interest in participating in such initiatives may be mitigated by how easy participation is and whether find the overall ordering process frictionless." – Digital Divide: Minding the Loyalty Gap.
Additional report findings include:
Mobile Apps — For table-service restaurant, 50 percent of loyalty program members interact via the restaurant's mobile app. For QSRs, 60 percent of QSR patrons who interact with a loyalty program do so via a mobile app.
Biggest Loyalty Fans — Younger adults, the college-educated and individuals who earn more than $100,000 annually exhibit the highest engagement rates with local restaurant loyalty programs. Consumers using loyalty programs are willing to spend more at local restaurants to earn customized discounts.
Top Super Bowl Foods
When most people think of the Super Bowl, they think of the delicious food that goes with the game – Buffalo Chicken dip, wings, nachos, pizza and more. Deliverect, revealed data from this year's Super Bowl Sunday, determining the below findings from the restaurants they work with:
The top five most popular dishes for this year's Super Bowl were chips, cola, fries, pizza and various types of bowls
The top three most popular cuisines in 2022 were fast food, Indian and snack type orders
The most popular order time on Sunday was 7 p.m. ET
Interestingly, last year's Super Bowl the top five most popular dishes were churros, cola, tiramisu, and pizza and the three most popular cuisines were snack type orders, Italian and Mexican
Last year for the Super Bowl, the average delivery order was $31-$32
Most Popular Diet Trends on Tik Tok
To mark National Nutrition Month in March, the most popular diet trends on TikTok in the US have been revealed.
Food sensitivity specialist YorkTest has researched the most viewed diet-related hashtags on the app, to come up with a list of the 50 most popular trends on TikTok in 2022.
The data from YorkTest shows that Americans can't get enough of keto right now, with the low-carb, high-fat diet coming in at number one. With over ten billion views, keto had almost double the number of views than any other diet or eating lifestyle. 550,000 Americans search for 'keto diet' every single month on Google, showing that there is a huge appetite for keto-focused recipes.
Despite the current rally against diet culture, with the likes of 'intuitive eating' and 'holistic health' coming in 7th and 8th place, 'calorie counting' had over five billion more views than the other two trends, coming in 2nd place. Calorie counting can provide structure to people's daily diets, and help people to know more about what they're consuming, however some experts warn it's not a long-term solution to losing weight, and can be associated with yo-yo dieting.
Intuitive eating, which promotes eating the foods you crave when you're hungry and stopping when you're full, had almost 900 million views.
Following the launch of McDonalds McPlant burger, vegan diets came in 4th place. Wheat-based chicken-alternative seitan has over 600 million views alone.
The top 10 trends can be found here:
| | | | |
| --- | --- | --- | --- |
| Rank | Diet trend | Hashtags | Total views of hashtags |
| 1 | Keto | Keto + KetoDiet + KetoRecipes | 10.3 billion |
| 2 | Calorie Counting | CalorieDeficit + CalorieCounting + LowCalorie | 5.6 billion |
| 3 | Low carb | LowCarb + LowCarbRecipes + LowCarbSnack | 4.5 billion |
| 4 | Vegan | VeganRecipes + VeganDiet + VeganFood | 3.6 billion |
| 5 | Vegetarian | VegetarianDiet + Vegetarian + VegetarianRecipe | 2.3 billion |
| 6 | Gluten-free | GlutenFree + GlutenFreelife | 1.6 billion |
| 7 | Intuitive Eating | NonRestrictiveEating + IntuitiveEating + IntuitiveEatingJourney | 899.5 million |
| 8 | Holistic Health | HolisticHealth + HolisticHealthTips + HolisticRecipes | 688.2 million |
| 9 | Intermittent Fasting | IntermittentFasting + IntermittentFastingResults + FastingMode | 611.7 million |
| 10 | Dairy-free | DairyFree + DairyFreeLife + DairyFreeRecipes | 399.5 million |
Controversial crash diets also featured in the top 50, including the 'raw food diet' with over 350 million views in 11th place. The baby food diet came in 27th place with 32 million views, and the cabbage soup diet was in 42nd, with more than five million views of people consuming the soup throughout the day in an extreme way to lose weight quickly.
Other diets in the top 50 included WeightWatchers at 14th, paleo at 15th and juice diets in 16th place.
Fruitarian, the highly restrictive vegan diet which primarily focuses on raw fruits, had over 14 million views in 34th place, and the old-school diet which many associate with the 2,000s, the Atkins diet, has over 9 million.
TikTok has launched an initiative to actively try to crack down on any videos which promote or glorify eating disorders. For especially dangerous diets, such as water fasting, TikTok instead brings up contact details of eating disorder helplines. keeping you fuller for longer, staying hydrated and being more mindful of your portions and how they make you feel.
Kerri Ferraioli, expert nutritionist at YorkTest, commented on the research:
"With over one billion monthly users worldwide, TikTok has already cemented itself as one of the social media giants. It's also one of the most influential platforms, which is why we did this research to get a clear picture of what diets are currently popular among its audience.
"What's important is that, before you undertake any type of diet, you consult a doctor. If you're aiming for weight loss, avoid any crash diets which promise a huge amount of pounds lost in the first week. Instead, a healthy aim is one-two pounds a week. This will ensure that your weight loss process is maintainable, instead of dangerous crash diets which often lead to people consuming more due to hunger."
Readers can find the full research, with the top 50 diet trends on TikTok, here.
Healthy Handwashing
The Healthy Handwashing Survey™ from Bradley Corporation has found handwashing frequency decreased 25 percent among adults compared to when the coronavirus first hit.
Specifically, in the spring of 2020, Americans were washing their hands an average of 10.5 times per day. This January, that number dropped by one-fourth to 7.8 times per day.
While the adult population may be shortchanging their handwashing routine, the survey found that 79 percent of parents take some sort of action to encourage their children to suds up. 44 percent say they regularly ask their young ones to wash their hands, 26 percent have added it to their children's routine and 25 percent buy fun soaps to make handwashing more interesting.
As for hand hygiene outside of the home, 64 percent of parents say their child's school or daycare builds handwashing into the daily schedule.
"Handwashing has been shown to be a simple, safe and effective way to reduce the transmission of viruses and bacteria, including the virus that causes Covid-19," says medical microbiologist Michael P. McCann, Ph.D., professor and chair of biology, Saint Joseph's University. "It is essential that everyone maintain high-levels of personal hygiene and that we do not let down our guard."
As a first line of defense to remove germs, 61 percent of Americans correctly believe their hands are less germy after washing with soap and water than after using hand sanitizer – a fact supported by the Centers for Disease Control and Prevention (CDC). For times when soap and water are not available, the CDC says that hand sanitizer is a good, second option for hand hygiene.
Also, the majority of American adults are on target with how long they wash their hands. The CDC recommends lathering up and scrubbing for a minimum of 20 seconds. The survey found that 63 percent follow that guidance and wash for an average of 21 seconds. However, 17 percent of the population say they only take five to 10 seconds to clean up.
Coronavirus Concerns Fading
Since 2009 and throughout the pandemic, Bradley Corporation, a leading manufacturer of commercial handwashing fixtures and washroom accessories, has conducted its Healthy Handwashing Survey to take a closer look at the state of hand hygiene in America and, most recently, the impact of the coronavirus.
Overall, the 2022 survey found anxiety and actions surrounding the coronavirus have relaxed as the country enters the third year of the pandemic.
Currently 41 percent of respondents say they are very concerned about contracting the coronavirus. That's a significant drop from January 2021 when more than half of the population (53 percent) expressed a high level of concern.
Another indication that fears are starting to ebb is showing up in the way people greet each other. In April 2020, 67 percent preferred to wave hello in order to eliminate physical contact and 49 percent said they specifically avoided shaking hands. In January 2022, 44 percent are using a wave as a greeting and only 36 percent say they are avoiding handshakes.
And, while still high, concerns about coming into contact with germs are also starting to recede. These days, 78 percent of Americans say they are more conscious about germs as a result of the coronavirus compared to 89 percent in April 2020 and 86 percent in February 2021.
"Germ avoidance and handwashing diligence are two habits that should always be a priority," says Jon Dommisse, vice president of marketing and corporate communication for Bradley Corp. "No matter the time of year or situation we're in, lathering up, scrubbing thoroughly, rinsing and drying your hands is something that should be done consistently without fail."
The annual survey. queried 1,035 American adults Jan. 10-21, 2022, about their handwashing habits, concerns about the coronavirus and flu and their use of public restrooms. Participants were from around the country and were fairly evenly split between men (46 percent) and women (54 percent).