MRM Research Roundup: Mid-Year 2020 Edition
20 Min Read By MRM Staff
This edition of Modern Restaurant Management (MRM) magazine's Research Roundup features the rise of eCommerce, economic impact, dining during COVID and hot dog insights.
Yelp's Economic Impact Report
Yelp released an Economic Impact Report outlining economic shifts as restaurants start to reopen for dine-in service and people respond to Black Lives Matter protests across the country. The report covers an update on business closures (53 percent of restaurant closures are indicated as permanent on Yelp), the increased interest in supporting black-owned businesses (review content for Black-owned restaurants are up 9X) and how consumer interest is starting to shift back to dining out (diners seated are now down 57 percent compared to pre-pandemic levels).
Key findings for the restaurant industry include:
Restaurant Closures Data
As of June 15, there were nearly 140,000 total business closures on Yelp since March 1. Of all business closures on Yelp, 41 percent are permanent closures.
Restaurants had a high rate of permanent closures. Of all closures on Yelp,17 percent are restaurants, and 53 percent of those restaurant closures are indicated as permanent on Yelp.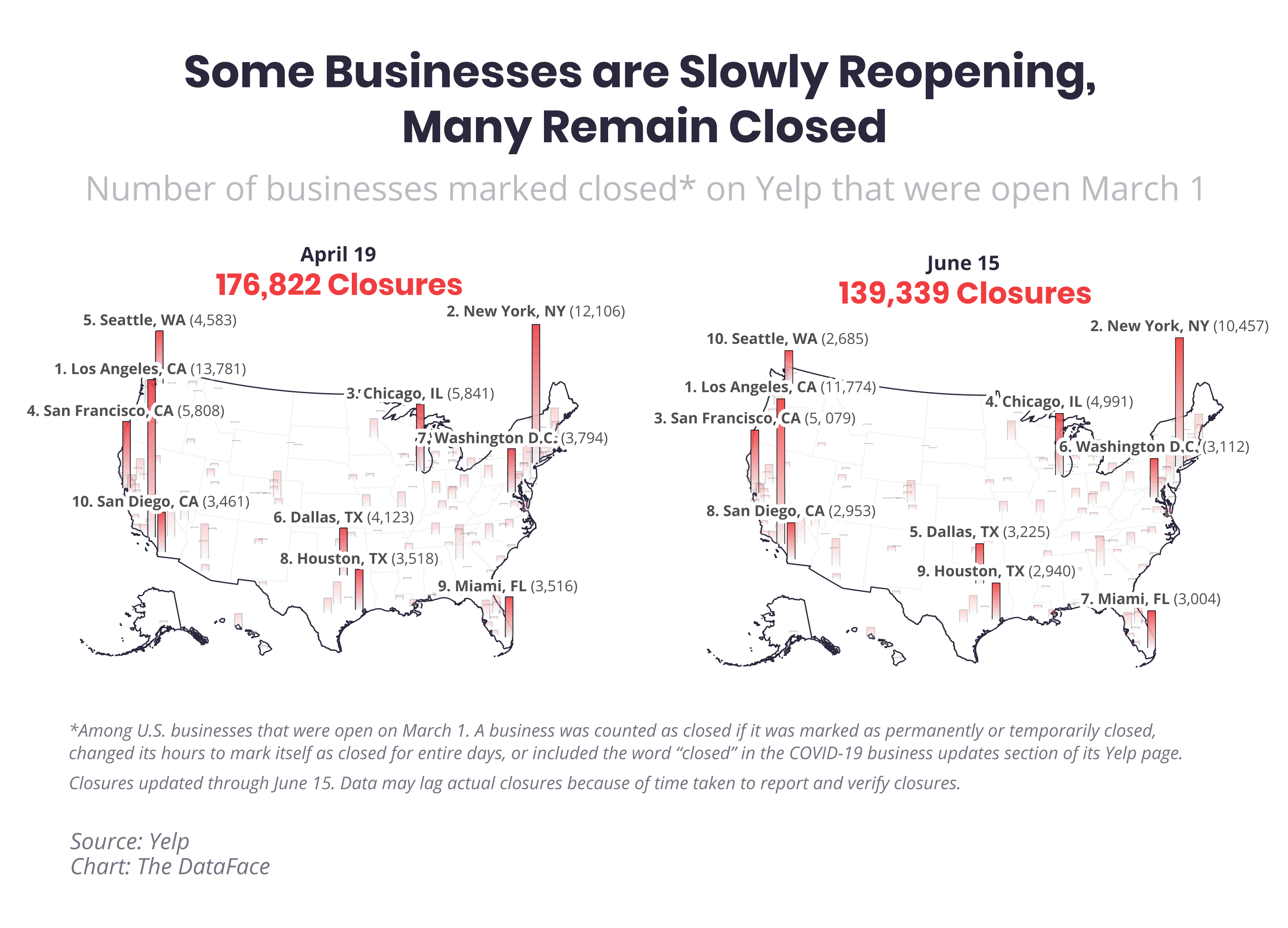 Of restaurants that have stayed open, many shifted their focus to takeout and delivery. Takeout in particular produces high margins for restaurants, and we've seen a 10X increase in searches for takeout since March 10.
How the Black Lives Matter Movement Has Impacted the Restaurant Industry
As acknowledgement of anti-Black racism and police brutality become more wide-spread across the nation people are continuing to look for ways to support the Black community.
Since May 25, we've seen a 1785 percent relative increase in searches for Black-owned businesses, compared to the three weeks prior.
Review mentions of "Back-owned" (and related terms) also skyrocketed, up 426 percent, as people look to support and surface these businesses to the community. There has also been an increase in review content for Black-owned restaurants and food businesses (up 9X) and nightlife (up 13X).
Consumer Interest in Restaurants is Shifting Quickly
Yelp's diners seated data shows significantly more people are dining-in at restaurants.
During the peak of the pandemic, the number of diners seated across Yelp Reservations and Waitlist dropped essentially to zero. In early June, we've seen diners seated come back substantially – now down 57 percent compared to pre-pandemic levels.
Restaurants that cater to group dining are among those making a comeback – fondue (up 123 percent), tapas bars (up 98 percent), hot pot (up 49 percent) and surprisingly, even buffets (up 17 percent) – as foods that gained increased interest through takeout and delivery have started to fall – pizza (down 28 percent), chinese (down 26 percent), fast food (down 18 percent).
The previous spike we saw in community supported agriculture and grocery has started to dip (down 54 percent and 26 percent, respectively), as people head back into restaurants and cook at home less.
Even as people head back into restaurants, the increased interest in takeout and delivery is here to stay. Takeout and delivery has continued to sustain interest on Yelp, still up 148 percent based on consumer interest relative to pre-pandemic levels.
Diners are Ready, but Concerned
While 59 percent of consumers say it is safe to eat at a restaurant right now, 27 percent say they don't see eating at a dine-in restaurant for the foreseeable future.
The findings, from research conducted by Reach3 Insights show a complex restaurant consumer marketplace that is ready to return, but still concerned about safety. Reach3 is taking an ongoing look at consumer sentiment about restaurants and food retailing to determine how Americans really feel about issues such as sanitization, social distancing and the potential for exposure to infection and how they might be a barrier to visitation as restaurants reopen.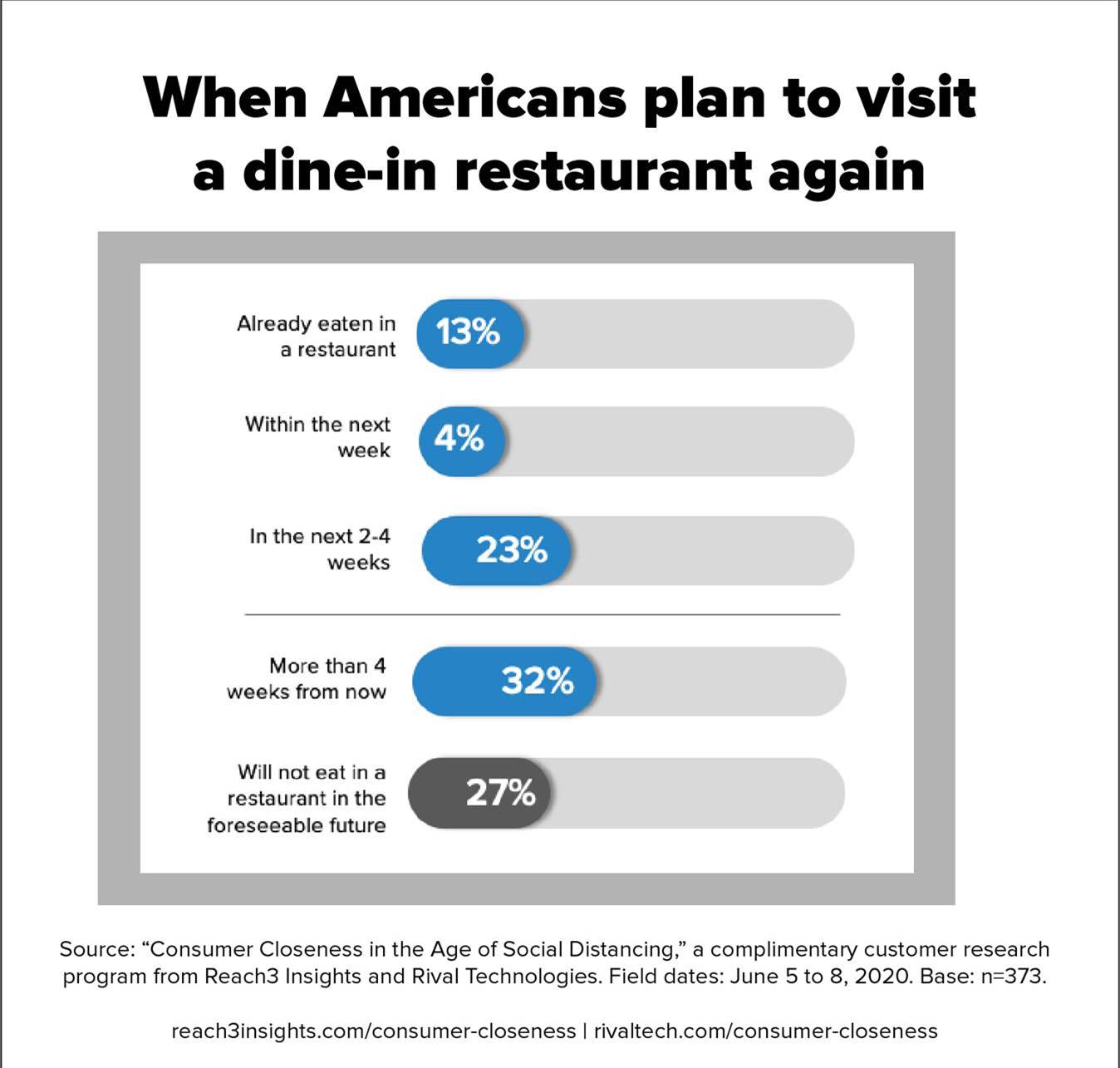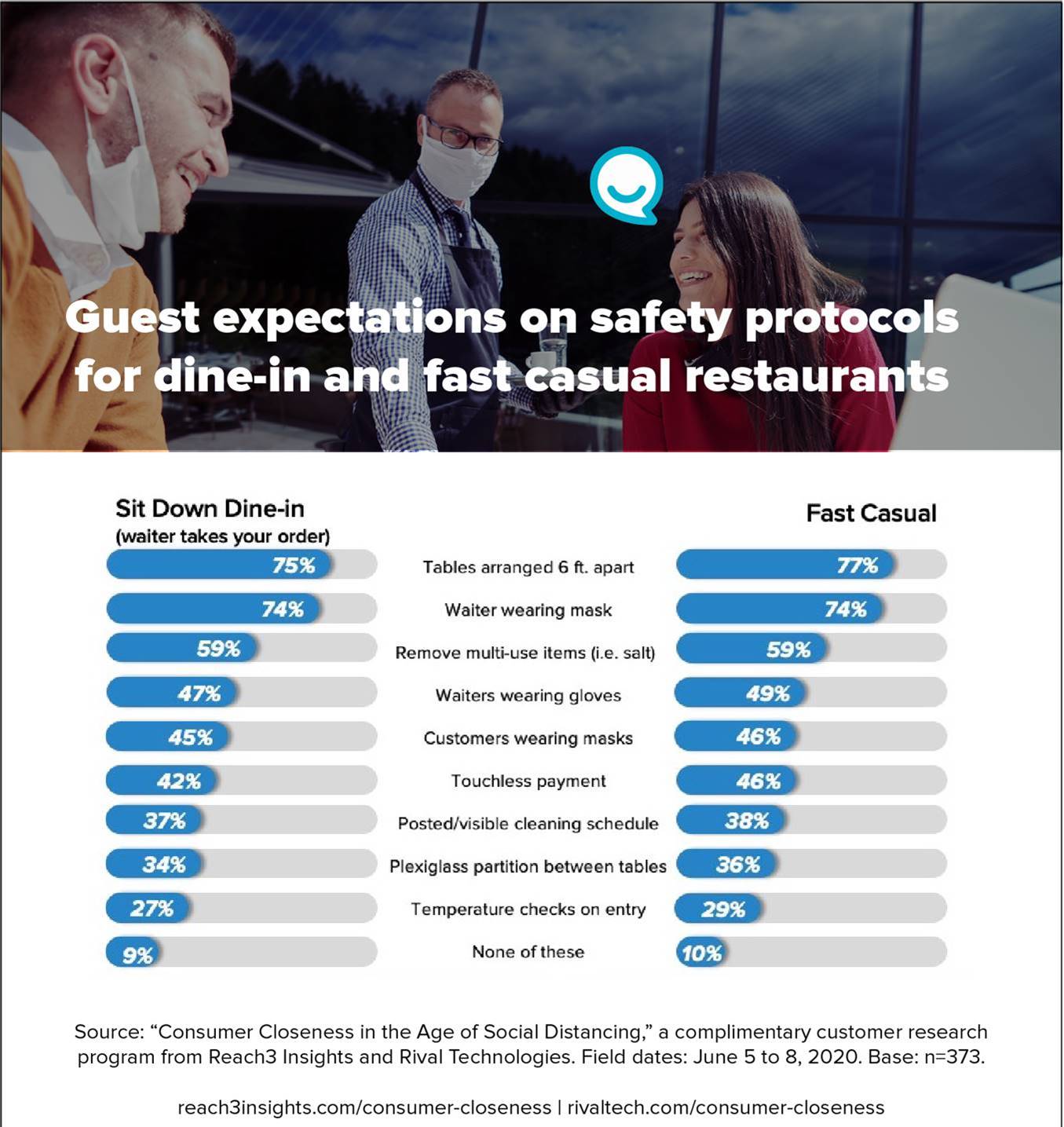 The full report, which can be accessed here, also found that as the economy re-opens, restaurants are a top choice for an outing, but consumers plan to stick to local restaurants they're familiar with. Safety, however, is a top priority and people expect tables to be placed six feet apart, waiters to wear masks and multi-use items to be removed from tables among other measures
What Consumers Mean by 'Safe'
Recent research conducted by Ecolab Inc. shows that consumers feel safer when hotels and restaurants raise their cleaning protocols to include hospital-grade disinfectants and third-party audits. Hotel guests said they feel "extremely safe" knowing a hotel room is cleaned with hospital-grade disinfectants compared to leading consumer brands1. In addition, 66 percent of foodservice customers said they feel "extremely" or "very safe" knowing a restaurant is cleaned with hospital-grade disinfectants.
The research also found that consumers feel safer knowing cleaning and disinfecting practices in a hotel or restaurant are verified by an external, independent auditor* with cleaning expertise – particularly one with expertise cleaning and disinfecting hospitals.
In response to this research, the new Ecolab Science Certified™ program was developed to support consumer confidence as people return to hotels and restaurants. This comprehensive solution includes hospital-grade disinfectants that are approved by the applicable regulatory authorities for use during the COVID-19 pandemic and a rigorous training program and auditing process. It leverages insights from Ecolab's 1,200 scientists, engineers and technical specialists, the company's 50 years of experience supporting hospitals, and its partnerships with the world's largest hospitality and foodservice brands.
"Through our research, we know consumers are looking for ways to feel confident as they make decisions on where to stay and dine in this new environment," said Douglas M. Baker, Jr., Ecolab chairman and CEO. "The Ecolab Science Certified program is our answer to help our customers meet the public's heightened expectations for cleaner, safer consumer locations."
The Ecolab Science Certified program combines advanced chemistry with new public health training and audit verification to deliver a high standard of cleanliness that earns the Ecolab Science Certified seal. The seal, available only after meeting rigorous program criteria, signifies the participation of a hotel, restaurant, food retail store or other hospitality business in the program and their commitment to providing a cleaner, safer environment for their workers and guests.
"With expertise in industries ranging from hospitality and foodservice to healthcare and life sciences, Ecolab scientists have been dedicated to keeping people safe by developing solutions that help prevent the spread of pathogens and infections – including emerging pathogens like COVID-19," said Dr. Andy Cooper, senior vice president of Research, Development and Engineering for Ecolab's Global Institutional and Specialty groups. "The Ecolab Science Certified Program combines our work in the lab with our experienced on-site sales and service force to ensure a seamless implementation that consumers can see."
The Ecolab Science Certified program leverages Ecolab's unique combination of science-based solutions and insights from a global team of scientists with verification by highly trained EcoSure field specialists focused exclusively on public health and food safety. The program promotes four key elements that help ensure rigor and support consumer confidence:
Create clean through hospital-grade disinfecting products, food-contact sanitizers, cleaning products, solutions that address the most common sources of infection transmission, and elevated hygiene standards and protocols informed by the Centers for Disease Control and Prevention (CDC) guidelines
Check clean through periodic on-demand training, auditing and verification that procedures have been followed
See clean in action through front-of-house products, procedures and signage
Believe clean through a visible sign of assurance with the Ecolab Science Certified seal
Dining During COVID
A survey conducted this week by TruePublic, asked thousands of Americans on how they are reacting to how they feel about dining at a restaurant during COVID. Some of the results found:
47 percent of Americans think restaurants are better off using "single-use" plates as a safety precaution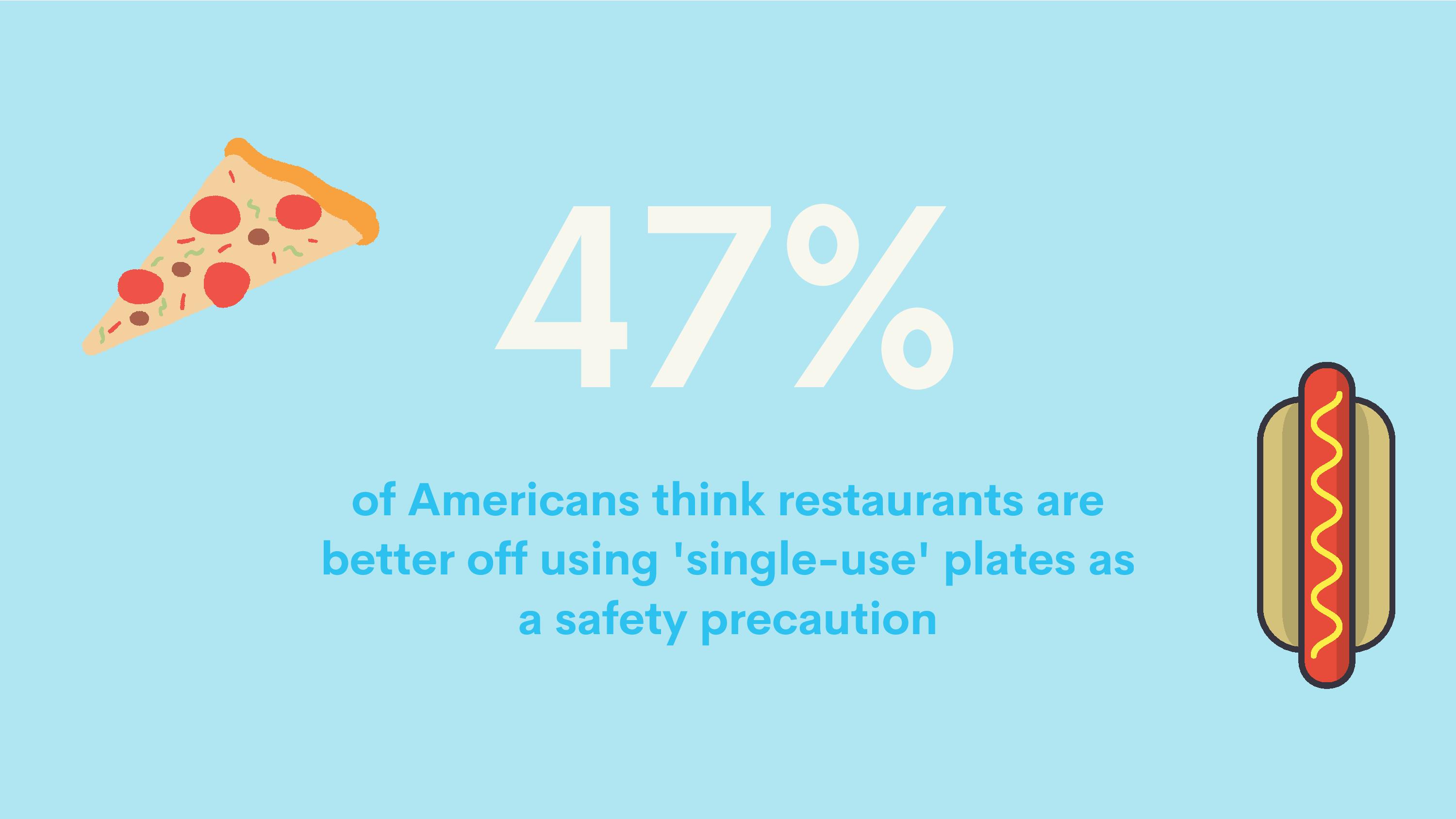 68 percent of restaurant goers think drinking from a straw is safer and they prefer that at this time vs. drinking straight from a cup
Only 9 percent said they would contact law enforcement if they saw guidelines not being followed
Changing Consumer Priorities
As the nationwide response to the COVID-19 pandemic reached a fever pitch across the U.S. in March, local businesses that could remain open had to quickly adopt new ways of serving customers, like more convenient communications, curbside pickups, local delivery and contactless payments. New research from Podium shows that the overwhelming majority of Americans have both used these services (84 percent) and expect local businesses to continue offering them (86 percent).
"While previously just a nice way to do business, offering options like contactless payments, texting and curbside pickup have become the only way for local businesses to operate," said Eric Rea, co-founder and CEO at Podium. "There has been steady movement towards digital transformation among local businesses in recent years, which was exponentially accelerated over the past few months. Consumers have become accustomed to the new forms of communications and services, and there's no going back."
Consumers' priorities when choosing local businesses have shifted, especially among women and those ages 60+
To determine how much consumer priorities have shifted due to COVID-19, respondents were asked to consider their top three factors in choosing a local business before the outbreak, and then identify their top three now:
Prioritizing businesses that offer pick up, curbside or contactless services jumped from 13 percent to 49 percent
The largest boost occurred among those ages 60+, with only 3 percent considering this a top-three factor prior to the COVID-19 outbreak compared to 41 percent now
Women in particular appreciate this offering since the outbreak began (55 percent vs. 43 percent of men)
Consumers who appreciate well-communicated safety practices jumped from 14 percent to 44 percent
The largest boost occurred among those ages 60+, with only 5 percent considering this a top-three factor prior to the COVID-19 outbreak, compared to 43 percent now
Women in particular value this since the outbreak began (50 percent vs. 40 percent of men)
The importance of the price of offering lowered from 78 percent to 50 percent
Prioritizing price amidst COVID-19 fell by almost half among those ages 60+, from 78 percent considering it a top-three factor prior to the outbreak to 41 percent now
Offering pandemic-friendly services has led to first-time customers
Nearly 3 in 5 Americans (57 percent) said a local business' pandemic-friendly services (including curbside pickup, local food and grocery delivery and contactless payments) led them to purchase goods or services from a local business for the first time
Of those, 92 percent said they're "likely" or "very likely" to return to this business even after COVID-19 restrictions lift
Over 2 in 5 (43 percent) Americans said a local business' failure to offer pandemic-friendly services led them to seek out and work with or purchase from a competitor, or discontinue patronage altogether
Make sure new options to communicate with customers are convenient and organized
Twenty-nine percent of Americans have had an unpleasant customer experience using a curbside pickup option at a local restaurant or business during the pandemic
Of those:
Service was unorganized: 49 percent
Service was slow: 42 percent
Lack of convenient communication options to coordinate: 38 percent
Two-thirds (66 percent) of those also said that unpleasant experience made them less likely to purchase goods or services from that business in the future
Give the people what they want: Texting
Since COVID-19, 41 percent of Americans are more interested in texting with a business than they were prior to COVID-19
Texting is the preferred method to communicate with local businesses (41 percent), over other methods such as calling (23 percent), emailing (18 percent) and website chat (15 percent)
Nearly half (45 percent) of Americans have received or exchanged text messages with a local business or restaurant within the past week
Social-distancing services are here to stay
Americans would like local businesses to continue offering pandemic-friendly solutions after COVID-19 restrictions lift:
Curbside pickup options: 80 percent
Food and grocery delivery options: 79 percent
Contactless payment options: 78 percent
To get access to the full report, click here.
Diminishing Customer Satisfaction With Restaurants May Hamper Recovery Efforts
A sea change has arrived for the restaurant industry in the form of a global pandemic, ushering in an era of social distancing and mandatory lockdowns that have upended business as usual. The arrival of the COVID-19 crisis hit full-service restaurants the hardest, as many operators scrambled to transition to takeout and delivery only. Some shuttered their doors entirely. Lacking the deep pockets of some major chains, independent restaurants are the least likely to survive.
Meanwhile, the limited-service segment is better positioned to weather the storm, with an estimated 70 percent of its business already happening via drive-thru lanes. In addition, the cheaper price tag that most fast food outlets offer may be appealing to consumers tightening their budgets amid the pandemic.
In results from the American Customer Satisfaction Index (ACSI®), full-service restaurants are losing the most favor with U.S. consumers—falling 2.5 percent to an ACSI score of 79. Customer satisfaction with the limited-service segment wanes to a lesser degree, down 1.3 percent to 78. Together, these declines put downward pressure on the Accommodation and Food Services sector overall, which retreats 1.3 percent to 77.9. This report's results are based on surveys conducted over a 12-month period from April 2019 to March 2020—the month when the first U.S. stay-at-home policies began.
For more, click here.
Chefs' Salary Increase
Chef's Pencil released its annual study on employment and salary trends for chefs and head cooks in the US. The report is based on an analysis of data published by the Bureau of Labor Statistics. While some metrics released by the Bureau in its annual report are now obsolete (e.g. employment numbers), there are a few interesting metrics worth zooming in on.
Key takeaways:
Chef's salaries increased by 8 percent Y-o-Y, the biggest increase since 2001, when we started to track the data. The average salary for a chef or head cook was $56,310 in 2019.

Chef's salaries growth was substantially higher than the average wage growth in the US. Chefs and head cooks salaries are now 5 percent higher than those of the average American worker, whereas five years ago they were significantly lower.
Pay gap between cooks and chefs/head cooks continues to widen. Chefs earn now almost twice as much as cooks, 96 percent more to be very precise.
Hawaii continues to be the best-paying state for chefs and head cooks. Chefs in Hawaii can expect to earn on average $78,640 per year, 40 percent more than the national average. Garden State chefs come in second with $76,060 per year followed by those in Rhode Island, District of Columbia, and Massachusetts.
On a metro level, with an impressive $91,770 per year, Urban Honolulu is the top paying metro in the nation. Kahului-Wailuku-Lahaina, HI came in second with $84,240, while California's San Jose-Sunnyvale-Santa Clara, CA came in third with $83,490.
The Bureau of Labor Statistics also sheds some light on the salaries of the nation's top paid chefs. In Honolulu, HI the top 10 percent highest paid chefs bring in over $145,000 per year, while in other 4 metro areas the top 10 percent highest paid chefs bring in consistently over $115,000 per year.
For the full report, click here.
Restaurant Worker Impact
CareerPlug released a report a couple weeks ago on COVID-19's impact on workers with a heavy focus on the restaurant industry. In this report, they addressed the narrative that people are not returning to work or searching for jobs because they are making more money on unemployment. According to survey respondents, this isn't entirely the case.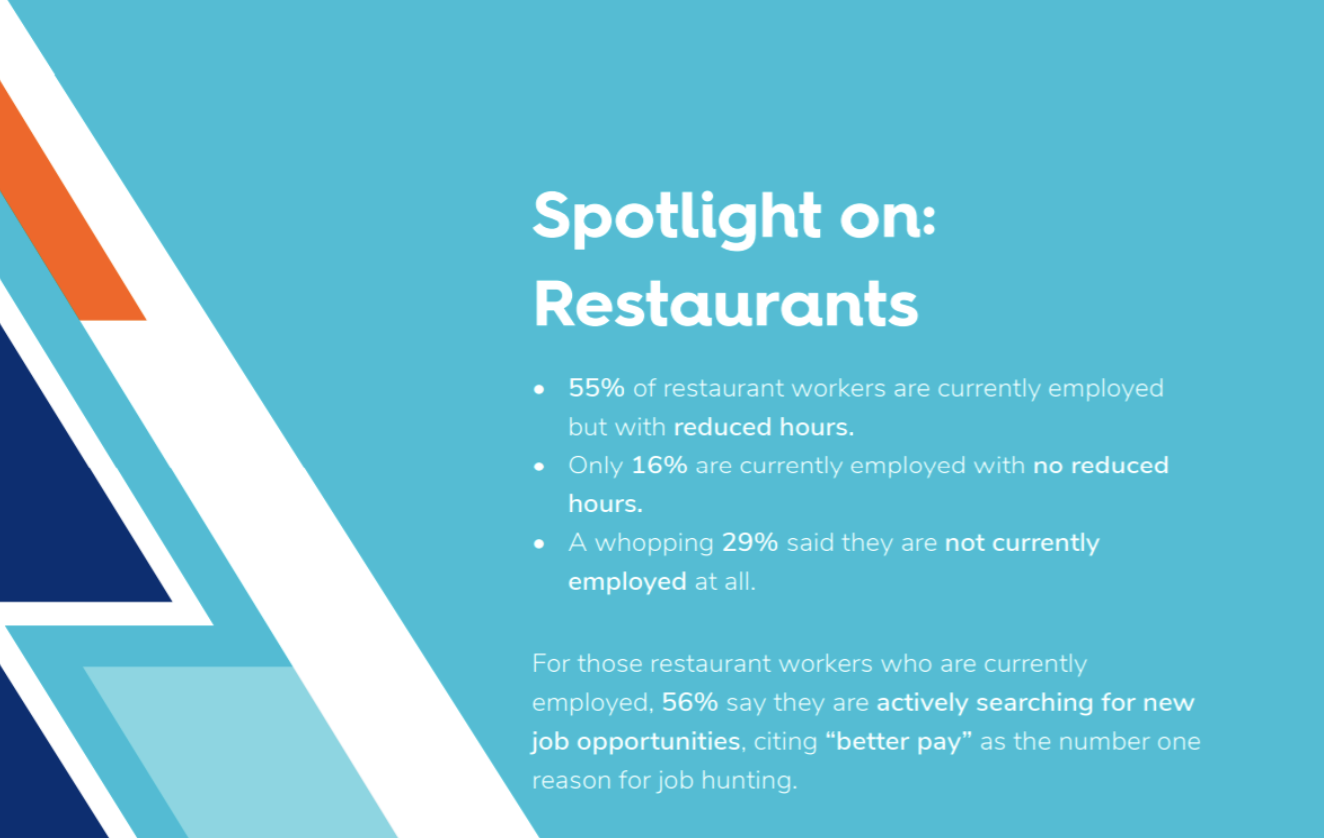 For those restaurant orkers who have been laid-off due to COVID-19:
32 percent have been asked to return to work, and have done so
12 percent have been asked to return to work, but declined to return
48 percent have not been asked to return to work, but would return if asked
8 percent have not been asked to return to work, and would not return if asked
For those restaurant workers who are currently employed, 56 percent say they are actively searching for new job opportunities, citing "better pay" as the number one reason for job hunting. In addition, 63 percent of all unemployed respondents (across industries surveyed) said they were actively looking for work.
Top Cities for eCommerce
Square released the "Rise of eCommerce" report, exploring how sellers in cities large and small embraced eCommerce in an effort to continue serving their customers in recent months. The report lists the top 50 cities that saw the largest percentage increase in new ecommerce sellers, includes insights from businesses on the front lines of this transition, and shares predictions about the road ahead from Square's head of eCommerce, David Rusenko. The key takeaway? eCommerce is here to stay.
To see which cities made the list, and learn more about how online selling is helping sellers of all sizes adapt to COVID-19, click here.
Hot Dog Insights
Viant recently looked into looked into the subject of Hot Dogs.
With Fourth of July coming up this weekend, and in honor of the famed Nathan's hot dog eating contest, Viant looked at the top five hot dog brands in its database of more than 92 Million profiles and gleaned some interesting insights:
Of the top five brands researched including: Oscar Mayer, Nathan's, Hillshire Farms, Hebrew National and Ball Park, both women and men pretty equally favored all of the aforementioned brands
People who purchase hot dogs also had specific beverage preferences across alcoholic and non-alcoholic drinks. They are 2 times more likely to purchase Bud light, Pepsi, Diet Mountain Dew & Diet Dr. Pepper
Hot Dog Buyers also love Potato chips, especially favoring the Utz brand, quickly followed by Lay's and Wise Potato chips
People who purchase hot dogs also favor candy, specifically they are more than 2 times likely to purchase Skittles, Starburst, Hershey's Milk Chocolate, Twix, Reese's Peanut Butter Cups, M&M's, Snickers and Almond Joy
Hot Dog Buyers are also 3 times as likely to have children in their household ages 6-11 and twice as likely to have children in the household under the age of 18
Foot Traffic Analysis
Sit down restaurants need to take a seat and pay attention. COVID decimated dine-in restaurants. Some feared to the point of near extinction. But Placer.ai, the foot traffic analytics firm, examined the industry and found that as regulations continue to lift and more restaurants slowly open back up, the picture is more positive than expected.
A link to the full report can be found here.
Placer.ai analyzed four nationwide chain restaurants: Chili's, TGI Fridays, Perkins, and Olive Garden. They found:
2020 started off positive for the chains, with Olive Garden topping the group at a 13.3 percent year-over-year increase for February. As coronavirus took hold around mid-March, visits declined drastically and fell to basically nothing by April. While some of these brands were supported by takeaway or delivery options, the offline hit was cataclysmic.

In May, the economy began to reopen and visits slowly inched back towards normal levels as each restaurant increased its visits by at least 10.0 percent compared to the month prior. All four restaurants measured have seen improved year-over-year change, from April 27th to the first week of June. Although numbers are still extremely low, diners are steadily returning.
Placer.ai says it is clear that the restaurant industry is well on its way to recovery.
In another study, the firm examined the data from a few key players in the breakfast space to analyze how those changes look during the recovery.
A link to the full report can be found here.
Report highlights include:
During the pandemic, the number of people commuting dropped precipitously as the shelter-in-place orders kept people at home. In 2019, 15.7 percent of Dunkin' visits came between 6 am and 9 am, but this number dropped to 11.5 percent in 2020. Starbucks saw a similar decrease from 10.6 percent of visits during these hours from May through June 15th, 2019, to just 7.3 percent during the same period in 2020.
The only brand analyzed that saw a morning increase was Wendy's. Placer.ai believes this is likely because of its renewed focus on breakfast. Traffic between the hours of 7 am and 10 am increased from 3.4 percent of overall visits from May 1st to June 15th in 2019 to 5.3 percent in 2020.
Other changes included visit distribution as Starbucks, Dunkin' Donuts, Wendy's, Panera and McDonald's showed visits shifted to the weekends and Mondays.
Although the wider dining category is still down 30 percent year-over-year, there are very positive signs from this sector.
Diners Aren't Ready
Across the US, we've seen reopenings followed by spikes in COVID cases following visits to bars and restaurants that are not maintaining social distancing and requiring masks. So, are diners really ready to go back?
A new global study of 11,000 consumers by Dynata indicates that the answer is: Not yet. Consumers globally are taking a a wait and see approach and will want control over their experience when they return. Highlights include:
When asked how soon they will return once restaurants reopen:
8 percent immediately
20 percent in a month
32 percent in 3 months
25 percent in one year
4 percent never
The top five things that make diners more comfortable are:
5. Drinks served in unopened bottles and cans
4. Physical barriers between tables
3. Staff wearing masks
2. Cleaning supplies on the table
1. Adherence to strict social distancing
Instagram Impact
Adertising analytics platform Pathmatics releaed paid Instagram advertising data for posts and stories. Pathmatics analyzed thousands of Instagram advertisers' data – highlighting ad spend, impressions, creatives, and geographic heat maps detailing high-spend cities and states from April 15, 2020.
Top-level highlights and trends:
Food + drink
Instagram is the preferred channel for Food and Drink advertisers with an average daily spend of $4.1M on the platform — that's 50 percent more than their avg spend on Facebook.
Dominos, Cirkul, and Aldi are the only food + drink brands that didn't lower ad spend to near $0 at the start of June in support of the Black Lives Matter movement.
Top food + drink Instagram advertisers by spend: April 15 – June 16, 2020
| | | |
| --- | --- | --- |
| 1 | Domino's Pizza | $6,076,500 |
| 2 | Yum! Brands | $6,022,000 |
| 3 | Starbucks | $4,534,000 |
| 4 | Chipotle Mexican Grill, Inc. | $3,894,700 |
| 5 | Cirkul, Inc. | $2,924,700 |
| 6 | ALDI | $2,662,500 |
| 7 | Buffalo Wild Wings, Inc. | $2,618,900 |
| 8 | Arby's Restaurant Group, Inc. | $2,540,800 |
| 9 | Sonic Drive-In | $2,332,000 |
| 10 | GrubHub, Inc. | $2,265,300 |
Shifting Consumer Behavior
A new survey from Valassis shows shifting consumer behaviors amid the COVID-19 pandemic as states begin to lift restrictions and businesses begin to reopen. Specific restaurant findings show:
When it comes to restaurant purchases, 29 percent believe they'll choose to carry-out from restaurants more often (versus 20 percent in March).
Additionally, 23 percent of consumers will use restaurant delivery more often moving forward (versus 18 percent in March). This number spikes to 36 percent among younger consumers (ages 25-34).
Open Opportunities: 52 percent of consumers have tried a new restaurant since the pandemic began.
QSR Pivot
A recent analysis from App Annie (mobile data and analytics provider) shows how QSRs have pivoted to a mobile-first strategy amidst COVID-19. Highlights from the analysis include:
Apps that prioritized their mobile app presence, including Dunkin, Panera Bread and Pizza Hut — saw 55 percent, 45 percent and 25 percent growth, respectively, in May 2020 versus Jan 2020.
During the three months ending May 2020, downloads of Papa John's Pizza grew 25 percent from the 3 months prior and 40 percent from the same time period a year prior.
Starbucks, commonly known for having a strong mobile presence, topped the list in the United States for QSR apps in May.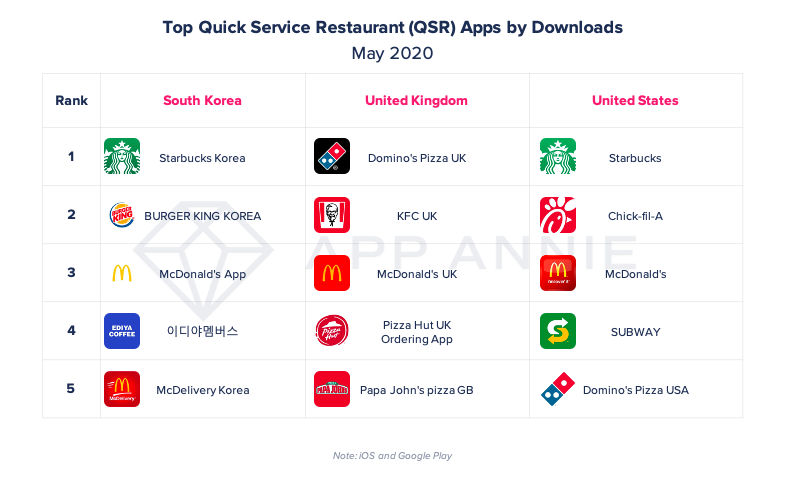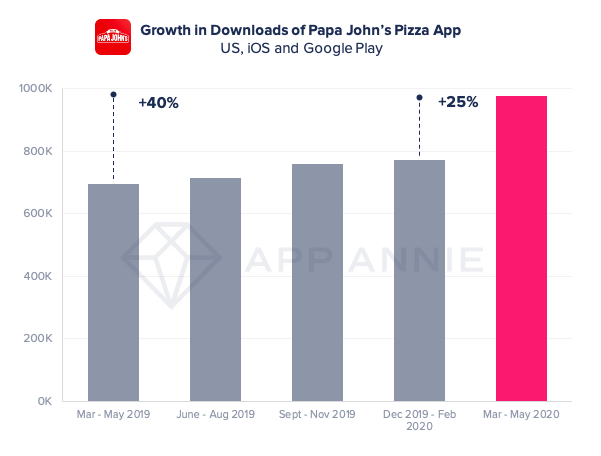 Fraud Rates Up
During the week of June 6-12, data from Sift, showed fraud rates in the food and beverage industry were up for a third week in a row. It's clear fraudsters are taking notice – and advantage – of increased mobile and online orders, and many restaurants don't have the preventative solutions in place to fight this.
Sift's fraud experts tout a few reasons for this increase:
Restaurants are offering delivery and promoting this via social media
Consumers are engaging in "friendly fraud" by claiming food didn't arrive, even if it did
Fraudsters are using stolen credit cards, but having orders delivered to legitimate addresses to hide in the increased volume of orders restaurants are currently receiving
What Consumers Want Moving Forward
B2C intelligent messaging provider Medallia Zingle looks at the dramatic impact the crisis has had on consumer views, behaviors and interactions.
While news of bars and restaurants welcoming patrons for social distancing-friendly outdoor and indoor dining is encouraging, there's no denying that COVID-19 has changed consumer expectations forever. In fact, 87 percent of consumers say they think businesses should continue to offer options for things like curbside pickup that limit the need for in-person visit.
One of hardest hit industries of the crisis, how food and drink businesses adapt to consumers' new needs and expectations will be paramount for success going forward.
As a result, the team at Medallia Zingle wanted to take a deeper dive into how the crisis has reshaped the consumer mindset, while also identifying new opportunities for how all types of businesses can better listen, communicate and serve their customers today and into the future.
To do so, the team commissioned the COVID-19 and the Future of Commerce to over 1,000 U.S. based consumers, weighted for the U.S. population by age and region.
Here's what they found:
87 percent of consumers say they think brands should continue to offer options for things like curbside pickup that limit the need for in-person visits.
79 percent of consumers say that going forward they will seek out information on the type of health and safety standards and processes businesses have in place before visiting them.
77 percent of consumers report that in the future the amount of in-person interaction required at a business will factor into their decision of whether or not they visit the business.
43 percent of consumers say it would greatly increase their likelihood of visiting a business if it were to proactively communicate its safety standards and processes, and another 39 percent said it would somewhat.
45 percent of consumers say that their experiences with businesses that have added curbside pickup since COVID-19 have been a little rocky to poor.
The full findings can be found here.
The Reality of Missed Opportunities
Bars across the country have opened up, others are still restricted to takeout, curbside pickup, and delivery only. It's a trying time for restaurants and bars, to say the least. Bars have missed out on some major revenue days like Memorial Day and Cinco de Mayo, and while they may see a spike come Fourth of July, the reality is that most will not see an immediate return to pre-covid-19 levels.
Zenreach utilized their network of in-store Wi-Fi access points to analyze just how much restaurants and bars have been impacted. Here were some of the key findings when reviewing foot traffic compared to last year.
The grave reality: Restaurant traffic in June is down roughly 58 percent compared to last year. Bars are still down 64 percent.
The upside: From the start of May to the start of June, restaurant traffic has increased roughly 32 percent. Showing a similar growth pattern, bar traffic increased 31 percent month-over-month.
On par with national retail trends: When analyzing retail traffic as a whole across the country, including shops and entertainment centers, the data showed similar results to what we're seeing with restaurants and bars. When we took a look in May, traffic was down 69 percent and the increase from the start to the end of the month was 17 percent.

No Trips on the Agenda
A survey conducted by Morning Consult commissioned by the American Hotel & Lodging Association (AHLA) found that only 44 percent of Americans are planning overnight vacation or leisure travel in 2020, with high interest in road trips, family events, and long weekends over the summer months. Encouragingly, 68 percent of these expectant travelers say they are likely to stay in a hotel in 2020.
Among Americans planning to travel in 2020, 59 percent expect to take their first overnight trip by the end of the summer. Summer road trips will take center stage, with 72 percent planning an overnight vacation via car over the next five months. Of these, 75 percent expect to drive two or more hours.
On their next overnight trip, 43 percent plan to stay with family and friends, and 39 percent plan to stay in a hotel; just nine percent plan to stay at a short-term rental such as Airbnb or VRBO, and five percent in a camper or RV. Nearly eight in ten (78 percent) are planning a trip of four days or less suggesting long-weekend trips will be first vacation travel to return.
Key findings among those planning to travel in 2020:
What kind of travel they're planning: 81 percent expect to take a day trip and 72 percent expect to take an overnight vacation via car within the next five months. The overwhelming majority do not expect to take cruises (14 percent), camper/RV trips (28 percent), or vacations via plane (32 percent) in 2020.
How far they're traveling: Among those planning a vacation via car, 75 percent plan to travel two or more hours (40 percent plan to drive more than four hours, and 35 percent plan to drive two to four hours).
Where they're staying: On their next overnight trip, 43 percent say they will stay with family or friends, 39 percent in a hotel, 9 percent in a short-term rental, and 5 percent in a camper/RV.
How long they're staying: 78 percent are planning trips of four nights or less.
Why they're traveling: 55 percent plan to travel for a family event, such as a wedding, birthday, anniversary, or family reunion; 50 percent plan to travel for Christmas, 43 percent for Thanksgiving, 33 percent for 4th of July, and 30 percent for Labor Day.
About 70 percent of Americans take a vacation in any given year, according to OmniTrak (TNS) data—suggesting that travel is a long way from pre-COVID-19 levels.
"Travel is by no means back yet, but we are encouraged to see people begin to travel as their communities reopen, and we all learn to navigate this new normal," said Chip Rogers, president and CEO of the American Hotel & Lodging Association. "If you are thinking about traveling in 2020, my message to you is that hotels are clean and safe places, and we are ready to welcome you when you're ready to travel. Through our Safe Stay initiative, we've enhanced our already rigorous cleaning protocols to be more transparent and give you even more peace of mind."
Cabin Fever is Real
As the saying goes, there's nothing like a home-cooked meal. We're finding that there's nothing like dining out, either.
Cabin fever is very real, and that's especially true when living through a global pandemic like COVID-19. According to new research from faculty members in Temple University's School of Sport, Tourism and Hospitality Management (STHM) and the school's U.S.-Asia Center for Tourism and Hospitality Research, the ability to visit restaurants is one thing folks have greatly missed over the last few months. In fact, once COVID-19 is in the rearview, the research indicates that people might choose to dine out even more than they did prior to the pandemic.
A research team led by Lu Lu, an assistant professor in the school, and Robert Li, professor and director of the center, recently conducted a national survey which explored US consumers' travel intentions and expectations for hospitality business post COVID-19. Approximately 900 questionnaires were collected as part of the survey, which took a close look at respondents' experiences, attitudes and future intentions with regard to traveling and visiting hospitality-related businesses. STHM faculty members Laurie Wu, Yang Yang, Wesley Roehl and Lindsey Lee also helped lead the study.
"Although the pandemic has paralyzed our travel and hospitality industry in the past few months, it is exciting to know that consumption needs remain strong for the rest of 2020," Lu said.
The survey included individuals between the ages of 21-64 from across the country, and 57.4 percent of the participants had a college degree or higher while 94.6 percent had been sheltering-in-place during the pandemic. One key takeaway of the survey is that many respondents expressed a desire to immediately start visiting restaurants and eateries as much or even more than they did before March 2020.
Some of the businesses respondents seem most excited to visit include:
Quick service restaurants: 71.4 percent suggested "about the same" or "much more than before"
Casual and midscale: 62.8 percent suggested "about the same" or "much more than before"
Fine dining restaurants: 53.4 percent indicated "about the same" or "much more than before"
Coffee shops and bakeries: 66.5 percent suggested "about the same" or "much more than before"
The businesses or activities that gave respondents the most hesitation in the future were:
Night clubs: 55.3 percent suggested "much less than before"
Indoor concerts/performance/movie theater: 53 percent "Much less than before"
Week/month-long cruises (1-4 weeks): 55.7 percent "much less than before"
The survey also took a close look at future travel intentions. A total of 71.6 percent respondents "somewhat agree to strongly agree" that the "potential risks of contracting COVID-19 during travel" would play a key role in their decision to take a trip.
For those who would choose to travel, purchasing insurance is key. According to the survey:
57.7 percent of respondents "somewhat agree, agree, or strongly agree" that "Compared to the days before COVID-19 outbreak, I now think purchasing travel insurance is more necessary"
58.6 percent indicated they "somewhat agree, agree, or strongly agree" with the statement "Compared to the days before COVID-19 outbreak, I now think purchasing travel insurance is more important"
55.7 percent "somewhat agree, agree, or strongly agree" that "Compared to the days before COVID-19 outbreak, I now hold a more favorable attitude toward purchasing travel insurance."
According to Li, these results should not come as a surprise.
"American travelers are taking travel insurance more seriously these days. We will likely see more innovative collaboration between the tourism, health and insurance industries," Li said.
A broader look at the survey and its results are available here.