MRM Research Roundup: Mid-September 2021 Edition
18 Min Read
This edition of MRM Research Roundup features Canadian dining trends, American eating patterns, best and worst cities for burgers and pumpkin spice to the rescue.
Hiring Crisis Facts
Alignable's September Hiring Poll shows that the labor shortage many industries have experienced this summer is only getting worse, due to Delta variant surges and inflation.
In a survey of 4,079 small business owners conducted from 8/15 to 9/13/21, 66 percent reported having a "very difficult" time finding the right employees to fill open roles, many of which are necessary to help them drive revenue and rebound.
Looking at the labor shortage over the last three months, it's clear that many small businesses are moving backwards in their recovery, especially restaurants.
That's because a whopping 85 percent of restaurant owners now report it's very difficult to find the right help. That's up 5 percent from August and 11 percent from July.
Manufacturers are in a similar situation. In July, 62 percent had trouble finding help, and that percentage jumped to 72 percent in August, and 83 percent in September.
Among beauty shop owners, 59 percent struggled to hire help in July. In September, that figure is 74 percent.
Retailers are having a tougher time each month, as well. In July, 47 percent couldn't hire enough employees. In August, that number was 50 percent, and now it's up to 61 percent.
On average, 50 percent of all SMBs said they couldn't find employees in July. That jumped to 59 percent in August and now it's 66 percent.
Other Alignable Hiring Poll findings include that 47 percent of employers have combated the shortage by elevating salaries for everyone they employ. And 23 percent said they reduced hours to cut expenses.
Despite these struggles, Alignable also learned in its poll that the No. 1 way employers have found people to hire (37 percent), and employees have found side gigs (35 percent), is through personal referrals and networking.
Dining Trends in Canada
Uncovering consumer confidence and preferences in an ever-shifting market as a result of COVID-19 restrictions, Restaurants Canada is shining a light on what restaurateurs and chefs can expect with the release of the 2021 Discerning Diner Report. The full Discerning Diner report can be read here.
Based on findings from a survey hosted on the Angus Reid Forum on behalf of Restaurants Canada, the report shares that on the positive side, Canadians are looking forward to returning to restaurants, so long as safety measures are in place. 89 percent of Canadians are looking forward to eating out with friends and family, with 64 percent going so far as to say that dining out will be an important part of their lifestyle post-pandemic.
"Canadians may be ready to return to restaurants, however some of their tastes and priorities have changed," says Todd Barclay, President of Restaurants Canada. "The Discerning Diner report provides our members with the information they need to make choices around everything from menu selections and customer service options, to marketing initiatives and possible new revenue streams that today's consumer is interested in. As more Canadians return to in-person dining, restaurants will need to continue adapting to capture market share."
The restaurant experience is one that Canadians cherish, with 63 percent of young consumers (ages 18-34) missing the fun of eating out, and 61 percent sharing that they miss the atmosphere. The biggest thing that all Canadians miss about table-service dining is socializing and connecting with friends and family (72 percent). Despite this, four in 10 Canadians are still tentative about eating in-person and plan to postpone their first in-person dining experience for anywhere between a few months of reopening, to sometime in 2022. This poses a significant challenge for the industry in the short- to mid-term as restaurants are unable to maximize in-person dining revenues with fewer patrons.
Delivering Excellence
Canadians are picky when it comes to their food delivery orders – the most important factors when choosing to order delivery range from consistency of food quality (73 percent), crave-able menu items (59 percent) and whether they've visited in-person before (51 percent), to more economical considerations like value for money (48 percent) and whether it has a low or no delivery fee (43 percent).
78 percent of Canadians have ordered delivery within six months prior to the survey.
Quebec ordered delivery the most, with 84 percent saying they had ordered within the last six months.
Once the pandemic subsides, delivery will be the preferred choice for 18-34 year olds when eating off-premise at a quick-service restaurant.
For table-service restaurants, 39 percent of young Canadians said they will prefer to order takeout by going inside and picking up, while 37 percent will order delivery. 8 percent say they plan to order more once the pandemic subsides.
15 percent have ordered alcoholic beverages with food for delivery or takeout, on par with the 18 percent of Canadians that say they're likely to do this.
Cocktails and beer (combined 35 percent) are the most likely to be ordered.
Consumers are twice as likely to prefer ordering delivery directly from a table-service restaurant by phone or restaurant app (20 percent) vs third-party apps (10 percent).
Cocktail and beer delivery stats suggest a greater possible market for restaurants to provide unique takeout and delivery options for consumers. It is expected alcohol sales will grow as suppliers and operators adapt packing and pricing models to bolster alcohol sales with delivery.
"The developments and improvements made to delivery and takeout containers, food quality and speed have made a lasting, positive impression," says Barclay. "Restaurateurs and chefs will need to continue to innovate in order to increase margins on takeout and delivery, but they can count on people visiting in-person instead of just virtually as restrictions subside."
Supporting Local
The "support local" movement that helped sustain several restaurants during the pandemic won't be going away any time soon, with more Canadians purchasing and ordering from their local restaurants directly, and for items other than just takeout or delivery.
87 percent of Canadians are interested in ordering food sourced from local farmers or using Canadian produce.
Almost 25 percent of Canadians are interested in purchasing groceries from a restaurant in the future, just shy of the 28 percent that indicated an interest in purchasing meal kits.
41 percent of consumers ages 18-34 indicated interest in monthly meal subscriptions, especially if offered at a discounted price.
"These food trends are encouraging for the restaurants who adapted to pandemic closures by pivoting their business model to include local grocery and meal kit options for consumers," says Barclay. "These findings reiterate the need for restaurants to look at new revenue streams in order to survive and grow."
Attracting New Diners
With Canadians eager to return to in-person dining, what can restaurants be doing to stand out, re-engineer their menus, capture consumer attention and keep them coming back?
Seeing a restaurant on Facebook is reportedly just as effective as hearing about it in a commercial or an advertisement on tv/radio.
Instagram is among the top factors for 34 percent of Canadians ages 18-34 when choosing to try a new spot.
38 percent of those 55+ are more likely to visit a new restaurant if they've received flyers or discounts in the mail.
37 percent of Canadians would choose one restaurant over another if it offered contactless or mobile payment options.
51 percent of those 18-34 would choose one restaurant over another if they can order online through a website or app to pick up at a restaurant
Convenience is key when it comes to technological innovations, especially when appealing to younger audiences. Data suggests that convenience and clarity go hand-in-hand – online ordering ensures that there are no miscommunications in what's on the list. Word of mouth continues to be the most important factor for Canadians to try a restaurant for the first time, but the power of social media shouldn't be overlooked.
"With the amount of innovation that's transformed the market over the past two years, there are several new ways to help bump your business to the top of someone's must-visit list," continues Barclay. "We've seen restaurants completely pivot their business model, market to completely new demographics with great success and implement new technology that streamlines efficiency."
What your business offers is also just as important. After a tough lockdown, 78 percent of Canadians are interested in ordering comfort foods from restaurants, alongside foods that promote health and wellness (73 percent), natural or unprocessed foods (70 percent), or culinary cocktails with savoury, fresh ingredients (41 percent). Meatless and vegetarian entrée options remain most popular among Canadians ages 18-34 (54 percent), compared to those 35-54 (37 percent) and 55+ (27 percent).
On-Premise Impact Report
The latest BeverageTrak data from CGA's COVID-19 On Premise Impact Report reveals On Premise velocity in outlets currently trading is +35 percent higher than the same time last year in the week to September 4 and +25 percent against the equivalent week in 2019. The comparable week last year (to September 5 2020), while in recovery compared to the height of restrictions, was still lower than the same week in 2019. The momentum of travel however implies that we could see the current 2021 velocity figure start to hit 2019 levels in the next few weeks.
Total U.S.
Average outlet $ sales (velocity) trends have generally been flat or in slight decline in recent weeks.
Despite slightly negative trends in recent weeks, across all key states value velocity remains strongly positive compared to last year and above that of 2019.
Daily velocities in New York have been very erratic with Hurricane Henri causing declines and subsequent rebounds on August 22 and 29 respectively and the remnants of Hurricane Ida severely impacting September 1 & 2.
100 percent of states have bars and restaurants open indoor completely (with no capacity restrictions)
Florida
Florida has seen trends of -4 percent and -1 percent in the latest two weeks. It is performing strongly vs both 2020 (+31 percent) and 2019 (+35 percent)
Sales velocity is now +35 percent vs September 7, 2019
Sales velocity is now +31 percent year-over-year (comparing the same week one year prior)
Sales velocity is now -1 percent vs August 28, 2021
Illinois
Illinois has experienced steady, albeit slightly negative, trends for the fifth consecutive week, with Chicago (-1 percent) outperforming the rest of the state (-5 percent) across the most recent week, causing -3 percent declines across the state as a whole.
Sales velocity is now +7 percent vs September 7, 2019
Sales velocity is now +48 percent year-over-year (comparing the same week one year prior)
Sales velocity is now -3 percent vs August 28, 2021
California
Performance in the key cities of California has been positive in the latest week, although overall the state remains slightly negative vs the previous week (-1 percent). It is the best performing of the key states vs last year (+56 percent) and continues to perform strongly vs 2019 (+33 percent)
Sales velocity is now +33 percent vs September 7, 2019
Sales velocity is now +56 percent year-over-year (comparing the same week one year prior)
Sales velocity is now -1 percent vs August 28, 2021
New York
With the effects of Hurricane Henri on August 21 and 22, New York experienced a reduction in velocity of -7 percent in the week to August 28 in outlets that were able to remain open. Despite further flooding due to the remnants of Hurricane Ida, the latest week remains flat, with velocity in outlets currently trading remaining slightly ahead of 2019 levels (+3 percent).
Sales velocity is now +3 percent vs September 7, 2019
Sales velocity is now +46 percent year-over-year (comparing the same week one year prior)
Sales velocity is now 0 percent vs August 28, 2021
Texas
Variable trends across the key cities in Texas have resulted in overall slightly negative week-on-week velocities over recent weeks, with trends of -2 percent in the latest week.
Sales velocity is now +46 percent vs September 7, 2019
Sales velocity is now +29 percent year-over-year (comparing the same week one year prior)
Sales velocity is now -2 percent vs August 28, 2021
Matthew Crompton, CGA Client Solutions Director, Americas, said: "The continued momentum of travel (several week-on-week trends of flat or slightly negative figures) implies that we could start to see the current 2021 velocity levels start to hit 2019 levels in the next few weeks. However, we also traditionally see an uptick of sales for the coming weeks due to the NFL season starting this weekend and with college campuses open again –which are hugely positive footfall drivers for the channel."
Food Retailing Report
Eighteen months into the COVID-19 global pandemic, FMI, The Food Industry Association released its annual comprehensive research report, The Food Retailing Industry Speaks 2021, which found that 95 percent of food retailers with e-commerce options saw an increase in online sales in 2020 as the result of pandemic-related changes in consumer shopping behaviors.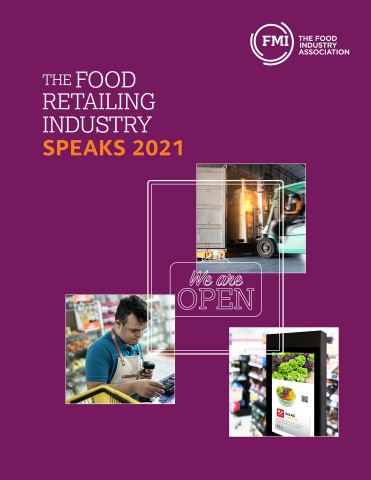 Yet even while consumer demand for groceries increased by 50 percent last year, resulting in an unprecedented 15.8 percent growth in same-store sales, 80 percent of retailers surveyed said difficulties attracting and retaining employees is having a negative impact on their businesses. Furthermore, ongoing global supply chain issues driven by the pandemic continue to persist for food retailers in 2021, with 42 percent saying supply chain disruptions continue to hurt their businesses.
"The pandemic transformed almost every aspect of the food retail industry – from the way consumers shop for groceries and consume their meals to how food is grown, produced and transported to supermarket shelves, to our ability to staff our stores and serve our communities," said Leslie G. Sarasin, president and CEO of FMI. "Throughout the past year and a half, the food retail industry has been adapting to meet the shifting needs of the communities they serve. This year's Speaks report outlines the resilience and transformation of the food retail industry amid the COVID-19 pandemic and examines the proactive strategies and investments retailers have made to adapt to the changing food retail landscape."
The Food Retailing Industry Speaks 2021 survey represents more than 38,000 food retail stores and includes 2020 operational and financial benchmarks as well as insights into strategic and tactical decisions. For more information and to download the report, visit FMI.org/GrocerySpeaks.
Delivering on Restaurant Rewards
Paytronix Systems, Inc., published the latest report in its ongoing series "Delivering on Restaurant Rewards," a PYMNTS and Paytronix collaboration, whichshows that customers demand multiple purchasing options and restaurants must respond if they are to capture more business. At the same time, restaurants should reimagine their loyalty engagement strategies and expand the ways in which consumers can earn rewards.
The latest edition of Delivering on Restaurant Rewards, a PYMNTS and Paytronix collaboration, explores the multitude of ways in which restaurant customers order food, and how it relates to their desire to earn, engage with, and use their restaurant rewards. A census-balanced panel of 2,072 U.S. consumers were surveyed about how they place their food orders, whether they use loyalty programs and what they want from those programs to find out how a holistic, omnichannel approach to restaurant rewards can help food sellers drive engagement and maximize conversion.
The report findings include:
Cross Channel Food Orders – The average restaurant customer orders using four different ordering channels in any given month. Restaurants must provide all these purchasing options to capture more of their customers' cross-channel food order spend.
Smart Phone Support – Restaurant customers want to earn rewards the same way they order food: using their smartphones. Eighty-five percent of all restaurant loyalty program users want to interact with loyalty programs via smartphone.
Customized Offers – Consumers' interest in loyalty programs extends beyond free food and discounts. Thirty-eight percent would like to gain access to restaurants at peak times, and 32 percent would like to be offered custom menu options.
Interaction Rewards – Many want to be rewarded not only for the money they spend but also for providing contact information and supporting restaurants on social media platforms, such as by giving them positive reviews or sharing their dining experiences with friends and followers.
"The restaurant ecosystem that has emerged over the past 16 months is more omnichannel and diverse than it has ever been. Diners are using every available brick-and-mortar and digital channel they have to purchase restaurant orders, transforming every corner of the internet into a potential sales driver. Providing loyalty and rewards programs that reach a broad swath of diners across all channels in this ecosystem will be key not only to driving sales but also to enhancing diners' food ordering experiences." – Delivering on Restaurant Rewards.
Download the full report, Delivering on Restaurant Rewards: The Value of Multichannel Ordering Options
Eating Patterns in America
Most analyses during the pandemic have focused on discerning its impact on consumer behavior and forecasting how this might change going forward. However, before the pandemic structural changes in the workforce and the aging population already contributed to a home-centric lifestyle, and COVID accelerated it, reports The NPD Group. These long-term trends will continue to influence consumer eating patterns and how they use their homes well into the future, according to NPD's recently released 36th edition of Eating Patterns in America.
"Our life stage and workplace behavior has a lot to do with how, where, and when we consume foods and beverages, and what we buy to help us prepare our meals," says David Portalatin, NPD food industry advisor and author of Eating Patterns in America. "These factors transcend the crisis of the moment or boom time economy that might replace it and will continue to influence behaviors over the long-term."
U.S. government statistics show that 100 million persons aged 16 and over do not participate in the labor force. This number has increased by +17 percent over the past decade. Only 56 percent of working-age women participate in the labor force, reports the Bureau of Labor Statistics. This number is the lowest rate in more than 30 years. In addition, the U.S. population is aging. In 2019, the U.S. Census Bureau reported that more than 54 million people 65 years old or over, about 16.5 percent of the U.S. population. This age group should reach 22 percent of the population by 2050.
These structural changes have a significant impact on a multitude of consumer behaviors. For example, there is a strong correlation between higher rates of working women and restaurant usage, which presents a headwind for the foodservice industry. As consumers age, there is a measurable effect on many of their eating behaviors. Most notably, they have lower annual restaurant meals per capita, according to NPD's recently released 2021 Eating Patterns in America.
The lower labor participation rate and an aging population already impacted at- and away-from-home meals before the pandemic. In 2014, U.S. consumers sourced 82 percent of their meals from home, which increased to 83 percent in 2019. During the pandemic, meals sourced from home rose to 86 percent. As restrictions on restaurants and stay-at-home orders have lifted, some meal occasions have shifted back to restaurants, but home-centric eating behaviors have some staying power. Whether foods and beverages are from retail or restaurants, Portalatin says providing in-home meal solutions will be the "sweet spot" for retailers, restaurant operators, and supply chain partners.
During the pandemic, consumers increased their capacity for preparing meals at home, aided by a whole host of new appliances and gadgets in the kitchen. Kitchen electrics grew by $2.9B, or a 37 percent gain over the prior year; over 91 percent of kitchen electric subcategories increased during the pandemic. As consumers venture back to school and work, portable on-the-go options or restaurant meals will regain some importance. Still, there will likely be some stickiness to a year's worth of at-home culinary engagement and investment in housewares and appliances.
"The current conventional wisdom is that we will be using our homes less once the pandemic is over. The reality is we were using our homes more before the pandemic than we did in the past," says Portalatin. "Home is where we eat most of our meals, whether we prepare them or a restaurant does; test the latest kitchen appliances and housewares; entertain our family and friends, and spend most of our time. This behavior is a structural change in our lifestyles, and it's unlikely to shift anytime soon."
Holiday Season Expectations
Redpoint Global released new research revealing consumer opinions about the upcoming holiday season. Conducted by Dynata, the survey of more than 1,000 U.S. consumers finds that the overwhelming majority of consumers (80 percent) are more likely to shop with brands that show they understand their needs by sending relevant, personalized offers this holiday season. Some 78 percent of consumers also find it frustrating when a retailer's communications and marketing messages are inconsistent depending on the channel they visit (in-store, online, social, call center, app).
This holiday season, shoppers will continue to shop heavily online, but also express interest in heading back in-store. Only 8 percent expect to shop solely online and 16 percent plan to shop exclusively in-store – with the remaining consumers planning to shop both online and in-store to varying degrees. Online research prior to in-store purchasing is a critical component of the sales process as well, with 29 percent of individuals primarily conducting research online prior to purchases in-store. Buying online and picking up in-store is also a trend that remains very important this year, with 60 percent of consumers planning to utilize it in 2021. However, in 2022 and beyond, only 15 percent of consumers indicate that will be a primary part of their shopping experience.
"As consumers head increasingly back in-store, maintaining clear and consistent communication both on and offline will be key. To maintain consumer interest and minimize friction, retailers should be prepared with personalized offers and strong data transparency across channels," said John Nash, Chief Marketing and Strategy Officer, Redpoint Global. "The more retailers can use relevant data to customize the experience consistently at all stages, the more successful they will be in driving retail sales this holiday season."
Inflation and supply chain issues are also top of mind, with 70 percent of consumers worried about global supply chain challenges and 77 percent concerned about product shortages. However, most consumers are preparing for these issues by shopping early and budgeting for increases. As of September 1st, 26 percent of consumers have already begun holiday shopping. And while two-thirds of consumers expect to pay more for gifts this holiday season due to inflation, 37 percent have adjusted budgets to deal with said increases.
Transparency is a key solution for many of the issues facing consumers this holiday season. Currently, consumers' top frustrations lie in product shortages, leaving it to retailers to be transparent about supply and product issues. Not to mention, the overwhelming majority of consumers, 85 percent, are more likely to shop at retailers that are transparent with how they are collecting and using their personal data this holiday season. As such, retailers must be communicative about where and when they are utilizing consumer information throughout the season.
Pumpkin Spice to the Rescue
With summer close to wrapping up, coffee chains like Starbucks and Dunkin' are once again unleashing their secret (or not so secret anymore) weapon on the world: Pumpkin-flavored coffee drinks. And according to a new report by foot traffic analytics firm Placer.ai, titled Pumpkin Spice to the Rescue, Starbucks adding its famed "Pumpkin Spice Latte" back to the menu is akin to a slam dunk for the chain almost every year. And with it having hit the streets on August 24th this year, Starbucks is already reaping the benefits.

Not to be outdone, however, is Dunkin', which launched its own "PSL-killer" on August 18th. The question, though, was whether Dunkin' could cash in on some of the pumpkin-spiced magic that Starbucks has managed to get down to a science.
Among the report highlights:
Starbucks cashes in
Starbucks did see a bump in foot traffic during the week the PSL was added to menus. Placer.ai's data shows a 3.5 percent increase in visits during the week of August 23rd compared to the same week in 2019 — that's also a 12.3 percent week-over-week increase. While 3.5 percent may not sound like a big increase, it's important to remember that the 2019 summer season was very strong as well, as the report mentions.
Dunkin' Retaliates
For Dunkin', pumpkin is paying off as well. The week of August 16th (when the drink hit menus), visits were up 8.4 percent compared to the same week in 2019. The following week, they were up 3 percent.
Pumpkin Magic
Clearly, Starbucks and Dunkin' have caught on to the simple fact that Americans love pumpkin spice coffee drinks, and have leveraged it into an annual foot traffic bump every year. From the report: "The PSL launch and its success is just the latest show of
Starbucks's unique ability to own the calendar and drive visits with seasonal products and campaigns."
The full report can be found here.
Best Cities for Burger Fans
Lawn Love ranked nearly 200 of the biggest U.S. cities to determine the Best Cities for Burger Fans. They looked for cities with an abundance of highly rated eateries serving burgers, including Michelin-starred restaurants.
2021's Best Cities for Burger Fans

Rank

City

1

Washington, DC

2

San Francisco, CA

3

Pasadena, CA

4

Chicago, IL

5

San Diego, CA

6

Santa Rosa, CA

7

New York, NY

8

Orlando, FL

9

Glendale, CA

10

Fullerton, CA
2021's Worst Cities for Burger Fans

Rank

City

188

Salem, OR

189

Indianapolis, IN

190

Bellevue, WA

191

Brownsville, TX

192

Newport News, VA

193

Worcester, MA

194

Clarksville, TN

195

Sioux Falls, SD

196

Laredo, TX

197

Midland, TX
Surprising findings:
Here's the Beef: Quality Over Quantity: Give your compliments to the chef in our top 10 Best Cities for Burger Fans, where high-quality burgers are king. Our overall top 10 includes big cities like Washington, D.C. (No. 1), Chicago (No. 4), and New York (No. 7). Orlando, Florida, lands in eighth place, while a handful of California cities, such as San Francisco (No. 2), Pasadena (No. 3), and San Diego (No. 5) dominate the rest of the top spots.
Besides the natural abundance of options in the large metros, quality pushed nine out of our top 10 cities to the top.
Five cities in California had the highest median rating for burger establishments: Torrance (No. 1), Moreno Valley (No. 2), and Huntington Beach, San Diego, and Oceanside all tied for third place.
Menus Galore: Looking for variety? While Orlando, Florida, might not have as many fancy burger restaurants as other cities in our overall top 10, this city is ready to cater to burger fans of all kinds. Orlando ranked first in Access, meaning there are plenty of burger joints strewn across the city to appease locals and tourists alike.
Following Orlando in the Access ranking is Savannah, Georgia (No. 2), St. Louis (No. 3), Fort Lauderdale, Florida (No. 4), and Las Vegas (No. 5).
Steer Clear: Texas cities Midland (No. 197) and Laredo (No. 196) burn to the bottom of our ranking, earning the titles of Worst Cities for Burger Fans. They're followed by Sioux Falls, South Dakota (No 195), Clarksville, Tennessee (No. 194), and Worcester, Massachusetts (No. 193).
These cities fell to the bottom of the Access category, meaning that burger fans would have a hard time finding a good double cheeseburger around these parts. Additionally, they all ranked poorly in the Quality section — the few burger spots around haven't impressed many diners.
The Whiskey Market
Newly released data from an ESOMAR-certified market research and consulting firm's market analysis, global demand for the overall whiskey market will likely experience a CAGR of 6 percent to reach US$ 108 Bn by the end of the 2021-2031 assessment period. Consumers are expected to show greater inclination towards high-end and super premium whiskies, given the increasing purchasing power across key regions.
From 2016 to 2020, global whiskey sales expanded at a CAGR of over 4 percent, with sales inclining significantly during the coronavirus pandemic crisis. By 2021-end, global whiskey demand is likely to be valued at US$ 60 Bn. As restrictions on outdoor recreational activities tightened, consumers resorted to consuming premium liquor, which greatly inclined sales prospects.
As per the Distilled Spirits Council (DISCUS), premium alcohol sales surged 7.7 percent to reach US$ 31.2 billion in 2020 across the United States. Furthermore, documented health benefits, including reduction of blood sugar levels, obesity prevention and cancer inhibition are likely to fuel sales in the future. As per the study, South Korea is likely to attract lucrative investments, given the high whiskey consumption incidence.
Key takeaways include:
By grain type, blended whiskey demand likely to expand 1.4x from 2021-2031
Malt-based whiskey to accelerate, registering a CAGR of 6 percent across the forecast period
Super-premium whiskey expected to account for at least 2 out of 5 sales through 2031
Premium whiskey consumption to soar at a CAGR of 7.5 percent from 2021 to 2031
U.S to yield 30 percent of the global demand for whiskey until 2031
India to emerge as an opportunistic market, expanding at a CAGR of 5 percent through 2031
Canada to experience high growth, registering a CAGR of 12 percent
"Rising disposable incomes coupled with documented health benefits is spurring consumption of super-premium and high-end premium whiskey brands, prompting an increased flurry of product launches across key regions," says a research analyst.
By collaborating strategically, manufacturers can increase production and satisfy consumer demand, which leads to increased revenue and market share. In the future, new products and technologies will be designed to provide end-users with malt-based products.
Glenfiddich uses ultra-low carbon gas to fuel delivery with whisky waste. As part of its sustainability efforts, the company has started using biogas that is made from waste products from its distilling process to power the delivery trucks.
On October 7, 2020, Bespoken Spirits, a Silicon Valley based startup plans to take on the $500 billion global spirits market with a proprietary technology that is designed to recreate barrel-aged whiskies, rums, and brands in three to five days. The firm launched Nespresso machines for the whiskey industry.
These insights are based on a report on Whiskey Market by Fact.MR.
Junk Food Trends
Bid-On-Equipment analyzed Google search trends for more than 5,000 terms and keywords related to junk food to find the most popular junk food in each state.
Highlights:
35 percent of Americans eat junk food every day.
Top reasons people eat junk food: 1) It tastes good (49 percent) 2) It's comforting (16 percent) 3) It's convenient (12 percent) 4) Stress relief (10 percent) 5) Boredom (4 percent)
The most popular junk food nationwide: 1) Donuts 2) Cake 3) Cream Pies 4) Ben & Jerry's 5) Cupcakes 6) Strawberry Shortcake 7) Apple Crumb 8) Bundt Cake 9) Chicken Pot Pies 10) Doritos
The average American spends $20 on junk food items every week.
For more, take a look at the full report