MRM Research Roundup: Mid-May 2021 Edition
10 Min Read By MRM Staff
This edition of MRM Research Roundup features the latest consumer behaviors, local spend, and the best and worst cities in America for BBQ.
Guest Intent Shows Positive Trend
The latest On Premise consumer research from CGA, based on a survey (from May 7-10) of more than 1,600 consumers within Texas, Florida, Illinois and New York on their expectations, lists their desires and how they plan to behave in the next two weeks.
Food Led Occasions Driving Visits
67 percent of consumers have visited the On Premise for food led occasions since venues reopened and 22 percent have visited for drink led occasions.
There is a positive outlook for future visitations with 2/3 of consumers planning to visit for food and ¼ for drinks
Under 55s drive the return to the On Premise for food led and especially drink led occasions, 21-34 year olds have visited double the amount vs 55s for drink led occasions.
Texas and Florida have the highest number of consumers returning for food led occasions. However, New York (-6pp vs Florida) and Illinois (-5pp vs Florida) have increased closer to these states as restrictions ease.
Returning to the On Premise
Consumers going out three times or more has significantly increased in the past month, having increased by +7pp.
2 out of 5 consumers have returned to the On Premise because they wanted to go back to normal.
77 percent are spending the same or more than pre-COVID-19, showing positive signs for bars, restaurants and suppliers.
Beer, followed by soft drinks, lead the drink categories most drunk since returning to the On Premise.
Consumers Still Cautious
28 percent of consumers who haven't yet returned are waiting for the threat of COVID-19 to be complete gone
Compared to six months ago, there has been an increase in frequency of consumers ordering take out/ delivery, with 39 percent order more than three times in the last two weeks.
Celebrating Events in the On Premise
One third of consumers celebrated Mother's Day in the On Premise, mainly visiting with family and with children for food and drink led occasions.
2 in 5 consumers who visited the On Premise to celebrate Cinco de Mayo drank beer and this occasion was mainly food and drink led.
Those who visited the On Premise for the Kentucky Derby spent more money than they would have done pre-COVID-19, with the average spend on drinks being $42.
Click here to download the report.
Staying Local
Neighborhood bars and Fine Dining channels are attracting higher spend post-COVID-19, however CGA On Premise visitors are likely to stay local and seek experiences in the next 12 months.
Outlets Driving Up Consumer Spend
The study, which delves into 11 different On Premise channels, shows that the average check value has risen across outlets, with the highest increases coming from Fine Dining ($10 vs pre-COVID-19) and Neighborhood bars ($9 vs pre-COVID-19), showcasing opportunities for maximizing revenue in the channel.
Local Restaurants Leading the Return Over Casual Dining Chains
With restrictions loosening up through various states, and vaccinations continuing to rollout, the dynamic of channel visitation is now moving towards local and neighborhood restaurants. Pre-COVID-19, 70 percent of consumers were typically visiting the channel, and the most recent research shows that neighborhood restaurants are the #1 channel for On Premise consumers, with 59 percent of planning to visit in the next 12 months. Casual Dining Chains come in #2 with 52 percent likely to visit. Consumers' decisions to support local outlets, and visit their favorite places are key drivers for this behavior.
Neighborhood Bars are the #3 channel consumers expect to visit in the next 12 months, and the #1 drinking channel showing a positive outlook for the summer and beyond, despite having decreased in size (-7.2 percent) over the year to March 2021.
In addition, the vast majority of consumers who were visiting channels pre-COVID-19 are likely to return in the next 12 months and across all channels, around 4 in 5 expect to visit the same or more frequently than pre-COVID-19.
Positive Outlook for Experience-Led Channels
A clear pent-up demand plays a part in the expected frequency of visitation in the future. Channels which have faced more restrictions such as nightclubs and airport bars are top of mind for consumers, with around a 1/3 planning to visit these channels more often than before COVID-19. While those which are more experience led such as stadiums (21 percent) and casinos (17 percent) see expected higher frequency of visits by consumers who have missed these experiences.
Golf Courses have gained popularity during COVID-19. 28 percent of consumers who anticipate visiting Golf Clubs in the next 12 months stated they will be visiting more frequently than pre-COVID-19 – 3rd among all channels, while only 11 percent said they will be visiting less than pre-COVID-19 – the least of any channel. Whether it is in the drinks golf cart, or at the country club, opportunities are scattered throughout this channel and offerings of all kinds, from Beer and Hard Seltzers, to other RTD and portable cocktails make this an appealing channel for suppliers.
One particular channel that demonstrates this and the diversity of its visitors is Nightclubs. Both African American's (22 percent, +12pp vs Avg) & Hispanics (22 percent, +11pp vs Avg) see increased visitation to this channel specifically, and since 30 percent of visitors plan to visit this channel more often than pre-COVID-19 (ranked #2), it is important to understand and cater for the needs of the diverse consumer set within each channel.
Commenting on the Channel Strategy Study is CGA's Managing Director: AmericasScott Elliott said: "Never have we witnessed such a dramatic change to consumer habits as we have in the past 12 months, and beverage suppliers are aware that it is essential to have channel-specific tactics ready to employ if they are going to capitalize on the huge opportunity this market reopening represents. We are delighted to repeat the highly regarded On Premise Channel Strategy Study and excited to now have very similar insights available for Canada and Mexico. This report provides unparalleled tracking of the North American consumer and will help guide both operators and suppliers as the On Premise emerges from one of its most trying periods ever."
Punchhing Up Cinco de Mayo
Punchh announced the results of the Cinco de Mayo campaigns it powered for its restaurant brands on May 5, 2021. Punchh powers loyalty and offers for over 200 global enterprise brands, including over twenty brands that serve Mexican cuisine such as Pancheros Mexican Grill, El Pollo Loco, Taco Bell, and others. On Cinco de Mayo this year, Punchh connected its restaurant partners with millions of consumers via targeted marketing campaigns, resulting in over five million redeemed offers in a single day, driving an increase in revenues and profitability for the brands.
Punchh's data shows that online ordering redemptions were also up despite eased dining restrictions in some states, with Punchh customers experiencing a 43 percent lift in online ordering on Cinco de Mayo YOY. Its customers also sold 67 percent more tacos and 76 percent more burritos this Cinco de Mayo than last year.
The Spending Pulse
Total U.S. retail sales sprung into another month of double-digit growth in April, according to Mastercard SpendingPulseTM, which measures in-store and online retail sales across all forms of payment. U.S. retail sales excluding automotive and gasoline increased 23.3 percent year-over-year in April, and 10.8 percent compared to April 2019. Online sales grew 19.9 percent and 95.6 percent, respectively.
Retail sales continue to benefit from stimulus payments, coupled with warmer weather and broader reopening across the country. While the recovery has not been universal or consistent – due to geographical, economic, and household differences – there are a number of key overarching trends.
Restaurant Resurgence: April marks the second consecutive month of positive growth for the Restaurant category, underscoring that consumers have an appetite to eat out again. Spending at restaurants grew 118.8 percent vs. 2020, when widespread shut-downs crippled the industry, and were up 5.7 percent compared 2019.
Limited-service Restaurants, such as fast-food, were up 21.7 percent compared to 2019, outpacing their Full-service counterparts (-13.5 percent YO2Y).
Pandemic's Effect on Small Businesses Declining
Alignable's May State of Small Business Report. primarily based on a poll of 7,751 small business owners conducted from 4-24-21 to 5-9-21, but also features insights gathered over the past year from 625,000 SMBs, was just released.
Key findings include:
COVID is still really impacting 38 percent of small businesses, but 24 percent say the effects are declining
Early optimism is evident in a hiring spree led by restaurants & retailers expecting a major summer sales surge. In fact, hiring has reached a new high, as 88 percent of pre-COVID employees are back on the payroll
While that's promising, the overall employment picture is much more volatile — 50 percent of small business employers can't fill vacancies
The majority (54 percent) say it's because government handouts are preventing workers from applying (30 percent believe the controversial $300 weekly supplemental unemployment benefit is keeping people home, while 24 percent blame stimulus checks)
However, when employers do find people to hire, 51 percent say they have to pay higher wagesthan they paid prior to COVID
And while some small businesses are starting to bounce back, they're confronted by other inflationary trends. In fact, 67 percent of all SMBs fear that inflation will hurt their recovery. And those figures are even more dramatic among industries facing major supply delays, shortages and skyrocketing prices (especially for wood and metal)
On top of everything else, revenues are lackluster and declining. Sadly, 58 percent of small business owners are only earning half or less of their monthly pre-COVID revenues (that figure was just 48 percent last month)
And 34 percent have only one month or less left of cash reserves (that's up 4 percent from April)
Investing in Sustainability Alternatives to Animal-Based Foods
New data released by The Good Food Institute (GFI) reveals that globally, 2020 was a record period of investment in companies creating sustainable alternatives to conventional animal-based foods, including global plant-based meat, egg, and dairy companies; cultivated meat companies; and fermentation companies devoted to alternative proteins. Amid the multiple social, environmental, and economic crises of 2020, the increase also signals a growing appetite for climate-friendly investments with returns beyond the bottom line.
GFI's analysis of investment activity within these industries was conducted using the PitchBook Data platform and shows that global alternative protein companies received $3.1 billion in disclosed investments in 2020, which is more than three times as much as the $1 billion raised in 2019 and four and a half times as much as the $694 million raised in 2018. Alternative protein companies have raised almost $6 billion in invested capital in the past decade (2010–2020), over half of which was raised in 2020 alone: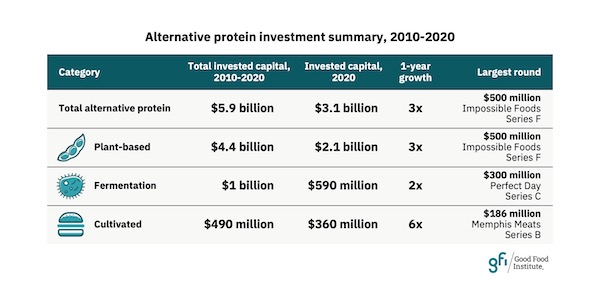 Plant-based meat, egg, and dairy companies received $2.1 billion in investments in 2020 — the most capital raised in any single year in the industry's history and more than three times the $667 million raised in 2019. Plant-based meat, egg, and dairy companies have raised $4.4 billion in investments in the past decade (2010–2020). Nearly half, or $2.1 billion, was raised in 2020 alone. This included Impossible Foods' record $700 million funding haul, which comprised a $500 million Series F in March and a $200 million Series G in August; LIVEKINDLY's $335 million venture capital financing; Oatly's $200 million private equity and $78 million debt financing; and Califia Farms' $172 million private equity financing.
Cultivated meat companies received more than $360 million* in investments in 2020, which is six times the amount raised in 2019 and 72 percent of the amount raised in the industry's history (2016–2020). This included the first two series B raises in the segment: Memphis Meats' landmark $186 million round and Mosa Meat's $75 million round.
Fermentation companies devoted to alternative proteins received $590 million in investments in 2020, which is more than double the amount raised in 2019. This included Perfect Day's $300 million Series C funding round and Nature's Fynd's $45 million debt round—the first disclosed venture debt capital raise by a fermentation company. Fermentation companies have raised more than $1 billion in investments since the first GFI-tracked investment in 2013, 57 percent of which was raised in 2020 alone.
While investor confidence in alternative protein companies is driven by multiple market factors, the social, environmental, and economic issues laid bare in 2020 have illuminated the risks associated with business-as-usual portfolios and practices.

As the world still grapples with a global pandemic, the prospect of meat produced with zero risk of contributing to zoonotic disease transmission or antibiotic resistance has even greater relevance. With more and more investors acknowledging that climate risk is investment risk, alternative proteins offer a scalable solution that gets the world closer to a more secure, carbon-neutral food system.
GFI Senior Investor Engagement Specialist Sharyn Murray: "The investor community is waking up to the massive social and economic potential of food technology to radically remake our food system. Early trend setters like Impossible Foods, Beyond Meat, Memphis Meats, and Mosa Meat continue to perform well, and there are more and more entrepreneurs who see the potential of alternative proteins to succeed in the marketplace while having a positive global impact on food sustainability and global health."
GFI Director of Corporate Engagement Caroline Bushnell: "2020 was a breakout year for alternative proteins, with record investment flowing into all segments of the industry. This is yet another signal of the significant potential the private sector sees in this rapidly growing global industry. While the amount is record-breaking, more investment is needed—from both the public and the private sectors—to meet the urgency of this moment. A large-scale shift toward alternative proteins will be critical to mitigating the environmental impact of food production, meeting the Paris Climate Agreement, and sustainably feeding a growing global population."
Demand for Foil
Asia Pacific currently accounts for a majority of the demand and consumption of aluminium foil packaging. This is due to the fact that numerous aluminium foil manufacturers and aluminium ore mines are located in the region. Market growth is also supported by the well-established food & beverage industry in the region.
Aluminium foil is projected to see increasing acceptance in the pharma and food industry. Wraps & rolls and bags & pouches are widely used at restaurants and snacks counters for packaging purposes, which is working as a driver for the market. Furthermore, demand for lids and laminated tubes are on the rise as the pharma and personal care industry is thriving.
Leading market players are focusing on developing environment-friendly, bio-degradable, and 100 percent recyclable packaging methods using aluminium foil. As per the revised report published by an ESOMAR-certified market research and consulting firm, the aluminium foil packaging market is anticipated to surpass US$ 25 Bn in 2021, and is poised to expand at a CAGR of around 5.5 percent over the next ten years (2021 to 2031).
Key Takeaways from Market Study
The aluminium foil packaging market is anticipated to add 1.7X value by 2031.
0.09-0.2mm thickness aluminium foil captures more than 50 percent market of the global market share, and is set to create an absolute $ opportunity of around US$ 9.3 Bn over 2021-2031
Among the end uses, wraps & rolls has been the fastest-growing segment, owing to rise of the food and snacks industry over the past decade.
Asia Pacific is set to dominate market revenue in 2021, and is expected to gain 222 BPS by 2031.
China and the U.S. are expected to rise at around 6 percent CAGR each through 2031.
The Best BBQ in USA
It's May and for Americans, that means it's National Barbecue Month. But few other topics generate as much fierce debate as the humble BBQ. How to make a great BBQ or where to enjoy the best in the country can quickly spiral into a very heated conversation.
Knowing these debates will flame around the grill in the coming weeks, Chef's Pencil turned to TripAdvisor to find out which cities are the best and worst for enjoying a fantastic BBQ. We analyzed TripAdvisor ratings of all BBQ joints in the nation's top 75 largest cities and ranked the cities based on their average rating.
Interesting findings:
New Orleans (1st) and Oklahoma City (2nd) rank as the best cities for BBQ in America.
With a score of 4.25, Charlotte, Wichita, and Virginia Beach tie in 3rd spot.
Anchorage, Plano, and Boston rank as the worst cities for BBQ in America.
Among the nation's largest 75 cities, Orlando, St. Louis, and Honolulu have the most BBQ joints per capita.
Chicago, Los Angeles, and Austin are the cities with the highest number of top-rated BBQ joints (rated 4.5 stars and higher).
San Antonio, Houston, and Memphis have the highest number of low-rated BBQ joints (rated 3 stars and lower).
Blue Door Smokehouse in Lexington, Kentucky is the best BBQ restaurant in the nation, being the most reviewed 5-star rated BBQ joint.
Wichita and Columbus are the top-rated cities in the Midwest.
Seattle and Portland are the top-rated cities in the West.
Newark is the best place to enjoy a barbecue in the North East.
To view the full report, click here