MRM Research Roundup: Mid-May 2020 Restaurants Reopen Edition
8 Min Read By MRM Staff
This edition of Modern Restaurant Management (MRM) magazine's Research Roundup features the surge in online ordering, early returns on restaurant recovery and what customers want and expect from restaurants.
Adoption of Restaurant Online Ordering is Growing
From February to April Upserve has seen a 169 percent increase in restaurants using online ordering. They are seeing an uptick in online orders in all types of geographic areas. In large suburbs, online ordering has grown 3,868 percent since February.
Restaurant recovery is slow but building, As of April 8, 27 percent of restaurants showed an upward sales trend over the previous week, according to Upserve's data.
Many restaurants who already offered online ordering pre-COVID were able to avoid having to close altogether, saving them up to a month's worth of revenue. While they did see a drop in sales, they did not ever experience a 100 percent revenue loss.
For more from Upserve, click here.
Restaurant Recovery Stats
According to Black Box Financial Intelligence, the number of restaurants reopening their dining rooms has steadily increased in recent days. As of Saturday, May 9, on average almost 30 percent of the restaurants operated by the companies that participated in the firm's Restaurants Recovery Sales Flash survey opened their dining rooms in some capacity.
The impact of those dining rooms opening has been impactful in driving incremental sales for full-service restaurants. Over the last week, the difference between comp sales for full-service restaurants that have dining rooms open in some capacity and overall comp sales for full-service has ranged between eight and 15 percent.
Dine-in sales still represent a small percentage of the total. During the last week, dine-in sales have represented an average 11 percent of total limited-service sales and 13 percent of total sales in full-service restaurants. This remains a dramatic shift for full-service, which tended to see roughly 86 percent to 88 percent of their sales coming through dine-in in the last year.
From the recently published Workforce Response to COVID-19 Surve, despite many companies beginning to bring back employees from furlough, of those people employed by chain restaurants back in January, only 45 percent of them remain actively employed today on average.
Restaurant companies held on to most of their managers. Of those employed back in January, on average 75 percent of restaurant managers remain actively employed today. Many of the employees that were separated through furloughs or lay offs are not expected to return to their former employer. About 25 percent of furloughed employees and 67 percent of laid off employees are not expected to return if given the opportunity.
Most companies are expecting to re-hire or bring back employees from furlough at the same base wages and salaries they had before. Almost half of restaurant companies said they are adjusting their bonus criteria or performance goals in response to the pandemic.
Companies are focusing on ways to guarantee the safety of their employees and guests. Some of the most common measures taken include requiring all employees to wear masks and gloves, adding plexi-glass shields to customer facing stations such as host/hostess stands and counters, taking temperature of employees, removing tables and providing hand sanitizer throughout the restaurants. A few companies are planning to stop receiving cash and some even plan to discontinue the use of physical credit cards.
On-Premise Comeback Journey
New on-premise consumer research from Nielsen CGA, focused specifically on states where the channel has opened up again in one form or another – Georgia, Tennessee, Florida and Texas.
Some key insights from this survey of 1,600 consumers in the aforementioned four states, from May 9-11:
Twenty-one percent of consumers from these four states say they have been out for an eating occasion in bars and restaurants since they started reopening and 10 percent for a drinking occasion. This highlights that at least one in five consumers have already returned to the On Premise despite uncertainty and limited outlets reopening.

Seventy percent have ordered food delivery, and 12 percent of consumers ordered a delivery with alcohol.

Many consumers still have fears in returning to the channel despite re-openings. 31 percent responded that they will return to bars and restaurants only when the number of COVID-19 cases hasn't started to increase again.
Of the 71 percent who have not returned to eat or drink, we asked why they had not visited the on-premise yet. 48 percent said they need more time to feel comfortable visiting these places, 47 percent said they do not feel safe going out, 47 percent worried about the proximity of strangers and 24 percent were self isolating.
Regarding what consumers would like to see inside venues upon reopening, the top options were additional hygiene programs taking place in outlets (51 percent), having fewer tables or patrons within venues to accommodate social distancing (48 percent) and bar/restaurant staff wearing protective gear such as masks or gloves (45 percent).
Money is a concern, but may be less prevalent than expected. Just 13 percent were concerned about their financial situation and trying to save money and 12 percent said they have less disposable income, while four percent said they have unfortunately lost employment and cannot afford to go out.
Over the past two weeks, 53 percent of consumers are drinking the same amount, while 28 percent are drinking more. This leaves just 20 percent drinking less.
Business Post-COVID-19
Azurite Consulting released a detailed survey about business post COVID. A section of that survey of 3,500 Americans that dealt with restaurants.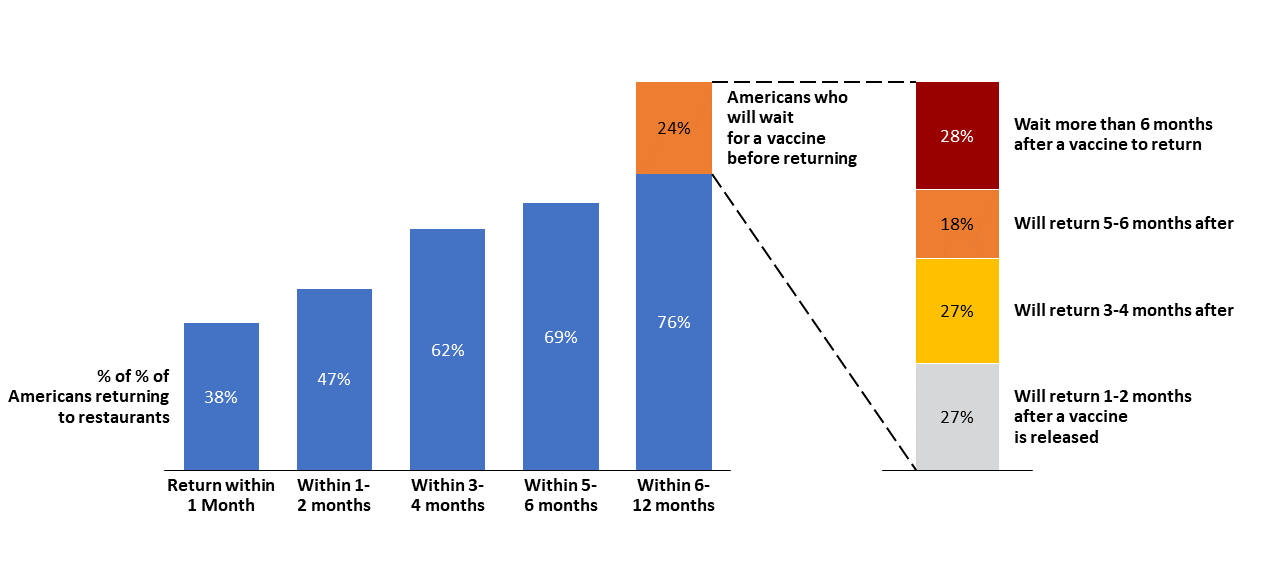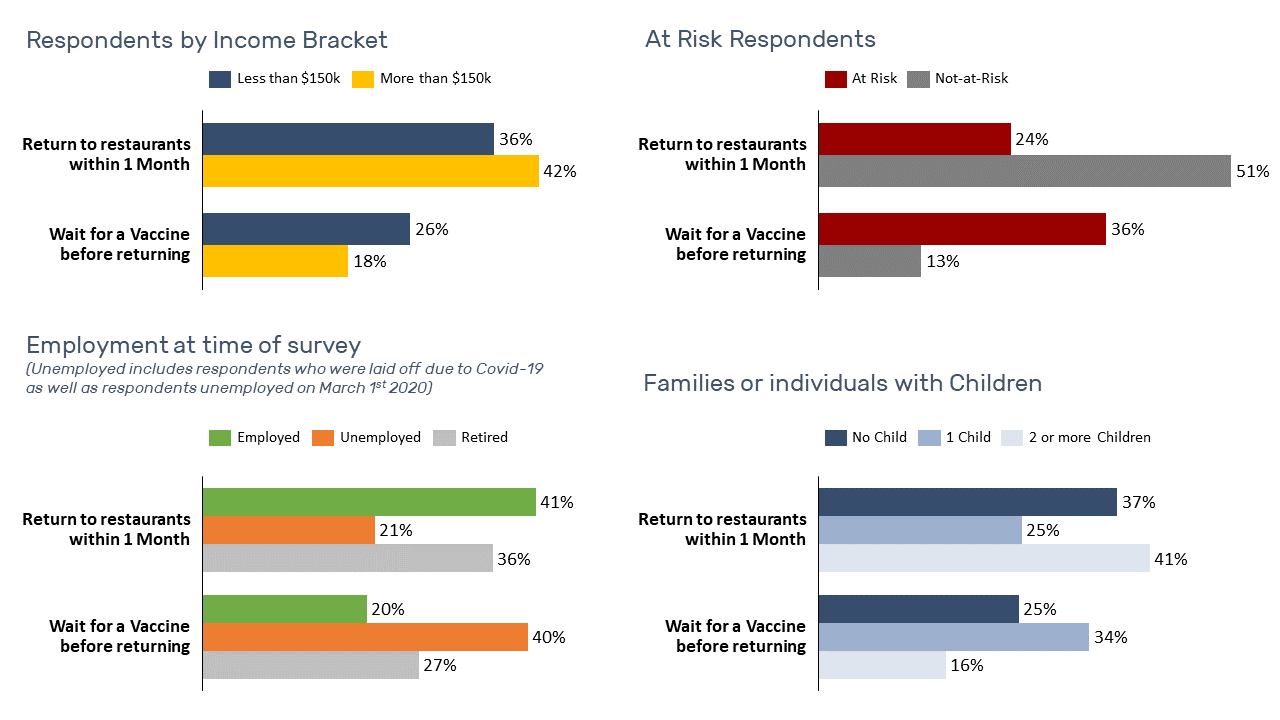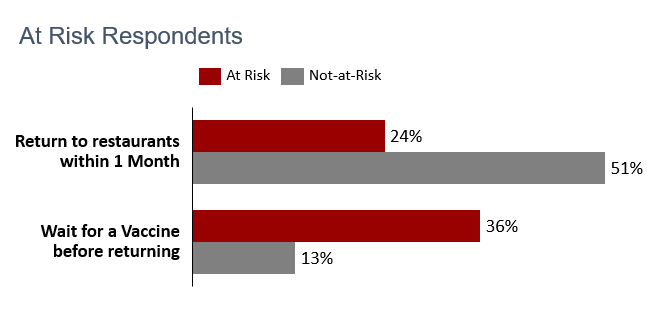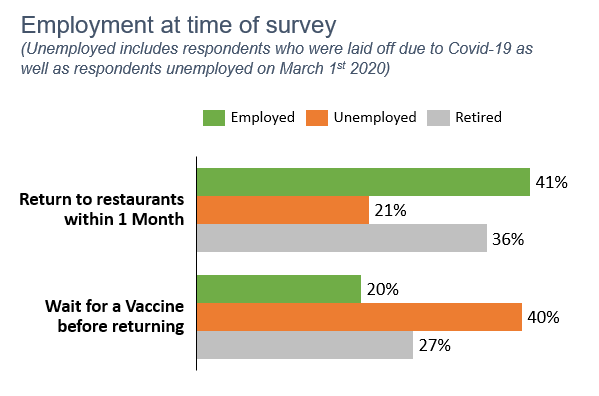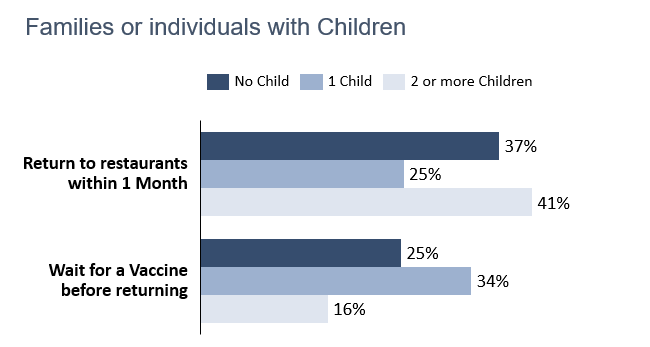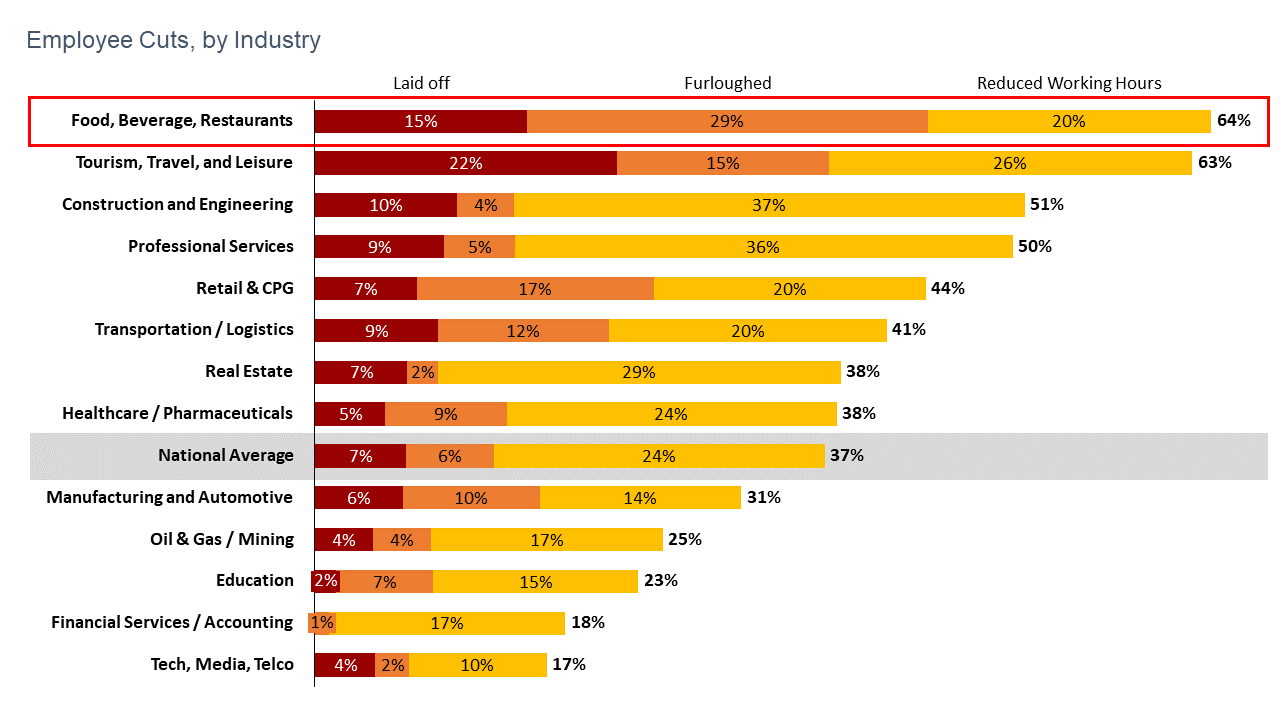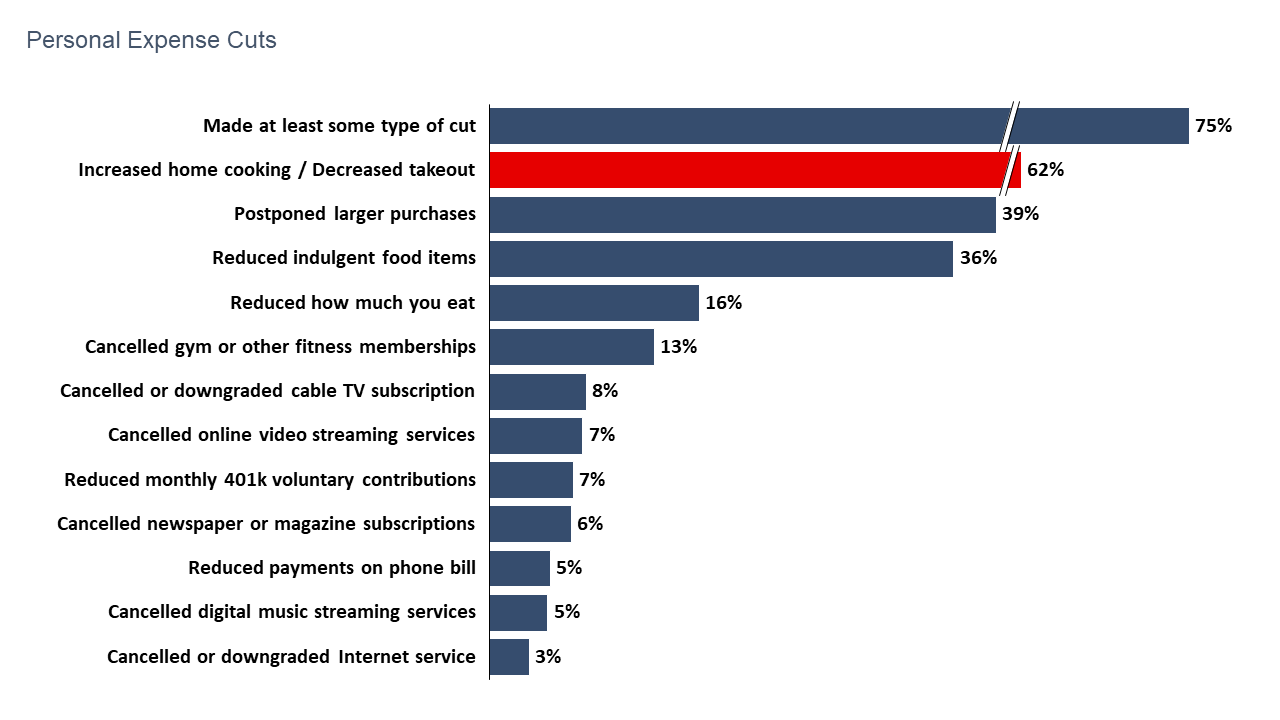 Guest Perspective on Social Distancing
New findings from Sense360's research on COVID-19 reveal consumers on their opinions of social distancing and what types of retailers they want to see reopened. Here is an overview:
Social Distancing policies are expected by most people at different points throughout the process of procuring food at retail or restaurants, specifically while waiting in line to pay or to get into the establishment due to capacity management.
About one third of people live in parts of the country where restrictions are still in place. Of the remaining two thirds, most still have only limited businesses open and 14 percent of them say they're going to continue to shelter in place despite the loosening of restrictions.
They asked people the establishments they expect should be re-opened across four types of retailers/locations:
Health & Body: About 40 percent think that barber shops and salons should open
Shopping & Consumption: People think that non-food shopping and non-grocery retail should be able to be opened. Only one quarter of people think that dine-in restaurants should be re-opened. And ~10 percent of people think bars and nightclubs should re-open (ranked last).
Large Public Gatherings: Less than 20 percent of people believe that large public gatherings should be allowed, and only one in six think that classrooms and schools should re-open.
Outdoor Spaces: More than 1/2 believe that parks and trails should be re-opened.
One sixth of people believe that none of these locations should be re-opened.
People are most inclined to believe that outdoor spaces and personal care locations like salons and elective medical services should be able to reopen.
Post-COVID Restaurant Visits
BentoBox polled 500 Americans about their views on visiting restaurants post-COVID. Among the highlights:
Eighty-eight percent of Americans think restaurant staff should be required to wear masks and gloves
Providing hand sanitizer and posting written statements describing cleaning procedures are the most important things that restaurants can do to make patrons comfortable
A majority of respondents are willing to pay extra for increased health and safety precautions in restaurants
Respondents' top worry is the cleanliness of their table and food
Eighty-two percent of Americans plan to continue to use online ordering for pickup and delivery after the economy reopens
Seventy-three percent have concerns about touching reusable menus
Some of this data hints at how restaurants might need to adapt going forward, by limiting diners' encounters with waitstaff, relying on contactless payments, encouraging digital pre-ordering, and potentially offering single-use cutlery.
For more on this survey, click here.
Illustrating the Customer Journey
Architecture and design firm, NELSON Worldwide team created the following graphic to better illustrate the journey customers will be faced with during and after the pandemic.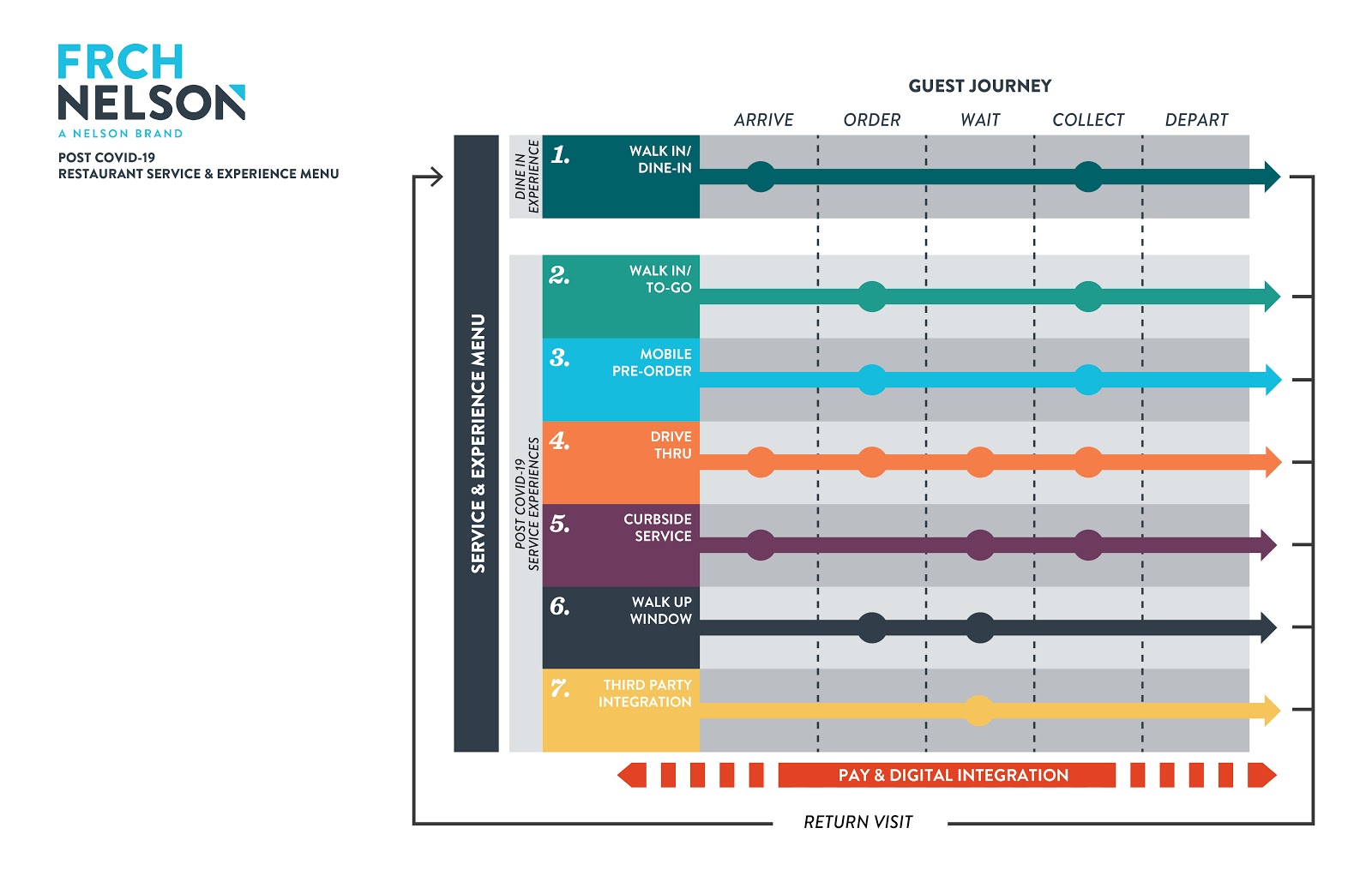 Engaging Beer and Wine
As consumers search for fun ways to stay connected while stuck at home, Amobee is releasing a study that assesses how people are engaging with beer and wine content online.
Key findings include:
Interest in Virtual Happy Hours spiked by over 260 percent in April
While ales continue to drive the largest engagement among beer types, users have been increasingly (+1.22x) interested in Pilsners
As interest in wine shifts away (-1.17x) from Merlot, more consumers are interested in Pinot Grigio (+1.23x)
Consumers have more interest in alcohol delivery than alcohol pickup ⁠— but those in reopening states show limited interest in delivery
To learn more, click here.
What Happened to Breakfast?
Pre-COVID-19, fast food breakfast was all the rage. How has the pandemic impacted this? Foot traffic analytics firm Placer.ai, compared the major quick-service restaurants with a focus on breakfast. They found traffic decreased across the board from 8 a.m. to 11 a.m. but, looking at specific times throughout the day paints a different picture for different brands, and in some cases, emphasizes their true strengths.
Wendy's was the only brand that saw a significant increase during the morning rush. Dunkin' Donuts, Starbucks, Panera, McDonald's, and Burger King all saw a decreased appetite for breakfast as fewer people ventured out.
A link to the full report can be found here.
Signs of Hope
Shift4 Payments detected a steady increase in merchant transaction volumes nationally as compared to the lows observed in March.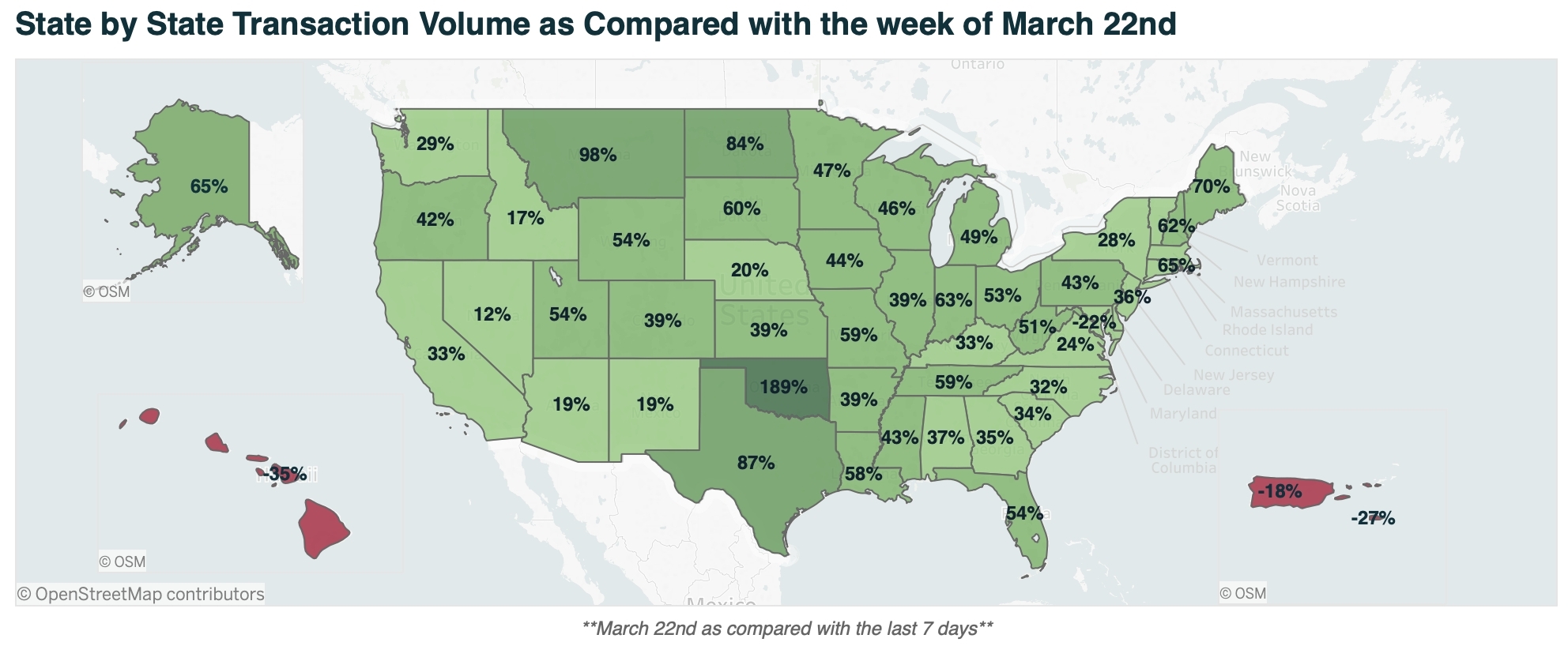 Shift4's data reveals that the restaurant industry experienced a 45 percent increase in payment transactions in the last seven days versus the week of March 22nd, when volumes plunged to their lows. With travel still severely limited, transaction volume for hotels continues to remain muted with only a 3.9 percent increase nationally, yet these levels have stabilized and are not decreasing further. Shift4's index for all industries outside of hospitality shows an impressive 62 percent increase during April and into May, suggesting many businesses are beginning to conduct commerce again.
States leading the increase in payment transactions since March lows include Oklahoma (up 189 percent), Texas (up 87 percent) and Florida (up 54 percent). Shift4 Payments anticipates this data will continue to evolve as states take further steps to reopen their economies.
"We're very encouraged and pleased to see the transaction activity of our merchants pick up during April and into May," said Jared Isaacman, CEO of Shift4 Payments. "With restrictions beginning to ease nationwide, we see meaningful signs of hope that the worst of the pandemic is behind us and we can steadily turn our attention to helping these businesses, especially in the hospitality industry, get back on their feet."
What Consumers Want to Do
As states "open up," consumers are envisioning activities for the time social-distancing rules get lifted.
"I've been telling friends that after three months of social-distancing," said Robert Passikoff, president of Brand Keys, "The first thing I want is to sit at a restaurant table and have someone serve me a turkey club and fries."
Apparently, a majority of coronavirus captives agree. Sixty-two percent (62 percent) of 1,000 survey respondents indicated the first thing they'll do is eat in a restaurant. This was the top craving identified in the sixth wave of the Consumer Coronavirus Behavior research conducted by TheCustomer (www.thecustomer.net), Brand Keys (www.brandkeys.com), the New York-based brand loyalty and customer engagement consultancy, and Suzy (www.suzy.com) the on-demand research software platform.
"It's both a social release and a domestic relief from having to prepare your own meals or ordering in," noted Mike Giambatista, publisher of TheCustomer, the weekly newsletter covering intelligence from the customer insight universe. "Three months ago, cooking and baking were both a novelty and a necessity. Now they've become a chore. People are reminiscing about eating out, which is great news for the restaurant industry since, next to the Federal government, restaurants are the second-largest employer in the United States.
After a meal out, 58 percent of the sample expressed a desire to visit a barber shop or beauty salon, with an equal number of respondents wanting to go shopping. "There's been an enormous jump in DIY haircut videos on the Internet," said Passikoff. "And an equal number of posts with people sharing some truly awful amateur home-cuts. As to shopping, with virtually every closed down, consumers just want to go somewhere that's not a pharmacy or grocery store."
"The trade-offs are interesting," said Giambatista. "Although some are self-evident, given the circumstances, they are completely comprehensible." Consumers are twice as likely to do the following:
Eat at a restaurant (62 percent) versus participating in outdoor sports or recreational activities (31 percent)
Visit a barber or beauty salon (58 percent) versus working out at a gym (29 percent)
Go shopping (58 percent) versus having drinks or cocktails at a bar (30 percent)
Travel domestically (35 percent) versus travel internationally (18 percent)
Get together with friends (56 percent) versus going to a live performance or concert (24 percent)
In Babbage Pulse report, 63 percent of Americans believe that shelter-in-place orders are still necessary while only 3 percent believe that that they are not necessary. However, 56 percent of respondents are most looking forward to going to a restaurant with their family. The next largest category was 43 percent looking forward to going to a grocery store that is properly stocked.