MRM Research Roundup: Mid-June 2021 Edition
13 Min Read By MRM Staff
In this edition of MRM Research Roundup, we have news of a possible-robust recovery for restaurants, home delivery and top food delivery apps.
Surge in Diner Demand
Yelp Data shows restaurants are reopening amidst a surge in diner demand. Yelp found more than 3.7 million diners seated via Yelp* in May 2021 – the highest ever, surpassing pre-pandemic highs. In fact, the number of diners seated via Yelp was up 48 percent in May 2021 compared to May 2019. They saw a similar increase in diners seated in April 2021.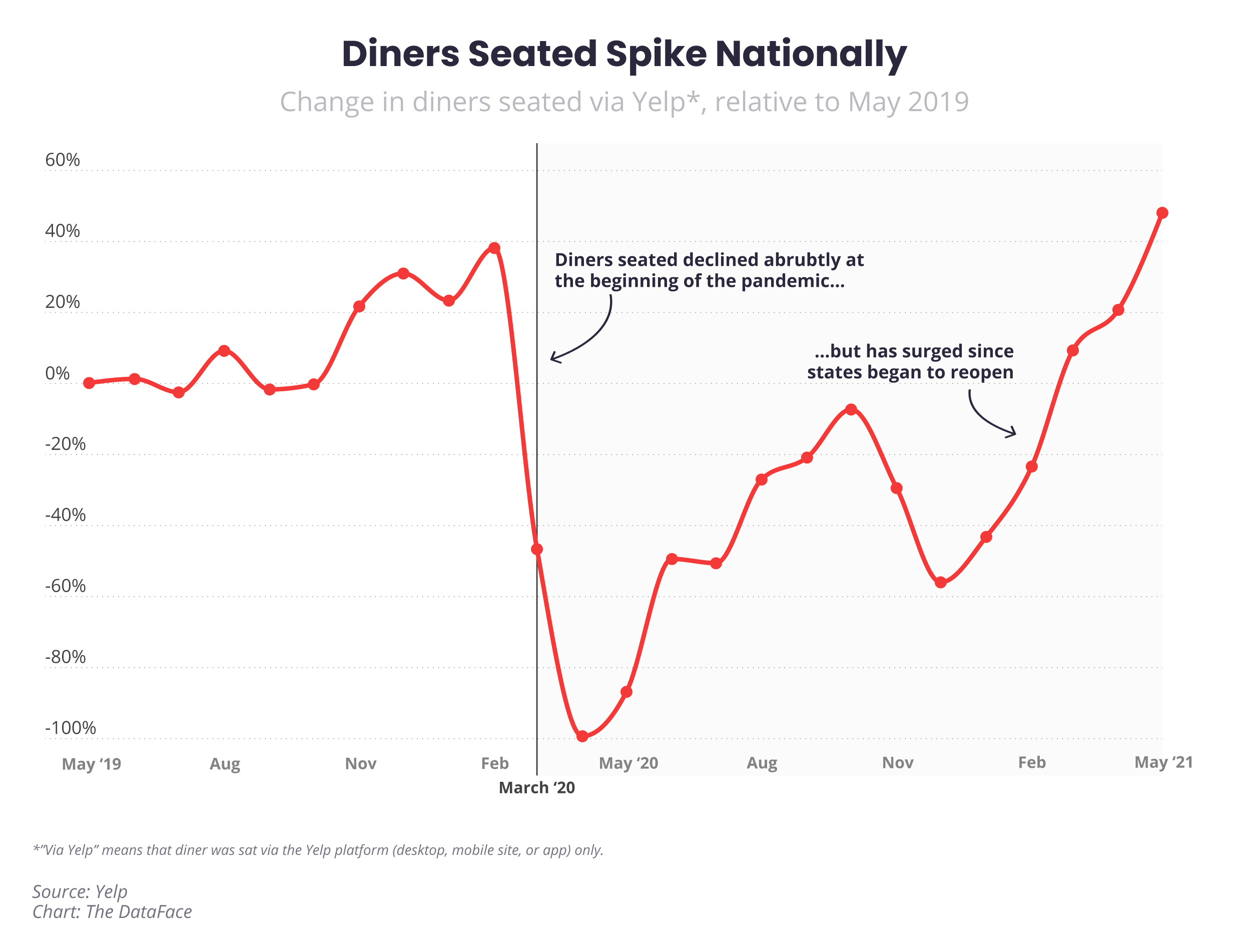 As diners head back into restaurants, new restaurant and food businesses are opening at near pre-pandemic levels. Nearly 6,600 new restaurant and food businesses opened in May 2021, a 42 percent increase from May 2020 and down by only 21 percent from May 2019.
Yelp data also shows a significant spike in food and restaurant business reopenings, with nearly 16,500 reopenings in April 2021 — the highest since April of 2020 – and leveling out with more than 5,000 reopening their doors in May 2021.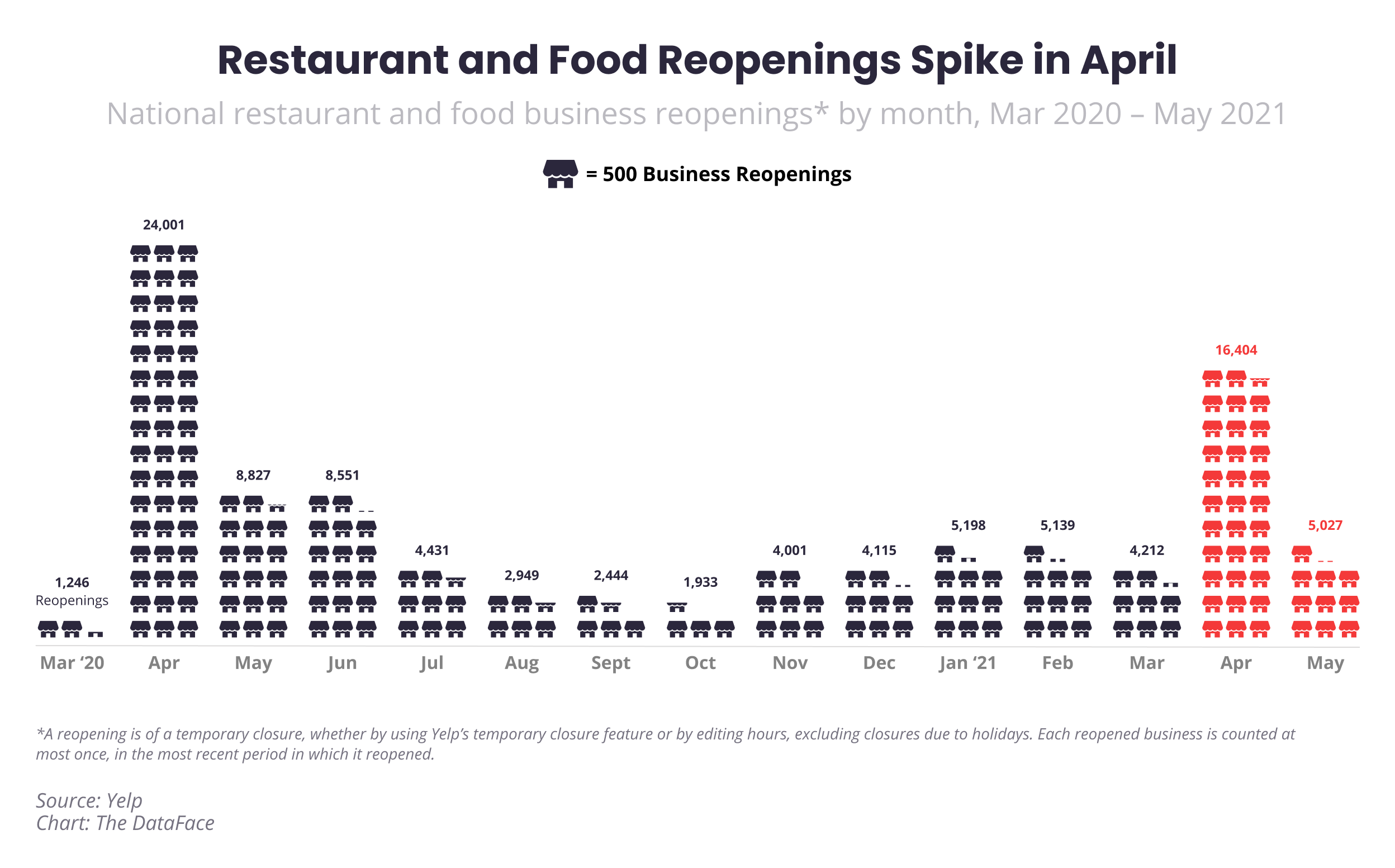 Wyoming and Idaho had the highest increases in diners seated with both states up more than 1,000 percent in May 2021 compared to May 2019. Other states where we saw huge spikes in diners seated include Nevada (up 513 percent), Delaware (up 422 percent), Alabama (up 386 percent), Mississippi (up 364 percent), Hawaii (up 335 percent) and Colorado (up 321 percent). Notably, Texas, which was one of the first states to lift mask mandates and reopen businesses to 100 percent capacity, has seen a spike with diners seated via Yelp up 143 percent compared to May 2019 — specifically, Houston (up 213 percent), San Antonio (up 200 percent), Dallas (up 126 percent), and Austin (up 85 percent) are all seeing significant rises in diners going back to restaurants.
While some larger metros are still behind in diner volume, we are seeing many other cities bounce back and perform better than in pre-pandemic months, even after many experienced a second dip in the winter when COVID-19 cases increased. Cities that have seen a huge spike from May 2021 compared to May 2019 include Honolulu (up 853 percent), Las Vegas (up 589 percent), and Denver (up 320 percent), among others.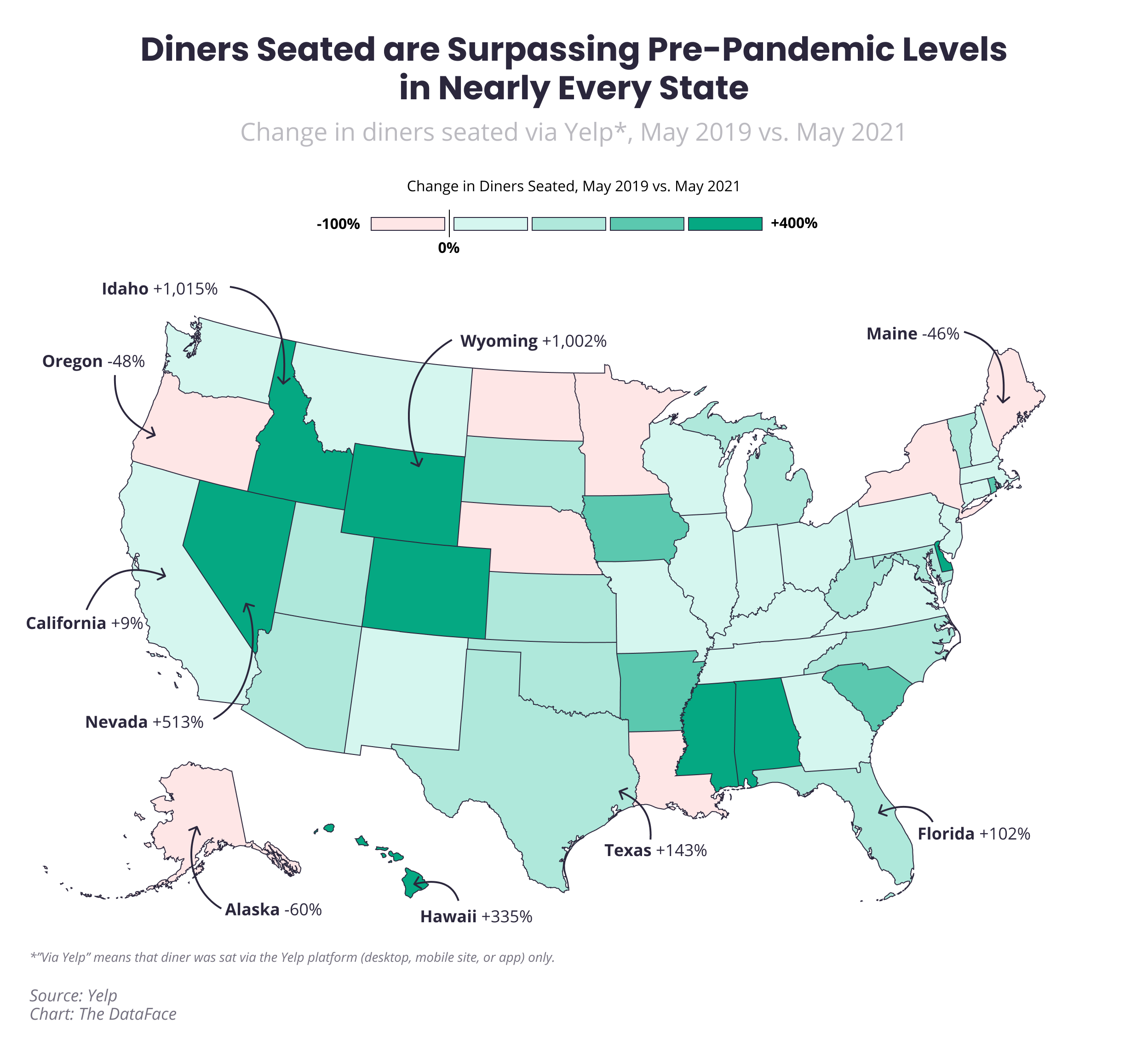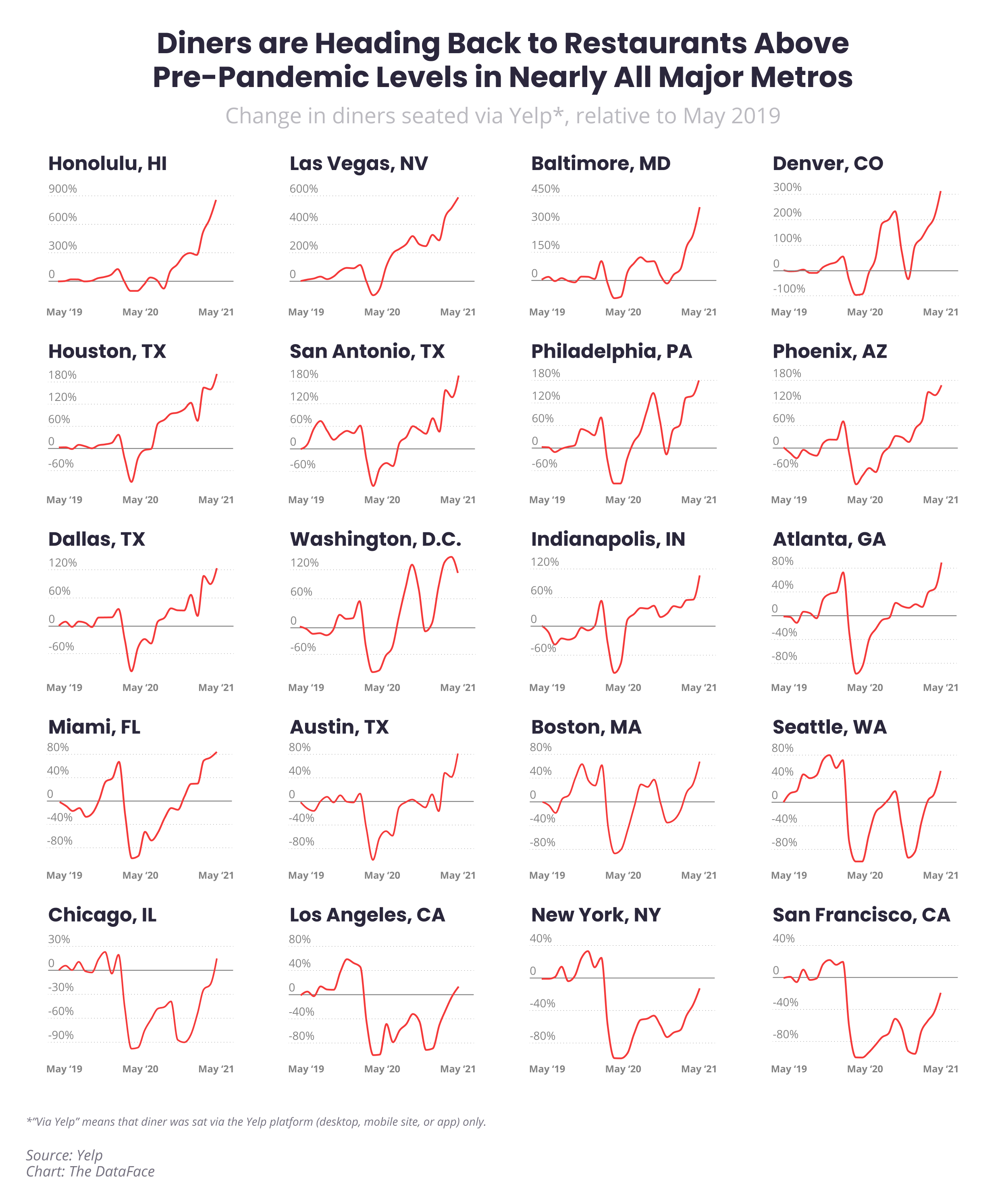 Returning to On Premise
The latest On Premise consumer research from CGA, based on a survey (from June 4 – 7) of more than 1,600 consumers within Florida, Texas, California and New York on their expectations, desires and how they plan to behave in the next two weeks. The latest report reveals behavior and intent of consumers in areas including path to purchase, cocktail ordering, RTD consumption and takeout/delivery.
Among consumers who have visited the On Premise since reopening, 73 percent have visited for food-led occasions and 35 percent for drink led occasions in the past two weeks
There is a positive outlook for future visitations as almost 3 in 4 consumers are planning to visit the On Premise to eat and almost 2 in 5 to drink in the next two weeks
State of residence is no longer such a major factor affecting the number of consumers planning to visit the On Premise. This coincides with the easing of restrictions; vaccinations continuing and reopening becoming more prevalent across the U.S.
Consumers 55+ are now driving the return to the On Premise for food led occasions, showing a large increase compared to 6 months ago, whereas under 55s still drive the return for drink led occasions
77 percent are spending the same of more than pre-COVID-19
Soft drinks and beer lead the way with categories drunk in bars and restaurants since returning to the On Premise
The frequency for ordering takeaway has remained consistent and looks like it will remain the same in the near future, with over 3 in 5 planning to order takeaway with food and 15 percent with alcohol in the next two weeks.
Drink and brand choice is driven by habits for many. 49 percent of consumers have chosen the same drink categories which they always choose. In addition, half of consumers only choose brands they are familiar with and trust
Three in five consumers have purchased premium drinks/brands since returning. Spirits dominate the top 7 premium drink categories purchased
73 percent of consumers have purchased value drinks/brands in the On Premise, with RTDs and low/no alcohol leading the way
Those visiting the On Premise prefer having a physical menu, with almost half agreeing if they have to order through an app it would prevent them from ordering
When ordering drinks, almost 3 in 5 prefer ordering through table service. Consumers preferred menu type is reusable menus followed by single use/paper menus, digital options are significantly less popular
Three in five cocktail drinkers look at the cocktail menu every time/almost every time before ordering a drink. Along with 2 in 5 being likely to choose a signature cocktail if available
A notable proportion of cocktail drinks interact with staff/ bartenders with over a third asking bar staff for recommendations before ordering. This shows bar staff play a key role in cocktail sales in the On Premise
Two in three consumers are aware of the term RTD referring to hard seltzers, canned cocktails, canned wine etc, although 27 percent of consumers are unaware of the term
Among On Premise visitors, there is near parity across the different types of RTD typically consumed with pre-mixed cocktails, since serve wine, spirit with mixer and hard seltzers only showing a 4pp difference between the most and least popular
Matthew Crompton, CGA Client Solutions Director, Americas, said "As the data shows, the On Premise consumer is now more fluid than ever and understanding their habits and motivations will prove vital to brands who will win in the space. Preference to drinks, brand choice, path to purchase and bar tender advocacy are changing and CGA has the ability to deliver consumer insights not only at the top line level but also for specific national accounts and demographics – all whom behave very differently."
The latest On Premise Impact Report by CGA, along with other special reports issued over the past several weeks, can be found here.
DoorDash Deep Dish
DoorDash, unveiled their second annual mid-year trend report, the DoorDash Deep Dish, which takes a look at popular food trends, how users are celebrating special moments, and what trends are here to stay post pandemic.
Using order data from January 1, 2021 to June 1, 2021 and a national consumer survey* that polled 2,000 Americans, DoorDash's mid-year report checks in on popular food trends, nationally and regionally, how users ate through social distancing, cravings across the country, and what they're most looking forward to doing and eating now that social distancing restrictions are winding down, along with other interesting and unique insights as we move past the halfway mark of this year.
The DoorDash Customer in the First Half of 2021
As we settled into the new year, customers grew comfortable with treating themselves at home, whether that be indulging more in snack time or ordering in their favorite health and wellness items.
● The convenience of convenience: Snacking orders are more popular in 2021 with an order increase in items such as glazed donuts (501 percent increase), sweet tea (284 percent increase) and sour cream and cheddar potato chips (112 percent increase). As vaccines became readily available in March, we also saw an increase in items like electro-lyte based drinks (112 percent increase) and aspirin (49 percent). Plus in the first quarter of 2021, DoorDash's non-restaurant orders climbed more than 40 percent from the fourth quarter of 2020.
● Staying Healthy and Happy: Health and wellness products are on the rise with a large surge in shampoo (1233 percent increase) and conditioner (1339 percent increase), in addition to tampons (686 percent increase), condoms (286 percent increase) and vitamins (254 percent increase)
● $2,955: The most money spent on a single order in the past six months was $2955 which included 35 luxury perfumes.
Every Occasion is Worth Celebrating in 2021
After a year of diluted, virtual or canceled plans, customers are finding much more to celebrate and enjoying the simplest of life's pleasures. Celebrations and generosity are on the rise, leading to more gift-giving: 65 percent of Americans say they're more likely to celebrate birthdays or holidays with family and friends in 2021 compared to 2020.
Top 10 States Feeling the Most Generous (in order of highest Gifting orders):
California
Texas
New York
Florida
Ohio
Illinois
Georgia
Pennsylvania
Virginia
North Carolina
Habits that are Here to Stay
● Local is where the love is: Americans' support for both local and Black, Asian-American and Women-owned owned business is strong and will continue throughout the year: 95 percent of Americans supported local businesses in 2020 and 91 percent supported Black Women-owned, or Asian-American- owned businesses in 2020.
● On-Demand Remains in Demand: 65 percent of Americans report they'd rather give up social media than never be able to get an item delivered again.
Habits on the Rise: What we are expecting to continue to see more of in the second half of 2021
Catching Flights and Feelings? 91 percent of Americans plan to do more of at least one major type of activity as the pandemic winds down, with 68 percent planning to visit new places.
Every Flavor Welcome: 63 percent of Americans report planning to try new restaurants, with 47 percent saying they plan to try new foods in general.
More Fun Calls for More Food: Top 10 Foods on the Rise as Customers begin to gather again
Chocolate Shake (440 percent increase)
Chicken Nuggets (410 percent increase)
Cheese Pizza (362 percent increase)
Spicy Chicken Sandwich (286 percent increase)
Beef Burrito (248 percent increase)
Hot Sauce (201 percent increase)
Blueberry Muffin (161 percent increase)
Bacon Cheeseburger (113 percent increase)
Nachos (103 percent increase)
Sausage and Egg Sandwich (107 percent increase)
New year, same comfort foods: Top 10 ordered items of the past six months
French Fries
Quesadillas
Iced Coffee
Boneless Wings
Chocolate Chip Cookies
Pad Thai
California Roll
Caesar Salad
Chicken Tikka Masala
Chili
Who is Dining Out?
New dining research from Feedback Loop, which is a follow up to the company's COVID-19 Dining Report finds that even with dining restrictions 100 percent lifted in 29 states, there's still nearly 20 percent of Americans that are on the fence about eating at restaurants.
Among the findings from the new research:
Gen Z is leading the back-to-dining charge, while younger Boomers are just coming around to it. Eighty-two percent (82 percent) of respondents ages 18-24 are ready to eat out (up from 70 percent in December 2020), while 67 percent of respondents ages 55-64 are willing to eat at restaurants (compared to just 41 percent who said the same in December 2020).
Men would rather stick to the outdoors. Forty-seven percent (47 percent) of male respondents prefer to dine outdoors only, compared to 37 percent of female respondents that prefer the same.
Lower income households are more likely to dine indoors. Only 38 percent of respondents with household incomes (HHI) less than $75K prefer an outdoor table, compared to 54 percent of respondents with $75K+ that prefer an outdoor table.
Lunchtime Break

In advance of National Take Back the Lunch Break Day on Friday, June 18, Tork today conducted research to understand the consumer mindset when it comes to lunchtime behavior during the workweek as well as thoughts on takeout and delivery to create:
Among the highlights:
59 percent of people are more likely to order from independent restaurants. Half of them are doing so because they feel these businesses need more support.
People reported ordering takeout or delivery during the workday because of time savings (51 percent), as well as the fact that they feel happier when they take a lunch break when working (94 percent).
44 percent of people who order takeout or delivery during the workday feel good supporting local restaurants.

Geography Matters in Recovery
Geography matters when it comes to pandemic recovery for U.S. restaurant chains. A mix of factors, like pandemic-related restaurant restrictions, the closing or opening of units, or chain performance, even the weather or event, can impact restaurant chain customer transactions in a specific market area, reports The NPD Group. For example, restaurant chain customer transaction declines in the Dallas-Fort Worth (DFW) designated market area improved from double-digit declines last year to -4 percent in May 2021 compared to May 2019, a pre-pandemic basis of comparison. DFW ranks in the top 10 markets to recover from the steep customer transaction declines caused by the pandemic last year. In addition to Texas lifting COVID restaurant restrictions in March, the market's May customer transactions reflect new restaurant units opening and a +10 percent increase in fast casual chain transactions compared to a year ago, according to NPD's CREST® Performance Alerts, which provides a quick weekly view of chain-specific transactions and share trends for 75 quick service, fast casual, midscale, and casual dining chains representing 53 percent of the commercial restaurant traffic in the U.S.
In addition to the DFW market, other top market areas showing improvements in restaurant chain customer transaction declines in May are Atlanta, GA.; Birmingham, Alabama; Salt Lake City, Utah; and Orlando, Florida. All these markets are in areas where restaurant restrictions had been eased or lifted as of May, and fast casual chain customer transactions grew.
The recent increases in fast casual chain restaurant transactions were an improvement from the beginning of the pandemic when fast casual restaurants didn't do traditional quick service restaurants. Traditional quick service restaurants were well-equipped before the pandemic to handle off-premises operations, like carry-out, delivery, and drive-thru. Most fast casual chains, which relied more heavily on dine-in and didn't have drive-thru operations, were not. As fast casual chains quickly pivoted to focus on off-premises operations and restrictions were eased, their situation improved. In May 2021, total U.S. fast casual chain customer transactions increased by +2 percent compared to May 2019, and customer transactions grew over the May 2019 levels in 30 of the top 50 markets. Total U.S. restaurant chain customer transactions across all segments declined by -9 percent in May 2021 compared to May 2019.
Home Delivery Evolution
It's no secret that the home-delivery industry has been tested like never before during the pandemic. But a consumer survey released by AlixPartners, indicates that in many ways the testing has really just begun.
The AlixPartners 2021 Home-Delivery Survey, which polled more than 1,000 U.S. consumers in late March and early April, just as pandemic-related lockdowns were beginning to ease, finds that post-restrictions a full third, 3 percent, of Americans plan to keep buying clothing online and a full quarter, 25 percent, plan to keep buying groceries that way—and that online purchases in many other product categories are expected to remain at elevated levels as well. In other words, while the pressure on shippers and fleet operators may ease somewhat as the pandemic hopefully eases, it certainly isn't going away.
Moreover, the AlixPartners survey finds that only 19 percent of consumers are willing to pay even as little as $5.00 for same-day delivery of groceries, and that a whopping 81 percent say that free product returns for products in general are "important" or "very important" to them—while 27 percent say their most-common reasons for returning products is damage in shipment.
Among other challenging findings for the home-delivery industry—and for the retail and consumer-products industries—unveiled in the survey:
Consumer interest in in-home installation or services for items purchased online is up versus a similar AlixPartners' a year ago in six out of seven large-product categories, including for large appliances, large electronics, home furnishings, home-improvement/hardware items, health and medical supplies (up the most, 10 percentage points), and toys and bicycles.
Americans are more interested in purchasing durable products online to begin with, with more consumers this year than in last year's survey saying that in the next 12 to 18 months they plan buy large appliances, "big-and-bulky" home-improvement items, large electronics, and furniture via the internet. The biggest year-over-year jump was in home-improvement products—up 46 percent versus last year's survey results—perhaps indicating that the pandemic-fueled home-improvement boom is showing little signs of fading, nor the delivery challenges associated with it.
In general, consumers now expect delivery to their door average just 3.3 days, down from 3.8 days in the firm's survey of a year ago (and down from 5.5 days in its survey from 2012).
Consumers report that 5.4 percent of all their online orders are now being delivered on a same-day basis, up from 4.4 percent in last year's survey, and that in the past 12 months they've employed home delivery more often than they said they did in last year's survey in every product category asked about—apparel & footwear, food/groceries (which was up 37 percent versus last year's survey), cleaning supplies, books/media, pet supplies, cosmetics, small electronics, and health & medical supplies (up the most, 45 percent).
Top Food Delivery Apps
BestApp.com announced the best food delivery apps of 2021. The top-rated solutions were selected based on core features like fee structure, transaction functions, and pickup options.
The delivery systems were required to offer flexible forms of payment, such as subscription or one-time purchase. Experts at BestApp.com examined platforms that allow users to make cashless transactions by using debit cards, credit cards, or ACH processing. The final list also prioritized apps that support order pickup for customers that want to avoid delivery charges or need faster service.
"Many people enjoy the convenience of ordering food online, but the pandemic made food delivery apps a necessity for most," says Josephine Miller, Communications Manager at BestApp.com. "Our comprehensive guide can help consumers discover the best apps with flexible transaction features."
The top three picks from the leading food delivery platforms are DoorDash, GrubHub, and Uber Eats. The guide also includes a summary table for users to compare best features and average in-app purchases. To access the complete list of best food delivery apps, click here.
Best Food Delivery Apps of 2021
DoorDash — Top Pick
Grubhub— Best Selection of Restaurants
Uber Eats — Best Premium Free Trial
Postmates— Best for Big Cities
Delivery.com — Best for Group Orders
Gopuff — Lowest Monthly Fee
Instacart— Best for Grocery Delivery
Seamless — Best Rewards Program
ChowNow — Best for Restaurant Owners
Caviar — Best for Discovering New Restaurants
Reticent Optimism
Vericast shares new insights for marketers from its Valassis line of business that provide a noteworthy glimpse into consumers' cautious optimism about the year ahead.
Based on responses from over 1,000 U.S. adults about their current circumstances and behavior as well as their outlook, a majority believe that life will get better and return to some kind of normal in the coming year. Most are expecting the changes resulting from COVID-19 to remain and have adapted their shopping behaviors and lifestyles, according to findings shared in the 2021 Consumer Optimism Outlook Study.
Of course, there is nuance to this generally positive outlook, with consumers divided along generational lines. Baby boomers represent the smallest share of respondents who are optimistic that life will return to normal this year (39 percent), while 55 percent of millennials and 59 percent of millennial parents feel that it will.
The Consumer Optimism Outlook also reveals new shifts in brand loyalty, confirming that consumers increasingly want to feel a sense of consistency and trust with the brands they choose to purchase from. The share of consumers that said they are more likely to purchase from a brand or store they trust has significantly increased from 71 percent in 2019 to 76 percent in 2021. Corporate social responsibility (CSR) efforts and sustainability matter now more than ever as well, with 54 percent of respondents saying they are more likely to be loyal to a brand that has sustainable and ethical business practices.
"Consumers want to be optimistic, but at the same time, there's reticence," said Sarah O'Grady, Vice President of Brand Marketing at Vericast. "To successfully engage with consumers in their current state of mind, brands should offer them familiarity, authenticity and meaningful savings due to the economic disruption caused by the pandemic. Digital will continue to grow in importance, but so will the value of personal connections. Marketers can win with messaging rooted in humanity, via channels that cut through the noise in the moments that matter."
Additional takeaways from the study include:
Economic disruption is affecting consumer outlook and spending
Nearly half of consumers said their income was negatively impacted by COVID in 2020 and the vast majority of those expect the impact to continue in 2021.
There was an increase from 23 percent in 2020 to 31 percent in 2021 in the number of consumers who consider themselves price-conscious while shopping for consumer packaged goods (CPG) and groceries.
A majority (72 percent) of consumers increased their saving behaviors during COVID and almost all of them plan to continue the habit.
With money tight for many consumers, communicating with deals, savings and benefits will be key.
Consumers have acclimated to life at home and staying local
Almost two-thirds of consumers said they are content with staying home more and 61 percent are watching more streaming videos and TV shows.
65 percent of consumers feel it's important to support local restaurants.
Marketers should focus efforts on engaging with consumers in home through channels like direct mail, Connected TV (CTV) and online, with offers that are nearby and local.