MRM Research Roundup: Mid-June 2020 Edition
18 Min Read By MRM Staff
This edition of Modern Restaurant Management (MRM) magazine's Research Roundup features recovery data and shifting habits of diners.
On the Road to Recovery
According to the latest report from Tripadvisor, which outlinines the road to recovery for the travel and dining industry, restaurants are showing the first signs of recovery, leading the way for hospitality businesses. As stay at home orders are lifted, consumers will begin visiting restaurants and businesses locally while practicing social distancing.
Over the past two months, searches on Tripadvisor restaurant pages have been consistently trending upward (see attached graphic for reference). New Zealand was the first to record a strong trend towards recovery, in correlation to its success in containing the spread of the virus to date. Traffic to restaurants in other markets, including the U.S., Australia, and Spain have since followed a similar upward trend, as those markets also begin to ease local travel restrictions
As for returning to restaurants, less than half (42 percent) of consumers say they will dine-in at restaurants just as they did prior to the pandemic. Around one in six (16 percent) will avoid dine-in experiences altogether in favor of delivery or take-out.
Diners' main concerns about visiting restaurants again include cleanliness and safety. More than a third of consumers (35 percent) say they will put an emphasis on dining at restaurants that keep customers safe. Businesses that can rise to the challenge of new consumer expectations around cleanliness and hygiene stand to benefit most from early increases in spending.
Return to On-Premise
Interesting results from the latest on-premise research from Nielsen CGA, based on a survey of 1,600 consumers (from June 5-7) within California, Texas, New York and Florida about their most recent on-premise habits.
Return to on-premise
30 percent of consumers have been out to eat in bars/restaurants to eat in the last two weeks.
Pre-COVID-19, approximately 82 percent of total U.S. consumers visited bars/restaurants for a meal at least once every two weeks, revealing there is still much more capacity to fill.
12 percent of consumers have been out to drink in bars/restaurants in the last two weeks
Of those who have returned to the on-premise, 20 percent have visited just once, while 38 percent have done so twice.
Promisingly a large number have had a high frequency of visits; 42 percent of consumers have visited 3 times or more in the last two weeks
Those who have not returned to eat or drink said the biggest concerns are not feeling safe being in close proximity with strangers in these places (45 percent) and not feeling safe going out at the moment (41 percent)
Effect of Protests
Nielsen also consulted consumers on the impact recent protests have had on their decision to go out to the on-premise.
57 percent remained unaffected
35 percent decided not to go out due to the protests
8 percent said they went somewhere different than planned
July 4 Preview
Of those who plan to celebrate July 4 this year:
49 percent plan to celebrate at home
14 percent plan to celebrate in bars/restaurants
Food and Alcoholic Delivery
There remains a high uptake of food delivery across the four states, with 67 percent of consumers having ordered take-out/delivery of food in the last two weeks, and 14 percent a delivery with alcohol. The most updated On Premise Impact Report by Nielsen CGA, along with other special reports issued over the past several weeks, can be found here: http://nielsencga.com/covid-19/.
Consumer Sentiment
TableYeti releaed its first survey on the sentiment toward dining out when establishments reopen following the coronavirus lockdown.
The survey shows some really positive and interesting insights around how customers expect their behaviours to change post lock down including:
Guests are willing to spend between 10 percent-25 percent more on dining out.
Guests are willing to tip between 10 percent-25 percent more when dining out.
Displaying what hygiene measures you've taken to keep guests safe is a must.
Compulsory hand sanitisers when entering will go down very well.
Having team members wear PPE won't put guests off from attending your establishment.
With a strong swing towards sustainable restaurants coming, it could well be time to think about how you can make your establishment as sustainable as possible.
Restaurant Performance Data
Revenue Management Solutions (RMS) surveyed insights from more than 100,000 locations in more than 40 countries.
In this report, RMS segmented by day part and product category, which might inform how eating is changing permanently. The full report is here. Insights are based on data from US locations of which 95 percent of total locations are QSR, the remaining 5 percent are table service. The data is split by the following: breakfast, burger, chicken, ethnic and other (sandwiches, dessert/snack).
Daypart Performance:
Overall 'lunch' and 'dinner' occasions declined least and 'late dining' & 'breakfast' most, mainly as more people worked from home
Lunch and dinner traffic overall is down YOY by 15-20 percent, but YOY sales have crossed back into positive YOY figures since mid-April. Sales are leveling at +15 percent for lunch and +10 percent for dinner
Breakfast traffic YOY is between negative 30-35 percent. YOY breakfast sales leveled at around negative 15 percent.
Breakfast Performance by Concept:
'Chicken' brands started showing positive YOY breakfast sales at the end of April, and performs best of all categories in the breakfast day part, at -10 percent YOY traffic and YOY sales around +10 to +15 percent. It is followed by 'other' category, which is posting -20 percent YOY traffic, and YOY sales around +10 percent
Lunch Performance by Concept:
Lunch traffic is trending in the negative YOY category except for (surprisingly) in the 'breakfast' category. Traffic began trending positive for 'breakfast' concepts in mid-April and remains at approximately +20 percent YOY, YOY sales are trending at +50 percentYOY
'Chicken' concepts traffic has been trending even with last year's lunch traffic numbers (0& YOY) since end of April YOY sales are at around +30 percent
Dinner Performance by Doncept:
All concepts are seeing positive YOY dinner sales trends, 'Chicken' brands are the clear winner with +25 to +30 percent sales and traffic at about even with last year
'Other' ranks next with -10 percent YOY traffic, and YOY sales around +5 percent
Dining When Safe
Rewards Network, together with American Airlines AAdvantage Dining and United Airlines MileagePlus Dining, surveyed over 1,300 loyalty members to better understand how consumers feel about dining at restaurants in the wake of the COVID-19 pandemic. The overall sentiment is that people want to resume dining out at restaurants only once they feel it's safe to do so.
According to the new findings, 60 percent of survey respondents said that they'll feel comfortable dining again immediately or within a few weeks at restaurants once dine-in restrictions are lifted as long as the restaurants are implementing standard safety precautions. And once they do, 64 percent of respondents said they will be dining out at the same frequency as before the pandemic.
The full report available here.
Pricing, promos, and rewards, oh my!
74 percent of respondents said they will be just as price-sensitive as before
37 percent indicate that they expect a rise in special offers and discounts from restaurants as they reopen
28 percent said it will be more important to receive rewards, while 66 percent say it's just as important as before, and 6 percent say it's less important
Health and safety when dining out – What matters most?
71 percent of respondents plan to rely on data, local ordinances, and guidance from health organizations as their main factor for determining it's safe to dine out again
69 percent of respondents said that socially distanced tables are their most important factor for dining out
62 percent of respondents answered that frequent sanitization of all surfaces would be their most important safety initiative
14 percent of respondents answered that the availability of a vaccine for the coronavirus will be the deciding factor in their decision to return to dining out
A return to normalcy: dining preferences and socialization – Which restaurant to choose?
69 percent of respondents answered they'll look to dine out at back at their favorite restaurants from before the pandemic.
Consumers on Tipping
Sense360's COVID-19 research conducted a survey on what's driving consumer behavior changes when it comes to restaurant tipping and visiting retailers. Here are a few highlights:
Tipping behavior hasn't changed too much during the COVID-19 era, though people are more inclined to use contactless ways vs. cash and ~1 in 5 are saying they're tipping more
35+ consumers are more likely to have not changed their tipping behavior at all
18-34 year olds are actually more likely to be tipping more
Recovery in Sight
7shifts launced a new data hub that shows real-time data from over 350,0000 restaurant users and 14,000 restaurants across the US and Canada.
Among the findings:
While sales initially dropped by 75 percent, they've recovered back to 41 percent
Sales initially dropped 79 percent but have since recovered to just 52 percent
Restaurant staff being scheduled has dropped by 40 percent
Ready for Contactless?
Rakuten Ready unveiled the Playbook for Creating Contactless Experiences, which shares additional insights on recent shifts in consumer buying behavior and how to implement an order for pickup contactless strategy that adapts to these changes.
Top Findings:
Over a third of respondents said they will not order from restaurants, grocery stores or retailers that do not have contactless pick up and delivery.
80 percent of respondents said they plan to wait at least one month to eat in restaurants after restrictions are lifted, with 50 percent saying they would wait at least 3 months.
Retail, grocery, and restaurant online order for pickup orders grew 201 percent in April 2020 compared to February 2020.
Consumers now rank visible contactless protocols as the #1 priority for feeling safe while picking up from merchants.
Predictive arrival technology was chosen by 65 percent of consumers as the technology they would most like to see implemented by merchants in order to spend less time in stores.
92 percent of respondents would order from a new restaurant they didn't know if it had a reputation for having good contactless solutions in place
Delivery Data
According to Valassis, in response to the ongoing pandemic, 20 percent of consumers have increased frequency of using restaurant delivery services and 29 percent of consumers have leveraged restaurant carry-out services more.
Consumers want variety: 73 percent of consumers make their restaurant decision before they open a third-party app, which means volume of variety and choice is essential for platforms.
The path to purchase is often very short – 77 percent of consumers are making their restaurant decision less than 30 minutes before they order.
Additionally, 63 percent of customers have changed their mind about what restaurant to order from because of a coupon or promotion presented to them while browsing.
Data attributed to App Annie, mobile data and analytics provider
March – April 2020 Global Food and Grocery Delivery app download rankings show Uber Eats ranked #1 and Grubhub ranked #8
COVID-19 has accelerated time-spent in apps – w/o April 5 showed a +55 percent increase in weekly hours spent in food/drink apps in the United States (compared to Jan. 2020)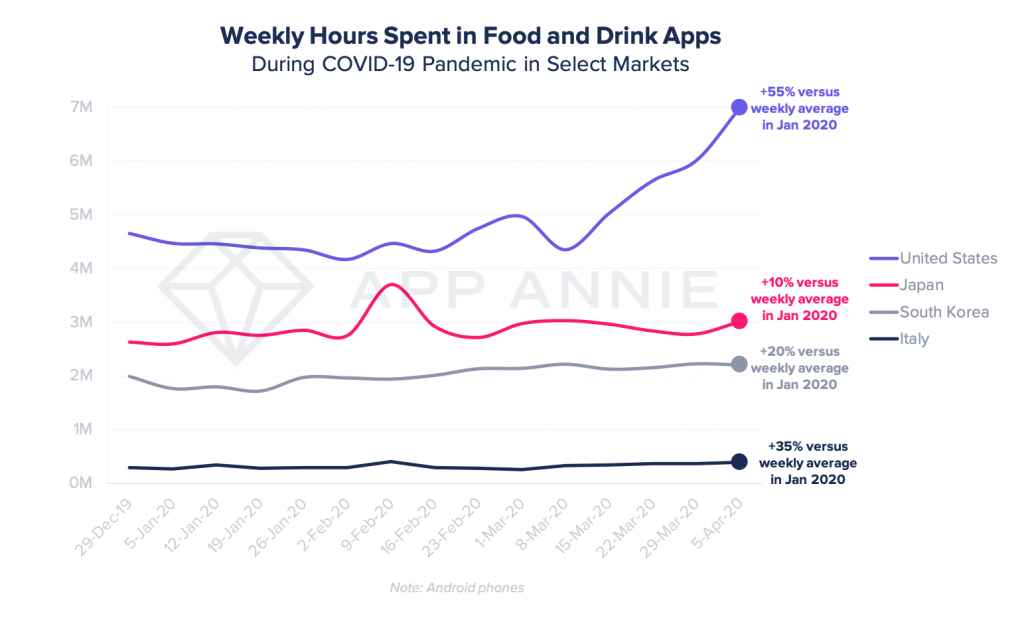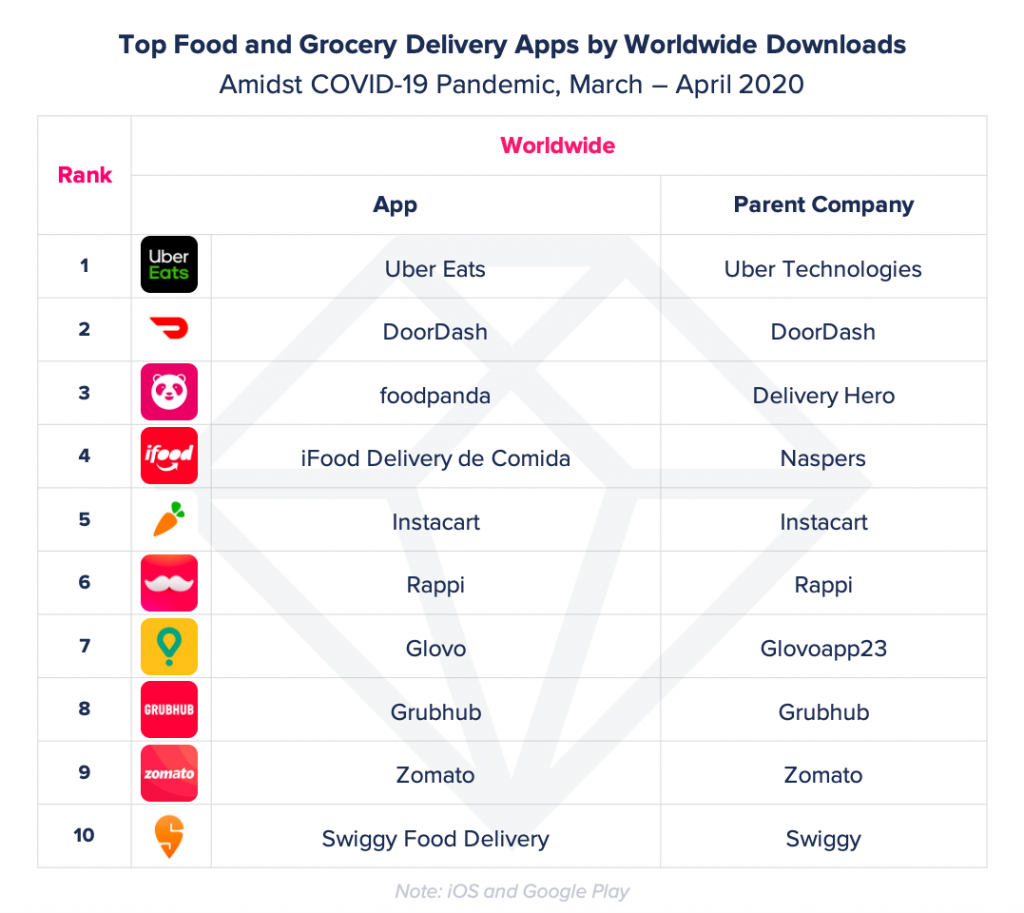 Shifting Dining Habits
A recent survey of consumers from across North America explored how habits are shifting and what food service businesses can do to address evolving customer expectations. Results show that cleanliness is the number one thing businesses can address to make customers feel safe frequenting their establishment, but quality comes up a close second. This is unlike the findings in the broader retail sector, where quality, speed, price and friendliness all dropped to the bottom of the list.
Intouch Insight, a leading provider in Customer Experience Management software and services, launched this study to help their customers and businesses at large better understand how to adapt as a result of the impacts of COVID-19. "As businesses continue on their path to re-opening, understanding how best to serve their customers could mean the difference between regaining traction, or falling short over the next few months," says Erin Fenn, Executive Vice President at Intouch Insight. "The results of the survey echo what we are hearing from our customers, and it's reinforcing the actions they are taking to move forward."
Key findings from the study:
● Take-out​ has been the most popular way to engage with a food service establishment, with ​85 percent of respondents​ engaging in this activity
● When ordering online for pick-up, ​78 percent of respondents report they prefer to pay online in advance​ as opposed to at the door at the time of pick-up.
● Full-service options are preferred over self-service​ methods for both coffee and prepared food purchases.
"When it comes to offering great customers experiences, making sure you are investing in the right areas of your business, like deploying adequate staff to each service option, or ensuring your online ordering capabilities are up to par, having the data to back up those decisions is key," adds Fenn. The full report, which covers the key findings above as well as a wealth of other insights into what consumers will be expecting moving forward, is available for download https://go.intouchinsight.com/food_beverage_survey_report_2020/​.
People Miss Restaurants
Cabin fever is very real, and that's especially true when living through a global pandemic like COVID-19. According to new research from faculty members in Temple University's School of Sport, Tourism and Hospitality Management (STHM) and the school's U.S.-Asia Center for Tourism and Hospitality Research, the ability to visit restaurants is one thing folks have greatly missed over the last few months. In fact, once COVID-19 is in the rearview, the research indicates that people might choose to dine out even more than they did prior to the pandemic.
A research team led by Lu Lu, an assistant professor in the school, and Robert Li, professor and director of the center, recently conducted a national survey which explored US consumers' travel intentions and expectations for hospitality business post COVID-19. Approximately 900 questionnaires were collected as part of the survey, which took a close look at respondents' experiences, attitudes and future intentions with regard to traveling and visiting hospitality-related businesses. STHM faculty members Laurie Wu, Yang Yang, Wesley Roehl and Lindsey Lee also helped lead the study.
"Although the pandemic has paralyzed our travel and hospitality industry in the past few months, it is exciting to know that consumption needs remain strong for the rest of 2020," Lu said.
The survey included individuals between the ages of 21-64 from across the country, and 57.4 percent of the participants had a college degree or higher while 94.6 percent had been sheltering-in-place during the pandemic. One key takeaway of the survey is that many respondents expressed a desire to immediately start visiting restaurants and eateries as much or even more than they did before March 2020.
Some of the businesses respondents seem most excited to visit include:
Quick service restaurants: 71.4 percent suggested "about the same" or "much more than before"
Casual and midscale: 62.8 percent suggested "about the same" or "much more than before"
Fine dining restaurants: 53.4 percent indicated "about the same" or "much more than before"
Coffee shops and bakeries: 66.5 percent suggested "about the same" or "much more than before"
The businesses or activities that gave respondents the most hesitation in the future were:
Night clubs: 55.3 percent suggested "much less than before"
Indoor concerts/performance/movie theater: 53 percent "Much less than before"
Week/month-long cruises (1-4 weeks): 55.7 percent "much less than before"
Restaurant Traffic
Zenreach utilized their network of in-store Wi-Fi access points to analyze just how much restaurants and bars have been impacted. Here were some of the key findings when reviewing foot traffic compared to last year.
The grave reality: Restaurant traffic in June is down roughly 58 percent compared to last year. Bars are still down 64 percent.
The upside: From the start of May to the start of June, restaurant traffic has increased roughly 32 percent. Showing a similar growth pattern, bar traffic increased 31 percent month-over-month.
On par with national retail trends: When analyzing retail traffic as a whole across the country, including shops and entertainment centers, the data showed similar results to what we're seeing with restaurants and bars. When we took a look in May, traffic was down 69 percent and the increase from the start to the end of the month was 17 percent.
Joy of Doughnuts
Doughnuts are good for celebrating with and commiserating with. Placer.ai, the foot traffic analytics firm, chomped into 2020's National Doughnut Day to assess the fried treat's success for retailers.
While Dunkin' Donut visits on National Doughnut Day 2020 were down by over 40 percent compared to the 2019 equivalent due to the pandemic, the day did mark a significant step forward. For the first time since March 14th, visits to Dunkin' Donuts were above the daily baseline for the period between January 2019 and June 8th, 2020.

A link to the full report can be found here.
Report highlights include:
Placer.ai notes that while doughnuts may not be the core of its offering, Starbucks has seen consistent week-over-week growth as visits pull ever closer to normal levels.
Placer.ai believes doughnuts might just be what these retailers need to fill the hole the pandemic left behind.
Changing Consumer Behavior
DISQO released a study this morning that assesses consumer confidence throughout the course of COVID-19. Key findings include:
28 percent of consumers plan to dine out soon, up by +460 percent since late April
Online shopping has decreased by 9 percent since its peak in early May (44 percent)
1 in 8 people are now spending less time at home than they were in May
You can find the full report here.
Cloud Kitchen Market
Allied Market Research published a report, titled,"Cloud Kitchen Market by Type (Independent Cloud Kitchen, Commissary/Shared kitchen, and Kitchen Pods), Product Type (Burger/Sandwich, Pizza/Pasta, Chicken, Seafood, Mexican/Asian Food and Others) and Nature (Franchised and Standalone): Global Opportunity Analysis and Industry Forecast, 2021–2027."According to the report, the global cloud kitchen market garnered $43.1 billion in 2019, and is estimated to reach $71.4 billion by 2027, registering a CAGR of 12.0 percent from 2021 to 2027.
Rise in demand for online food delivery, increase in demand for international cuisine, and adoption of tech-savy ordering system across the globe drive the growth of the global cloud kitchen market. However, increase in health issues due to consumption of fast food and competition from fine dining and quick service restaurant (QSRs)hinder the market growth. On the other hand, increase in internet penetration and rise in adoption of social media marketing are anticipated to offer new opportunities in the coming years.
The operational disruption in hotels and restaurants industry, due to COVID-19 outbreak, has positively impacted the cloud kitchen market. As the demand for online food delivery has been increased.
However, the governments from all nations has made strict rules regarding hygiene for cloud kitchen industry to control the spread of corona virus. This affected the growth of to certain extent.
Based on product type, the burger/sandwich segment accounted for nearly one-fourth of the global cloud kitchen market in 2019, and is expected to maintain its lead status in terms of revenue throughout the forecast period. This is due to the convenience and ease of availability, less preparation time, and hectic lifestyle of the consumers in developed as well as emerging countries.However, the seafood is estimated to portray the highest CAGR of 15.1 percent from 2021 to 2027. Increase in health consciousness among the consumers across the globe drives the growth of the segment.
Based on type, the independent cloud kitchen segment contributed to the highest market share with around two-thirds of the global cloud kitchen market in 2019, and is estimated to maintain its leadership position during the forecast period. This is attributed to increase in utilization of independent cloud kitchens by grocery stores, restaurant brands and multi-branded restaurants. However, the kitchen pods segment is estimated to generate the fastest CAGR of 13.9 percent from 2021 to 2027. This is attributed to rise in trend of pods in cloud kitchen industry and increase in demand of online food delivery amongst millennial and generation.
Based on region, North America accounted for the highest share based on revenue, holding for more than two-fifths of the global cloud kitchen market in 2019, and is projected to maintain its dominant position throughout the forecast period.This is attributed to rise in population, improved lifestyle and growth in purchasing power of consumers in this region. However, the Asia-Pacific is estimated to generate the fastest CAGR of 14.4 percent from 2021 to 2027. This is attributed to increase in number of youngster's population and rise in demand for online food delivery in this region.
Leading market players
Kitchen United
Rebel Foods
DoorDash Kitchen
Zuul Kitchen
Keatz
Kitopi
Ghost Kitchen Orlando
Dahmakan
Starbucks (Star Kitchen)
Cloud Kitchen
Cautious Diners
Most Americans plan to proceed with caution after social distancing guidelines are relaxed, with some going so far to say they will never attend a large gathering or eat at a sit-down restaurant again.
More than 3 in 4 US adults (76 percent) say the pandemic has caused them to shift their priorities. Since the social distancing guidelines have been put into place, many say they have decreased making impulsive decisions (29 percent), and increased being understanding (38 percent), flexible (37 percent), organized (34 percent), and exercising self-restraint (33 percent). In addition, many have increased cooking meals at home (61 percent) as well as ordering take-out/delivery (37 percent). US adults also have increased cleanliness (70 percent) and exercise (30 percent), as well as keeping certain products stocked in their home (50 percent). And, the majority (73 percent) say activities that they've increased doing as a result of the pandemic, they'd like to continue doing once life is back to normal.
Nearly 9 in 10 adults (89 percent) say they are doing everything they can to follow their state's social distancing guidelines, but still most US adults (86 percent) are concerned about the lasting impact the pandemic will have on their everyday lives. In fact, few say once the social distancing guidelines are relaxed, they would immediately eat at a sit-down restaurant (16 percent), host an event at their home (14 percent), attend a large gathering (11 percent), or use public transportation (9 percent). Notably, some say they would never use public transportation (45 percent), host an event at their home (25 percent), attend a large gathering (21 percent), or eat at a sit-down restaurant (10 percent), even after the social distancing guidelines are relaxed.
Despite being eager to get back to life the way it was before, the overwhelming majority of Americans (86 percent) say even after social distancing guidelines are relaxed, they will be cautious. Many say they will wear a mask (50 percent) or gloves (28 percent) at least most of the time when they go out in public, clean/disinfect items they touch (61 percent) at least most of the time, and keep a six foot distant between themselves and others (62 percent) at least most of the time. In addition, many say that once the pandemic subsides, they will be less likely to attend a large gathering (53 percent), travel internationally (52 percent) or domestically (37 percent), or get involved in their community (23 percent). And, they would be more likely to be more careful who they touch (58 percent), thoroughly clean surfaces they touch (54 percent), keep certain products stocked in their home (46 percent), go to the doctor if they feel sick (31 percent), or look for a job in a different industry (17 percent).
This survey was conducted online within the United States by The Harris Poll on behalf of University of Phoenix from May 12-14, 2020 among 2,067 U.S. adults ages 18 and older. This online survey is not based on a probability sample and therefore no estimate of theoretical sampling error can be calculated.
Unsafe in Restrooms
COVID-19 is shaping new attitudes and behaviors among people. Since the pandemic, there has been a growing awareness of the health risks associated with insufficient hygiene in public spaces. According to a new study from Tork®, an Essity brand, nearly 8 out of 10 people in the U.S. feel more unsafe going to facilities with unhygienic public restrooms today than they did prior to COVID-19. In addition, one-third of people say they feel unsafe entering a restroom with air dryers.

Expectations for public spaces and demands for safe hygiene solutions are higher than ever before. According to a study from Tork on the impact of COVID-19 on people's perception of public hygiene, 86 percent believe keeping a high hygiene standard in public restrooms is critical to public safety.
The increased concern for hygiene in public restrooms is expressed in people's changing preferences for hand drying solutions. According to the study, 70 percent of people wish more facilities offered paper hand towels as an alternative to air dryers. The study also shows that 33 percent of people now have an increased preference for paper hand towels than before COVID-19, with the most common reasons being that paper hand towels are perceived as more hygienic (71 percent), they dry hands more quickly (53 percent), and do not spread virus and bacteria in the air (43 percent).
The cost of not offering paper hand towels can be high for facilities. More than 40 percent surveyed say they are less likely to visit places that do not offer paper hand towels as a hand drying alternative, and 33 percent say they feel unsafe entering a restroom with air dryers.
"The pandemic has shown that all businesses need to adapt to a new hygiene standard," said Alberto Cajiga, Vice President of Marketing, Professional Hygiene, Essity. While some facilities might have chosen air dryers before the pandemic, the perceived ease of air dryers isn't enough anymore. We have seen an increase in requests from facility managers who want to change from air dryers to paper hand towels. They no longer feel safe with their air dryers."
For hygiene-critical areas, such as food processing plants and hospitals, paper hand towels have long been the only acceptable hand drying solution.* Unlike paper hand towels, air dryers produce more airborne droplets,** which increase the risk of bacteria spread in the environment. The friction from drying hands with paper towels helps remove more bacteria than other drying options.***
Because of COVID-19, more public areas will be scrutinized by visitors that demand increased hygiene standards are applied everywhere, with 86 percent saying they expect public restrooms to provide a safe hygiene environment to a higher extent now than before the outbreak.
"The study suggests that people now view all public spaces as "hygiene critical," as a result of the global pandemic. Providing solutions that make people feel safe when visiting public spaces must be a top priority for facility managers that want to re-attract guests. The cost of not using the most hygienic option is simply too high," said Cajiga.
How to Market in a Changed World
Rapid changes in customers' attitudes and expectations are challenging marketers like never before. Finding the right balance between the efficiency of technology and personal connection through human interaction has become even more challenging for marketers. At the same time, it also presents major opportunities, concludes new research from The Conference Board.
The report, Customers Are Changing, and So Should Marketing, is based on a survey of senior marketing and communications executives at 84 leading firms across North America, Europe and Asia. It highlights their views on how a variety of customer preferences and behaviors as well as marketing may evolve.
While half of respondents expect customers to use more voice communications to interact with companies, more than a third expect customers' cravings for human interaction to increase. Specialist skills – including data analytics, AI and digital media – are the most sought-after skills in future marketing hires. However, "left brain/right brain" thinking and creative skills, which marketers prioritize least, shouldn't be underestimated. Such skills will be important in designing competitive strategies and customer-friendly processes and interfaces. They complement marketing teams' digital expertise and are certainly crucial for managing the COVID-19 crisis and recovery.
"The pandemic has inspired much more digital interaction with companies at all stages of the customer journey. While people may appreciate technology even more now, human touch points are still essential. They complement tech efficiency and convenience and help maximize the customer experience," says Denise Dahlhoff, Senior Researcher at The Conference Board.
Addressing Declining Brand Loyalty
Nearly 40 percent of marketing executives expect brand loyalty to drop. While 60 percent of marketing leaders expect increased customer attention to companies' values, about half see rising cynicism about brand promises. Staying true to brand values has never been more critical. "The importance of authenticity has grown even more during the pandemic," says Dahlhoff. "In a crisis like this, people expect companies more than ever to do the right thing. But words and actions have to fit a brand's DNA and they need to be meaningful." Being authentic helps to foster customer loyalty by building trust. In addition, unique offerings, innovation, and close customer relationships can support loyalty objectives.
Involving Customers in the Innovation Process
Customers' expectation for frequent new or enhanced products/services will grow, according to more than three-quarters of marketing executives. Almost two-thirds think customers' openness to experimental approaches to new products and processes, and their interest in providing input for new products, will increase. "Involving customers in product development processes that are typically behind the scenes isn't only valuable to better meet customer needs but also creates unique customer experiences. This type of customer engagement, along with an experimental innovation culture, can enhance a brand's perceived authenticity and appeal," says Dahlhoff. To make customers' involvement most engaging, companies should keep customers updated on how their input is being used. There is also potential for companies to leverage digital capabilities more in the innovation process, including mobile ethnography, AR/VR, and social media, to inspire ideas for innovation and gauge their potential success.
In addition to other insights, the research found that two-thirds of marketers expect customers to want more control of their data. Forty percent expect customers' willingness to trade personalization for privacy will increase. Companies should be transparent about their data practices and offer data-based benefits that customers value.
Moreover, for almost three-quarters of senior marketers, a variety of channel options (omni-channel, self-service) is a way to serve customers in the future. Convenient channels will only increase in importance for customers, more so after the COVID-19 crisis. Offering a choice of communications and distribution channels can address this need.