MRM Research Roundup: Mid-July 2020 Edition
21 Min Read By MRM Staff
This edition of Modern Restaurant Management (MRM) magazine's Research Roundup features Grubhub's State of the Plate 2020 trend report, the fragility of "open," digital resilience and brand intimacy.
Financial Trends Insights
According to the latest Financial Trends Insights from Black Box Financial Intelligence™, based on data from the week ending June 28, restaurants sales continue improving.
See the latest sales and traffic results here: Sales Improve but Restaurants Should Brace Themselves for Challenges Ahead.
Excluding the previous two weeks (in which a shift in Father's Day compared with last year affected sales results) the week ending June 28 had the best comp sales results for the industry since the week ending March 8; the week before a national emergency was declared due to the pandemic.
Limited-service brands continue doing much better regarding sales growth year over year.
Quick service has reached nine consecutive weeks of strong positive comp sales growth. Results for this segment have been better than the growth rate they had been posting for years before the pandemic.
Pace of recovery for fast casual brands has slowed down considerably, although results continue to be much better than for full-service restaurants. Comp sales improved by just one percentage point compared with the beginning of the month.
Full-service segments, which are still down by a larger margin when it comes to comp sales, are still finding room for recovering at a faster pace.
At the national level, the industry seems to have hit a wall in terms of percentage of restaurants that are open in any capacity. By the end of June, 12 percent of all chain restaurants in operation before the pandemic remain completely closed, this percentage remained unchanged throughout the month.
The reopening of dining rooms continues to be much slower for limited-service brands, with many restaurants choosing to continue to operate under off-premise only given their relatively higher volumes in those channels.
Off-premise sales growth YOY continues slowing down for full-service brands since its peak back in mid-April through early May when it reached over 200 percent growth.
Day parts performing best for the industry during June were mid-afternoon and dinner. Performance was not as strong for lunch or breakfast. The day part that continues to be hit the hardest by the pandemic is late night.
The restaurant cuisines that were able to the best comp sales during June were chicken, pizza and hamburger.
Best performing states during week ending June 28 based on comp sales were: Idaho, Mississippi, Alabama, Utah, Indiana, Michigan, Tennessee, Louisiana, South Dakota and Kentucky.
Worst performing states during the week were: New Jersey, the District of Columbia, Massachusetts, Maine, New York, Connecticut, Vermont, Illinois, New Hampshire and Washington.
State of the Plate
Grubhub launched its latest report, "State of the Plate", looking at trends across the more than half a million orders placed a day. Grubhub's mid-year report checks in on the popular food trends to date and what quarantined Americans ordered through contact-free delivery, and predicts what we can expect to see more of in the second half of the year.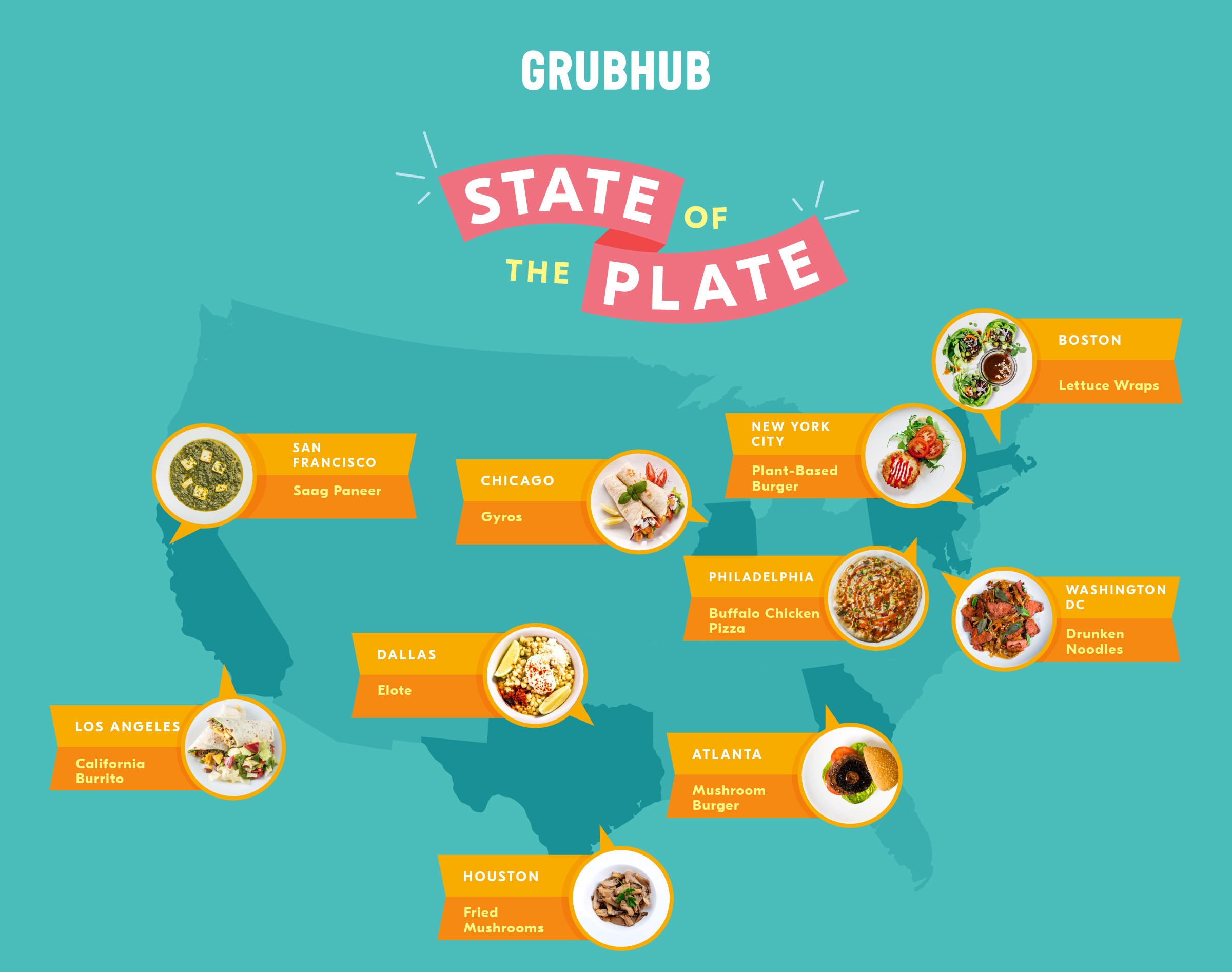 State of the Plate 2020 – top foods across various cities
From grabbing a chorizo burrito (270 percent more popular) for breakfast, a cheesy breadstick snack (412 percent more popular), a plant-based burger (291 percent more popular), or a fit-for-quarantine meal kit (orders of meal kits rose 55 percent), below are the trends we've loved so far this year.
Disclaimer: The top foods below have seen the fastest growth on the Grubhub platform during the first half of 2020.
Top Foods of 2020
In 2019 we were introduced to the chicken sandwich war, and in 2020 it raged on as chain and independent restaurants added the sandwich to their menus for diners to enjoy. The spicy chicken sandwich saw a nearly 300 percent rise in popularity this year, with other top foods spanning a range of categories and plenty of newcomers.
spicy chicken sandwich: 299 percent more popular
plant-based burger: 291 percent more popular
vanilla shake: 273 percent more popular
iced latte: 261 percent more popular
chili: 228 percent more popular
cinnamon roll: 205 percent more popular
chimichanga: 195 percent more popular
beef burrito: 181 percent more popular
potato taco: 169 percent more popular
taro milk tea: 168 percent more popular
The Top Food in America's Most Populous Cities
New York City: Mushroom burger: 150 percent more popular
Los Angeles: California burrito: 286 percent more popular
Chicago: Gyro: 299 percent more popular
Philadelphia: Buffalo chicken pizza: 323 percent more popular
Dallas-Fort Worth: Elote: 191 percent more popular
Bay Area (SF, Oakland, San Jose): Saag paneer: 389 percent more popular
Washington, DC: Drunken noodle: 166 percent more popular
Houston: Fried mushrooms: 238 percent more popular
Boston: Lettuce wrap: 268 percent more popular
Atlanta: Plant-based burger: 147 percent more popular
Methodology: Grubhub took a look at order trends on its platform from January 1 – June 20, 2020, as compared to the same timeframe in 2019 to find the top items rising in popularity so far.
Seasonal Favorites and Forecasts
Seasonal trends tend to impact eating habits, so we took a look at exactly what rose through the ranks this past winter and spring. As far as what we can expect to see in the latter half of 2020, summer is seeing lighter fare while the fall heats up with a little spice.
Top Trends: Winter
chicken sandwich: 238 percent more popular
New England clam chowder bowl: 195 percent more popular
barbecue burger: 132 percent more popular
sausage egg cheese sandwich: 101 percent more popular
tan tan ramen: 96 percent more popular
Top Trends: Spring
donuts: 214 percent more popular
bacon, egg, and cheese biscuit: 169 percent more popular
sausage burrito: 163 percent more popular
chicken sandwich: 153 percent more popular
plant-based sausage breakfast sandwich: 150 percent more popular
Forecasts: Summer (in ranking order)
vegetable biryani
spinach and artichoke wonton
Mexican shrimp cocktail
black bean and quinoa bowl
balsamic chicken salad
Forecasts: Fall (in ranking order)
miso tofu bowl
quinoa taco salad
mushroom burger
cajun wing
buffalo chicken empanada
Methodology: "Top Trends" look at the most popular food orders during winter (Dec 21, 2019 – March 19, 2020) and spring (March 20, 2020 — June 20, 2020) compared to those same periods in 2018 and 2019. "Forecasted" items looked at the top foods on the Grubhub platform over the past two years, recently trending items, and other seasonal favorites to forecast what America will indulge in this summer & fall.
Vegan and Plant-Based Trends Still Grow
Similar to Grubhub's 2019 Year in Food Report, diners are continuing to eat vegan and vegetarian dishes. So far this year, vegan orders have risen by 23 percent, plant-based burgers specifically increasing by 90 percent and general plant-based orders by a whopping 135 percent!
Top Vegetarian Burgers
black bean burger: 233 percent more popular
grilled portobello mushroom burger: 179 percent more popular
Impossible burger: 167 percent more popular
quinoa-based burger: 161 percent more popular
eggplant burger: 147 percent more popular
Top Vegan-friendly Cities
New York, NY
Los Angeles, CA
Portland, OR
Las Vegas, NV
Boston, MA
Methodology: Grubhub took a look at vegan, vegetarian, and plant-based orders in each city and compared them to the overall number of orders.
Past Favorites Remain Popular
Taking a look back at the "Top Foods of the Year" in Grubhub's 2018 and 2019 Year In Food Report, we found that many of the past favorites are still trending in 2020.
spicy brussels sprouts: 125 percent more popular
portobello empanada: 99 percent more popular
plant-based burger : 95 percent more popular
bean burrito: 83 percent more popular — 2018's more popular food
vegan pad thai: 74 percent more popular
cauliflower pizza: 31 percent more popular — 2019's most popular food
black bean & sweet potato taco: 27 percent more popular
Methodology: Grubhub took a look at the top foods from past reports to see what was still gaining in popularity so far this year (January 1-June 20, 2020) as compared to the same timeframe last year.
Meal Time Trends
Breakfast: while bacon, egg & cheese came in as #1 in 2019, we have yet to see the breakfast staple among 2020's top foods.
acai bowl: 359 percent more popular
chorizo burrito: 270 percent more popular
potato pancakes: 259 percent more popular
shrimp and grits: 179 percent more popular
vegetable wrap: 112 percent more popular
Lunch: salads and sandwiches lead the charge, while avocado toast makes a bit of a comeback.
Thai chicken salad: 399 percent more popular
tuna salad sandwich: 262 percent more popular
chicken avocado melt: 188 percent more popular
kale caesar salad: 165 percent more popular
avocado toast: 164 percent more popular
Dinner: from Italian to Indian, diners are getting in a mix of cuisines for dinner.
rigatoni bolognese: 292 percent more popular
lamb vindaloo: 283 percent more popular
vegetable korma: 267 percent more popular
moo shu pork: 266 percent more popular
salmon avocado roll: 244 percent more popular
Top late-night orders: it's no surprise carbs come in on top, but 2020 brings in the appearance of a sweet treat.
cheesy breadsticks: 412 percent more popular
strawberry cheesecake: 247 percent more popular
cheese sliders: 220 percent more popular
jalapeno poppers: 216 percent more popular
pizza puffs: 182 percent more popular
Methodology: Grubhub took a look at the top foods on its platform for the specified mealtimes/food types below from January 1-June 20, 2020 as compared to the same timeframe in 2019 to find the top items rising in popularity.
Quarantine Impact
On March 18, the first shelter-in-place order was initiated in San Francisco and the rest of the country followed suit shortly after. As Americans stayed home, they continued to order food using features like contact-free delivery to safely enjoy their favorite meals from local restaurants.
Over the months, Grubhub has observed diners turn to comfort foods, order alcoholic beverages, and D.I.Y. orders. Under quarantine one thing was clear: morning coffee routines changed as orders of cold brew rose by 232 percent
Most popular foods nationwide: It's all about the comfort foods and shareable plates as people order in.
spicy chicken sandwich: 353 percent more popular
red velvet cupcake: 196 percent more popular
plant-based burger: 166 percent more popular
cajun shrimp chicken pasta: 164 percent more popular
cheeseburger sliders: 158 percent more popular
Most popular items searched: while restaurants and bars were closed, we can see that diners are searching for a way to bring home the full dining experience.
wine
cake
boba tea
beer
donuts
Top Alcohol Orders (in ranking order): as delivery rose in popularity, so did alcoholic beverages while diners stayed home.
pinot grigio
hot sake
rosé
light beer
IPA
merlot
frozen strawberry margarita
chardonnay
cabernet
pina colada
Meal Kits rise to the occasion
During quarantine, orders of meal kits rose 55 percent compared to the year before as diners put their own personal touch on the ingredients delivered.
Most Popular Meal Kit Orders
D.I.Y. burger
D.I.Y. lobster roll kit
D.I.Y. salad
D.I.Y. pizza
D.I.Y. gyro kit
Methodology: Grubhub took a look at both order trends and search trends on its platform in the respective categories from March 18 – June 18, 2020, compared to the same timespan in 2019 to find the top items in popularity.
The Fragility of 'Open'
The latest on-premise (bar/restaurant) research from Nielsen CGA, based on a survey of 1,600 consumers (from July 3-5) within California, Texas, New York and Florida, with all states having entered some degree of 'open,' the reimplementation of some restrictions highlights the fragility of the U.S. on-premise at present. Venues are in a period of experimentation–finding ways to maximize capacity and encouraging more consumers to return, but counterbalanced by measures to protect consumers and themselves from rising infections and the threat of re-enacting shelter-in-place restrictions.
Here are a few highlights:
Overall visitation to the on-premise space
38 percent dined out in the last two weeks – up 2 percentage points from the previous issue (two weeks prior)
14 percent have been in the on-premise space for a drinking occasion in the past two weeks
Surge in COVID-19 cases
The concern caused by COVID-19 is highlighted, as 61 percent of consumers chose not to go out at all, 27 percent remain unaffected and 12 percent chose to go to a different venue.
Generation breakouts
The 55+ age group also closed the gap between themselves and younger consumers versus the previous 2 week period, with 37 percent having been out to eat in the last two weeks.
Comparatively, 38 percent of 21-34 year olds were out to eat in the last two weeks
Take-out/delivery
65 percent of consumers ordered food and 11 percent ordered alcohol over the past two weeks
The popularity of the Margarita shines through, with tequila being the most popular base for to-go cocktails (63 percent of those who had ordered cocktails with a take-out/delivery order said tequila was the spirit base)
Next two weeks
32 percent plan to go out to bars and restaurants for an eating occasion and 15 percent for a drinking occasion.
This is somewhat down from our previous predictions, potentially due to the return of tighter restrictions in some states.
"Consumer sentiment continues to differ in the on-premise channel, as various states employ differing restrictions on the reopening of bars and restaurants," said Matthew Crompton, Client Solutions Director, Nielsen CGA. "Safety naturally remains absolutely paramount for both staff and visitors, and in most cases on-premise establishments have risen to the challenge, as 85 percent of consumers are satisfied with the health and safety measures put in place. Our latest research also shows that older age groups are beginning to feel comfortable again in re-entering the channel. Menus will need to remain relevant so that all age groups are catered for to encourage repeat visits."
The most updated On Premise Impact Report by Nielsen CGA, along with other special reports issued over the past several weeks, can be found here.
Digital Resilience
The NYU Stern School of Business and Uber Technologies released, "COVID-19 and Digital Resilience: Evidence from Uber Eats," a study that establishes that digital platforms enabled restaurant survival during the COVID-19 lockdown by providing critical continuity in access to customers.
Using data collected between February 1 through May 1, 2020 from five U.S. cities — Atlanta, Dallas, Miami, New York City and San Francisco — the research demonstrates how, facing a collapse in their dine-in business, restaurants increasingly relied on Uber Eats during the pandemic. It also documents a dramatic increase in the rate at which new restaurants joined the platform to weather the economic shutdown.
"All of these factors point to the heightened importance of platforms like Uber Eats in the economy of the future," said NYU Stern's Arun Sundararajan, the Harold Price Professor of Entrepreneurship, who co-authored the study with NYU Stern PhD student Manav Rajand Uber Technologies data scientist Calum You. "COVID-19 is dramatically accelerating the transition to online commerce. Platform demand has been central to riding out the economic shock, especially for small businesses."
Specific findings include:
In March 2020, new small- and medium-sized restaurant sign-ups on the Uber Eats platform increased 2.7 times compared to historical monthly averages.
Restaurants already using the Uber Eats platform that remained open through the lockdown experienced an average of 43 percentmore app-based orders, an increase which was as high as 60 percent in San Francisco.
The authors uncovered evidence of both a demand-side shock (increased app activity) and a competitive shock (surviving restaurants benefit from competitors shutting down) as driving these increases.
Daily order counts grew despite an overall reduction in restaurant operating hours per day. For example, the order velocity per hour more than doubled in Dallas and New York City, and increased by over two-thirds in each of the five cities.
"The ramp-up was quick and significant with consumer demand for food delivery on Uber Eats increasing by 25-75 percent since the start of the shelter-in-place orders," said co-author Calum You from Uber's data science unit. "These findings demonstrate how communities increasingly turned to food delivery platforms at a time when trips to the grocery store or walks to the local cafe were difficult, particularly for vulnerable populations such as older adults and those living in food deserts without access to a car."
"The connection between platform-sourced demand and survival will be indelible, likely leading the survivors to double down on digital, seeing it as a critical source of resilience," write the authors. "Because of social distancing, enhanced cleaning protocols, and consumer hesitancy, the costs of dine-in will increase significantly, making a digital channel all but essential for restaurant survival."
Brand Intimacy Report
The fast food industry ranked sixth out of the 15 industries studied in MBLM's Brand Intimacy 2020 Study, which is the largest study of brands based on emotions. MBLM (pronounced Emblem), is also analyzing how consumer sentiment about the industry has been affected by the pandemic. Brand Intimacy is defined as the emotional science that measures the bonds we form with the brands we use and love, and has become more important as brands adjust the way they connect with consumers during today's unprecedented times.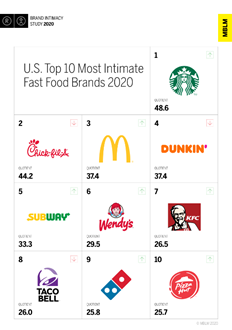 MBLM's study, now in its 10th year, revealed that Starbucks ranked #1 in the fast food industry followed by Chick-fil-A and McDonald's. The remaining brands in the top 10 for the industry were: Dunkin', Subway, Wendy's, KFC, Taco Bell, Domino's and Pizza Hut. Additionally, top intimate brands in the U.S. continued to significantly outperform the top brands in the Fortune 500 and S&P indices in both revenue and profit over the past 10 years, according to the study.
MBLM also examined how the industry has been impacted the COVID-19 pandemic. For example, Pizza Hut's largest franchisee NPC International, Inc. filed for bankruptcy due to shutdowns, which added to the competitive stress the brand had been facing (Fortune.com). On the other hand, Domino's has seen comparable-store sales increase by over 20 percent in April and May and its stock was up 26 percent for 2020 as of July (The Motley Fool). The fast food industry is also giving back during the pandemic. For example, Chick-fil-A created a $10.8 million community relief effort in April, through which it provided funds to franchisees to distribute to local communities in need (The Chicken Wire). Starbucks launched its Starbucks Global Partner Emergency Relief Program in April to help its employees impacted by the pandemic (Starbucks Stories & News).
"The fast food industry has performed fairly consistently in our study over the past few years, and has built emotional connections with customers," stated Mario Natarelli, managing partner, MBLM. "As with virtually all industries, the pandemic has greatly impacted fast food. Some of the top brands have garnered largely positive and supportive responses from consumers, while others have faced criticism and scrutiny. Understanding how and why consumers express their connections during COVID is valuable for all brands in the industry to examine. Now more than ever, positive emotions can drive performance."
Additional noteworthy fast food industry findings in the U.S. include:
The U.S. fast food industry had an average Brand Intimacy Quotient of 32.1, above the cross-industry average of 31
Starbucks was the top brand in the industry, and both millennials and users over 35 years old ranked Starbucks as their favorite intimate brand
Starbucks led among men, whereas Chick-fil-A was the top intimate brand among women
Chick-fil-A also led among users with incomes under $100,000, whereas users with an income over $100,000 preferred KFC
Indulgence, associated with moments of pampering and gratification, was the most prominent archetype in the category, and Starbucks was the top-performing fast food brand for indulgence
MBLM also further analyzed the industry in an article entitled, "Fast Food & COVID-19. How consumers are talking about their favorite fast food brands during the pandemic." The piece reviews the industry's performance in the study and also the impact of the pandemic. Additionally, MBLM augmented its Brand Intimacy research with social listening research it captured during the week of June 15th for the top five ranking fast food brands. The agency found that, while the brands spoke in generally similar terms about their responses to COVID-19, consumers spoke differently about each brand on social media. Starbucks' users demonstrated a lot of emotion for the brand; Chick-fil-A's users spoke about service and reliability with a few expressing disappointment about the brand adapting to COVID-19 but overall the brand was strongly linked to being efficient; McDonald's was not seen as positively as it was viewed as a big corporation caring about profits and not protecting employees; Dunkin' had people talking about the brand actively hiring, their COVID-19 routines and devotion to Dunkin' and appreciation of local franchises; and Subway had mixed consumer mentions – with people associating it with financial trouble but also highlighting the brand's donations to medial workers. Fast food has seen varied results during the pandemic. MBLM questions what will happen with the industry as states reopen, close and reopen in varying degrees. The agency concludes it seems likely consumers will remember and continue to deepen their emotional attachments with the brands in this space as they continue to evolve their offerings and provide the indulgence many crave.
The Brand Intimacy 2020 Report contains the most comprehensive rankings of brands based on emotion, analyzing the responses of 6,200 consumers and 56,000 brand evaluations across 15 industries in the U.S., Mexico and UAE. MBLM's reports and rankings tool showcase the performance of almost 400 brands, revealing the characteristics and intensity of the consumer bonds.
To view the fast food industry findings, click here.
Shifting Consumer Confidence
As states undulate between reopening and reclosing, people are caught in the middle. This morning, DISQO released a report to assess how their confidence and behavior have shifted over the last few weeks — and they uncovered the following:
Reported restaurant dining activity has increased by 166 percent over the last two months
Over the last two months, they've seen a 292 percent increase in plans to dine out
Diner's Respond to Pivoting
While restaurants have taken a huge financial hit since COVID-19 began, diners have responded well to new menu items and special promotions, according to a national survey of 917 U.S. adults. The survey, conducted by national marketing agency MGH, also gives hope to those restaurants in the process of reopening.
The survey aimed to uncover if and how dining habits changed during COVID-19 and found that 48 percent of diners have scaled back ordering, which includes delivery, takeout, dining in, from restaurants since March. Lunch was most affected with a full 33 percent of diners now ordering lunch less than once per month and 21 percent ordering dinner less than once per month.
Positive response to new items and meal kits
Despite these dismal numbers, it appears diners are responding well to changes in menu items and new business tactics implemented by restaurants to stand out and attract customers:
● 55 percent of respondents said they have ordered a family meal deal
● 30 percent have ordered snacks or desserts
● 19 percent have ordered grocery items
● 12 percent have ordered alcoholic beverages to-go (beer, wine, cocktails)
● 11 percent have ordered meal kits
What's more, as restaurants across the nation enter the reopening phase, 40 percent of surveyed diners say they have already dined at opened restaurants, and another 28 percent say they plan to in the near future.
Overall since March, 93 percent of survey respondents have ordered food from a restaurant at least once, with 83 percent placing a takeout order and 51 percent placing a food delivery order. Many diners (28 percent) have relied more on third-party and delivery services than before COVID-19. The majority of diners (55 percent) say they place orders to help support local businesses and 51 percent have tried out a new restaurant since March.
While not having the same discretionary income pre-COVID did play a role in the scaling back of ordering (21 percent), more respondents said that concerns about health risks related to ordering food (28 percent) and enjoying being home and cooking meals with their family were a bigger factor (28 percent). Additionally, 20 percent of respondents said they weren't ordering as much because they have had fewer restaurant options, and 5 percent were not sure how to order from restaurants during this time.
"As an agency that specializes in restaurant and franchise marketing, and experiencing changes first-hand with clients, we wanted to conduct a survey to see if and how consumers'' food habits changed during the March-June timeframe across the country," said Ryan Goff, EVP, Chief Marketing Officer for MGH. "It's clear that customers responded well to restaurants that were nimble with their menus and product offerings and are eager to dine in once restaurants reopen."
In June 2020, MGH conducted an online survey of 917 U.S. adults using the SurveyMonkey Audience Panel. The survey results have a 3.2 percent margin of error at the 95 percent confidence level.
Is 2020 the End of the Delivery Economy?
In the midst of economic uncertainty, global businesses are experiencing mounting pressure to maintain a superior delivery experience while also improving environmental sustainability and data privacy initiatives, according to a new report from project44, the global leader in advanced visibility for shippers and logistics service providers.
The new report "Is 2020 the End of the Delivery Economy?" is based on a blind survey of 1,000 consumers and 600 supply chain professionals from the United States, the United Kingdom, Germany, and France.
Results find that despite a down economy, buying decisions are being driven by the Delivery Economy — the pervasive sentiment in which B2C and B2B customers expect low-cost, fast and highly transparent delivery of goods — as well as increased demand for sustainable practices and rising data security concerns. Key findings from the report include:
Delivery Expectations Across Industries Remain High in the Face of Worldwide Economic Challenges
83 percent of customers do not expect companies to give up fast delivery in an economic downturn.
89 percent of customers do not expect companies to sacrifice visibility/transparency into the delivery process or expected arrival times in an economic downturn.
Only 23 percent of supply chain professionals said they had a contingency plan already in place reduce the cost of supply chain operations due to an economic downturn.
Sustainability Is Increasingly Important to Customers, Even in a Struggling Economy
78 percent of customers said they would be more likely to make purchases from companies that prioritize sustainability in the delivery process.
60 percent of customer said they would pay more to shop from a company that practiced sustainable shipping practices even during an economic downturn.
Nearly half (46 percent) of supply chains don't have an environmental sustainability plan.
Data Security Cannot be Forgotten in the Delivery Economy
80 percent of supply chain professionals say the delivery economy has increased the amount of data they manage and store on customers.
82 percent of customers feel companies need to do more to protect the security of their personal data.
"The Delivery Economy has become the new normal as customers across industries base buying decisions on convenient and sustainable delivery," said Jett McCandless, Founder and CEO of project44. "These customer demands have become an inflection point for faster digitalization and transformation. As speed and visibility remain a priority, efficient supply chains will be at the center of business recovery and growth."
"These findings echo what we see in the research community as well: smart data management enables effective supply chain management. But, as data sources and data integrations proliferate, we are all now only beginning to understand the opportunities, and the challenges, that real-world supply chain data coordination will present," said David Correll, Research Scientist at the MIT Center for Transportation and Logistics. "Ours is a field that is wide open, with big opportunities for profitable problem solving."
Contactless Payment Adoption
Contactless payment adoption will be boosted in the US, UK, Germany and China as restrictions due to COVID-19 are relaxed, according to a new report from Strategy Analytics Consumer Insights team. The Strategy Analytics Wireless Media Strategies (WMS) service report "COVID-19 Consumer Mobile Payment Insights," finds that almost 30 percent of US consumers indicated contactless payments as their preferred method of payment post COVID-19. China is by far the mobile payments leader with over half of consumers preferring mobile payment over cards and cash.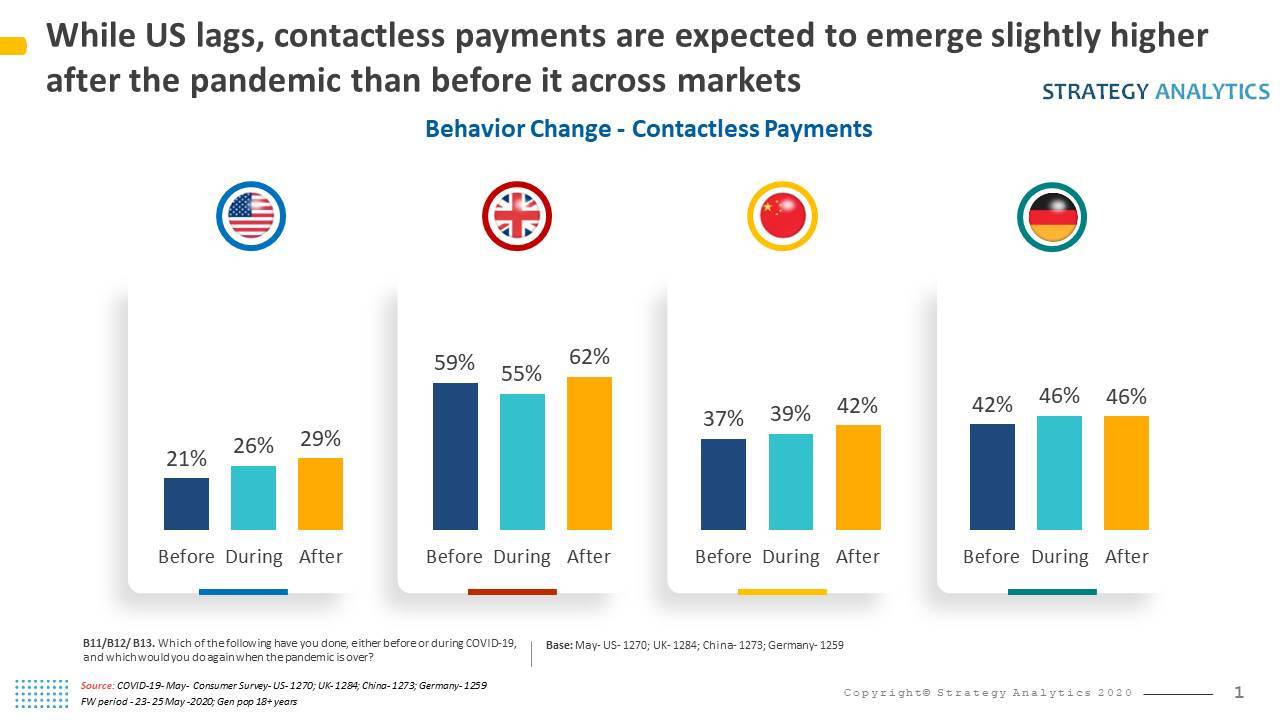 The report examines the payment behaviors of consumers across these four countries in the wake of COVID-19 and identifies which consumers are looking to embrace both mobile and contactless payments.
Nitesh Patel, Director, Strategy Analytics, noted "Contactless payment adoption will receive a boost across each of the countries surveyed, including China, Germany, the US and UK. However, while growth in contactless payment use will increase most in the US it is set to remain a contactless payments laggard, with significantly greater adoption in China, Germany and the UK."
David Kerr, Vice President, Strategy Analytics, noted "With the exception of China, there is significantly greater consumer preference for contactless cards over mobile contactless payments, particularly for older age groups. A bridge of trust still needs to be built for mobile payments to older consumers. The much younger population in China and greater familiarity with mobile first practices is reflected in over half of consumers indicating it as a mobile as the preferred payment instrument. For older consumers in US and Europe much greater ease of use and reliability at POS is required according to our UX team research."
State of Spend
Cardlytics' latest State of Spend Report, based on US consumer spend through June 17, found:
● Fast Food Making a Comeback: Spend at restaurants with carryout or drive through options has almost returned to normal down only -3 percent year-over-year (YOY).
● Third-Party Delivery Going Strong: Spend with third-party restaurant delivery services is higher than it was at the start of the shutdown (+119.2 percent YOY) and hasn't slowed (indicating that Uber's recent acquisition of Postmates may pay off).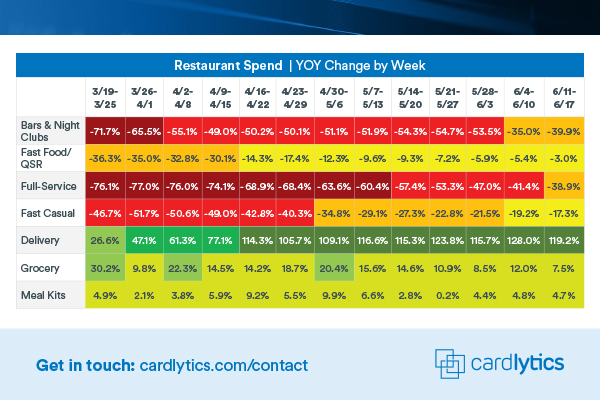 ● On-Premise Dining Recovering: Full-service restaurants saw massive decreases in spend earlier this year, but spend is now up 37.2 points from a low of -76.1 percent in March.
● Average Restaurant Check on the Rise: The average amount individuals spend during one restaurant visit is increasing in categories with popular to-go options like quick service (+12 percent YOY), fast casual (+14 percent YOY) and delivery (+23 percent YOY). Full-service restaurants have seen a more modest 4 percent increase in order value.
Flat Apps
According to Mobiquity's 2020 Friction Report that analyzes app store reviews of QSR apps over the past year, basic functionalities like logging in, checking out and earning rewards are falling flat. As social distancing continues, the reliability of contactless payment is paramount to customers and they are more likely to leave harsh reviews when the functionality fails. These poor reviews can be detrimental, as many new users refuse to download an app that's rated three stars or less.
Plant-Based Popularity
As restaurants begin reopening and looking for ways to bring more of their loyal customers back through their doors, a significant number of Americans are looking to improve their eating habits to lessen the impact on their health, the planet and those that inhabit it with them. A survey by OnePoll and Meatless Farm polled 2,000 U.S. adults to see how they felt during this pandemic about returning to restaurants and whether they were eating more plant-based meat alternatives.
A quarter of Americans responded that they are now more likely than before the lockdown to choose a plant-based meat option once restaurants and fast food chains reopen. The survey also showed that considering the stay-at-home orders, one in five respondents said they are eating more plant-based meals now than they were previously, and the same amount of surveyed adults said they would be most likely to try a plant-based meat alternative at a fast food chain, rather than the other options which included independent restaurants, premium burger chains and more.
Additional findings of the survey also revealed that:
39 percent of American adults have chosen a plant-based meat option when dining out in the last 12 months
45 percent of respondents believe every dish on a restaurant's menu should be available as a meatless option
One in four (26 percent) say they are more likely to visit a restaurant, bar or café if it has a dedicated plant-based menu
62 percent of U.S. adults polled admit to feeling anxious about the prospect of visiting a restaurant, bar or café when they reopen after lockdown
North American Ice Cream Market Trends and Forecast
The "North America Ice Cream Market – Growth, Trends and Forecasts (2020-2025)" predicts the market is projected to grow with a CAGR of 2.83 percent during the forecast period, 2020-2025.
The rising demand for innovative flavors and formats and growing demand for impulsiveness to consume the product in developing countries is expected to drive the market growth during the forecast period. The United States held a majority of the market share for ice-cream. Growing demand for plant-based frozen desserts is the key factor driving the North America ice-cream market.
Key Market Trends
Health Consciousness and Innovation Driving the Sales
Growth in Ice cream market encountered several challenges to post a CAGR of 2.89 percent. Growing health concerns and the availability of alternative products like Yoghurt affected market sales. Due to rising health concerns consumers are interested in Ice Cream made of Natural flavours and natural sweeteners and handcrafted Ice Cream. Currently, the US is leading the way for launch activity in handcrafted ice creams, likely relating to the market's size and maturity.
These products can offer innovation inspiration to other markets, specifically with regard to sourcing ingredients from local farmers and using packaging as a distinguishing selling point that celebrates – and appeals to – a sense of individuality. Companies are offering consumers more better for you options in the way of smaller portion sizes, and better ingredients including vegetables, oats, soy and dairy free.
Take-home Forms the Major Share
Although Ice cream is an Impulse product, the scene in North America is very different from Take-home Ice Cream sales much higher than Impulse sales. This is due to high Take-home consumption of Ice Cream in the United States which surpasses Impulse Ice Cream sales by 200 percent.
The Take-home Ice cream market is growing at a higher pace and is projected to surpass Impulse Ice Cream in the medium term. This is in line with the snacking trend in consumers opting for a variety of snacks including Ice Cream for at home consumption. Various reports have found that consumers tend to eat the most ice cream in the afternoon or evening and that for many consumers, eating ice cream is a regular past time more than an occasional indulgence.
Competitive Landscape
The North America ice cream market is a highly fragmented market and comprises of regional and international competitors. The market is dominated by players, like Unilever, Nestle, General Mills, and Blue Bell Creameries. The leading players in the ice cream market enjoy a dominant presence across the North America region. These players focus to leverage opportunities posed by emerging markets to expand their product portfolio, so that they can cater to the requirements of consumers.