MRM Research Roundup: Mid-December 2020 Edition
19 Min Read By MRM Staff
This edition of MRM Research Roundup features news that consumers plan to put restaurants at the top of their shopping lists, the latest stats for on premise and why the restaurant of the future is here now.
Diners Show Holiday Spirit
The 2020 holiday season may not offer the same gatherings, parties and hoopla of years' past, but diners are making sure it is still filled with amazing food. A new survey from Oracle Food and Beverage found that 60 percent of respondents plan to stay at home during the holidays, and 42 percent are considering ordering their holiday meals from a local restaurant. Nearly half (48 percent) of respondents also said they are likely to buy gift cards from a local independent restaurant.
"This is a challenging time for both consumers and businesses. People are looking to make their holidays special, and plan to do that with takeout and meal kits from a favorite local restaurant," said Simon de Montfort Walker, senior vice president and general manager, Oracle Food and Beverage. "It's encouraging to see consumers continue to rally and support local businesses, with many planning to purchase merchandise, specialty items and gift cards as holiday gifts."
The survey, conducted by Untold Insights on behalf of Oracle Food and Beverage, polled 502 consumers in the United States in November 2020 about their dining and gifting plans for the holiday season.
Hassle-free holiday meals
Nearly a half (48 percent) of consumers are looking to pre-made/catered dinners, meal kits and takeout for their holiday meals.
Consumers are looking towards pre-made/catered meals (15 percent), take-out (18 percent), and meal kits (15 percent) in place of meal prep for one of their holiday or New Year's meals.
Of those consumers considering alternatives to cooking, households with families were the most likely to favor a pre-made/catered meal (32 percent), meal-kit (38 percent), or eating out at a restaurant (32 percent).
When it came to ordering take-out, Gen Z led with 28 percent.
Meal kits are a popular choice with Gen X'ers (25 percent) and Millennials (24 percent).
"With holiday traditions disrupted and people dining in smaller groups, they are looking to for inspiration and want to try something new," added de Montfort Walker. "Consumers are showing an increased appetite for skipping big meal prep to order in or experiment with meal kits."
The gift of food
With travel and larger gatherings constrained due to the pandemic, gift cards are a popular choice. Three quarters of all consumers are considering restaurant gift card purchases this year.
Nearly half (48 percent) of consumers said they are likely, or very likely to buy gift cards to a local independent restaurant.
Of those noted above, gift cards are most popular with males (58 percent), Gen X (71 percent), and Millennials (55 percent).
Membership and loyalty cards also ranked well among buyers with 28 percent saying they'd like to purchase these as gifts from their favorite local restaurants.
Getting sauced
In addition to gift cards, consumers are looking to bring their favorite restaurant faire to friends and family this holiday season.
24 percent of people are interested in gifting signature sauces. Of those interested in this option, it is especially popular with Millennials (36 percent).
22 percent of customers are looking to buy restaurant merchandise.
22 percent of those polled are interested gifting recipe books. Of those who noted interest in this gift, Gen Z ranked the highest with 30 percent.
18 percent of respondents were interested in cocktail kits. Of that 18 percent, Millennials and Gen X favored this option the most at 27 percent each.
28 percent of consumers are interested in meal kits as gifts. Of those interested, meal kits where most popular with Gen X at 41 percent.
This Week in On Premise
According to Nielsen CGA's COVID-19 On Premise Impact Report, On Premise velocity in outlets that are currently operational has increased +146 percent in the week of December 5 v March 28 when the On Premise shutdown initially commenced, velocity in the latest week is down -48 percent compared to December 7 2019.
Average outlet $ sales (velocity) are up +4 percent in the latest week (December 5 v November 28) across the US
Velocity growth follows decline in the previous week of Thanksgiving (November 28) where velocity was down -23 percent across the US vs November 21
Of the five states analyzed, only California experiences decline in the week to December 5 v November 28 down -14 percent as restrictions across the state tighten
Texas and Florida perform similarly when benchmarked against performance a year ago, with velocity in outlets that are operational being down only -19 percent December 5 2020 v December 7 2019 across both states
Sales Stumble in November
The restaurant industry's sales stumbled again in November as the number of COVID cases rose rapidly and colder weather started to become an obstacle for outdoor dining in many areas of the country. Same-store sales growth was -10.3 percent, which represented a 3.8 percentage point drop from October's year over year sales growth rate. November's -16.3 percent same-store traffic fell by 3.3 percentage points compared to the previous month's performance. This was the worst month for the industry since August based on year over year losses in sales and traffic.
But perhaps the most concerning insight from the latest data is that restaurant sales worsened throughout the month. Additionally, by the last week of November, same-store sales growth was the worst experienced by the industry in almost four months, signaling that we may be in the middle of a new restaurant downturn.
But there is some good news for the industry coming from the latest data insights uncovered by Black Box Intelligence™. Although sales were not good during the month, guests indicated they were increasingly satisfied with their restaurant experiences. Guests have rallied behind restaurants and have been forgiving despite many of the challenges faced by the industry.
During November, the percentage of restaurant food online mentions and reviews that was classified as positive grew by 7.0 percentage points compared to the same month in 2019. Service-related mentions became more positive by 6.0 percentage points year over year. The crucial intent to return metric also became more positive during November, an encouraging sign showcasing restaurants' efforts in driving guest satisfaction in the middle of the pandemic. Furthermore, intent to return scores are almost at the levels they were immediately before the virus outbreak back in March.
Considering that restaurant food sentiment is improving among guests, an opportunity is presented to explore their favorite menu items. What foods are they mentioning most often and assigning a positive sentiment? As would be expected, the answer varied widely between different kinds of restaurants.
In the case of limited-service restaurants, the menu item most frequently mentioned when describing a positive food experience in November was by far pizza. The second most mentioned menu items were burgers, followed by chicken (which included chicken sandwiches). This is welcome validation for those restaurants that are having great success selling those items. According to the financial data tracked by Black Box Intelligence, the three restaurant cuisine types that have been outperforming the rest throughout the pandemic are precisely pizza, burgers and chicken. As the rest of the industry struggles, those restaurants specializing in those food items are experiencing strong positive same-store sales growth on average. But overlying this guest sentiment data reveals that while these menu items benefit from being typically associated with limited-service restaurants (which are doing better overall) and the fact that they are well-suited for off-premise sales environment, success is also coming from great execution. Guests are mentioning these menu items the most and when they do, they overwhelmingly describe a positive experience.
For full-service restaurants, the menu item that got the largest number of positive guest mentions during November was steak. And it is relevant to mention that this is not driven by fine dining or even upscale casual. Steak was the most mentioned menu item in casual dining when describing a positive food experience.
The other menu items most commonly mentioned with a positive sentiment during November were wings, followed by salad.
Top DMAs
There is a sense of normalcy that has returned to restaurant guest sentiment at the local level. Specifically, Orlando, FL topped the list of major markets with the most positive restaurant sentiment, as was the norm before the pandemic. During November, Orlando's restaurant guests had the most positive sentiment when rating their experiences with the key indicators of food and service.
What is interesting to highlight is the shifts that have occurred in the list of major markets with the most positive restaurant ambiance sentiment. This attribute of the restaurant experience has become increasingly important this year since it includes the highly relevant cleanliness component. In recent months it has been highlighted how much ambiance sentiment boosts are being driven by improvements in cleanliness sentiment.
The markets with the highest ambiance sentiment during November were Los Angeles, Phoenix, Orlando, Minneapolis and Washington DC. Except for Los Angeles, none of these other major markets cracked the top five last month. As the number of COVID cases rises, guests may have become more concerned with ambiance and cleanliness. Restaurants in these cities seem to be responding to the challenge and better meeting guest heightened expectations.
The Restaurant of the Future is Here Now
A recent consumer study from Deloitte, "The Restaurant of the Future Arrives Ahead of Schedule – Time to Get on Board," found that these trends are likely to remain long after the pandemic ends, as diners seek more convenient and connected restaurant experiences.
Here are key findings from the report to help restaurants meet customer demand now and build for the future:
Safety and convenience are key ingredients: Amid continued safety concerns, 71 percent of consumers request contactless delivery from restaurants. For those visiting a restaurant in-person for take-out or limited dine-in service, 85 percent want to actually see cleaning protocols take place.
Now is the time to invest in delivery: Delivery and takeout orders continue to increase, up 14 percent since the pandemic. What's more, while 70 percent of consumers would rather place delivery orders online, demonstrating the importance of a frictionless digital experience, nearly a quarter (23 percent) of respondents expect this preference will be permanent.
In particular, Millennials and Gen X lead the way in placing delivery orders (65 percent and 61 percent, respectively for delivery, and 76 percent and 77 percent, respectively for takeout).
Convenience is worth the price: Consumers are also willing to pay an average of 14 percent more on their online delivery orders, implying restaurants could add a charge for the added safety and convenience this service provides.
Guests Views on Rebranding
New data on rebranding from Visual Objects' latest survey report, found that 13 percent of people couldn't immediately see a difference after Dunkin' (previously Dunkin' Donuts) rebranded in 2018.
Companies considering rebranding in 2021 should think carefully about which brand elements are most important to consumers.
For example, one-third (34 percent) of consumers caught sight of Dunkin's shortened name and 34 percent noticed the new logo right away, compared to only 10 percent for the new colors.
For the full report, click here.
Willingness to Dine Out
As restaurants across the country face capacity limitations and even shutdowns, Feedback Loop asked consumers nationwide about their willingness to dine out. The new computer research reveals that approximately two-thirds (62 percent) of respondents are open to dining at a restaurant – with half of those being open to eating indoors at a restaurant (29 percent). Additional findings include:
Younger people are significantly more likely willing to dine at restaurants than older respondents, with 70 percent of respondents ages 18-24 open to going to a restaurant, compared to 41 percent of respondents ages 55-64.
Respondents with lower household incomes are more likely to eat indoors at restaurants than those with higher household incomes. Twenty-one percent (21 percent) of respondents with household incomes of more than $100K don't mind eating indoors, whereas 37 percent of respondents with household incomes below <$25K don't mind eating indoors.
And when asked to elaborate on their mindset at restaurants and whether they preferred indoor or outdoor seating, here's what respondents shared: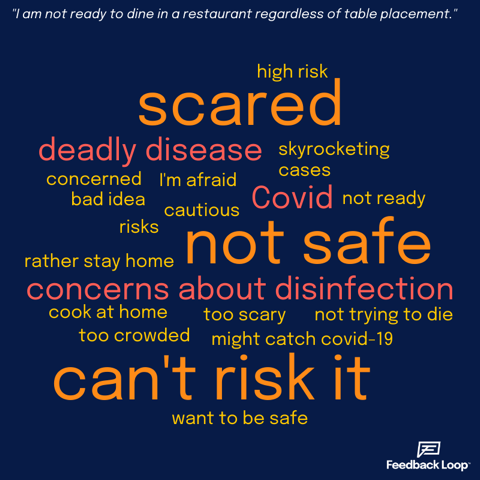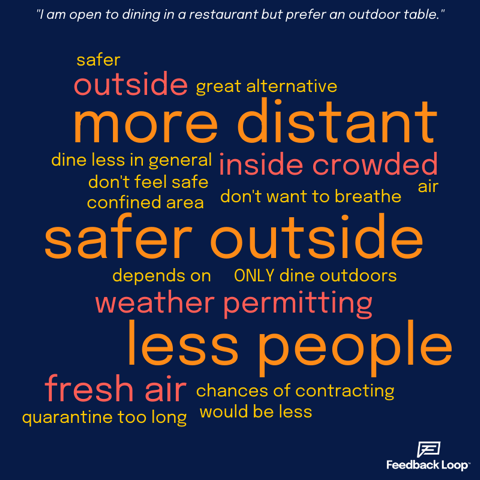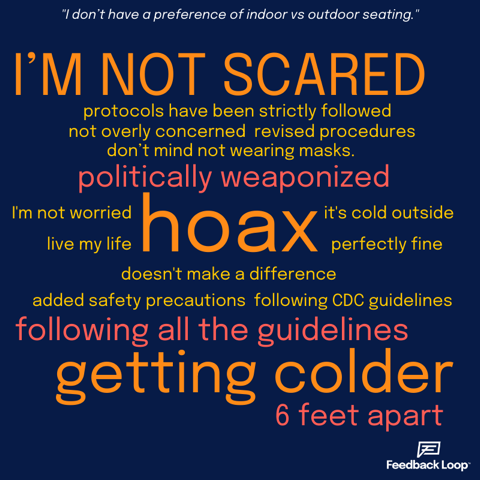 Consumers Will Support Local
American consumers are rallying to support small businesses this holiday season according the new research from Comcast Business which explores U.S. consumers' shopping trends and behaviors amid the COVID-19 pandemic. The national survey of more than 1,000 consumers found that 46 percent are more likely to patronize local/small businesses this holiday season compared to previous years, driven primarily by a desire to give back to their communities (53 percent), while also becoming more purposeful in their shopping.
The study also revealed that 84 percent of Americans are mindful of the type of businesses they support some or all of the time, with an additional 24 percent specifically saying they've been shopping more purposefully since the pandemic began (with examples including supporting local businesses, small businesses and black-owned businesses). It also found that consumers:
Shop locally for quality goods and experiences: In addition to supporting the local community, consumers choose to shop at small businesses for the quality of goods (48 percent) and customer service (45 percent) as well as the ability to find unique/niche merchandise (44 percent). Conversely, when choosing to support big box retailers, they do so because of cost (65 percent), the convenience of buying multiple things at once (54 percent), and overall product selection or variety (46 percent).
Plan to support their local restaurants and groceries: The top way consumers plan to support small/local businesses this holiday season is by ordering take out from local restaurants (48 percent), with 35 percent planning to tip more generously. Many consumers also intend to support businesses in their local communities by getting groceries at local markets (37 percent), buying gifts from online marketplaces (25 percent) and gift cards from small/local retailers (23 percent), and sharing their favorite businesses with family and friends (24 percent).
Are more likely to shop at small businesses that offer alternative pick-up methods: When asked which technology features would make them shop at small businesses more often, 44 percent of Americans chose order online, pick up in store, with another 30 percent choosing curbside pickup. Over one in five (21 percent) also value contactless payment methods. Furthermore, 75 percent of consumers agree it is important that retailers offer online shopping.
"2020 has been a trying year for small businesses – the lifeblood of our communities – and the consumers that support them. The results of this survey demonstrate that Americans appreciate the outstanding service, selection and spirit of what small businesses bring to their communities – and consumers are ready to pay it forward this holiday season," said Eileen Diskin, Chief Marketing Officer, Comcast Business. "Comcast Business is committed to helping businesses of all sizes offer the technology-forward experiences their customers expect, enabling them to go beyond bouncing back, to bouncing forward."
Air Quality Concerns Guests
Indoor air quality continues to be top of mind for the majority of Americans as a new national survey of 1,018 consumers, commissioned by Boski Air, finds 74 percent believe that indoor air quality is critical to the re-opening of schools and restaurants. Moreover, those concerns will not wane for 49 percent of Americans even after the majority of the U.S. population are vaccinated for Covid-19 over the next six months.
Conducted by Zogby Analytics from Dec. 8-9, with a margin of error of +/- 3.1 percent, the survey found that only one-third of Americans believe that heating and air conditioning systems can currently clear the indoor air in classrooms and restaurants to make them safer from Covid-19 and other viruses.
Air quality fears have led to 39 percent of consumers avoiding indoor restaurant meals the past six months and more than 52 percent lack confidence that indoor air in K-12 schools is currently safe. However, Americans are open to new solutions, including air sanitizers that can clean the air within a close proximity. More than 64 percent said they would be more likely to eat inside in a restaurant that provided air cleaning devices on every table 70 percent would encourage their local school districts to purchase desktop air cleansing devices.
Other results from the national survey include:
72 percent are willing to use a device that kills 99.9 percent of airborne viruses within a 6-foot radius
64 percent would be more likely to eat outside at a restaurant with an air sanitizer on every table
44 percent would be willing to pay $5 more per table to have an air sanitizer device at a restaurant
61 percent do not believe that indoor air in college classrooms and dorms are currently safe·
64 percent said the purchase of tabletop air sanitizers would make them feel more comfortable about air quality in school settings
Managers are unprepared to support employees and drive employee engagement, according to Achievers, the progressive choice for employee voice and recognition solutions that accelerate a culture of performance. The data is based on a new survey, the Manager Empowerment Report, from Achievers Workforce Institute, which is the research and insights arm of the company.
Based on a survey 2,094 employed respondents, the report finds that less than half of managers (48 percent) have been trained in key areas such as one-to-one meetings, coaching, recognition, or professional development.
"With less than half of employers training managers to coach and lead their teams, according to the survey, it represents a risk area for organizations. Our data shows that manager effectiveness directly impacts employee engagement, with recognition and professional development playing especially big roles in driving effectiveness," says Achievers Chief Workforce Scientist Dr. Natalie Baumgartner. "Organizations need to offer widespread training to all managers to empower them to better lead their teams. If an organization can empower all their managers to be great leaders, they will see direct business impact at every level."
2021 Resolutions
Urban Plates releases the results of its second annual New Year Resolutions survey. Developed in partnership with market research firm Ipsos, the study explores current and past New Year resolutions, motivations for making or not making them, and if the pandemic has had an influence on 2021 resolutions. Key findings include:
More resolutions planned for 2021 – nearly two in five Americans (38 percent) have a resolution planned for 2021, a slight increase compared to 36 percent in 2020, while 62 percent do not have plans to make resolutions
Nearly three quarters (73 percent) of those planning a resolution report that COVID-19 impacted what their resolution will be – with one in four sharing they will focus more on mental health, eating healthier, and/or their finances as a result of the pandemic
Health, wellness, and money – among those with resolutions planned for next year, working out/being more active is the most common goal (55 percent), followed by eating healthier (47 percent) and improving finances (45 percent)
Nearly half of the resolutions made in 2020 stuck – among those who made a 2020 resolution, 45 percent are still working on their resolution or have already reached their goals, while (55 percent) did not complete their resolutions
For the full survey, click here.
Building a Better QSR Robot
Your favorite bartender or waitress could soon be replaced by a mechanical counterpart on a future visit to the local pub or restaurant, says a new study from Ball State University.
In her study, "How to Build a Better Robot for Quick Service Restaurants," recently published in the Journal of Hospitality and Tourism Research, Dina Marie Zemke, an associate professor of residential property management in the Miller College of Business, found that the overwhelming majority of respondents believe that there is no stopping the robotic transformation of the food service industry, including quick service restaurants (QSRs).
"There was a high level of resignation about the inevitability of QSRs incorporating robots during our group interviews," said Zemke, who collaborated on the study with several faculty from the University of Nevada, Las Vegas. "This finding is similar to the acceptability of routine societal change. Participants felt that the incorporation of robotic technology is a question of when, rather than a question of if."
"And, imagine telling your problems to a robot instead of a human," she said. "It changes the dynamic of bartending dramatically when you add in mechanism with artificial intelligence and not common sense."
Zemke points out that robotic technology designed to perform specific physical tasks has recently emerged as an option for hospitality businesses due to decreasing robotic equipment costs.
The price to purchase a hamburger cooking robot is about $60,000. However, many industrial service robots, such as robotic vacuums and robotic assembly arms, are leased. A commercial robotic vacuum will cost between $7,000 and $15,000 to purchase, but they are often leased at $4 to $6 per hour of operating time, less than the minimum wage of $7.25. The manufacturer or distributor is responsible for all maintenance on the device.
Zemke noted that the majority of robots used in the hospitality industry are technologies initially developed for other industries, such as automobile and food manufacturing, which have been modified from their original functions to perform their tasks in a hospitality setting.
Examples include the work performed by robotic vacuums, information displays, and robotic manufacturing assembly arms, which put together pizzas and cocktails.
But, the study also found that robots are still a novelty for most people.
"At this point, a lot of people have a positive impression of robotic technology that entices guests to visit the location at least once, although they were unsure whether the robotics would sufficiently overcome average food or service to entice them to return to the restaurant a second time," Zemke said. "This is consistent with past examples of restaurant concepts that provided a highly unique experience but suffered from the reputation that the guest would visit once because of the 'experience' but would not return because the food was too expensive and/or the food quality or service provided a poor value overall."
Despite the impending changes, the study found that respondents have major concerns regarding the societal impact of robotics entering the realm of QSR operations, including the cleanliness and food safety of robot technology, and communication quality, especially voice recognition, from both native and nonnative English speakers.
In the end, Zemke believes that rising labor costs will force restaurant owners to turn to robotics.
"The genesis of this study was the 'Fight for $15' movement, which focused heavily on hourly service jobs, such as those in franchised quick service restaurants," she said. "Many restaurant operators cautiously suggested that they may explore robotics as an alternative to absorbing these increased labor costs."
The Vegan Bargain
With Veganuary 2021 just a few weeks away, research released today suggests that people signing-up to try vegan for January can save money on their grocery bill and spend less time cooking. Findings from a new Kantar study commissioned by Veganuary show that, on average, plant-based meals eaten at home cost 40 percent less than meat/fish-based meals and take one-third less time to prepare.
Data from Kantar's usage panel which records online weekly meal diaries from around 11,000 people in Britain showed that for the 52 weeks ending August 2020. Among the findings:
A main meal (lunch/dinner) containing meat, fish or poultry costs, on average, £1.77 ($2.36) per person whereas a plant-based main meal costs 40 percent less at just £1.06 per person ($1.41). This is a saving of 71p ($0.94) per person per meal. The cost savings are seen fairly equally across lunch and dinner
A meat/fish-based lunch takes 18.9 minutes to prepare, on average, whereas a plant-based lunch is 37 percent quicker at only 12 minutes
A meat/fish-based dinner takes 37.5 minutes to prepare, on average, whereas a plant-based dinner is 32 percent quicker at just 25.4 minutes
Analysis of Kantar's shopper panel which continuously tracks purchases from 30,000 British households revealed that for the 52 weeks ending September 6, 2020:
Vegan households spend eight percent less per grocery trip, on average, than non-vegan households of a similar size. The average vegan shopping basket costs £16.47 ($21.95) while the average non-vegan basket is £17.91 ($23.87)
Only 3.7 percent of all vegan household spend on food and drink goes on meat substitutes
COVID and Foodservice
The Food Group, a full-service food and beverage marketing agency, reports how the COVID-19 pandemic is affecting the hospitality industry from independent restaurants to national chains and the future of foodservice operations.
In the new tfgTOUCHPOINTS™ white paper, Special Edition: What Commercial Foodservice Operators Want in the COVID-19 Era, The Food Group provides an inside look at how commercial foodservice operators have been affected by, and how they are adapting to, COVID-19. Additionally, the report provides takeaways and guidance for how food and beverage manufacturers can help operators succeed in an uncertain and new era of hospitality.
The following findings provide insights into the ways COVID-19 is reshaping the hospitality industry:
COVID-19 has forced operational changes that will forever alter the way people eat out. In addition to cutting staff positions (56 percent) and paring down menus (58 percent), operators are doing their best to make guests feel safe by eliminating self-service and buffets, and switching to disposable items and portion-control condiments.
Technology has become essential to daily operations and profitability. Social media has become a crucial vehicle for providing restaurant updates and promoting specials. The pandemic has also fast-tracked the adoption of new technologies for many operators such as pick-up and delivery systems and virtual events for training, education and networking.
Foodservice operators want and need content that helps them solve their business problems. Content creators need to provide short format information in innovative ways in topics that are of most interest such as front and back-of-house food safety (56 percent), culinary trends (55 percent), and menu optimization (49 percent).
This "new normal" has forced operators to shift their priorities. Providing benefits such as shelf stability, reduced prep time, offering products that have multiple applications across a menu, and creating streamlined equipment are just a few of the ways foodservice manufacturers can help operators run more efficiently.
Nothing in recent history has disrupted the foodservice industry quite like COVID-19, and brands have an opportunity to be supportive partners. The What Commercial Foodservice Operators Want in the COVID-19 Era report spotlights the challenges facing the foodservice industry and offers solutions on how to navigate and move forward. Click here to view an executive summary of tfgTOUCHPOINTS™ Special Edition: What Commercial Foodservice Operators Want in the COVID-19 Era.
The Rise of Digital Food Shopping
Digital food shopping has accelerated, and will continue to be prevalent post-pandemic, according to a new study by the Intent Lab, a research collaboration between Performics and Northwestern University Medill School of Journalism, Media, Integrated Marketing Communications.
The Intent Lab has been tracking consumers' satisfaction with digital experiences since Q2 2016. The pandemic has forced consumers to be more reliant on the internet; in turn, consumers are expecting brands to deliver more useful experiences. However, the Intent Lab study shows that digital satisfaction around Utility continues to decline, reaching a new low.
Consumers are on the lookout to discover brands that provide particularly useful experiences in the pandemic. Furthermore, these brands may create new consumer connections and habits; 77 percent of respondents in our survey indicated they'll keep using a newly-discovered brand after the pandemic.
In this study, titled Shifts in Digital Food Shopping Behavior during COVID-19, the Intent Lab dug into the usefulness of COVID-accelerated Food and Grocery Apps/Services, which have become essential in 2020.
The study found:
Pre-pandemic, a small amount of survey respondents were using alcoholic beverage delivery apps (10 percent), grocery apps (12 percent) and food preparation subscription services (11 percent). In the pandemic, alcoholic beverage delivery app usage surged 129 percent, grocery delivery app usage rose 110 percent and food preparation subscription services rose 110 percent.
Even restaurant/coffee shop apps and online food review sites, which enjoyed high pre-pandemic penetration (38 percent and 30 percent respectively), rose in usage by 38 percent and 44 percent respectively
19 percent of survey respondents have switched to Food/Grocery Delivery/Pick-Up services during COVID-19. Consumers who are currently using these services tend to use them once per week. But still, 53 percent of survey respondents have never used these services.
The top newly-discovered Food and Grocery brands in the pandemic include Uber Eats, Grubhub and DoorDash in Restaurant Delivery/Pick-Up; and Instacart in Grocery Delivery/Pick-Up. Starbucks leveraged its capabilities for low-contact pickup and seamless ordering to win new customers. And beyond food, Amazon and Walmart have also benefited from contactless delivery. Overall, DoorDash and Grubhub were the two most newly-discovered brands, with 9 percent and 8 percent of survey respondents discovering these platforms respectively since March 2020.
Search engines, word-of-mouth and social media ads are the top brand discovery channels in the pandemic. 20 percent of respondents discovered new brands through search ads, 19 percent through offline word-of-mouth, and 18 percent through social media ads.
"Despite the rise of food and beverage delivery platforms, the Intent Lab study also found that consumers are concerned about well-known barriers in this category, including freshness, not having free shipping and lack of return options," says Esteban Ribero, Performics SVP of Planning and Insights. "Additionally, concerns about hygiene and unreliability of service are particularly important to consumers who are more concerned about COVID."
For Food and Grocery brands to connect these findings to media strategies, Ribero notes, "It's clear that consumers are using search engines and social media to discover brands that can aid with utility in the pandemic. Put low-contact, contactless delivery and seamless experiences at the center of your media and content strategies. And, even more importantly, your apps and experiences must deliver upon this utility. The Intent lab has consistently found that digital literacy is a key driver of digital satisfaction, so make it as simple as possible for all consumers to use your apps but allow sophistication for those skilled in getting the most out of digital tools."
The study surveyed 1,002 U.S. consumers in October 2020. Download the full study here.
No Holiday Travel
A recent national survey commissioned by the American Hotel & Lodging Association (AHLA) shows that nearly two-thirds (69 percent) of Americans will not travel for Christmas. With a new surge in COVID-19 cases, the CDC recommending that Americans do not travel over the holiday season and new stay-at-home orders in place in states across the country, the holiday season will compound the challenges already facing the hotel industry during this public health crisis.
"We understand the importance of following CDC guidelines to reduce the spread of COVID-19 and support the government's actions. However, with the dramatic decline in travel, hotels will face a harsh winter through no fault of our own. The hotel industry needs aid to survive until travel demand returns. Given this current environment, Congress cannot nor should not contemplate recess until a relief bill is passed now," said Chip Rogers, President and CEO of AHLA. "Millions of Americans are out of work, and thousands of small businesses are struggling to keep their doors open. We cannot afford to wait until the next Congress is sworn in for relief. We need help now."
The survey of 2,200 adults was conducted November 2-4, 2020 by Morning Consult on behalf of AHLA. Key findings of the survey include the following:
74 percent of those traveling overnight for Christmas report they will stay with a family or friend
Only three in 10 (32 percent) respondents have taken an overnight vacation or leisure trip since March
Looking ahead to next year, 24 percent are likely to travel for spring break
44 percent say their next hotel stay for vacation or leisure travel will be a year or more from now or they have no plans to stay in a hotel
Business travel has been even more impacted as only 8 percent of Americans say they have taken an overnight business trip since March
Only eight percent of all adults expect to travel for business within the next six months
62 percent of employed Americans have no plans to stay in a hotel for business