MRM Research Roundup: Mid-August 2020 Edition
19 Min Read By MRM Staff
This edition of Modern Restaurant Management (MRM) magazine's Research Roundup features consumers' dining desires, the power of personalization and the untapped opportunity in localized marketing.
COVID-19 Consumer Dining Trends
Fatigued by cooking at home, consumers are anxious to dine at their favorite restaurants according to a new Oracle Food and Beverage study. The survey found that 59 percent of US and 47 percent of UK consumers plan to dine-out as soon as they are able. In fact, as soon as it's deemed safe to reopen, 26 percent of US respondents and 14 percent of the UK said they plan to return in the first week. Diners are looking for reassurance on cleaning procedures and technology to reduce contact with servers. Forty percent of those surveyed in the US and 39 percent in the UK said they would feel safer if they could view the menu from their mobile device, while 35 percent in the US versus 31 percent in the UK would like to be able to pay in the same manner.
But while limited dining options are available, people have shown an increased desire to help out independent restaurants. Thirty-nine percent of those in the US and 36 percent in the UK ordered more frequently from their local restaurant than before the crisis.
"Throughout the globe, we have seen communities rallying around local independents to ensure they make it through to the other side of this crisis," said Simon de Montfort Walker, senior vice president and general manager, Oracle Food and Beverage. "But while consumers are anxious to get back out there to eat, they come with new expectations on everything from menus to the technology used to increase safety. Execution will play a pivotal role in building customer trust and ensuring today's diners remain loyal."
The study, commissioned by Oracle and fielded by Untold Insights, examines the dining preferences and behaviors of 2,000 consumers in the US and UK prior to and during stay-at-home-orders.

Mixed take-out bag
Ninety-five percent of Americans and 87 percent of those in the UK noted they often ordered take-out before stay-at-home orders began. Interestingly, that number dropped to 88 percent in the US and 65 percent in the UK during stay-at-home orders. As restrictions ease, 69 percent of overall respondents plan to order take-out at least once a month, with 36 percent of planning to do so at least once a week.
The US and UK also varied on how they wanted to retrieve take-out orders. Americans preferred to pick-up their food (38 percent US vs. 22 percent UK), while the UK preferred home-delivery (57 percent UK vs. 33 percent US). Both sides agreed that a negative take-out experience – ranging from a reduced menu to poor service – was a deal-breaker. Twenty-three percent of people in the US stopped ordering from an establishment due to a bad experience during stay-at-home-orders, compared to 30 percent in the UK.
Can't touch this
As noted, contactless technology was high on the list for customers to feel comfortable dining out again. On top of the ability to view menus and pay via a personal device, 30 percent of overall respondents also preferred to pay remotely via kiosks or tablets that could be easily cleaned by servers.
Restaurants vs. delivery services
Despite the popularity of third-party delivery apps, many consumers prefer to interact directly with the restaurant itself. The survey found that 86 percent of overall respondents prefer to order directly from a restaurant, rather than using a third-party app or other platforms. Of those, 35 percent prefer to order directly over the phone, while others prefer to order digitally either through the restaurant's website (35 percent) or a restaurant app (18 percent).
Generational divides
Restaurants are seeing the strongest comeback from the millennial generation (25-39) and the largest decline from the boomer generation (55+). Fifty-six percent of millennials overall reported that they dined out on a weekly basis prior to stay-at-home-orders and that 41 percent intend to dine out every week after restaurants reopen. In contrast, 28 percent of boomers previously dined out weekly and only 12 percent intend to continue that frequency upon reopening, representing a 57 percent decrease.
Supporting local
Consumers rallied to support local restaurants, as nearly 40 percent of respondents in the US and 36 percent in the UK noted they purchased more frequently from independent brands during stay-at-home-orders. This is compared to only 23 percent of the US and 17 percent of UK consumers reporting an increase in purchasing from national chains.
A consumer's brand loyalty was also impacted during recent events, with 33 percent of overall respondents citing an increase in loyalty to the brands they frequented during stay-at-home-orders. This sentiment was most prevalent with millennials, with 43 percent reporting an increase in loyalty.
Coronavirus and the Restaurant Industry: August Insights
(based on data from the week ending August 2)
Restaurant comp sales improved slightly during the week ending August 2, but the improvement in year–over–year growth from last week's results was almost negligible.
July sales and traffic were a mixed bag of results for the restaurant industry. See details here.
Since the week ending June 28 the industry's recovery remains stagnant. Comp sales have fluctuated by less than 2.5 percentage points during each of the last six weeks.
July's comp sales were -15 percent. While there is still a lot of ground for sales to cover before fully recovering, the recent pace of improvement suggests it probably will take a long time to get there.
Restaurant comp traffic remained essentially unchanged from the previous week's results. There has been little fluctuation in year over year traffic growth results in the last six weeks.
Sales performance for limited-service brands declined slightly from last week based on comp sales growth.
Quick service and fast casual segments continue outperforming full-service restaurants by a very wide margin. By week ending August 2, limited-service comp sales had been positive during four of the last five weeks. See a deep dive on the state of the QSR segment in our newest report.
The segment with the biggest decline in comp sales year over year for week ending August 2 was family dining, followed by fine dining.
After seeing a slowdown at the end of June and first week of July, comp sales for dine-in in full-service restaurants have been showing some small improvements in recent weeks.
Of all chain restaurants existing in the pre-pandemic period, 12 percent in full-service and 7 percent in limited-service remain completely closed. These percentages have held relatively flat for the last four weeks.
The best performing regions based on restaurant comp sales during the week were: the Southeast, Southwest and Mountain Plains.
Regions with worst comp sales results during the week were: California, New York-New Jersey, New England and Florida.
Restaurant Staff Key to Retaining Guests by Maintaining a Clean & Safe Environment. Read more in the latest Restaurant Guest SatisfactionSnapshot.
Consumer transaction data revealed that full-service restaurant spending was among the 10 categories most negatively impacted during Q2 compared to Q1. Other leisure-related categories affected the most included travel, cruises, lodging and airlines.
Limited-service restaurants continue to be the clear winners in the market share battle within the leisure category.
Although at the height of the pandemic over half of limited-service companies reported cutting staff through either furloughs or layoffs (or a combination of both).
By June, the median company in quick service and in fast casual had increased their number of hourly employees per location compared to their pre-pandemic staffing levels.
The biggest drops in staffing compared with the pre-pandemic period occurred in the front-of-house, which is not surprising given the limited dine-in operation capacity still experienced by many restaurants.
Personalization Drives Brand Loyalty
Formation.ai released a consumer study that reveals personalization is driving brand loyalty, but consumers feel brands aren't doing enough to recognize them as individuals.
The study — "Brand Loyalty 2020: The Need for Hyper-Individualization" — comprises survey responses from 2,000 consumers and shows the more personalization tactics a brand uses, the more loyal a consumer is to that brand. It also reveals consumers engage most with brands they feel recognize them as being unique, meaning true one-to-one personalization is critical to earning consumer loyalty and higher brand engagement in a crowded market.
"Consumer loyalty has risen to new heights in the last five years, but it hasn't been a boon for every brand," said Formation.ai co-founder and CEO Christian Selchau-Hansen. "Garnering loyalty is increasingly difficult, especially with the economic uncertainty brought on by COVID-19. The need for brands to deliver real value has become more dire as shoppers evaluate purchasing decisions against personal safety and tighter household budgets."
The study includes a trove of consumer insights for brands and marketers seeking to grow their business by building and strengthening individual customer relationships through personalized experiences. Key findings include:
Basic customization and segmentation tactics are no longer enough
75 percent of consumers said the marketing emails they open frequently contain macro-segmentation
and/or micro-segmentation tactics, indicating these are now table stakes.
Consumers want true one-to-one personalization
81 percent of consumers are willing to share basic personal information in exchange for a more personalized experience, and 73 percent said the brands they engage with the most recognize them on a one-to-one level.
Loyalty programs are key to greater personalization
79 percent of consumers agree that the more personalization tactics a brand uses, the more loyal they are to that brand, and 73 percent said they're more likely to engage with a brand that offers a loyalty program versus one that doesn't.
Loyalty programs must stand out
58 percent of consumers said they're more loyal to brands than they were five years ago, but the majority of respondents (63 percent) only belong to between one and three loyalty programs, meaning a program must deliver exceptional experiences to make the cut. Additionally, 77 percent of consumers feel brands could be doing more to earn their loyalty.
The data, collected just prior to the declaration of the COVID-19 pandemic, has become more resonant in recent months.
"The bar for creating consumer relevance has risen dramatically as tech giants like Netflix, Amazon and Spotify deliver increasingly personalized user experiences," Selchau-Hansen said. "Consumer expectations for individualized experiences are rising, and the pandemic is accelerating that. If brands want to foster loyalty from today's consumer, they must deliver experiences and communications so tailored they feel as if they've been crafted for just that one person."
"Brand Loyalty 2020: The Need for Hyper-Individualization" is available for download.
How Is Casual Dining Doing?
Earlier this summer, TOP Data examined the re-rise of carhops and the staying power of fast food during a nationwide pandemic. As a follow up, they wanted to see how some of America's most popular casual dining chains are fairing in each state, as well as how sit down friendly restaurants are performing against their grab and go counterparts.
Fast Food Reigns Supreme: Since COVID-19 gripped the nation's conscience in March and April, fast food has consistently outperformed traditional sit down restaurants in terms of customer visits. On Average, casual dining has seen 58 percent less traffic since the start of the pandemic, whereas fast food restaurants have only experienced a 30 percent decrease.
Apps, Carbs, Red Meat, Oh My: By and large, casual dining staples Applebees, Chilis, and Olive Garden and chain steakhouses like Texas Roadhouse are dominating America's return to well-known sit down restaurants.
Risking it for the biscuit?: The two most popular casual dining restaurants in our COVID-dominated world (Olive Garden and Texas Roadhouse) are universally known for their everlasting supply of free bread!
Will More Stimulus Be Necessary?
One of the key trends Nixon Peabody Food and Beverage attorneys are keeping an eye on, in their "Food & Beverage Q3 Outlook" is whether restaurants need additional stimulus funds to remain solvent.
With dining sales down nearly 80 percent compared to last year, restaurants are struggling to replace lost revenue and maintain their lease obligations. Extended closures, limited indoor sales, and threats of renewed closings create strong and unpredictable headwinds. Landlords remain supportive but are taking steps to protect their legal rights as they look to pay operating costs and taxes. According to our bankruptcy attorney Chris Desiderio, with extensive experience in F&B, "Restaurants may need additional stimulus funding, including federal and local support, to survive the pandemic."
Among the highlights:
Restaurant leases get creative with variable rent. It is no secret that the restaurant industry has been hit hard by the pandemic. Some restaurants that were struggling before the pandemic are simply closing for good, while others are restructuring through bankruptcy. Many landlords and tenants have been negotiating rent deferrals over the past few months as a temporary solution. According to bankruptcy attorney Louis Cisz and real estate attorney Ian O'Banion, with extensive experience in F&B, "Another potential solution that is gaining interest in the restaurant industry is a variable rent structure. Instead of a fixed monthly rent, variable rents include a percentage of sales based on a negotiated formula. This percentage-based rent structure is allowing some restaurants to weather the pandemic."
Branding and rebranding in view of the social justice movement. Some of the largest and most longstanding food and beverage brands in the U.S. are responding to public calls to rebrand racist imagery and wording that, in some cases, dates back to the 1800s. Iconic brands like Aunt Jemima, Mrs. Butterworth, Cream of Wheat, and Uncle Ben's have all announced that they will modify their branding in order to help put an end to racial bias, stereotypes, and injustices. Grocer Trader Joe's also recently announced that it would modify parts of its branding for its international foods with names like "Trader Jose's" and "Trader Ming's." According to intellectual property attorney Lauren Arnold, with extensive experience in F&B, "In the event that a rebrand is advisable, companies should consider a comprehensive trademark clearance search to ensure that the new brand will not create new risks, including from prior users of similar marks."
Health of F&B employees and privacy rights. Food and beverage manufacturers and restaurants, deemed essential business in many states, continue operating despite the ongoing COVID-19 pandemic. While employers have greater leeway than in the past to inquire about employees' health, it is not limitless. Employers must be careful in requesting and handling employee health information. Failure to maintain confidentiality or wrongfully using health information to make hiring or firing decisions can lead to invasion of privacy and discrimination claims. According to labor & employment attorney Hilary Baca, with extensive experience in F&B, "Before obtaining employees' confidential health information, food and beverage employers should seek guidance regarding applicable local, state, and federal laws and guidelines, including the Americans with Disabilities Act and state privacy laws, to make sure they do not incur liability in the process of trying to keep their workforce safe."
Reopening Impact on Delivery
As states begin to lift restrictions and pause reopenings, Asian food delivery app chowbus analyzed its impact on delivery orders through incremental GMV percentage changes. Among the key findings:
Except for GA(Atlanta) and NY(NYC), as states reopen, less delivery was ordered.
During when CA (San Francisco) reopened, 7.8 percent less delivery was ordered.
When MA (Boston) allowed for indoor dining on 6/22, 0.35 percent less delivery was ordered.
After IL (Chicago) reopened, 6 percent less delivery was ordered.
As MI (Lansing) relaxed the indoor dining capacity on 5/22 and 6/8, 9.74 percent and 11.3 percent less delivery were ordered, respectively.
After Maryland (Rockville) allowed restaurants to open at 50 percent capacity, 3.17 percent less delivery was ordered.
After NJ (Edison) allowed outdoor dining on 6/15, 3.37 percent less delivery was ordered.
After 17 counties in PA (Philly) can reopen in-door at 50 percent capacity on 5/29, 13.51 percent less delivery was ordered.
When states re-closed the dine-in — including MI (Lansing), MD (Rockville), PA (Philly), and WA (Seattle) — more delivery was ordered (or there was a smaller decrease in delivery) compared to the two weeks prior.
When MI (Lansing) closed the indoor bar service in part of the state on 7/1, there was less of a decrease, -3.73 percent, in delivery orders compared to the -11.3 percent change in the twoweeks prior. This could mean that more people restarted to order delivery after the re-close.
When MD (Rockville) suspended dine-in on 7/22, 1.57 percent more delivery was ordered.
When PA (Philly) reduced the capacity to 25 percent on 7/16, only a very insignificant 0.38 percent less delivery was ordered than the 13.51 percent decrease 2 weeks ago.
When WA (Seattle) paused phase four, 5.68 percent less food was ordered on chowbus compared to when dine-in allowed 75 percent capacity.
Most of the data, with a few exceptions, was in line with the expectations that as states reopen, less people order delivery; as states reclose, more people go back to ordering delivery.
Local Marketing Opportunity
A new report released by SOCi in partnership with Forrester found that localized marketing remains the biggest untapped opportunity for marketers struggling to reach consumers during this pandemic.
Consumers are searching for and finding business info on a local level, regardless of whether a brand has a localized strategy. This could have dire consequences on a brand's credibility, awareness and foot traffic, which still play a major role in revenue generation for 61 percent of marketers. WIthout a brand's participation, consumers may be viewing inaccurate information on social media and local listings (Yelp, Google My Business), or low SEO rankings.
Forrester Consulting surveyed more than 150 multi-location marketers working in the retail, entertainment, hospitality, and restaurant industry and found that:
An optimized localized marketing strategy is associated with greater brand alignment (38 percent), increased foot traffic (34 percent), improved marketing efficiencies at the local level (34 percent), and better brand trust on a local level (34 percent)
There's work to do structuring marketing teams: Only 40 percent of multi-location businesses have defined localized responsibilities for local and national teams despite 75 percent of marketers believing doing so would significantly impact abilities and results
77 percent find executing a localized marketing strategy across all of their locations challenging
45 percent of those surveyed coordinate marketing efforts between corporate marketing teams and local franchise owners
Improving the effectiveness of marketing at the local store level is a high or critical priority for 61 percent in the coming year — on par with the priority they will place on the same efforts at the national level (62 percent)
The full study can be found here.
State of What Feeds Us
Bluedot in partnership with market research agency SeeLevel HX, released the second installment of State of What Feeds Us Report which examines consumer habits and behavior of restaurant and retail customers. The research, based on a survey of 1,501 American consumers, was completed last month. The findings offer critical insights to help brands navigate through the rising pandemic.
Highlights of the report include a major spike in mobile app usage, up to 64 percent from 51 percent since the first State of What Feeds Us Report released in April which also uncovered a sharp uptick in mobile app usage. Strikingly, fast food customers have substantially increased their visits to the drive-thru with a 43 percent jump since the first report three months into the pandemic. Nearly three out of four consumers are now visiting the drive-thru as often or more often than before. Consumers have also increased their use of curbside pickup with 62 percent choosing the contactless option as much or more often over the last month.
"The latest findings further signal a dramatic shift in consumer habits as a result of the rising pandemic. There's even more data now to support prioritizing a mobile strategy with drive-thru and pickup options and significant safety precautions to both retain revenue and gain customers," said Emil Davityan, CEO and co-founder of Bluedot. "It's also critical to recognize the value of speed of service. Long wait times can not only negatively impact the overall customer experience, but are likely to turn away customers upon approach as well."
The report revealed the vast majority (81 percent) of consumers feel that waiting more than 10 minutes at the drive-thru is too long. Further, 4 out of 10 customers say wait time longer than 4 minutes for curbside pickup at a fast food restaurant is too long.
"There's no question service times have a direct impact on a store's revenue. Our annual QSR Drive-Thru Study indicates service times could be costing QSRs roughly $36,397.80 per unit per year on average. That's hundreds of millions of dollars annually for major brands," said Lisa van Kesteren, SeeLevel HX CEO. "This new data further emphasizes how critical it is for QSRs to explore new strategies for improving efficiencies to both stay competitive and increase revenue."
Safety and sanitation also stood out as key factors with COVID cases continuing to rise throughout the country. Not only do consumers want to see staff wearing masks and gloves, they also want to see sanitation and safety information posted at the drive-thru (29 percent) as well as less or zero contact with staff (25 percent).
Key Findings
Mobile apps: Americans are continuing to download more mobile apps
The majority of consumers (88 percent) are using mobile apps to order food, groceries and other products the same amount or more often than before, up from 85 percent in April.
While 64 percent have downloaded at least one or more new apps to purchase food from restaurants, grocers and other essential stores, 49 percent have downloaded two or more apps compared to 45 percent in April.
Half are using mobile apps more often or much more often than before compared to 42 percent in April.
Drive-thru and curbside: Americans are still relying on fast food amid COVID
74 percent have visited the drive-thru the same amount or more often than usual. Additionally, 46 percent stated they're visiting more often than usual in the last month.
62 percent have used curbside pickup the same amount as before or more often than before. 40 percent have used it more often than usual compared to 27 percent in the first State of What Feeds Us.
Consumers feel most safe at the drive-thru followed by curbside pickup.
Wait time: Wait time impacts the bottom line
The majority (81 percent) feel that waiting more than 10 minutes at the drive-thru is too long.
Almost 4 out of 10 customers say wait time longer than 4 minutes for curbside pickup at a fast food restaurant is too long.
Safety: Safety is still top of mind, communication as important
Overwhelmingly, respondents rank both staff and customers wearing a mask as most important when it comes to safety precautions.
Sanitation and safety information posted at the drive-thru would make consumers feel safer (29 percent), followed closely by less contact or zero contact with staff (25 percent).
When using curbside pickup, consumers feel safest when they don't need to leave their car (27 percent), followed by staff meeting them with a mask and gloves (26 percent), and having minimal or zero contact with staff (22 percent).
Employees not wearing masks is by far the number one reason why consumers will not return to an establishment.
Consumers Are Adapting
Digital consultancy Publicis Sapient's inaugural Digital Life Index – Consumer Behaviors report reveals how people have been adapting amid extreme uncertainty and social restrictions due to COVID-19, new consumer trends that have emerged and what behaviors are likely to fall by the wayside in the wake of the pandemic. Results demonstrate how consumers have shown a substantial step-change in a more permanent adoption of technology in their everyday lives when it comes to hospitality.
Key findings from the survey of 3,000 people across five countries including the US are:
Dining goes digital: social media is the leading online resource for learning about new restaurants with 44 percent of US respondents using social platforms including Facebook, Instagram and Tik Tok for research however, just 9 percent of US participants used voice as a tool to learn about new restaurants and although this was the highest out of all the regions surveyed, suggests that widespread adoption is still in its infancy.
Mobile ordering: 31 percent of global survey respondents said they would be more likely to dine in a restaurant if a mobile menu/app was offered
Safety first when it comes to dining: 43 percent of global survey respondents said they are more likely to dine in a restaurant that offers health & safety checks for its employees; 37 percent would prefer low density seating inside the restaurant (29 percent outside); and 20 percent prefer a self-service kiosk when ordering or paying. The US (43 percent) is more likely than other regions to say having curbside pick up or drive through options will affect their choice of restaurant.
Contactless payments: If offered, 26 percent of US respondents would choose to pay via contactless methods in store almost every time.
Dining out vs. dining at home: Over the past three months, 34 percent of US respondents have tried a new restaurant, while 23 percent of US respondents learned to cook or bake themselves. Consumers prefer using coupons, discounts or perks online compared to in-store/venue – 64 percent of US respondents prefer to use coupons or discounts online.
Challenges of Payment Options
Small business owners have increased their technology spend in the past two years, but 39 percent say they still spend five hours or more per week dealing with payment issues, according to a survey conducted by WePay, the integrated payments business of JPMorgan Chase & Co.
WePay's State of Small Business Payments 2020 survey provides a better understanding of the key challenges U.S. small business owners face when it comes to payments and their attitudes toward the financial industry overall. The findings help inform independent software vendors (ISVs) and Software-as-a-Service (SaaS) providers on how best to offer integrated payments solutions for small businesses to save them time and money.
The survey indicated that nearly half of respondents (49 percent) state they trust banks and credit card providers to handle their financial activity. However, 24 percent trust the combination of banks and software companies working together, showing an appetite to embrace the innovation of ISVs while maintaining the trust and confidence that comes from working with large banks.
WePay surveyed 1,000 U.S. small business owners with fewer than 100 employees in February 2020 across the retail, food and beverage, field services, professional services, and e-commerce industries.
Small businesses want a trusted partner in their payments technology
62 percent of small businesses surveyed would consider switching to a bank and software company solution, while 43 percent would switch solely to a software company.
28 percent of small businesses said they were "likely" or "very likely" to make a change to their online payment system in the next 12 months.
77 percent of companies with more than $1 million of annual revenue would consider working with a solution from a bank and an ISV.
29 percent of Gen Z respondents trust the bank/software combination to handle financial activity compared with 21 percent for Gen X and 20 percent for Baby Boomers.
Payment systems have challenges
Payment speed is still the top concern for small businesses and 39 percent have faced speed-related payment issues in the last 12 months.
25 percent of those surveyed had cash flow issues in the last 12 months.
Back to Business
As small and micro businesses (SMBs) worldwide continue to endure the financial impact of COVID-19, one thing is clear: rethinking the checkout or point-of-sale (POS) experience is essential for survival on Main Street. Visa (NYSE: V) today released the Visa Back to Business study assessing this dramatic shift to digital commerce in response to the pandemic, driven largely by changing consumer expectations for a safe and touchless payment moment. According to the eight market study of both consumers and SMBs, nearly eight-in-10 consumers worldwide (78 percent) have changed how they pay in order to reduce contact and more than two-thirds of SMBs (67 percent) have tried a new approach – whether launching an eCommerce site or changing POS technology – to keep their business on track.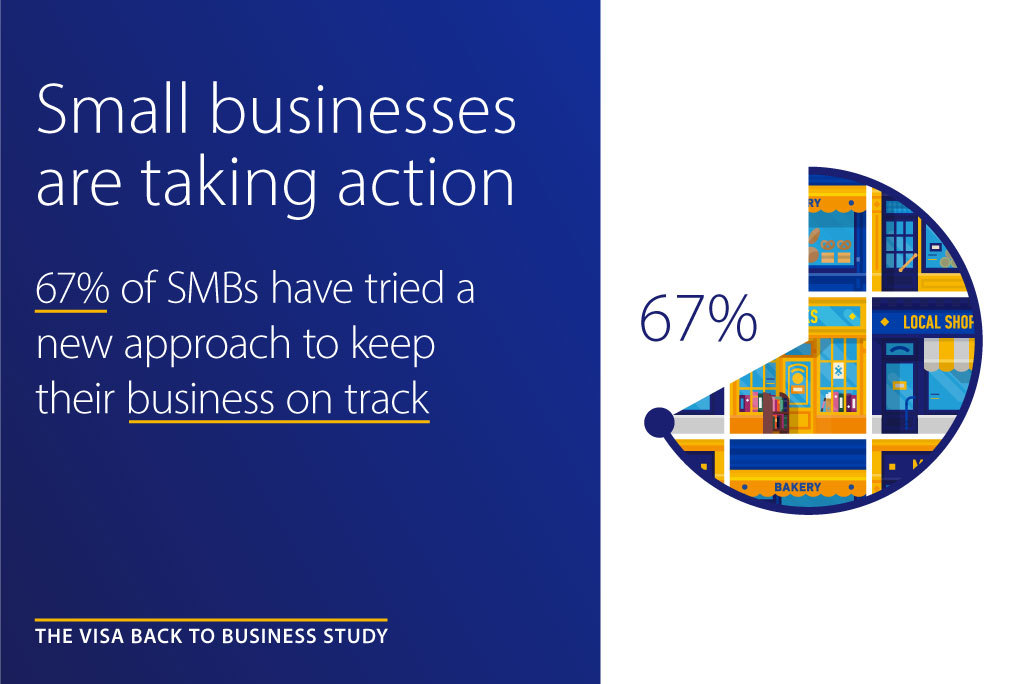 "Consumers are putting COVID-19 safety measures at the top of their shopping lists and rewarding businesses that do the same," said Suzan Kereere, global head of merchant sales and acquiring, Visa. "Historically, we see behavior change at the point of sale as a gradual shift over time. But, COVID-19 has created an immediate need for safer, more efficient shopping experiences both on and offline and consumers are responding by rapidly migrating to digital commerce. We want small businesses to know that Visa is here to help them navigate these new consumer needs and expectations, which will make their businesses stronger now and in the long run."
Additional findings from the Visa Back to Business study conducted in the U.S., Brazil, Canada, Germany, Hong Kong, Ireland, Singapore and UAE include:
Consumers Now Expect Digital-First Commerce
Safety first means touchless: In each market surveyed, contactless payments have become a driving differentiator: nearly two-thirds (63 percent) of consumers would switch to a new business that installed contactless payment options. For close to half of global consumers (46 percent), using contactless payment methods is among the most important safety measures for stores to follow. Nearly half (48 percent) would not shop at a store that only offers payment methods that require contact with a cashier or a shared device.
SMB optimism vs. consumer realities: Despite the unpredictable nature of the pandemic, 75 percent of SMBs are optimistic about the future. Additionally, 71 percent of global SMB owners say they have received support from their local communities, with the most coming in the form of business referrals (33 percent) and favorable reviews (31 percent). An area for improvement: where consumers shop, as just 9 percent of consumers say they shop exclusively at locally owned businesses, whereas 15 percent shop exclusively at larger retailers, with a large mix of combined approaches falling in between these two extremes.
New normal means new habits: Nearly four in five (78 percent) consumers have made changes to the way they pay, including shopping online when possible (49 percent), using contactless payments (48 percent) and not using cash as much (46 percent). A majority (70 percent) of consumers have used a new shopping or payment method for the first time, including 26 percent who have used tap to pay for in-store purchases, shopping for groceries or household items online (34 percent), curbside restaurant pick-up (28 percent) and buying online then picking up in store (25 percent).
Small Businesses Take Action, Amidst Real Challenges
Long-term outlook and top concerns: Globally, SMB owners estimate at least six to 10 more challenging months before their business is fully operational. Their greatest immediate concerns include revenue declines (52 percent), attracting new customers (46 percent) and having to reduce wages or salaries (22 percent).
Pivoting to a digital-first mindset: More than a quarter of SMBs (28 percent) have tried targeted advertising on social media or sold products or services online (27 percent). Another 20 percent have adopted contactless payments. One-third (33 percent) of SMBs report they have accepted less, or stopped accepting, cash since COVID-19. Millennial SMB owners (41 percent) are significantly more likely to have accepted less or stopped accepting cash, compared to Gen X (31 percent) and Boomers (21 percent).
On guard against fraud: More than half (53 percent) of SMBs are likely to purchase a fraud management solution to help protect their business due to the shift to digital commerce.
Regional Insights: Tackling Challenges and Card Cleanliness
Pivoting with new approaches: In the United Arab Emirates (UAE), 44 percent of SMBs – compared to 20 percent globally – have enabled contactless payments for the first time since the start of COVID-19. Nearly 94 percent of UAE SMBs have pivoted to keep their business on track, compared to 67 percent globally. SMBs in Brazil (84 percent) and Hong Kong (87 percent) also are trying new approaches in large numbers, including selling online (50 percent in Brazil compared to 27 percent globally).
Swipe? Then wipe: Two-thirds (67 percent) of consumers say they are taking some measure to keep their payment cards clean, with 33 percent saying they disinfect them. An overwhelming majority of UAE (89 percent) and Brazilian (87 percent) consumers are taking some measures to keep their card clean, whereas Singaporean (50 percent), German (53 percent), Canadian (60 percent) and Hong Kong (65 percent) consumers fell below the global average.