MRM Research Roundup: Mid-April 2021 Edition
20 Min Read
In this edition of MRM Research Roundup, we feature news of the expected pent-up demand from guests, the Great Restaurant Restart and delivery trends.
Event Planning Is Back
With summer around the corner, and an imminent surge of demand for experiences and events in the months ahead, Tripleseat and SevenRooms partnered to survey 1,000 U.S. consumers to better understand their feelings about planning events in 2021. According to the data, 72 percent of events are expected to be held in-person and of the venues chosen, unique venues, hotels and private restaurant space were among the top selected for hosting.
The survey revealed that after a year of birthday, holiday, graduation and anniversary celebrations over Zoom, respondents are ready to get back to event planning. With just under 50 percent of people planning to host their event outside, restaurants, hotels and venues with an outdoor space should begin promoting these offerings through their marketing and social channels. As consumers ramp up their event planning, operators should continue to leverage connected technology solutions to ensure the event booking and management process is streamlined and as user-friendly as possible.
As events of all kinds are being planned, the survey data revealed that consumers are looking to make up for lost time, especially while the weather is warmer and outdoor space is available. Additional key findings from the survey include:
Over a third (38 percent) of respondents plan to have between 1-20 guests, with 32 percent planning to have under 50
70 percent of survey respondents are planning a birthday party, 47 percent a holiday party and 30 percent a wedding
Budget remains a concern for guests, with 37 percent indicating their planned event spend as under $1,000, with under $5,000 a close second (25 percent)
30 percent of respondents shared they will be hosting their event at their home
More than one in three (34 percent) said that they will be planning their event with 1-3 months' notice
The most popular COVID-related safety offerings people look for when booking a venue included outdoor spaces (47 percent) and socially-distanced floor plans (40 percent)
2021 will bring a restaurant renaissance unlike any we've seen before, with more consumers dining out and planning events than in years past.
Catering is still a promising source of revenue for restaurants, hotels and venues to continue to capitalize on. One in three respondents shared that they still plan to host their event at home, with 51 percent of those respondents stating they will be catering their at-home event. In the hospitality industry today, it's imperative to have up to date technology solutions with features that allow for contact-free planning, ordering, payments and delivery/pick-up. The more seamless this experience is for customers, the more likely they are to order through a venue today and in the future.
"It's essential for businesses to creatively promote their offerings in order to get in front of their target consumer as event planning is expected to increase this year," said Jonathan Morse, CEO of Tripleseat. "Our survey found that people are excited to get out of the house and gather with friends, family and colleagues, so now is the time for venues to get creative in their offerings and ensure they leverage the tools they have to get in front of customers and provide them with a safe, fun, seamless event experience."
"2021 will bring a restaurant renaissance unlike any we've seen before, with more consumers dining out and planning events than in years past," said Joel Montaniel, CEO & Co-Founder at SevenRooms. "Hospitality operators should be prepared to meet this demand — both from an operational and technological standpoint — to keep guests safe and provide the types of hospitality experiences that will foster long-term loyalty with customers. Whether a customer is ordering for an at-home event, or visiting a venue in-person, operators should use all the tools at their disposal to create magical moments at every interaction."
Optimism Is Returning
In mid-March 2020, U.S. governing authorities, to get the COVID-19 global pandemic under control, restricted on-premises dining at roughly 70 percent of all U.S. restaurants, a historically defining moment for the industry. By the last week of March 2020, customer transactions at major restaurant chains had fallen by -43 percent compared to year-ago and by -77 percent at full service chains, which were most impacted by the dine-in restrictions. In March 2021, with the lifting of restrictions and more consumers vaccinated, customer transactions at major restaurant chains were up +32 percent compared to the steep declines year ago, although still down -6 percent compared to two years ago, March 2019. Major chain transactions at full service restaurants were up +210 percent this March compared to a year ago, or down -25% compared to two years ago, according to NPD's CREST® Performance Alerts, which provides a rapid weekly view of chain-specific transactions and share trends for 75 quick service, fast casual, midscale, and casual dining chains representing 53 percent of the commercial restaurant traffic in the U.S.
Quick service restaurant chains, many of which had well-developed off-premises services, like drive-thru and carry-out prior to the pandemic, have fared better than full service restaurants this past year. Customer transactions at quick service restaurant chains declined -40 percent by the end of March 2020 compared to same period year ago. In March 2021, QSR transactions were up +29 percent compared to a year ago and down -5 percent compared to March 2019, NPD reports.
"There is now optimism on the part of the American consumer, which helps to unleash pent-up demand for dining out," says David Portalatin, NPD food industry advisor and author of Eating Patterns in America."Although transactions are still down compared to pre-pandemic times, there is improvement and a signal that we're headed in the right direction on the road to recovery."
The Return to On Premise
On Premise (bar/restaurant) research from CGA, based on a survey (from April 9-12) of more than 1,500 consumers (who have returned to the On Premise since reopening) within Texas, Florida, New York and California:
Returning to the On Premise
62 percent of consumers have gone out to the On Premise for food since venues reopened, and 16 percent for a drink led occasion. There has been a steady rise for those returning for food led occasions, with almost 2/3 returning since the bars/restaurants have reopened.
Texas and Florida are seeing the highest rates of consumers returning to the channel.
The top reason for 55+ returning was due to them being vaccinated, while for younger consumers they wanted to feel normal again, support local businesses and get out of the house.
Consumer comfortability
Outdoor seating is where consumers feel most comfortable, with 68 percent of consumers saying that they are either completely comfortable or quite comfortable. This is +14pp higher than those comfortable with indoor seating.
Almost half of all consumers are comfortable ordering via a QR code/app/online menu, this is predominantly driven by those under 55 as under 1 in 4 over 55's is comfortable and 3 in 4 prefer looking at a physical menu
Spending habits are positive
72 percent are spending the same or more than pre-COVID-19, showing positive signs for bars, restaurants and suppliers.
Drink choice
Soft drinks and beer lead the way with categories drunk in bars and restaurants since returning to the On Premise
Almost half of consumers are looking for different drinks in bars and restaurants to those they drink at home
55 percent of consumers are drinking premium drinks in bars and restaurants and this is driven by occasions (33 percent), as a treat (27 percent), they value quality over quantity (31 percent) or simply as their preferred brand (31 percent).
The most updated On Premise Impact Report by CGA, along with other special reports issued over the past several weeks, can be found here.
The Great Restaurant Restart
A new report from NELSON Worldwide that takes a look at the immediate future of dining and fast-casual restaurants. The report titled, The Great Restaurant Restart, includes lessons learned from the past year and how they can influence the industry's future. Some prominent findings in the report include:
Rotational Flavors:
Experiential and differentiated elements will always bring value, but the more significant focus will be driven by meaning, authenticity, and connection. With travel and exploring limited, diners will be seeking ever-changing flavors, menus, and environments to experience something new.
Clear Customer Journey:
Catering to new consumer behaviors, even more restaurants will naturally become a place to dine and fulfill to-go orders. Restaurants that were not previously focused on take-out orders must rethink their spaces and a crucial point is offering clear pathwayand directions for anyone that enters a restaurant.
Four Season Dining:
While outdoor concepts have been a growing trend for years, the pandemic has dramatically increased the consumer desire to spend more time outdoors and continue to accelerate the need for experiential environments. The next steps in this evolution will be activating a location's outdoor space to make it a functional and seamless part of the dining experience.
Restaurant Delivery Trends
BentoBox, in partnership with The Infatuation, released the first installment of its Restaurant Delivery Consumer Trend Report. This new report will be issued quarterly and act as part of a year-long study to track how U.S. consumers' delivery and takeout habits evolve as restaurant traffic and in-person dining rebounds from the COVID-19 pandemic.
The Q1 survey features insights from more than 1,000 U.S. consumers, ages 18+, who dined out at least once per week prior to the pandemic. The report indicates that even as restaurants begin to reopen in-person dining, diners are not going to change their habits when it comes to ordering takeout and delivery.
Other key takeaways include:
Supporting local restaurants is a major driver of continued delivery/takeout habits: Nearly one in two (50 percent) of diners cite a desire to support local eateries during this challenging industry climate as a factor in continuing delivery and takeout habits. Other factors for maintaining current habits include vaccine eligibility (25 percent), hesitancy to resume normal dining habits (34 percent), and overall convenience (74 percent).
This trend is more prominent among heavy delivery/takeout consumers, ordering 5x+ per week (61 percent), the most likely to continue ordering to support local restaurants.
High delivery frequencies will continue despite eases in restrictions: Despite more restaurants reopening and warmer weather returning, nearly eight in ten (79 percent) current delivery/takeout customers will continue to order at the same frequency they do now.
Nearly 6 in 10 (57 percent) are ordering delivery/takeout 1-2x per week, similar to pre-COVID ordering. This could be due to a leveling off from the peak of COVID-19 where there may have been a spike in frequency.
Diners ages 18-24 were more likely than any other age group to be ordering 2x per week, with 32 percent ordering delivery now, relative to 23 percent pre-COVID (+9 pts.).
The 25-34 segment led in ordering 3x per week (19 percent), while 35-49-year-olds were most likely to order delivery 5x per week or more (10 percent).

Diners will order directly from restaurants if it is easy: Nearly 1 in 2 (48 percent) diners will continue to order directly from restaurants if the process is convenient. Convenience is especially important for diners that order out most frequently, as 86 percent of consumers who order takeout or delivery 4x per week noted convenience as their main motivation. Ease of ordering was highest among the 35-49 (50 percent) and 50-64 (55 percent) age groups.
Local Marketing Impact
According to a report released by SOCi, Inc. and Localogy, multi-location businesses with an optimized localized marketing strategy grew revenues at a rate up-to three times that of their peers, even amidst the uncertainty of a pandemic. For a third year, research from the Localized Marketing Benchmark Report (LMBR) found that businesses who fully leveraged their localized business presence across top social and search sites experienced higher levels of visibility and performance compared to the average multi-location business. In fact, the top 10 scorers in this year's study received five-times more high valued engagements from social posts and almost three-times the local search visibility. These are Important metrics considering social's increasing influence on product and service discovery as well as the increase of online searches with local intent.
The LMBR examines how top brands performed last year in the most influential digital channels, including local search, social, and ratings and reviews. Researchers established benchmarks and assigned scores for each brand on a 100-point scale for localized search, localized social, and the average of those scores, the final LMBR score. The goal of the research is to quantify the digital presence and performance of today's top multi-location brands, establishing standardized and quantifiable benchmarks.
"In this year's research, we discovered that localized marketing sophistication varies not only by brand and industry, but also by channel. In general, most multi-location marketers showed more comfort and sophistication in one area over another – either localized search or localized social but rarely in both," said Monica Ho, CMO of SOCi. "Despite this, it is notable that performance and benchmark scores were highest when brands performed well consistently across platforms and interrelated social and search categories. Brands should understand that local search and local social marketing are both critical to a brand's digital health and visibility and map to key stages in the consumer journey. Although the two marketing strategies have a symbiotic relationship, they are not two sides of the same coin. Each is unique requiring a specific focus to leverage fully."
The top categories that over-indexed in the combined LMBR score across all the brands studied are retail, home services, personal care services, and restaurants Ten brands stand out among the pool of the 276 surveyed as recognized leaders in localized marketing based on their individual brand LMBR scores.
Arby's
Batteries Plus Bulbs
Clean Juice
IHOP
Jason's Deli
Jersey Mike's Sub
Pet Supplies Plus
Planet Fitness
Sonic Drive-In
Urban Air Adventure Park
"Localized marketing has become the largest untapped opportunity in location-based services and technology," said Bill Dinan, CEO of Localogy. "Despite being a challenging year for local businesses of all sizes to grow, this report tells a different story for those effectively leveraging localized marketing strategies – even those industries hardest hit by the pandemic. "
In 2020, the pandemic's unprecedented disruption and economic uncertainty amplified the influence of localized marketing on multi-location businesses, solidifying a new normal years in the making. Research from this and previous years' LMBR show even more impetus for brands to evolve and level up their localized marketing, specifically balance in local search and social, which are vital business drivers that will make an impact in multi-location business success and survival.
To learn more about how the leading multi-location brands are performing in the top digital channels, download the 2021 Localized Marketing Benchmark Report here.
What Post-Pandemic Consumers Want
As COVID-19 vaccines become widely available, safety protocols are slowly lifting and businesses reopening. A new survey from SlickText invited consumers to share input on when they'll feel comfortable resuming pre-pandemic activities. The results rank consumers' comfort levels with attending live concerts, traveling by air, eating in restaurants, and frequenting places of worship. Businesses can use this data to guide their plans for hiring, reopening, customer communications and safety measure implementations.
"Reopening in a Post-Pandemic World: Consumer Preferences" examines consumers' comfort levels with returning to various events and places of business. Results show that while a decent number of people have already resumed pre-pandemic activities, others plan to wait up to another six months. The report divides responses by geography and other factors, its breakdowns offering insight into how companies can increase consumer confidence and reduce pain points. The data also provides a rough timeline for when businesses and organizations can expect an uptick in business.
Over 1,000 consumers aged 18 to 54+ analyzed their levels of comfort engaging with activities like sports events, live music, air travel, restaurant dining, museum visits, and attendance at workout classes and places of worship.
Key takeaways include:
Willingness to pay a bit more for a safer environment. 73 percent expressed tolerances of a 5 percent cost increase if the additional charge covered enhanced cleaning or safety protocols.
Nearly 28 percent of respondents expected brands to increase enforcement of social distancing in their stores; over 19 percent want more touchless payment options; and nearly 18 percent wished for better contact tracing.
Eagerness to resume restaurant dining in person. A majority (49 percent) of respondents said they have already dined at a restaurant. Only 10 percent plan on waiting six months or longer before they dine out.
Divided opinions about when to resume air travel. California respondents (29 percent) already feel comfortable with air travel, while a majority of New York respondents (25 percent) plan to wait at least six months before flying.
Longing for live music. New York and Florida respondents miss live music shows the most. Survey participants from both states said they'd feel comfortable attending a concert in one to two months, whereas other states plan to wait longer before gathering in large groups.
"While organizations like sporting arenas, entertainment venues, restaurants and airlines have more say as they develop and implement their individual reopening policies, ultimately it's the consumers who decide whether or not to frequent their establishments," said Meg Scales, CMO of SlickText. "As the nation reopens, customer preferences and sentiments rapidly evolve. It's vital to continue analyzing data to understand what those consumers expect to feel safe — and when they'll be comfortable resuming pre-pandemic activities and habits. Businesses can use the information we collected to strategize the most effective use of their resources to ensure they not only meet but exceed customer expectations.

To read a comprehensive breakdown of survey results, click here.
The Value in Data
Quick Service Restaurant (QSR) operators who leveraged data to adjust to changing consumer dynamics in 2020 not only survived the chaotic year of COVID but actually thrived, according to Delaget's 2020 QSR Operational Index. Based on data collected from 6,000 fast food restaurants in the U.S., the Index serves as a scorecard for operational health, focusing on key performance metrics for sales, costs, customer experience, loss, and employee trends.
Delaget's anlaysis shows the most successful QSR restaurant owners were those who managed to quickly and effectively adjust employee schedules, integrate new delivery channels, and focus energy and attention on keeping customer satisfaction high. There were also some surprises, such as reductions in food and labor costs. With fewer employees to manage, simplified menu options, and a focus on take-out and delivery, operators had a tighter handle on their operations.
"QSR operators were forced to transform quickly, and the Index reflects some major shifts," said Delaget CEO Jason Tober. "They're using data to make more informed decisions and maximize operational efficiency."
Delaget expanded the Index to include more than 25 operational metrics this year, with three-year trend information as well as averages for top- and bottom-performers. New metrics added to the 2020 report provide a fuller picture of loss, including data on cash shortages, refunds, cancels, discounts, employee meals, and beverages.
Delaget releases the QSR Operational Index on an annual basis. Read Delaget's 2020 QSR Operational Index here.
The Road to Recovery
March saw the best sales month since the start of the pandemic and according to Google Adwords data, a record number of 133 million Google searches were made in March 2021 for restaurants near me and related terms such as breakfast places near me, Chinese restaurants near me, Taco Bell near me, etc.
But the record growth in restaurant-related searches was not evenly distributed geographically. Chef's Pencil has analyzed the search volumes for restaurant-related searches for the largest 50 cities in the US to identify those cities where demand was highest and lowest compared to the pre-pandemic period. To that extent, we compared restaurant-related searches from March 2021 to January 2020 (the last standard-length month before the pandemic started).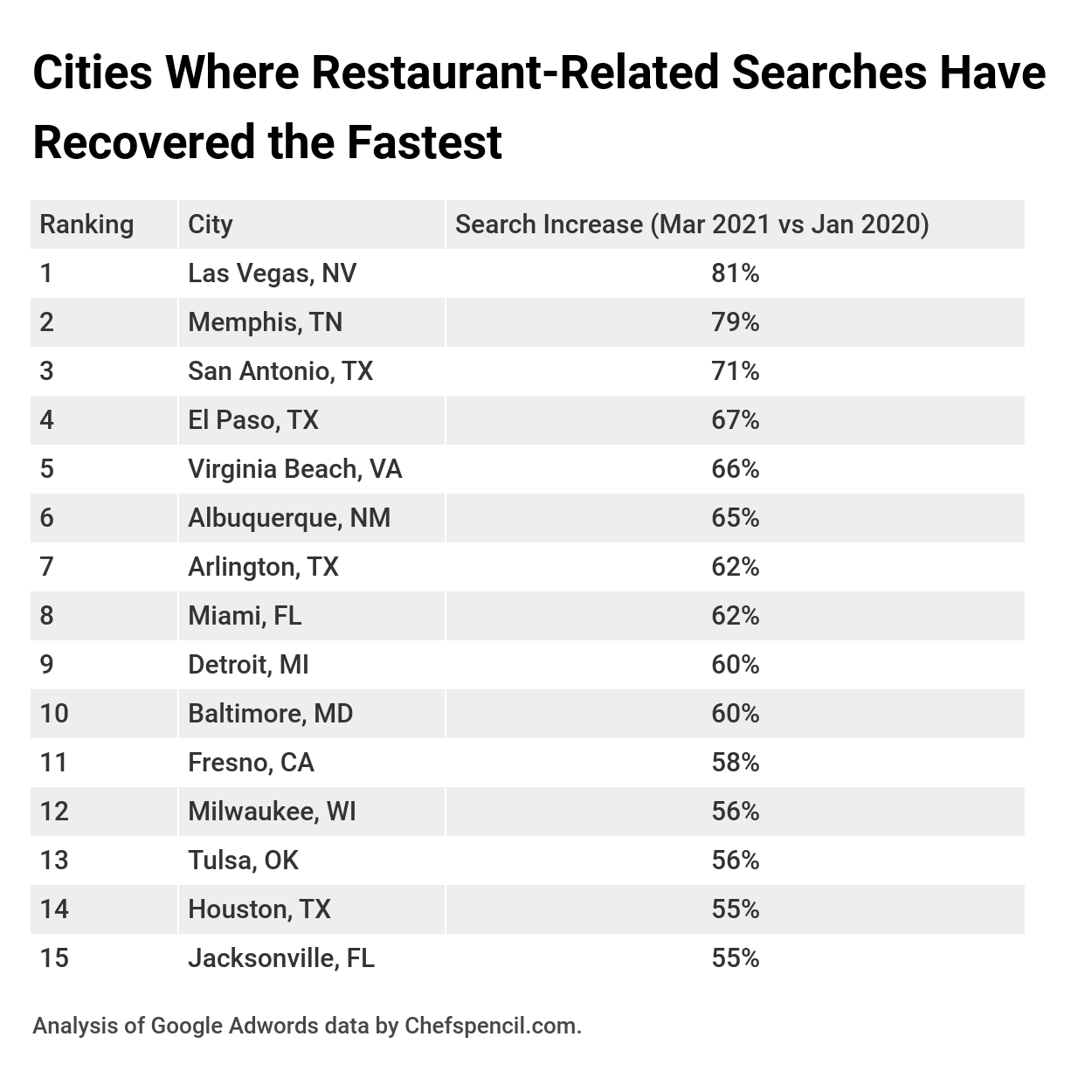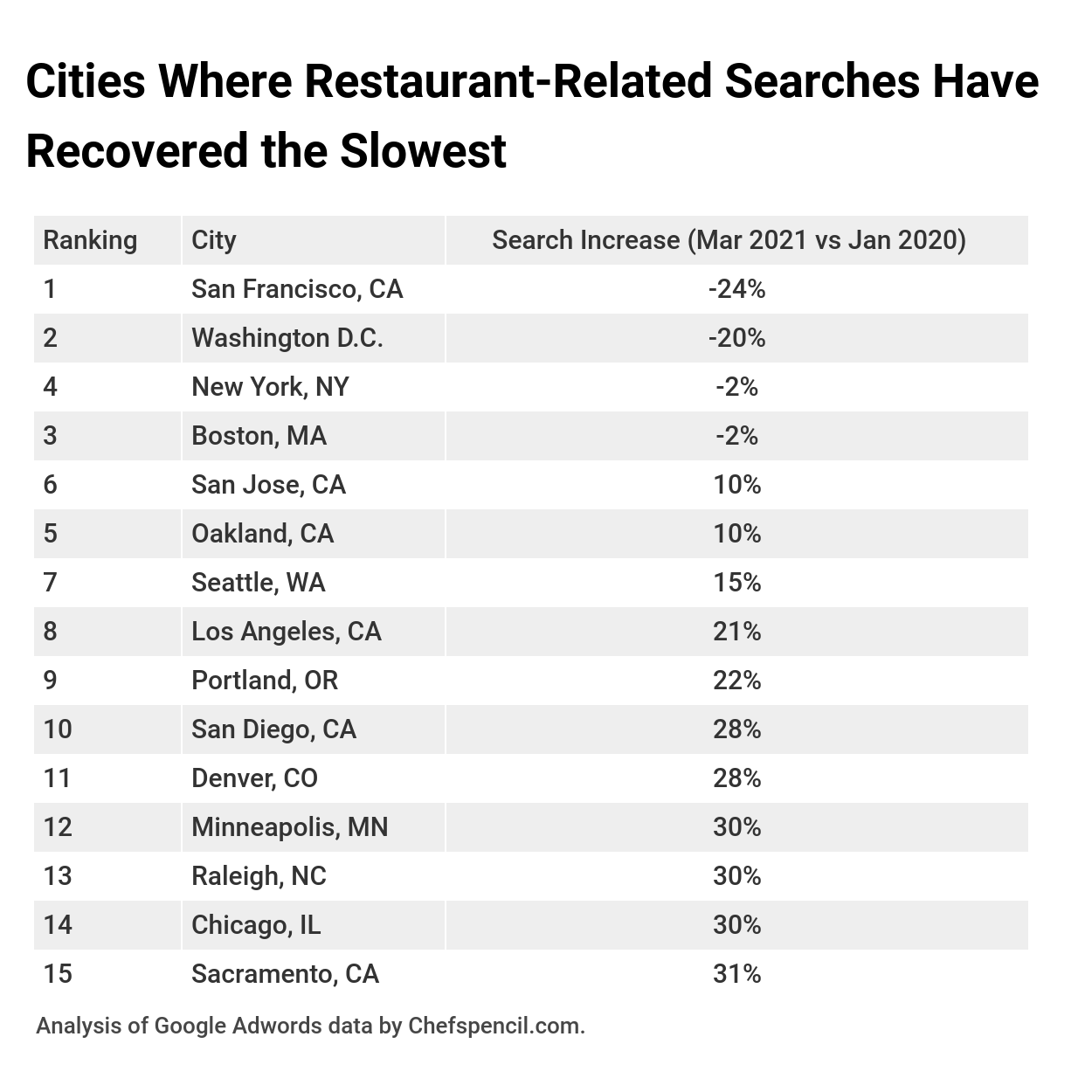 For the full report, click here.
Engage with Families
Paytronix Systems, Inc., published the latest report in its ongoing series "Delivering on Restaurant Rewards," which finds that thedigital food ordering shift is strongest among households with children. The latest Delivering on Restaurant Rewards report, produced with PYMNTS.com, explores the ways that restaurant loyalty programs can better engage with families.
Download the full report here.
"Household food order spending varied by the type of families that placed food orders, however. Married couples with children spent more on food orders than any other type of household in 2020, having placed an average of 96 QSR orders and 86 sit-down restaurant orders using a variety of digital channels and spending an annual total of $7,792 online. Married couples without children spent less on online food orders in the last year than any other household type, spending just $2,204. Single consumers spent an average of $3,122 on online food orders in the year since shutdowns began, by comparison."– Delivering on Restaurant Rewards.
Key findings from the research include:
Online Ordering– While 25 percent of couples with children say they are ordering more food online and less on-site since the pandemic's onset, only 12 percent of married couples without children and 18 percent of singles say the same.
Loyalty Programs– The research shows that 39 percent of married parents and 40 percent of single parents say that loyalty and rewards programs would encourage them to spend more on their food orders.
Online Payment— Forty-four percent of married parents would spend more on food orders if they could pay online. Thirty-seven percent of single parents would spend more on food orders if they could place them via app.
"Parents have a lot on their plate, especially during the pandemic. Many are now working from home and have their kids right beside them all day, so it's no surprise that they are looking for ways to make their lives easier," said Michelle Tempesta, head of marketing for Paytronix Systems, Inc. "As restaurants create a cohesive physical and digital experience, it will be important to understand what levers truly drive purchasing behavior."
Industry Gaining Momentum
TableSafe, Inc., shared that customer payment transactions indicate a recovery of the full-service restaurant industry is gaining momentum. According to TableSafe's data gathered from across the United States, dollars spent in restaurants during the first quarter of 2021 rose to the highest level since the first quarter of 2020. Transaction revenue also increased 15 percent in Q1 over Q4 of 2020.
"Our data offers clear indication that full-service restaurants are recovering more quickly and substantially than many in the industry were expecting," said Gordon Gardiner, CEO of TableSafe. "Even though some of the most populous states only allowed restaurants to re-open capacity in March, there's been a healthy rebound in transaction revenue and volumes."
TableSafe data shows a 77 percent increase in dollars spent year-over-year in March, indicating that the rebound is even more sizable when measured just for full-service restaurants.
"Based on the data, it appears that the full-service restaurant industry may have hit an inflection point in its recovery from the pandemic," Gardiner said. "This is very encouraging for the restaurant industry and we expect more progress as the full effect of restaurant re-opening comes into play in Q2."
According to Technomic, a research and consulting firm servicing the food and foodservice industry, the restaurant industry as a whole was not expected to recover from the pandemic until 2023, and the full-service sector wasn't expected to bounce back until 2025.
Plant-based Fish Market Value to Swell 13X Over Next Ten Years
As environmental concerns associated with meat and seafood consumption heighten, consumers are turning towards more nature-friendly alternatives, prompting a slew of start-up companies to offer a broad range of plant-based product offerings. Sales of plant-based food products have witnessed unprecedented gains in recent years, with the global food & beverage market experiencing extensive marketing and promotion campaigns for the same.
According to the U.S. Department of Agriculture, the average quantity of per capita canned tuna consumption declined by over 41 percent between 1986 and 2016, from 3.6 pounds to 2.1 pounds. Strong odor, combined with high mercury concentrations, were attributed as some of the primary reasons for this. Moreover, as per the 2018 Summer Food & Drink Trends report, one-third of all Americans, and 37 percent of millennials, planned to purchase more plant-based products by 2019. The sector expanded by nearly a fifth, reaching over US$ 3.7 billion. As such, the scope for plant-based fish products is only expected to widen over the coming years, with the market projected to surge ahead at an astonishing CAGR of 28 percent through 2031.
Key Takeaways from Market Study
By product, burger patties to hold dominance, fillets to catch up swiftly
By source, soy-based proteins to remain dominant, popularity of wheat-proteins to soar
HoReCa (Food Service Sector) to remain dominant distribution channel, online sales catching up
Plant-based shrimp to emerge as most consumed type over coming years
The U.S. to emerge as the dominant market for plant-based fish in North America, amid high presence of major F&B corporations
Growing animal sensitization trends driving sales across the U.K., which incidentally is likely to become the world's largest market
These insights are based on a report on Plant-based Fish Market by Fact.MR.
State of Foodservice Packaging
The Foodservice Packaging Institute's 2021 State of the Industry Report reveals that more than one-third of foodservice packaging manufacturers and suppliers experienced growth in volume while nearly one-quarter remained at the same level. Forty percent of respondents reported profit growth, a slight decrease compared with 45 percent of respondents in 2019, the last time the survey was released.
The 22nd State of the Industry Report includes input from raw material and machinery suppliers, converters, and foodservice distributors and operators. The survey looks at industry issues, such as changes to volume and profits; expansion and purchasing plans; and opportunities and challenges facing the industry, including COVID-19's impact.
"In 2020, when the world landscape was turned upside down, we determined that an industry report would not reflect the tremendous upheaval that we were experiencing. We are happy to be back this year with our annual survey which asks people in the industry, both members and non-members, to share their thoughts and insights on issues that matter most to the foodservice packaging industry," said Natha Dempsey, president of the Foodservice Packaging Institute. "Based on the feedback of nearly 80 organizations, the 2021 State of the Industry Report predicts a positive year for the foodservice packaging industry, despite the pandemic."
In a sign of optimism, 84 percent of respondents expect volume expansion and 72 percent expect profit growth this year. Foodservice operators who responded saw decreased sales, but were overwhelmingly optimistic that this trend would reverse in 2021.
In an interesting split, 50 percent of the North American manufacturer respondents reported another year of corporate expansion plans through construction of new facilities, expansion of current facilities, and mergers and acquisitions. Similar to previous years, 80 percent of North American converter respondents plan to purchase machinery in 2021.
Respondents continue to view the fast casual and quick service sectors as the greatest areas for market expansion. This is due largely to COVID-19 and post-pandemic health and safety concerns as continued use of take-out is expected. Areas, such as grocery stores and convenience stores, are also noted as opportunities for market expansion because of increased foodservice solutions and the popularity of being able to purchase products to eat at home.
"We are encouraged by the positive outlook within our industry, despite the challenges we face, and continue to face, with the coronavirus pandemic and its restrictions," adds Dempsey.
A complimentary executive summary of the report is available here.
Dating and Dining Apps Bounce Back
MOLOCO found that dating and dining apps will be among the fastest to bounce back once COVID-19-related restrictions are lifted. These and other insights are included in MOLOCO's newly announced "Mobile Life After Lockdown" report, which analyzes data from the open programmatic advertising ecosystem to predict the category-specific impact of lifted restrictions on mobile applications. The report's analysis concluded that:
Out-of-home dining apps can expect an increase in engagement of more than 450 percent as mobile users return to their favorite restaurants
Dating apps will likely see a roughly 235 percent increase in engagement levels as app users seek to socialize after a long and sometimes lonely quarantine
Gaming apps, which saw 200-400 percent increases in engagement during lockdown, will retain the players they acquired even as restrictions are lifted
Travel apps will be the slowest to bounce back even as local restrictions end.
"2020 was a one-of-a-kind year for mobile app marketers," said Ikkjin Ahn, CEO of MOLOCO. "It changed the trajectory of many mobile app businesses, but not always for the better. Most dating, dining, and travel apps saw significant declines in engagement as lockdowns limited how people were allowed to interact. Fortunately, programmatic ad data suggests that this won't last forever. This report provides actionable predictions that app marketers can use to strategize their return to business as usual and plan to take advantage of the many opportunities coming their way.".
The full report can be downloaded here.
Taking Stock with Teens
Piper Sandler Companies completed its 41st semi-annual Taking Stock With Teens® survey in partnership with DECA. This survey highlights discretionary spending trends and brand preferences from 7,000 teens across 47 U.S. states with an average age of 16.1 years. Generation Z, which contributes approximately $830 billion to U.S. retail sales annually*, represents an influential consumer group where wallet size and allocation provide a proxy for category interest.
This year's Spring 2021 survey was impacted by the COVID-19 pandemic. The survey was conducted from February 19 to March 24; 58 percent of teens have returned to school in either a hybrid format or in person this Spring while 42 percent remained fully virtual. We received the highest amount of responses from the South at 48 percent of the mix and 10 percent of the responses from the Northeast—similar to Spring and Fall 2020.
"Our Spring survey gave rise to a number of themes emerging for GenZ as we think about the path to reopening. We are seeing a female-led spending recovery with upticks in spending on clothing, handbags and skincare in particular. Within apparel, athletic is still the dominant trend with Nike & lululemon taking new highs and Under Armour seeing improved mindshare. Simultaneously, we are seeing a revival of the 1990s fashion trend flannel shirts, baggy pants, mom jeans & eclectic hair trends all in vogue.
"GenZ is a conscious generation as teens this Spring cite Racial Equality & the Environment as their top-two social issues. We have also seen "thrifting" emerge as a strong trend as thinking secondhand is becoming second nature to teens. In fact, 47 percent of teens have purchased and 55 percent have sold secondhand.
"In the wake of COVID-19 and given these consumers are digitally-native, we are not surprised to see online adoption at its highest ever this Spring. Snapchat & TikTok are the top-two social media platforms. While Amazon remains the No. 1 website, we are seeing a rise in female-centric platforms like SHEIN, Revolve and Princess Polly," said Erinn Murphy, Piper Sandler senior research analyst.
Spring 2021 Key Findings
Spending & Shopping Behavior
Areas of wallet share contraction included: Concerts/Events & Car (remains below multi-year average)
Areas of wallet share expansion included: Clothing & Accessories (especially for females)
Amazon remains teens' No. 1 preferred online shopping mindshare at 56 percent
Skincare spending for females ranks ahead of makeup spending
TikTok influencers have significantly reshaped skincare brand preferences; 86 percent of females use online influencers as a source of discovery for beauty brands and trends
Video games hold ~16 percent of teen wallet share; 53 percent of gamers plan to purchase the new console system in the next 2 years
Teens allocate 8 percent of their shopping to secondhand; 47 percent of teens have purchased & 55 percent have sold secondhand – thrift/consignment stores ranked No. 10 as favorite brand/retailer, compared to No. 23 in the Spring 2020 survey
Brand Preferences
Chick-fil-A remains No. 1 restaurant for 7 consecutive surveys; Starbucks maintains No. 2 and Chipotle remains No. 3
49 percent of teens either consume or are willing to try plant-based meat with Impossible Foods as the No. 1 choice, followed closely by Beyond
For more than 10 years, Nike remains No. 1 apparel brand; Nike also holds No. 1 spot for footwear brand and preferred athletic apparel & footwear brand
PacSun moves up from No. 5 apparel brand to No. 3; adidas falls to No. 5 – lowest level since Fall 2017
96 percent of females claim to shop online vs. 88 percent last year, while 92 percent of males claim to shop online vs. 91 percent last year
Lays is most preferred snack brand among teens at 11 percent, followed closely by Campbell's Goldfish (9 percent)
Ulta maintains No. 1 preferred beauty destination against Sephora for fifth survey in a row (46 percent share vs. 39 percent LY); 80 percent of female teens willing to spend more for "clean" or natural beauty
Tarte remains top-ranked cosmetic brand for 7 consecutive surveys; e.l.f. registers all-time high in survey at No. 2 preferred makeup brand
CeraVe holds No. 1 spot as top skincare brand for the second survey in a row; The Ordinary remains in the No. 4 spot similar to Fall and up from No. 14 last Spring
Teens spend 32 percent of their daily video consumption on Netflix, down slightly from 34 percent in Fall 2020, followed by YouTube (No. 2) and Hulu (No. 3)
Half of the list of favorite social media personalities is dominated by YouTube and TikTok content creators
88 percent of teens own an iPhone and 90 percent expect an iPhone to be their next phone, both record survey highs