MRM Research Roundup: End-of-October 2020 Edition
27 Min Read By MRM Staff
This edition of MRM Research Roundup features the impact of cold weather on restaurant viability, why franchises need to be nimbler and the pandemic's effect on guest expectations.
Restaurant Adaptation
Rewards Network released the results of a restaurant owner survey (400+ respondents) about how restaurants plan to adapt their upcoming business plans to the fall and winter months. survey found that of the restaurants who are operating at less than full capacity, only 29 percent said they could keep their doors open indefinitely. Nearly half of respondents said they would last less than a year, with 28 percent saying they would last between four and six months – enough to sustain through the winter.
Limitations and consumer demand
A vast majority of the U.S. restaurants are operating at less than 100 percent capacity in their dining rooms. For the restaurateurs who responded to our survey, only 15 percent said they were allowed to dine at full capacity, with nearly half saying they were allowed 50 percent capacity. Of the restaurants who are operating at less than full capacity, only 29 percent said they could keep their doors open indefinitely. Nearly half of respondents said they would last less than a year, with 28 percent saying they would last between four and six months – enough to sustain through the winter. This tells us that another shutdown or further limiting of capacity prior to spring will likely cripple many restaurants. In fact, according to a survey by the National Restaurant Association, nearly six restaurants (representing nearly 100,000 restaurants) is closed either permanently or long term.
When asked what they believe consumer demand is for dining out now compared to before the pandemic, only three percent unsurprisingly said demand is the same as it previously was. The top answer by far was 50 percent demand, with nearly 45 percent of respondents selecting this option. When asked how long they could keep their doors open if less than full demand remained the norm (but there were no capacity limits), half said they could last indefinitely, with nearly one in five saying they would last only through the winter months.
Restaurant operators are clearly more optimistic under the full-capacity/lower-demand scenario than under the limited-capacity scenario, perhaps with optimism that the demand would pick up or they could find ways to entice diners.
Another identified problem that's likely to continue for the foreseeable future: smaller party sizes. In fact, 87 percent of survey respondents said that party sizes are smaller now than before the pandemic. Of course, smaller parties mean smaller checks per table. If consumer demand trends downward as the colder weather approaches, combined with more capacity restrictions, and fewer people allowed per party, this can be a major drain on revenue.
Patio dining in colder weather
For the respondents who reported having outdoor seating (or planned to add outdoor seating soon) and whose climates allow them to seat people outdoors nine or fewer months of the year, the decision to "weatherize" the patio for the colder weather was split. Half of restaurants will invest in making their patio a cold weather seating option, while the other half will not.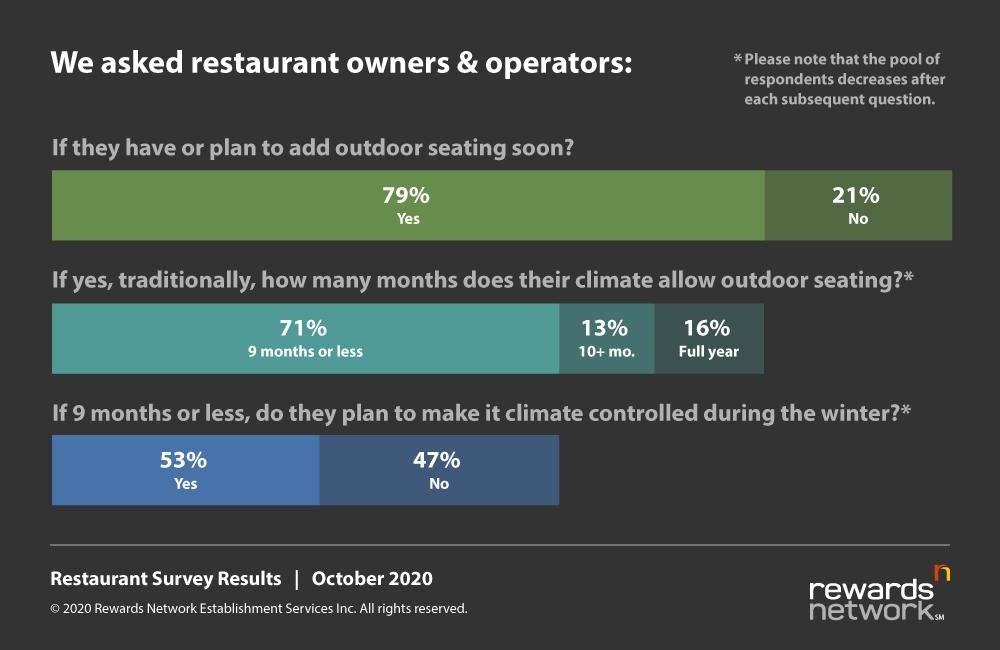 One thing local restaurants know how to do is anticipate their customers' wants and needs. Undoubtedly, they have an expert feel for how their communities will react to changes. Of the restaurant owners who plan to make their patio winter-appropriate, nearly two-thirds said diners will be very willing or somewhat willing to dine on the patio in the colder months. This is encouraging for restaurants, especially as only about 8 percent of respondents said that guests will be very unwilling. And since the respondents were split between weatherizing and not weatherizing their patios, this may tell us that the most optimistic owners are planning to do so because they believe outdoor dining demand will be there.
Owning the delivery revenue stream
Delivery has become a staple for restaurants who never thought it would have to be. A large number of restaurants launched their own delivery service just to stay afloat during the pandemic. It may turn out to be a good investment, since previous Rewards Network consumer surveys have indicated that people expect to order delivery more in the coming months than previous fall/winter periods. Of the restaurants surveyed, 27 percent launched their own delivery service. Utilizing third-party delivery providers is not realistic for some restaurants due to the exorbitant fees cutting too far into profits.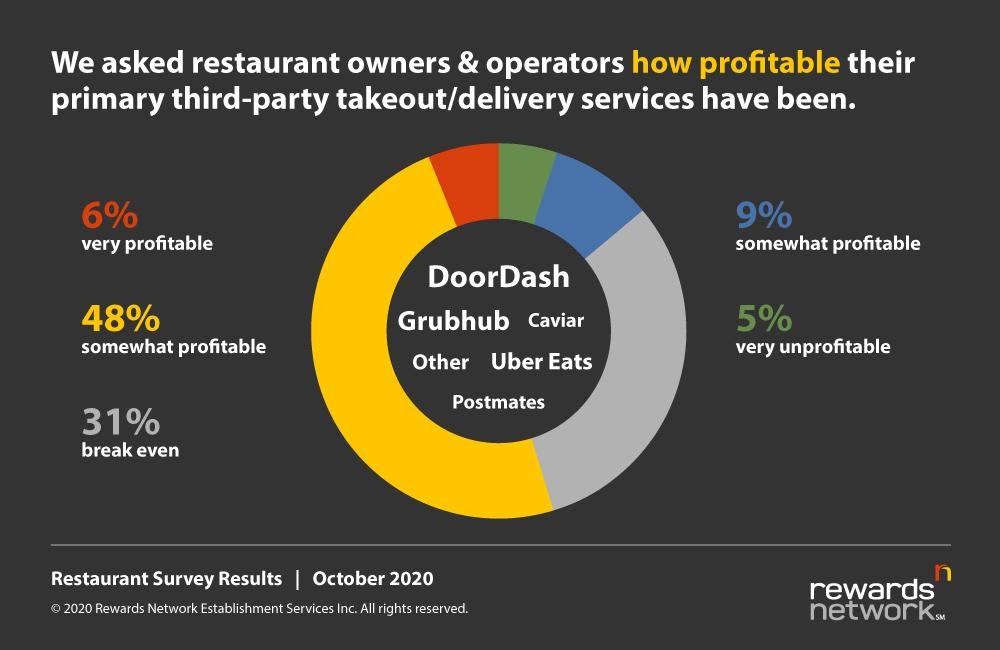 The cost for launching an in-house delivery service was all over the board, ranging from $0 to $10,000. The average was $1,923. The cost to start a delivery service can depend on many factors, such as labor needs, POS upgrades, and marketing costs. For instance, if a restaurant could cross-utilize current staff to deliver food and already has the POS capabilities to handle delivery orders, the cost to launch could be minimal. We encourage restaurant operators to closely evaluate the true cost of third-party delivery services against the investment in their own delivery operation to understand the long-term return on each method.
They also set out to get a high-level idea of how profitable or unprofitable third-party delivery services are for restaurants. DoorDash and Grubhub were the overwhelming "primary" vendors used by our survey takers, with Uber Eats coming in third. When asked how profitable or unprofitable these services have been for restaurants, only 6 percent said very profitable, with the top two overwhelming choices being somewhat profitable and break even. While it seems that these services have helped nearly half of restaurants stay afloat, the other half have typically broken even or lost money. This statistic (along with 48 percent of consumers saying they plan to dine out less this fall/winter compared to past periods) further highlights the need for restaurants to consider launching their own delivery service, because most restaurants cannot afford to cut their margins for a sustained period of time
Menu price changes
Finally, they asked survey respondents if they had raised or lowered their menu prices in response to the pandemic, and how their guests have reacted to those additional costs. Nearly 42 percentsaid they did raise their prices to make up for lower capacity and demand. Of those respondents, consumer reactions were basically split down the middle, with nearly half saying that most customers have not noticed, and the other half saying some have noticed. For customers that have noticed, one out of five customers have complained, while the majority are understanding. No respondents indicated that many customers have noticed and complained.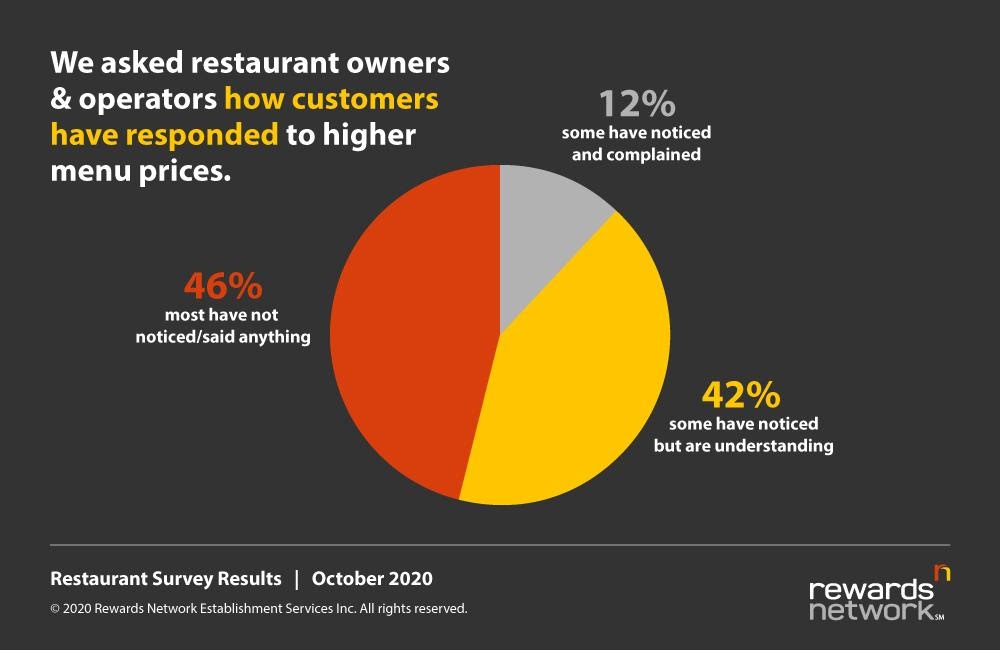 The road ahead may be rough, but with proper planning and listening to the local market, restaurants can survive (and some may thrive) through a COVID-19 winter. How is restaurant optimism for the business environment over the next six months? Well…we asked, and 69 percent said they were optimistic, with only 8 percent saying they were very unoptimistic. While that's a far cry from the usual optimism generally seen from a group of passionate restaurant owners, it's not bad given the current situation. Restaurants that can find a way to attract diners throughout the colder months and make delivery profitable will be set up for success through, hopefully, the last legs of the pandemic.
The Restaurant of the Future Is Here Now
COVID-19 forced mass shutdowns of restaurant dining rooms, causing the industry to consider new options for dining out at home and modifying store footprints to better serve the increased need for delivery and take-out orders. According to Deloitte's new report, "The Restaurant of the Future Arrives Ahead of Schedule – Time to Get on Board," as consumers place a premium on convenience and favor digital connections, a new focus on safety has amplified those demands and accelerated restaurant roadmaps for innovation.
This study is based on two surveys of restaurant customers from December 2019 and June 2020, as well as interviews with executives from quick service restaurants (QSR), fast casual and casual dining brands. It examines new consumer demands amid the pandemic and how the restaurant industry is rebounding and preparing for long-term growth.
Convenience is the main ingredient driving restaurant demand
Now more than ever, consumers want to get their food and go, quickly. In fact, during interviews some QSR restaurant executives reported that drive-through volume, once 20 percent of their business, has increased to 90 percent since the COVID-19 outbreak. This increase in off-premises orders is not likely to change anytime soon, as almost half (46 percent) of consumers expect their dining habits to remain at current COVID-19 levels for the foreseeable future.
Millennials (ages 23 to 39) and Gen X (ages 40 to 55) are leading the way in placing delivery orders (65 percent and 61 percent, respectively for delivery, and 76 percent and 77 percent, respectively for takeout). And generally, they are willing to pay for that added convenience, so long as it meets their expectations. Consumers consider a $4 delivery fee, on average, to be fair for this level of convenience. However, they still expect their food to be ready in a timely fashion, as three-quarters of consumers (75 percent) consider 30 minutes or less a reasonable wait time. Only 1 in 5 (20 percent) consider it realistic to wait up to 45 minutes for their meal. Knowing the importance of minimal wait times, restaurants are exploring new and innovative ways to better serve customers. For example, almost two-thirds (62 percent) of customers are willing to pick up food from a location other than the restaurant itself, like a delivery hub. In addition, 44 percent of consumers would order delivery of uncooked meals they finish preparing at home.
Diners savor a cohesive digital experience
The limitations of dining out during COVID-19, combined with the continued demand for convenience is quickly accelerating the digital experience. In fact, while fast casual and casual diners both preferred interacting with cashiers prior to COVID-19, their preference for apps has significantly escalated. Among consumers surveyed:
Seventy percent prefer to order digitally for off-premise delivery, and 58 percent prefer to order digitally from a QSR. Further, consumers are willing to pay an average of 14 percent more for this convenience.
More than half (57 percent) have a third-party delivery app on their phones.
Consumers' preference for online ordering has many restaurants worried about the consistency of their brand experience, when third-party vendors are used, causing them to consider taking back ownership of the experience. Not only does complete ownership of the ordering and delivery experience help to maintain control of the brand, it also gives the restaurant direct access to customer marketing and data to inform digital and loyalty programs. In the meantime, until restaurants can secure total ownership, social media presents a strong opportunity for restaurants to build brand loyalty, interact with diners and drive growth as 48 percent of consumers follow a restaurant or food brand's account, and 21 percent have selected a restaurant based on a social media post.
As restaurants look to appeal to the digital experience, they may leverage technologies like driverless or drone delivery, which 40 percent of consumers would consider for delivery of their food. Additionally, ghost kitchens are rising in popularity as more than half (56 percent) are willing to order from a restaurant without a customer-facing storefront. Regardless of the channel, restaurants will have to present a cohesive but contextual digital experience to keep customers engaged.
Restaurant Satisfaction
From April 2019 to March 2020 – when U.S. stay-at-home policies first began – customer satisfaction with full-service restaurants stumbled 2.5 percent to a score of 79 (falling below 80 for just the second time) while limited-service (fast food) restaurants dropped 1.3 percent to 78, according to the American Customer Satisfaction Index (ACSIÒ) Restaurant Report 2019-2020. All signs signaled that that trend would continue.
Yet, while the struggle is – and remains – real (the industry lost $120 billion from March to May 2020), restaurants haven't completely waned in terms of customer satisfaction.
According to the ACSI's new special COVID-19 restaurant study based on surveys collected from April 1, 2020 to September 30, 2020, customer satisfaction with fast food chains holds steady at 78 while, surprisingly, satisfaction climbs slightly with full-service restaurants, up 1.3 percent to a score of 80.
"Given the shutdowns and setbacks, it's pretty remarkable the restaurant industry was able to meet customer demand, and in many cases, go above and beyond," said David VanAmburg, Managing Director at the ACSI. "Full-service restaurants showed tremendous adaptability by how quickly they pivoted from traditional dine-in to takeout and delivery options. As the industry becomes even more digitized, restaurants' ability to evolve with the times should only benefit them moving forward."
Olive Garden joins the elite, while LongHorn Steakhouse falls from perch atop full-service restaurants
Six full-service chains experience customer satisfaction gains since the most recent Restaurant Report, when just one improved and seven of 12 declined.
Even more encouraging: Full-service restaurants are more satisfying from both a delivery and takeout standpoint. Customers are now happier with delivery (up 5 percent to 81) compared to dining in (up 1 percent to 79) and carryout (up 3 percent to 77).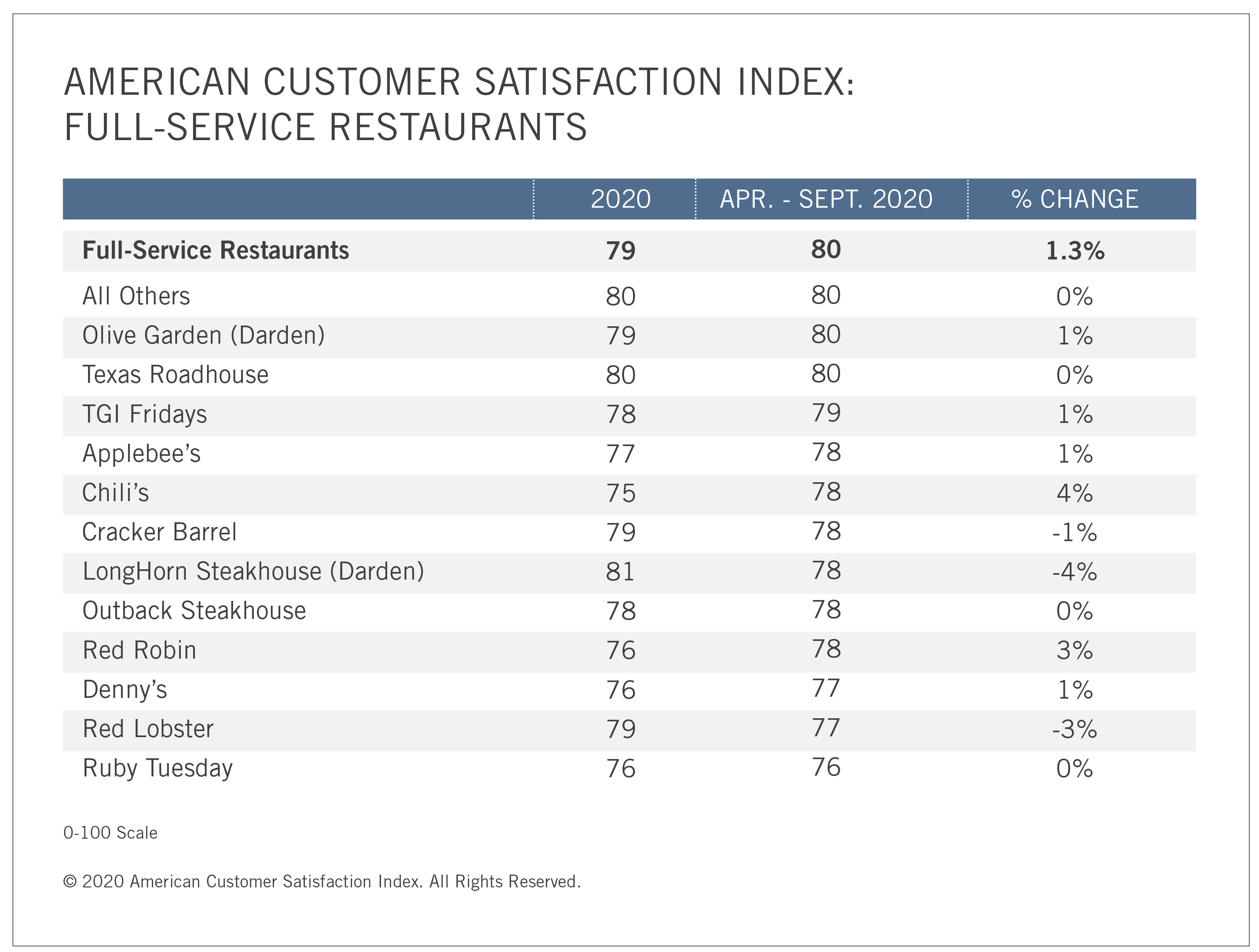 Olive Garden inches up 1 percent to an ACSI score of 80, joining Texas Roadhouse (unchanged) and the group of smaller restaurants (unchanged) in first place. Customers feel Olive Garden has made significant strides with both its mobile app reliability and mobile app quality.
TGI Fridays is next, up 1 percent to 79, ahead of six restaurants with scores of 78: Applebee's (up 1 percent), Chili's (up 4 percent), Cracker Barrel (down 1 percent), LongHorn Steakhouse (down 4 percent), Outback Steakhouse (unchanged), and Red Robin (up 3 percent).
LongHorn Steakhouse's first-place reign was short-lived, as customers now believe the experience is pretty much worse across the board, most notably in beverage and food quality, staff courtesy, order accuracy, and layout and cleanliness.
Denny's still resides near the bottom of the category despite climbing 1 percent to 77. It's joined by Red Lobster, which falls 3 percent. Ruby Tuesday sits alone in last place, unchanged at 76.
Full-service restaurants aren't perfect. Scores for layout and beverage variety stay put, while both mobile app quality and food variety decline. Still, after improving in just one benchmark in the latest Restaurant Report, full-service restaurants show considerable progress, increasing in beverage quality, staff courtesy, food quality, order accuracy, service speed, and mobile app reliability.
Chick-fil-A is still the fast-food king; Pizza Hut has Domino's in its sights
At the time of the 2019-2020 Restaurant Report, limited-service restaurants appeared better positioned to handle the dynamics of the pandemic than their full-service counterparts. Turns out, that's not the case.
Although more customers are carrying out food, those that do carry out remain less satisfied compared to customers dining in and receiving delivery. The latter two lead the way at 79, while carryout is unchanged at 76.
Nine brands see customer satisfaction slide during the pandemic – down from 11 before – while only four improve their scores.
Chick-fil-A keeps its stranglehold on the fast-food segment with a stable ACSI score of 84, followed by the group of smaller fast-food chains (unchanged) and Domino's (up 1 percent), which tie at 80. Domino's improves across all benchmarks with the exception of food variety.
Pizza Hut climbs 3 percent to 79, joining KFC, which remains steady. Chipotle tumbles 3 percent into a tie with Starbucks (unchanged) at 78. Customers are more disappointed with Chipotle's staff courtesy, checkout/delivery speed, and beverage variety in the past six months.
Four brands have an ACSI score of 77: Arby's (down 3 percent), Burger King (up 1 percent), Panera Bread (down 3 percent), and Papa John's (down 1 percent).
Dunkin' and Subway both plummet 4 percent to 76. Little Caesars (down 1 percent) and Taco Bell (up 1 percent) tie at 75, followed by Popeyes, unchanged at 74. Wendy's falls 4 percent into a tie with Jack in the Box (unchanged at 73). Both are ahead of Sonic Drive-In, which slides 3 percent to 72. McDonald's sits alone at the bottom with a steady ACSI score of 70.
In the 2019-2020 Restaurant Report, only overall mobile app reliability improved among limited-service restaurants. Now, both mobile benchmarks are up, with mobile quality jumping 2 percent to 83 and mobile reliability inching up 1 percent to 82. Although declines are minor, customers are less satisfied with food quality, layout and cleanliness, and beverage variety.
The American Customer Satisfaction Index's special COVID-19 restaurant study is based on interviews with 9,511 customers from April 1, 2020 to September 30, 2020.
Meeting Customer Expectations
Service Management Group (SMG), a global customer, patient and employee experience management partner to more than 500 brands, published new research that highlights how full-service restaurant providers can meet consumer expectations, shifting service standards and off-premise dining preferences.
Using BrandGeek®, SMG collected feedback from more than 5,000 consumers to help restaurant brands deliver highly satisfying on- and off-premise experiences. Here are three key themes from the research:
Health and safety is top of mind for consumers – With 55 percent of respondents still concerned about catching coronavirus while in public, restaurant brands can't afford to miss the mark on health and safety protocols. Before visiting a restaurant, 3 in 4 people seek out information about a brand's response to the pandemic, with the majority conducting research via digital channels. Furthermore, when deciding to visit a restaurant, the four most important factors for consumers are staff wearing masks, maintaining social distancing, limiting the number of customers in the restaurant and customers wearing masks when away from their table.
Personal recommendations are driving new visits – As consumers look for ways to shake up their routines, off-premise dining is a popular choice. Nearly 1 in 3 respondents indicate they are more likely to order from a restaurant they haven't visited before, and 72 percent of have tried at least two new restaurants in the last 60 days. Providing a great off-premise experience is the most effective way for restaurant brands to win new customers—respondents indicate they are most likely to learn about new restaurants from friends and family or social media.
Service expectations have shifted – While dining room traffic remains below pre-COVID levels, the majority of respondents[52 percent] have dined indoors in the last 60 days. Carryout, indoor dining and curbside pickup are the three most popular full-service restaurant experiences during that period. When it comes to the dining experience, 65 percent of respondents want as much or more staff interaction as they did before the pandemic, however, the type and timing of the interaction matters. Sixty percent of consumers feel comfortable interacting with the server during their meal while just 1 in 3 are comfortable with manager visits or additional interactions with the server.
"While the pandemic has created a number of challenges for full-service restaurant brands, our research indicates brands can win consumer trust by consistently delivering safe and highly satisfying experiences," said SMG Senior Vice President of Research Paul Tiedt. "Establishing clear and consistent safety protocols, providing fast and accurate off-premise experiences and focusing on innovative approaches to service are several ways brands can meet evolving consumer expectations."
Off-Premise Focus
Off-premise sales has become a key focus for restaurant franchisees in light of COVID-19, according to the 2020 Restaurant Franchise Pulse survey, conducted by TD Bank, America's Most Convenient Bank®. Capacity restrictions designed to implement social distancing and customer concern about physically visiting restaurant locations led to the prioritization of enhanced delivery and mobile ordering capabilities to boost revenue, with 72 percent implementing this change.
While 86 percent of respondents reported having delivery and online ordering prior to the pandemic, which is a 14 percent increase in delivery since 2019, these offerings now account for a larger percentage of sales, climbing from 20 percent in 2019 to 39 percent in 2020. While this spike could be seen solely as a product of the pandemic, restaurant owners see the value of these services long-term. According to last year's survey, only 12 percent of franchisees planned to invest in delivery and 25 percent in mobile ordering in 2020, which has since jumped to 63 percent planning to invest in delivery and 69 percent in mobile ordering in 2021 – a 51 percent increase in delivery and a 44 percent increase in mobile ordering.
"Franchises have invested a tremendous amount of time, money and creativity in delivery and mobile ordering, but not all restaurants have adapted to off-premise sales to the same degree as the QSR space," said Mark Wasilefsky, Head of Restaurant Franchise Finance Group, TD Bank. "Providing off-premise sales, which is critical to cash flow, requires having a menu that is amendable to delivery and takeout, which may be more difficult for restaurants that are not QSRs. Fast casual and fine dining establishments need to modify their menus to tasty food that travels well. We expect the shift to off-premise sales to be long lasting, and due to broad consumer acceptance of its added convenience, we believe it will likely become a permanent aspect of many franchises' business models."
Franchisees Become Nimbler
To overcome pandemic-related restrictions, franchisees quickly pivoted, making multiple changes to their operations as federal, state and city guidelines evolved. Respondents noted shifting in the following ways to cater to customer preferences and government guidelines:
Implemented enhanced delivery services/online and mobile ordering (72 percent)
Limited hours of operation (50 percent)
Pivoted to non-traditional payment methods (42 percent)
Created a more limited menu (38 percent)
Added drive thru capabilities (38 percent)
"The consumer demand is clear as restaurants reopen nationwide – people still want to go out, be social and are tired of cooking at home. However, franchisees' survival will depend on their creativity. We've seen restaurants pivot during the warmer months and now they must confront the next challenge – how to attract and retain business during colder months," Wasilefsky added.
COVID-19 Brings Payment Options Front and Center
COVID-19 has altered consumer sentiment and behavior. As a result, many now expect a quick and seamless payment experience with limited physical interaction. To cater to evolving preferences, 42 percent of franchisees pivoted to non-traditional payment methods that eliminate shared devices, cards and the use of cash due to its propensity for germ accumulation. According to the survey, franchisees now use traditional retail or cloud-based point of sale (POS) systems (36 percent), online payments (28 percent) and person-to-person payment apps (22 percent) as their primary payment method.
"COVID-19 transformed payment offerings such as contactless, mobile and online payments from 'nice to haves' to 'must haves'," said Doug Mearkle, Head of U.S. Merchant Services Sales, TD Bank. "Although we have previously been behind other countries in the adoption of contactless payments and other merchant offerings, this may be the catalyst the U.S. needed to bring heightened awareness of the benefits of these products."
Changes to Franchise Real Estate are Uncertain
While larger QSR chains are beginning to announce their plans to create smaller stores with more pick-up and drive-thru space, this trend may be slow to trickle down to franchise owners. Respondents are split on making changes to their physical space, with 49 percent planning to reduce or having already reduced the number or size of their franchise locations as a result of COVID-19 and 51 percent not planning or having made any real estate changes. This may be because, according to our 2019 survey, 31 percent of respondents planned to invest in store reimaging or remodeling in 2020 so there may be a delay in additional significant investment in franchise real estate.
Foot Traffic Analysis
Foot traffic analytics firm Placer.ai takes a look at how fast food chains, including brands owned by Yum! (KFC, Taco Bell, and Pizza Hut) and Wendy's are faring in the wake of the pandemic. Given that these eateries rely heavily on foot traffic — folks picking up dinner through the drive-thru, or grabbing a bite to eat in the store for lunch, for instance — they were particularly susceptible to business restrictions and lockdowns. And, unfortunately, the data shows that they're still struggling mightily, even as some other sectors are recovering.
A link to the full report can be found here.
Nothing Yummy about these numbers. Foot traffic at Yum! chains is still down significantly from 2019 levels. During September, customer visits were down at Taco Bell (34.2 percent), KFC (35.7 percent), and Pizza Hut (42.1 percent) year-over-year, with no sign of improvement.
Wendy's is struggling, too. The chain is seeing cratering visitor counts just like its Yum! Brands competitors. During August and September, foot traffic was down 29.2 percent and 27.7 percent year-over-year, and hopes are that October will reveal better numbers.
Fast food's recovery has been anything but fast. Retail and grocery stores have been mounting sustained foot traffic recoveries in recent months, but that doesn't appear to be happening in the fast food sector. Unless figures improve heading into the fall, 2020 might go down as one of the worst years for fast food on record.
Wildfire's Effect on F&B
One of the key trends in Nixon Peabody's Food & Beverage Outlook Report, takes a look at is the impact of the West Coast wildfires on Food & Beverage. In case any of these trends resonates with stories you're writing, I'm happy to connect you with our F&B attorneys to get their further insights:
Wine industry real estate transactions. The West Coast wine industry is having a challenging year. In addition to the COVID-19 pandemic, multiple wildfires across California and Oregon damaged wineries and threatened countless others. The fires hit just as harvest was starting and many vineyards grew concerned about the potential of smoke tainted grapes. According to real estate attorney Ian O'Banion, who has extensive experience in F&B, "As parties contemplate buying or selling wineries and vineyards in fire-prone areas, certain contract terms become increasingly crucial, including casualty provisions and crop testing for potential smoke damage."
Commercial operations and agreements. Numerous wineries were forced to accelerate grape-crushing to help minimize the amount of smoke damage or other grape loss. For wineries that typically sell some or all of the resulting wine to third parties, the success of these efforts is crucial. According to corporate attorney Isaac Figueras, who has extensive experience in F&B, "The outcome will help determine whether a winery can satisfy the volume and quality requirements of its contracts with third parties. Additionally, wineries will be required to closely balance all of these dynamics in order to have a successful 2020 harvest year."
F&B employers in California respond to shortage of N95 respirators. Beyond protecting their employees from COVID-19, West Coast wildfires have presented additional challenges for F&B employers seeking to safeguard their employees. In California, 8 CCR 5141.1 requires employers to provide NIOSH-certified respirators for voluntary use when the AQI for PM 2.5 is greater than 150. However, acquiring a supply of NIOSH-certified respirators can be difficult with the supply chain already taxed by COVID-19. According to labor & employment attorneys Maritza Martin and Rachel Conn, who have extensive experience in F&B, "Employers should continue their efforts to increase the supply of NIOSH-certified respirators (e.g., N95s) and should follow available guidance under Cal/OSHA."
Another key trend examines is the resurgence of plastic bags:
Plastics get viral resurgence. When the pandemic hit, companies' practices of utilizing bulk consumer products and biodegradable/compostable alternatives quickly shifted. The U.S. Centers for Disease Control (CDC) provided interim guidelines that recommended restaurants "use disposable food service items (utensils, dishes)" and "avoid using food and beverage implements brought in by customers." Grocery stores almost simultaneously stopped allowing eco-friendly re-usable bags for fear of spreading COVID-19. Now seven months later, governments are readjusting—reusable bags are again permitted. Some states, like New York, announced they will re-enforce the plastic bag ban on October 19. According to environmental attorney Alison Torbitt, who has extensive experience in F&B, "Health experts and the U.S. Food and Drug Administration also confirmed that reusable bags are no more dangerous than single-use disposable bags, and there is no evidence of containers or packaging spreading COVID-19."
Balancing Deb
AlixPartners released its new study, Restaurants Try to Balance Plates Piled with Debt. Just since 2019, debt in the Limited Service Restaurant (LSR) segment in the U.S. is up 8.1 percent and debt in the Full Service Restaurant (FSR) segment is up 15.7 percent — and compared with the start of the Great Recession, LSR debt is up more than four times and FSR debt is up nearly 50 percent;
More than 60 percent of FSRs are reporting negative EBITDA levels – and at current run-rates that could grow to 80 percent or more by 2021;
Restaurants—especially in the FSR segment—are in "dire need" of a significant turnaround in operating performance – and/or a series of debt restructurings in the coming months;
The industry's prevailing franchise structure may even harder to reduce debt loads, given that many franchisees have taken on high debt loads of their own and given many parent companies' whole-business securitizations could significantly limit their ability to provide relief to individual franchisees.
Pandemic Habits
With lockdown closing down dining out options for the UK. The Body Shop looked into our habits in during and after lockdown to analyse what had changed in detail.
The survey commissioned by The Body Shop revealed:
Dining out was the where the UK cut their spending the most; with an average saving of £16.79 per person per month.
Average person still saved around £11.51 a month on all food-related spend – an overall saving of £781 million nationwide.
Vitamins and health supplements also see an increase in spend working out as £1.02 increase monthly per person
Food expenditure has changed significantly since nationwide lockdown was imposed. With restaurants and pubs closed, the country was forced to fend for themselves more regularly than usual. Unsurprisingly, dining out was the where the UK cut their spending the most; with an average saving of £16.79 per person per month.
However, even with slight increases in the average spend across cooking at home, takeaways, food subscription boxes and expenditure on vitamins, the average person still saved around £11.51 a month on all food-related spend. This equates to an overall saving of £781 million nationwide.
Activity

Change in spend during lockdown

(monthly average per person)

Change in spend during lockdown (monthly average scaled to the UK population)

Cooking at home

+£2.50

+£169,715,027

Vitamins and health supplements

+£1.02

+£69,243,731

Food Subscription

+£0.98

+£66,528,290

Takeout

+£0.78

+£52,951,088

Dining Out

-£16.79

-£1,139,806,124
Naturally, cooking at home saw the biggest boom in spend across food. Spend on vitamins and health supplements saw the second-largest increase during lockdown, which may have been influenced by media conversation around using supplements to help the immune system amid COVID-19.
For more information, click here.
Beyond the Booking
SevenRooms released its "Beyond the Booking: Meeting & Exceeding Hotel Guest Expectations" report, uncovering how hotel operators can deliver extraordinary experiences that build guest loyalty in this new era of hospitality. According to the data, almost half (46 percent) of Americans would be open to booking a hotel under the right circumstances and in order to capitalize on this wave, operators must be prepared to meet new guest preferences – from implementing dealbreaker health and safety features to the traditional special touches that are still crucial.
The study, conducted with third-party research firm YouGov, examines how hotel guest expectations have shifted as we continue to adjust to life in a pandemic. While health & safety is paramount, tried and true amenities and perks are still a priority for Americans. In fact, of those open to staying at a hotel in the coming months, 1 in 5 (20 percent) would book a hotel if they got a deal or promotion for hotel dining or entertainment.
Hotel operators must keep this top of mind as they look to drive continued revenue and guest loyalty during this new era of hospitality – and the SevenRooms report highlights exactly how they can best implement these features and perks from check-in to check-out.
From Booking to Check-In
The report uncovered that as Americans are choosing which hotels to book, many are prioritizing health & safety – with more than 1 in 3 (34 percent) saying they're more inclined to book with hotels that are operating at a reduced guest capacity. Further data uncovered that many Americans will only book at hotels offering:
Explicit COVID-19 health and safety measures ahead of time: more than 1 in 3 (41 percent)
Contactless tech: 1 in 5 (20 percent)
Health Screenings for guests upon arrival: almost 1 in 3 (30 percent)
While these features can help operators get guests on premises, the journey doesn't end there. From the pool to the hotel bar or even a blackjack table, guests say health & safety features are a must-have; even going so far to make most Americans say they'd end their stay early or never return to a specific hotel under the right circumstances. Of those Americans, 67 percent say they would end their stay early if hotel staff and servers look or sound ill. Many would also do the same if:
Hotel is too crowded and does not enforce social distancing – 63 percent
Hotel staff and servers are not required to wear masks – 63 percent
Hotel guests look/sound ill – 58 percent
Hotel guests are not required to wear masks – 55 percent
Making the Most of a Stay
Once the guest has made a reservation and checked in for their stay, operators must now shift to creating memorable, highly-personalized experiences through a health and safety lens. The data showed that Americans are still expecting classic amenities during their stay in order to make it special. In fact, more than 1 in 3 (34 percent) Americans say a complimentary hotel breakfast is the top item they look for when thinking about a hotel's dining amenities. Simple F&B perks still go a long way with Americans as:
Almost 1 in 2 (46 percent) of those whose hotel choice is likely to be influenced by F&B say a complimentary drink or meal upon arrival would encourage them to book one hotel over another
1 in 4 (25 percent) Americans indicate that a hotel having multiple types of dining options is the among the most important dining amenities to them
The key to making these experiences successful is not losing sight of health & safety features. Many Americans still want to take advantage of amenities like restaurants, pools, casinos and more, but through added reservation options. Among those Americans interested in booking amenities in advance, 59 percent want to make a reservation at hotel restaurants in advance of their stay. They also would like to be able to make reservations in advance to:
Lounge at the pool – 42 percent
Visit the spa or sauna – 37 percent
Swim at the pool – 36 percent
Use gym/fitness equipment – 28 percent
Sit at the hotel bar – 22 percent
Gamble at tables – 18 percent
Reservation technology not only allows guests to feel more comfortable, but can also provide valuable data on their preferences. When implemented thoughtfully, operators can then use that insight to add personalized touches and build loyalty. Of those Americans who'd be more likely to stay at a specific hotel due to key F&B experiences or amenities, 1 in 4 (25 percent) say that receiving a personalized offer to book again (based on previous dining/stay activity) would encourage them to choose one hotel over another. Thirty-four percent (34 percent) of this same group said loyalty rewards for its restaurants and bars would convince them. When done correctly, loyalty programs can still be a powerful tool for marketing to guests to get them to return.
"Restaurant and hotel operators across the globe have shown incredible resilience over the past six months as they've adjusted to meet changing consumer preferences," said Joel Montaniel, CEO & Co-Founder at SevenRooms. "As Americans become more comfortable with travel once again, hotel operators have a huge opportunity to instill even more confidence through incredible experiences. Our research has highlighted the new guest journey that consumers are expecting – and while health and safety measures are clearly top of mind, those special, personalized touches are also important. When operators can thoughtfully integrate technology that helps provide peace of mind around safety, they're also getting valuable insights into who their guests are and what they want. This data is essential for driving loyalty that can boost repeat visits through targeted marketing and, ultimately, bringing guests back to your hotel through direct channels. Those that can take these insights and turn them into actionable, personalized touches will succeed in this new era of hyper-personalized hospitality."
The full report is available at sevenrooms.com.
Holiday Expectations
The Grinch arrived early this year in the form of COVID-19, and consumers are dramatically rethinking their holiday plans as a result of new surges in cases and the onset of colder weather in much of the country. People will hold smaller gatherings if they gather at all; adapt their purchasing behavior by buying more turkey cuts versus whole birds and avoid annual celebrations at restaurants (although they will continue to take out). These are among IRI's new research findings, released today, "Home for the Holidays." IRI® is a global leader in innovative solutions and services for consumer, retail, and media companies.
"Shoppers are navigating the ongoing COVID-19 pandemic with a variety of altered behaviors, creating opportunities for manufacturers and retailers that recognize and address these new behaviors quickly," said Joan Driggs, vice president of Content and Thought Leadership at IRI. "CPG companies that satisfy these changing needs gain the opportunity to attract new shoppers as well as win back shoppers that might have migrated to other brands and/or channels earlier in the pandemic."
Talking Turkey About Thanksgiving
IRI projects turkey sales for Thanksgiving to be strong, with an emphasis on smaller whole birds or cuts. Turkey and roasting meats have enjoyed a sales boom during the pandemic, with the most robust growth among younger and lower-income shoppers.
For Thanksgiving, just 29 percent of consumers will host or attend a meal with extended family who does not live with them, down from 48 percent last year, according to IRI's new research. Also, 34 percent will prepare a meal just for themselves or their household this year, up from 27 percent last year. The median number of people sitting at the Thanksgiving dinner table this year will be five, down from eight in 2019.
While shoppers have been purchasing turkey cuts or smaller whole birds, turkey as a category has performed well during the pandemic:
Between April and September, shoppers bought turkey nearly 4x more often than in the same period in 2019.
National sales of turkey are up 19.6 percent, with 250,000 more pounds sold.
Whole bird turkey sales have been particularly strong, up 28 percent, and $21 million in sales compared to last year.
Higher prices and more people cooking at home will translate to higher food and beverage spending for some households. Still, a more significant number will spend less due to holding either smaller gatherings or no gatherings at all. Just over 20 percent of those who plan to spend less will buy a smaller turkey, and 15 percent will not purchase a whole turkey.
December Holidays Become Strictly a Family Affair
Similar to Thanksgiving, most Americans will likely stay home for the December holidays and celebrate with their immediate family. The number of consumers hosting meals for extended family that doesn't live with them will drop from 48 percent in 2019 to 32 percent this year, while those preparing a special celebration just for themselves or their households will increase to 32 percent from 27 percent last year.
This behavior extends to gift-giving and those buying gifts for others outside their household, decreasing from 39 percent last year to 31 percent this year. And those buying gifts for themselves or their immediate household will decline to 31 percent from 35 percent last year. One-quarter of IRI research respondents will spend less on gifts this year, while just 14 percent plan to spend more.
Foodservice and Restaurants Continue to Feel the Pinch
Foodservice, such as food purchased to consume away from home and food purchased to consume at home, tend to spike in calendar Q4 of each year. This year, food away from home sales will continue to show weakness as cold weather drives consumers indoors while bars and restaurants continue to face social distancing restrictions. As a result of this trend and consumers' desire to indulge after a difficult 2020, food at home will show stronger sales, giving CPG retailers and brands an additional opportunity to inspire creating at-home celebrations.
The typical spike in restaurant visits will not materialize this year. Restaurant visits have rebounded somewhat and are currently at roughly 50 percent of their October 2019 level, up from a nadir of 16.5 percent in April.
'Tis the Season for Manufacturers and Retailers to Step Up
Manufacturers and retailers that act quickly on these trends have the opportunity to generate enhanced consumer loyalty, win new shoppers away from competitors, and win back shoppers who might have migrated to competitors earlier in the pandemic.
Consumers often give gourmet and specialty food items for the December holidays. Manufacturers can take advantage of this trend by adopting seasonal, festive packaging for great gift-giving appeal. They can promote holiday essentials to assist those shopping on a budget while also making available premium products for those interested in splurging. Optimizing online resources will enable shoppers to find new recipes and cooking tips, offer entertainment ideas, and suggest effective budgeting practices. Creative cross-promotions with other holiday items, such as complementary food categories, wine pairings, cooking utensils, or tableware, will also engender shopper loyalty.
Retailers should optimize their in-store displays and coordinate these displays with their online promotion strategies. To capture the imagination of shoppers who otherwise would have celebrated at restaurants, retailers can consider organizing displays that offer creative entertainment ideas on a budget or partner with local restaurants for meal fulfillment.
Changing Traditions
The holidays are going to look a little different this year. With that in mind, HelloFresh conducted a survey to uncover anticipated changes to holiday traditions as we continue to navigate through this pandemic. Some unique findings included:
56 percent of respondents are planning to have a video call with their family this Thanksgiving if they can't see them in person
18 percent of respondents will be cooking their own Thanksgiving dinners for the first time this year
55 percent of respondents shared that the thought of running to the grocery store the day-of this year, during a global pandemic, is a point of stress for their households
Additionally, just over six in 10 respondents shared their household stress levels would drop if they could have all of their recipe needs delivered right to their door.
Best Wine Counties Outside California
LawnStarter analysis ranking 2020's Best Wine Counties Outside California* found wine counties dot the U.S. map. That means some of the best wineries to visit (safely, of course) are often much closer to home.

To help Americans planning a winery getaway or looking for an award-winning wine to try at home, LawnStarter compared the 49 states — across 18 relevant metrics, including:
Visitor accommodations (hotels, motels, and inns in the area)
Number of winery tours
Number of wine producers
Tasting options
Number of vineyards
Number of award-winning wines
Great reviews
You can find a list of our 2020 Best Wine Counties Outside California below, along with key takeaways.


Best Wine Counties Outside California

1.

Benton County, WA

6.

Jackson County, OR

2.

King County, WA

7.

Loudoun County, VA

3.

Clackamas County, OR

8.

Yamhill County, OR

4.

Yavapai County, AZ

9.

Washington County, OR

5.

Travis County, TX

10.

Suffolk County, NY
Key Takeaways:

Go Northwest, Young People: Washington and Oregon dominate our top 10 Best Wine Counties list with two Washington counties and four Oregon counties in the top 10.

Southwest is Best: Arizona is no wine desert with two counties making our top 20 best wineries cellar.

Everything is Bigger in Texas: There's more to Texas than beer drinking cowboys and barbecue. Three counties in the Lone Star State score in the top 20.

Wine and Roses: Some counties rank high because the attractions are as inviting as the wine.
LawnStarter's study of the Best Wine Counties Outside California, including rankings and analysis, is available here.
Voting with Their Stomachs
Chef's Pencil released the results of a survey that shows who would win the presidential race if Americans were voting with their stomachs rather than their hearts and souls.
According to thesurvey, which included 1,100 respondents, Donald Trump would secure a safe victory with 61.8 percent of the votes.
They researched the presidential candidates top favorite foods and made a list of 34 foods and drinks reported to be among the presidential candidates' top favorites (17 for each of them). We put them together in pairings that made culinary sense (e.g. burgers vs sandwiches, cherry vanilla ice cream vs chocolate chip ice cream).
And then surveyed 1,100 Americans and asked them to choose their preferred drink and food in each pairings.
Just like in real life, voters had to choose one of the pairings whether they liked them or not. To make it easier, they asked respondents to choose the one they liked the most or disliked the least.
Check out the full findings of the survey here.