MRM Research Roundup: End-of-July 2020 Edition
19 Min Read By MRM Staff
This edition of Modern Restaurant Management (MRM) magazine's Research Roundup features the state of flavor, COVID-19 restaurant operations, public acceptance of delivery charges, the best of the best and the most allergy-friendly restaurant chains.
DoorDash Deep Dish
Using order data from January 1, 2020 to June 30, 2020 and a national consumer survey, DoorDash's mid-year report checks in on popular food trends, nationally and regionally, how users ate through social distancing, cravings across the country, and more. The national consumer survey polled 2,000 Americans on what they cooked, ate, and baked the most, the top food and drink they missed while restaurants were closed, the impact the past six months have had on vacation plans, and more.
Highlights from the DoorDash Deep Dish include:
More cooking, more problems: 70 percent of Americans have spent more time cooking over the past 6 months, and 47 percent agree that they're tired of it
DoorDash to the rescue: 25 percent of Americans order more food when they order takeout so they have leftovers
Winner winner, no more cooking chicken dinner: Almost half of respondents (41 percent) are most tired of cooking chicken, followed by pasta and microwave meals. While tired of cooking chicken, Americans aren't sick of ordering in chicken
NYC and DC DoorDash customers love to order in chicken–their top items ordered were compiled of chicken favorites like Spicy Chicken Sandwich, Chicken Quesadilla, Chicken Parmigiana, Crispy Chicken BLT, and Buttermilk Fried Chicken in NYC and Roasted Chicken, Chicken Noodle Soup, Grilled Chicken Sandwich, Chicken Tenders, and Curry Chicken in DC.
Chicken Sandwich + french fries was the top food item ordered on DoorDash this year, with Chicken Fajitas also making the list as the 8th most ordered item.
$2.5K Magic: The largest amount spent on a single DoorDash food order this year was an order worth $2,578 that included 70 orders of Mediterranean herb chicken, 40 orders of grilled vegetables, and 20 cheese plates
Comfort food cravings: By a nearly 3:1 margin, people are more likely to crave comfort food (53 percent) than healthier foods (18 percent). DoorDash's order data supports this behavior, with trending items in the first half of 2020 including Queso Blanco (1,735 percent increase), Create Your Own Pizza (1,501 percent increase), Cinnamon Rolls (1,400 percent increase), Cheese Nachos (1,130 percent increase), Spinach and Artichoke Dip (1,092 percent increase), and New York Style Cheesecake (843 percent increase)
Banana bread versus cookies: While we may have seen banana bread on the 'gram, cookies were the most-baked item during COVID (60 percent). Banana Bread won the battle against Sourdough bread, which was at the bottom of the list with only 19 percent of respondents saying they baked this. Cookies also surged in order frequency, with Skillet Chocolate Chip Cookies seeing a 1,193 percent increase in orders compared to the first half of 2019
More time at home, more breakfast + coffee, please: With more Americans at home to abide by social distancing guidelines, breakfast items ordered on DoorDash surged in 2020. Breakfast burritos were the 7th most ordered item on DoorDash in 2020. Top breakfast items on the rise include Oatmeal (1,768 percent increase), Iced Caramel Coffee (1,660 percent increase), Cinnamon Rolls (1,400 percent increase), Iced French Vanilla Coffee (1,028 percent increase), Strawberry Banana Smoothies (822 percent increase), Biscuits with Gravy (818 percent increase), and Blueberry Muffins (779 percent increase)
Mexican was the food Americans missed the most: 82 percent of respondents miss eating at least one type of cuisine because it is too difficult to prepare at home. At 40 percent, Mexican is the number one food type people miss, followed closely by seafood at 34 percent. Americans made up for missing eating Mexican and Seafood out by ordering these cuisines in–the top items ordered this year on DoorDash include Spicy Shrimp Tacos (3rd most ordered item), California Roll (6th most ordered), Breakfast Burritos (7th most ordered), Chicken Fajitas (8th most ordered), Spicy Tuna Roll (9th most ordered) and Fish & Chips (10th most ordered). Top trending Mexican items ordered on DoorDash include Queso Blanco (1,735 percent increase), Grilled Chicken Tacos (1,502 percent increase), Cheese Nachos (1,130 percent increase), Shrimp Tacos (997 percent increase), and Chicken Fajitas (318 percent increase).
The west coast disagrees: their top response is sushi, edging Mexican food 36 percent to 34 percent. Top DoorDash orders from West Coasters support this, with Sushi and Seafood being the dominant items ordered in LA and Seattle, respectively, and West Coast top dinner items including Spicy Tuna Rolls and Dragon Rolls
Hot takeout summer: While 63 percent of respondents have canceled vacation travel due to COVID, 71 percent are still planning to take some vacation this summer. In thinking about travel, 75 percent of respondents say food is important in determining summer travel plans
While on summer vacation this year, the top dining strategy is takeout, selected by 55 percent
Dreaming of Margaritaville: 59 percent are excited to order an alcoholic drink when they return to a normal restaurant routine, and margarita is the number one option, selected by 20 percent. Frose is out, with only 2.1 percent of Americans excited to order this 2019 staple
The state of flavor in America: San Francisco's top items were Indian staples like Chicken Tikka Masala, Samosas, and Saag Paneer. Cheese was supreme in Denver with top items including Mac & Cheese, Cheesy Garlic Bread, and Mozzarella Sticks. Miami loves their Latin American flavors with top items including Sweet Plantains, Fried Yuca, Tres Leches, and Tostones, and Austin loves some Tex-Mex, with top items including Burritos, Baja Shrimp Taco, and Fried Avocado Tacos. Check out more favorites in LA, Chicago, Atlanta, and Philadelphia below
Millennials and intermittent fasting: 45 percent of respondents have tried at least one of three select new food habits: 30 percent intermittent fasting; 16 percent foods infused with CBD; 13 percent foods with collagen. Intermittent fasting is especially popular with older millennials (25-34-year-olds) as 40 percent say they've tried it
Plant-based on the rise: 18-24 year olds ranked plant-based as the most appetizing vegan dish and DoorDash orders for Plant-based Burgers surged 443 percent increase in 2020
Top Foods of 2020 To Date (Top Food Items ordered from 1/1/20 to 6/30/20 – US)
Chicken Sandwich + French Fries
Mac and Cheese
Spicy Shrimp Tacos
Make Your Own Pizza
Iced Coffee
California Roll
Breakfast Burrito
Chicken Fajitas
Spicy Tuna Roll
Fish & Chips
Top Condiments of 2020 To Date
Ranch
Sour Cream
Soy Sauce
Hot Mustard
Spicy Mayo
Ketchup
Hot Sauce
Honey Mustard
Salsa
Honey BBQ
Top 20 Food On The Rise This Year That You Should Expect To See More Of
Oatmeal – 1,768 percent increase
Queso Blanco – 1,735 percent increase
Iced Caramel Coffee – 1,660 percent increase
Grilled Chicken Taco – 1,502 percent increase
Create Your Own Pizza – 1,501 percent increase
Cinnamon Rolls – 1,400 percent increase
Cheese Nachos – 1,130 percent increase
Skillet Chocolate Chip Cookie – 1,193 percent increase
Spinach and Artichoke Dip – 1,092 percent increase
Iced French Vanilla Coffee – 1,028 percent increase
Shrimp Tacos – 997 percent increase
New York Style Cheesecake – 843 percent increase
Strawberry Banana Smoothie – 822 percent increase
Biscuits with Gravy – 818 percent increase
Vegetable Samosa – 788 percent increase
Blueberry Muffin – 779 percent increase
Plant-based Burgers – 433 percent increase
Chicken Fajitas – 318 percent increase
Churros – 260 percent increase
Horchata – 200 percent increase
*compared ordered behavior from January – June 2020 and January – June 2019
The State of Flavor in America – Top Items in US Cities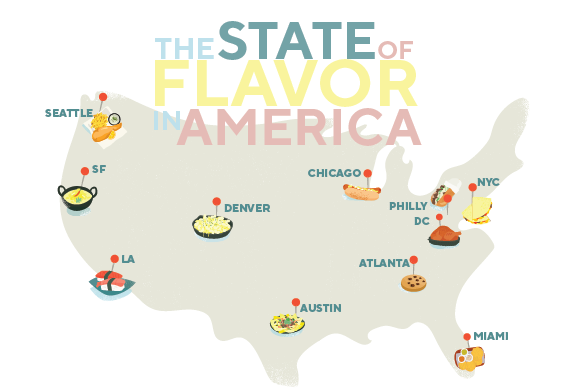 LA: Sushi–California Roll, Spicy Tuna Roll, Salmon Avocado Roll, Rainbow Roll, and Shrimp Tempura Roll are top sushi items ordered
SF: Indian–Chicken Tikka Masala, Garlic Naan, Basmati Rice, Samosas, and Saag Paneer are top items ordered
Denver: Cheese is Supreme–Mac & Cheese, Mozzarella Sticks, Cheesy Garlic Bread, Chicken Quesadillas, and Chips & Queso are top items ordered
Chicago: Is A Hot Dog a Sandwich?–Italian Beef Sandwich, Hot Dog, Chicken Sandwich, Chili Cheese Dog, Beef Croissant Sandwich are top items ordered
Austin: Tex-Mex–Chips & Queso, Burritos, Baja Shrimp Taco, Fried Avocado Taco, and Chicken Fajitas are top items ordered
Atlanta: Sweet Tooth–Chocolate Chip Cookie, Cookies & Cream Milkshake, Brownie, Apple Pie, and Banana Bread are top items ordered
Miami: Latin American Flavors–Sweet Plantains, Fried Yuca, Jerk Chicken, Tres Leches, and Tostones are top items ordered
DC: Chicken–Roasted Chicken, Chicken Noodle Soup, Grilled Chicken Sandwich, Chicken Tenders, and Curry Chicken are top items ordered
Philadelphia: American Staples–Chicken Nuggets, Cheesesteaks, Cheeseburgers, Italian Hoagie, and Boneless Wings are top items ordered
NYC: Chicken–Spicy Chicken Sandwich, Chicken Quesadilla, Chicken Parmigiana, Crispy Chicken BLT, Buttermilk Fried Chicken are top items ordered
Seattle: Seafood–California Roll, Fish & Chips, Crab Rangoon, Spicy Tuna Roll, and Tartar Sauce are top items ordered
Top Food Items ordered this year during breakfast, lunch, dinner, and late night
East Coast
Breakfast: Iced Coffee, Donuts, Steak Omelette, Belgian Waffle, Bagel with Butter
Lunch: Crispy Chicken Sandwich, Chips, Iced Tea, Grilled Chicken Caesar Salad, Turkey Sandwich
Dinner: Chicken Quesadilla, Caesar Salad, Spicy Tuna Roll, Fried Rice, Gyoza
Late Night: Chicken Fingers, Apple Pie, Mozzarella Sticks, Strawberry Milkshake, Sugar Cookies
West Coast
Breakfast: Breakfast Burrito, Bacon, French Toast, Latte, Pancakes
Lunch: Create Your Own Pizza, Miso Soup, Veggie Spring Rolls, Chicken Egg Roll, Orange Chicken
Dinner: Chicken Tikka Masala, Spicy Tuna Roll, Mongolian Beef, Bean Burrito, Dragon Roll
Late Night: Stuffed Jalapenos, Mini Churros, Cheesecake, Horchata, Fried Zucchini
Midwest
Breakfast: BEC on a Biscuit, Iced French Vanilla Latte, Breakfast Sampler, Oatmeal, Strawberry Banana Smoothie
Lunch: Mac & Cheese, Potstickers, Italian Beef Sandwich, Hot Dog, Chili
Dinner: Potstickers, Chimichanga, Street Tacos, Spaghetti & Meatballs, Fettuccine Alfredo
Late Night: French Fries, Chocolate Milkshake, Cheese Sliders, Chocolate Chip Cookie, Cinnamon Rolls
South
Breakfast: Sausage Biscuit, Hash Brown Burrito, Orange Juice, Fruit Salad, Buttered Biscuit
Lunch: Spicy Chicken Sandwich, Buffalo Wings, Strawberry Lemonade, Nachos, Southwestern Eggrolls
Dinner: Fried Chicken, Sweet Iced Tea, Banana Pudding, Country Fried Steak, Ribeye
Late Night: Onion Rings, Chocolate Chip Cookie, Cheesecake, Nachos, Cinnamon Rolls
How Have Restaurants Been Affected by Covid-19?
Nearly six months into the crisis that rocked the restaurant industry, Upserve asked customers to complete a survey about how restaurants have been affected by the COVID-19 crisis.
Key takeaways:
Most restaurants (64 percent) feel optimistic for the future, but their biggest challenge (47 percent) has been shifting their business model to adapt to online ordering.
Having Online Ordering set up for your business means you are more likely to re-open and be more optimistic about your business.
They asked customers what their biggest challenge was due to COVID:
Food cost or supply chain issues
Keeping staff safe
Unable to pay staff
Unable to pay bills
Transitioning to a new business model with online ordering.
Nearly half (47 percent) of our customers said transitioning to Online Ordering has been the biggest challenge, followed by 20 percent who cited the inability to pay bills due to lack of revenue.
For more, click here.
Dining During COVID-19
The sooner a customer dines in a restaurant after it reopens, the more likely they'll dine out again in the next 30 days. Additionally, the less cautious they are of COVID-19 as well compared to those that waited to return. This is according to a recent survey from Response Labs via SurveyMonkey.
They surveyed 669 men and women in the United States between the ages of 25-64 who have dined out at a restaurant in the last 30 days. Of those that returned to a restaurant within a week of reopening (23 percent of all respondents), 87 percent say they are somewhat or very likely to dine out again in the next 30 days. This group is also less likely to be cautious of COVID-19 when dining out at a restaurant. That may also explain why they do not think a limit on how long the dining experience should last. When asked, "How long are you comfortable being indoors while dining at a restaurant?" 54 percent said for as long as it takes to get good service.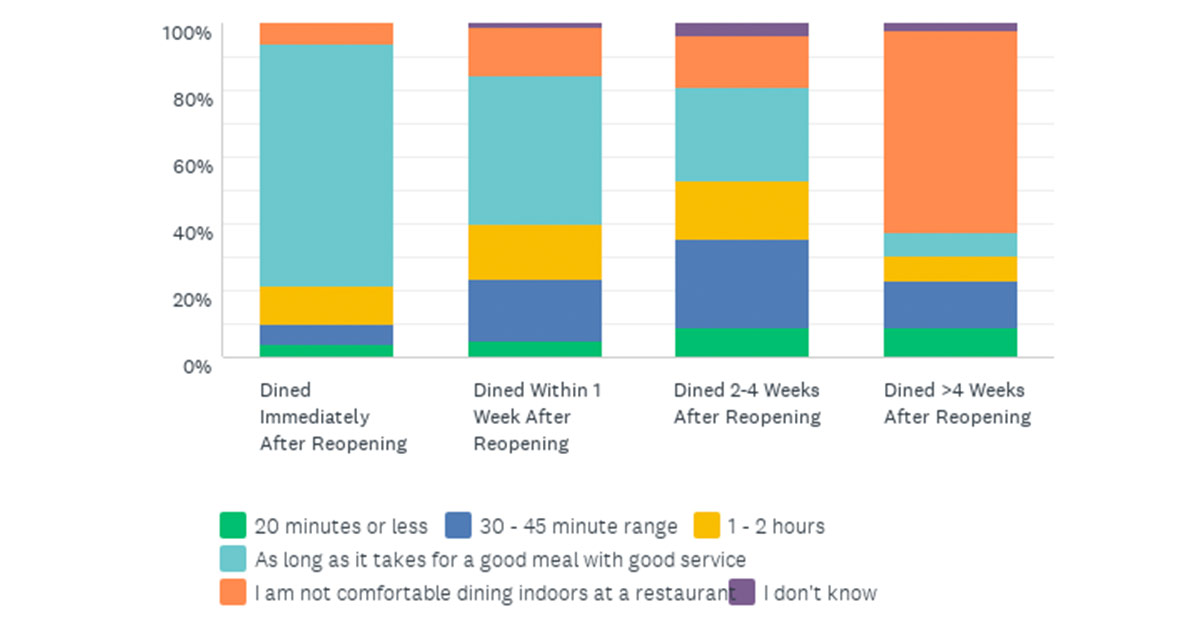 However, the same questions were asked of diners that did not return to a restaurant until two weeks or more after reopening. 56 percent are very cautious about COVID-19 with 51 percent saying it was very unlikely they would dine out at a restaurant in the next 30 days. 17 percent said they are very likely and 26 percent somewhat likely to do so. Therefore, all is not lost on these customers just because they waited an extra two-to-four weeks to come back. They are more concerned about COVID precautions and are less comfortable with establishments not adhering to mandates. This group was asked, "How long are you comfortable being indoors while dining at a restaurant?". Sixty percent said they are not comfortable at all being indoors–a contrast to those who returned to restaurants within a week.
You can also find the blog post content here.
Restaurant Operations During COVID-19

According to the Rewards Network survey results, 42 percent of respondents said they would invest in changing their restaurant layout or adding COVID-related safety features, with 28 percent stating they will be adding or expanding a patio. This shows that many restaurant owners believe that COVID will impact dining needs for a significant amount of time, long enough to make investing in those alterations worthwhile.
Among the highlights:
Demographics
More than half of restaurants are only open at 50 percent capacity.
Challenges and Opportunities
Only seven percent of respondents cited "customers ordering to-go rather than dining in" as their biggest near-term challenge.
The two biggest challenges noted were "declining local consumer demand" and "limited dine-in capacity," closely followed by "keeping staff and guests from contracting COVID-19."
Investment
In an effort to permanently diversify their revenue streams, 31 percent will invest in delivery services and/or delivery technology, highlighting the notion that owners realize to-go demand is here to stay.
21 percent of restaurants plan to invest in contactless dine-in technology, such as moving away from physical menus.
Marketing and Promotions
Almost 31 percent said they are offering more promotions and discounts, while 12 percent are offering coupons—as price sensitivity is heightened for many Americans.
Menus and Pricing
28 percent of respondents said they were making menus smaller and more efficient for the kitchen.
New Services and Revenue Streams
Many restaurants pivoted to sell alcohol to go. This provided an added convenience for customers, allowing them to pick up their food and alcohol in one spot, versus making a separate trip to the liquor store
Third-party Delivery Services
One-fourth of respondents said that before the pandemic they were not using any third-party delivery services.
COVID Impact on Business
According to a new survey of 3,500 people by Azurite Consulting, many Americans continue to be hesitant and wary of dining out.
Key survey findings include:
64 percent of not at risk customers would return to restaurants within two months. This number shrinks to 33 percent for at risk customers.
16 percent of not at risk customers expect to wait for a vaccine. 44 percent for at risk customers
85 percent want to see multiple measures implemented before they go out to dine. That includes 61 percent customers expect all staff to be masked. 53 percent tables separated. 39 percent expect outdoor seating.
Only 15 percent are willing to eat at a restaurant that has taken no protective measures.
The entire Azurite Consulting restaurant survey results can be found here.
Customer Acceptance of Delivery Fees
During the lockdowns associated with the pandemic, many restaurants offered delivery and pickup. Unless the restaurant does the delivery itself, there are substantial commissions associated with offering delivery. Restaurant operators need to recover those costs, but must consider customers' reactions to these delivery charges.
Restaurant customers were generally accepting of delivery charges, as long as those charges are seen as fair. That is one conclusion of a survey of 329 U.S. residents who had used pickup and delivery, conducted during May and June 2020, by Sheryl E. Kimes and Chaoqun Chen. One way to establish fairness is when restaurants state delivery charges as the "regular" price—with the lower cost of order pickup stated as a discount. These and other findings are found in "Consumer Perceptions of Restaurant Delivery Fees," by Kimes and Chen, posted on the sherrikimes.com website.
"One particularly interesting finding was related to whether delivery was conducted by the restaurant or by a delivery provider," said Kimes, who is professor emerita, Cornell University School of Hotel Administration, and visiting professor, National University of Singapore School of Business. "As part of the survey, we reminded half of the respondents that it costs restaurants money to use delivery firms. Those respondents were more likely to favor delivery by the restaurant itself, given the understanding that restaurants need to cover their costs."
"In terms of delivery charges, we found that our respondents generally considered flat fees or distance-based fees to be fair," added Chen, who is assistant professor, Cox School of Business, at Southern Methodist University. "On the other hand, hefty minimum-order requirements were not well received."
Changing Dining Habits
AlixPartners released its second pulse survey (1,000+ consumers) since the pandemic began on how it's changing, and might change for a long time, Americans' dining habits—and what restaurants and other foodservice providers can do to survive this unprecedented disruption (from mask mandates to more and better take-out and delivery).
Survey highlights:
Consumer sentiment towards dining-out remains very cautious
Although 43 percent dined-out since the U.S. began to re-open, only 15 percent said they plan to dine-out "over the next few days"
Overall, by a net margin of 26 percent, consumers say they will be cutting back on dining-out, up from 20 percent in AlixPartners' April survey
Declines in consumer sentiment are persistent across all day-parts and segments vs. April survey
Health and safety issues are the main drivers for reductions in dining-out
Fear of getting sick is the main driver, cited by 60 percent of consumers
Outdoor seating, mask mandates, and disposable menus lead in consumer-desired restaurant tactics to drive more dine-out trips, with mask-mandates cited by 36 percent
Growing preference for chains over independent restaurants
Thirty-six percent said they favor chain restaurants while 29 percent said they prefer independents —which is down from 38 percent in April survey
Percentage of consumers getting meals from restaurants up slightly; take-out and delivery share up markedly. Twenty-two percent of meals sourced via restaurants vs. 18 percent in April survey
Eighty percent ordered take-out and/or delivery, up from 69 percent in April survey
Take-out and/or delivery meals were purchased at least weekly by 57 percent of consumers, with fast food and pizza continuing to dominate
Pick-up is even more preferred than delivery in the April survey, with top reasons being desires of getting out of the house and wanting to reduce human contact
Third-party providers remain least-preferred delivery method by far (16 percent, down from 18 percent in April survey
Best of the Best
Tripadvisor Travelers' Choice Best of the Best winners represent the most highly-rated restaurants around the world, based on authentic Tripadvisor reviews and ratings.
What's hot?
Italian cuisine trending: Americans are craving authentic pizza and pasta dishes this year.
Southern sizzle: Cities down south stole the show, with restaurants from Memphis, to The Woodlands, to Scottsdale delighting diners.
Coast to coast: Award winners are located in 31 different cities across the U.S.
NYC, the culinary center: Home to seven of the top Fine Dining and Everyday Dining Restaurants, more than any other city.
Top 10 U.S. Fine Dining Restaurants
High-end, special occasion restaurants known for impeccable food and service.
1. The French Laundry – Yountville, California (also ranked #24 in the world overall)
Popular dishes: Oysters and pearls, waygu beef
2. Daniel – New York City, New York
Popular dishes: Foie gras, amuse bouches
3. Halls Chophouse – Charleston, South Carolina
Popular dishes: Prime rib, crab cakes
4. Flight Restaurant and Wine Bar – Memphis, Tennessee
Popular dishes: Bison, stuffed filet
5. GW Fins – New Orleans, Louisiana
Popular dishes: Soft shell crab, lobster dumplings
6. Geronimo – Santa Fe, New Mexico
Popular dishes: Elk tenderloin, sea bass
7. Collage Restaurant – St. Augustine, Florida
Popular dishes: Black grouper, veal Orleans
8. Cafe Monarch – Scottsdale, Arizona
Popular dishes: Cauliflower soup, sea bass
9. Charleston Grill – Charleston, South Carolina
Popular dishes: Foie gras, crab cakes
10. Peninsula Grill – Charleston, South Carolina
Popular dishes: Lobster "3 Way," coconut cake
All Travelers' Choice Best of the Best award-winners, including Tripadvisor diners' favorite restaurants in the world, can be found here.
The Tales of Foot Traffic
Placer.ai's foot traffic data has proven to be a reliable predictor for quarterly earnings as their unique data that reveals, supports, and explains brick and mortar successes and failures not found elsewhere.
Report highlights include:
After a strong start to 2020, McDonald's visits dropped -60 percent year-over-year in April. But the brand is recovering quickly with May visits down just 45.9 percent and June visits down 39.1 percent year-over-year. McDonald's positive momentum is bringing it closer to "normalcy."
The pace of recovery for Yum! Brands' KFC, Taco Bell, and Pizza Hut all saw positive trends. Pizza Hut is on a steady trajectory back to pre-COVID levels. Taco Bell is bouncing back. Only KFC is seemingly stagnant.
The Cheesecake Factory's traffic bottomed out at – 94.6 percent in April but since then visits have been rapidly increasing. June traffic improved to -59.8 percent year-over-year, a massive increase from May when year-over-year visits were down 86.9 percent. Their recovery pace is only quickening.
Top 10 Most Allergy-Friendly Restaurant Chains
AllergyEats named its 2020 list of the Top 10 Most Allergy-Friendly Restaurant Chains in America. Derived from the restaurant reviews of food-allergic diners across the U.S. on the AllergyEats app and website, this list recognizes both small and large restaurant chains that have been ranked highest by food-allergic diners. With many food-allergic diners facing limited options during this universally difficult time for restaurants, the AllergyEats Top 10 Chains list is a great resource for those seeking take out and dining in options. This year's list also features restaurants with a wider variety of cuisine categories than in prior years, a positive indication that a greater diversity of chains are taking the steps necessary to be allergy-friendly, particularly when compared to the dining landscape a decade ago.
The Five Most Allergy-Friendly Large Chains (at least 50 locations):
Bertucci's (4.68)
In-N-Out Burger (4.64)
Maggiano's Little Italy (4.53)
Ninety-Nine Restaurant & Pub (4.40)
Chipotle Mexican Grill (3.39)
The Five Most Allergy-Friendly Small Chains (fewer than 50 locations):
Burtons Grill (4.86)
110 Grill (4.72)
Flatbread Company (4.71)
Glory Days Grill (4.70)
True Food Kitchen (4.70)
"AllergyEats congratulates the restaurant chains on this list for having earned the highest allergy-friendliness ratings based on feedback directly from the food allergy community," Paul Antico, Founder and CEO of AllergyEats said. "This year's list has returning favorites like Burtons Grill, which consistently ranks highly each year, along with newcomers such as Glory Days Grill and True Food Kitchen. We're so encouraged to see new and varying types of cuisines joining the reliable choices that food-allergic diners have come to count on for positive dining experiences. We appreciate the work and commitment displayed by the restaurants on this list and commend them on being leaders in allergy-friendliness, especially during this incredibly difficult time for restaurants and the food service industry."
These rankings are based on the compilation and averaging of all individual restaurant reviews by AllergyEats users during 2019 into chain-specific allergy-friendliness dining out scores. The scoring is based on a 5-point scale, with Burtons Grill garnering the overall best ranking for the fourth year in a row. This year's list marks the eighth consecutive year AllergyEats has released its list with Chipotle Mexican Grill, Burtons Grill, and Maggiano's Little Italy earning and retaining a spot each year since the list's inception.
Additionally, newcomers such as Glory Days Grill, a pub type grill restaurant, and True Food Kitchen, a restaurant focusing on health-driven seasonal ingredients, are great examples of small chains that are making a positive impact on food-allergic diners while emphasizing the different cuisine options represented on this year's list.
"What an honor to be recognized as one of the top allergy-friendly restaurants in the country. Trust is the name of the game," said Robert McCormick, Brand Chef for True Food Kitchen. "The True Food Kitchen team works tirelessly to ensure our guests can enjoy their meal in a safe & friendly environment. Thank you to the entire True Food team for making it happen!"
The Mind of the Modern Shopper
Valassis released its annual Consumer Intel Report, "Chasing Value: The Mind of the Modern Shopper." The annual report examines responses from more than 2,000 U.S. consumers in two separate surveys, noting how their shopping patterns and purchasing decisions have changed within specific categories including food, household goods and health & beauty care products amid the COVID-19 pandemic. The findings point to actionable insights at a time when brands are adjusting their approaches in building meaningful connections with consumers to drive increased engagement.
The impact of the pandemic has led to a noticeable shift in consumer behaviors, including an expanded awareness when it comes to savings and value. According to the survey, 70 percent of consumers have increased saving behaviors and 76 percent expect these new behaviors to continue over the next year, reinforcing the concept that the consumer adaptation to be more savings oriented will be more permanent vs. temporal. Brands and marketers need to shift and adjust their long-term engagement strategies to reflect these new market conditions.
In addition to monetary value, consumers – especially younger generations – place increasing emphasis on identifying and connecting with a brand's corporate values. For example, 43 percent of all consumers say they are more likely to buy products from companies whose values match their own. Important among younger generations, this is true for 55 percent of millennials and 47 percent of Gen Z consumers. As younger generations – especially Gen Z – garner increasingly more buying power, brands and marketers must prioritize impactful engagements to build lasting relationships.
"The modern shopper is resilient, quick to adopt online shopping options and actively seeks value," said Michelle Engle, chief marketing officer at Valassis. "For brands to spark consumer discovery, they must connect consumers with marketing at precise moments to accelerate a purchase. Our findings help illuminate a path forward as brands re-establish their relationship with the consumer. With the right tools to fully understand consumer behavior – including the strong desire for savings and a flexible, seamless shopping experience – brands can deliver on consumer needs and buying intentions as well as tap into what motivates them."
According to the survey, marketing messages that include coupons, discounts and social media promotions have the potential to shorten the path to purchase:
61 percent indicated coupons or discounts can inspire them to try a new brand and 54 percent said it would lead them to make an impulse purchase.
60 percent indicated receiving a coupon or discount speeds up their decision to make a purchase.
Key takeaways from the report show:
Consumers lean into savings – while planning and post-purchase
76 percent of all consumers compare prices between brands using printed store circulars and 71 percent do so using online circulars.
51 percent of millennials and 43 percent of Gen Z consumers scan receipts with their mobile device to receive cash back or points post-purchase (compared to 31 percent of all consumers).
Brand values matter to consumers
71 percent of consumers are more likely to purchase from a brand or store they trust.
48 percent of all consumers say they are inclined to be loyal to a brand or store that shares its efforts to be environmentally responsible or has sustainable/ethical business practices.
An eagerness for shared experiences
45 percent of millennials and 33 percent of Gen Z share brand reviews including details of how much they saved (compared to 23 percent of all consumers).
35 percent of all consumers note they've made an unplanned purchase based on something they saw on social media (a 5 percentage point increase from 2019).
A willingness to treat themselves
Overall, 35 percent of consumers consider themselves to be predominantly impulse shoppers (up from 28 percent in 2019). When consumers make impulse buys in-store, 43 percent say that it's out of a desire to "treat themselves."
Despite the ongoing pandemic, 45 percent of consumers are expanding their budget and ability to buy fun things or experiences by using coupons and discounts.
To review the full 2020 Consumer Intel Report, download "Chasing Value: The Mind of the Modern Shopper."
Franchise Sale to Explode
Franchise sales in the restaurant franchise sector are poised to explode according to franchise industry veterans. "It is tragic, but we have seen unprecedented restaurant closures in the last four months, many of which will be permanent," Mark Siebert, CEO of franchise consulting firm iFranchise Group, recently noted, "But this tragedy will create a tremendous franchise sales opportunity for restaurants who have weathered this storm by early 2021."
While the exact number of permanent closures will not be known for months and estimates vary widely, Yelp research has indicated that the number might be as high as 53 percent, whereas the National Restaurant Association's research puts permanent closures as low as 3 percent. "The exact number will almost certainly be somewhere in the middle," according to Siebert, "but with 660,000 restaurants in the U.S., we will likely see over 100,000 empty shells where restaurants once stood. And restaurants who are ready to expand will likely find numerous qualified buyers who are eager to take advantage of the opportunity to open in prime locations for less."
Siebert went on to explain that the large number of closed restaurant locations around the country will provide surviving concepts with numerous opportunities for expansion in prime locations with substantially reduced investments and occupancy costs. These opportunities will also come at a time when the number of displaced restaurant executives, including those with capital to invest, is at an all-time high and interest rates are at an all-time low. "Once an effective vaccine is found, we anticipate that demand for dining out will quickly return to pre-COVID levels, providing those restaurants that survive a unique opportunity for growth," Siebert stated.
"Obviously, to be able to franchise, the restaurant must be able to thrive in whatever market conditions are at the time," said iFranchise Group President Dave Hood. Now more than ever, any franchise expansion plan should be subjected to detailed analysis and financial modeling to ensure that it works for both the franchisor and the franchisee.
The consultants added that those looking to take advantage of the opportunity in the marketplace need to start with an analysis of whether the restaurant remains franchisable in current market conditions. And until a vaccine is in place, it will be more important than ever to identify ways to increase opportunities for delivery and to-go orders to help maximize revenues. Sanitation and food safety have never been more important. Franchisors must be able to document policies and practices for sanitizing, social distancing, contactless service, use of protective gear and guest communications.
"When you consider that it typically takes at least four months just to get the needed franchise documentation in place, those likely to be taking advantage of the market in 2021 will be those who are preparing for that growth now," Hood concluded. "It has been inspirational to see the resilience of the restaurant operators over the past few months, although certainly not a surprise. In our franchise consulting practice, we have consistently seen the perseverance and creativity of entrepreneurs everywhere, and we expect this will continue in the months ahead as the restaurant franchise sector sees a marked uptick in activity."