MRM Research Roundup: End-of-January 2021 Edition
27 Min Read By MRM Staff
This edition of MRM Research Roundup features the latest restaurant sales stats, brand loyalty, Valentine's Day spending plans and more.
Same-Store Sales Fall
The fourth quarter was not good for restaurant sales; each month posted worse same-store sales growth than the previous month, according to Black Box Guest Intelligence. By December, same-store sales growth fell to -13.3 percent year-over-year, the worst month for the industry since July. Same-store traffic growth for the month was -18.6 percent, also the worst performance in the last five months.
For more restaurant industry performance data visit the Restaurant Industry Snapshot: December Ends 2020 with Exasperating Sales Results; Final Week Offers Reasons for Optimism.
There are many factors that contributed to poor restaurant sales in November and December. The rapidly spiking number of COVID-19 cases came with tighter dine-in restrictions in some areas and may have discouraged some potential diners due to health risks. In addition, colder winter weather eliminated some potential for outdoor restaurant dining, favored by many guests who believe patio seating is a safer option.
Black Box Guest Intelligence™ suggests that despite the disappointing sales and traffic results, restaurants were successful in meeting their guests' expectations and raising the guest sentiment for their brands in December.
Ambience was the attribute with the largest improvement in guest sentiment year over year. As previous data has highlighted, guests are hyper-focused on cleanliness during this pandemic, and it is reflected in their online comments and reviews. In many cases, safety is their primary concern. Meeting or exceeding their expectations for safety is rewarded by positive feedback online.
Sentiment for restaurant service and food improved significantly in December compared to a year ago. For service, net sentiment was the third highest in 2020, only behind September and November which saw the best scores of all for the year.
For food, 50 percent of all mentions and reviews during the month had positive sentiment. Nonetheless, net sentiment dropped considerably from November scores. As off-premise sales growth accelerated again during the month and dine-in sales slowed down, food sentiment suffered as a result. Traditionally, off-premise food sentiment has always been significantly lower than sentiment for dine-in.
Limited-service continues to achieve much better sales and traffic than full-service but there are some wide ranges in performance at the brand level. Sales growth rates for companies in the top quartile of sales performance were almost 30 percentage points better than those in the bottom quartile. Analyzing guest sentiment by attribute for top performing limited-service companies offers insight into what guests value the most in this environment.
Top performing limited-service brands during the fourth quarter found food rated as their most positive attribute*. With over 80 percent of all sales in limited-service currently occurring through off-premise channels, one can conclude that food quality is separating the best performers from the rest right now.
Value was the lowest net sentiment for these top performers. Even though the difference in net sentiment between food and value was a surprising 25 percentage points, this does not mean that value is not important in limited-service. Guests of top performing brands would not frequent the restaurant if they did not have an appealing value proposition. But the data is showing that once those guests are there, value is not what they highlight the most as part of their experience.
For full-service restaurants, net sentiment for top performing brands was a lot more consistent across all attributes of the restaurant experience. Here, the attention and importance guests placed on each is a lot more balanced than in limited-service. Only 9 percentage points separated the attribute with the highest and the lowest net sentiment. Value also had the lowest sentiment for full-service. However, value sentiment is much more positive for full-service than for limited-service.
Guest sentiment remained consistent across most designated market areas. Metropolitan areas in Florida topped the rankings for the most positive sentiment in the country. The Orlando market once again hosted the most positive restaurant guests when it came to rating restaurant food, service and ambiance. Restaurant guests in Tampa-St. Petersburg were the most positive based on intent to return.
The latest data also revealed what aspects of the restaurant experience are most impacted by the effects of the pandemic. In December, a clear connection emerged between restaurant food and service net sentiment and sales performance. Markets with the biggest drops in sales experienced much lower guest sentiment around food and service. The opposite is true for markets that retained restaurant sales dollars at a better rate.
Among the 25 largest DMAs, the worst performing markets still had same-store sale losses approaching 50 percent year-over-year. In this environment, there is little doubt that the virus is the main driver behind this sales downturn. Food sentiment for those same underperforming markets was 16 points lower than DMAs with the best sales results. For service scores, the difference was 17 points.
Brand Loyalty Survives Pandemic
Customer brand loyalty has survived the impact of the COVID-19 pandemic, which imposed a severe stress test on brands, according to Brand Keys 25th annual 2021 Customer Loyalty Engagement Index® (CLEI). The national survey, conducted by the New York-based brand engagement and customer loyalty research consultancy (brandkeys.com), found that while the pandemic claimed many business and brand fatalities, customer loyalty was not among them.
"The new CLEI survey found 2020 marketplace rigors created two loyalty challenges for brands," noted Robert Passikoff, Brand Keys founder and president. "First, how to enhance brand-to-consumer emotional engagement and, second, how to leverage brand values to best meet customers' expectations." This year, to graphically illustrate brand loyalty rankings, Brand Keys created a series of emotional engagement/expectation quadrant maps to delineate brand loyalty positions in the marketplace based on the two stress-test dynamics.
Loyalty Positions in the Restaurant Sector
The 2021 survey examined 94 categories and 855 brands. Restaurant brands (in four categories including pizza, fast-casual, fast food, out-of-home coffee) representative of each of the quadrant values include: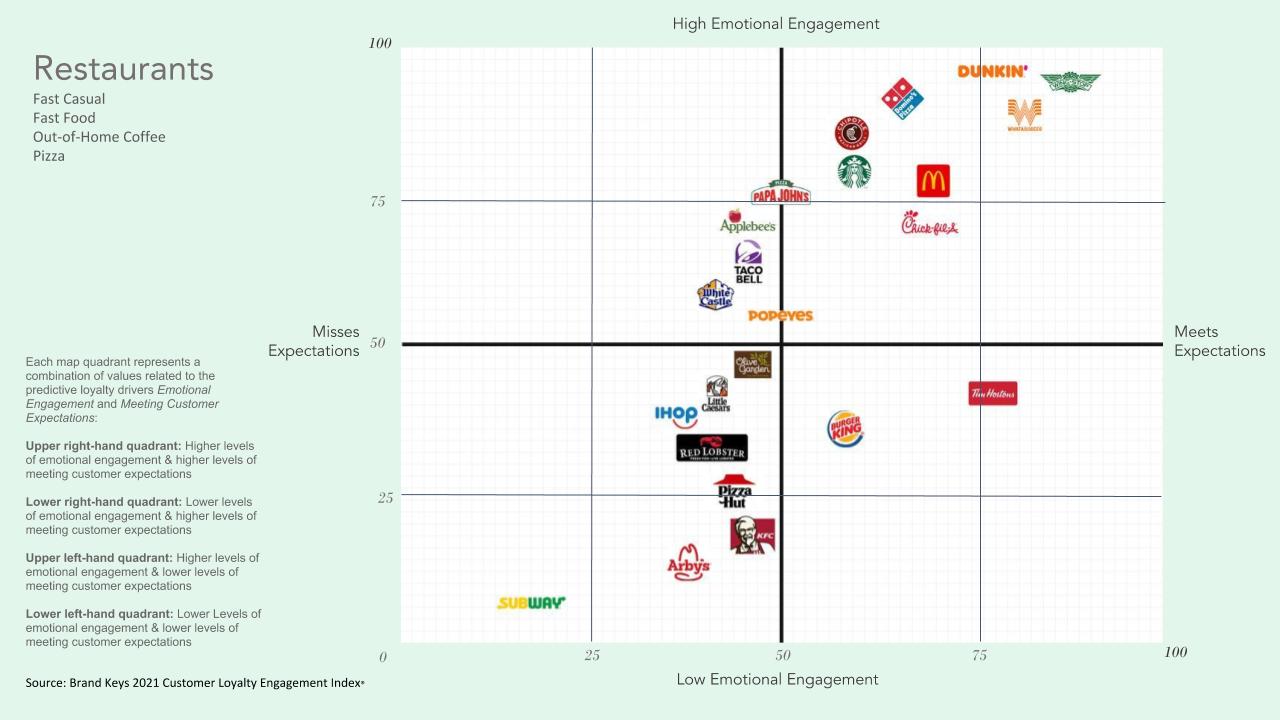 The Loyalty Map Multiple
Each quadrant on the map represents a combination of values related to predictive loyalty drivers: Emotional Engagement and Meeting Customer Expectations. "Ideally," said Passikoff, "You want consumers to feel your brand engenders high emotional engagement and meets their expectations as completely as possible. Brands able to do that are six times more likely to create loyal customers, and loyal customers are six times more likely to give a brand the benefit of the doubt in tough circumstances."
Customer Desire and Brand Delivery
"Emotional engagement, the result of effective marketing communications that increases a brand's equity, results in customers behaving more positively toward the brand," noted Passikoff. "Consumer expectations, a key dimension of customers' brand belief-systems, are unconstrained customer desires. Expectations increase on average 22 percent a year, yet brands typically manage to achieve only a seven percent increase – a big gap between customer desires and brand promises to deliver.
Loyalty Matters More for Restaurant Survival
The COVID-19 pandemic has had a significant impact on the nation's restaurant industry, from neighborhood diners to national chains. More than 100,000 restaurants and bars have permanently closed due to the coronavirus pandemic, according to estimates from the National Restaurant Association. The pandemic has altered consumer behavior, from how people order restaurant food, where they can eat, and their perception of third-party delivery companies. "Which is why loyalty is more critical than ever in this sector," noted Passikoff.
"What's incontrovertible is that the 2021 Customer Loyalty Engagement Index confirms brands that best meet consumers' expectations, and are capable of sustaining emotionally engaging relationships, always see enhanced loyalty – and the market share and profits that come with it," added Passikoff.
A complete list of the CLEI's 94 categories, and the brands exhibiting the highest loyalty focus via emotionally-engaged customers and an ability to best meet customer expectations can be found here.
The Latest in On-Premise
According to the latest COVID-19 On Premise Impact Report from Nielsen CGA:
Across the US, 72 percent of states have bars open indoors to some capacity (either completely, or with capacity measures in place) and 84 percent of states have restaurants open indoors to some capacity
On Premise velocity in outlets that are currently operational has increased +169 percent in the week of January 16 v March 28 when the On Premise shutdown initially commenced, velocity in the latest week is down -33 percent compared to same time last year, January 18 2020
Average outlet sales (velocity) are up +7 percent in the latest week (January 16 v January 9) across the US
Texas and Florida perform similarly when benchmarked against performance a year ago, with velocity in outlets that are operational being down only -4 percent in Florida and -3 percent in Texas January 16 2021 v January 18 2020
Future Delivery Habits
Restaurant delivery services have exploded since the pandemic limited or shut down indoor dining for most of the world. As COVID-19 vaccines continue rolling out, restaurateurs need to know – will customers maintain their delivery habits?
More than 84 percent of restaurant delivery customers expect their usage will stay the same or increase through the next three months. Those are the findings of a recent study authored by Escalent. Other key findings include:
17 percent of US consumers have used restaurant delivery in the past month
21 percent of those ordering restaurant delivery in the past month are new users
Consistent users indicated a 26 percent increase in use of these services each month
84 percent of restaurant delivery customers expect their usage will stay the same or increase through the next three months
53 percent of restaurant delivery customers expect their usage will stay the same or increase after the impacts of the pandemic have subsided, defined as "a post-COVID-19 world when you feel comfortable going out or dining out without the fear of infection."
Traffic Drop
Recent data from Revenue Management Solutions contains not entirely good news. In December, the first two weeks showed a drop in traffic and sales, likely due to the continuous rise in COVID cases. Sales and traffic improved for the holiday season, but not as significantly as reported during Thanksgiving week.
Traffic and Sales
QSR traffic was down 13 percent YOY, a significant decrease from November when traffic was even YOY. The gap closed to negative 8 percent YOY during the last two weeks of December.
TSR performance continues to trend downwards, dropping from -40 percent YOY in November to -43 percent YOY in December. The last time TSR traffic was this low was in June 2020.
QSR sales were at 0 percent growth in the first two weeks of December and increased to +3 percent YOY during the holiday weeks.
TSR sales were down 44 percent YOY, another fall from November when sales were down 40 percent YOY
YOY Traffic by Day Part
Breakfast YOY traffic took another hit, down 21 percent YOY in December compared to -14 percent YOY in November.
Lunch YOY traffic is down 9 percent YOY. However, this is an improvement over November when traffic was down 13 percent YOY
Dinner traffic also took a hit. Traffic was down 12 percent YOY during the first two weeks of December, but increased during the holiday weeks, down just 6 percent YOY. In November traffic was even YOY.
YOY Traffic by Revenue Channel (QSR only)
Delivery saw a slight decrease in traffic from +54 percent YOY to +41 percent YOY, while Drive-thru saw improvements from +16 percent YOY to +24 percent YOY. Dine-in remains stable at -43 percent YOY.
Pandemic Shaping Customer Service
New data from Stella Connect looks at how Covid-19 has impacted service teams, as well as the trends that will shape customer service in the new year and beyond.
The customer feedback and CX platform surveyed more than 1,100 Americans this January, to dig deeper into the different ways their views and expectations around CX and service have changed since the crisis began. In fact, 50 percent of American consumers say that Covid-19 has increased their prioritization of customer service as a factor when deciding to do business with a brand.
Yet, 67 percent report having the same or less patience for a bad customer service experience since Covid-19 began. Additionally, one-third admit that they've switched brands due to poor customer service since the onset of Covid-19 — a stat that illustrates the urgency of a customer-focused strategy in 2021, and the importance of loyalty in tough times like these.
Millennials are far more likely (62 percent) than other generations to report that Covid-19 has increased their prioritization of customer service as a factor when deciding to do business with a brand.
This cohort is also significantly more likely (42 percent) than other generations to say that they have switched brands due to poor customer service since the onset of Covid-19.
Sixy four percent of consumers say that they would stop doing business with a brand after only two or three poor customer service interactions.
However, illustrating the importance of an effective service recovery plan is the fact that 96 percent of consumers say they would do repeat business with a brand that turned a poor experience into a positive one by solving their problems immediately.
80 percent of customers also say that when customer service solves a problem for them they feel more emotionally connected to the brand, while 26 percent say they are more likely to leave an online review about a poor experience turned into a positive one.
Travel Plans for 2021
Tripadvisor® released the findings of a new research report based on the platform's unique insight into shifting traveler trends, revealing how consumers are planning to travel in 2021 and what impact the ongoing pandemic has had on their trip planning habits.
The report, which analyzed first party search data as well as traveler sentiment across six major markets (the United States, United Kingdom, Australia, Italy, Japan and Singapore), identified consumers' increasing confidence that they will travel abroad in 2021, particularly in the second half of the year. In fact, globally, the majority of hotel clicks on Tripadvisor are already shifting to international destinations for May 2021 trips onwards (as opposed to domestic destinations, which dominated 2020).
The report, entitled "The Year of the Travel Rebound: 5 Traveler Trends to Watch Out for in 2021" can be read in full, for free here.
The five trends highlighted in the report are:
Travelers are planning to travel abroad in the second half of the year, but won't wait to make plans
Nearly half (47 percent) of travelers surveyed globally say they are planning to travel internationally in 2021, including 45 percent of U.S. travelers.
One in ten (11 percent) global respondents have already booked an international trip for 2021, including 14 percent of respondents in the U.S.
The most eager to venture abroad are German and UK travelers – in the first week of January, 85 percent of hotel clickers on Tripadvisor in either country were planning international breaks for later this year.
Vaccinations will be a game-changer for traveler confidence
The widespread roll-out of vaccines won't just impact travelers' confidence to travel, it will have a major influence on where leisure travelers are prepared to go too.
Globally, more than three quarters (77 percent) of travelers surveyed say they will be more likely to travel internationally if they receive the vaccine, rising to 86 percent for travel domestically. In the U.S., those numbers change to 69 percent and 80 percent respectively.
More than a quarter (26 percent) of respondents globally say that they would only travel to destinations that required visitors to be vaccinated before travel, with Australian (32 percent) and U.S. (30 percent) travelers the most likely to expect destinations to adopt this safety measure.
Domestic vacations remain high on travelers' wish list for 2021
While international tourism looks to be getting a boost this year following a shutdown for much of 2020, domestic travel isn't necessarily going to take a back seat in 2021. In the first week of January, nearly 70 percent of hotel clickers on Tripadvisor were booking future domestic trips, while further out, May through August are still proving the most popular months for domestic vacations.
Globally, three quarters (74 percent) of travelers surveyed plan to take at least one overnight domestic leisure trip in 2021 — and an enthusiastic 80 percent in the U.S. In the U.S, just over a third of respondents (34 percent) are planning at least three domestic trips this year, compared to 31 percent of Australians surveyed and 24 percent of British travelers.
The joy of vacation planning will be stronger than ever as travelers spend more time researching 2021 trips
With travel plans dashed in early 2020, many people have been dreaming about their next big vacation for more than ten months, so it's no surprise that travelers are extra conscious of getting it just right.
Three quarters (74 percent) of travelers surveyed globally say they will spend more time choosing a destination this year, including 65 percent of travelers in the U.S. 64 percent of travelers in the U.S. will spend more time reading reviews, 63 percent will spend more time selecting their accommodation, and 70 percent will spend more time finding things to do.
Consumers can't wait to dine out again, but their taste for takeout will still endure
As in-person dining was restricted in many countries throughout 2020, the success of takeout and delivery services soared, as consumers sought to satisfy their appetite. But encouragingly for the hospitality industry, in-person dining's rebound in 2021 doesn't mean a decline in takeout and delivery demand.
Nearly half (47 percent) of respondents globally say they plan to dine in-person at restaurants more often in 2021 than they did in 2020 and a quarter of respondents (27 percent) say they plan to order more takeout meals this year. In the U.S., 54 percent of respondents plan to dine in-person at restaurants more often this year, and 38 percent plan to order more takeout.
"Despite the fact that many countries around the world are still grappling with high infection rates of COVID-19, many travelers are feeling optimistic that they will be able to vacation abroad this year, particularly coinciding with the roll-out of a vaccine. Consumer appetite for travel is as strong as it has been since the start of the pandemic and, as our data shows, many people are already actively planning their next big trip – even for trips more than four months out," said Shibani Walia, senior research analyst, Tripadvisor, "For destinations, brands and tourism operators, it is so important that they act now to attract this early booking demand, or else they risk missing out to the competition."
State of Spirits
The pandemic's devastating impact on U.S. hospitality businesses in 2020 resulted in major shifts in consumer buying behaviors and innovative relief measures that will boost economic recovery, modernize the alcohol marketplace and increase consumer convenience for years to come, the Distilled Spirits Council of the United States (DISCUS) reported.
"Tariffs and the pandemic left a wake of destruction in the hospitality industry in 2020," said DISCUS President and CEO Chris Swonger. "Permanently enacting marketplace modernizations introduced in response to COVID-19, from online delivery to cocktails-to-go, will aid in the recovery of restaurants, bars and craft distilleries."
The U.S. spirits industry experienced solid sales growth in 2020 as a result of fast acting state leaders who implemented creative temporary measures to keep hospitality businesses afloat amid months-long shutdowns, as well as "stuck-at-home" consumers choosing to buy super premium spirits as "affordable luxuries."
Swonger stated that supplier sales in the United States were up 7.7 percent in 2020 to a total of $31.2 billion, while volumes rose 5.3 percent to 251 million 9-liter cases. Overall, total beverage alcohol sales by volume grew 3 percent.
In 2020, spirits gained market share over beer and wine with sales rising 1.3 points to 39.1 percent of the total beverage alcohol market. This represents the 11th straight year of market share gains for spirits overall, where each point of market share is worth $800 million in supplier sales revenue.
Swonger pointed out that governors across the nation moved quickly in response to COVID-19, issuing temporary measures such as cocktails to-go and expanding delivery options. Now, state legislatures are pressing forward to make many of these effective relief measures permanent.
To date, 18 states have filed legislation to make cocktails to-go permanent and many more bills are expected. Legislation has also been filed in some states to permit direct-to-consumer shipping of spirits, which was expanded in eight states during the pandemic to support craft distillers who were forced to shut down their tasting rooms and tours.
Destructive Tariffs Continue to Curtail U.S. Spirits Export Growth
Christine LoCascio, DISCUS Chief of Public Policy, reported that retaliatory tariffs imposed on U.S. spirits as a result of unrelated trade disputes continue to stunt U.S. export growth. Since the EU's imposition of a 25 percent tariff on American Whiskey in 2018, the value of American Whiskey exports to the UK and EU have decreased 53 percent and 38 percent, respectively. In June 2021, the EU tariffs on American Whiskey will automatically increase to 50 percent.
LoCascio stated that U.S. retaliatory tariffs on certain imported spirits have had a similar harmful effect, including a 37 percent decline in U.S. imports of Scotch Whiskies since the imposition of a 25 percent tariff on Single Malt Scotch Whisky in October 2019.
"Hospitality businesses on both sides of the Atlantic have been decimated by the global pandemic, and these tariffs are a significant and unnecessary drag on their recovery," said LoCascio. "We are hopeful the Biden administration will clearly recognize the widespread damage being caused by the escalation of these trade disputes. We urge the U.S., EU and UK to make it a priority to immediately suspend these tariffs."
COVID-19 Impacts on U.S. Hospitality Industry
Turning to the U.S. market, DISCUS Chief Economist David Ozgo stated that the pandemic had a lopsided impact on hospitality businesses resulting in strong off-premise sales at liquor stores vs. weak on-premise sales amid nationwide restaurant and bar closures and restrictions.
Ozgo reported that off-premise sales were up 18 percent; on-premise sales were down 44 percent; and sales at global travel retail (duty free) outlets dropped to nearly zero.
He stated that at the start of the pandemic in April, U.S. restaurants and bars lost 5.8 million jobs – almost one out of every two jobs, according to the U.S. Bureau of Labor Statistics. Through December 2020, 2.3 million jobs have not been recovered.
Additionally, a new survey of COVID-19 impacts on craft distilleries by DISCUS and the American Distilling Institute, found that 36 percent of craft distilleries reported a total revenue decline of 25 percent or more in 2020.
U.S. Spirits Consumers Gravitated to Super Premium Products
In discussing the off-premise sales increase, Ozgo reported an initial spike in sales in the United States early in the pandemic as uncertain consumers stocked up on both food and beverages, so-called "pantry stocking." He pointed out, however, that the data show the rate of growth of off-premise sales decelerated as the months passed.
"The increase in spirits sales revenue reflects consumers' willingness to spend a little extra on super-premium spirits during the past year since they were not traveling, going on vacations or dining out as often," said Ozgo, noting that sales of super-premium spirits represented 40 percent of revenue growth. "It also reflected consumers' desire to bring that special restaurant and bar experience they were missing into their homes. We saw a renewed interest in home bartending as people stocked their bars with a range of spirits categories to experiment with new drink recipes and create craft cocktails at home."
2020 Key Spirits Category Drivers of Sales Growth in the U.S. Included:
American Whiskey sales up 8.2 percent or $327 million to $4.3 billion; Rye remains an important component of the overall American Whiskey category growth with sales up 16.9 percent or $40 million, reaching $275 million;
Tequila/Mezcal sales up 17.4 percent or $587 million to $4.0 billion; Mezcal up 17.7 percent or $19 million totaling $124 million;
Cognac sales up 21.3 percent or $413 million to $2.4 billion; and
Pre-mixed cocktails sales, driven by spirits ready to drink (RTD) products, up 39.1 percent or $137 million to $489 million.
2020 Policy Wins: Permanent Federal Excise Tax Cut for Distillers and Increased Consumer Convenience
In the public policy arena, Swonger highlighted a number of victories in 2020 including:
Passage of the Craft Beverage Modernization and Tax Reform Act making federal excise tax cuts permanent​ for distillers;
Expanded consumer convenience and economic relief measures to help struggling hospitality businesses including:
Cocktails to-go in 33 states, including permanent laws passed in Iowa and Ohio;
Curbside pick-up/delivery options from on- and off-premise retailers in multiple states;
Direct-to-consumer shipments of spirits from in-state distillers in 8 states; and
New law permitting direct-to-consumer shipping of spirits in Kentucky
2021 Policy Priorities
LoCascio outlined top priorities for the coming year including: securing additional economic relief for the hospitality industry; the elimination of retaliatory tariffs on U.S. and EU spirits products; expanding convenient consumer access to spirits products; and protecting hospitality businesses and consumers from state tax hike threats.
Swonger wrapped up the briefing with thanking the more than 800 distilleries that answered the call to produce much-needed hand sanitizer during the national public health emergency.
"Distillers nationwide switched gears immediately to make hand sanitizer for their communities and first responders despite facing their own significant hardships caused by the pandemic," said Swonger. "This is a testament to the strong bonds that distillers have with their local communities, their ingenuity and their generosity of spirit."
In wrapping up the briefing Swonger concluded, "Many adults have enjoyed a touch of normalcy during stay-at-home orders by creating their own craft cocktails or ordering cocktails to-go. While the overwhelming majority of Americans who choose to drink, do so responsibly, it's important for adults to seek out resources or talk to a health professional if drinking is interrupting relationships or affecting daily routines."
Beware Increasing Prices
Businesses beware: A price increase for carryout or delivery food means an increase in negative reviews — and a downturn in restaurant reputation, if not demand.
And it's notable that in these COVID-19 pandemic times, an exponential amount of business is being conducted via carryout or delivery.
A pair of business researchers, from Washington University in St. Louis and Harvard University, studied the relationship between price and reputation by looking at online orders through Yelp's Transaction Platform from its 2013 inception until January 2019, and then the resulting reviews. What they found: Ratings are price-adjusted rather than objective reviews of quality.
Their study showed an effect that is both statistically and economically significant: A price increase of just 1 percent leads to a decrease of 3 percent-5 percent in the average rating — a negative relationship between pricing decisions and reputation. "This effect becomes increasingly important when considering the average price change is about 3-9 percent," they write. Their research is forthcoming in Management Science.
"Traditional intuition suggests a positive relation between prices and reputation, usually in the form of a price premium for reputable businesses," said Oren Reshef, assistant professor of strategy at Washington University's Olin Business School. "Less attention, however, has been given to the direct impact of price increases on reputation for a focal firm. We find a negative relation when examining different price levels for the same business."
The researchers used item-level data on all food orders placed via the Yelp Transactions Platform. There, they could detect changes in ratings in response to price changes. They keenly focused on narrow time bands around price changes — just days before and after restaurants updated their menu prices. They analyzed instances where certain platforms are quicker than others to update the price. Thus, they focus on short time spans in which the same item is sold at different prices, one at the old price and one at the new price.
"Our results amplify the negative effect of price on sales: higher prices reduce demand today and demand in the long-run due to adverse effect on reputation," Reshef said. "This is especially prominent in online markets, where consumers rarely know the prevailing prices and the time the review was given. This creates an additional incentive to maintain low prices and perhaps even set lower initial prices in order to establish good reputation."
Their results hold more generally in the Yelp Star Rating, suggesting that ratings are a function of both quality and price — the cheapest restaurants achieve an average rating of 3.4 while the most expensive on average rate 3.6, less than a quarter standard deviation, despite the fact the latter group is four times as pricey. The researchers interpret this to mean that ratings are price adjusted — or at least adjusted for the expected quality at whatever price.
"The results inform us about the value of rating mechanism and how to interpret them," Reshef said. "Online rating may not be capturing 'objective' quality, but rather the net value or surplus that the service or product generates. We believe that, in order to offer better platforms, managers should take this into account when designing reputation mechanism and recommendation systems on their platforms."
They discovered the effect is greater for first-time restaurant consumers — suggesting that diners initially respond to prices, which set their expectations for the quality of food they've never tasted or ordered before.
The authors further attempt to disentangle other mechanisms that might impact consumers' rating behavior. They discovered the effect is greater for first-time restaurant consumers — suggesting that diners initially respond to prices, which set their expectations for the quality of food they've never tasted or ordered before. This also shows that the results are not driven by repeat customers using lower ratings as a punishment for raised prices.
Restaurant POS Market
According to a new study published by Polaris Market Research the worldwide Restaurant POS Terminals market is anticipated to reach USD 30,966 million by 2026. In 2017, the fixed POS terminal dominated the global market, in terms of revenue. North America is expected to be the leading contributor to the global market revenue during the forecast period.
The rising number of cashless transactions and growing need for digital payments primarily drive the growth of this market. POS solutions are increasingly being adopted in the restaurant industry to increase productivity, reduce serving time, and gain business insights. Availability of mobile devices at low costs also supplements market growth. Other driving factors include increasing internet penetration, growing transactions through ecommerce, and increasing advancements in technologies.
There has been an increasing adoption of mobile POS terminals in restaurants. Mobile POS terminals are integrated with mobile devices such as smart phones and tablets, which offer benefits such as reduced serving time, higher workforce efficiency, while improve customer experience. The integration of technologies such as smart card, RFID (Radio Frequency Identification), VoIP (Voice Internet Protocol), and Wi-Fi, provides features such as sales analytics, inventory management, employee management, invoice management, and capture of electronic signatures. The declining prices of mobile devices, increasing demand for portable & wearable devices, rising NFC-based transactions, and technological advancements further supplement the growth of restaurant POS terminals. The rising adoption of cloud-based and Android POS devices also boosts market growth.
Convenience Is Winning
A new report by research firm Edison Trends revealed surprising consumer spending habits in the convenience category, with overall online consumer spend at convenience stores in 2020 growing by 346 percent, compared to 121 percent growth for grocery and 112 percent growth for restaurants. The convenience business has gone largely underreported until now, in part because it touches so many consumer categories. Goldman Sachs estimates convenience store inside sales reached $250 billion in 2020.
Looking at the money customers spent online at convenience stores, DoorDash has amassed the largest market share in the convenience category for total online consumer transactions (60 percent) and total online consumer spend (58 percent). The report identifies both a broader shift in consumer spending habits online—as customers increasingly want access to household cleaning items, health and beauty, over the counter medicine, snacks and quick grocery staples on demand—and the DoorDash selection beyond food that customers are flocking to.
For the full report, click here.
Online consumer spend in convenience was the fastest-growing category in 2020 compared to restaurant and grocery online spend. In 2020, overall online consumer spend at convenience stores grew 346 percent, grocery 121 percent and restaurant 112 percent.
DoorDash has the largest market share in the convenience business for total online consumer transactions and total online consumer spend: Based on transactions in January 2021, DoorDash leads in convenience store deliveries with 60 percent market share. Next-nearest competitor goPuff had 23 percent. Uber Eats had 9 percent, Instacart 4 percent, and Grubhub 2 percent.
DoorDash's growth had been rapid; in the first week of the year, they held 7 percent share, behind goPuff's 63 percent. By the week of September 7, DoorDash's share had climbed to 39 percent — a 32 percentage point increase. DoorDash has led in spending on convenience store delivery since late September 2020. Looking at quarter-over-quarter growth, DoorDash customers increased their convenience store spending by 162 percent from Q3 2020 to Q4. Grubhub grew in convenience store spending by 40 percent, Instacart 21 percent, goPuff 10 percent, and Uber Eats 7 percent.
Bacardi Limited's 2021 Trends Report
Celebration Stays at Home From RTDs, which have exploded with a 131 percent rise in the U.S. off trade sector (Nielsen CGA), to at-home kits and to-go cocktails beloved by nearly 40 percent of consumers (NCGA Survey), people are enamored by the convenience culture brought on by the rise of e-commerce and the ability to get pretty much anything delivered to their doorstep. Online spirits sales grew exponentially last year and e-commerce has cemented its position as an important channel for spirits with players such as Drizly experiencing a 350 percent growth according to IWSR and a projected value of $45.5B across the top 10 markets globally by 2024.
Nostalgia and Escapism Rule the Day: A sentiment of nostalgic comfort and escapism is driving the desire for extreme flavors and twists on classic cocktails. People are now willing to play outside their cocktail comfort zone and are exploring new, more intense flavors – adding spicy, smoky, super sweet, and bitter sensations to their drinks. The popularity of bitter flavors, in particular, coincides with how consumers are embracing the Italian aperitivo culture across the globe. Consumers are also seeking classic cocktails for a sense of familiarity, but with the monotony of lockdown life, there's been a renewed desire to experiment with fun twists on these time-honored staples. We're seeing a resurgence in spicy margaritas and the continued popularity of bitter negronis and gin & tonics with a twist. In North Americ, additionally, 46 percent of consumers are interested in drinks that incorporate tried and true ingredients like coffee and tea (Bacardi Global Brand Ambassador Survey).
Spotlight on Experimentation and Premiumization: Post-lockdown, consumers will be armed with a newfound knowledge of spirits and cocktails, having experimented with cocktail-making at home. This in turn will fuel a reinvention of the bar and an appreciation for bartenders' skills. According to the Bacardi Holiday Survey 2020, 20 percent of customers are now keen to explore drinks that weren't on their radar pre-lockdown, including premium versions of their favorite spirits or others they haven't sampled before. In response, we'll see more elevated to-go options and premium batched cocktails come to the fore. Premium spirits are also forecasted to increase their global volume market share to 13 percent by 2024, according to IWSR. The best premiumization opportunities in North America lie in tequila (60 percent), dark rum (32 percent), and mezcal (29 percent), based on insights gleaned from the Bacardi Global Brand Ambassador Survey 2020.
Brands Build Sustainable Savvy: Emphasis on sustainability and transparency remain at the forefront of consumers' minds, with nearly 70 percent of consumers in the U.S. and Canada agreeing that it's important for a brand to be sustainable or eco-friendly (IBM, National Retail Association Federation). We also see an emphasis on sustainability take shape in bars and restaurants, with 58 percent of the brand ambassadors at Bacardi in North America noticing an increase in bartender interest in zero-waste ingredients.
Make It Mindful: The no and low-alcohol market continues to grow at a fast pace as people seek mindful options. Low-ABV cocktails provide an alternative drink solution, Low-ABV cocktails provide an alternative drink solution and a 2019 BENEO survey found 47 percent of respondents to favoring the category. Bars and restaurants are starting to take note of this shift with many beginning to adopt hybrid menus that offer all drinks in both alcoholic and non-alcoholic versions. People are also increasing use of immune boosting ingredients such as echinacea and elderberry. The Bacardi Global Brand Ambassador Survey 2020 reveals that functional ingredients with energy and superfood-related ingredients rank particularly strong amongst bartenders.
State of Hotel Industry
The American Hotel & Lodging Association (AHLA) released "AHLA's State of the Hotel Industry 2021" outlining the forecasted state of the hotel industry in 2021 and into the immediate future. The report examines the high-level economics of the hotel industry's recovery, the specific impact on and eventual return of business travel, and consumer travel sentiments.
The pandemic has been devastating to the hospitality industry workforce, which is down nearly 4 million jobs compared to the same time in 2019. While some 200,000 jobs are expected to be filled this year, overall, the accommodations sector faces an 18.9 percent unemployment rate, according to the Bureau of Labor Statistics. In addition, half of U.S. hotel rooms are projected to remain empty in 2021.
Business travel, which comprises the largest source of hotel revenue, remains nearly nonexistent, but it is expected to begin a slow return in the second half of 2021. Among frequent business travelers who are currently employed, 29 percent expect to attend their first business conference in the first half of 2021, 36 percent in the second half of the year and 20 percent more than a year from now. Business travel is not expected to return to 2019 levels until at least 2023 or 2024.
Leisure travel is expected to return first, with consumers optimistic about national distribution of a vaccine and with that an ability to travel again in 2021. The report found that heading into 2021, consumers are optimistic about travel, with 56 percent of Americans saying they are likely to travel for leisure or vacation in 2021. While 34 percent of adults are already comfortable staying in a hotel, 48 percent say their comfort is tied to vaccination in some way.
The top findings from this report include:
Hotels will add 200,000 direct hotel operations jobs in 2021 but will remain nearly 500,000 jobs below the industry's pre-pandemic employment level of 2.3 million employees.
Half of U.S. hotel rooms are projected to remain empty.
Business travel is forecasted to be down 85 percent compared to 2019 through April 2021, and then only begin ticking up slightly.
Fifty six percent of consumers say they expect to travel for leisure, roughly the same amount as in an average year.
Nearly half of consumers see vaccine distribution as key to travel.
When selecting a hotel, enhanced cleaning and hygiene practices rank as guests' number two priority, behind price.
"COVID-19 has wiped out 10 years of hotel job growth. Yet the hallmark of hospitality is endless optimism, and I am confident in the future of our industry," said Chip Rogers, president and CEO of AHLA.
"Despite the challenges facing the hotel industry, we are resilient. Hotels across the country are focused on creating an environment ready for guests when travel begins to return. AHLA is eager to work with the new Administration and Congress on policies that will ultimately help bring back travel, from helping small business hoteliers keep their doors open to ramping up vaccine distribution and testing. Together, we can bring back jobs and reignite a continued investment in the communities we serve," said Rogers.
The resurgence of COVID-19, the emergence of new strains, and a slow vaccine rollout have added to the challenges the hotel industry faces this year. With travel demand continuing to lag normal levels, national and state projections for 2021 show a slow rebound for the industry and then accelerating in 2022.
Download the full report here.
Consumers Like Wine
Despite a nationwide pandemic that closed tasting rooms and restricted in-person sales for much of the past year, U.S. wineries shipped more than $3.7 billion worth of wine directly to consumers in 2020, according to the latest Direct-to-Consumer (DtC) Wine Shipping Report from Sovos ShipCompliant and Wines Vines Analytics. By volume, consumers dramatically increased the amount of wine purchased for direct shipment from wineries, leading to the largest single-year increase in annual shipments ever recorded.
However, the record 8.39 million cases of wine shipped to consumers in 2020 – representing a 27 percent increase over 2019 – came at the cost of lower growth in value for the channel, which comparatively was up only 14.9 percent over 2019's $3.2 billion in sales. And as consumers turned to lower-cost varietals, the average price per bottle for DtC shipments dipped by 9.5 percent to $36.83 per bottle, marking the sharpest-ever annual drop in price reported.
"In 2020, the DtC channel became truly essential for wineries forced to shut down their tasting rooms and pivot from traditional sales due to COVID-19. By volume, DtC orders rapidly increased at the beginning of the pandemic and continued at higher levels throughout the year," said Larry Cormier, vice president, general manager, Sovos ShipCompliant. "Bucking past trends, value emerged as a key driver of increased sales as wine drinkers flocked to lower-priced wines amid economic uncertainty."
As a general rule, the varietals and regions with the lowest average price per bottle shipped saw the largest year-over-year increases in volume. For example, the three regions with the lowest average price per bottle shipped – Sonoma, U.S. wineries located outside of the West Coast, and California's less well-known wine counties, such as Mendocino – accounted for 53.1 percent of the total volume of wine shipped in 2020.
"Regions with lower-priced wines significantly outperformed the overall DtC market in 2020. However, every region benefited from DtC shipments, which took on newfound importance as a way to make up for lost in-person sales," said Andrew Adams, editor at Wines Vines Analytics. "While it is encouraging to see growth in the DtC market, we also cannot overlook the huge declines in visitations to wineries and tasting rooms, where the full long-term impact remains to be seen."
Other notable trends described in the 2021 Direct-to-Consumer Wine Shipping Report include:
Early pandemic gains translated into sustained DtC momentum in late 2020: The last quarter of 2020 saw a persistent and significant increase in shipments over 2019, with a consistently lower average price per bottle shipped as wine consumers continued their search for value.
Sonoma saw the biggest volume gains: With 724,076 more cases shipped in 2020, Sonoma wineries were responsible for 40.6 percent of the entire DtC shipping channel's volume increase, despite the fact that Sonoma accounts for only 31.6 percent of the overall volume of DtC shipments. By contrast, the more-expensive regions of Napa Valley and Oregon underperformed the overall wine shipping channel.
Large wineries continued to gain DtC market share: America's largest wineries – which ship the lowest priced wines each year, historically – benefited from downward pricing pressure in 2020. These substantial producers saw their average price per bottle shipped decline by 17.3 percent but shipped 54.7 percent more wine than in 2019. These large wineries now capture 18.2 percent of the volume of the entire DtC shipping channel, up from only 5.5 percent in 2015.
Cheaper varietals prevailed: Cabernet Sauvignon, Red Blends, Pinot Noir, Chardonnay and Zinfandel remained the top five most commonly shipped wines in 2020. However, cheaper varietals, such as Pinot Gris, Sauvignon Blanc, Rosé, Riesling and White Blends, significantly outperformed the channel with volume growth between 32 percent and 45 percent. Across all wine types, shipments with an average price per bottle of $30 or less increased by 41.6 percent.
"Mandatory stay-at-home orders led many consumers to discover the convenience of buying wine online in 2020. Without having to leave their homes and not bound by retail walls' and shelves' wine selection, consumers tapped into a wide selection of wines across regions," said beverage alcohol consultant Danny Brager. "The genie is now out of the bottle. The e-commerce sustained effect is likely to continue into 2021 as more wineries invest in digital marketing and direct-to-consumer shipping to both compensate for restrictions on tourism and in-person visits and to maximize their consumer touch points."
To download the full Direct-to-Consumer Wine Shipping Report and to see more insights and DtC trends, click here.
Share the Love
SlickText released the results of the '2021 Share the Love Survey,' revealing 63 percent of consumers plan to share their love via text message for Valentine's Day 2021. Texting continues to be the way to reach people with messages that matter as mobile continues to dominate consumer preferences—47 percent of respondents said they would make online holiday purchases via a smartphone, with 38 percent indicating it will be their primary shopping method.
SlickText's '2021 Share the Love Survey' is composed of responses from 1,100 participants ranging in age from 18 to upwards of 54. The survey examines consumer preferences for Valentine's Day plans, gifts and communication methods. These insights can help businesses make better decisions when determining how to engage with their customers.
Key takeaways from the survey include:
63 percent of respondents age 18 to 44 plan to send texts to people they love this Valentine's Day. Those ages 44 to 54 prefer a phone call, though text messaging is a close second with 51 percent saying they'll also send a text.
34 percent said their biggest Valentine's Day spend will be at restaurants, 21 percent said candy and chocolate, and 20 percent said physical gifts
46 percent are prioritizing spending money at local businesses for Valentine's Day
47 percent plan to do Valentine's Day shopping on a smartphone, 33 percent on a laptop and 15 percent via a desktop computer
When ranking the most important aspect of online shopping for consumers, accurate shipping updates topped the list. An easy check out experience and discounts came in second and third
"Because consumers want to accomplish as much as possible using their phones, companies that prioritize mobile messaging in 2021 will put themselves in the best position to succeed," said Meg Scales, CMO of SlickText. "With people continuing to work from home and opt for curbside pickup or delivery options, consumers are not exposed to in-person promotions as frequently. If you miss consumers on mobile, you may be missing them altogether."