MRM Research Roundup: End-of-February 2021 Edition
11 Min Read By MRM Staff
This edition of MRM Research Roundup features news of The Chicken Wars, the best cities for chefs and a cocktail hangover index.
An Encouraging January
January was encouraging for the restaurant industry. With same-store sales growth of -4.9 percent and traffic growth of -12.2 percent, it was the best performance for restaurants since the beginning of the pandemic almost a year ago, according to The Restaurant Guest Satisfaction Snapshot produced by data from Guest Intelligence™, a Black Box Intelligence Product.
This is good news for an industry that struggled the last two months of 2020, as sales and traffic growth worsened compared to the COVID-era peak achieved in October. Likely contributing to some of the consumer pent up demand for restaurant spending was a combination stimulus check distribution, a sense of optimism from turning the page on 2020 and the increased prospect of additional government aid soon.
There also continues to be resiliency from restaurant operators, and perhaps some goodwill from restaurant guests as well. Despite all the challenges being faced by the industry, guest sentiment as measured through online reviews and comments remains more positive than it was a year ago for the key attributes of the restaurant experience.
Guest sentiment based on restaurant food became 3.8 percentage points more positive in January year over year. However, less than 50 percent of all reviews centered around food were classified as positive during the month, while the industry had consistently been achieving over 50 percent positive food sentiment during the previous five months. As sales and traffic experienced an upswing in January, it may have become harder to keep up in terms of consistency and execution, especially considering the reduced staffing levels experienced by most in the industry.
The story is similar when analyzing restaurant service. The good news is that guests continue to rate their service experiences most positively than they did a year ago (before COVID had hit at a significant national level). Although over 50 percent of service-centered reviews were classified as positive during January, the month also experienced the lowest percentage of positive service mentions since July. Like food, an increased pace of business may also be causing pressures on the service model of restaurants.
Since the summer, an emerging theme in online social data related to restaurants was how ambiance net sentiment started to improve year over year. But it was not the usual components that usually come up when discussing restaurant ambiance that were driving this improvement in guest sentiment. Rather, it was something as unglamorous as cleanliness that guests cared about more than anything else. Given that a global pandemic had just hit our country it was obvious these were not normal times and guests were rightfully hyper-focused on their safety when visiting restaurants.
Nine months into the pandemic, guests have learned to live and adapt to their new conditions. Has their perception on restaurant ambiance changed? Have they gone back to focusing on other, more elevated aspects of the restaurant's atmosphere when they discuss their restaurant experiences online?
Recent data from Black Box Guest Intelligence™ reveals not much has changed. Guest sentiment based on restaurant ambiance became more positive by 7.5 percentage points year-over-year during the fourth quarter of 2020. But the two subcomponents of ambiance that saw the biggest improvements in net sentiment were cleanliness, which improved by 18.3 percentage points year over year, and the newly tracked "safety" category, which became 17.3 percentage points more positive during the period.
The good news is overall, restaurants keep doing a good job at implementing and executing on their policies to keep their restaurants clean and safe as we continue to face this health crisis. Instead of restaurants showing fatigue due to the length of the pandemic and safety practices slipping up, guests continue to be increasingly satisfied with what they see once they decide to dine out or order some food for off-premise consumption. Cleanliness and safety continue to be at the forefront of their concerns, and for the most part restaurants are succeeding in meeting those expectations.
By comparison, ambiance sentiment based on restaurant appearance only improved 7.2 percentage points year over year during the fourth quarter, while ambiance based on restaurant décor declined 5.0 percentage points during the same period.
Among the top 25 largest markets in the country, Orlando, FL and Raleigh, NC were the leaders in restaurant guest satisfaction during January. Orlando was the metropolitan area with the most positive guests based on restaurant food, beverage and service. The most positive guests based on restaurant ambiance, value and intent to return were in Raleigh, NC.
For major markets with the lowest restaurant guest sentiment during January we find some that have been among the most hurt by the sales downturn in recent months. Seattle was the major market with the biggest decline in same-store sales year over year in January, and it is also the DMA with the lowest guest sentiment based on restaurant food and intent to return during the same month. Detroit was the major market with the lowest guest sentiment based on restaurant service during January, while Seattle had the lowest net sentiment based on restaurant value. Both were among the 5 worst performing major markets in January based on same-store sales growth.
To further illustrate the relationship that exists between restaurant sales and guest sentiment at the local level, the top 10 major markets based on their same-store sales growth in January had guest sentiment 12.3 percentage points more positive based on restaurant food than the 10 markets with the worst sales growth results. The differences were also 12.3 percentage points based on ambiance sentiment and 9.6 points based on service. Especially under this environment, in which market performance is largely driven by how much restaurant operations continue to be disrupted due to health risks and associated restrictions, it not surprising to discover the restaurant experience being delivered to guests in those places that are facing the most challenges is likely less than ideal and not what restaurant operators work hard to provide their guests.
Safety and Hygiene Is Paramount
Safety and hygiene is mission critical. A recent national consumer survey conducted by Bureau Veritas found that consumers are still very cognizant about safety and hygiene standards, finding these to be fundamental factors when considering which establishments to visit.
This survey was a second set, conducted in January 2021. The first set was conducted in July 2020, and overall results were similar – underscoring that consumer demand for safety & hygiene is still significant, even after the height of COVID-19. Key findings from this survey of 1.6K consumers include:
80 percent believe it is important that businesses take additional safety and hygiene precautions
Same as July 2020
66 percent are concerned about resuming normal activities like going to restaurants, schools, office buildings, and airports
68 percent were concerned in July 2020
67 percent would consider switching to a different brand that has been endorsed by a third-party safety and hygiene provider
70 percent would in July 2020
74 percent believe it is important for businesses to have a third-party audit to ensure compliance of safety protocols
77 percent did in July 2020
Chicken v. Burgers
No doubt that chicken sandwiches have gained a lot of attention over the past few years as more chicken restaurant concepts open and more chicken sandwiches appear on menus. The question is though, have these sandwich sensations knocked burgers from their long-standing reign as the top entrée item ordered at U.S. restaurants? That's a hard "no," says The NPD Group.
Last year burgers were included in 13.5 percent of all restaurant orders, which translated to 7 billion servings of burgers. Chicken sandwiches (breaded and grilled) were included in 6.7 percent of all restaurant orders in the U.S, which amounts to 3.5 billion servings, according to NPD, which tracks daily how U.S. consumers use restaurants and other foodservice outlets.
Although chicken sandwiches are #2 in the sandwich pecking order, these sandwiches are gaining ground as more restaurants, especially quick service restaurants, add them to their menus or enhance the chicken sandwich offerings they already have on the menu. Servings of breaded chicken sandwiches, which are the most popular with consumers and what set off the war, increased by 8 percent in the year ending December compared to year ago. This gain in servings is contrasted with the double-digit decline in total restaurant visits in the year ending December 2020 versus year ago. Most breaded chicken sandwiches are ordered from quick service restaurants (QSR). There were 2.5 billion breaded chicken sandwiches ordered from QSRs last year, up 9 percent from a year ago. About 65 percent of the U.S. population ordered a breaded chicken sandwich from a QSR in the last six months.
"No matter who wins the chicken sandwich wars or which chicken sandwich is competing with the burger, operators who put chicken sandwiches or burgers or both on their menus are headed in the right direction," says David Portalatin, NPD Food Industry Advisor and author of Eating Patterns in America. "These sandwiches have always been and will always be a customer favorite."
And up north, in the year ending 2020, burgers were included in 9.6 percent of all restaurant orders, which translated to 739.3 million servings of burgers. Chicken sandwiches were included in 7.3 percent of all restaurant orders in Canada, which amounts to 386.4 million servings, according to NPD, which continually tracks consumers' use of Canadian restaurants and other foodservice outlets.
Although chicken sandwiches are #2 in the sandwich pecking order, these sandwiches are gaining ground as more restaurants, especially quick service restaurants, add them to their menus or enhance the chicken sandwich offerings they already have on the menu. BBQ chicken sandwich servings at 17.6 million ordered in the year ending December 2020, were up +40 percent from same period year ago. There were 228 million of breaded chicken sandwiches, which are the current rage, ordered last year, down -3 percent from a year ago. This modest decline is contrasted with the double-digit decline in total restaurant visits in the year ending December 2020 versus year ago.
"The number one request I've received over the past twelve months is to forecast what the future of foodservice might look like," says Vince Sgabellone, NPD foodservice industry analyst."In this ever-changing environment, I am reluctant to make many firm predictions, but here is one that you can count on. The popularity of burgers is going to continue for many, many years to come. Not even a global pandemic will change that."
People Still Love Animal Fats
Amid COVID-19 lockdowns and quarantines, dine-in restaurants (that remain in business) embracing take-out and delivery, and sporadic shortages inhibiting an earnest return to the kitchen, the results of the fifth Coast Packing Company/Ipsos Research Animal Fats Study reflected the topsy-turvy time that commenced in March 2020.
The 2021 iteration of the survey from Coast polled 1,005 adults nationwide on their attitudes and consumption patterns around animal fats – and found little change in consumer opinions and behavior. As in Coast's original baseline survey, conducted in November 2015 and revisited annually since, respondents were asked whether they were more or less open to animal fats and whether those views extended to actual behavior. The 2019/2020 Coast-Healthy Fats Coalition (HFC) survey replaced the 2019 wave.
In the latest survey, it appears that no news is news: people's attitudes toward animal fats, as well as their consumption of animal fats, were reported as being unchanged in recent years at a higher incidence rate than in all four of the prior waves. The findings suggest that pandemic restaurant closures may have put a damper on people seeking out a different diet, a trend that holds true for the general adult population as well as for younger respondents.
For the sample as a whole, 9 percent are now more open to animal fats, a figure that rises to 13 percent among those ages 18-34. The number of consumers less open to animal fats decreased by 15 percent from the previous wave of the study, and roughly 70 percent of respondents haven't changed their views on animal fats. When considering households with children, 18 percent say they are now more open to animal fats.
While behavior patterns are mostly static, animal fat consumption is up for 19 percent of those households with kids, 12 percent among those in the 35-54 age bracket, and 11 percent among men and those in the Northeast.
"Nearly a year on, it's clear that pandemic has disrupted habits throughout 'normal' life, not the least of which was what and where to eat, and with whom," said Eric R. Gustafson, CEO, Coast Packing. "As our latest Coast/Ipsos survey shows, COVID effectively put the resurgence of traditional animal fats on pause.
"That said, consumers indicated that they understand that animal fats are a net positive for health and well being," he said. "We were again pleased by the insights and thoughtfulness expressed in the verbatim responses. However the pandemic has affected their communities, today's consumers value authenticity and want food that is made with integrity and respect for culinary traditions. That's why the natural makeup of both lard and tallow matter so much. These products are best when minimally processed, which is consistent with the entire thrust of food and cooking right now."
The survey included a question aimed at eliciting open-ended responses from a subset of the sample: "Why are you more open to animal fats in your diet?" Verbatim feedback, which skewed toward men and younger respondents, revealed a range of insights about increased openness to animal fats:
"I have discovered that some vegetable fats are not as healthy as they were supposed to be, and some animal fats are not as harmful." (male, 47, Midwest)
"Using this type of food allows you to have special food moments amidst a mostly healthy and balanced diet." (male, 38, South)
"There are lots of benefits to eating saturated fat. Bad cholesterol is a myth, there is enough info out there to prove that saturated fat is a good vessel for transporting healthy fat to the heart and surrounding organs." (female , 39, Midwest)
"I feel animal fats are better for you than processed fats." (male, 52, West)
"Animal fat tastes good." (male, 31, Midwest)
"During times of hardship and uncertainty, consumers gravitate to comforting and familiar products and flavors," said Sian Cunningham, senior marketing insights specialist at taste and nutrition company Kerry Group, in SmartBrief/Food & Travel. "As more consumers are preparing food at home, they are seeking out meals and desserts with classic flavors — mac and cheese, pizza, brownies and s'mores, for example — to provide that sense of comfort and normalcy."
Best Restaurant Payroll Software
Digital.com, an independent review website for small business online tools, products, and services, announced the best restaurant payroll software of 2021. The top solutions were selected based on payment features, tax management, and integration capabilities.
All software solutions were expected to offer flexible payment tools for direct deposit or check printing. Experts at Digital.com evaluated systems that support tax reporting and filing functions. Additional requirements include pre-built integration with common restaurant industry programs and apps.
"Restaurant payroll software can help save time and reduce errors," says Christelle Feniza, Communications Manager of Digital.com. "Our expert guide makes it easier to find the most reliable systems and identify the pros and cons."
Digital.com's research team conducted a 40-hour assessment of over 20 solutions from across the web. To access the complete list of restaurant payroll software, click here.
Best Restaurant Payroll Software of 2021
ADP Payroll
Gusto
Inova Payroll
OnPay
Patriot Payroll
Paychex Flex
Paycor
QuickBooks Payroll
Square Payroll
SurePayroll
Wave Payroll
Xero + Gusto
Top Cities for Chefs
Rent.com has compiled the top cities for chefs. Here's top ten.
Greenville, SC
Marietta, GA
West Des Moines, IA
Pensacola, FL
Asheville, NC
Cincinati, OH
Conroe, TX
Napa, CA
Sante Fe, NM
Grand Rapids, MI
Cocktail Hangover Index
Interested in finding the cocktails that leave us the most defeated the next morning, experts at OnBuy Drinks created a Cocktail Hangover Index. The linear numeric scale scored each hangover element, such as headaches, sickness and time wasted in bed, on a scale from one to ten. With the results, OnBuy.com was able to discover which cocktail caused the worst hangover.
The Worst Cocktails
The winner for the most hangover-inducing cocktail is the Pornstar Martini with a hangover factor of 7.9 out of 10. This passion fruit flavoured, vodka-based cocktail, (with a side shot of prosecco) didn't score highly in most of the factors, however, it's high score for time wasted in bed (11hrs) pushed it to claim the title.
Coming in at a close second, the classic vodka-based Sex On The Beach scored 6.9. This cocktail will leave you with intense cravings for greasy carbs during the hangover phase with a factor of 10. This fruity number also scored second for time wasted in bed (9hrs).
In third, Long Island Iced Tea (LIIT) has an overall hangover factor of 6.8. It scores highly across three out of five of the factors; headache (8), dehydration (8.6) and sickness (6.4). This cocktail contains equal parts vodka, tequila, light rum, and gin. It is widely known that mixing alcohols is more likely to bring you to levels of intoxication, so arguably, it is surprising that LIIT doesn't take the top spot.
The Best Cocktails
Of the listed cocktails, it is the Mojito that had the least after-effect, scoring 4.6 in the hangover index. A minty mix that scored amongst the lowest for time wasted in bed, at just three hours wasted. A great drink for all of the fun and almost none of the post-drinking regret. However, it does come in as one of the highest scorers for dehydration (6.7)
Followed closely by the spiced tomato staple, the Bloody Mary, scoring 4.7, and the Strawberry Daquiri scoring 4.8. The Bloody Mary is amongst the cocktails that give you the lowest cravings for greasy carbs (3.2) and time wasted in bed, again at just three hours wasted.
Strawberry Daquiris are fruity and sweet and scored relatively low for all the hangover factors.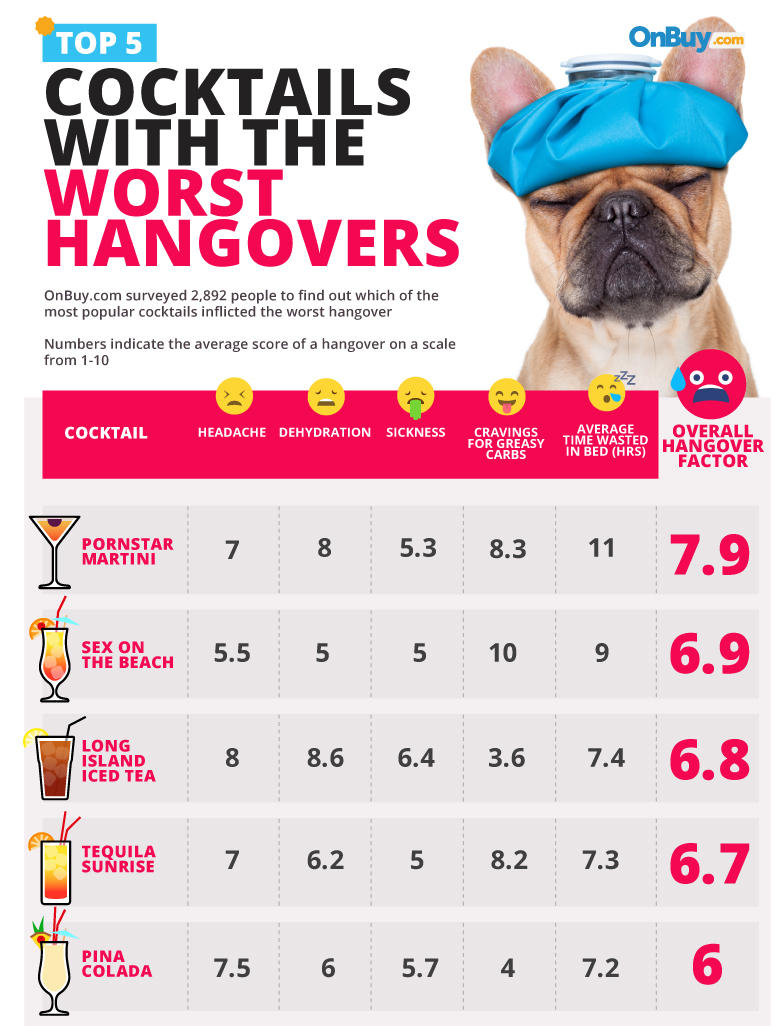 To achieve the data, OnBuy Drinks surveyed 2,892 people to find out which of the most popular cocktails (as determined by Google search) inflicted the worst hangover.
The 15 surveyed cocktails are: Sex On The Beach, Cosmopolitan, Bloody Mary, Pornstar Martini, Negroni, Tom Collins, Singapore Sling, Margarita, Tequila Sunrise, Whiskey Sours, Old Fashioned, Pina Colada, Strawberry Daquiri, Mojito and Long Island Iced Tea.
From the survey results, OnBuy.com created an Index of common factors experienced during a hangover. Each factor was ranked on a linear numeric scale from 1-10.
Additionally, an experiment was led whereby a selected group of individuals drank the previously listed cocktails to the point of inebriation – drinking six cocktails within four hours (mixing cocktails was not prohibited). The individuals completed the survey.