MRM Research Roundup: End-of-August 2021 Edition
12 Min Read
This edition of MRM Research Roundup features the importance of internet searching, the struggle to acquire and retain talent, and the 25 best cities for restaurant workers.
CGA's COVID-19 On Premise Impact Report
The latest BeverageTrak data from CGA's COVID-19 On Premise Impact Report reveals On Premise velocity in outlets currently trading is +45 percent higher than the same time last year in the week to August 21. The comparable week last year (to August 22 2020), while in recovery compared to the height of restrictions, was still lower than the same week in 2019.
Total U.S.
Average outlet $ sales (velocity) trends have generally been flat or in slight decline in recent weeks. Whilst traffic has remained steady, this has been driven by a reduction average check value as post-COVID-19 celebrations tail off and On Premise spending habits return to normal.
All key states have experienced flat or slightly negative trends in the last two weeks, as recent growth in the US levels off, with velocity still up +15 percent versus the same time frame in 2019.
Daily velocities have fluctuated across all key states over the past two weeks, with a general slightly negative trend over most days due to people spending slightly less when out.
100 percent of states have bars and restaurants open indoor completely (with no capacity restrictions)
Florida
Florida has seen trends of -5 percent and -3 percent in the latest two weeks, with all key cities experiencing negative trends. However, velocity remains strongly positive versus last year (+43 percent) and 2019 (+20 percent).
Sales velocity is now +20 percent vs August 24, 2019
Sales velocity is now +43 percent year-over-year (comparing the same week one year prior)
Sales velocity is now -3 percent vs August 14, 2021
Illinois
Illinois experienced a reduction in velocity of -3 percent in the latest week, driven by trends in Chicago (-6 percent). It is the only state with velocity below 2019 levels, although it is only -4 percent behind and still comfortably above this time last year.
Sales velocity is now -4 percent vs August 24, 2019
Sales velocity is now +50 percent year-over-year (comparing the same week one year prior)
Sales velocity is now -3 percent vs August 14, 2021
California
Variable trends across all markets in California have resulted in changes of -1 percent and -3 percent in the latest weeks. It is the best performing key state vs 2020 (+69 percent) and continues to do well versus 2019 (+14 percent)
Sales velocity is now +14 percent vs August 24, 2019
Sales velocity is now +69 percent year-over-year (comparing the same week one year prior)
Sales velocity is now -3 percent vs August 14, 2021
New York
After trends of -4 percent in the week to August 14, New York is positive in the latest week (+1 percent), with NYC (-1 percent) being outperformed by the rest of the state (+3 percent)
Sales velocity is now +4 percent vs August 24, 2019
Sales velocity is now +58 percent year-over-year (comparing the same week one year prior)
Sales velocity is now +1 percent vs August 14, 2021
Texas
Following a reduction in velocity of -2 percent in the week to August 14, Texas experienced flat trends in the latest week, though key cities experienced growth (Dallas +5 percent, Houston +3 percent, and Austin +1 percent)
Sales velocity is now +23 percent vs August 24, 2019
Sales velocity is now +35 percent year-over-year (comparing the same week one year prior)
Sales velocity is now 0 percent vs August 14, 2021
Matthew Crompton, CGA Client Solutions Director, Americas, said: "The massive growth experienced since the channel re-opened fully has started to flatten out now with average total sales velocity down slightly against the previous week. However, looking at the total market, over the last week the average outlet is still performing exceptionally well against the comparable weeks in both 2020 (+45 percent) and 2019 (15 percent). Overall, check traffic has not declined and the driver for the slowing growth in sales velocity is average check value – suggesting that consumers are moving from a post-lockdown celebratory mindset to spending patterns that are more normal and sustainable."
The Struggle Is Real
Restaurants are struggling to find and retain talent and staff across the USA, as they develop safe work environments for those who are coming back.
Over 25 percent of Restaurants In The United States Cannot Find Cooks, Another 17 percent Cannot Find Servers
With the "labor pandemic", new staff are becoming hard to find, with 26 percent of restaurants are looking for cooks and line cooks, 17 percent are looking for servers and 7 percent are looking for bartenders.
7shifts wants to help restaurants find and retain better talent so they can emerge stronger and recover quicker from the pandemic.
Key findings from internal 7shifts data:
The top three jobs restaurants are hiring for include: Servers, Cooks & Line Cooks and Bartenders. 26 percent of restaurants are looking for cooks + line cooks, 17 percent looking for servers and 7 percent looking for bartenders.

The hardest positions for fill for restaurants are: Cooks + Line Cooks, Managers and Bartenders. Only 23 percent of cooks + line cooks postings have applications, 37 percent of manager postings have applications, 56 percent of Bartenders postings have applications.
Employee Health Check tools prevented the spread of approximately 500+ COVID-19 cases, and was used over 1.5 million times by employees during the pandemic.
Using restaurant technology, operators can reduce staff turnover by 13 percent. Saving over $6.000 in costs to hire new team members for a 10 person team.
Rent Issues Go Up
Alignable's August Rent Report has just been released, based on a poll of 5,349 small business owners.
The recovery is having a positive impact on rent payments in some sectors; however, restaurants are experiencing more trouble in August — as 45 percent of restaurant owners across America couldn't pay their rent (up 5 percent from July). And the Delta variant has been cited by 88 percent of restaurant owners as the top factor they fear will slow their recovery. (In fact, many say it already's hurting their restaurants). Here's are other highlights:
30 percent of ALL small businesses in the U.S. could not pay their August rent in full or on time (that's slightly better than July, which was 35 percent).
52 percent of minority-owned small businesses still could not afford their rent for the second month in a row.
In terms of states, NY is the No. 1 state where SMBs are having trouble covering their rent. For the second month in a row, 41 percent said they couldn't do it. Other states also struggle, including CT (39 percent) and Wisconsin (38 percent).
Some states are faring better, like TN (17 percent couldn't pay rent) and OR (18 percent).
Google Is #1 for Local
Uberall and MomentFeed, an Uberall company, released "The New Face of Local.," which features responses from over 1,000 consumers in the US, and analyzes the local online performance of nearly 80,000 business locations, including thousands of fast-casual and quick-service restaurants. They found Google is #1 for finding local business information.
The overwhelming majority of consumers (69 percent) use Google to find local business information. However, more than 20 percent say they also use Apple Maps, Yelp and/or Yahoo to find information about nearby businesses. Industry-specific websites and apps like OpenTable, DoorDash and GrubHub are also important, with one out of five consumers using these platforms.
"Google is essential for local restaurants, but it's not the only site that matters for visibility," said Greg Sterling, VP of Insights, Uberall. "Consumers use a number of mobile apps and local search sites to discover local restaurants and reviews before deciding where to eat."
Globally, Uberall found that non-branded search queries became more dominant during the pandemic, meaning that consumers search for the what ("ice cream near me"), not the who (e.g. "Baskin Robbins near me").
"The increase in non-branded local searches is a complex phenomenon, largely driven by the value consumers place on proximity, immediacy, and convenience," said Nick Hedges, Chief Strategy Officer & EVP North America, Uberall.
Local listings activity was flat in U.S. amid COVID, but 2021 data indicates rapid recovery
The restaurant industry was hit especially hard during 2020, with a decrease in clicks for almost all conversion types. Restaurant listing actions decreased -19 percent YoY, with the largest decrease in clicks to directions, indicating more interest in delivery options.
"We have quite a few restaurant clients in the U.S., and while quick-serve restaurants and delivery staples, like pizza chains, managed to maintain somewhat normal business volumes, restaurants more strongly connected to in-person conversion experiences saw a more direct impact," said Hedges.
"Data does indicate a return to normalcy across all industries, with record high volumes of local listing activities in early 2021. This upward trend is one we expect to see continue as restaurants reopen to full dine-in experiences," added Hedges.
25 Best Cities for Restaurant Workers
moveBuddha.com's latest data analysis attempts to uncover in which US metros do restaurant workers (cooks, servers, and hosts) have the best opportunity for healthy wages, an abundance of jobs, and a more affordable cost of living.
Here's the report: 25 Best Cities for Restaurant Workers (Cooks, Servers, and Hosts)
Among the takeaways:
Two of the top three cities for restaurant workers are in Hawaii: Kahului-Wailuku-Lahaina (#1) and Urban Honolulu (#3). These are the only two metro areas with mean wages higher than $15/hour.
Nine metros in Washington state are in the top 25, including Mount Vernon-Anacortes (#4), Spokane-Spokane Valley (#5), and Seattle-Tacoma-Bellevue (13). The Seattle metro alone accounts for the largest proportion of jobs.
7.6 is the average amount of hours it takes to earn $100 in the top 25 cities. (The national average for cook, waiter, and host workers to earn $100 is 10 hours.)
Only one city in the top 25 still maintains the federal minimum wage for tipped workers: Myrtle Beach-Conway-North Myrtle Beach, SC-NC (#15). Despite the lower minimum cash wages, the power of the dollar is stronger here and the job opportunity ratio (Location Quotient) is significantly higher with 3.4x more restaurant jobs than the national average.
Restaurants v. Grocery
Following a noticeable drop in grocery spend over the last few months as society began to reopen after the first round of pandemic shutdowns, 1010data set about testing the hypothesis that as people ventured forth from their homestays, there would be a corresponding increase in restaurant spending to mirror the observable drop in grocery sales.
Did that happen?
Analysts found, much as expected, that year-over-year growth rates for restaurant had recently accelerated while growth in grocery slowed. In fact, not only did grocery slow, it experienced negative year-over-year growth. As the chart below shows, while restaurant sales spiked and plateaued in March 2021 when the first hopeful signs of social emergence began to appear, grocery sales took a nosedive into negative numbers. It now appears to be continuing in that downward direction.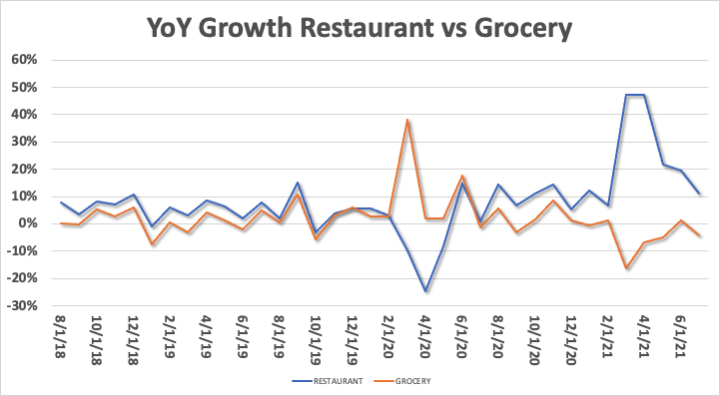 Source: 1010data
Finally, here's a "purist" look at how in-person restaurants fared with the exclusion of food delivery or online ordering and pickup. Not as pretty. Those restaurants that toughed it out through the pandemic and didn't offer external delivery services—i.e., they allowed for pickup but didn't contract through a delivery service or deliver themselves—saw grim performance through 2020 and into Q1 of 2021.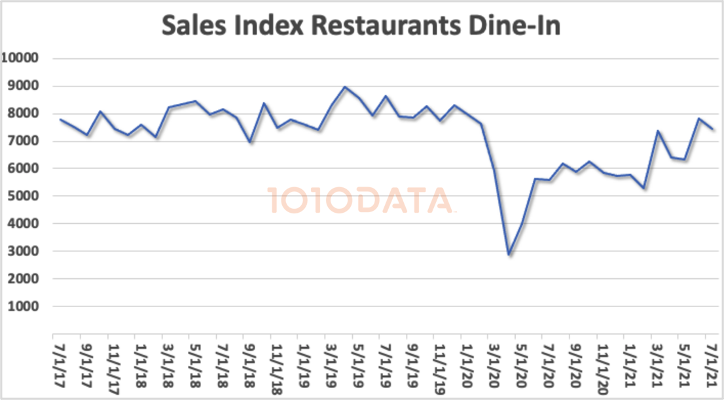 Source: 1010data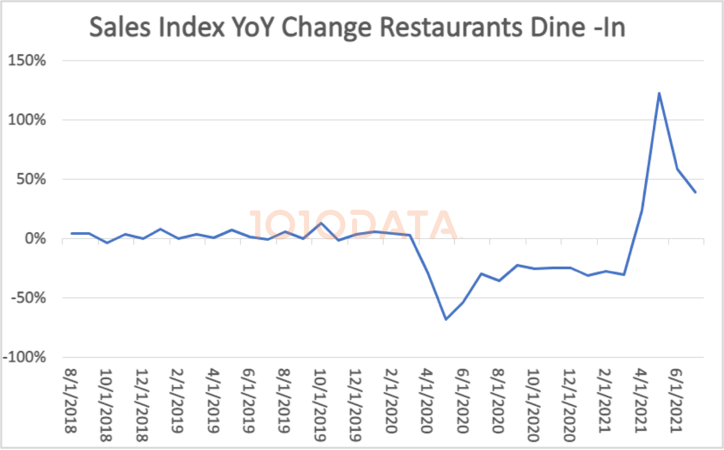 Source: 1010data
So we can see that April 2020 was a negative inflection point for restaurants across the board, while that date saw a historic spike for grocery.
Since then, movement has been a bit more nuanced, but generally speaking, as of one year later, in April 2021 the tables were turned. The last two charts above tell the restaurant story during this period about as objectively as it can be told.
What will happen now, with the Delta variant causing further disruption and uncertainty at least through the end of the year?
1010data anticipates that as Delta spreads, based on previous Covid patterns, people will once again retreat to their homes. We live in a country of vast geographic difference, so this spread will likely be felt more sharply in some states than others—even some counties more than others—depending on vaccination levels, local ordinances, destructive weather cycles, and so on. But our analysts will be keeping tabs on the more granular data around people's grocery and restaurant purchase patterns… stay tuned.
Popeye's: Foot Traffic Analysis
Popeyes' competitors are cooked! That's one of the main takeaways from a new report by foot traffic analytics firm Placer.ai, titled "Popeyes – Is it the Nuggets?" which finds that the fast food chain continues to drive in diners at a high rate. A much higher rate, in fact, when compared to the pre-pandemic time frame. And one reason that may be happening this summer in particular is a new menu offering: Chicken nuggets. They were released nationwide at the end of July, and Popeyes promptly saw a jump in foot traffic. Week-over-week, foot traffic grew 4.3 percent, 14 percent, 12.3 percent, and 8.2 percent for each of the four weeks starting between July 12 and August 2.
It may not all be due to the nuggets, but they certainly didn't hurt. In fact, the report notes that Popeyes' foot traffic increases may be due to overarching factors more so than new product offerings. Either way, with Popeyes still dominating the "chicken wars," (more on that below), the chain's new nuggets serve only to expand its arsenal.
The full report can be found here.
Report highlights:
Holy cluck:
Popeyes is seeing huge surges in foot traffic. In July, visits were up 22.4 percent compared to July 2019, and visits have been up by at least 10.3 percent each month since January, compared to the same months during 2019.
Decline on the way?
Despite big foot traffic numbers, the report notes that Popeyes may see its numbers shift downward soon. That's because Popeyes started seeing big visit numbers two years ago, and as such, comparing current numbers to that initial surge in 2019 may show a decline in visits.
Cooking the competition:
Decline or no decline, Popeyes is still frying its competitors. Again, Popeyes' visits were up 22.4 percent in July compared to July 2019. And its competitors are still way behind by that metric: KFC was down 17.5 percent in July compared to July 2019, Chick-fil-A was down
2.9 percent, Wendy's was up 3 percent, McDonald's was down 0.2 percent, and Burger King was down 6.9 percent.
Plant-Based Dairy Popularity
Global sales of plant based dairy products are expected to grow 11 percent until 2031 with an estimated market value of US$ 32 Bn, according to a recently published report by an ESOMAR-certified market research and consulting firm. Increased preference for naturally sourced food products is majorly spurring demand.
With the growing adopting of vegan diet, dairy alternatives market has witnessed a significant growth in recent years. Historically, from 2016 to 2020, consumption of plant based dairy flourished at a CAGR of around 9 percent, reaching a valuation of US$ 11 Bn. Furthermore, rising awareness about the health benefits associated with plant based foods has boosted the demand for dairy alternative products worldwide.
Developed regions such as North America and Europe will dominate the global plant-based dairy market share, with a combined figure of 53 percent in 2021. The importance of plant based dairy was further highlighted with the onset of COVID-19, as consumers increasingly shifted towards consumption of non-animal based food products.
Key takeaways include:
The global plant based dairy market is anticipated to add almost 3x value by 2031
Almond milk remained the top selling category in 2020, clocking a value of US$ 6.5 Bn
2 out of 5 sales of plant based dairy products occur via online retail platforms
By nature, organic plant based dairy products sales to surge at 13 percent CAGR
Sales across the U.S market to compound at a CAGR of over 10 percent until 2031
Organic dairy sales in China topped US$ 1 Bn in 2020, forecast to expand at nearly 14 percent CAGR
"Cheese alternatives are predicted to be the "next frontier" in plant-based innovation, advancements in ingredient technology are estimated to fire dairy-alternatives market," comments a research analyst
Competitive Landscape
Prominent players are embracing innovative approaches such as ground-breaking marketing tactics, technological advances for cancer screening, mergers, and acquisitions.
In 2016, Key manufacturer Danone SA, the French dairy giant made a move into dairy-free by acquiring WhiteWave Foods, the US manufacturer of the Alpro and Silk plant-based dairy-alternative ranges, for US$ 12.5Bn.
In February 2019, Danone announced it was opening a new building at its facility in DuBois, Pennsylvania, dedicated to plant-based food products including yogurt.
In December 2019, Danone's French dairy peer Lactalis announced it was taking its Siggi's yogurt brand into the plant-based market.
In March 2020, Arla announced the launch of a range of chilled, oat-based drinks, to be marketed under a new brand, Jörd, and initially available in Denmark, Sweden and the UK.
These insights are based on a report on Plant-based Dairy Market by Fact.MR.
What Do Americans Think of Plant-Based Meat?
A growing number of fast-food chains in the country have begun offering fake meat or plant-based meat options on their menu. Piplsay conducted a nationwide survey this week to find out what Americans think of this latest food trend. Access the full research report here.
Among the key insights from 30,700 people in the US:
Fake meat as fast food: How impressed are Americans?
39 percent of meat-eaters and 15 percent of vegans/vegetarians have tried the fake meat menu at popular fast-food chains
60 percent among them would continue eating fake meat at fast-food chains, mainly for health reasons
41 percent of Americans have tried the fake meat menu at Burger King, followed by Wendy's, Subway, and Starbucks (10 percent each)
To Drink Differently
AMC Global released a new white paper "To Drink…or To Drink Differently?" today. The paper was created to explore findings of the company's ongoing consumer research study—which recently showed that two in five adults are interested in low alcohol and no alcohol (no-low) beer, wine and spirits.
The piece shares how the data shows choice and awareness is growing among consumers for alternative beverages like non-alcoholic, low-alcoholic and functional benefit wellness beverages. The paper explores the no-low beer category, no-low spirits and mocktails, no-low wine, and functional beverages like kombucha and CBD-infused beverages—as well as consumer packaging preferences.
Among the key findings:
There is growing consumer interest in no-low alcohol beverages, with 32 percent of Americans reporting interest in mocktails (cocktails without liquor), and 28 percent expressing interest in no-low wine, 25 percent no-low spirits, 20 percent in no-low beers.
Those reporting interest in no-low beverage categories may also be looking for functional benefits in their beverages. Fifty-two percent are looking for vitamins, 48 percent for antioxidants, 37 percent for probiotics and 26 percent for CBD-infused beverages.
Preferred packaging for no-low alcohol beverages is single serve glass bottles (65 percent), single serve cans (62 percent), multi-serve glass bottles (48 percent) and single serve plastic bottles (46 percent).
Access the "To Drink…or To Drink Differently?" white paper here.
Ad Spend Up
With domestic restrictions loosening, fueled by the accelerated vaccine rollouts across the U.S., restaurants are not only seeing growth, but seem to be jumping at the opportunity to try to reach and attract consumers to their establishments.
Viant is seeing remarkable ad trends among restaurants nationally:
Viant saw restaurant ad spend in Q2 2021 more than double from Q1 of 2021, as well as nearly double Q2 2020 spend
Additionally, restaurant advertising spend on mobile increased by 37 percent YoY
Restaurant advertising spend was up 193 percent in Q2 2021 vs. Q2 2020