MRM Franchise Feed: TCBY at 40 and Mr. Potato Spread to Franchise
17 Min Read By MRM Staff
MRM Franchise Feed features the latest news in the restaurant and MUFSO franchising landscape.
Happy Birthday, TCBY
TCBY — The Country's Best Yogurt — is celebrating its 40th anniversary with the brand continuing to expand. The company has 12 new U.S. locations opened in the past year and six additional locations set to open in the coming months. This summer, TCBY will open a new drive-thru in St. Augustine, Florida, a new self-serve store in Bayonne, New Jersey, focused on catering with a late-night walk-up window, and a counter-service store in Navarre, Florida, that will appeal strongly to tourists.
"This anniversary is a significant milestone for TCBY, and the success of the brand has only been possible because of our loyal fans, dedicated franchisees and team," said Nelson Tejada, Chief Executive Officer of Famous Brands International. "We are grateful for continued customer support which has helped us expand to new locations in the past year and we are looking forward to bringing the brand to new locations and connecting with new customers."
Part of Famous Brands International, TCBY first opened in 1981 in Arkansas and currently has 250-plus franchise locations worldwide.
New Design for Freddy's
Freddy's Frozen Custard & Steakburgers has broken ground on a site set to host the brand's newest restaurant prototype. Located in Salina, Kansas, this prototype marks a new chapter for the brand's design evolution as this option is its first model without a dining room, hosting a double drive-thru and a walk-up ordering station.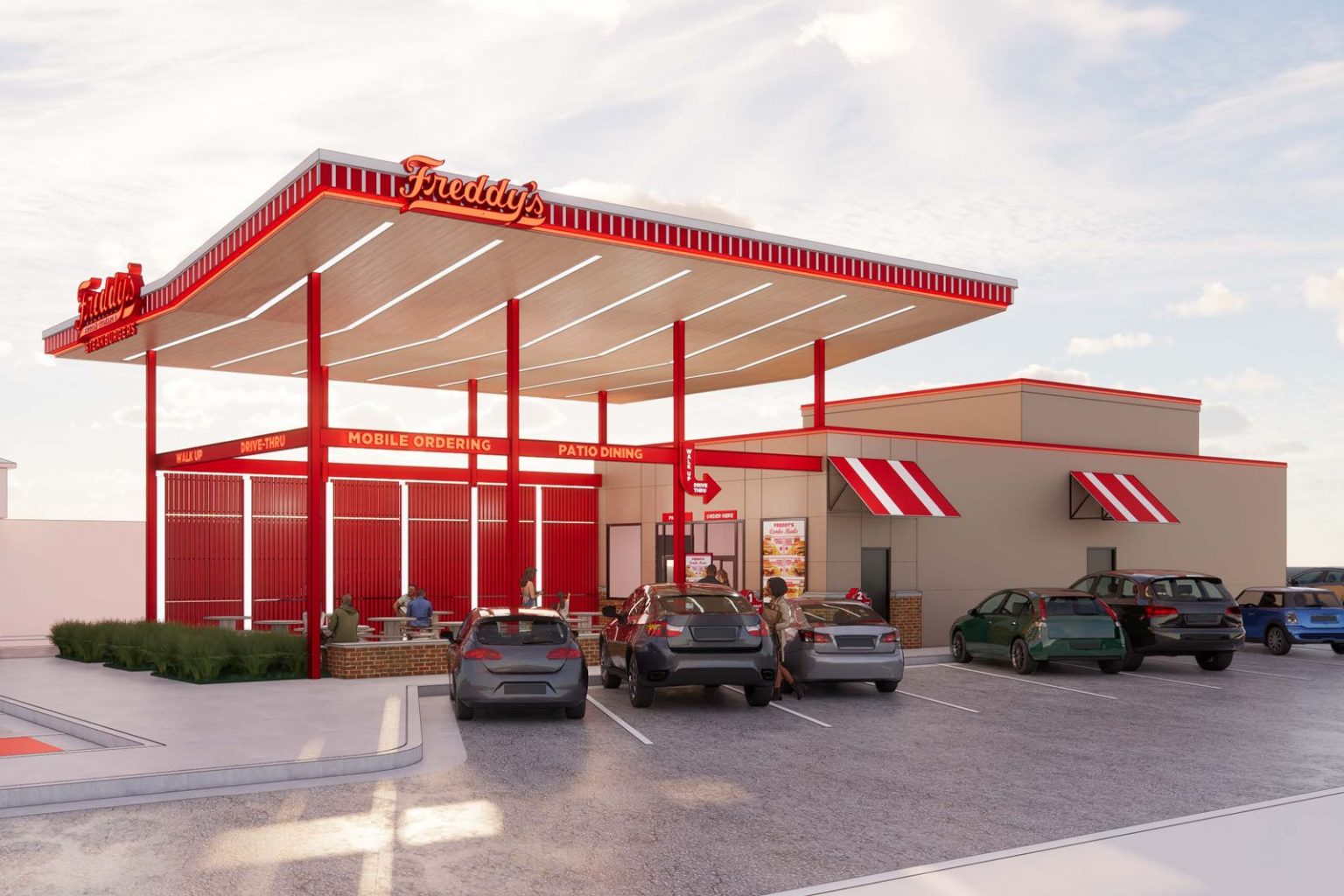 With more than a dozen restaurants set to open in the first half of 2021, Freddy's currently boasts a development pipeline on track to open more than 45 restaurants in 2021.
Features of the new restaurant design were determined following a thorough brand study on drive-thru operations and Guest habits, and include a double drive-thru lane, parking stalls for curbside pickup, a walk-up window, and patio seating. Construction is expected to take place throughout the summer, with a potential opening date in late August.
"As we continue to make such great strides in our franchise development growth, we're proud that our restaurant design strategy has continued to evolve, allowing us to offer a variety of options to meet the varying needs of our guests," said Chris Dull, CEO of Freddy's Frozen Custard & Steakburgers. "This prototype is the latest in a variety of available options and will cater to the growing number of our on-the-go Guests who are mobile-minded and benefit from the ease and convenience of this prototype's features. This new restaurant design option will fit seamlessly with our existing drive-thru and mobile ordering capabilities.
Among the new openings in 2021 so far, Freddy's has celebrated new locations in key markets such as Florida, Tennessee, and Georgia. The brand continued its non-traditional expansion with the opening of a location in the Wichita Wind Surge Minor League Baseball stadium. Upcoming openings taking place in the coming months include El Paso, Texas; Durango, Colorado; Florence, South Carolina; Streetsboro, Ohio; Lexington, Kentucky; Newton, Kansas, and a Linden, New Jersey location that will mark the first Freddy's in the state. By July, the brand expects to have expanded its presence to a milestone 33 states.
"As our year-to-date growth demonstrates, we are well positioned to bring the Freddy's experience to a number of new communities throughout the country," said Dull. "The continued growth we're experiencing is a direct result of the hard work that our incredible Freddy's family of Team Members and franchise owners continue to deliver, and we're thrilled to share in this success with them. This new prototype option is just another example of our constant efforts to continue The Freddy's Way as we expand our offerings to franchise owners and look forward to the many new possibilities and benefits it offers our guests."
Franchise opportunities remain in areas across the U.S., including the Northeast, Upper Midwest, California, Florida, Oregon, and Washington and large metro areas such as Pittsburgh and many of its surrounding markets.
Taco John's Signs 10-Unit Agreement for Colorado
Taco John's International Inc. (Taco John's), a leading quick-service Mexican franchise, is rapidly expanding its footprint through franchising in Colorado with restaurant and franchise entrepreneur, Dara Dejbakhsh.
As part of a 10-unit franchise agreement, the brand will be further expanding into the Northern Colorado market. Dejbakhsh is purchasing five of Taco John's existing units and is contracted to build five new locations. All of the existing locations are slated to be remodeled by the end of the year.
"I'm thrilled to be expanding my restaurant portfolio with a brand like Taco John's. The Mexican quick serve segment is definitely the place to be," said Dejbakhsh. "The food at Taco John's was definitely a differentiator as I was doing my research in the industry. Our first location opening can't come soon enough!"
Dejbakhsh has a strong background in the franchise and quick-service industry, with more than 40 years of experience within the sectors. He is the co-founder and CEO of DND Group Inc., a management company that owns and operates 27 franchisee restaurants (with three more in development) in Oregon, Washington, Colorado, Oklahoma and Wyoming. Additionally, Dejbakhsh was the COO of Mrs. Fields, where he was responsible for overseeing all brands with in Mrs. Fields portfolio worldwide, including Mrs. Fields, TCBY, Pretzelmaker, Pretzel Time, Great American Cookies. Prior to that, Dejbakhsh was in charge of Dunkin' brands for the western U.S., Asia pacific, Canada and Australia.
"Dara is a great fit to bring the new locations to Northern Colorado," said Brooks Speirs, vice president for franchise development at Taco John's. "As we expand to larger cities, restaurant entrepreneurs like Dara are just who we're looking for – with a passion for the food, and his background in the industry, we definitely have a winner here."
CPK in Hong Kong
California Pizza Kitchen (CPK) opened its new restaurant in Hong Kong in partnership with Chun Fat Enterprise Limited.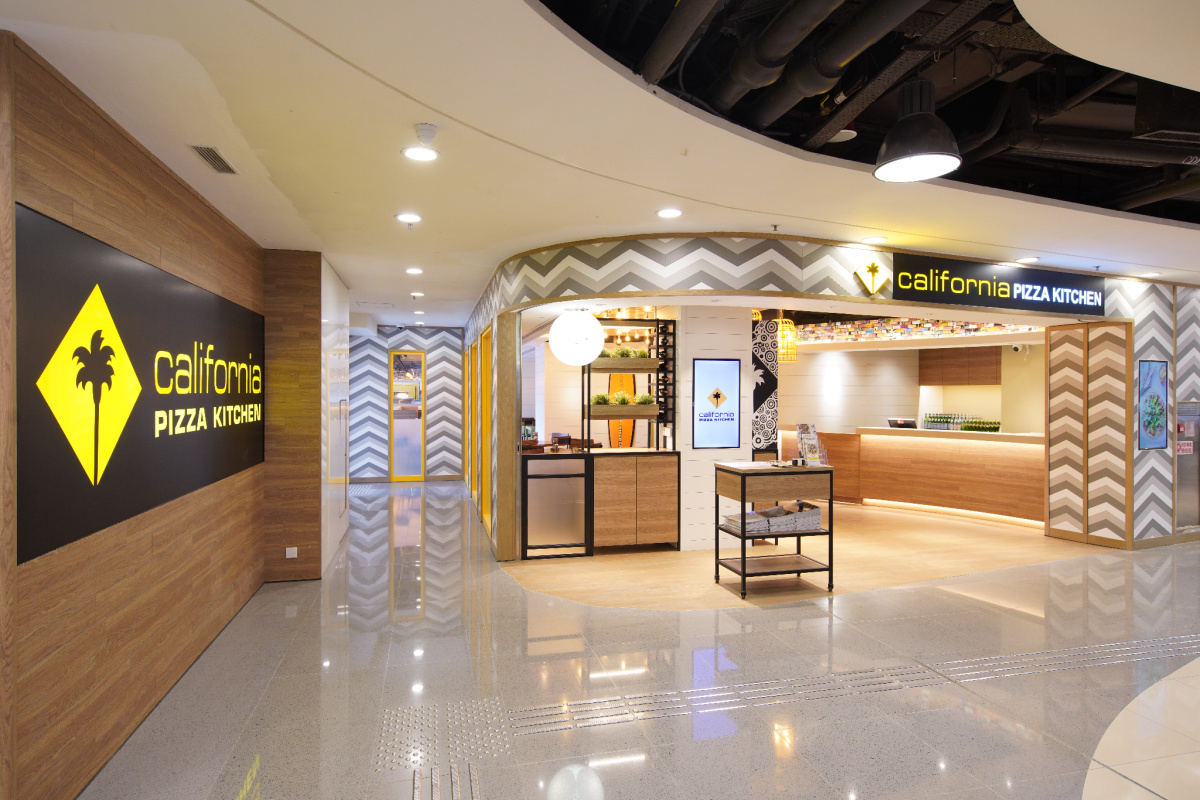 The Tuen Mun Town Plaza location captures CPK's warm California brand-style throughout the space with sunny tones, wood decor accents, and large windows that pour in plenty of natural light. CPK's signature hearth pizza oven and open kitchen layout give a welcoming feeling and invites guests to sit, enjoy and watch their meals being prepped for a more engaging dining experience.
"We are thrilled to expand our CPK Hong Kong presence with CS Lee and the Chun Fat team," said Giorgio Minardi, Executive Vice President of Global Development & Franchise Operations at CPK. "We have strong momentum in our business and Hong Kong is a critical priority for our long term growth plans. We look forward to bringing 'California Creativity' and our diverse menu to local guests in this beautiful new restaurant in the Tuen Mun Town Plaza."
CPK continues to expand its presence in Asia with a focus on Hong Kong, South Korea, Singapore, Japan, and Malaysia. Through its partnership with Chun Fat Enterprise Limited, CPK projects to have four locations in the Hong Kong market by the end of 2022.
"We're excited to expand our relationship with CPK to bring its creative California-inspired cuisine to the local community," said CS Lee, Managing Director of Chun Fat Enterprise Limited. "The new Tuen Mun Town Plaza location is the ideal place to bring CPK's food and beverage innovations and globally inspired ingredients to the thousands of hungry guests that visit the mall every day."
CPK's global presence includes more than 200 locations in 8 countries and U.S. territories, which includes 40 international franchise locations in addition to 16 domestic franchise locations in airports, casinos and stadiums across the United States.
Mr. Potato Spread Starts Franchising
While 2020 was a challenge, a black family-owned restaurant, Mr. Potato Spread, saw it as a pivotal moment to make or break them.
Founders, and husband-and-wife team, Aaron and Lakita Spann, saw it as an opportunity to rise to the occasion, tapping back into the same hustle and mindset that took them from serving loaded potatoes from their home kitchen, then into a commercial kitchen, on to a food truck, then to their first QSR restaurant and now offering franchise opportunities.
"This has always been a long-term goal for our team," said Lakita. "The support and encouragement that we've received over the years serving our community has prepared us for just this and we're ecstatic for other states, cities and communities to be able to serve our food."
Mr. Potato Spread's menu consists of several potato base options loaded with a variety of meats and cheeses, and potato salads. Customers also have the choice to customize their own creations.
The couple will be utilizing Franchise Creator, a franchise development firm based in Miami, FL, to offer two different franchise opportunities: a brick and mortar location or a food truck. The brick and mortar model requires a one-time franchise fee of $25,000 with an estimated initial investment of $133,800 to $196,300, while the food truck requires a $20,000 fee with an initial investment of $83,400 to $109,700. Both opportunities provide franchisees with a turnkey opportunity that includes a detailed training program, real estate/food truck leases, all kitchen equipment, inventory, supplies, and a three-month capital reserve among other benefits. Franchise sales will be focused on the Southeast.
"Partnering with a franchise development firm was really important to us," said Lakita. "We wanted to offer franchisees a complete package through a streamlined process to prepare them for all aspects of the business from menu preparation to bookkeeping and marketing. We want them to be set for success."
GPS Hospitality Will Award Scholarships
GPS Hospitality which has nearly 400 Burger King restaurants, will award the Burger King Foundation scholarships to 270 students in 10 states this graduation season. Since 2013, GPS Hospitality has supported 1,388 scholars in totaling nearly 1.4 million in giving.
Scholarships are awarded to graduating high school seniors based on their grade point average and the impact the applicants have on their schools and communities through volunteerism and work experience. BURGER KING employees and their family members pursuing a traditional post-secondary education or enrichment programs are also eligible to apply. This year's 270 winners include 48 employees and 222 seniors in GPS Hospitality's local communities. The Burger King Foundation scholarships are a community effort as they are funded completely through guest donations at local restaurants. Founded in 2000, the Foundation has awarded more than $48 million in scholarships to over 42,000 students.
"Setting and exceeding goals are core values at GPS Hospitality, and we have 270 scholars who are on their way to achieving their goals," said Michael Lippert, President of GPS Hospitality. "Supporting their academic journey is an honor not only for me, but for the countless team members whose efforts with our generous guests converted $1 donations into $270,000 in scholarship funding. Kudos to our restaurant teams for their amazing work."
The Burger King Foundation Scholarship program is the Burger King Foundation's flagship program, established to honor the legacy of the BURGER KING brand's co-founder James W. McLamore, whose commitment to philanthropy and education made him a pillar of community service throughout his lifetime.
For more information on the program, including the 2022 scholarship application details, visit https://burgerking.scholarsapply.org/.
Popeye's Gets Loyal
Popeyes® unveils its first-ever loyalty program, Popeyes® Rewards, to give their fans another reason to love that chicken from Popeyes®.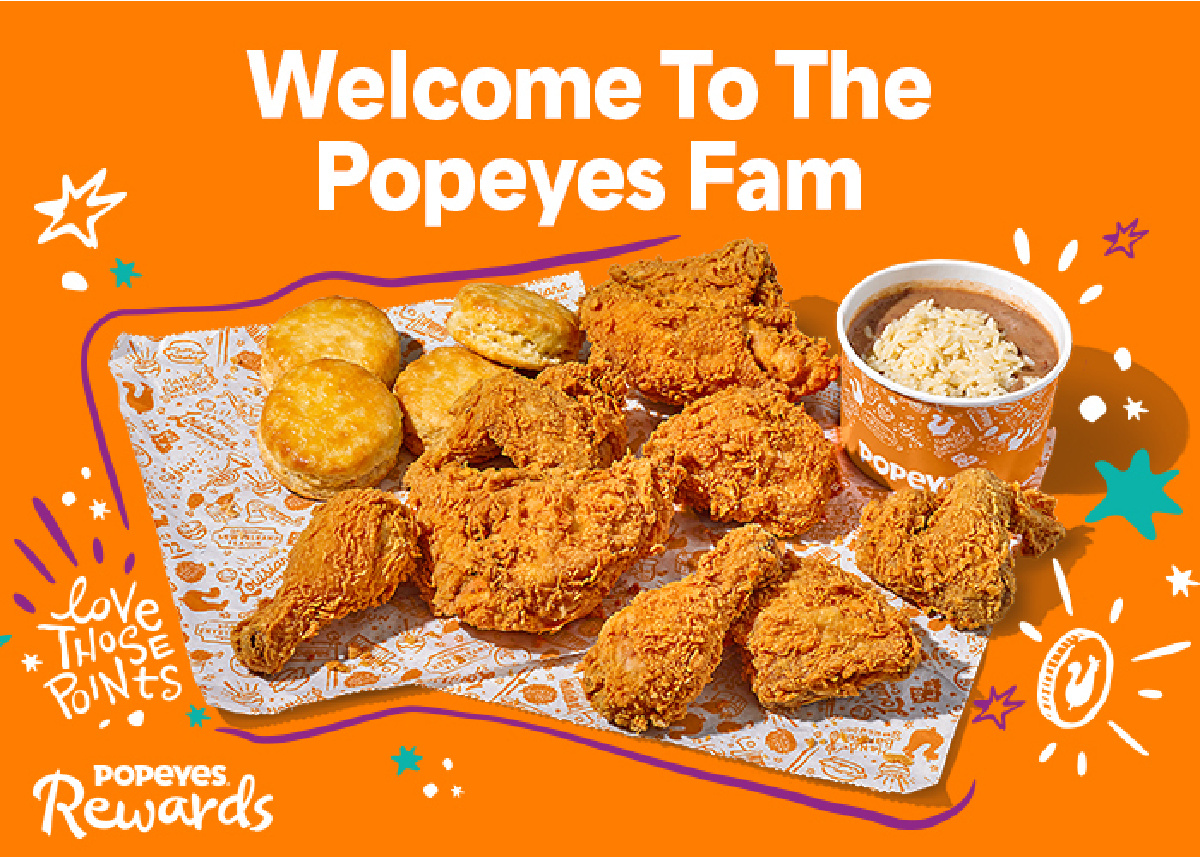 With the goal of spreading more joy among its guests, Popeyes® Rewards is designed so that members can earn with each transaction. Those who join the program will unlock things like: 10 points for every dollar spent online or on the app, happy hour with $1 regular size sides, bonus points on combos and family meals, extra rewards with personalized challenges, and other exclusive benefits.
"We have been humbled to see our fans express their loyalty for our brand time and time again," said Bruno Cardinali, Popeyes Chief Marketing Officer. "Our goal has been to create a perfect loyalty program that matches and rewards their unparalleled enthusiasm."
Wing It On! in Florida
Wing It On! signed an agreement with Dave Miller to bring a location to Orlando.
This will be the first Wing It On! location in Florida. The newly signed agreement represents a part of the brand's larger growth strategy to lock in 25 to 30 additional units by the end of year in target markets in Florida such as Orlando and Tampa.
"When looking at opportunities to establish a business in the United States, Wing It On! really stood out from the rest. It's an up-and-coming brand with a lot of potential to grow, which really intrigued me," said Miller. "I can't wait to see what's in store for us in Orlando."
"I'm absolutely thrilled Wing It On! is entering the Orlando market with someone like Dave," said Matt Ensero, CEO and founder of Wing It On!. "Florida is a key state for us to grow in, and this is only the first step as we establish ourselves in the Sunshine State. I anticipate great things for Dave."
The franchise model has a flexible design footprint. Takeout and delivery drive nearly 90 percent of store revenues, meaning overhead is kept low with just a small portion of the restaurant reserved for dine-in. Locations can range from less than 1,200 square feet up to 1,400 square feet. With real estate flexibility on its side and consumer demand high, Wing It On! plans to grow by targeting single-unit and multi-unit deals in key growth markets including Austin, Dallas/Fort Worth, Houston, Orlando, Tampa, Atlanta and the Triangle of North Carolina.
Offering a built-in digital experience that franchisees can leverage for online ordering, a mobile app and third-party delivery integration software, the Wing It On! digital operating model fosters a low initial investment and higher sales per square foot. Wing It On! also offers a food truck franchise option to drive additional revenues.
QDOBA in Dallas
QDOBA Mexican Eats® signed a multi-unit franchise development agreement in the Dallas area. The agreement to bring between seven and 10 new standalone QDOBA locations to the Dallas-Fort Worth area will nearly double the brand's footprint in the growing market, with the first new location slated to open mid-2022. The agreement comes as QDOBA charges into an aggressive growth phase, its sights set on expanding to 2,000 units through a mix of existing franchisees adding more units, signing new franchisee agreements, and continuing corporate developments.
"We believe that successful franchises are built on flavorful food, frontline innovation, and strong partnerships," said QDOBA's Vice President of Franchise Development Shawn Caric. "As QDOBA continues to build out markets across the country, these core values remain front and center while we continue to expand our franchise network. We're excited to continue working with proven franchisees with extensive restaurant and operational experience who are as committed to these values as we are."
The QDOBA franchise opportunity offers flexible footprint options that allow the brand to work well in a variety of traditional and non-traditional venues. With several dayparts, broad consumer appeal, and a strong off-premises/catering business, franchisees are well-positioned for sustained success. Furthermore, QDOBA's streamlined and efficient buildouts reduce development costs for its franchisees.
"QDOBA has entered an exciting period of growth and the nation's top franchise groups are taking notice in a serious way," Caric said. "From our high average unit volumes and flexible buildouts to national brand awareness and a great return on investment, we've built a model that truly checks all the boxes for franchisees."

Freebirds Continues Expansion
Freebirds World Burrito plans to begin opening new locations in Q3 and Q4 of 2021.
"With an updated tech stack in the works, companywide interior design refresh and incredible Tribe members and Fanatics, Freebirds is taking flight across Texas. We're on our way to becoming the biggest burrito chain in the state," said Alex Eagle, CEO of Freebirds World Burrito. "We're looking at a solid 20% growth year-over-year."
The main areas of expansion will be across Austin, Dallas, Houston and San Antonio, though the growth will see locations open across the state. Freebirds' expansion is supported by The Retail Strategy, a firm providing national, full-service commercial real estate expertise and deal support.
"We are thrilled to partner with Freebirds World Burrito and provide location intelligence and strategic site selection in order to secure optimal locations across the state," said Lauren Brunner, CEO of The Retail Strategy. "We look forward to being a part of the brand's growth and helping more people enjoy Texas' No. 1 Burrito."
Wetzel's Pretzels Grows in California
Ron Reger and Alfred Daher, Wetzel's Pretzels (Wetzel's) multi-unit franchisees, recently expanded their budding pretzel bakery empire with the opening of two new locations.
Seasoned Southern California entrepreneurs with extensive experience in operating gas stations and convenience stores, Reger and Daher has opened locations in eastern L.A. County and neighboring Riverside County. In total, they opened three locations in 10 months, operating each within their existing gas station/convenience stores. Reger and Daher are leveraging the innovative Wetzel's store-within-a-store concept.
"I couldn't be happier about how this is working out," said Reger, who brandishes more than 30 years of experience with gas station and convenience store ownership. "The Wetzel's team has created a remarkable model for embedding the brand into our gas station convenience stores, and the support provided to reinforce our operations has been incredible. The team truly cares about helping us succeed."
The recent back-to-back openings in the first half of 2021 were in the City of Industry and Corona. They also launched a new location in June of 2020 in Norco. Planning to expand the brand in the area, Reger and Daher are targeting two more store-within-a-store Wetzel's bakeries, with the first slated to open before the end of the year.
"Ron and Alfred are a great example of the kind of talented franchisees we're attracting. They understand the grab-and-go snack category extremely well and the value that Wetzel's brings to their portfolio of gas station/convenience store businesses," said Jennifer Schuler, CEO at Wetzel's Pretzels. "With Ron and Alfred in our franchise system, the pure bliss of Wetzel's deliciousness is sure to be felt by a growing fan base. They're fantastic operators and have a strong team around them."
Several locations are in the Wetzel's development pipeline, and there have already been eight new openings this year. Before the end of 2021, another 20-plus new Wetzel's locations are planned to open. Well-suited for a variety of operating environments, the brand serves as a strong fit in malls, outlet centers, stadiums, boardwalks, convenience stores, Walmart and transit destinations. It also offers a food truck option. In 2020, Wetzel's opened 28 new locations and is on track to open more than 30 new locations this year.
Hungry Howie's Opens in Denver Area
Hungry Howie's Pizza held the opening day of its two newest locations in Denver, on Wednesday, June 16.
The new Hungry Howie's in Aurora, CO is owned by husband Mike Maloney and wife Michelle Arnold. Prior to Hungry Howie's, Mike was the Production Manager for home improvement franchise Bath Fitter in Colorado. With existing experience working in a franchise, Mike knew he wanted to get involved in the industry, it was just a matter of the company to invest in.
"It's exciting to start my franchising journey with Hungry Howie's," said Mike Maloney, Hungry Howie's Aurora franchisee. "I did my due diligence when I was looking into which franchise to buy, and Hungry Howie's always came up as a top contender. The cost was affordable, and the franchise has a proven method with great products. I'm looking forward to serving high-quality Flavored Crust pizzas with a side of excellent customer service to the Denver community."
For Hungry Howie's Thornton franchisee, Ian Ferguson, it was love at first slice. Ian grew up in Michigan, the home state of Hungry Howie's Pizza, and he would never go too long without a pepperoni pizza and Howie Bread®. Since the age of eight, whenever he had enough money to treat himself, he would always call in and place an order. At dental school, Ian met his wife Alissa, and when they started dating, she was thrusted into the Hungry Howie's obsession. Today, they're married with two kids, who are just as enthusiastic about Hungry Howie's as Ian. The Fergusons are both full-time dentists and co-owners of Hungry Howie's Thornton. They run the store with the help of Deserey Peschard who is also a partial owner and handling the day-to-day operations. Ian and Alissa hope to stay local and open more locations in the North Denver market in the coming years.
"I've been a fan of Hungry Howie's for a long time and excited to finally own a slice of the pie" said Hungry Howie's Thornton franchisee, Ian Ferguson. "Hungry Howie's has high-quality Flavored Crust pizzas unlike any other brand and I'm eager to introduce it to the community. I'm looking forward to spreading Hungry Howie's cheesy goodness, leading the brand's fan base in Denver, and helping others fall in love with the brand as much as we did."
"We're thrilled to have Mike and Ian be part of the brand's expanding footprint in Colorado," said Jennifer Jackson, Vice President of Development at Hungry Howie's. "Denver is a great market for us and we're lucky to have franchisees like Mike and Ian representing us. They both show great dedication and passion for the brand and we're confident in their success and growth in the Denver market.
Fuzzy's Expands to Wyoming
Fuzzy's Taco Shop has expanded into a new market – Wyoming, the 18th state for the brand. The fast-casual taco brand has partnered with Casper, Wyoming-based Johnson Restaurant Group to bring Fuzzy's to the market, with plans to continue expansion into Montana as part of a five-store agreement.
Their first Fuzzy's will open in Casper, Wyoming mid-summer and will be the 14th open restaurant in Johnson Restaurant Group's portfolio of brands.
Johnson Restaurant Group is owned by John Johnson and operated by Mike Malmberg. The group currently owns 13 restaurants with brands including Old Chicago, and independently owned Johnny J's Diner, FireRock Steakhouse, Wyoming Ale Works and J's Pub.
"We were first introduced to Fuzzy's Taco Shop on a trip to Texas, and immediately knew there was something special about the brand," said Johnson. "The fact that the food is delicious and the portions are generous while being served in a fast-casual setting with a full bar is extremely unique to any other concept we've encountered. We are looking forward to opening our first Fuzzy's in our home market where our company is headquartered and know that the Casper community will love it as much as we do."
The brand now has nearly 150 franchise- and corporate-owned locations in 17 states (18, when Wyoming opens).
"We're excited to welcome John, Mike and this new market into the Fuzzy's family and know their extensive knowledge of the restaurant industry and the Wyoming and Montana markets will be an incredible asset to our brand," says Mel Knight, President of Fuzzy's Taco Shop.
Clean Juice Relocates Flagship
Clean Juice® relocated its flagship store to Birkdale Landing in Huntersville, N.C. The move coincides with the sixth anniversary of the opening of the first Clean Juice store at Birkdale Village. Located off Highway 73 / Sam Furr Road, the new Birkdale Landing location will officially open at the end of June.
"It's hard to fathom that it's been six years since we first started our journey with Clean Juice and how we've grown as an award-winning brand with more than 100 open locations nationwide," said Landon Eckles, co-founder and chief executive officer of Clean Juice. "This relocation of our flagship store reflects our growth as a company and our commitment to our guests, many of which bless us daily with their visits. The upgrades we've made from the double-sided cooler for app orders to the self-ordering kiosk will enhance the guest experience and serve as the blueprint for future Clean Juice restaurants."
At 1,375 square-feet in size, the new flagship store will feature several enhancements to efficiencies in the on-site preparation and ordering of Clean Juice's menu offerings and juice cleanse products, improving the customer experience. To help expedite orders, the new store will introduce a self-ordering kiosk. For its third-party delivery partners and app users, the store has carved out space for delivery associates and guests to pick-up orders quickly and easily. A double-sided fridge will be installed so that Clean Juice Juiceristas can stock the fridge as soon as the items are prepared directly from the kitchen. Additionally, devotees of the store's juice cleanse will have a dedicated grab-and-go cooler from which they can pick fresh juices to complete one of five cleanse offerings. The new store will also have more access to parking, allowing guests to get in and out with ease or have products delivered curbside from Clean Juice's recently rejuvenated app.
The new Birkdale Landing store also will introduce several upgrades to visually engage guests in the preparation of their orders. In addition to a dynamic digital menu board, the store will feature a large viewing window where customers can watch Juiceristas at work preparing Clean Juice's signature cold-pressed juices. The cold-press window demonstrates the company's commitment to preparing the freshest beverages using the cleanest ingredients, while reflecting one of its core values: "Transparency is the key to trust." The increased floor space of the new Birkdale Landing store will accommodate Clean Juice University, the company's training program for new franchise owners, Juiceristas and other staff.
In the first quarter of 2021, Clean Juice exceeded expectations in key performance indicators namely comparable or same-store sales (SSS), which increased 7%. The company reports continued success in April with SSS up 23%. The award-winning company was also named among the fastest-growing privately held companies in both Inc. 5000 and Entrepreneur magazine's 500 ranking lists.
The original Clean Juice location opened in Huntersville, N.C. in June 2015, on the eighth wedding anniversary of founders Kat and Landon Eckles. Today, there are 14 Charlotte area Clean Juice locations and over 100 nationwide, and another 55+ stores in development.
Black Bear Adds Franchise Veteran
Black Bear Diner appointed restaurant industry veteran Chad Corrigan in the newly-created role of Vice President of Franchise Sales & Development.
He has more than 14 years of franchise development strategy experience with well-known restaurant franchises, including Jack in the Box, Qdoba, Tokyo Joe's, and Quiznos, Black Bear expects to open three diners in 2021 – two corporate diners in Texas and one franchise location in California.
"Chad joins Black Bear Diner at an exciting time for our brand. We're experiencing a strong recovery and our current franchise partners are reigniting their growth plans, which is contributing to the overall health of our business," said Anita Adams, CEO of Black Bear Diner. "Our eastward expansion over the last five years has validated the relevance of Black Bear Diner and Chad's expertise with supporting and growing franchise operations is exactly what we need as we look to partner with new operators and introduce the Black Bear Diner experience to new regions."
Prior to joining Black Bear Diner, Corrigan held the role of Vice President of Real Estate and Franchise Development for Nashville-based Restaurant Growth Services, LLC, which provides a variety of management and operational services to four restaurant brands. He earned a bachelor's degree from Texas A&M University and an MBA from the University of Colorado.