MRM Franchise Feed: Non-Traditional Dunkin' and Boxing-Themed Concept
22 Min Read
MRM Franchise Feed features news about the restaurant franchise and MUFSO landscape.
Dunkin' Explores New Opportunities
Dunkin' unveiled its most recent non-traditional openings and growth plans for the year. Thus far in 2021, the company has expanded across Las Vegas at the Convention Center, LINQ Hotel, and Arizona Charlie's Boulder Casino, as well as reopened with the unveiling of the new Virgin Hotel. Additionally, the brand opened its 12th location with Great Wolf Resorts at the Manteca, California park and further strengthened its presence in the healthcare setting with locations debuting at the Oak Hill Hospital in Brooksville, Florida and UMass Memorial Medical Center in Worcester, Massachusetts.
Looking ahead towards the remainder of the year, Dunkin' plans to continue opening non-traditional locations by focusing on airport expansion within New York's JFK Airport in Terminal 1 and Chicago's O'Hare Airport in Terminal 5.
"Dunkin' continues to modernize with convenience at the forefront. Our flexible concepts for any non-traditional format have been an essential aspect of our growth over the past decade and will remain a vital part of our future development strategy," said Chris Burr, Director of Non-Traditional Development at Inspire Brands. "As a new member of the Inspire family of brands, Dunkin's strong experience in non-traditional development complements Inspire's vision for non-traditional growth across the portfolio, bringing valuable expertise to our best-in-class shared Development team."
Despite obstacles in 2020, Dunkin's non-traditional development continued with 27 additional restaurants, including openings throughout airports in Boston, San Antonio, St. Petersburg-Clearwater, and New York City. In addition, the brand developed retail restaurants in the Mall of America, American Dream Mall, and a Shop Rite Supermarket in New York, as well as Air Force Bases in New Mexico and Utah, and on campuses at the University of Maryland and University of Massachusetts at Dartmouth.
Getting Hotter at Dave's
After a strong start to 2021 with a number of signed deals for over 100 additional locations and several openings in new markets, Dave's Hot Chicken is continuing to generate more momentum.
Continuing under the leadership of VP of Franchise Development, Shannon Swenson, Dave's Hot Chicken has expanded its reach across the country with new deals signed in several key markets. In 2021 thus far, 13 new operators have signed on for 154 units, bringing the total to 35 operators and 420 units open or in development. This has expanded the brand's presence into Boston, Massachusetts; Austin, Waco, New Braunfels and San Marcos, Texas; Orlando, Florida; East Pennsylvania and multiple communities throughout New Jersey. Dave's has set its sights on the Midwest, Northeast and Southeast to continue growing its presence, with the goal of having 600 units committed and opening locations in every major market across the country.
"We've fine-tuned our recipe for growth at Dave's Hot Chicken and our strong performance so far in 2021 is proof," said Swenson. "I think we have positioned ourselves nicely to continue building on this momentum for the rest of the year as we bring on more qualified operators and open more locations. We really do have something special here at Dave's Hot Chicken."
In addition to these newly signed deals, Dave's Hot Chicken has continued making a splash with recent openings. Seven new locations have opened throughout the country in 2021, including in Northridge, Sherman Oaks and Indio, California; Tualatin, Oregon; Dallas, Texas; Las Vegas, Nevada and a second location in Toronto, Ontario, with lines wrapping around the block and fans waiting for hours at each of these openings.
"It's exciting to see our proof of concept as we expand to markets outside of California – our volumes have been consistent and we've been reaching a whole new set of demographics," said Bill Phelps, CEO of Dave's Hot Chicken. "Whether it was in Texas or in Oregon, we've seen a tremendous turnout, and for us it's validation that we have something really special here that isn't just unique to our home state of California. We've really set ourselves apart as the hottest fast-casual brand out there right now, and there's no question about it based on the numbers."
Founded by classically-trained chef Dave Kopushyan and three friends in early 2017, Dave's Hot Chicken initially opened as a parking lot pop-up and now has 17 brick-and-mortar locations in the U.S. and Canada. There are currently more than 420 units committed in a little over a year of announcing the franchise initiative.
Addtionally, the brand signed on for Revel Systems' Revel Enterprise® offering. Revel Enterprise has already been successfully implemented at several Dave's Hot Chicken stores and will eventually be rolled out to hundreds of locations.
"Dave's Hot Chicken is a rising star in the fast casual franchise restaurant sector, and we're thrilled to be chosen as its technology partner to innovate and grow alongside the brand," said Greg Dukat, CEO, Revel Systems. "The business is doing incredible things through its careful selection of vetted franchise owners and fast, but strategic, growth. The Revel Enterprise platform is time-tested with similar forward-leaning businesses, and we're delighted that our flexible and future-proofed solution will be ready to support their continued growth and innovation."
Key capabilities for the implementation include an integrated drive-thru solution, mobile order takers for line busting, a synchronized kitchen display system to interface with the POS, and an open API, which enables the integration of best-of-breed solutions directly to the POS platform. Thanks to its extensive partner network, Revel Enterprise has enabled Dave's Hot Chicken to seamlessly integrate several of its third-party software programs such as Restaurant Analytics Defined (RAD.IO), Restaurant 365, Olo and Harri.
Chester's Chicken Debuts Elevated In-Store Experience
Chester's Chicken, top photo, is introducing its first store redesign in nearly 20 years at three new locations – Durant, Oklahoma; Monroe, Louisiana; and Elk Grove Village, Illinois. The new look features a fresh color palette, updated menu boards, and modern architectural and interior brand elements throughout – designed to create a better connection between the customer and Chester's famous fried chicken, prepared fresh in store throughout the day.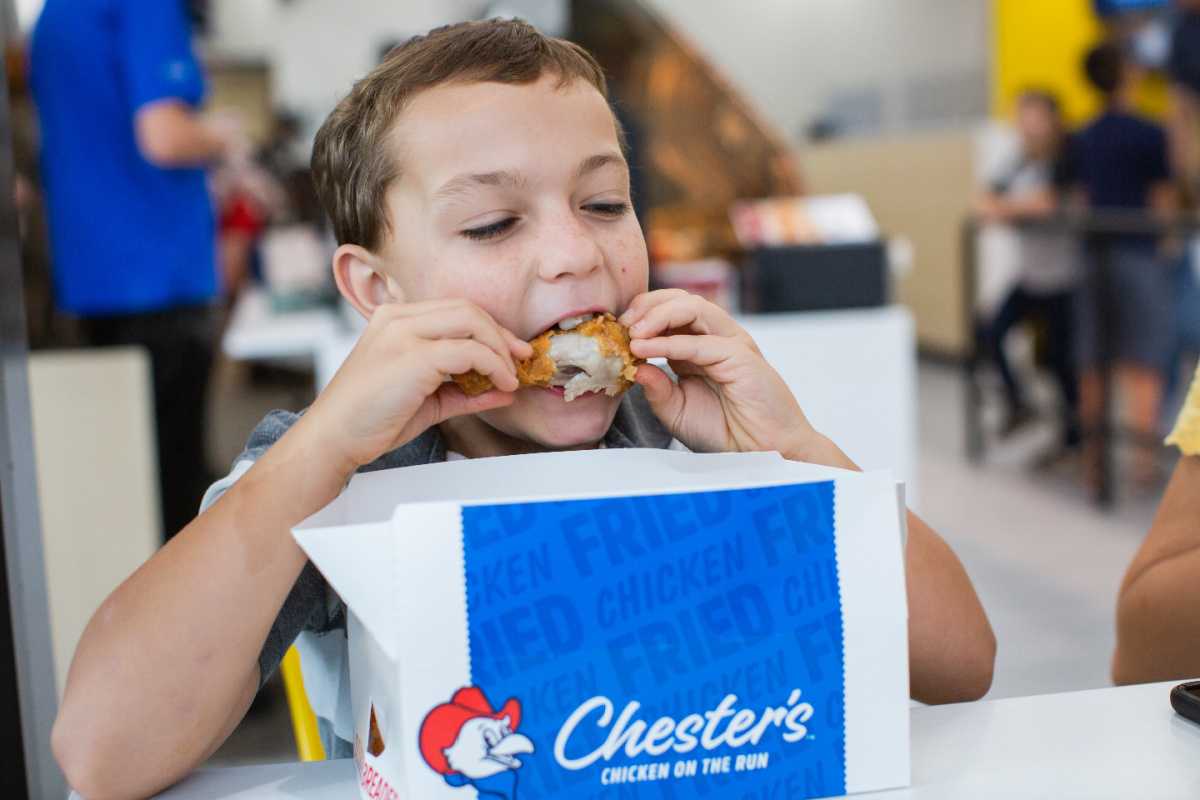 The elevated in-store experience is the next phase of Chester's brand refresh, following the 2020 launch of the company's new website with an enhanced library of marketing and training tools for franchisees, as well as a new, simplified logo that focuses on the lovable Chester the Chicken mascot. Within the past year, Chester's has also introduced new branded packaging and overhauled its digital menu board design.
"We've mastered fried chicken and continue to expand our offerings with on-trend limited time offerings and permanent items like our fried chicken sandwich and chicken bites, but it was time to bring our store aesthetic up to the same standard as our delicious family recipes," said William Culpepper, vice president of marketing, Chester's Chicken. "We're elevating the overall experience for fried chicken fans and bringing the star of the show, our product, into the spotlight through our refreshed design."
Chester's partnered with award-winning, brand experience and architecture firm NELSON Worldwide, responsible for some of the most iconic brand makeovers, to bring the updated vision to life.
"Our intent with this vision was to amplify the beloved Chester's brand and to leverage a much bolder and modern expression, as well as play up the notion of everything fried to perfection – with no apologies," said Aaron Ruef, account director, NELSON Worldwide. "The new brand voice and personality brings to life this truly unique roadside destination that is iconic, yet approachable. The Chester's experience is positioned to stand out in the hearts and minds of travelers for generations to come."
All three stores, the first to showcase the new design, are located within Love's Travel Stops, a fellow family-owned business.
"Love's is proud to partner with a company that has its customers at the forefront of all it does, including providing fresh and tasty food options with a strong experience," said Joe Cotton, vice president of restaurant services, Love's. "We're excited to play a large role in Chester's redesign and know our customers will love it too."
Pieology in Idaho
An Idaho company is the latest to sign a development rights agreement with Pieology: Rob & Laurie Wylie and Michael Gordon of CRASH-COYOTE, LLC, have signed an agreement to open five locations in the State of Idaho.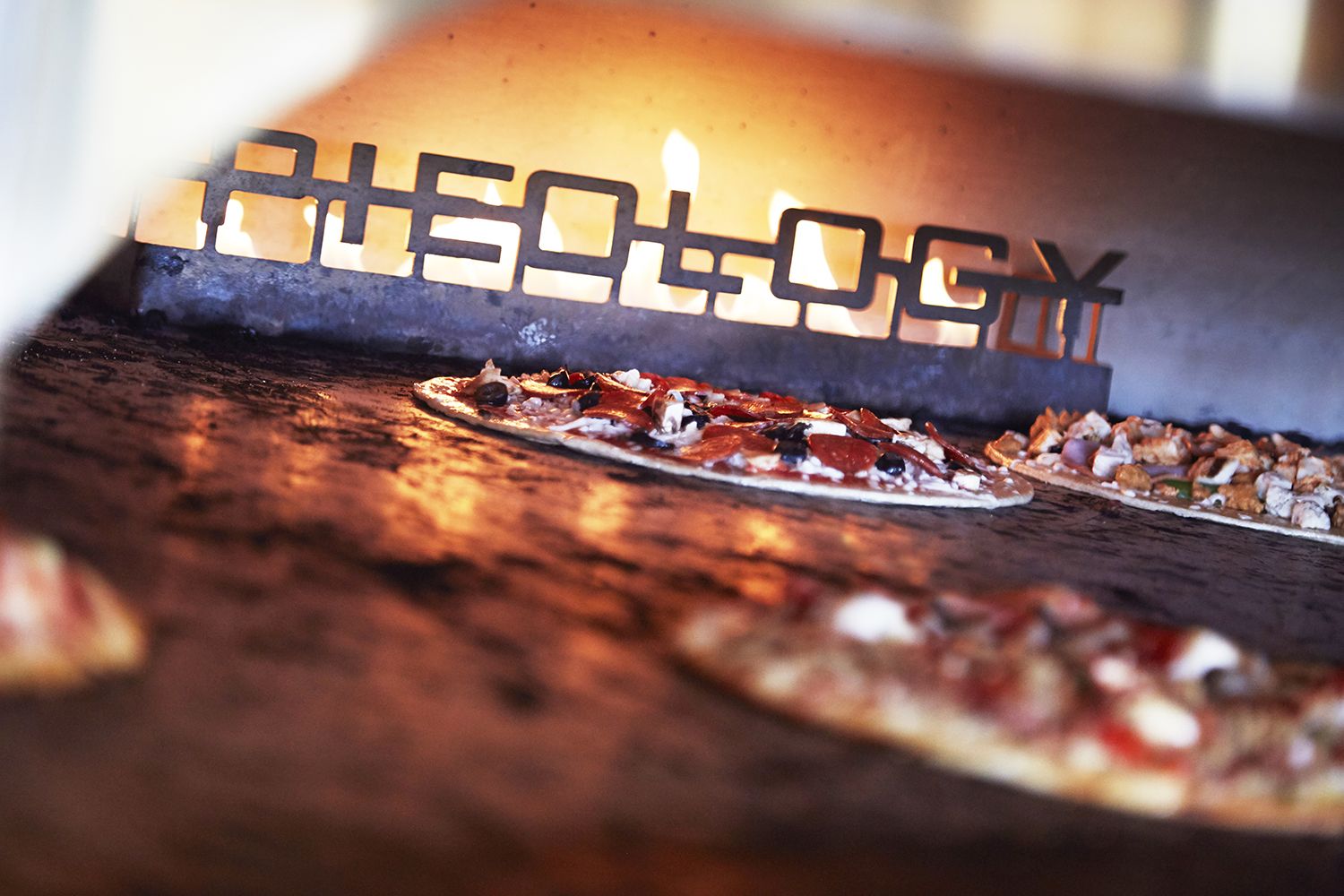 Laurie Wylie, the president of Crash-Coyote LLC, has been in the food industry all her life. Her family is in the catering business, and she worked with her sister who was an owner of an ice cream shop.
"I worked at Pieology Chino Hills and fell in love with the concept," says Wylie. "We left California and moved to Idaho, and wanted to pursue Pieology as a franchisee."
Both Rob and Michael are Vice Presidents of Crash-Coyote, LLC and will be part of the day-to-day operations with Laurie.
"We are excited to have Crash Coyote as part of our family," says Ramzi Daklouche, Chief Growth Officer of Pieology. "Having Laurie previously as a Pieology employee and now an owner says a lot about this company and we hope this can inspire like-minded team members to someday become entrepreneurs with our brand as well."
Founded in 2011, there are now 130-franchise locations.
Papa John's Expands DFSI Partnership
Papa John's International, Inc., has expanded its partnership with its largest franchisee Drake Food Service International (DFSI), to open more than 220 Papa John's restaurants by 2025. This includes more than 170 across Latin America, Spain and Portugal, where DFSI currently operates in excess of 280 locations.
As part of the agreement, DFSI plans to open 50 new restaurants in the UK over the next four years, where it recently purchased over 60 Papa John's restaurants in London, making it the brand's largest franchisee in the country. Under the terms of this expanded partnership, DFSI will operate more than 560 Papa John's restaurants in total by 2025.
"This growth of our partnership with Papa John's will accelerate our efforts to deliver on our ambitious business goals, through opening new restaurants and inviting new subfranchisees to join us and grow our base of passionate Papa John's customers around the world," said Ignacio Astete, CEO of DFSI, which holds master franchise rights for Papa John's in Chile, Costa Rica, Panama, Spain, Portugal and Guatemala. "Our leadership in operational excellence and technology, coupled with our commitment to the creation of shared value, combined with the love that Papa John's has built for its brand among people across the world, has created a foundation for continuing our joint success into the future."
"As a master franchisee of Papa John's, DFSI has proven to be a valued and strategic partner in accelerating our development in international markets," said Jack Swaysland, Chief Operating Officer, International at Papa John's. "Together with DFSI – now our largest franchisee in the UK – we look forward to introducing new customers to the BETTER INGREDIENTS. BETTER PIZZA.® promise of Papa John's."
DFSI began operating Papa John's restaurants in 2015 and has managed the growth of the Papa John's brand in several of Papa John's highest-performing international markets, including Chile. Through this expanded partnership, DFSI has now also become the country's largest Papa John's franchisee in the UK, one of Papa John's best performing markets in 2020, and which continues to perform well in 2021.
In September of 2020, Papa John's announced a new international headquarters in the UK to accelerate its strategy for international development, streamline operations and facilitate greater collaboration among teams to better support franchises around the globe – both existing and new – to successfully grow. Papa John's is currently in 49 international countries and territories around the globe. In recent years, it has entered 11 new countries, including Spain, Portugal, Germany, Cambodia, the Netherlands, Pakistan, France, Tunisia, Iraq, Morocco, Kazakhstan, Kyrgyzstan and Poland.
In other news, Papa John's is looking for pizza lovers to fill various roles at its restaurants in North America. Between August 16 – 22 during Papa John's National Hiring Week, Papa John's and its local franchise partners will host more than 800 recruiting events in more than 60 markets across the country. Papa John's restaurants are looking to welcome more than 20,000 new team members into the Papa John's family for part-time and full-time roles including pizza makers, delivery drivers, shift leaders, managers and more.
"At these events, Papa John's restaurants are making it quick and simple for candidates to be interviewed on the spot and potentially be hired the same day. Each restaurant is committed to a diverse and inclusive work environment and is looking for team members with a variety of skills and backgrounds. Interested candidates can visit jobs.papajohns.com/events to learn more.
"We look forward to hiring more team members at our restaurants and welcoming them to our pizza family," said Marvin Boakye, Chief People & Diversity Officer at Papa John's. "We're looking for people who'd eat pizza for breakfast, brunch, lunch, and dinner, and who want to make dinner tables across America even tastier. Working at Papa John's is an opportunity to bring your own unique voice and flavor to our table. We are working to build an inclusive culture that reflects the expansive nature of our brand and encourages team members from all backgrounds and experiences to be the best they can be."
Papa John's and its franchisees offer team members a variety of benefits including, flexible hours, healthcare and paid vacations, regular raises and bonus potential. Additionally, Papa John's offers opportunities for team members to pursue career goals through ongoing training, leadership programs, and tuition reimbursement through the Papa John's Dough & Degrees program.
The Red Chickz Expands in California
The Red Chickz is making its mark on the West Coast. With another location opening in Culver City this year, the brand is looking to expand throughout California and other states as well through franchising.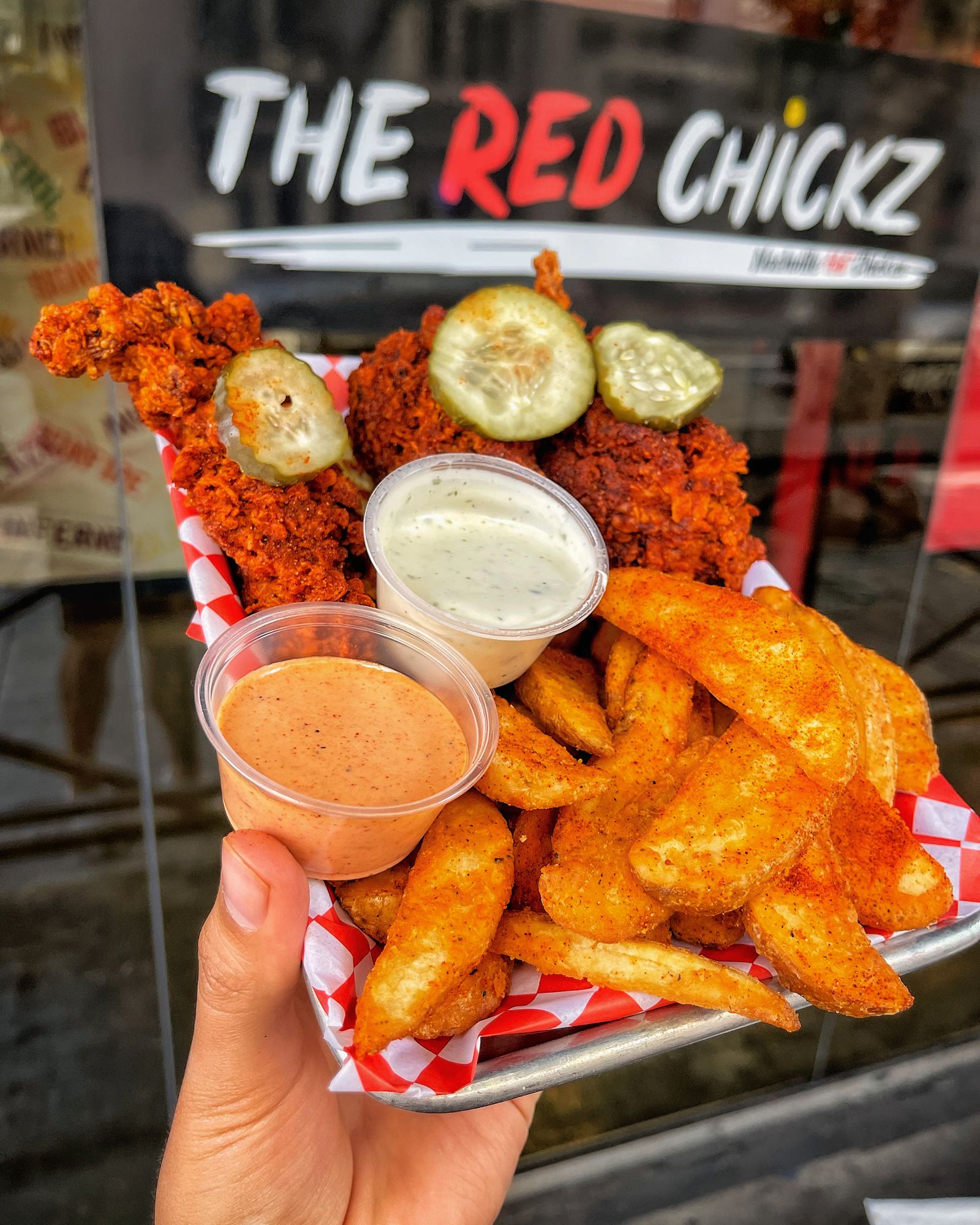 Three years ago, Founder Shawn Lalehzarian noticed his community's tastes were changing and wanted to base his restaurant on a new concept to reflect that. Around that time, Nashville hot chicken had emerged as the latest food trend, so Lalehzarian hopped on a plane to Nashville to immerse himself in the culture and develop his own recipe to bring back to L.A. The Red Chickz was then born. Since then, The Red Chickz has taken this concept to the next level by fusing Nashville hot chicken with various American favorites and showing these creations off on social media.
"We are extremely passionate about serving high quality food in a fun, fast casual setting and Culver City's lively atmosphere is the perfect place for us to open another location," said Lalehzarian. "The Red Chickz is becoming a L.A. staple and we want passionate driven franchisees to join us and make the brand an even bigger success. We are looking for passionate people who are interested in opening their own hot chicken franchise," said Lalehzarian. "We want people who care about serving delicious food, sharing the joy and becoming part of a bigger family."
The initial investment necessary to open a single location ranges between $364,000 and $815,000.
Artisanal Gelateria Grows in Florida
Gelato-go will open its latest Florida location this week at 707 N Broadwalk #14, Hollywood Beach. Gelato-go opened its first location in Miami in 2013 and has since expanded throughout Florida. The gelateria uses fresh fruit from local farms (wherever available) and imports hazelnuts from Piemonte and pistachios from Bronte, Sicily to create the most authentic Italian gelato and sorbet in Florida.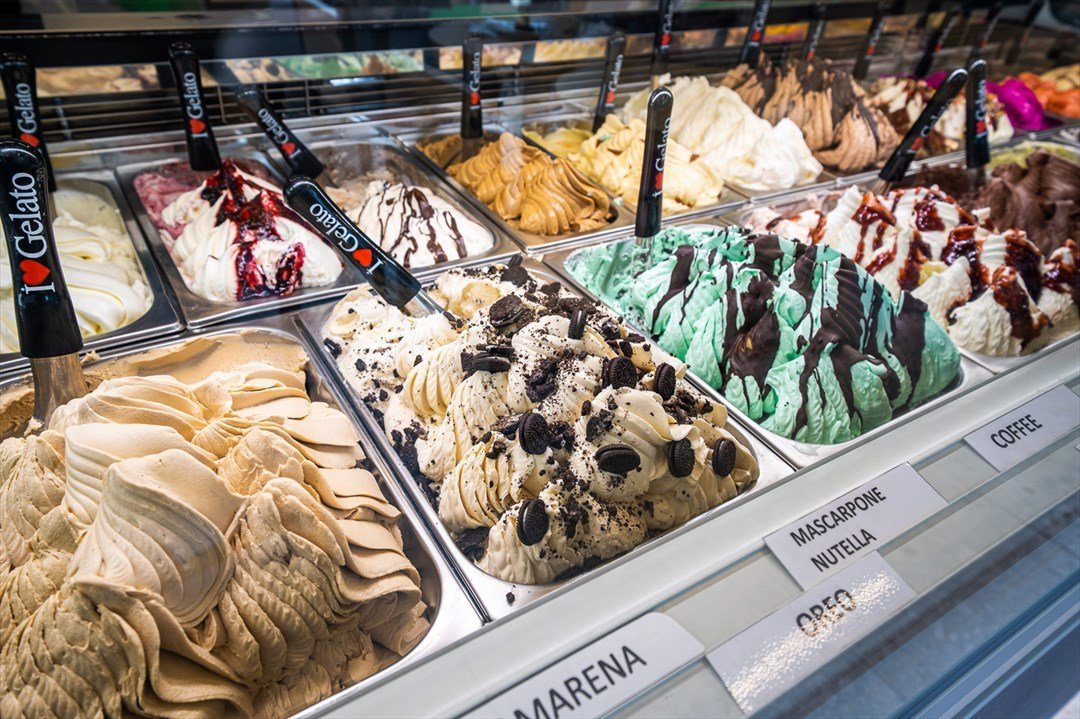 "Hollywood Beach is our 17th Gelato-go store. We are thrilled by the warm welcome we've had in Florida and honored to now be the leading gelato franchise in the state," said Gelato-go co-founder Alessandro Alvino, one of the two Italian friends who moved to the United States together to start the gelateria. "We've had great success in beachfront locations like Ocean Drive, Sunny Isles and Lauderdale by the Sea and look forward to now serving our unique flavors of all-natural gelato to the people of Hollywood Beach."
Gelato-go has plans to open stores in Hallandale Beach and Saint Armands Circle, Sarasota later in 2021.
Legendary sports bar brand seeks out franchisee partners in Texas as consumer demand increases
Boxing Out an Opportunity
Knockout Sports Bar, a boxing-themed sports bar is seeking out new franchise partners in its home state of Texas. The chain currently has five locations across Texas and plans to open an additional 10 locations by the end of 2021. Knockout Sports Bar is looking to expand its footprint, starting with Dallas, Ft. Worth, Houston, Austin, and Waco. After completing its expansion in Texas, KOSB is eager to bring the brand to a new market, with eyes on Arizona or Florida.
"KOSB has become increasingly popular across Texas, so now is the perfect time for entrepreneurs to be a part of our unique sports bar franchise," said Angelo Park, Founder of Knockout Sports Bar. "We'd love to see these territories in the hands of qualified and talented entrepreneurs by years end."
KOSB offers its customers the coldest 26-degree bottled beer in the U.S., using its proprietary refrigeration system. Additionally, serving 95% fat-free wings that have been perfected over the past 20 years.
"People are looking for sports bars that offer more than just your typical beer and a flat screen TVs. They want delicious, enticing, high-quality food and drinks, which is part of the KOSB commitment," added Park. "Our legendary menu has always been a constant part of the brand that keeps customers coming back."
KOSB has 10 territories available, initially targeting the Dallas, Ft. Worth, Houston, Austin, and Waco areas. The brand is actively seeking single, multi-unit, and regional development franchise partners, encouraging those with franchise or restaurant experience to apply. With a franchise fee of $40,000, the initial investment for a KOSB location ranges between $538,000 to $929,000. The total investment can be reduced further if franchise partners can procure reasonable tenant improvement (TI) concessions from their landlord if one wishes to lease rather than buy a property.
Firehouse's New Community Design
Firehouse Subs® held the grand opening of its first location in Springdale, Arkansas at 4914-1 Elms Springs Road. Franchisees Audie White and Jason Steele opened the doors to the first Firehouse Subs restaurant in Arkansas to sport the brand's new Community Design on Monday, August 9.
White and Steele own and operate six Firehouse Subs restaurants: two in Fayetteville, Arkansas and four in the greater Tulsa, Oklahoma area. Prior to joining the restaurant brand, the business partners both worked as first responders. White was a Russellville, Arkansas police officer for over seven years, and Steele was a Springdale, Arkansas firefighter for over 15 years and worked for the volunteer fire department totaling more than 30 years of firefighting career experience.
"I've been wanting to open a Firehouse Subs restaurant in my hometown of Springdale for the last 15 years and am excited for our vision to come to life," said Audie White. "We are proud to introduce the brand's new and improved Community Design to the community and great state of Arkansas."
"As the grandson of Joe Maurice Steele who founded The Steele Canning Company, the opening of this restaurant is very special to my family and our rich history in Springdale," Steele added. "There is nothing better than supporting our local first responders through the sales of our hot and hearty subs with a portion of every purchase benefiting Firehouse Subs Public Safety Foundation."
The Springdale Firehouse Subs restaurant will feature the brand's new Community Design, which boasts enhancements made to provide a better dining experience for guests, in addition to a new back-of-the-house layout with a more efficient flow for crew members. The updated design of this new location has a repositioned ordering area and a designated space for Rapid Rescue To Go® orders made online at FirehouseSubs.com or through the Firehouse Subs app, in addition to demonstrating the brand's commitment to community, first responders, heartfelt service and quality food that satisfies.
The opening marks the eighth location to feature the new design. The Community Design, formerly known as the Restaurant of the Future prototype, first debuted in July 2019 in the brand's hometown market of Jacksonville, Florida.
Pizza Guys Expands in California
Pizza Guys is further expanding its California presence by opening its newest location in Atwater. The new location will be opened by local entrepreneur Shind Singh and is the third Pizza Guys restaurant he has opened, with plans for additional locations in the near future. It will be located at 263 E. Bellevue Rd. and is slated to open in late-August.
Singh is an expert in the pizza franchising industry. Originally born in India, he began working as an employee of a pizza franchise when he first arrived in the U.S. Through his commitment to the business model and natural work ethic, Singh rose through the ranks quickly, eventually making the leap from pizza shop employee, to Pizza Guys franchise owner.
"I have been involved in the pizza franchise industry for most of my adult life," said Singh. "Starting from the bottom and having worked my way to the top, I have come to understand every facet of the industry and have learned that customer satisfaction always comes first. I have always been impressed by Pizza Guys' commitment to providing excellent customer service and look towards maintaining the positive reputation of the brand as we open our newest location in Atwater."
"The success of our brand relies on the industry experience and first-hand knowledge of local owners such as Singh," said Pizza Guys CEO and founder Shahpour Nejad. "We are extremely excited to support him on the opening of his newest location and his continued contributions to the Atwater community."
PITA Goes Concession-Style
PITA Mediterranean Street Food introduces a new way to serve its authentic, fresh and flavorful Mediterranean fare throughout the Southeast. This year, the chain started opening concession-style dining options in addition to brick-and-mortar restaurants. PITA currently operates locations at Marietta Square, Mercedes-Benz Stadium and Halcyon in Alpharetta.
"We are encouraging our franchisees to open locations on college campuses, food halls and stadiums," says Nour Rabai, chief executive officer of PITA Mediterranean Street Food. "Last year, we saw a huge shift from brick-and-mortar stores to food halls. Wediscovered that the cost of operations is much lower at these types of locations and there is a huge benefit to the daily traffic that these locations bring."
The COVID-19 pandemic shifted PITA's thought processes on the future of the fast casual chain. Rabai realized that the cost of opening a concession-style stand would be 25% lower than what it would be to open a brick-and-mortar location, and thatpercentage could be very appealing to franchisees. Operating a stand in a food hall, for instance, would eliminate the need for a dining area, front-of-house staff, fountain machines and more.
PITA is allowing its franchisees to run third-party delivery platforms and curbside service at their concession-style dining kitchens if the option is available at the food hall or other location. The stalls will generally serve the same menu as the brick-and-mortar locations, with a few exceptions. PITA's newly opened quick-service stand at Mercedes-Benz Stadium serves an abbreviated menu and keeps the same hours as its concerts and sporting events.
PITA has signed one franchisee to a six-store college campus deal in the Southeast, covering Georgia, South Carolina, North Carolina, Florida and Alabama. The PITA locations on college campuses will maintain hours as the individual colleges require.
Rabai thinks that this opportunity will reach new audiences and will give guests more options. "It's about meeting everyone's needs, and that's what the food halls provide," says Rabai. "A consumer might come to the hall for barbecue but have an interest in trying something else at PITA. That's an add-on sale for us. There is a mix of food diversity at the food halls that guests can't get everywhere else."
Rabai sees the concession-style concept as a bright future for restaurants, but PITA will still open new brick-and-mortar locations. "That's been our model since day one. All we are doing is giving franchisees a secondary option," he adds. "This is the future for us as a concept."
Main Squeeze Has New App
Main Squeeze Juice C. launched of the Main Squeeze Mobile App that can be used at all 23 locations across Louisiana, Texas, Mississippi, and Florida. The app is available in the App Store and Google Play Store.
When customers download the all-new Main Squeeze Mobile App through August 31, they will receive a free juice or smoothie of their choice, no purchase necessary. Customers will be able to find and save their favorite orders of juices, smoothies, and bowls while managing their favorite Main Squeeze location and notification preferences. Additionally, the app allows customers to use Apple Pay or save their credit card information, using encrypted tokenization, for an even faster and easier app experience.
"We are excited to launch this new app so we can help make healthy even easier and faster by reaching our customers where they already shop everyday: their phones," said Thomas Nieto, CEO of Main Squeeze. "Customers can still get their favorite products, with any add-ins they choose, now with new and convenient contactless options for payment and pickup."
Today, there are 23 locations open and operating throughout Louisiana, Texas, Mississippi, and Florida. Additionally, the brand has more than 60 additional franchisee- and corporate-owned stores in various stages of development across the Southeast, and now the Midwest.
Wayback Bounces Back
Wayback Burgers announced continued growth at the conclusion of the first half of 2021 as businesses bounce back from the turmoil of the pandemic. The company is projected to continue expansion and innovation in the later part of the year that will lead to a strong finish for 2021. With an increase in sales, Wayback Burgers' financials saw a systemwide sales increase of 38.8 percent and a comparable store sales increase of 39.42 percent.
In addition to sales growth, Wayback Burgers enjoyed success with the company's philanthropic efforts through its national partnership with Boys & Girls Clubs of America this year. Through a variety of national fundraising events and initiatives, Wayback Burgers reached a major milestone by surpassing the $500,000 mark in funds raised for the non-profit organization, whose mission is to enable all young people to reach their full potential as productive, caring and responsible citizens, since the partnership's launch in June 2018.
Franchise expansion was seen through the awarding of 10 new franchise agreements in the United States. Additionally, Wayback Burgers awarded the master franchise for Japan. Furthermore, the company oversaw seven lease signings, three restaurant openings in Fresno, CA, Universal City, TX and Groton, CT and 11 remodels, with 12 more currently in progress.
"There has never been a more exciting time to be part of the Wayback Burgers franchise" stated Patrick Conlin, president of Wayback Burgers. "We can't thank our franchisees and guests enough for supporting Wayback Burgers this past year. Coming out of COVID-19 with such a strong first half set us up for sales to continue to soar in Q3 and Q4, and we look forward to the remainder of this year."
With restaurant expansions, coupled with a national labor shortage, Wayback Burgers implemented creative initiatives to attract new team members and hosted national hiring events in early June. The "Apply for Fries" campaign incentivized applicants who completed an interview with a free regular side of Wayback Burgers' signature fries.
Alongside these restaurant happenings, Wayback Burgers signed 13 existing franchisees for the "Let's Get Growing" program, which aims to grow the Wayback Burgers franchise from within and upgrade restaurants in a timely manner. The program helps existing franchises expand to other locations with a reduced initial franchise fee of $10,000, which is then given back to the franchisee to remodel their existing locations.
Saladworks Expanding in Ohio and Kentucky
Saladworks is pushing its next wave of growth and expansion in Ohio and Kentucky by opening several new locations. The fast-casual entrée salad franchise is opening four more local Kroger stores in the Cincinnati and Northern Kentucky area this summer and plans to ramp up franchise growth plans in the state.
The four new Kroger Saladworks stores opening during the summer months include:
11390 Montgomery Road, Cincinnati, OH (now open)
7580 Beechmont Ave, Cincinnati, OH (now open)
3636 Springdale Road, Cincinnati, OH (now open)
130 Pavilion Parkway, Newport, KY (coming soon)
These new Ohio restaurants will add on to the two existing Saladworks locations in Columbus and another Kroger store in Cincinnati. WOWorks' plan to grow Saladworks locations in Ohio is directly tied with the opportunity present within the state's growing millennial and Gen Z guests' spending power and lifestyle needs. Saladworks expects to see strong and accelerated growth in Columbus, Cleveland, Cincinnati, Toledo and Akron.
"We are excited to grow our Saladworks brand in Ohio in these high-traffic stores and believe it will lay the foundation for future franchise growth of Saladworks throughout the state," said Eric Lavinder, Chief Development Officer for WOWorks, parent company of Saladworks. "We are looking to recruit potential franchisees who want to join our health-focus family of brands with exciting development opportunities in an untapped state."
The move to open restaurants within grocery chains and other non-traditional venues began in early 2019, when Saladworks opened its first in-store location in Philadelphia. Much like their stand-alone locations across the country, these non-traditional restaurant locations focus on customization through their array of over 60 fresh, flavorful and nutritious ingredients.
The in-store restaurants provide guests a variety of healthy menu items to grab while shopping, including customizable salads, wraps, grain bowls, soups and more. To date, Saladworks has restaurants in 10 grocery stores in Pennsylvania, Maryland, Ohio, and New York, with additional locations projected to open in 2021 and 2022.
These new locations will also participate in Saladworks' Local Heroes program. Police officers, firefighters, first responders, teachers, doctors and other workers who keep communities safe can sign up for Saladworks Rewards and receive 20 bonus points on every purchase along with special offers on relevant appreciation days and holidays.
The brand is actively seeking qualified franchise partners, preferably individuals with business experience and/or franchise experience, and a passion for serving guests. Before stores open, the training program for franchisees is designed to teach them the fundamentals for efficient skills to run a successful restaurant and is completed locally. The total initial investment to open a Saladworks restaurant is $199,726 – 549,295.
Captain D's Expands in Mississippi
Captain D's is continuing its ongoing expansion in Mississippi with the conversion of a former Krystal restaurant to its newest company-owned location in Clarksdale, MS. Located at 735 State St., the Clarksdale restaurant joins an array of flexible prototypes from Captain D's in the state, following the brand's first-ever double drive-thru debut in Tupelo earlier this year.
"We are thrilled to introduce yet another real estate innovation in the Mississippi market. Just four months ago, we debuted our first-ever double drive-thru model, which generated significant buzz in the area," said Brad Reed, chief development officer for Captain D's. "Today, we open a transformed Krystal restaurant with full confidence that this Clarksdale location will serve as a place for the community to come together and enjoy all their seafood favorites."
For the past several years, Captain D's has prioritized enhancing its real estate strategies and honing the brand's expertise in cost-effective conversions. Capitalizing on a process that allows for quicker turnarounds and lower construction costs, the Clarksdale location is one of the brand's many successfully converted restaurants including former Dunkin', Jack in the Box, Church's Chicken, Arby's, Hardee's, Bojangles, and Starbucks locations in states like Alabama, Texas, and Michigan. Captain D's plans to build upon the brand's Mississippi foundation with an additional restaurant slated for Starkville later this year.
Curry Up Now in Dallas
Curry Up Now is beginning construction on its first location in the Dallas area in the Grandscape mixed-use retail space, located in The Colony, Texas.
Grandscape will be one of the largest and most unique mixed-use real estate developments in the country when the complex is fully complete. Located in the Dallas metropolitan area, the project will stretch across more than 400 acres and feature more than 3.9 million square feet of retail, entertainment, residential, dining and attractions.
"We're beyond excited for this groundbreaking milestone for the first Curry Up Now in Dallas, especially in such a prominent area," said franchisee Ankita Mehta. "We feel confident that Curry Up Now is not only a great addition to Grandscape but will quickly become one of the locals' favorite places to eat and drink."
The construction of the new Dallas location is part of a multi-unit franchise deal for the state of Texas that includes three other locations slated for the Dallas-Fort Worth area and an additional two in the greater Austin region as part of a six-unit deal. The local franchisee group responsible for the Texas expansion includes Ankita and Dharmesh Mehta, Kamlesh and Jagruti Modi, Ratnakar and Lila Mody and Aryan Vig.
The new Curry Up Now restaurant, located at 5752 Grandscape Boulevard, Suite 310, is scheduled to open late October. In addition to the unique menu items, customers can look forward to the location's Mortar & Pestle Bar, Curry Up Now's globally inspired craft cocktail bar concept serving specialty cocktails, wines, local microbrews and bar bites.
"I've always had an interest in bringing our concept to the Texas food scene, and I couldn't have hoped for better franchisees to drive this expansion," said Akash Kapoor, CEO and founder of Curry Up Now. "The impact that we have made in surrounding areas has motivated us to want to continue developing our brand and presence for Indian cuisine lovers everywhere. I believe our cocktail program is going to be a solid draw to our first Dallas location."
Ike's in Denver
Ike's Love & Sandwiches signed a lease for its first location in the Denver area, marking the brand's entry into the state of Colorado. Father-daughter franchise duo Blair and Camille Woodfield of Woodfield Squared, LLC signed a multi-unit franchise deal in 2020 to bring five units to the greater Denver area. The franchisees have identified the Central Park neighborhood of Denver as the ideal site for the first Ike's Love & Sandwiches restaurant and are preparing to open its doors by the end of summer 2021.
Located east of downtown Denver, Central Park is the largest residential neighborhood in the city and features multiple living options, parks and open spaces, and diverse slate of businesses. The location secured for Ike's Love & Sandwiches is an end-cap site featuring a patio for outdoor seating, anchored by a popular grocery store. The Woodfields have plans to open several locations in the key markets of Denver and surrounding areas beginning next year and are currently scouting additional spaces.
"We're excited to be the first to bring the Ike's concept to Denver because we strongly believe its innovative offerings and unique flavor pairings will resonate with the community," said franchisee Camille Woodfield. "We have full confidence the brand will be successful in this new market and are already in the process of selecting our next location, which we plan to open in the spring of 2022, if not sooner."
Founded by Ike Shehadeh in 2007, Ike's Love & Sandwiches currently has over 70 locations in operation throughout California, Arizona, Nevada, Texas and Florida, with additional locations currently in development in Utah, California and Nevada.