MRM Franchise Feed: Modular Chicken and 2020 Year-End Results
16 Min Read By MRM Staff
Modern Restaurant Management (MRM) magazine's Franchise Feed offers a glimpse at what's new in the restaurant franchise and MUFSO environment.
Modular Chicken
Golden Chick is introducing its first modular constructed building. The first restaurant is scheduled to be installed in Saginaw, Texas this month with an expected opening in March, with two more installations in the pipeline for the first half of the year in Snyder and Refugio, Texas.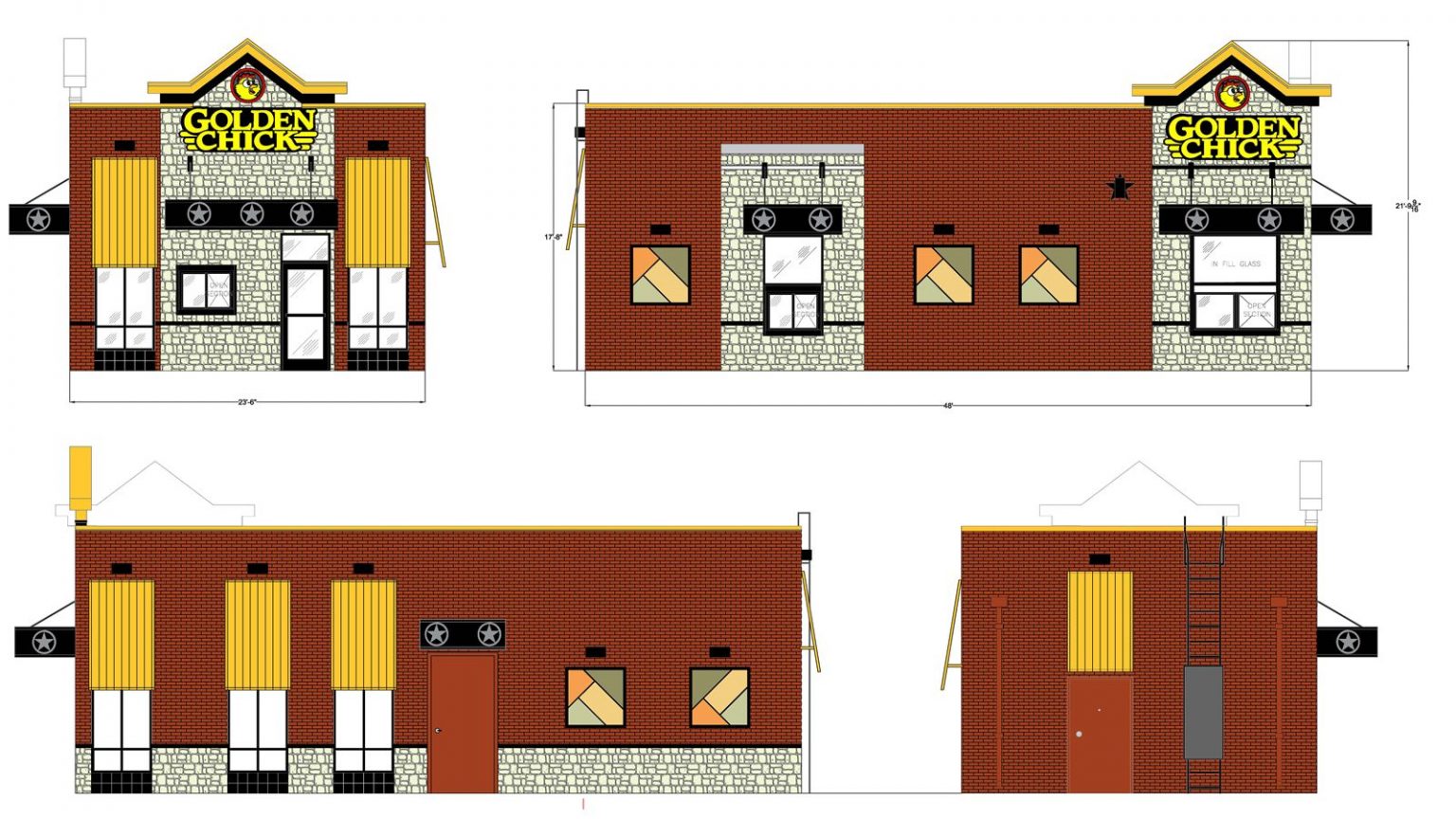 "This new model will allow our franchisees to go-to-market quicker than ever before, while reducing the overall development and operational costs," said Jim Stevens, president of Golden Chick. "The introduction of our first modular constructed restaurant is just one of many exciting announcements we have planned for this year. We are continuing to expand to new locations and introduce new menu items – you never know what we have up our sleeves. We are thankful for our partners that helped get us here and look forward to continuing the momentum we established last year."
Using modular construction for restaurant development saves 10-15 percent overall, and allows for consistency and efficiency with the building process taking approximately five weeks to complete. The building is constructed off site then transported to the final destination for completion. Golden Chick's modular restaurant design will feature a drive-thru as well as an area for online order pick-ups in a 1,920-square-foot space. A 1,400-square foot model without interior seating is also currently in development and will be equipped with a drive-thru and walk-up order window.
"Our team's vision to implement modular construction into Golden Chick's system has been in the works for a few years," said Larry Nelson, Golden Chick's vice president of development. "We took our time to research and work on the development process to ensure it was done correctly, setting the standard for excellence high. Our family of franchisees have been anticipating the introduction of this model and we expect the demand for it to continue to grow."
The corporate owned restaurant in Saginaw will be located at 1400 North Old Decatur Road.
Hot on Hot Chicken
Dave's Hot Chicken is spicing up its 2021 franchise development strategy. Led by VP of Franchise Development, Shannon Swenson, the brand has signed agreements with 25 new franchise owners for over 270 units. These deals will allow Dave's Hot Chicken to expand its presence outside of California across North America, including into Oregon, Colorado, Illinois, Michigan, Ohio, Texas and Canada. Most recently this past month, Swenson signed new agreements with several multi-unit franchise groups to bring an additional 65 units throughout other parts of the country, including the brand's first location on the East Coast in North Carolina.
The brand is set to open at least 30 locations in 2021, and plans to have an additional 300 units in development.
"While this 2020 required us to pivot, we've been able to stay focused on maintaining our position as the fastest growing fast casual brand," said Swenson, who joined Dave's Hot Chicken at the tail-end of 2019. "We're partnering with top-tier franchise operators who recognize our momentum and are eager to be a part of our story. 2021 will be big for us as we branch out of California and make our entrance into the Midwest and East Coast."
Naf Naf Expands in Dallas Area
Naf Naf Grill signed a multi-unit development agreement with Dallas-based franchisee INAA Restaurant Group. INAA will develop 10 restaurants in the Dallas-Fort Worth market, with the first location scheduled to open this year.
"We are thrilled that we have been able to drive growth during a difficult time for the industry," said Greg Willman, CEO of Naf Naf. "It's incredibly important for us to continue to grow with strong operators in key geographies to increase the footprint of the brand and share our great Middle Eastern cuisine and hospitality with even more guests."
The addition of INAA Restaurant Group marks the ninth multi-unit development agreement for Naf Naf since launching its franchising program in the second half of 2019.
"We researched numerous restaurant brands across multiple segments of the industry before ultimately deciding on Naf," said Aamir Rajan, INAA's Operating Partner. "Naf allows us to align and grow with a clearly differentiated restaurant brand with fantastic food, run by a seasoned and successful management team." Amir Didarali, Principal for INAA group also added, "Our vision for Naf Naf, like our other businesses, is to provide a best-in-class experience for the guest while also creating opportunities locally for individuals to grow within our organization."
Fogo de Chão Inks New Deals
Fogo de Chão signed five lease agreements to open new locations across the United States. The restaurants will be in White Plains, N.Y.; Albuquerque, N.M.; Burlington, Mass.; Coral Gables, Fla.; and Oak Brook, Ill. All five restaurants are slated to open in 2021.
"We are in a remarkable position at Fogo to be expanding and opening new restaurants, and I applaud the hard work and dedication of our team that has allowed us to have the strategy and capital in place to continue our global growth plans," said Barry McGowan, Chief Executive Officer of Fogo de Chão. "This year has taught us so much and inspired our efforts to grow our business in new ways that best serve our guests. Throughout the coming years, we want to continue to serve as the ultimate destination of discovery – and joy – for guests as they venture out and enjoy an experience together at any of our locations."
The new locations will bring experiential elements tested in Fogo's Brazilian locations to the U.S. for the first time, including innovative designs that give a modern touch to the brand's Southern Brazilian heritage, as well as a standalone butchery. The company's "next level" design concept, which began in 2019 with a complete remodel of Fogo's Jardins location in Brazil, includes a lounge and cigar bar – both of which will be included at Fogo's new flagship location in Coral Gables.
The brand is growing internationally as it reimagines its Bandeirantes restaurant in São Paulo, explores new locations in Brazil and signs a new franchise deal in Mexico for nine locations with an opportunity for further expansion in the trade area. Two of the nine franchise locations in Mexico are slated to open in 2021.
More Mac & Cheese
I Heart Mac & Cheese and More kicked off the new year by celebrating the grand opening of its second Indiana location in downtown Indianapolis, the first of many scheduled for 2021. Now open at 910 W. 10th St, this location marks lucky number two for franchisees Matt and Elizabeth Griffin, who opened their Westfield, Indiana location just last spring.
"We have a busy year ahead of us with dozens of locations slated to open, and even more breaking ground," said I Heart Mac & Cheese and More CEO and Chairman Steve Giordanella. "Covid-19 undoubtedly had a hand in some delays last year, but we are seeing momentum and are looking forward to continued growth."
Pieology Expands in Ohio
Pieology, top photo, welcomed a new franchise group that will begin opening a number of Pieology's fast-casual dining locations in Ohio. The franchise group, Pizza Pie Investments, LLC, is entirely owned by Jerrod Hartman, who has signed a multi-unit development agreement and is close to securing his first location.
Hartman is a veteran, having served as a U.S. Army Officer. He is also a veteran entrepreneur and is a coach to many Fortune 500 companies. He also launched Fireteam Logistics LLC, an Ohio-based transport and delivery service, and recently partnered with Amazon Logistics. Additionally, Hartman is co-owner of Main Street Deli in Findlay, Ohio.
He currently plans to open his first Ohio Pieology location in March.
"We're extremely excited to not only expand our restaurants into Ohio, but welcoming Jerrod Hartman, a U.S. veteran and hero, into the Pieology Family is an honor in itself.", says Ramzi Daklouche, Chief Growth Officer of Pieology.
Good 2020 for Mountain Mike's
Mountain Mike's Pizza said that 2020 was the best sales year yet, beating out 2019 which held the previous record. The brand ended its fiscal year 2020 with total system sales (TSS) up 13.3 percent and same store sales (SSS) up 7.3 percent over 2019. This strong sales growth was achieved despite its dining rooms being closed for most of the year.
"We are so proud of our franchisees who responded to every challenge during this most difficult of years," said Chris Britt, co-CEO/owner of Mountain Mike's Pizza. "Remarkably, this year we had a handful of franchised restaurants break the $2 million annual sales barrier for the first time in the brand's history, with the average sales of our top 50 percent of restaurants achieving close to $1.2 million in annual sales. It really has been breathtaking to see the growth in restaurant count and sales that many of our franchisees have experienced over the past few years."
Amidst the pandemic, Mountain Mike's Pizza opened 15 new restaurants, and signed agreements to expand into new western states including a 60+ unit development deal in Arizona and Utah. Ed St. Geme, co-CEO/owner of Mountain Mike's Pizza, added, "despite the many challenges in 2020, from lockdowns and fires and all the related impacts, we were unwavering in our dedication to serving our communities, supporting our franchisees, and providing our guests with the exceptional pizza experience they've come to know and love in the safest way possible."
A variety of factors contributed to the brand's success in 2020 including growing digital orders by more than 120 percent during the year, reaching nearly 40 percent of total orders by year end, continued advancement of a more flexible, data driven and digital focused marketing strategy, and rapid implementation of contactless delivery, tamper free packaging and other safety protocols at the outset of the pandemic. Additionally, franchise support capabilities were expanded in the areas of operations, development and marketing at the brand's new Franchise Support Center in Newport Beach, Calif., with support including royalty and marketing fee relief for five weeks in March and early April. Equally, if not most important, was the brand's franchise owners doubling down on expanded community outreach during 2020 with Mountain Mike's franchisees stepping up for their communities by donating thousands of meals to health care workers and first responders in their area, including hospital, fire, police and teachers.
"It's no secret that 2020 was a big year for pizza, but it became our goal early on to set a standard in the segment and lead by example, which meant allowing our values as a brand to guide us in every decision we made," said Jim Metevier, Mountain Mike's President and COO. "As a family-focused brand committed to the communities we serve, we went to work finding ways to bring added value and convenience to our guests while doing everything in our power to make them feel safe when choosing Mountain Mike's Pizza. Equally committed to our franchise partners, we amped up communication to ensure they were informed and had the tools to pivot and continue running their business with confidence."
The brand's ongoing partnerships with national sports teams, including its role as the Official Pizza of the San Francisco 49ers, allowed for some exciting activations during the year, culminating with a run at Super Bowl LIV in February. Value-added promotions throughout the year including the "Share the Love" campaign featuring heart-shaped pizzas, which led to Valentine's Day competing with Halloween, New Year's Eve and Super Bowl Sunday for the top sales day of the year. Additionally, Mountain Mike's ramped up third party delivery integration with new guest incentives and launched a Brand Reputation/Guest Relations Department, which responded to 99 percent of all guest feedback submitted via email and telephone, leading to stronger guest engagement in all markets. Ownership and the franchise leadership team were also busy developing new store design prototypes which continue into 2021. Some of these new design elements were introduced in two new Orange County, Calif. restaurants over the summer, while others will follow throughout 2021 in multiple markets.
"There are many exciting developments for Mountain Mike's in 2021; the planned launch of our new mobile app and guest loyalty program, active development into additional western states including Oregon, Nevada, Arizona and Utah with the help of new franchise partners, our existing franchisees continuing to open more restaurants, and the development and launch of new technologies to provide added support for our franchise partners while enhancing the guest experience," continued Britt and St. Geme. "With all that our leadership team and brand have to offer, there has never been a better time to join the Mountain Mike's Pizza family!"
With approximately 25 new Mountain Mike's Pizza restaurants planned for 2021, the over 230-unit franchised pizza brand is primed to continue expansion throughout the western U.S.
Slim Chickens Grows in Georgia and South Carolina
Slim Chickens signed a multi-unit agreement with Southeast Slims Hospitality LLC to develop 12 restaurants across the eastern section of Georgia, including Savannah and Augusta, and the western section of South Carolina. The first location is slated to open in the first quarter of 2021.
"Our team was completely taken aback by the Slim Chickens brand when we were first introduced. It seemed like a no-brainer to join such a dynamic concept," said Casey Kiker, operating partner with Southeast Slims Hospitality LLC. "Slim Chickens is the type of restaurant that customers are naturally drawn to – we know that the community members in Georgia and South Carolina will be 'Slimthusiasts' in no time!"
Southeast Slims Hospitality LLC is the group developing the brand into communities across Georgia and South Carolina.
"This talented group is exactly the kind of franchisee we're seeking to expand the brand into new markets with," said Jackie Lobdell, vice president of franchise development at Slim Chickens. "Their combined professional backgrounds are exactly what we look for as we sign franchisees across the country."
The better-chicken brand has opened 100 locations across the United States, the United Kingdom and Kuwait. With more than 400 units in development, the fast-growing brand is well on its way to reaching its goal of 600 restaurants.
Saladworks in 2020
Saladworks has grown by more than 40 restaurant locations in 2020. The brand not only entered more traditional restaurant franchises, but it also expanded into non-traditional retail presences such as grocery, universities, ghost kitchens, combo kitchens and coming soon, Military bases. It's also using REEF Technology's food vessels, primarily as parking lot-based mobile ecosystems, as a means to accommodate a larger number and wider area of delivery orders. Finally, Saladworks is testing "Sally" the world's first salad robot for use in hospitals and other vending-related foodservice locations.
"In addition to robust traditional restaurant expansion, our team demonstrated a high level of creativity in developing exciting new avenues of success in 2020, all of which will be long-term plays into 2021 and beyond," said Eric Lavinder, Chief Development Officer for Saladworks. "Within each new non-traditional growth channel, we're able to share our healthy, nutritious and flavorful menu offerings with guests who may have not been able to enjoy our concept otherwise."
Among the 40 restaurants that opened in 2020, roughly 80 percent were non-traditional openings. In large part due to these widespread avenues, Saladworks entered Canada, California, Tennessee, Rhode Island, Ohio, Florida and Indiana – all this year. It partnered with two new grocery brands, making a total of three currently. Saladworks will continue this growth vertical and sees this path as one that will outlast COVID, as guest look for continued convenience. The first half of the brand's 2021 already includes at least 20 new restaurant openings, nine signed franchisees seeking site selection and five locations currently under construction.
Last month its parent company, Centre Lane Partners, LLC acquired Garbanzo Mediterranean Fresh and Frutta Bowls to form WOWorks.
"Our goal is to continue to grow wisely and strategically, seeking innovative new opportunities for Saladworks to flourish," said Lavinder. "We'd like to see the brand double in size before 2022, and we are working tirelessly to realize this goal."
Clean Juice Continues Expansion
Clean Juice Franchise Partners Sean and Ashley Green will open their second North Dallas metro location Clean Juice in Frisco, Texas. The new location will be at the Starwood Shopping Center at Lebanon Road and Dallas North Tollway and will feature a full-service drive thru and expansive indoor guest area. The Green family opened its first location in West Frisco in January 2020.
"Although this past year was a difficult time to open a new business (referencing their first store in West Frisco in January 2020), we have been blessed by the support of the Frisco community and we are seeing that now, more than ever before, people have a heightened awareness of the importance of living a healthy, nutritional lifestyle," said Ashley Green, Clean Juice Franchise Partner. "We are thrilled to now be able to provide organic and nutritious food and beverage options across two locations serving the Frisco community."
The new Starwood Frisco location is expected to open early March 2021 with a grand opening event shortly thereafter.
Bennigan's in 2020
When faced with the COVID-19 crisis, Bennigan's implemented sales drivers, like simplifying its menu, curbside pickup, delivery, grocery delivery and the addition of alcohol in carryout orders, all while adhering to CDC guidelines and safety protocols.
Over the past year, Bennigan's also expanded the reach of its non-traditional brand, Bennigan's On The Fly, to include delivery through virtual kitchens. The brand likewise began licensing trademarked menu items – including Death by ChocolateÔ, Oh, Baby Back RibsÔ, and of course, the World Famous Monte Cristo – to other brands to generate incremental revenue.
"Even during a pandemic, Bennigan's continues to demonstrate its resilience," said Bennigan's Chairman and CEO Paul Mangiamele. "We saw a V-shaped sales recovery after our dining rooms reopened, which we attribute to our unwavering commitment to maintaining the health and safety of our teams, guests and franchise partners, as well as our continuous menu innovation. Throughout the pandemic, we've leaned heavily into the deep emotional connections that our brand evokes amongst our loyal guests, and we kept them engaged and provided them reasons to return. We've worked hard to create new ways to reach both new and long-time guests, including licensing several trademarked, signature dishes and launching Bennigan's On The Fly virtual kitchens. We can't wait to build on this impressive momentum in 2021."
Since the pandemic began, Mangiamele has been working with furloughed executives and "brand-less" franchisees who have been left with leases, buildings and equipment while lacking any franchisor support, to offer the opportunity to join Legendary Restaurant Brands' franchise family and open their own Bennigan's, Bennigan's On The Fly or Steak & Ale. Currently, Bennigan's has more than 100 locations in development. The iconic menu, robust beverage program and Legendary service are all part of a strategy designed to deliver maximum value to guests, teams and franchisees.
In the last few years, Bennigan's has opened new franchise locations in Melbourne, Fla.; Veracruz, Mexico; Larnaca, Cyprus; Doha, Qatar; and Amwaj Islands, Bahrain. A new Bennigan's On The Fly is headed to Peoria, Arizona in early 2021.
Farmer Boys in Arizona
Farmer Boys® announced two additional Arizona sites have been secured in Phoenix on S. 83rd Ave. & Buckeye Rd. and in Tempe on Rio Salado Pkwy. & Perry Ln. The locations will mark the second and third Farmer Boys restaurants in Arizona and are projected to open in late 2021 or early 2022. The first Arizona location will open in early 2021 at 1535 N. Higley Rd., in the new City Gate Marketplace in Gilbert.

"We are thrilled for the opportunity to serve the people of Arizona with an unforgettable farm fresh experience at our 3 upcoming locations," said Larry Rusinko, vice president and chief marketing officer for Farmer Boys. "Arizona is known for its beautiful landscapes, friendly people, and sense of community. This mirrors our commitment to the communities we serve and our mantra to make friends of strangers by providing them with the hospitality and generosity needed to be happy."
The new Gilbert, Phoenix, and Tempe locations will join nearly 100 existing Farmer Boys locations throughout California and Nevada.
Coolgreens Expands Franchise Offerings
Coolgreens expanded its franchise offerings, signs area development agreement to open 50 locations, doubles franchise restaurants and more in 2020.
"Even though 2020 was … well, 2020 … we faced the challenges head-on and thought outside of the box regarding what our business can do," said Coolgreens CEO Robert Lee. "Against all odds, we had record-breaking growth and great accomplishments this past year that are going to set us up for even more success in the next. I'm really proud of how resilient our team has been, and I know 2021 is going to be a huge year for us."
"Our year-over-year systemwide sales increased by 19 percent in 2020, driven in part by a 180 percent increase in off-premise sales," Lee continued. "Despite the pandemic, I'm proud to say we were also able to increase our number of employees by eight percent. We signed a 50-unit area development agreement to expand Coolgreens across Texas. In addition, we opened new restaurants in Dallas and Omaha, introduced our cutting-edge Coolgreens Market and will soon open our first ghost kitchen in Orlando. We're really excited that Coolgreens now offers three different ways to franchise: brick-and-mortar, Coolgreens Market, and ghost/virtual kitchen."
In early 2020, Coolgreens launched Coolgreens Market® – smart fridges that offer a way to grab healthy food on-the-go. Initially, Coolgreens Market was targeted for high-traffic, dense areas such as airports, stadiums and universities. But when the pandemic limited foot traffic in populated areas, Coolgreens pivoted with its business approach. The eatery utilized its smart fridges to capitalize on the new consumer – the socially distanced guest. Coolgreens quickly changed its focus and implemented smart fridges in high-rise apartments and corporate office buildings. In June, members of Victorum Capital recognized the opportunity and invested in CGM DFW LLC, a subsidiary charged with driving expansion of Coolgreens Market in Dallas-Fort Worth. With Victorum Capital's funding, CGM DFW is on track to place at least 50 machines throughout the Metroplex.
"Even as most businesses were closed in 2020, we launched new fridges each month," Lee said. "It's safe to say 2021 is lining up for significant expansion."
In Q3, Coolgreens signed an area development agreement with an experienced industry veteran to open up to 50 locations throughout Austin, Houston and San Antonio over the next seven years. Coolgreens finished up 2020 by designing and building out its first-ever ghost kitchen located in Central Orlando. The brand aunched its Salads of Hope initiative in March and donated 3,000 salads to various hospitals, frontline healthcare workers and nonprofit organizations across three of its markets.
"Throughout this challenging year, we've created many ways to remain true to our mission of fueling healthy communities with our chef-driven food and extraordinary hospitality to 'Feed Your Life,'" Lee said. "Our goal for 2021 is to sign eight to 10 franchisees so we can continue to plant our roots in even more cities. Growth was a big part of our story in 2020, but we're gearing up to take expansion to a whole new level in 2021."
Dickey's Eyes International Markets
Dickey's Barbecue Pit finished 2020 with an agreement to bring Dickey's slow-smoked barbecue to the Central Business District in Singapore. The announcement is the fifth installment of international franchise expansion executed this year, following development agreements in Australia, Japan, Myanmar and the Philippines.
Throughout 2020, ghost kitchens have become a key franchising opportunity for Dickey's. After launching the nontraditional franchise model in August, Dickey's opened its first two of eight ghost kitchens in the San Francisco Bay area in November. By the end of December, Dickey's opened three more ghost kitchens in Chicago, Illinois; Oakland, California; and Orlando, Florida.
In Q4 alone, the Texas-style barbecue brand opened 18 new locations and signed 16 franchise deals to add 14 ghost kitchens, one brick-and-mortar and one delivery carry-out model to its portfolio.
"We've remained committed to pursuing excellence and expansion even in the face of this unimaginable time, and I believe the momentum of our resilience is positioning our brand for new heights as we enter our monumental 80th year in operations," said Laura Rea Dickey, CEO of Dickey's Barbecue Restaurants, Inc.
Pure Green in Miami
Pure Green will celebrate its newest store opening in Miami.. Located in Miami's Sunset Harbour neighborhood at 1915 Purdy Avenue, Pure Green will deliver its healthy product mix of wellness shots, hand-crafted smoothies, acai bowls and more to South Florida residents, beginning on Monday, January 25. To align with Miami's laid-back yet upscale aesthetic, the new store will feature new, minimalistic design touches.
The brand launched Pure Green Orlando in June 2020, and Pure Green Chicago in August 2020. Pure Green Miami will join the growing list of new stores, with additional locations slated to open in 2021. Pure Green also operates five stores in New York City, where the company was founded in 2014.
"At a time when many restaurants have been forced to close operations due to COVID-19, we are grateful for the opportunity to expand our footprint in new markets across the US." said Pure Green Founder & CEO, Ross Franklin. "I consider Miami my second home outside of New York City, and look forward to bringing our 100-percent pure product mix to health-conscious consumers there."
Another Broken Egg in Orlando
Another Broken Egg Cafe® celebrated the grand opening of its new flagship cafe in Orlando. The location opened just down the road from the brand's world-wide corporate headquarters. Having the flagship cafe located so closely to the corporate headquarters affords new possibilities for staff training, conducting menu and equipment testing, and using the cafe as a showcase for the brand's continuous innovations in the daypart; an evolution sure to appeal to future guests and to future franchisees.
Opening day was proceeded by the signature Friends & Family Weekend, where guests previewed the signature menu and helped raise $4,389.70 in donations supporting the local charity partner, Give Kids the World Village.
This location marks the first of many planned cafes in the Orlando area and around the country in 2021 and continues the brand's focus on its off-premises dining options and on its full-bar positioning featuring hand-crafted cocktails and traditional brunch beverage favorites including bloody marys and mimosas.
"Seeing such a successful opening with the flagship Orlando cafe is an incredible way to start this new year," said Paul Macaluso, President and CEO of Another Broken Egg of America Franchising, LLC. "We're thrilled about what this indicates for the brand and thankful we've been able to continually validate our one-of-a-kind concept in markets across the country. We look forward to continuing this momentum moving forward."