MRM Franchise Feed: Franchising for Heroes and Shaq-a-Roni for Charity
24 Min Read
MRM's Franchise Feed provides the latest news in restaurant and MUFSO franchising.
AAG Named Franchisee of the Year
Apple American Group LLC (AAG), a wholly-owned subsidiary of Flynn Restaurant Group LP (FRG), was named the 2021 Abe Gustin Franchisee of the Year by Applebee's Neighborhood Grill + Bar. Specifically, AAG is being recognized for its overall commitment to brand success, operational excellence, guest service and community involvement. The award was presented during the 2021 Applebee's Business Meeting, which was held in Scottsdale on November 16, top photo.
This marks the fourth time AAG has been honored as Applebee's Franchisee of the Year; it has also been honored four times as Applebee's Operator of the year. With 441 restaurants in 23 states, AAG is Applebee's largest franchisee and comprises approximately 27 percent of the Applebee's system.
This is also the second time in as many months that a Flynn Restaurant Group subsidiary has been recognized as Franchisee of the Year for 2021. Just last month, Flynn's subsidiary RB American Group LLC (RBA), the largest Arby's franchisee with 365 units, was named Franchisee of the Year for the Arby's system at the brand's national convention in Atlanta.
"On behalf of Apple American Group, we are honored to be named the Abe Gustin Franchisee of the Year for 2021," said Greg Flynn, Founder, Chairman and Chief Executive Officer of Flynn Restaurant Group. "Our mission is to be the premier franchise operator in each of our six brands, and our tremendous AAG team, led by my colleague and long-time partner Dan Krebsbach, absolutely embodies the operational excellence we aspire to. Through all the adversity the pandemic served up, Dan and his team took tremendous care of our teammates and guests and drove astoundingly strong performance. I couldn't be prouder to be associated with such a team of consummate professionals. It is also a great privilege to be part of the Applebee's family, which is truly 'best in breed' within its category. We are delighted that we can do our part to help drive its success."
"Greg Flynn and Apple American Group have always walked the talk on culture, restaurant excellence and results, which is why they were awarded Applebee's 2021 Franchisee of the Year," said John Cywinski, President, Applebee's. "With 441 Applebee's restaurants across 23 states, Greg and his Apple American Group team are role model operators and exceptional leaders. Nothing they accomplish surprises me. They are rock stars and deserve every bit of recognition that comes their way!"
Founded in 1999 with just eight Applebee's restaurants in Washington State, FRG has grown over 22 years to 2,347 restaurants operating in six brands (Applebee's, Taco Bell, Panera, Arby's, Wendy's and Pizza Hut) generating $3.7 billion in sales and employing 73,000 people in 44 states. Flynn has been recognized as one of the Bay Area's Most Admired CEOs by the San Francisco Business Times, as Restaurant Leader of the Year by Restaurant Business Magazine, as Operator of the Year by Nation's Restaurant News, as Dealmaker of the Year by the Franchise Times, and as an Entrepreneur of the Year by Ernst and Young.
Franchising for Heroes
Franchising for Heroes, a newly formed organization with the goal of helping service men and women find jobs and break into the world of business ownership through franchising has officially launched. The organization is run by Veterans and former First Responders with a passion for helping heroes in search of their next calling and offers a variety of programs to help veterans and current and former first responders succeed within the franchising space.
Franchising for Heroes is the creation of Pivotal Growth Partners manager of strategic projects and special initiatives and former police officer, Martin Parker. Leveraging his former relationships within law enforcement and partnering with franchisees within PGP's client brands, Martin teamed with Chris Harvey, a decorated Navy veteran and franchise owner and Charles Rankin, franchise owner, Airforce veteran, and former FBI agent, Woody Furnas, former police commander and franchise owner and Jen Furnas, former paramedic and firefighter and franchise owner to bring his idea to fruition. The team set out to create programs offering first responders and veterans the chance to grow, learn and thrive in their Second Act of Service in addition to establishing the organization as a registered non-profit.
"What we have come to realize over the past year and a half is that companies and businesses, small and large, are finding it extremely difficult to retain or hire employees," said Martin Parker "We have also come to realize that due to nationwide social unrest, first responders are looking for other opportunities outside of public service. Veterans and first responders want to work. FFH wants to help create the opportunity to work and a path towards ownership within franchising."
FFH's Heroes to Jobs Program provides a way to help veterans and first responders find employment placement within a franchise brand as a shift lead, assistant manager, or manager. This program also places vets and first responders on a path to becoming an operational partner within the franchise's they are placed, with the ultimate goal of creating a path toward ownership of his or her own franchise location.
More so, Franchising for Heroes offers a Heroes to Owner's Program, which aids heroes who already qualify for ownership of a franchise. FFH's third program, Investment in Heroes, gives non-service members the chance to partner with a hero to become a franchise owner or invest in a hero as an operational partner.
"I wanted to do something that allowed me to continue to serve but on my own terms", said Charles Rankin, a co-creator of FFH, Veteran and Former FBI special agent. "Just the opportunity to talk with fellow veterans in the military and law enforcement about what's next is an honor."
Fast-Craft Restaurant Concept Set to Have 50 Locations Open by the End of 2022
Chick'nCone – the fast-craft restaurant concept famous for serving crispy, hand-cut chicken tenders in a freshly made waffle cone – is looking to capitalize on the growth it experienced throughout the course of the pandemic as it expands into new markets throughout the country. Since the beginning of the pandemic, the brand has grown from four open locations to 24.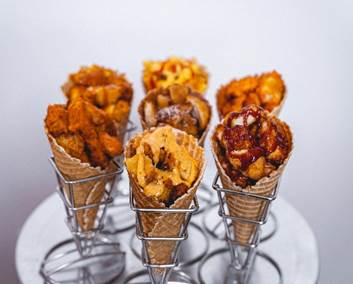 The brand has been able to create an entirely new category of menu items, transforming the familiar comfort food of chicken and waffles into its photo-worthy and on-the-go staple. Since its founding in 2014, the brand has been praised for its natural ability to be showcased on social media. Its concise, yet scalable menu, does not necessitate the need for large retail space, allowing for creative opportunities to grow and innovate into the future.
"We truly believe that what we have created here is something exceptional," said Co-Founder and CEO of Chick'nCone, Jonathan Almanzar. "The pandemic has definitely thrown some hurdles our way, from nearly halting all of our production and development, to a nationwide chicken supply shortage. But through it all, our team has persevered and established the foundation of a buzzworthy brand. I'm excited and eagerly awaiting what the future has in store for us and our entire Chick'nCone family."
Almanzar imagined his idea for the Chick'nCone brand based on a small restaurant concept next to his grandmother's home growing up. The restaurant, called Chicken and Cone, specialized in pasta dishes and ice cream. With the help of his hometown friend and now COO of Chick'nCone, Aaron Havens, the duo discussed creating a restaurant concept of their own.The rest was history.
Today, Chick'nCone has 24 locations open and operating throughout the United States, Canada and the United Arab Emirates, with plans to have 50 locations open by the end of 2022. The brand's blooming success can be attributed to its concise menu, small commercial footprint, and the fact that it is pioneering a category of food that has never been seen before.
Chickn'Cone is now searching for experienced franchisees, looking to become multi-unit operators, who align with the family-focused culture of the brand. With a franchise fee of $45,000, the estimated initial investment to open a Chick'nCone franchise is $141,000 –­­­ $181,000.
Jimmy's John's New Incentive Program
Jimmy John's has rolled out an incentive program to promote accelerated growth in 2022. Through this program, all or most of the Initial Franchise Fee is waived for qualifying deals, in addition to royalty discounts for the first 36 months.
Franchisees who commit to individual and/or multi-unit development agreements for restaurants slated to open from 2022 to 2025 will be eligible to take advantage of the Jimmy John's incentive deals. Units opening in 2022 can qualify for zero-percent royalty in the first 12 months of operations through the program's Early Adopter and Standard Adopter deals, which encourage franchisees to sign new commitments and open restaurants in 2022. Similarly, incentives are also offered to candidates who pull through on existing deals in 2022 that were initially positioned for 2023 and later.
Jimmy John's incentive program allows the brand to tap into avenues for new store growth through rapid lead generation while offering franchisees flexible options to join a proven system with tremendous growth potential. As part of the Inspire Brands family, franchisees are afforded the opportunity to build their portfolios within the company's multi-brand system. This year, Jimmy John's development efforts have been significant and will expand the brand's presence throughout various markets. To further illustrate Jimmy John's actions toward aggressive growth, the brand recently held a three-day national hiring event aimed toward attracting passionate go-getters to support its projected expansion plans in 2022 and beyond.
Donato's to Expand in the Carolinas
Donatos Pizza is ready to expand its presence across North Carolina and South Carolina, targeting key metro areas. Donatos currently has two locations in South Carolina and also offers their famous pizzas in six locations across North Carolina as part of a growing partnership with Red Robin Gourmet Burgers. The pizza chain is seeking multi-unit operators across the Carolinas to join in the expansion effort. In South Carolina, the brand aims to bring up to 10 locations to Columbia and 15 locations to Greenville/Spartanburg. In North Carolina, franchising efforts could bring up to 20 locations to Charlotte, five locations to Greensboro, seven locations to Raleigh-Durham, and fivelocations to Winston-Salem.
"This is a wonderful franchise opportunity, as we know Donatos will serve a great fan base in metro areas across the Carolinas," said Jeff Baldwin, Vice President of Development & Franchising for Donatos. "Our Edge to Edge® pizza has become a favorite in many communities across the Southeastern US and we are thrilled to continue our growth in the Carolinas."
Donatos was founded in 1963 when Ohio State sophomore Jim Grote bought a small pizza shop in Columbus, Ohio from a young seminarian for $1,300. The company was classified "Best in Class" and acquired by McDonald's Corporation in 1999, at a time when the fast-food giant was extending its reach beyond burgers. A few years later when McDonald's was looking to get out of the pizza business, Grote and his daughter, Jane Abell, bought back the company in 2003. Including a franchise fee of $30,000, the initial investment to own and operate a Donatos restaurant ranges from $360,360 to $697,400. The average store is 1,700-2,200 square feet and employs roughly 30 primarily part-time people. The average volume nationwide, per store, exceeds $1.14 million.
The Carolinas expansion announcement comes at a time when Donatos continues to expand its national footprint. Today, Donatos is served in more than 350 locations in 21 states including in 169 traditional Donatos restaurants. Donatos and Red Robin partnered three years ago to bring a scaled-down Donatos pizza menu alongside Red Robin's signature burgers in a handful of Red Robin restaurants. The two franchises have expanded plans and today, that partnership includes 181 Red Robin locations in 13 states with plans to have Donatos pizza served in over 200 locations by the end of 2021.
Brooklyn Dumpling Continues to Grow
Brooklyn Dumpling Shop signed two multi-unit franchise deals to expand the brand into Staten Island and Queens, New York. Jov and Jo Vanguard with The Execs Hospitality Group signed a deal with Brooklyn Dumpling Shop to bring five units to Queens. The Staten Island franchisee, Imer Cami, signed a two-unit deal, marking a total of seven new units between the two franchise agreements.
"Our team is very proud and excited to bring multiple franchise locations of Brooklyn Dumpling Shop to Queens and share it with the largest New York City borough," said Jov Vanguard. "Serving dumplings reimagined offers a very unique and creative concept that we want the community to know about and enjoy. We are here to give our hand in expanding this business and taking it to new heights, one Queens location at a time."
"The Brooklyn Dumpling Shop concept is exciting, and we think it will be a huge success in Staten Island," said Imer Cami. "We can't wait to bring these one-of-a-kind dumplings to the folks in Staten Island and introduce them to the brand."
Brooklyn Dumpling Shop is on track to meet its target growth trajectory of 250 units in development within two years after a year of rapid growth. Since the highly anticipated opening of Brooklyn Dumpling Shop in New York's East Village, the brand has signed new franchise deals for more than 43 units throughout New York, New Jersey, Connecticut, Texas, Georgia, and Florida and is exploring additional markets for expansion. The brand is selling territory fast and does not plan to slow down its rapid momentum.
"The teams from both development groups have been friends and customers for years at all of my restaurants, and I'm thrilled to welcome these hospitality veterans to the Brooklyn Dumpling Shop family of franchisees," said Stratis Morfogen, owner of Brooklyn Dumpling Shop. "Staten Island and Queens have booming food scenes, and we can't wait to share our amazing dumplings with these communities."
"Both of these deals exemplify Brooklyn Dumpling Shop's prominence in New York and across the country as it continues to dominate in top markets," said Dan Rowe, CEO of Fransmart, Brooklyn Dumpling Shop's franchise development partner. "Interested franchisees should not wait to invest in this concept – its explosive growth in this past year alone is a testament to the uniqueness of the concept and how well it performs in any market."
Brooklyn Dumpling Shop is partnered with Fransmart, the industry-leading franchise development company behind household brands like Five Guys Burgers & Fries and The Halal Guys, as its exclusive franchising partner to grow the brand. The innovative automat concept is currently looking for experienced franchisees and qualified investors to introduce the concept to major media markets across the country.
Salata Adds to Team
Salata Salad Kitchen made three new additions to the corporate team filled by a tenured group of female executives. Michele Maerz joins the team as VP of Operations, Julie Davis is appointed as VP of Franchise Development, and Kelly Finley now serves as Director of Off Premise.
"As we look to grow our executive team in the Home Office, I'm thrilled to bring on three women that are at the top of our industry," says Michelle Bythewood, President of Salata Salad Kitchen. "Michele, Julie and Kelly each bring a unique skillset to the team that perfectly complement our goals for Salata as we continue to grow and improve upon the processes we have in place at both our franchise and corporately-owned restaurants."
Michele Maerz brings over 30 years of restaurant industry experience to her role as VP of Operations at Salata Salad Kitchen. Most recently, Michele served as Regional Vice President, South Region of On The Border Mexican Grill & Cantina where she was responsible for leading operations of 39 casual dining Mexican restaurants operating in Texas, Kansas, Tennessee, Arkansas and Oklahoma. Prior to On The Border, Maerz spent 4 years at Lazy Dog Restaurants as Regional Director of the Texas and North California markets. Previous restaurant group experience also includes BJ's Restaurants, Inc. and Brinker International, Inc. In her role as VP of Operations at Salata Salad Kitchen, Michele will be responsible for the strategic leadership and operational oversight that ensures operational excellence across Salata's more than 80 corporate and franchised restaurants. She will directly oversee corporate and franchise operations, training, off-premises, and purchasing.
With a proven track record for driving sustainable franchise growth and expansion for some of the world's leading brands, including Popeye's Louisiana Kitchen, Dunkin' Brands, Inc., El Pollo Loco, and more, Julie Davis joins the Salata Salad Kitchen team as VP of Franchise Development. In this role, Davis will focus on the strategic development of new and existing markets for Salata, creating exponential franchise growth. Most recently, Davis served as Franchise Development Executive of Freddy's Frozen Custard & Steakburgers where she was brought on to improve the franchise development program while identifying and capitalizing on growth markets. Davis was able to leverage her strategic network to close 79 commitments in her first three months in the role and increased qualified leads by 70% during her time with the company.
Kelly Finley is the Director of Off Premises and Catering for Salata Salad Kitchen. In her role, Finley is responsible for guiding Salata in building a best-in class sales team and establishing off-premise processes that can be scaled and replicated throughout the brand. Additionally, Finley aims to enhance and grow third party relationships for the growing salad company. Previously, Finley was a Regional Manager for Pilot Flying J, where she was responsible for the profitability of eight travel center locations and oversaw the growth and development of 13 managers in eight different cities. Prior to that, Finley was the Director of Operations at Jason's Deli from 2017 to 2020. At Jason's Deli, she coached, trained, and developed 32 managing partners to grow sales and profits.
MOOYAH Targets St. Louis Area
MOOYAH Burgers, Fries & Shakes is ready to partner with qualified Franchise Owners who want to bring the concept to St. Louis. The brand is planning to add five locations across the Greater St. Louis market within the next three years, with room for 22 locations total in the future. The Plano, Texas-based franchise concept offers mouthwatering made-to-order burgers, french fries hand-cut from Idaho potatoes and real ice cream shakes.
"We are laser-focused on expanding our presence across the entire country," said Mike Sebazco, MOOYAH Burgers, Fries & Shakes' Executive Vice President of Operations & Development. "We utilized market analytics to canvas the United States and decide where we should be growing based on other successful MOOYAH locations. The St. Louis community features very business-friendly municipalities and, demographically, the consumer landscape is very similar to cities where our brand has traditionally thrived."
Since MOOYAH has yet to establish a presence in St. Louis, the area features wide-open territory availability, and Sebazco says the team is looking exclusively for multi-unit operators who are interested in helping the brand dominate the market's better-burger segment.
"We've seen double-digit systemwide sales growth over the past year, and now, riding that momentum, we're honing in on finding the right Franchise Partners to grow with us across the country," said Sebazco. "We are looking forward to accepting new Franchise Owners into the MOOYAH family and bringing our one-of-a-kind 'better burger' experience to St. Louis."
Redesign for Another Broken Egg Debuts
Another Broken Egg Cafe is unveiling its newest cafe redesign on November 29 at three of its Atlanta locations. The Vinings, Dunwoody and Roswell cafes are the latest Another Broken Egg Cafe locations to adopt the brands "New South" design. Each will host a celebration week full of daily giveaways to thank its loyal fans and show off the new look. In addition to the "New South" reimaging, the award-winning brand is one of the fastest-growing, national breakfast and brunch concepts with a full bar producing hand-crafted cocktails.
After their official reopening's, the cafes will host a celebration week from Monday, November 29 to Friday, December 3. Guests can win prizes and merchandise among other giveaways while experiencing the fresh design. Each day of the week features a special promotion, like free breakfast for a year, available for a limited number of guests. Another Broken Egg Cafe will continue to host celebration week events in future remodels to celebrate the "new south" reimaging and give back to its loyal customers. To learn more about upcoming reimaging events please visit http://grandopening.newatabe.com
Another Broken Egg Cafe has recently introduced its "New South" design with the vision of a reimagined brunch experience. Many cafes are in the process of being reimaged, and moving forward, new cafes will feature this light, bright, modern design that honors the brand's southern-inspired heritage while appealing to all who enjoy dining out for breakfast and brunch. Most importantly, the New South design significantly highlights the brand's full bar, driving visibility and ultimately incremental sales of Another Broken Egg Cafe's signature, hand-crafted cocktails – which have become a must-have for many brunch consumers today. Additionally, the design provides the opportunity to double the cafe's bar seating by providing bar access to patio diners.
Mountain Mike's Signs Five-Unit Deal in Utah County
Mountain Mike's Pizza is continuing to expand its footprint in Utah. The acclaimed pizza brand has proudly announced a multi-store deal with RVTC Enterprises LLC – owned by Utah residents and prominent area dairy farmers, Robert Viveiros and Tony Cabral. The agreement paves the way for Mountain Mike's Pizza to add five stores throughout Utah County. RVTC is slated to open its first Mountain Mike's restaurant in Orem before Christmas, which will be followed by a second location in Spanish Fork – scheduled to open next spring.
"Although Robert and Tony have been proud Utah residents for two decades, they hail from California where Mountain Mike's Pizza began, and they have a long history of respect for the brand and appreciation for the sensational pizza, especially as longtime dairy farmers who know everything there is to know about quality, freshness and taste," said Jamie Cabral, Operations Director for RVTC Enterprises LLC. "As we looked at expanding our family portfolio with businesses to complement dairy farming, we explored many franchise restaurant opportunities, but Mountain Mike's Pizza stood out from the rest, especially given our desire to take a proven recipe for success and replicate it throughout bustling Utah communities."
"We are climbing the mountain alongside experienced and family-minded business leaders like Robert and Tony, whose considerable commitment and vision allow us to deliver our brand and our signature experience of enjoying 'Pizza The Way it Oughta Be' to great states like Utah," said Jim Metevier, President and Chief Operating Officer of Mountain Mike's Pizza. "As we track toward $250 million in total system sales and 250 locations, our valued franchise partners continue to fuel our expansion efforts, and we are excited to be an attractive business opportunity for potential new restaurateurs who see extraordinary value in our family- and community-focused brand."
Rush Bowls Continues Expansion
Rush Bowls continues its rapid national expansion by announcing three locations to open in the Denver area within the next four years. Owned by husband-and-wife duo Ian and Giorgia Turpen, these new locations will further position Rush Bowls as a prominent provider of healthy food options in Colorado. Potential locations for these restaurants include the Denver metro area, near the University of Denver campus, and Louisville, which is a suburb about 45 minutes north of the city. The first of the Turpens' Rush Bowls locations will open in mid-2022, with the other two planned to open in the following years.
Giorgia Turpen immigrated to the United States from Italy in 2009 to attend the University of San Diego. A few years later, she married Ian. She then graduated law school in North Carolina, where she began her career as a personal injury attorney. Shortly after, the couple decided to move to Colorado in 2016. Now, Ian works in a sales role at a large educational company, requiring him to travel a lot. Because of Ian's frequent flying, Giorgia relied on smoothies and bowls from her local Rush Bowls to stay healthy and fuel her workouts while he was gone. She quickly became hooked on the concept and looked into opening a franchise location with Ian, who shares her passion for eating nutrient-packed meals at Rush Bowls to maintain a healthy lifestyle. The pair realized that this was the perfect opportunity for them to keep their full-time careers while pursuing their dream of owning a small, health-focused business to support their young family.
"We are thrilled to open three Rush Bowls locations over the next few years in such a fast-growing city like Denver," said Denver Franchisee Giorgia Turpen. "We can't wait to share our passion for high-quality, healthy meals with the community. We are confident that they will fall in love with this unique concept just as quickly as we did."
"We have seen an increased demand for our bowls, smoothies and other products, as the health and wellness category continues to grow. We are also very proud to cater to almost every dietary need without any additional cost to our customers. Whether you're vegetarian, vegan, wheat-free, gluten-free, soy-free, dairy-free or nut-free– we have something for you," said Rush Bowls Founder and CEO Andrew Pudalov. "We are thrilled to accelerate our rapid national expansion by adding three locations in our home state to provide healthy food options to more people."
Slim Chickens Adds to Exec Team
Slim Chickens strengthened its executive team with the appointment of restaurant industry leader Christina Vaughan to Senior Vice President of Operations.
Vaughan will work closely with the COO of Slim Chickens, Sam Rothschild, handling various aspects of the brand including franchise, corporate and training operations. Additionally, in this role, she will be overseeing the cross functional leadership team and working directing with the partnership group.
"Joining a growing brand is a very exciting step for me, and I could not think of a better concept that I could get in on the ground floor with. Slim Chickens' culture of putting people first, whether it be their customers, franchisees or team members is refreshing," explained Vaughan. "I highly value authenticity and transparency in my partnerships, and Slims certainly shares that same passion."
With more than two decades of experience in the restaurant industry, Vaughan is well-suited to join the Slim Chickens executive team. She previously served in various roles at Sonic Restaurant Inc. for over 20-years. Vaughan most recently operated as the company's Senior Vice President of Operations and Training with Inspire Brands where she developed and managed daily operations. This position was served after her three-year reign as Sonic Restaurant's president.
"Christina has had an incredibly impressive professional career so far. Her depth of knowledge on the food service industry, strategic and tactical thinking along with the service mentality for franchise and company operations support blew us away. Christina had already worked with some of our current Sonic franchises –– when checking references, they could have not been more complimentary," said Rothschild. "The addition of Christina as the Senior VPO comes at a time of great expansion for Slim Chickens, and we are ecstatic for her vision and leadership to guide us through this period."
The brand has opened more than 150 locations across the United States and the United Kingdom. With more than 750 locations in development, the brand's momentum shows no signs of slowing down.
Pancheros Opens New Location
Pancheros Mexican Grill announced that it has opened the doors to its newest location in Moline.
The new restaurant will be the chain's first location to offer a mobile pickup window, in which guests will be able to order ahead on the Pancheros App and pick up their food right from the drive-thru window. It will be easier and more convenient than ever for locals to order their favorite burrito on the go! Situated at the corner of John Deere Road and 41st Street, the new Moline spot will be the third in Illinois, joining the two nearby Quad Cities locations across the river in Davenport on Utica Ridge Road as well as W. Kimberly Road.
"There is already a lot of hype around Pancheros and our new location in Moline," said Rodney Anderson. "Along with the continued demand for Pancheros in the Quad Cities comes the growing demand for more convenient options, so we're hoping to provide locals with the best of both worlds with our new mobile pickup, which will set a precedent for customer convenience and for the future of our restaurant design and layout."
Dog Haus Inks New Area Development Deal
Dog Haus announced signed an area development agreement with new franchisee ROC Ventures to introduce the acclaimed gourmet hot dog, sausage, and burger concept to Wisconsin.
Mike Zimmerman, president of ROC Ventures, was already a huge fan of the award-winning brand and menu, and was sold on the idea of becoming a franchisee when he learned about Dog Haus' ghost kitchen concepts. ROC Ventures plans to open five Dog Haus locations throughout the Milwaukee and Waukesha areas, with the first set to open in the summer of 2022 at the multimillion-dollar Ballpark Commons development, Milwaukee's newest mixed-use entertainment district.
The Dog Haus location will be tethered to the new Luxe Golf development within Ballpark Commons, which will include 57 golf entertainment bays, a second restaurant, and a beer garden. The Ballpark Commons development encompasses 265 apartments, 145 senior living units, a medical office, an indoor performance center, office and retail space, a baseball stadium, The Rock Sports Complex, and a skiing and tubing hill.
"To say that Ballpark Commons is badass is an understatement," said Dog Haus Director of Franchise Development Erik Hartung. "So, we couldn't be more excited that ROC Ventures is planning to make Dog Haus' Wisconsin debut in their phenomenal development. Zimmerman and his crew have extensive knowledge of the area and a proven track record of success in bringing one-of-a-kind concepts, like Dog Haus, to new areas. We look forward to teaming up with them as we bring The Absolute Würst to the Milwaukee and Waukesha areas."
Torchy's Expanding in Dallas
Torchy's Tacos is expanding in the Dallas-Fort Worth metroplex area with the opening of its Frisco-Hollyhock restaurant. Located at 1555 US Highway 380, Suite 100, the new location marks the brand's second in Frisco and 69th location in its home state of Texas.
"When I first opened the Torchy's trailer in Austin 15 years ago, I never could have imagined that we would have over 60 locations across Texas today, all thanks to our die-hard fans who've supported us every step of the way," said Mike Rypka, founder and CEO of Torchy's Tacos. "This new restaurant will allow us to serve even more Taco Junkies in the Frisco community, so make sure to stop by on opening day for some Damn Good Tacos and scratch-made margaritas!"
Torchy's Tacos is growing its footprint across the U.S. with over 95 locations across 10 states and plans to further expand in its home state of Texas with the opening of its Rockwall location in spring 202. View all locations here and follow Torchy's Frisco-Hollyhock on Facebook to keep up with the latest local news and offers.
Jack in the Box Opens New Franchise in Arizona
Jack in the Box Inc. held the grand opening of a new franchised location in Arizona, located at 9152 West Glendale Ave, Glendale Arizona.
The new location is owned and operated by Stine Enterprises, a multigenerational franchise group that has a strong presence with Jack in the Box throughout Arizona and California. Led by Steve Stine and his son Adam Stine, Stine Enterprises owns 86 Jack in the Box restaurants with 80 of those locations in Arizona. In addition to the latest opening in Glendale, Steve and Adam plan to open five additional restaurants in the near future and will be breaking ground shortly on a new site in Verrado.
"Glendale is a growing city and our guests in this market are looking for more opportunities to access our brand. We're ready to open our doors and to bring Jack in the Box's diverse menu to the neighborhood," said Adam Stine. "Our newest location is walking distance to Glendale's buzzing Westgate Entertainment District and Jack fans attending a Cardinals or Coyotes game can grab a bite before or after. Our guests in this market are crazy about the brand and we know the high demand for Jack. We're excited to serve this community."
Looking to give back to the community and their guests, Steve, Adam and their team have been raising funds and awareness for the Make-A-Wish® Foundation for several years. The foundation helps grant wishes for children with life-threatening medical conditions. In total, the franchise group has helped Jack in the Box raise more than $1M for the foundation and Adam currently sits on the Make-A-Wish Arizona Board of Directors.
"Steve and Adam have been part of the Jack in the Box family for a long time and have a deep passion for the brand and the communities they serve. Their dedication to Jack has pushed our presence across Arizona and parts of California and they've been great partners," said Darin Harris, CEO of Jack in the Box.
"Steve, Adam and the team at Stine Enterprises understand that the foundation of our brand is community and that's exactly the type of operator we're looking for at Jack in the Box. We're excited for them and look forward to seeing the success of the newest store in Glendale."
Stine Enterprises' newly-built Glendale restaurant includes all the latest features of Jack in the Box's newer prototype, including mixed seating styles, decorative pendant lighting and wall collages, as well as fresh interior finishes. Guests can look forward to enjoying the complete range of menu items signature to Jack in the Box, including Tiny Tacos, Sourdough Jacks, Seasoned Curly Fries, Egg Rolls, 24-hour breakfast items and late-night offerings, as well as the recently launched Cluck Sandwich and BBQ Cluck Sandwich.
Quiznos Launches NFT Project
Quiznos, in collaboration with Crypto.com and The NFT Agency, announced today's launch of a series of non-fungible tokens, marking the international fast casual restaurant chain's entry into the NFT space by featuring a collection of Quiznos "Out of this World" sandwich coins, available for 24 hours. Proceeds from the one-day sale of each token will support a nonprofit organization focused on ending hunger for communities and countries in crisis.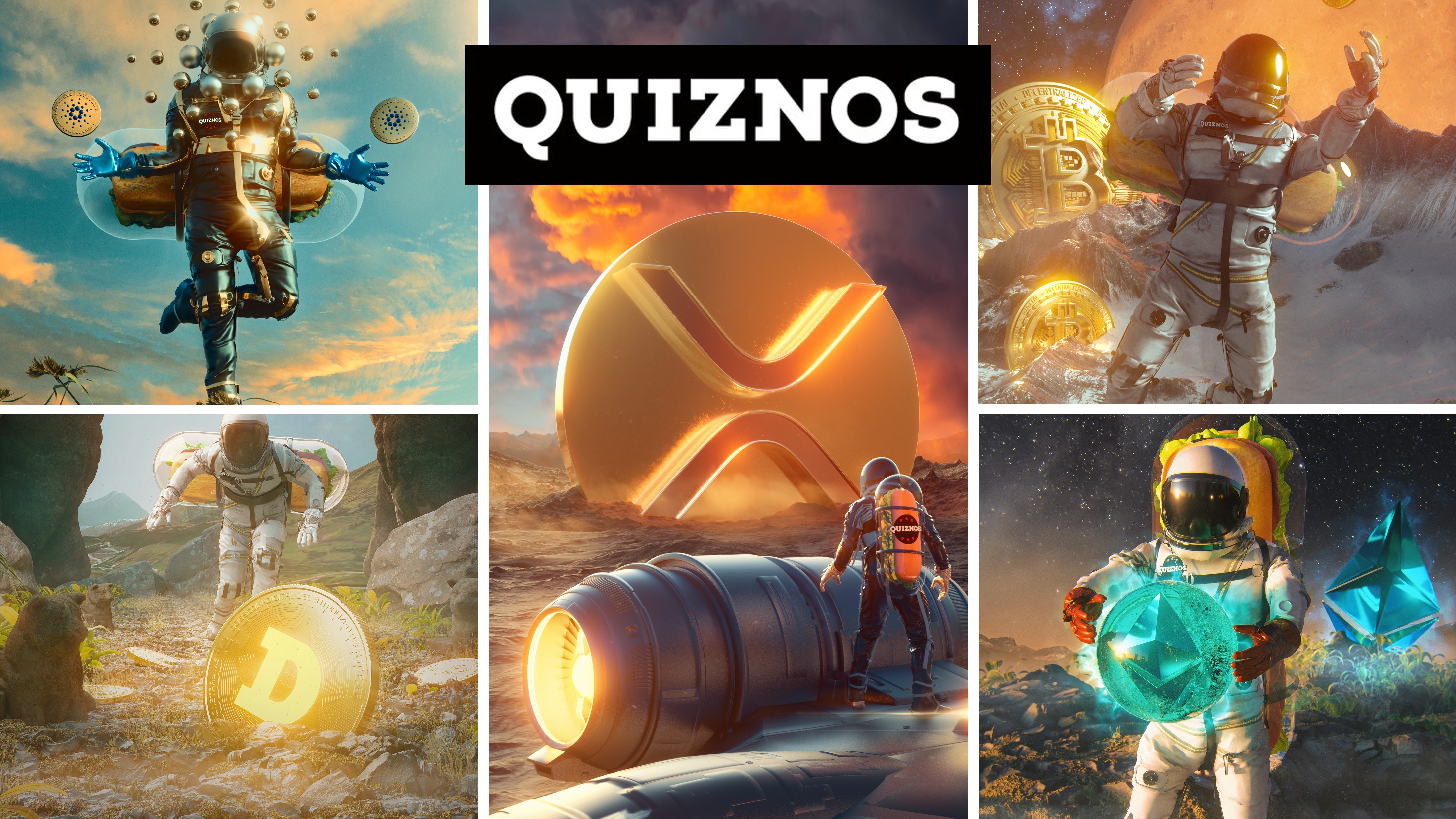 The artwork – created by Sameer Baloch, a 3D digital artist hailing from Oman, whose detailed, bold pieces have made a splash in the collector community – features astronauts embarking on a brave mission to different planets throughout the crypto galaxy with the purpose of introducing innovative and alternative methods of sustainability.
For its entry into the NFT space, Quiznos tapped The NFT Agency, a marketplace consultancy that connects creators, communities and brands through unique NFT experiences with ownable digital content.
According to The NFT Agency's Chief Operating Officer Jesse Galati, "Sameer has built a reputation among the art and NFT community through his jaw-dropping, one-of-a-kind 3D artwork. His brilliant and artistic mind is behind some of the most exciting NFT projects happening right now."
Each NFT purchaser will also have the chance to win a Quiznos gift card. Quiznos will provide the gift cards, and the fulfillment will be setup and managed by The NFT Agency.
The collaboration isn't Quiznos's first foray into embracing the future of cryptocurrency and blockchain. Just a few months ago, the brand launched a pilot program that allows customers to pay with Bitcoin at select Quiznos locations across the Denver metropolitan area, including Denver International Airport.
"This is an exciting opportunity for digital coin collectors to pair their love of the planet, unique art and our boldly-flavored food with an act of generosity for the global good. We're excited to take this one small step into the NFT space and look forward to exploring more ways we can virtually—and maybe someday physically — plant flags for our out-of-this world Quiznos sandwiches in space," said Mark Lohmann, President of REGO Restaurant Group, which owns Quiznos.
Quiznos plans to donate proceeds from its "Out of this World" token sales to the World Central Kitchen (WCK), a nonprofit founded by Chef José Andrés that uses the power of food to nourish communities and strengthen economies in times of crisis and beyond.
"We are delighted that Quiznos chose our platform to launch this NFT campaign in support of efforts to help those in need at a critical time for our planet," said Crypto.com Executive Vice President and Global Head of NFT Joe Conyers III. "We view this as a fun way to connect our community with a beloved food brand and terrific cause."
Shaq-a-Roni
In the charitable program's second year, Papa John's announced the company sold more than three million Shaq-a-Roni pizzas in 2021, raising more than $3 million for The Papa John's Foundation for Building Community.
"There is nothing more important than providing a helping hand to communities in need," said Shaquille O'Neal, Papa John's Board Member and franchise owner. "Our nonprofit partner organizations are addressing important causes near and dear to my heart, and I am proud of the impact we can have through the funds raised from this year's Shaq-a-Roni sales."
From August 16 to October 24, one dollar from every Shaq-a-Roni pizza sold was donated to The Papa John's Foundation for Building Community. This year, Papa John's raised broader awareness of its charitable partners, including Boys & Girls Clubs of America, Baltimore Hunger Project and UNCF (United Negro College Fund), by integrating them into the national ad campaign. The company also gave consumers ways to get involved further through social media, by triggering an additional donation for every photo of the pizza posted with the hashtag "Shaq-a-Roni." Additionally, consumers were also able to give back through the company's loyalty program, Papa Rewards®, by turning their rewards into a donation.
"We are grateful to have a partner like Shaq who shares our company values and believes in giving back to our communities as much as we do," said Rob Lynch, president and CEO of Papa John's. "We're so proud that for two years in a row we've been able to raise, through the generosity of our customers, millions of dollars for causes our team members and franchisees are passionate about. The success of the Shaq-a-Roni program means that the more than 100 nonprofit partners we have across the country, including Boys & Girls Clubs of America, United Negro College Fund and Baltimore Hunger Project, to name a few, will continue the work they do to build a more equitable future for all."
Developed by Shaquille himself, the Shaq-a-Roni has proved to be a fan favorite – an extra-large pie made with Papa John's fresh, never frozen, six-ingredient dough, topped with extra cheese and extra pepperoni and then cut into Papa John's largest slice to date.
A portion of the funds raised from Shaq-a-Roni sales will support The Papa John's Foundation Building Community Fund, a grant program for franchisees to award funds to local community organizations. Examples of the Foundation's national and grassroots partners are:
Boys & Girls Clubs of America, a partner of The Papa John's Foundation since 2019, will continue receiving support to provide leadership development programs for youth in local communities, including the National Youth of the Year celebration, which recognizes deserving teens for outstanding leadership, community engagement and academic performance.
United Negro College Fund to support initiatives designed to move historically Black college and university students to and through college. Specifically, the donation will fund scholarships, as well as provide emergency aid for students who need "just-in-time" assistance and may be at risk of dropping out due to an unexpected financial hardship.
Baltimore Hunger Project, which is working to eliminate the problem of weekend childhood hunger for Baltimore-area students and families. BHP bridges the hunger gap by consistently providing weekend food packages to students identified as food insecure, in a compassionate and dignified manner, so kids can arrive at school on Monday ready to learn.
More information about the Shaq-a-Roni pizza, including The Papa John's Foundation and its grantees, can be found at www.papajohns.com/foundation.