MRM Franchise Feed: Bad Ass Gets Bigger and New Prototype for Bagel Boss
22 Min Read
MRM's Franchise Feed provides the latest news in restaurant and MUFSO franchising.
Subway Expanding in India, Sri Lanka and Bangladesh
Subway® announced significant expansion in India, Sri Lanka and Bangladesh, as the company signed a master franchise agreement with Everstone Group (Everstone), a South Asia focused leading private investment firm. The agreement is one of the largest master franchise agreements in QSR history.
Everstone, with expertise in growing and building brands in India and South Asia, will lead Subway on an ambitious growth trajectory, with a commitment to more than triple the number of restaurants in 10 years from the nearly 700 locations that exists today.
The new restaurants — as well as upgrades to existing locations — will adapt the company's new, modern, and inviting "Fresh Forward" design and meet the needs of today's consumer with comfortable guest indoor dining spaces as well as numerous delivery and order ahead options, with a strong digital first strategy.
"Today's announcement represents a significant step in Subway's transformation journey and global expansion plans," said John Chidsey, Chief Executive Officer of Subway. "Everstone, with extensive knowledge and proven restaurant operational expertise in the region, is the ideal partner as we begin this new chapter for Subway in India and South Asia."
"The scale of this agreement is unprecedented and will ensure that Subway's presence across India will more than triple over the next 10 years," said Mike Kehoe, EMEA President at Subway. "We've seen huge demand from existing Subway guests in India and couldn't be more excited to partner with Everstone to strengthen our presence and bring our beloved subs to even more Indian guests."
"Subway is an iconic brand and its philosophy of freshly made-to-order and better-for-you food delivered at-home and in-store is central to one of the greatest structural consumer trends we see in South Asia," said Sameer Sain, Founder and CEO, Everstone Group. "Everstone Group is delighted to be a partner and custodian of Subway in the region. We strongly believe that our significant experience in the QSR space, our strong digital focus, our ability to innovate, as well as our proven execution capabilities, will enable Subway to become a dominant player in the region."
Creating Multi-Brand Platform of Premium Casual Restaurant Concepts
BurgerFi International Inc. entered into a definitive agreement to acquire Anthony's Coal Fired Pizza & Wings ("Anthony's"), a leading premium pizza and wing brand, for approximately $161.3 million. BurgerFi is set to acquire Anthony's from L Catterton. L Catterton, which has invested in dozens of restaurant concepts over the years, will become one of the largest shareholders of BFI.
"We are well positioned to continue the growth of our existing BurgerFi brand and leverage our scale to unlock value from strategic acquisitions," said Ophir Sternberg, Executive Chairman of BurgerFi. "We are looking forward to expanding our portfolio in the food industry and to the new chapters this will bring to both BurgerFi and Anthony's Coal Fired Pizza & Wings."
"The willingness of a well-respected PE firm in the restaurant business like L Catterton to invest in BurgerFi is a testament to our growth potential. This combined entity will help fuel our aggressive growth plans for BurgerFi." says Julio Ramirez, CEO of BurgerFi. "Our aim is to work with innovative and forward-thinking teams and brands that align with BurgerFi's goals and vision as we continue to expand and strengthen our platform in the restaurant industry."
Anthony's Coal Fired Pizza & Wings was founded in 2002 as a single restaurant concept in South Florida and has grown to 61 locations nationwide. Headquartered in Fort Lauderdale, FL, Anthony's is a leading operator of award-winning premium pizza restaurants with a loyal fan base. The concept is centered around a 900-degree coal fired oven, and its streamlined menu offers "well-done" pizza, coal fired chicken wings, homemade meatballs, and a variety of handcrafted sandwiches and salads. Launched in November 2020, The Roasted Wing is a virtual concept that features Anthony's signature coal fired chicken wings in a variety of flavors.
"Anthony's represents a fantastic addition to the BurgerFi family. It is a well-positioned, pizza and wing concept with industry-leading average unit volumes and strong profitability," says Ian Baines, CEO of Anthony's Coal Fired Pizza & Wings. "BurgerFi is a very dynamic growth brand, and I am honored to work with their talented team as we continue to pursue and expand on our growth strategy."
Julio Ramirez will remain brand Chief Executive Officer and President of BurgerFi, while Ian Baines will become the Chief Executive Officer of the combined company and Patrick Renna will become President of Anthony's. The acquisition is slated to close in the fourth quarter of 2021.
Bad Ass Expanding
Bad Ass Coffee of Hawaii has signed the biggest area development agreement in the company's history with Rothwell Development Company, LLC, a Nashville-based developer. Per the agreement, Rothwell Development will open 18 Bad Ass Coffee of Hawaii units in Tennessee with four units in Knoxville, two units in Gatlinburg and 12 units, initially, in the greater Nashville area with an option to open an additional 15-20 units.
"We felt very comfortable throughout our evaluation process with Bad Ass Coffee of Hawaii because they share the same values in business and customer relationship that we do at Rothwell Development," said Cody Rothwell, President of Rothwell Development Company, LLC. "When we saw the support team that Bad Ass Coffee CEO Scott Snyder has developed, from sales and marketing to franchise operations and support, it was more than impressive."
"This is a very big moment in our brand's history," said Scott Snyder, CEO for Bad Ass Coffee of Hawaii. "The partnership with Rothwell Development Company is not only a great entry into the Nashville market, but also validation of the company's aggressive growth plan and a product of the work that's been done by our team to revive this brand as an attractive multi-unit investment opportunity. We believe that Rothwell Development company brings a level of enthusiasm, integrity and development/construction experience that will make this a strong partnership today and in the future."
Bad Ass Coffee of Hawaii was purchased in mid-2019 by the Royal Aloha Coffee Company, which then set in motion a strategic plan for the brand's aggressive growth plans. It started with an overhaul of existing branding, packaging and restaurant design for its national franchise stores and then followed with the recruitment of a seasoned senior leadership team. That team is charged with executing a multi-channel growth plan that is led by franchise store growth and development.
The new stores being built by Rothwell Development Company will be the first ever for the brand in Tennessee. "Our goal is to establish Bad Ass Coffee of Hawaii as the No. 1 coffee hub in Tennessee," Cody Rothwell. "The product is superior – bar none – to any other on the market and we are so excited to bring a taste of Hawaii to Tennessee," Rothwell said.
Bad Ass Coffee of Hawaii stores differentiate themselves in a crowded coffee category with a 32-year-old brand cult following, the largest selection of delicious 100% Hawaiian Coffees and international blends, a new innovative food menu, Bad Ass Coffee branded merchandise and a relaxing Hawaiian environment that is welcoming and full of Aloha Spirit.
As Bad Ass Coffee of Hawaii continues its national franchise expansion, it is seeking qualified, experienced, and passionate franchisees and multi-unit franchise operators to develop the break-out concept in select geographic markets.
McAlister's to Grow
The Saxton Group signed an agreement to develop more than 30 additional McAlister's Deli restaurants in the next seven years. The deal represents one of the largest growth commitments by a developer in the brand's history.
The Saxton Group currently owns and operates 82 McAlister's Deli locations across the Midwest. Expansion will take place throughout Texas, Oklahoma, and Kansas, all of which are home to existing territories.
"I am thrilled to bring McAlister's to more guests in more markets," said co-CEO and owner of The Saxton Group, Adam G. Saxton. "Our growth pipeline has never been stronger, and with growth comes new opportunities for our people. This is an exciting venture for the company, and we can't wait to get to work."
"McAlister's Deli has experienced significant development in recent years. Quickly growing to 500 restaurants throughout the country, this success can largely be credited to expanding with franchisees like The Saxton Group", added Mike Freeman, Chief Brand Officer, McAlister's Deli. "Their commitment, and dedication to delivering the best brand experience in priority markets, has significantly increased brand awareness. We could not be more excited to continue to grow with such an exceptional organization."
The initiative is well underway as The Saxton Group expects to open two new restaurants in the final months of 2021. The new growth strategy involves substantial real-estate development, working alongside McAlister's Deli development team to bring additional locations to new and existing markets.
"We anticipate at least five new store openings each year," Matt Saxton, co-CEO and owner of The Saxton Group, stated. "Plus, we're aggressively relocating existing restaurants to new freestanding buildings equipped with the latest features, including a pick-up window for digital orders. If there's an opportunity to provide another convenient avenue for our guests, we will go the extra mile to make that happen."
Since inception in 1982, The Saxton Group has operated more than 150 restaurants across multiple states. The company has been involved with several concepts and has over two decades of experience operating McAlister's Deli restaurants. The new deal signals a firm commitment for years to come.
News of the agreement comes one month after The Saxton Group announced plans to diversify its brand portfolio with Jaggers, a fast-casual concept created by the Texas Roadhouse Corporation. The Saxton Group is slated to develop 10 Jaggers restaurants starting next year alongside the 30 new McAlister's Deli locations. Given its roadmap for 2022 and beyond, the future looks bright for The Saxton Group.
Bagel Boss Goes Modern with Classic Touches
New York's iconic Bagel Boss announced its new store prototype featuring modern design elements with classic features, top photo.
"The blending of old and new materials & design will give our Bagel Boss Cafes a modern, current experience," states 5th generation bagel & bialy baker Adam Rosner, President. "We are excited to embark on this new era for Bagel Boss, and are currently looking for operators in the Tri-State area and Florida to build our first new location featuring this new design."
"At Bagel Boss, we always strive to create a memorable experience for our guests," says Andrew Hazen, CEO. "As customers line up to order, they will pass glassed-in display cases showcasing signature salads and gourmet spreads. We intend for them to see the pride and care with which their food is prepared," says Hazen.
The new store design prototype is flexible and adaptable for locations both large and small, including both nontraditional and traditional locations, and is available for franchising immediately.
"This innovative design gives Bagel Boss a revamped look, one that exemplifies the brand's bright future and being America's bagel cafe," says Hazen. "The design radiates simple and modern style elements that will provide customers with a relaxed, inviting eating environment. Since the 1970s we've been a part of New York's culture. Our photography and elements in-store showcase all of the moments we've been a part with our customers."
Wayback Expanding in Tokyo Area
Wayback Burgers agreed to a Master Franchise Agreement with WB Burgers Asia, Inc. (WBBA), the publicly traded holding company of WB Burgers Japan Co., Ltd. Wayback Burgers also announced that it has partnered with, Next Meats Co. (NXMH),
As part of the agreement, WBBA will open 60 Wayback Burgers locations within 20 years – with its first set to take place in the Tokyo area in early 2022. WBBA also acquired the right of first refusal to become the Master Franchisee for Eastern Malaysia, Taiwan, Indonesia, the Philippines, Vietnam, China, India, Korea, Thailand and Singapore, paving the way for significant brand growth across the entire continent. To ensure its success, leadership from Wayback Burgers and WBBA will form a collaborative advisory board to support all critical components of the expansion with an emphasis on business operations, franchise development, brand strategy, menu creation and more.
Focused on menu items that go well beyond its famous burgers, Wayback Burgers is pleased to continue its partnership with Next Meats Co. across Asia. Earlier this summer, Wayback Burgers attended the Sacramento Vegan Food Festival in California to test delicious meatless collaborations, including an all-plant short rib slider topped with fresh kimchi and ponzu cucumbers, and an all-plant short rib patty slider topped with ketchup and pickles. Both made with Next Meats Co.'s NEXT Yakiniku Short Rib, the world's first plant-based Japanese-style barbecue meat, received rave reviews onsite. Wayback Burgers and Next Meats Co. will continue to collaborate closely on the development of unique and delicious alternative meat offerings for the Asian market.
"We are pleased to officially announce our latest international partnerships with WBBA and Next Meats Co., which will create a tremendous opportunity to introduce the Wayback Burgers experience to both traditional and alternative burger lovers in Japan," said William Chemero, Chief Development Officer of Wayback Burgers. "We are excited to collaborate with both companies, under the impressive leadership of Koichi Ishizuka, officially bringing one of America's favorite burger brands to market across Asia."
Popeyes to Grow in Romania
The Popeyes® brand and Sterling Cruise are excited to announce a new exclusive development agreement to grow the Popeyes brand in Romania, with a commitment to open 90 restaurants over the next ten years. This will be the restaurant chain's first entry into the region.
"We're excited to share big news from Romania, where we have announced ambitious plans to bring the country one of the globe's most popular fried chicken restaurants," said David Shear, President, Popeyes Louisiana Kitchen, International Markets. "Popeyes is one of the fastest growing restaurant brands in the US. Our entry into Romania illustrates our commitment to serving our signature blend of spices, flavors and experience to more guests around the world."
This agreement marks a continuation of Popeyes expansion plans in Europe, where the restaurant brand is already present in Spain and Switzerland, and is scheduled to open later this year in the U.K.
"We are incredibly proud to bring the famous Popeyes brand to diners in Romania. Our guests will love the iconic Popeyes experience and incredible chicken that makes this brand so famous around the globe," said a spokesperson for Sterling Cruise. "In addition, this new market entry will contribute to the Romanian economy by creating hundreds of new jobs over the coming years. We couldn't be more excited."
The brand is bringing its market-leading digital experience to Romania with an emphasis on making food ordering as seamless as possible. Popeyes restaurants will feature Digital Ordering Screens, Mobile Ordering, Table Service and Delivery, so that guests can conveniently order and enjoy delicious Popeyes food however they prefer.
Sterling Cruise is a multi-brand restaurant group established in 2014 that currently operates close to 40 restaurants throughout Romania. The first Popeyes restaurant in Romania is scheduled to open in 2022.
Happy Joe's Happier Employees
Happy Joe's Pizza & Ice Cream is creating a pipeline for magical career opportunities by providing longtime management with a path to entrepreneurship.
Happy Joe's CEO Tom Sacco announced today that to kick off the new fiscal year with great news, the company has developed a program that incentivizes long-term general managers' success by rewarding them with a franchise location. On Sept. 30, Happy Joe's awarded general manager Jeannie Radtke and her fiancée Adam Clark with the corporate-owned Maquoketa location through the new Operator to Owner Program.
"Jeannie and Adam have been with the brand for many years and have done an excellent job in Maquoketa and earned the right to become franchise owners," Sacco said. "Jeannie has had unbelievable success growing her restaurant's sales and presence in her community, so we're proud to award her with a Happy Joe's Pizza & Ice Cream Parlor to call her own. We hope this initiative acts as an added incentive for our restaurant managers – and restaurant managers in our industry as a whole – to see that their hard work will be rewarded by employers that truly want long-term success for their managers and franchisees like we do at Happy Joe's."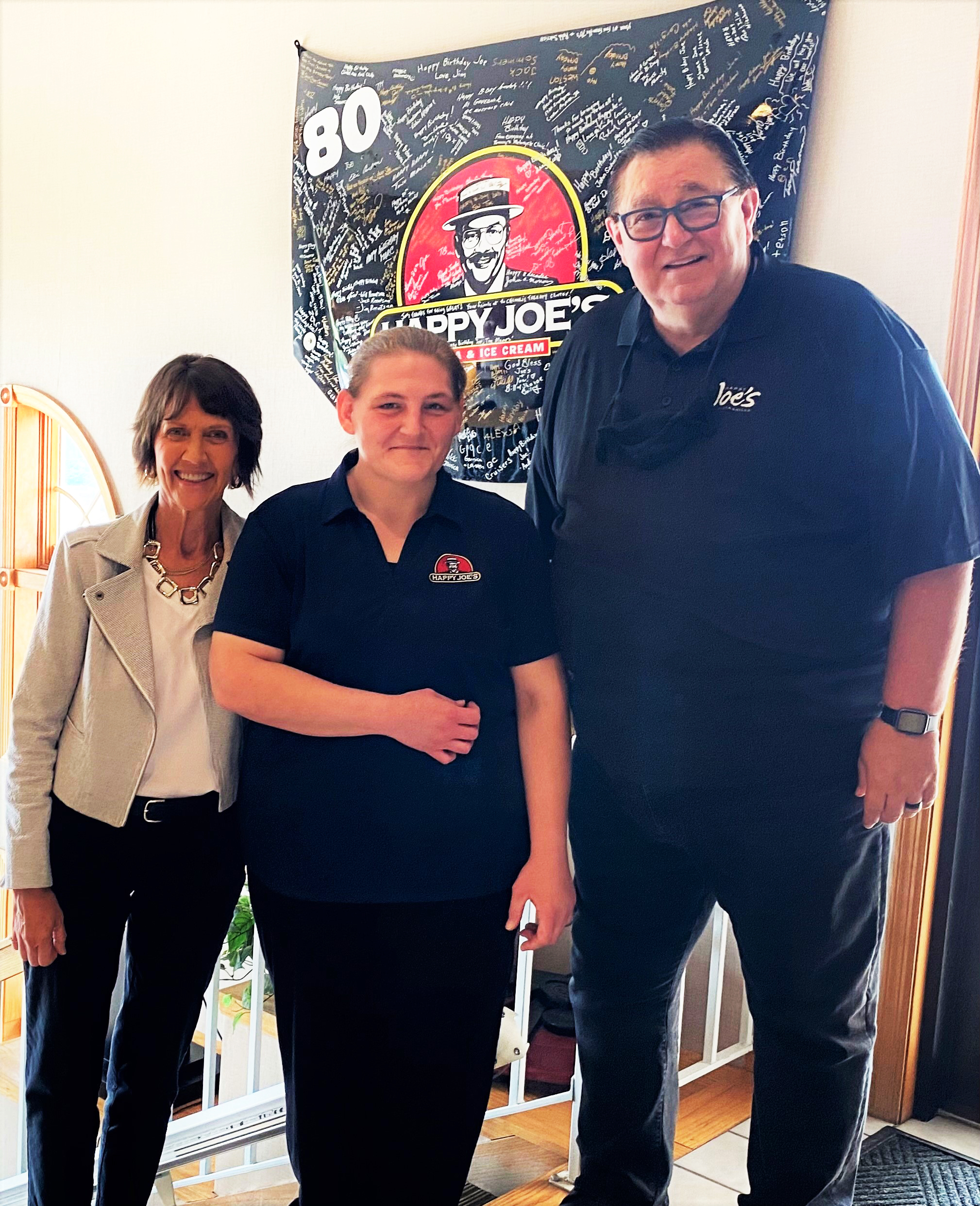 To qualify for the program, Happy Joe's evaluates the quality of the location's operation, including how it's being run, the general manager's level of involvement in the community, the leadership impact on the restaurant, sales growth and profitability improvement over at least a three-year period.
After moving to Maquoketa in 2011, Radtke began creating special moments for Happy Joe's guests as a server a year later. She moved up the management ranks, being promoted to general manager of the restaurant in 2019 before recently joining the brand's family of business-minded franchise owners. Radtke and Clark – who's a longtime kitchen manager at the Maquoketa location – have been a couple for the longevity of her career at Happy Joe's.
"It has always been a dream of ours to open our own restaurant," Radtke said. "When Tom proposed the idea of me becoming a franchise owner, I left the conversation in tears. I am still in shock at the incredible opportunity and am the upmost grateful that this was something Tom would make happen for me. I am thankful for the opportunity and for the support from our corporate office and my peers at Happy Joe's."
Flynn Restaurant Group's RB American Awarded Arby's Franchisee of the Year
Flynn Restaurant Group LLC (FRG), Arby's largest franchisee, is proud to announce that RB American (RBA), a subsidiary of FRG, has been recognized as the Arby's Franchisee of the Year. The award was presented to RBA at the National Arby's Convention in Denver last month.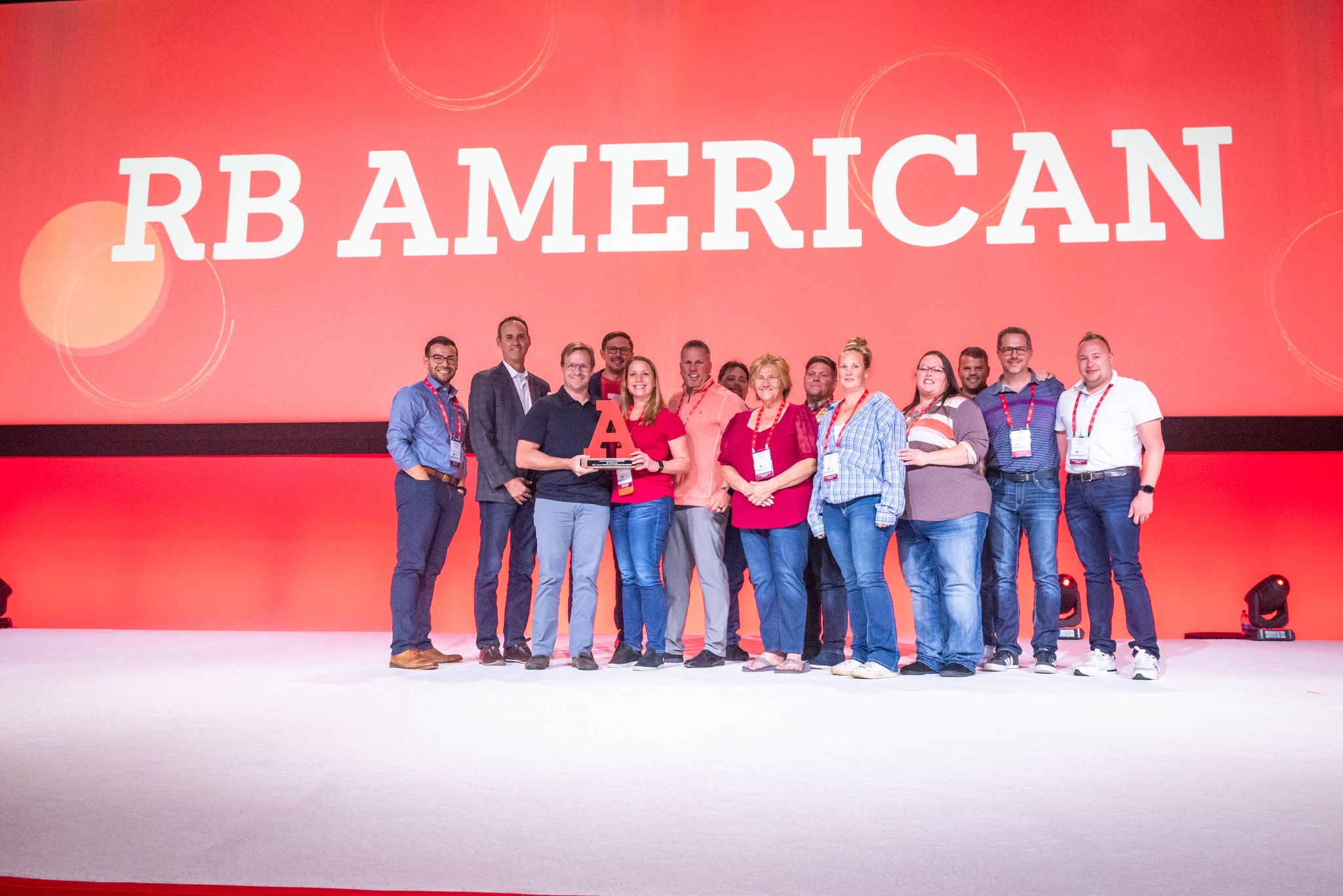 During the award presentation, RBA was commended for its leadership and dedication to the brand. It was noted that "the RB American Group has delivered extraordinary contributions to the system that have made us better. They model not only a great culture, but a successful business. In addition to providing tremendous thought leadership, they are role modeling getting our assets fully charged by remodeling more than 25% of their restaurants over an 18-month period."
This year, FRG implemented a $29 million brand revitalization of more than 90 Arby's restaurants throughout Arkansas, Kansas, Missouri and Oklahoma. The remodels took place over the course of this year, transforming each restaurant with a fresh, new and enhanced look and feel, while injecting more than 1,250 jobs into the local economies.
"We are honored to be recognized as Arby's Franchisee of the Year," said Jessica Reicher, President of RB American. "Flynn Restaurant Group's mission is simple – to be the premier franchise group in every brand we operate. The fact that we continue to execute against that mission despite all the challenges our teams face in the current environment speaks volumes about our people. It also speaks to strength of Flynn Restaurant Group as a whole and our commitment to our culture as we continue to grow and expand into new brands."
RBA began in 2018 with the acquisition of 368 Arby's operating across nine states. Over the years it has aspired to be the premier Arby's franchisee and one of the best operators in the industry, and this latest honor validates its vision and continued positive trajectory.
Sankranti Likes Atlanta
Sankranti is a fast casual dining restaurant that aims to bring Indian cuisine to the Atlanta area and beyond with franchising opportunities. Restaurateur Srinivasa "Nimms" Nimmagadda is deeply passionate about sharing his culture through food and is now sharing that passion with several other communities.
Sankranti, which is bringing a healthier fast casual option to the Dunwoody area in December, plans for 10 additional locations throughout Atlanta. The brand aims to make high-quality Indian fare accessible to all with customizable Indian dishes that are sure to please every customer.
"The goal is to make Indian food mainstream," says Nimmagadda. "We're bringing Indian food to everyone."
The company is currently focused on franchising in and around the Atlanta area and is looking to attract franchisees with an entrepreneurial spirit and love for Indian cuisine and culture. Nimmagadda is primarily seeking multi-unit franchise deals with an initial franchise fee of $30,000 and $22,500 for each additional franchise location.
"We're going to continue making really good food and offer our franchisees the opportunity to invest in a unique concept and grow their own businesses," says Nimmagadda, who says Sankranti is currently focused on franchising within the Atlanta area with plans to expand beyond Atlanta in the future.
Smokey Mo's Adds to Team
Smokey Mo's TX BBQ, an authentic Texas barbeque chain with 16 locations throughout Central Texas and 21 years of successful corporate operations, announced new members of its leadership team. They will be spearheading a company rebrand, franchise development and expansion, menu refinement and the enhancement of guest experiences.
The new team members have deep roots in growing Texas restaurants, including Rudy's Country Store & Bar-B-Q and Mighty Fine Burgers Fries & Shakes. Craig Haley, president, and Gini Quiroz, vice president of human resources, join the Smokey Mo's team after many years of working together at K&N Management, one of the only two restaurant groups to win the Malcolm Baldrige National Quality Award.
"As we enter this highly anticipated phase of Smokey Mo's, we want to move quickly, but at the speed of 'right,' to maintain our guest experience and make it the absolute best it can be," said Haley. "Our guests love Smokey Mo's because of its quality ingredients, affordable pricing, and the fact our meat is freshly smoked each day, and our vision is to take this quality to the next level to become the best neighborhood barbeque in Texas."
Haley has especially focused on updating the Smokey Mo's menu with fresh ingredients and upgrades to fan favorites. In addition to the rebrand, Smokey Mo's BBQ will tap local partnerships for various facets of the business, including the addition of new desserts in partnership with Central Texas-based bakeries.
Smokey Mo's will also be expanding its catering and group pack offerings, bringing in its first-ever catering director to streamline the at-home barbecue catering experience.
Dickey's Offer Full Bar Menu
Dickey's Barbecue Pit is now offering full bar service and bar menu. The brand launched a completely revised Bar Program. The enhanced Bar Program now offers an extensive line of standard drinks, beers, and wines along with 7 new, exciting signature drinks that have special ties to the Dickey's Brand and story.
The Worlds Largest Barbecue concept is going back to its roots which were established in 1941 when a small barbecue stand sold barbecue sandwiches and ice-cold beer. The newly designed beverage ingredients give a nod to the Dickey family with Tres Generations Margarita – featuring Tres Generations Reposado with a nod to the third generation of Dickey's family leadership that is celebrating its 80th anniversary!
"We started by looking at what people drink while making barbecue in their back yard. We discovered top of the list were cold beer, lemonade, sweet tea, moonshine, and whiskey. We used these staples to curate our bar menu" says Dan Timm, the Beverage Director for Dickey's Barbecue Pit.
Moving forward, all new Dickey's Barbecue Pit owners and operators will have a full-service bar or beverage tub or cooler. Existing restaurants have the option to add bar service. David and Ashley Boisture are one of the longest standing Owner/Operators who are also the 5th grossing restaurant out of the nearly 600 Dickey's locations located in Arlington, Texas. They just completed construction on a brand-new bar and outdoor patio. "We are celebrating our 20th Anniversary with Dickey's Barbecue Pit and are happy to have this offering for our guests" says Boisture who added the bar to his existing location. "We are fortunate that we have a large space and we had an area that wasn't being utilized so we built a bar that extends out to our new patio" adds Boisture who is now ready for prime patio season in Texas.
Boisture is just getting started with promoting his bar but says the incentive to be able to up his profit margins while encouraging guests to stay a while is what he and Ashley envision. Dan Timm worked on his beverage menu and Chef Phil created a bar menu that pairs well with the beverage flavor profiles.
Timm estimates that Owner Operators will see an increase of 10-15 percent in sales by selling alcohol. "People like to go in and sit and have a beverage then order their food, and order another drink while they wait" says Timm.
"We are happy for the Boistures who are longtime Owner/Operators who see the potential to increase profits while offering guests a chance to stay a while, watch a game, have fun on the patio while enjoying barbecue with new beverages" says Laura Rea Dickey, CEO of Dickey's Barbecue Restaurants, Inc. The company is helping all Owner/Operators with personalized bar menus, training and tech support for beverage service.
*Each beverage menu will vary by location, and many states will offer local beers and wines to give it a personalized experience while keeping it local.
Damico Leads Experienctal Brands
NRD Capital formed a new platform company, Experiential Brands, which will acquire truly experiential brands in the food and beverage space. Fuzzy's Taco Shop is the first concept in the Experiential Brands portfolio and a prime example of the growth oriented franchised brands the company seeks to acquire.
To lead Experiential Brands, NRD Capital has appointed industry veteran Paul Damico to serve as CEO, in addition to his role as CEO of Fuzzy's Taco Shop.
"Paul is an experienced veteran in the restaurant franchise industry and has a proven track record of successfully scaling and growing franchised brands, most notably growing Moe's Southwest Grill from 200 to 700 units, making him the ideal fit for this role," says Aziz Hashim, Founder and Managing Partner of NRD Capital.
Most recently, Damico was CEO of Global Franchise Group LLC, franchisor of six nationally recognized brands. Prior to that he was president of Atlanta-based Focus Brands with oversight of six internationally recognized brands.
"We're thrilled to launch Experiential Brands, and Fuzzy's Taco Shop is the optimal anchor of the platform because of its energy and unique offering," says Damico. "We are actively looking for additional exciting brands to continue to build out the portfolio."
Damico has robust growth plans for Fuzzy's Taco Shop with the goal of doubling the size of the brand in five years' time, and eventually overseeing a multi-brand portfolio of food and beverage companies.
"While the industry has seen an increase in online ordering and delivery, we believe there is still a place in the market for guests who are searching for a 'dining experience.' Fuzzy's Taco Shop is a prime example of why we believe this model to be successful," says Damico. "There is an experience our fans love about Fuzzy's in addition to the Baja flavor profile of the food. Whether it's the full bar, our laid-back patios, the music, TVs, or overall ambiance, guests seek out the physical restaurant to get the full Fuzzy's experience."
Tim's Opens 300th Coffee Shop in China
TH International Limited (together with its wholly owned subsidiaries, "THIL" or "Tims China") announced today that it had opened its 300th coffee shop in China.
The milestone store opening in Tianjin was celebrated with 500 guests who visited on opening day, and the occasion marked the launch of a national "Tims 300" marketing program.
Tims China holds the exclusive master franchise rights for Tim Hortons coffee shops in China. Formed in 2019 by private equity firm Cartesian Capital Group, Tims China brings an iconic coffee and bakeshop to one of the fastest-growing coffee markets in the world.
Tims China offers a broad menu of specialized food and beverages, and boasts three store formats to provide its guests maximum convenience. Currently digital ordering (both in-store and delivery) represents more than 70% of Tims China's total revenues.
With this latest opening, Tims China has more than doubled its store count since the start of 2021.
"The opening of our 300th store is both a proud moment for all of us, as well as a major milestone for the Tim Hortons brand. By providing high-quality food and drink at great prices, we are well-positioned to be an emerging coffee champion in China," said Yongchen Lu, Chief Executive Officer of Tims China.
A&W Grows
A&W Restaurants has added another location to its growing convenience store footprint with the recent opening of a unit in Hot Springs, Arkansas. Located in a small strip center that includes a gas station, the restaurant features a drive-thru and 45 seats. Franchisee Mohammad Lone converted an independent restaurant to an A&W. Initial sales are exceeding expectations.
There are nearly 100 A&Ws located in gas and convenience stores and travel centers. C-store unit sales through September are up 11 percent, following a six percent annual increase last year. A&W is seeing a big uptick in interest from c-store operators, CEO Kevin Bazner said. Some are looking to convert non-branded food operations to A&W, while others are exploring leasing space to A&W franchisees. The venerable chain has commitments for 22 new restaurants, with at least nine expected to be C&Gs. Locations in California and Arizona are scheduled to open before the end of the year.
"C-store retailers are rethinking their businesses, and, at the same time, there are significant headwinds that make building new freestanding restaurants difficult," Bazner said. He added that A&W is taking a two-prong approach to developing convenience store locations. "We're working with current c-store operators to bring the A&W brand to their communities, while also helping prospective franchisees find sites to build an A&W. Given the high cost of real estate and how long it takes to get a traditional location permitted and built, c-stores are a very cost-effective alternative."
Bazner said that A&W's sales performance also is driving interest in the brand. Average unit sales are up more than 50 percent since franchisees acquired it in late 2011.
One of the top-performing c-store units is located in Montrose, Colorado, generating nearly $1 million in annual sales. Franchisee Greg Parish, who operates Parish Oil Co. c-stores and self-serve gas stations, opened it in 2003. It was the first time one of his c-stores included a quick-service restaurant. "In analyzing our demographic studies for that location, we determined that a quality quick-service restaurant would be a great fit," Parish said. "This is a needed offering to local residents as well as travelers."
It was also important to offer a branded venue to ensure profitability, he said. "A&W is an iconic brand with invaluable training and support for franchisees, and advertising to promote its legendary quality to customers," Parish said. "Opening our A&W franchise gave us an opportunity to provide a famous, quality food offering that's recognized nationwide."
The Montrose c-store covers 6,000 square feet, about half of which A&W occupies. Each business is independently owned and operated, which Parish said is necessary for each to do well. The restrooms, water heater and ice machine are shared. The A&W can close off from the c-store to operate different opening and closing times. "I consider it to be a free-standing unit that draws individual customers and families into the facility to choose their beverages, snacks and food," Parish said. "A non-branded restaurant outlet can't do that."
Jackletes Roster Set
Jack in the Box fans around the countrya are welcoming the brand's inaugural "Jackletes" roster – Jack in the Box's new brand ambassador program. Known as a brand for the fans, Jack is tapping into the under-represented collegiate sports world and rallying behind athletes who not only love the brand and its all-day menu, but also sport a variation of the name "Jack".
Meet the 2021 Roster of Jackletes:
● Angel Jackson, Basketball (Center) at University of Southern California
● Jack Jones, Football (Defensive Back) at Arizona State University
● Jack Pineda, Baseball (Shortstop) at Baylor University
● Jackie Nylander, Tennis at Southern Methodist University
● Jackson Stone, Wheelchair Basketball (Center) at University of Arizona
● Jacquelyn Hill, Track & Field (Distance) at University of California, Los Angeles
● T.Q. Jackson, Football (Wide Receiver) at Southern Methodist University
● Jack McCallister, Football (Punter) University of Washington
● Jacqueline Dianis, Basketball (Guard) University of New Orleans
● Jack Pulliam, Tennis University of Washington
"Jack in the Box has always been a brand with a focus on those usually overlooked…the curly fry in the world of regular fries. That's what sparked the motivation of our inaugural Jackletes roster to include both mainstream and under-represented collegiate sports," said Ryan Ostrom, CMO of Jack in the Box. "The selected Jackletes each have a strong connection with our brand, whether it's celebrating a game-winning home run with Tiny Tacos or our all-day breakfast options providing the fuel they need to power through midterm exams. Supporting these athletes gives us an opportunity to connect with college students in a new way and rally behind many under-represented collegiate sports."
Duff's CakeMix Looking for Nationwide Expansion
Duff's CakeMix, the do-it-yourself cake decorating studio founded by Food Network star Duff Goldman, has announced expansion plans in North America, including new franchise development opportunities nationwide. Duff's CakeMix has an extensive amount of franchise leads pouring in and is ready to bring the brand to the next level. The concept's first location was opened in West Hollywood, CA on Melrose in 2012.
"The Duff's CakeMix brand has had unbelievable response in the franchise space. Our company consists of a unique franchise that specializes in creativity and design of our cake line. The franchise model does not have any direct competitors," said Pamela Fazio, newly minted CEO of Duff's CakeMix.
The projected goals of Duff's CakeMix is to have 50 sold franchises by the end 2022. In addition to expanding to 250 units in North America in the next four years.
Fazio started in August 2021 with Duff's CakeMix and prior to that was the President and CEO of Beard Papa's. Before that she owned her own company Fazio Restaurant Group, based in Scottsdale, Arizona. Prior to the Fazio Restaurant Group, Ms. Fazio's experience has been in senior leadership roles with Papa Murphy's International, J&A Food Service Inc., and Kahala Brands as a Brand President. Pamela specializes in creating all strategic systems to empower brands for rapid expansion.
Franchise opportunities for Duff's CakeMix are available across the country.