MRM EXCLUSIVE SURVEY: What Are the Barriers and Motivations Driving Restaurant Visits?
4 Min Read By Dara St. Louis
At a time when COVID is still on the rise, many states continue to ease up their lockdown restrictions with restaurants all over the country reopening their doors for dine-in guests. But how do consumers feel about the reopening? What are the barriers and motivations driving restaurant visits?
Working with Modern Restaurant Management (MRM) magazine, In July 2020, Reach3 Insights conducted a study exploring consumer expectations around the dine-in restaurant experience amid COVID-19. Leveraging a conversational, mobile messaging-based approach using the Rival Technologies platform, the study engaged 245 consumers from a mobile community of US consumers. In addition to robust quantitative data, the study captured stream-of-consciousness qualitative feedback via selfie videos providing rich insights on the underlying emotions and motivations of restaurant consumers.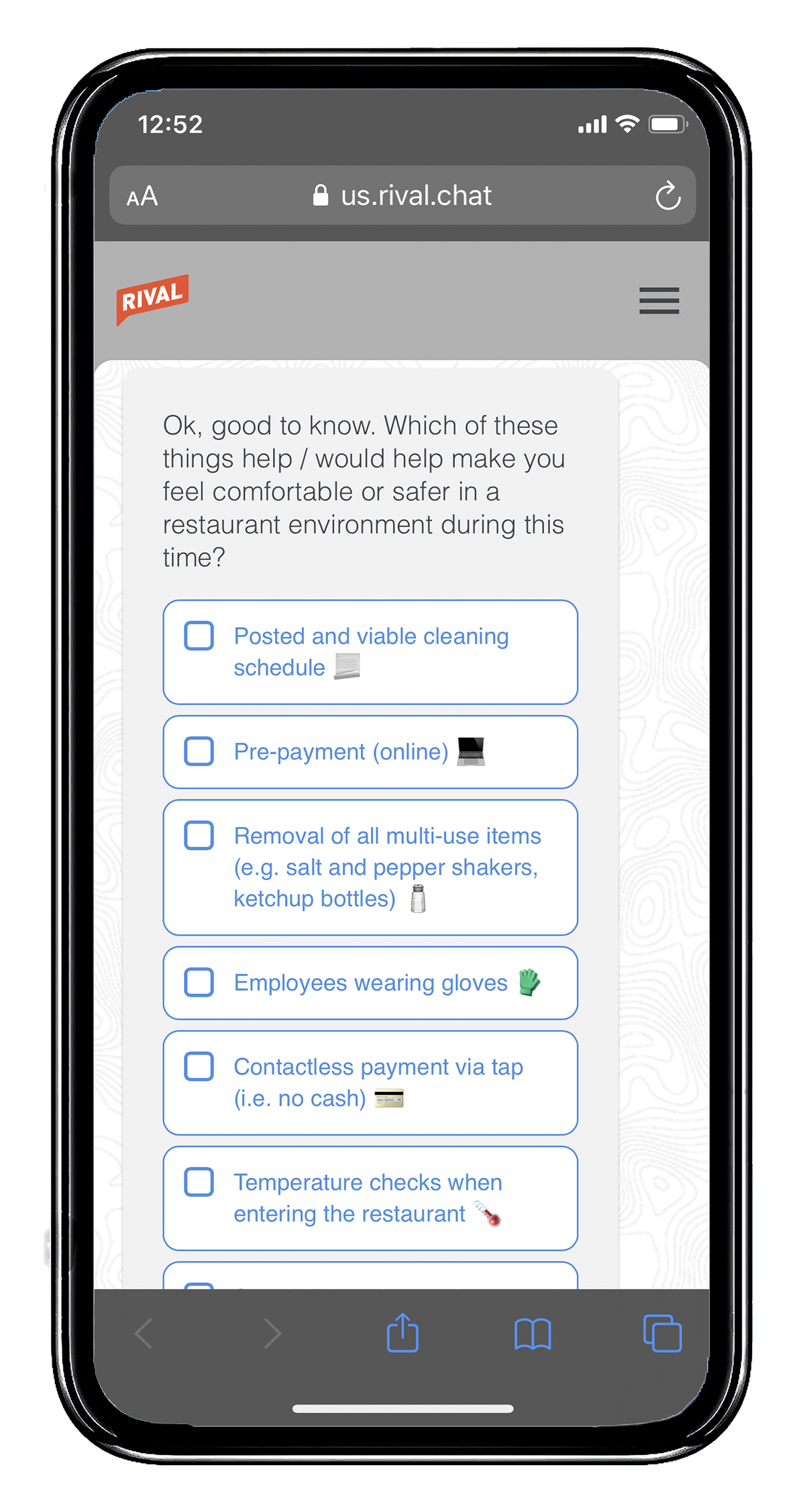 Reach3 Insights conducts scientifically validated consumer research via mobile messaging networks instead of email to maximize both the representativeness and richness of insights. This method captures stream-of-consciousness attitudes, opinions and feedback via conversational qualitative and quantitative research techniques leveraging immersive chat, video, photos and videos that a reveal both decision dynamics and underlying emotions. Reach3 Insights results represent a range of ages, genders and geographies and are projectable to the U.S. population.
Key stats and findings:
Four in 10 guests are currently uncomfortable with the idea of dining in, suggesting lack of confidence that government regulations and restaurant procedures sufficiently protect people from infection
While only 30 percent have dined in a restaurant since the pandemic, most people have bought from restaurants in some way: for example, 61 percent have ordered food via drive-thru while 56 percent have ordered via pick-up
Employees wearing mask and an adherence to social distancing guidelines are the most important procedures for guests at this time; things like online pre-payment, self-serve kiosks and temperature checks are deemed less critical
Top questions answered:
What are the things that will make people feel comfortable in a restaurant environment?
When it comes to deciding whether to visit a restaurant or not, safety and hygiene trump everything else. The good news for restaurants is that consumer expectations are not too outrageous: a majority of people want restaurant staff to be wearing masks and they want adherence to social distancing in the premises.
A majority also expect the removal of multi-use items. It's worth noting that 39 percent of consumers we engaged with said that they have zero interest in dining in at this time. The good news is that a majority of these consumers are willing to buy from restaurants some other way—for instance, via takeout. There's an opportunity for restaurants to engage their own customers to find out how to best serve them, and adapt their marketing and customer experience initiatives accordingly.
How comfortable are consumers with tech and the contactless experience?
While a portion of the population agree that technologies such as contactless payment and self-service kiosks are important, these are not necessarily top of mind. For many consumers, masks usage among employees is more critical. That said, I think restaurants should aim to have contactless payment regardless as people will expect this as an option.
Does the adoption of tech help drive preference?
Consumers expect restaurants to pursue all necessary actions required to reduce the possibility of the virus spreading, including the adoption of new technology. Almost one in four consumers said the introduction of tech would encourage them to visit more, while 38 percent said it would not make a difference but would help build the reputation of the brand or restaurant. In my view, technology should be viewed as just one part of the solution. Ultimately, some of the more basic tactics—including requiring employees to wear masks and making sure the restaurant isn't too crowded—are what consumers are expecting.
That said, as the pandemic evolves, restaurants should track consumer sentiment around these safety measures. A resurgence of the virus, for example, has the potential to increase the importance of contactless payment technology in the future.
Have you done any of the following during the pandemic?

Ordered food from a drive-thru

61 percent

Ordered food for pick up (via online, phone, etc.)

56 percent

Ordered food for delivery (via online, phone, etc.)

43 percent

Ordered food inside a restaurant from someone but taken it to go

32 percent

Dined inside a restaurant

30 percent

Dined on a restaurant's patio

19 percent

Ordered food from a self-service kiosk and taken the food to go

3 percent

None of these

9 percent
In general and whether you've done it recently or not, how comfortable do you currently feel about being in a restaurant environment?

Comfortable, I don't see the big deal

18 percent

Kind of comfortable, but I have some reservations

43 percent

Not comfortable- I don't want to take any risks!

39 percent
Which of these things help / would help make you feel comfortable or safer in a restaurant environment during this time?

Employees wearing masks

65 percent

Social distancing requirements

62 percent

Removal of all multi-use items

50 percent

Customers wearing masks when not at their table

47 percent

Plexiglass partitions at counter

44 percent

Employees wearing gloves

39 percent

Plexiglass partitions between tables

36 percent

Posted and viable cleaning schedule

26 percent

Contactless payment via tap

26 percent

Ability to pay via personal device

23 percent

Tamperproof seals for takeout

22 percent

Mobile notifications

21 percent

Temperature checks when entering the restaurant

20 percent

Ability to order and pay via a self-service kiosk

20 percent

Pre-payment (online)

17 percent

Other technology

2 percent

Something else

5 percent

Nothing would make me more comfortable

18 percent
What is the main reason that contactless payment (e.g. tap / no cash) does not make you feel more comfortable or safer in a restaurant environment?

I'm worried about identity theft

22 percent

There is still a chance of contact with the machine

22 percent

I might still have to interact / be face-to-face with someone

16 percent

I'm worried about my privacy

11 percent

Other reason

28 percent
If you had to place an order while at a restaurant during COVID-19, which would be your ideal method?

Ordering from employee with partition / barrier between

41 percent

Ordering via personal phone while in the restaurant

18 percent

Ordering via self-service kiosk

12 percent

None of these/ I wouldn't order while in the restaurant at this time

29 percent
If a restaurant adopted different technology during COVID-19 to help improve your experience, what impact would it have on your ordering?

If there is technology that makes me feel more comfortable / safer, I'm likely to order MORE / more frequently

23 percent

It might not impact what / how frequently I order but I will respect the restaurant / brand

38 percent

It won't have any impact on what / how frequently I order

40 percent