Make it This Winter and Step Up To The Table
2 Min Watch By MRM Staff
In this edition of MRM News Bites, we feature resources to help restaurants survive the winter weather and the learning how to improve bread-baking skills.
Make it This Winter
US Foods Holding Corp. introduced its "Make It This Winter" platform, which offers a collection of resources, including one-on-one consultations with US Foods experts, informational webinars, new outdoor dining products, and updated online materials and tools for restaurant operators to tackle the ongoing challenges brought on by the COVID-19 pandemic.
"With colder weather setting in and new restrictions going into effect across the country, our ongoing commitment to helping restaurant operators adapt during the pandemic has never been more important," said Jim Osborne, senior vice president of customer strategy and innovation at US Foods. "Our new resources are here to help, as operators weigh their next steps carefully and seek expert advice for navigating the latest phase of COVID challenges. Whether it's helping them adjust to evolving guidelines or uncovering additional sources of profit, we're committed to staying right beside our operators through it all, helping them Make It."
US Foods has also officially rebranded its "Make It Now" site as "Make It This Winter." The platform will continue to house a variety of helpful COVID-related materials as well as evolving resources to address new and emerging challenges. In addition, the site has been updated to make it easier for restaurant operators to search key topics such as "off-premise," "dine-in" and "competitive menu" so they can quickly find what they need.
New COVID-19 resources now available on the "Make It This Winter" site include:
Winter Must Haves: US Foods has added an array of new outdoor dining products to its line-up, including heaters, outdoor furniture and dining tents. These offerings have been selected specifically for operators who want to pivot their seasonal outdoor dining areas to warm, winter-friendly spaces given ongoing dine-in restrictions.
Operating Safely Guide: The Operating Safely Guide provides restaurant and foodservice operators with safe practices they can adopt while operating efficiently. The updated data and recommendations were developed for US Foods by The Acheson Group (TAG), a global food safety consulting group that helps companies throughout the food supply chain more effectively mitigate risks, improve operational efficiencies and ensure regulatory and standards compliance. New resources include Employee Wellness Check Questionnaire guidance, What To Do When an Employee Gets Sick with COVID-19 and COVID-19 Communications Templates to help operators communicate a COVID-19 positive employee or customer. The company has also added a Deep Cleaning Checklist and guiding principles for Managing Indoor Air.
Webinars: US Foods regularly introduces new webinars, and recently added Holiday Profits to the schedule. The webinar focuses on how to create a sought-after menu, maximize takeout and create family meals and meal kits for their diners' holiday events. The Operating Safely webinar is another resource supporting the Operating Safely Guide and addresses issues such as what to do if an employee gets sick and how to communicate with customers. With a continued focus on off-premise dining, US Foods also recently launched Promoting Delivery and Ghost Kitchens, which focuses on ghost kitchens and how to stay in front of diners during the winter season and beyond. The US Foods Ghost Kitchen program also recently expanded its concept offerings from six to 12.
View all of the available resources by clicking directly to the "Make It This Winter" platform here.
Step Up to The Table
ClearPath Solutions launched Step Up to The Table, a three-part initiative designed to garner support for local restaurants.
Step Up to The Table is a result of a passion that Helen Lao, founder and president of ClearPath Solutions and her team share. They are an executive search firm that matches talent within the industry. Lao started this movement on LinkedIn through her established #HelenontheMove platform. This effort was her way of stepping in to help give back to an industry that has created so many opportunities for so many people. Lao, a second-generation immigrant and small business owner herself, said she could not and would not sit back and watch the restaurant industry crumble; an industry that ClearPath Solutions was built upon, that afforded Lao the opportunity to employ individuals with families of their own.
"Restaurants are the fabric of America and an opportunity to experience the American Dream. They are shuttering one by one as a result of the pandemic," said Lao. "The trickle-down effect is far-reaching, robbing independent restaurant owners of their life-savings while taking paychecks away from the millions of individuals who rely on their jobs to make ends meet. Step Up To The Table challenges everyone to do their part with the simple task of buying gift cards or a meal from their favorite restaurant."
In an effort to step up, Lao and her team tapped into what they could bring to the table: their network of relationships. This call-to-action through their network is intended to unify and support all restaurants. The impact has ignited a ripple effect on social media with industry leaders and individuals alike unifying with one simple message and a friendly challenge: to purchase gift cards or a meal to their favorite restaurant.
"Step Up to the Table's intended success will be a reflection of America's unwillingness to let this industry fail," Lao said.
To get involved and be a part of the Step Up to the Table challenge:
Purchase gift cards and/or pick up a meal from your favorite restaurant
Take a photo or video and share on social media using the hashtag #StepUpToTheTable
Challenge others to Step Up To The Table and join the movement
To learn more about Step Up to the Table visit www.stepuptothetable.com.
Starbucks' Vision for the Future
During Starbucks biennial Investor Day, Chief executive officer Kevin Johnson and other Starbucks leaders outlined a vision for the future and discussed the company's progress against its Growth at Scale agenda.
"We are a purpose-driven company with a mission grounded in the human experience as we seek to have a positive impact on both people and the planet, while profitably growing our business," said Johnson. "Over the past two years, we have further streamlined the company, sharpened our focus on accelerating growth in our two lead markets of the U.S. and China, and expanded our global reach through the Global Coffee Alliance with Nestlé while increasing returns to all of our stakeholders. Looking ahead, coffee remains a very large and attractive market that is growing globally. We are focused on growing category share and believe Starbucks is better positioned than ever for continued success."
The recent disruption of the global pandemic has accelerated certain shifts in consumer behavior, and Starbucks adapted its business for the short- and long-term implications. Johnson provided insights in shifting consumer behaviors and how the company will continue to meet its customers however and wherever they want to engage with the brand. He shared how Starbucks continues to amplify innovation that elevates customer experiences, creates exciting new beverage platforms, and expands digital customer relationships to capitalize on five shifts in consumer behavior:
The fundamental need to be seen and experience a feeling of connection to others,
Seeking out experiences that effortlessly fit their lifestyle,
Appreciation of consistent experiences,
Desire for high-quality and sustainable products and experiences that support the well-being of people and the planet and,
Increasing loyalty to brands with strong values.
Starbucks executive vice president and chief financial officer Patrick Grismer reiterated the company's FY21 guidance, which anticipates continued recovery from the effects of the pandemic, yielding an expectation of outsized growth rates for certain metrics in FY22 relative to the company's ongoing growth rates which were updated today. Unless otherwise noted, the company's updated ongoing growth rates are expected to apply starting in FY23 and extend through FY24.
"Today, we reaffirmed our FY21 guidance and updated our ongoing growth model, guiding to a more explicit range of non-GAAP EPS growth. While the pandemic temporarily disrupted our business, our Growth at Scale agenda has provided the focus and discipline to deliver more consistent operating results," said Grismer. "This agenda is as relevant today as when it was introduced two years ago. Underpinned by superior brand positioning and compelling unit-level economics, we expect our global retail store base to reach approximately 55,000 units in FY30, reaching more customers with a premium Starbucks experience."
Starbucks announced deeper investments in eco-friendly operations, regenerative agricultural practices, and environmentally friendly menus. This includes:
An intent to support for Net Zero Initiative, a partnership with the U.S. dairy industry to achieve net-zero greenhouse gas emissions improvements in water quality on farms.
Rollout of oatmilk nationwide in the U.S., joining plant-based options including soymilk, almondmilk and coconutmilk.
A $50 million Investment in The Global Farmer Fund, providing access to capital so coffee farmers can use these funds to strengthen their farms and farming practices to be even more productive and sustainable.
A Diversified Renewable Energy Portfolio, aiming to offset 50% of company-operated roasting and beverage production sites and electricity consumption in the U.S. by 2022 through Starbucks first supply chain Virtual Power Purchase Agreement with a solar farm in Virginia.
"As we approach the 50th Anniversary of Starbucks in 2021, we honor our past while looking to the future with a long runway of healthy growth ahead," said Johnson. "We are well positioned to invest in the right areas to strengthen our competitive advantage and drive consistent, sustainable growth for decades to come. We will do this while staying true to the Mission and Values that built this great company. With Starbucks partners at our core, we believe our purpose extends far beyond the pursuit of profit, with an aspiration to positively impact the planet we all share and the people who connect with Starbucks."
Drive Kindness
Miami-based Drive Kindness, a new home meal delivery solution, partnered with Olo to enable fully integrated home meal delivery ordering through Olo's Dispatch platform. Currently available in parts of Florida and Massachusetts, the national rollout will continue through 2021.
"We are proud to partner with Drive Kindness, a much-needed, highly anticipated new solution that enables restaurants to save money and stay in business, enables drivers to raise their earning potential, and enables customers to enjoy a higher caliber of service," said Jackie Berg, Olo's VP of Marketing. "Drive Kindness also boosts local economies by creating jobs and making charitable contributions to nonprofits in various US communities. We are proud to work with Drive Kindness in delivering this unique model to our customers."
Here's how Drive Kindness works: Drive Kindness' franchise owners will charge restaurants a flat rate. With Drive Kindness, drivers are paid a delivery fee (plus tips) per order and customers also save as they never get surcharged. The businees was conceptualized and launched by Rene Prats.
"We are thrilled to partner with an industry leader such as Olo as part of our mission to provide restaurant owners, drivers, franchisees and customers with a delivery platform that brings a new level of mutual benefit and community-wide impact," said Prats, who has extensive experience as an owner and operator of major national restaurant franchises. "We look forward to serving as the go-to restaurant delivery solution that brings much-needed and long-awaited affordability, value, transparency and quality for restaurant owners, drivers, franchisees, and customers as well as the local communities served."
Lightspeed Acquires Upserve
Lightspeed POS Inc. acquired Upserve Inc., a restaurant management cloud-software company based in Rhode Island and a Vista Equity Partners portfolio company.
"Combining forces with Upserve is a strategic next-step in Lightspeed's vision of providing the most advanced commerce platform to high-performing businesses around the world," said Dax Dasilva, Founder and CEO of Lightspeed. "We believe this acquisition will accelerate the product innovation that has enabled Lightspeed customers to tackle the greatest challenge to their industry in decades and will add exceptional leadership to our teams in anticipation of the economic recovery of the global hospitality industry."
"Through its analytics-based POS and restaurant management solutions, Upserve has been delivering actionable insights to restaurateurs for over a decade. Lightspeed is quickly emerging as a world-leading commerce platform for SMBs and partnering with them to deliver data-based insights through a single digital hub was a natural choice", said Upserve CEO Sheryl Hoskins. "Together we look forward to empowering North American restaurateurs to deliver superior guest experiences and make them wildly successful."
Upserve generated revenue of approximately $40 million3 for the trailing twelve-month period ending September 30, 2020. Lightspeed acquired Upserve for estimated total consideration of $430 million, consisting of approximately $123 million in net cash and up to 5,895,365 subordinate voting shares in the capital of Lightspeed, subject to customary post-closing adjustments.
RBC Capital Markets acted as financial advisor to Lightspeed on the transaction and William Blair acted as advisor to Upserve.
It's All Fourth
HotSchedules will now be operating under a unified global brand, Fourth, effective immediately. The new brand represents a global portfolio of customer-focused solutions and services including inventory, task and labor management, analytics, HR and payroll services. As a natural extension to its hospitality roots, Fourth announced its entrance into the retail sector.
"With more than two decades of leading labor management in the hospitality space, we are proud to expand our offerings under the global brand, Fourth, and further provide our customers with proven solutions to solve rapidly-evolving challenges across the workplace," said Clinton Anderson, CEO of Fourth. "Sustaining our focus on the hospitality industry, we will solve similar workforce management challenges faced by retail operators. This expansion marks a significant milestone for our company as we advance strategically and offer our solutions and services across a growing number of industries."
Verizon and Fiserv Team with Clover
Verizon Business and Fiserv forged a new relationship that allows Verizon Business to provide customers access to Clover Flex, a mobile point-of-sale device that can enable touchless payments. In addition, the relationship will allow Verizon customers to utilize Fiserv merchant services, including debit and credit card processing with a range of payment acceptance options, including online, mobile and in-person.
In making the announcement TJ Fox, President of Business Markets for Verizon Business stated, "Businesses are investing in technologies to advance and grow their businesses, address customer needs and adapt to today's environment. Providing a touchless experience is another example of our dedication to empowering small businesses with the tools they need to succeed and meet customer demands."
When used by Verizon business customers, the Clover Flex device is embedded with a Verizon SIM Card to facilitate reliable payment acceptance via the Verizon network.
The Clover platform, and merchant services from Fiserv, enable retailers, restaurant owners and other small business owners to provide their customers with in-demand payment experiences. For restaurants, this includes the ability to accept orders online for carryout or curbside pickup and to create an entirely touchless ordering and payment experience for customers choosing to dine in. A mobile solution like Clover Flex provides businesses with the flexibility needed to adapt to these changing demands.
Square Launches Shift Scheduling
Square launched Shift Scheduling, a first-party scheduling feature that works seamlessly with Square's Team Management and Payroll offerings to create a consolidated labor management solution for employers.
Shift Scheduling completes Square's suite of labor management tools by introducing new functionality into Team Management, a product integrated within the Square POS that offers clock-in and clock-out capabilities for staff, built-in timecards, permissions, and reporting and analytics for labor optimization. Complementing Team Management's existing features, Shift Scheduling streamlines the ability for employers to manage their team by centralizing everything in one place:
Easy to manage: Business owners can now easily create and publish shifts, assign work schedules by job or team member, and copy previous schedules for future weeks to avoid starting from scratch.
Improved accuracy: Employers using Shift Scheduling can prevent their team from clocking in early or for unscheduled shifts, and timecards will now report scheduled vs. actual hours, automatically flagging discrepancies for review.
Better visibility: Employees using the Square Team App can view their schedules, signal their availability, request specific shifts, and even swap shifts with their colleagues (with their employer's approval)
"Having the means to easily set and change my team's schedule from a single place has really simplified my ability to manage my staff, which can be especially challenging during the busy winter months given I employ a number of college students whose schedules can be erratic due to their other commitments," said Peter James, owner of the London Tea Merchant in St. Louis, Missouri. "I am able to find schedules that work and duplicate those for the coming weeks, all while receiving accurate reports on labor costs. For my team, they've loved having an advanced view of their schedules and the ability to more easily plan ahead."
Shift Scheduling, accessible via the Square POS or a seller's Square Dashboard, is available today for free in all Square markets.
PathSpot Teams with Opus
PathSpot Technologies is working with Opus so PathSpot will be able to offer Opus's mobile-first training solution to its customers, including restaurant owners and managers, to educate users on the hand scanning technology and enhance the onboarding experience. Similarly, the partnership will also provide hand hygiene data and trends to create targeted, data driven handwashing courses for Opus customers.
The PathSpot Hand Scanner uses light-based detection to provide real-time feedback on the quality and effectiveness of every hand wash for restaurant staff. The scanner delivers results in less than two seconds if harmful contaminants are detected, so team members can take corrective action to prevent foodborne illness. Opus continues to refresh customer training programs in real time as laws and guidelines change, providing a wide range of interactive compliance training delivered over text message, which includes COVID training that complies with state and local guidelines.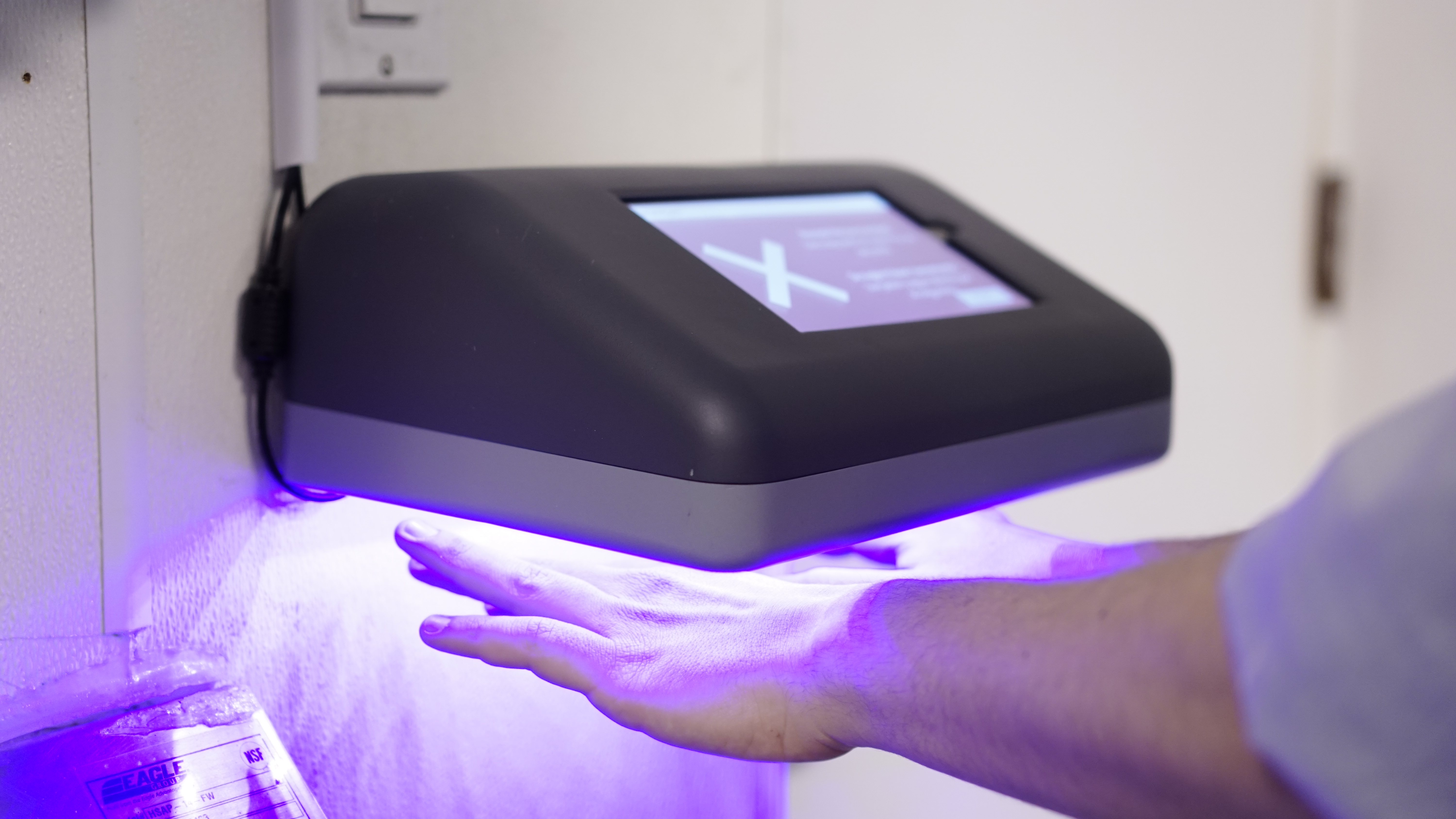 "With public health at the center of the national conversation right now in the midst of the COVID crisis, restaurants need reliable tools and technology to keep compliant with rapidly changing guidelines and consumer expectations," said PathSpot CEO and Co-Founder Christine Schindler. "PathSpot and Opus share a passion to help restaurants create sustainably safe environments for employees and customers, and we are excited to partner in this effort."
"We've entered a new era of work where safety is not just a check-the-box initiative. Opus and PathSpot are aligned on a long-term goal, to support safer workdays and better work lives with accessible technology for deskless workers," said Opus CEO and Co-Founder Rachael Nemeth, a food industry veteran who's an alum of Union Square Hospitality Group and spent a decade training frontline teams.
Tractor Adds Pouring Partners
Seven i fast casual restaurants will begin offering Tractor Beverage Company's Certified Organic, Non-GMO and All-Natural beverages. They join such nationwide eateries as Chipotle, B.GOOD, Umami Burger, Curry Up Now, Garbanzo Mediterranean Fresh, and Pokeworks, all of which serve a selection of Tractor's offerings, including carbonated "Softer Drinks," agua fresca, teas and lemonade.
"Tractor is equally thrilled and honored to partner with some of the hottest concepts in the industry today," says Tractor Beverage Company's CEO, Luke Emery. "These pouring partners have set the standard by bringing cleaner ingredients to their beverages, complementing their already amazing meal experiences. At Tractor, we strive to do everything the right way. These innovative culinary thought leaders are the future and we look forward to an awesome journey together, bringing better-for-you food and beverages to both current and new consumers."
Tractor's new pouring partners include:
Rōti Modern Mediterranean (Nationwide)
Flavors: Berry Patch, Blackberry, Blossom & Spice, Hibiscus, Lemonade, Mandarin Cardamom, Sweet Tea, Unsweet Tea
Zoup! Eatery (Nationwide)
Flavors: Black Tea, Blackberry Mint, Green Tea, Hibiscus, Lemonade; in addition to other seasonal flavors.
José Andrés' Beefsteak (Washington, DC, Ohio, Chicago)
Flavors: Berry Patch, Green Tea, Lemonade, Mandarin Cardamom, Stone Fruit
PLNT Burger (Washington, DC, Maryland, Virginia)
Flavors: Berry Patch, Lemonade, Mandarin, Strawberry Rhubarb
Taim Falafel (New York, Washington, DC)
Flavors: Ginger Mint, Green Tea, Hibiscus, Lemonade, Mandarin
Leon Restaurants (Washington, DC)
Flavors: Offering Tractor Softer Drinks including: Blood Orange, Cherry Cream, Coconut, Kola, Kola Light, Root Beer and will be offering Tractor Frozen Drinks in the spring and summer
Revolución de Taco (New York)
Flavors: Hibiscus, Lemonade, Stone Fruit
For the Love of Bread
Acclaimed baker Apollonia Poilâne will teach a MasterClass on bread baking, trailer above. Poilâne will share inspiring anecdotes and expert techniques from her family's storied legacy, teaching members how to take on a sensorial approach to bread baking—a unique method that has distinguished Poilâne from other bakeries over the past 80 years.
"In this flash-in-the-pan world, Apollonia represents the things that endure—a company passed down through three generations and a commitment to honoring the timeless tradition of bread baking," said David Rogier, founder and CEO of MasterClass. "In her MasterClass, she will intimately share her passion and help members understand how to best utilize their senses while baking."
In her MasterClass, Poilâne will teach an approach to bread baking that is sensory, fluid and adaptable, sharing her passion for honoring the philosophies and techniques that her family has perfected over eight decades. Through rich stories of Poilâne's personal history alongside expert tips, members will learn her family's method for making five kinds of bread, including brioche, rye and her novel sourdough starter. With warm energy and profound determination, Poilâne will teach members how to develop their senses and how a loaf of bread, and the practical ways to use it, change over time. She also shares her rare insight on the evolution of bread, paired with a number of creative and practical recipes involving bread at all stages, which she calls breadcooking.
"Baking at home, putting your hands in flour, getting a feel for the dough and seeing your bread rise is a one-of-a-kind experience, one that you must do in your lifetime," Poilâne said. "In my MasterClass, the most important lesson I will teach you is how to attune your five senses to what it is that makes the perfect loaf."
Beginning life cradled in a crib made from a bread basket, Poilâne was poised to take over Poilâne, her famed family bakery in Paris, founded by her grandfather in 1932. Following the accidental death of her parents in 2002, she assumed the title of CEO at the tender age of 18, and ran the international bakery and business for four years from her Harvard University dorm room. Nearly two decades later, Poilâne has successfully carried the bakery into the 21st century, expanding to four boutiques in Paris, growing her bakery in London, renovating the "manufacture" just outside of Paris and developing new product offerings in order to supply thousands of handmade loaves of bread each day. She is also responsible for growing the e-commerce business that allows overnight shipments of their world-famous baked goods to loyal customers across the globe, all while prioritizing intention over expansion. In 2019, she released Poilâne: The Secrets of the World-Famous Bread Bakery, which was named one of the most essential new cookbooks that year. In 2020, the book was published in French as Poilâne, des grains aux pains.